We've now been to Discovery Cove twice and it's one of our favourite places to visit on a holiday in Florida. Part of the Seaworld Parks group, it's a fantastic day away from the Walt Disney World or Universal Studios theme parks and you can get so many Discovery Cove offers to make it a really worthwhile day out.
That said, it's one of the most expensive days out in Florida. So how do you make the most of a trip to Discovery Cove Orlando? Here are our tips and ideas to help with your Discovery Cove planning. But, if you're looking for a Discovery Cove review, you can read our dedicated review here.
Top Tips for Discovery Cove
Book a package deal
Whether you book direct with Discovery Cove or with a third party, make the most of a package deal. Many offer a day at Discovery Cove with the Dolphin Swim Experience plus entry to Seaworld Orlando, Busch Gardens and Aquatica at no extra cost. Some even include parking at Seaworld, Busch Gardens and Aquatica which really help to keep costs down.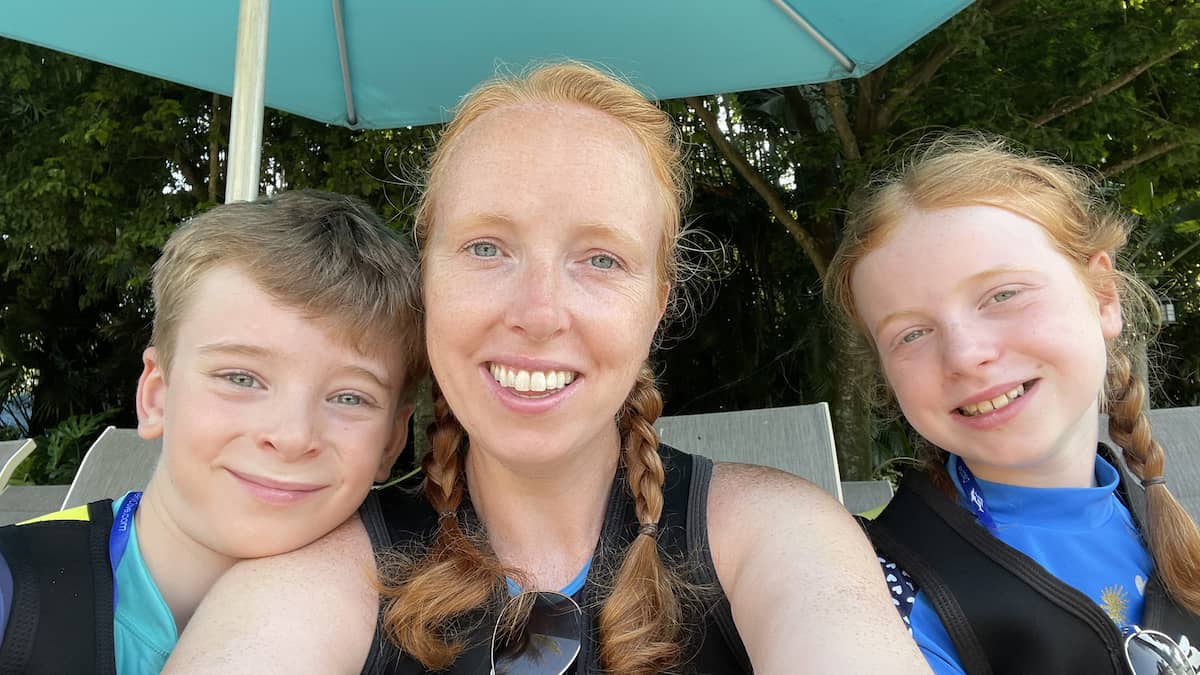 Decide if you want the Discovery Cove Dolphin Experience
Prices vary depending on whether you swim with dolphins at Discovery Cove or just get day resort passes. Also, the dolphin encounter is only available to children over the age of six and children doing the Discovery Cove dolphin swim must be accompanied by a participating adult.
There are more experiences on offer
I know most people book Discovery Cove and think it's all about the dolphins but there are actually loads more experiences on offer. There's the SeaVenture underwater walking tour or an Animal Trek, you can swim with sharks, mingle with flamingos, feed rays or even be a trainer for a day. All experiences have an extra cost and need to be booked before you arrive.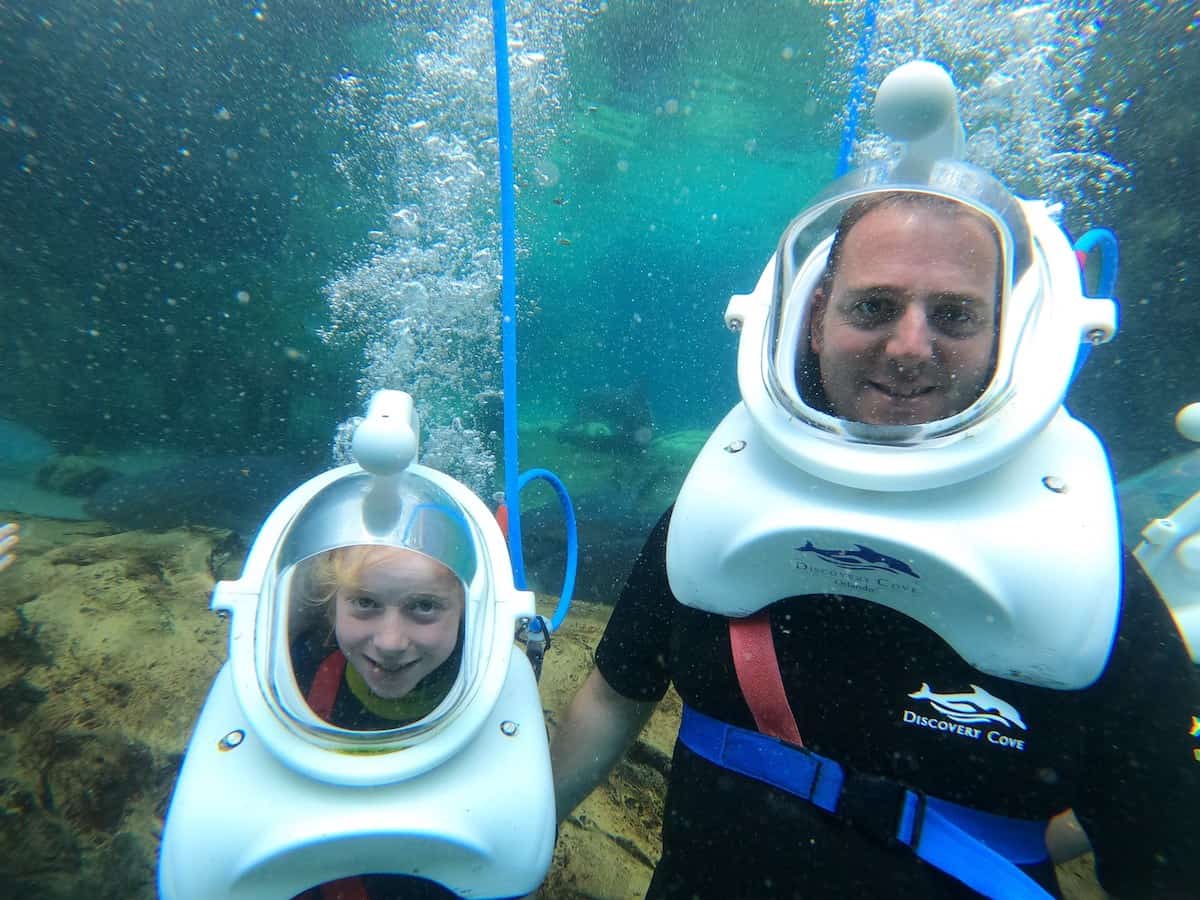 Arrive early if doing experiences
Experiences take place throughout the day and your slots are booked when you arrive at Discovery Cove. Make sure you arrive early to get your time slot and to make sure bad weather later in the day doesn't affect your experience. The more experiences you're doing, the more time you'll need.
Parking is free at Discovery Cove
The easiest way to get to Discovery Cove is to drive if you have a car, and parking is free. Although you can also visit by taxi or public transport.
Do you need any other upgrades?
As well as the animal experiences, there are also cabanas to rent, a premium drink package to upgrade to and even a photographer you can hire for the day. Work out which extras you need and book them in advance.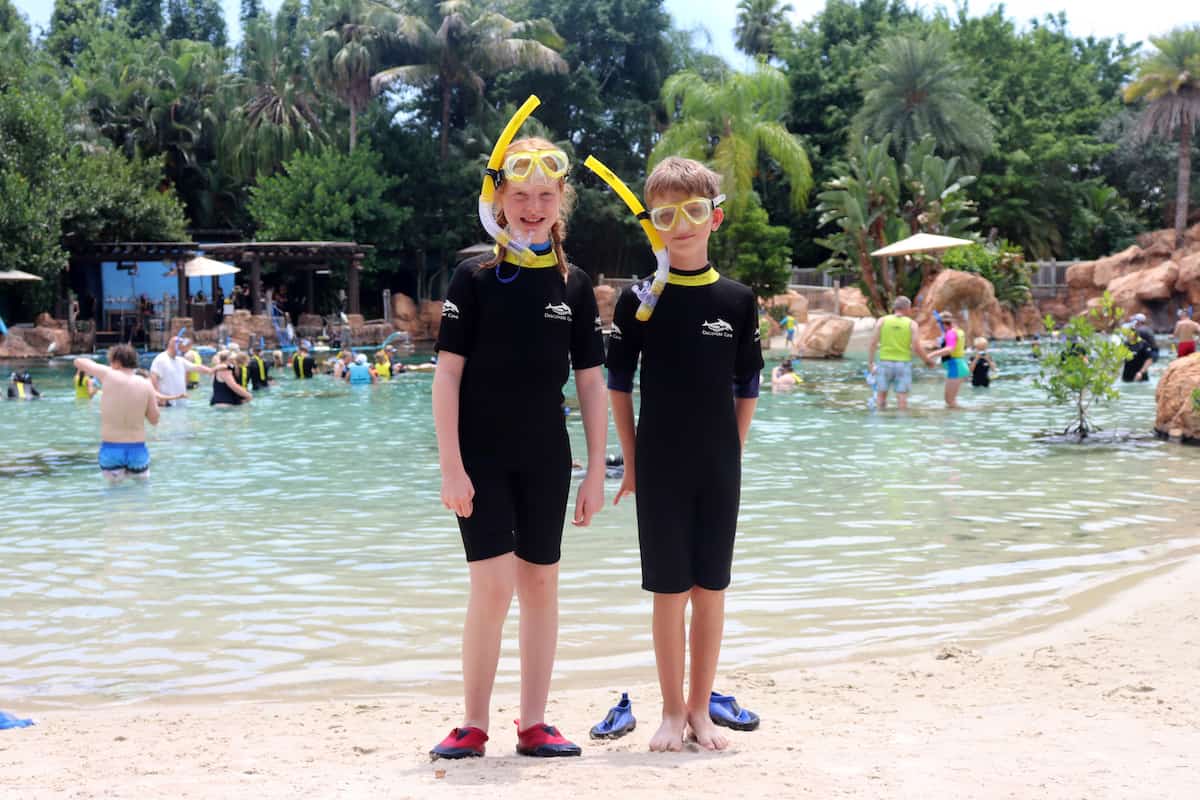 Make the most of the unlimited food and drinks
One huge benefit of Discovery Cove is that even with the basic day resort package you get unlimited food and drinks during your time at the resort. This includes a vast breakfast and lunch buffet at the Laguna Grill restaurant plus snacks throughout the day. There's also non alcoholic drinks and select beers and wines available at no additional cost.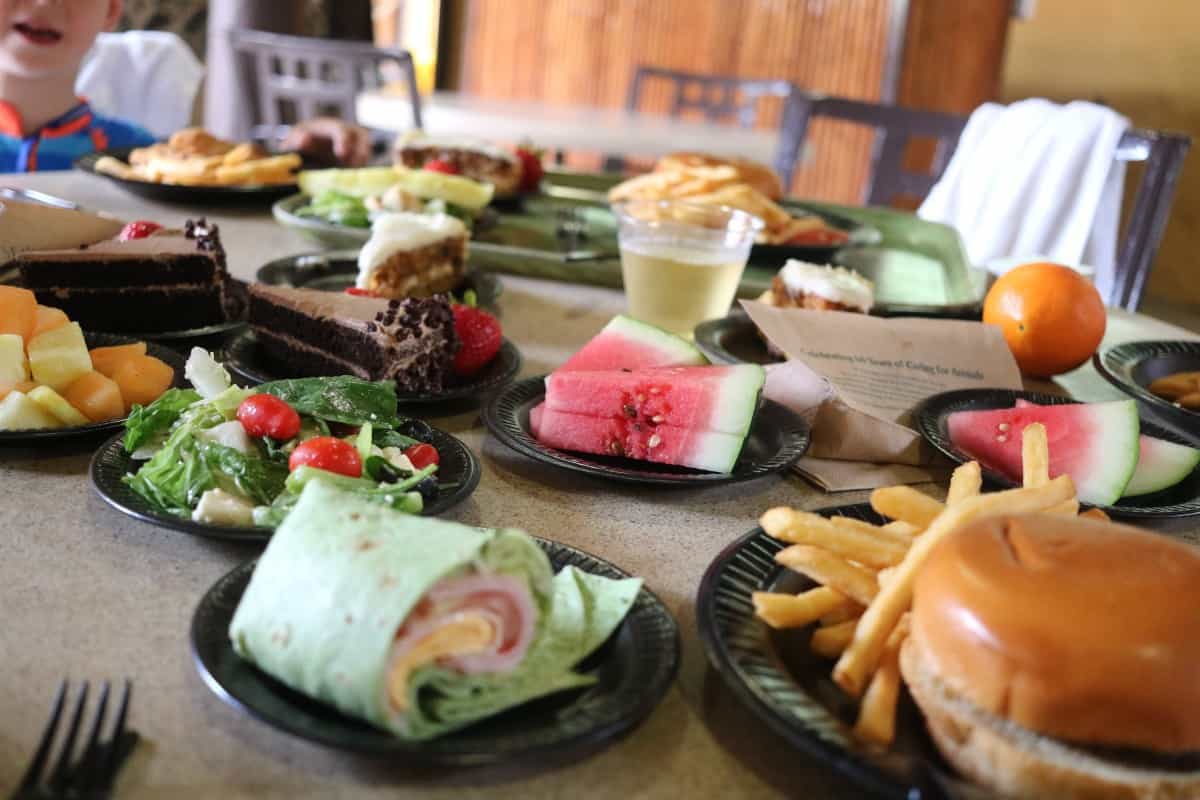 It's worth arriving early to have a good breakfast before starting your day – and maybe even eating again before you leave in the afternoon! It's one place where you can really get your money's worth.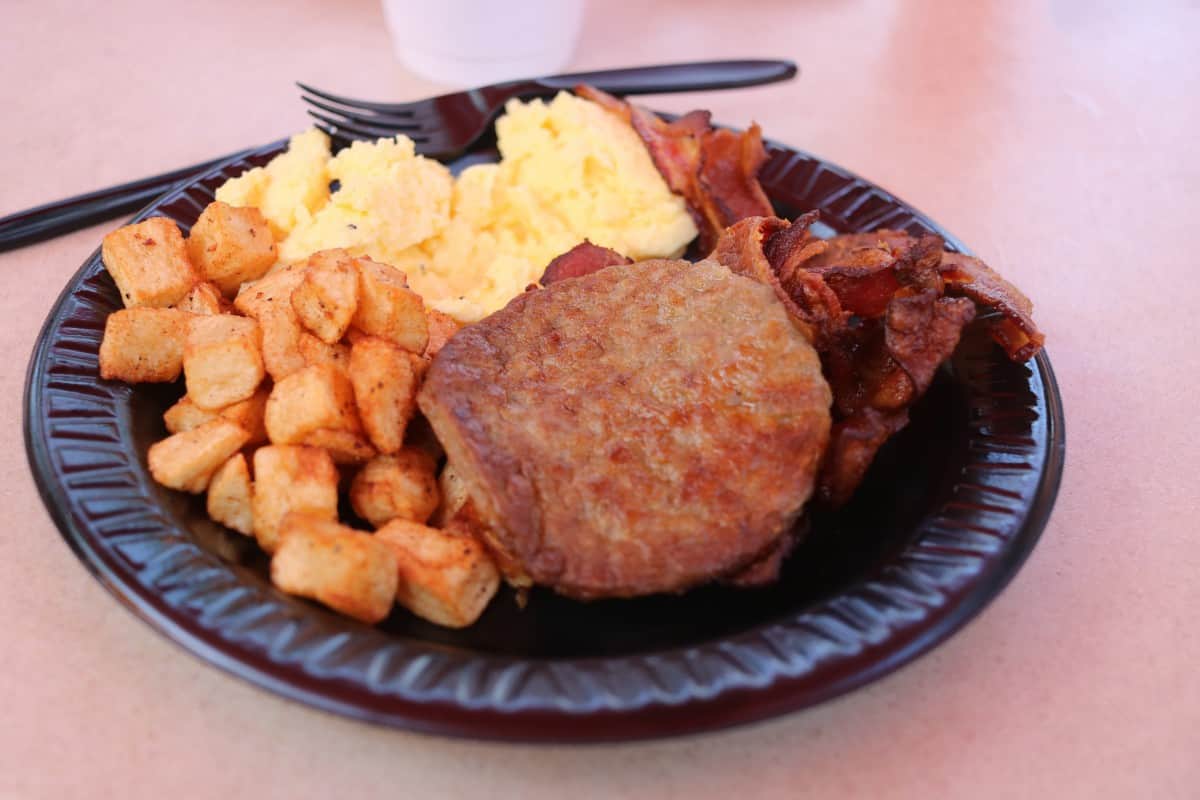 Just remember your swimmers!
Everything is included at Discovery Cove from wetsuits and floats for adults and children to towels and sunscreen – even snorkelling equipment. You just have to make sure to take swimwear and flip flops with you. You also need to bring photo ID for the adults in the party.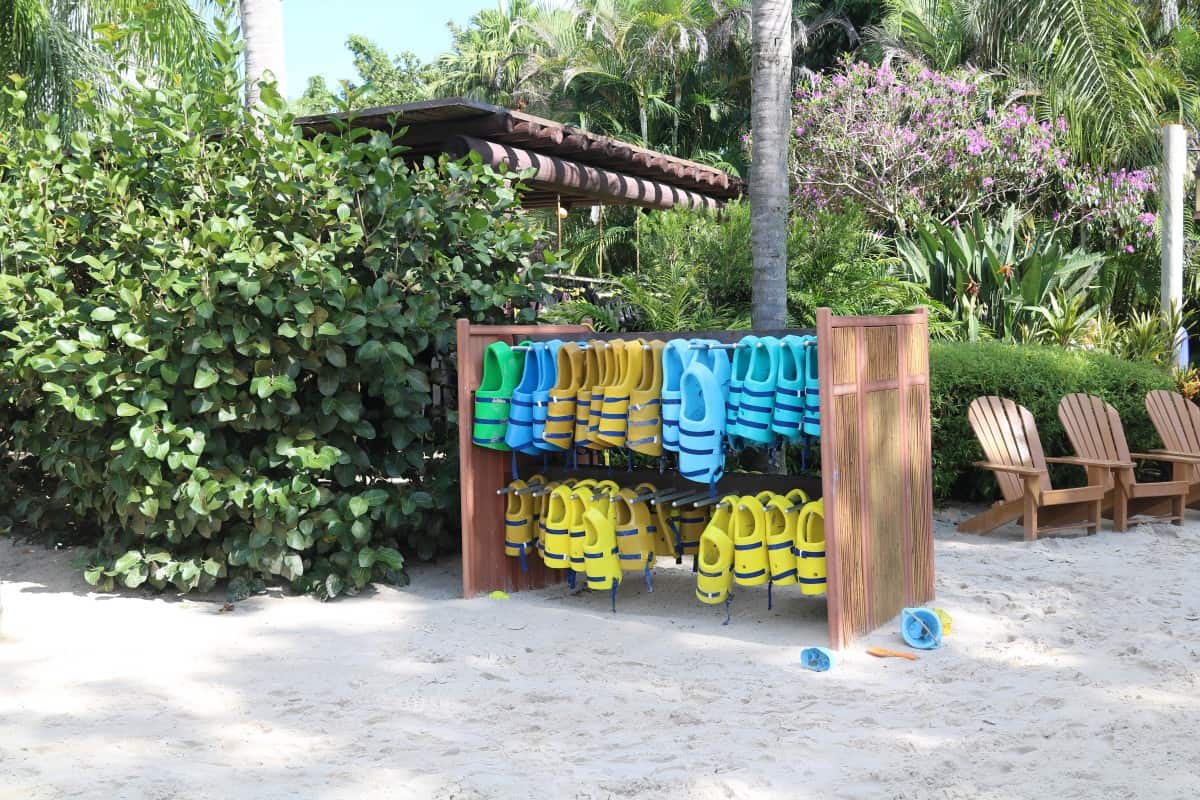 Discovery Cove have lockers you can use free of charge and there's also wifi available across the resort – although the signal is better near the main entrance and restaurant buildings.
What not to bring
Because the Discovery Cove Orlando resort includes everything you need, there are things you should leave at home. Don't wear any jewellery as it can be damaging for the fish and don't drink your own food or drink into the resort. You also have to use the Discovery Cove sunscreen as other types aren't allowed in the water.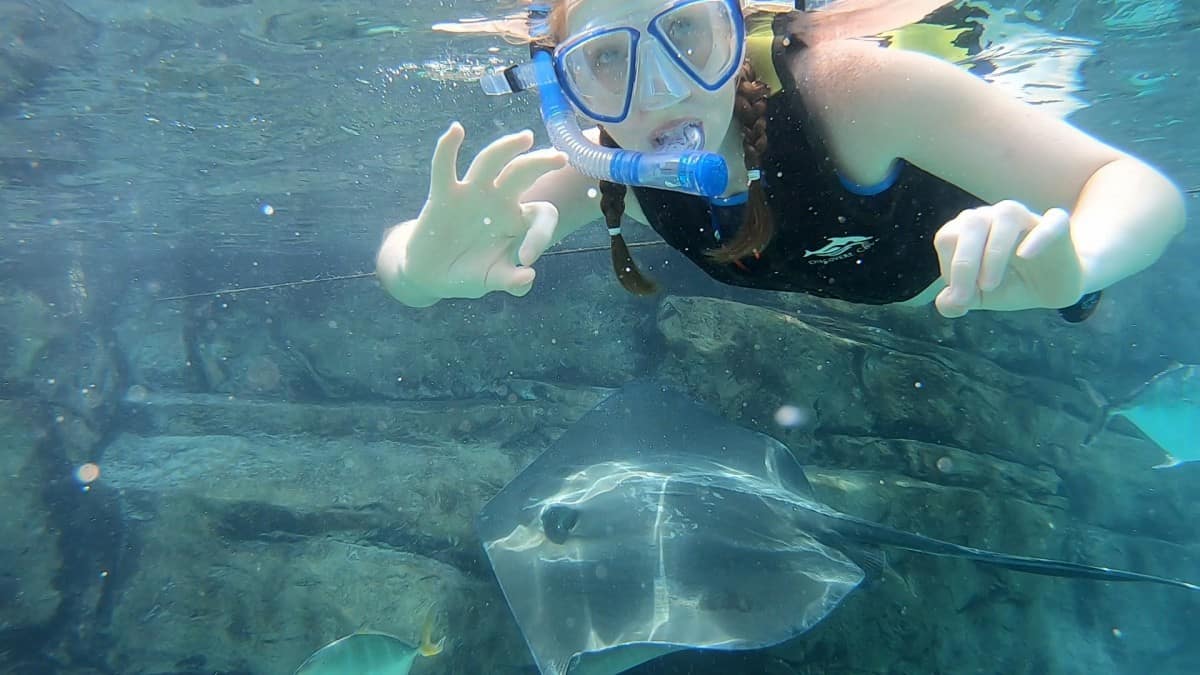 Find somewhere to sit
One of the first things you do after breakfast when you arrive at Discovery Cove is find a base for the day. You may have hired a cabana but, if not, there is plenty of seating all around Discovery Cove for you to make use of – and you can even move around during the day if you want to.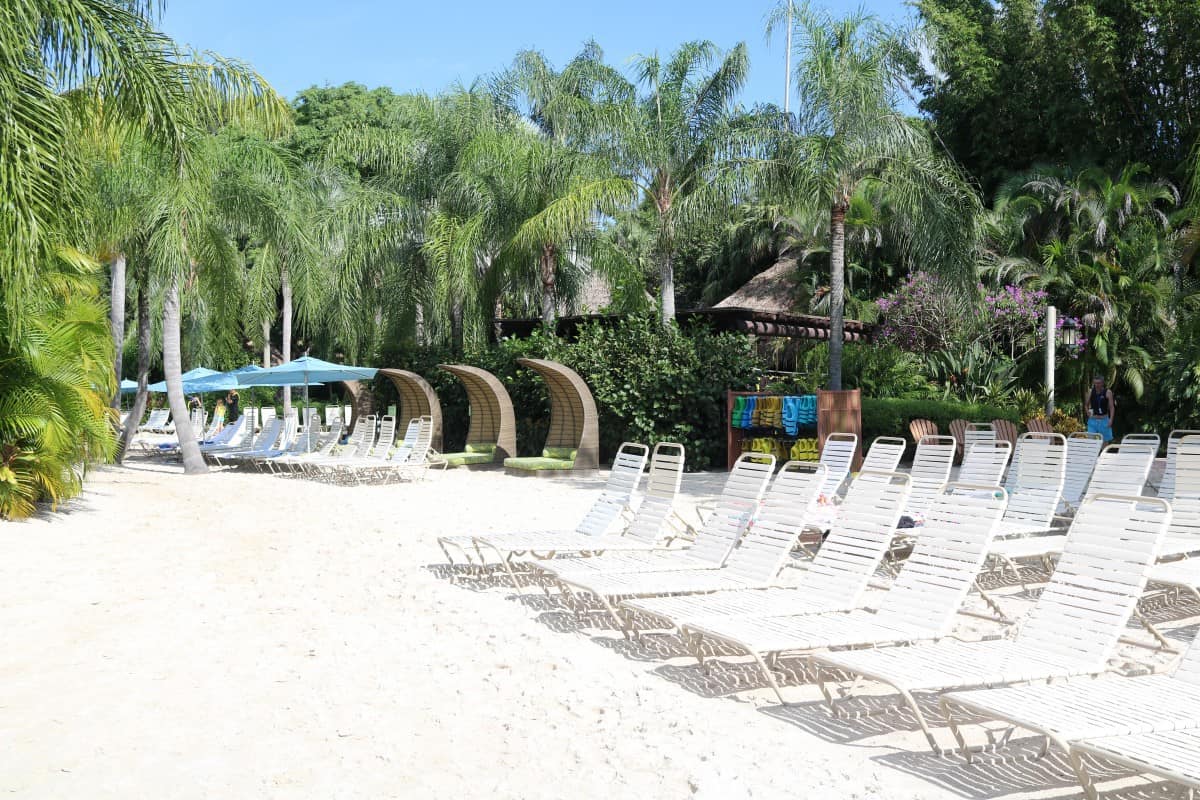 Arrive early to get seats with shade although the shade is fixed so you may find you're in the shade in the morning and sun in the afternoon! You can also choose where you base yourselves – will it be near Dolphin Lagoon, Serenity Bay, the Freshwater Oasis or the Grand Reef? There are loads of options and you can find a map here to help you visualise your day.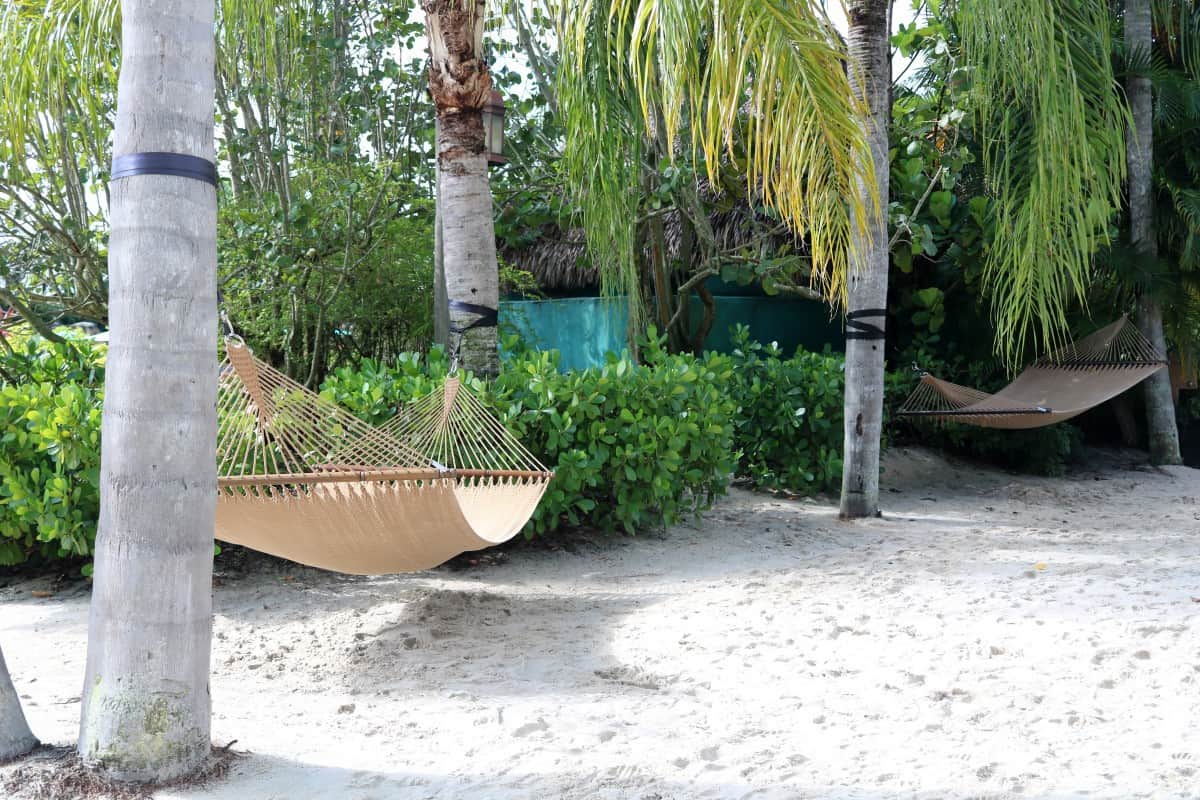 Wherever you sit, make sure you do everything!
Discovery Cove isn't just about the dolphins. There's the Explorer's Aviary full of birds to look at and even feed, the Wind-Away River to meander down and so many tropical fish to see in the Grand Reef. Plus, there are otters in the Freshwater Oasis if you look hard enough.
Enjoy the lazy river
The Wind-Away River is a fantastic place and somewhere our whole family love. You get to travel through the aviary, see so many birds above you and look for the otters in their own habitat too. It's a voyage of discovery with so much to see and the children would happily spend all day in the lazy river waters!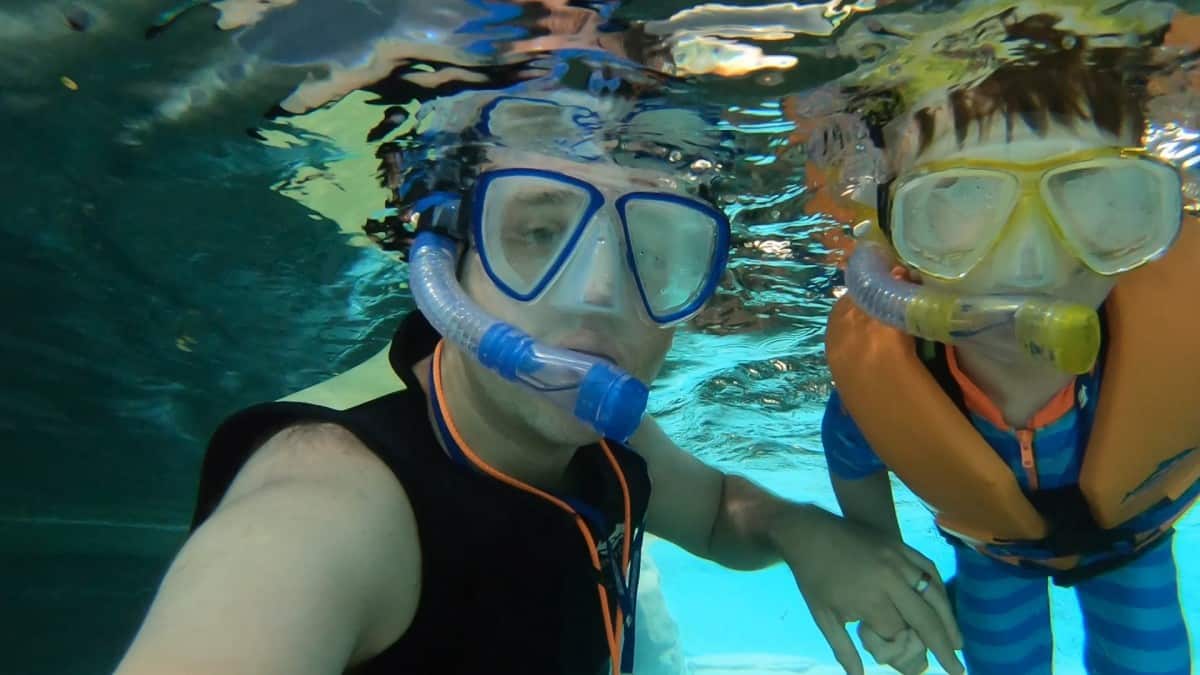 Beware of bad weather
One thing to be aware of at Discovery Cove is that if there's any chance of lightning you cannot be in the water. On our first visit the water was closed in the afternoon until a storm passed and we ended up cutting our day short by a couple of hours as the weather was so bad. If you can, book for a clear day. We visited in August which is known for stormy spells.
Discovery Cove is a fully inclusive day resort that is just a wonderful place to spend time. It's somewhere you'll only visit once during your vacation but somewhere you'll promise yourself you'll go back to next time – and the time after that. We've been twice now and I know that if we visit Orlando in the future we'll definitely book Discovery Cove again.
You can find out more and make a Discovery Cove reservation over on their website. For reference, the address is: Discovery Cove, 6000 Discovery Cove Way, Orlando, FL 32821