ICON Park on International Drive is a one stop dining, shopping and entertainment complex. It's somewhere we always visit when we're in Orlando Florida and there's often new attractions opening up. It's great for a day out, date night or an evening packed full of experiences, music and more in Central Florida.
What is ICON Park?
ICON Park is home to over fifty shops, restaurants and attractions offering daytime entertainment and nightlife. It has completely free access, with you just needing to pay for the attractions you participate it, and free parking too.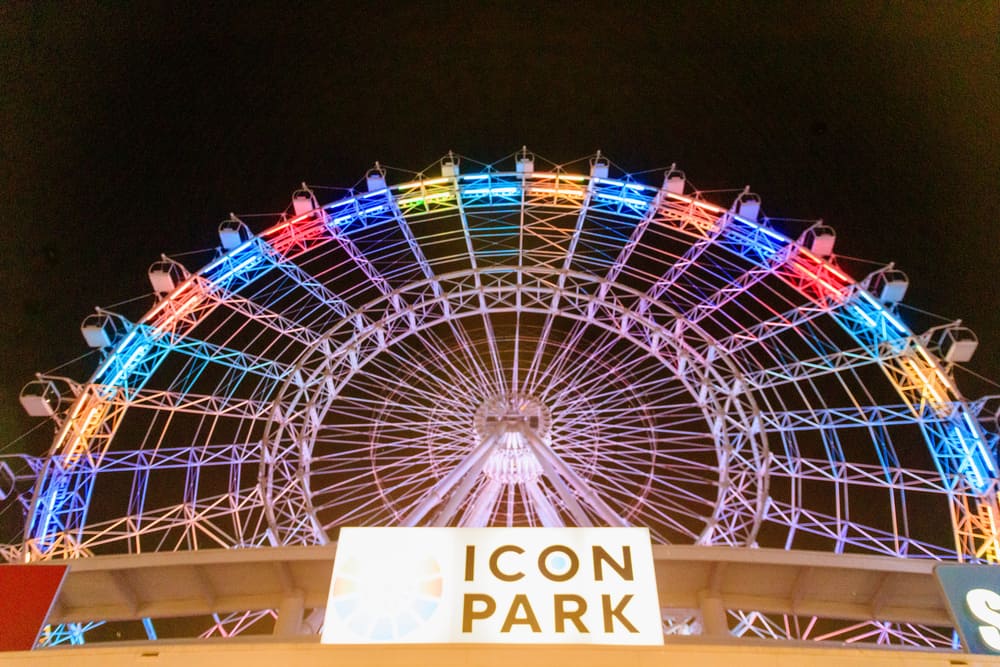 Where is ICON Park?
ICON Park is on International Drive Orlando, right in the heart of the Orlando tourist district. It's just a stone's throw from Walt Disney World, Universal Orlando and everything else that Orlando has to offer. It couldn't be a more accessible free entertainment destination.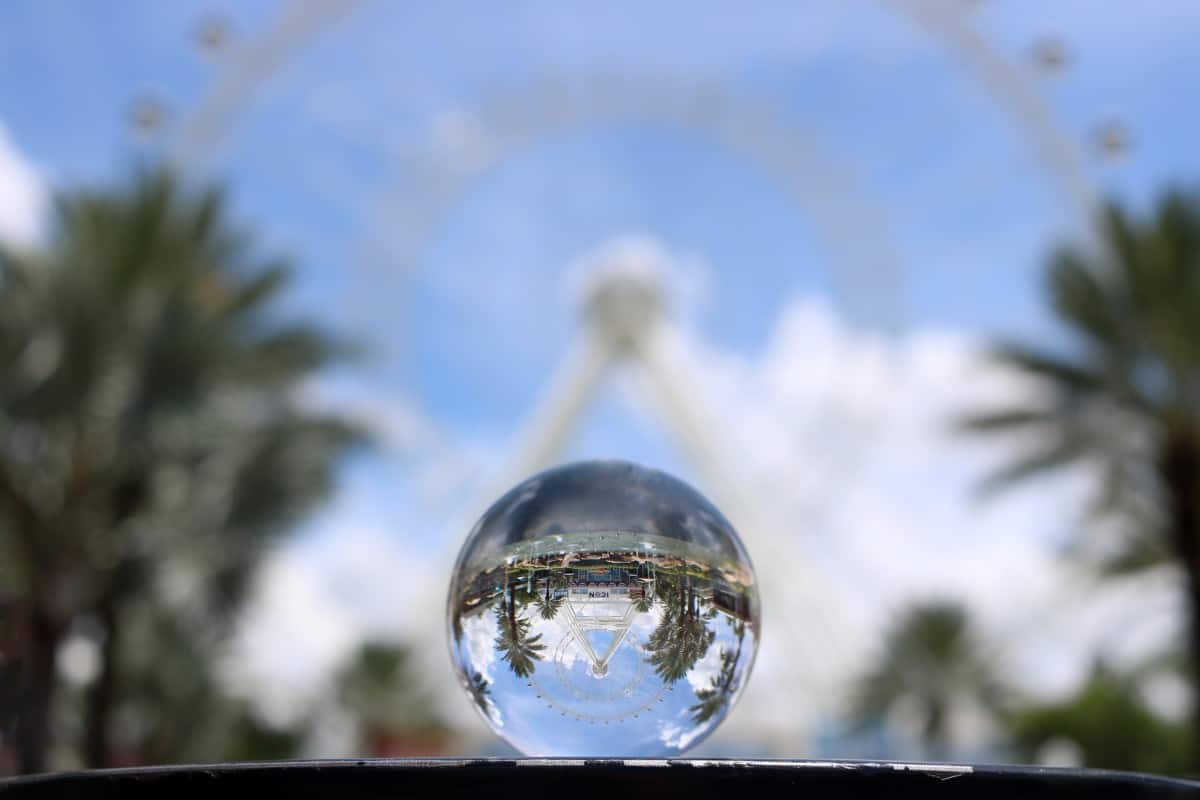 Getting to ICON Park
We always drive to ICON Park and there's plenty of free parking on site. However, you can also get a taxi or Uber or jump on the i-Ride trolley depending on where you're staying.
The ICON Park Play Pass
There are always ICON Park offers that help you save money if you're visiting two or more of the attractions during your trip. One of the best packages that ICON Park offer is the ICON Park Play Pass, a key to open all the doors at ICON Park!
The Play Pass lets you experience ten of the most popular ICON Park attractions, including The Wheel, The Great Florida Road Trip, SEA LIFE Aquarium, Madame Tussauds, Museum of Illusions, Max Action Arena, 7D Motion Theater, Pearl Express, and more! Plus it also gives exclusive shopping and dining discounts of up to 20% off.
ICON Park attractions
With over fifty different restaurants, shops and attractions, ICON Park Orlando has something for everyone. Here's a look at what ICON Park has to offer:
The Wheel At ICON Park Orlando
The Wheel at ICON Park, formerly the Orlando Eye, is an incredible sight that you can see for miles around. It's a real landmark and you really must go on it when you visit Orlando. Rising to an amazing 400 feet over Orlando, the observation wheel makes sure that you can see so much of Orlando from the comfort of your capsule.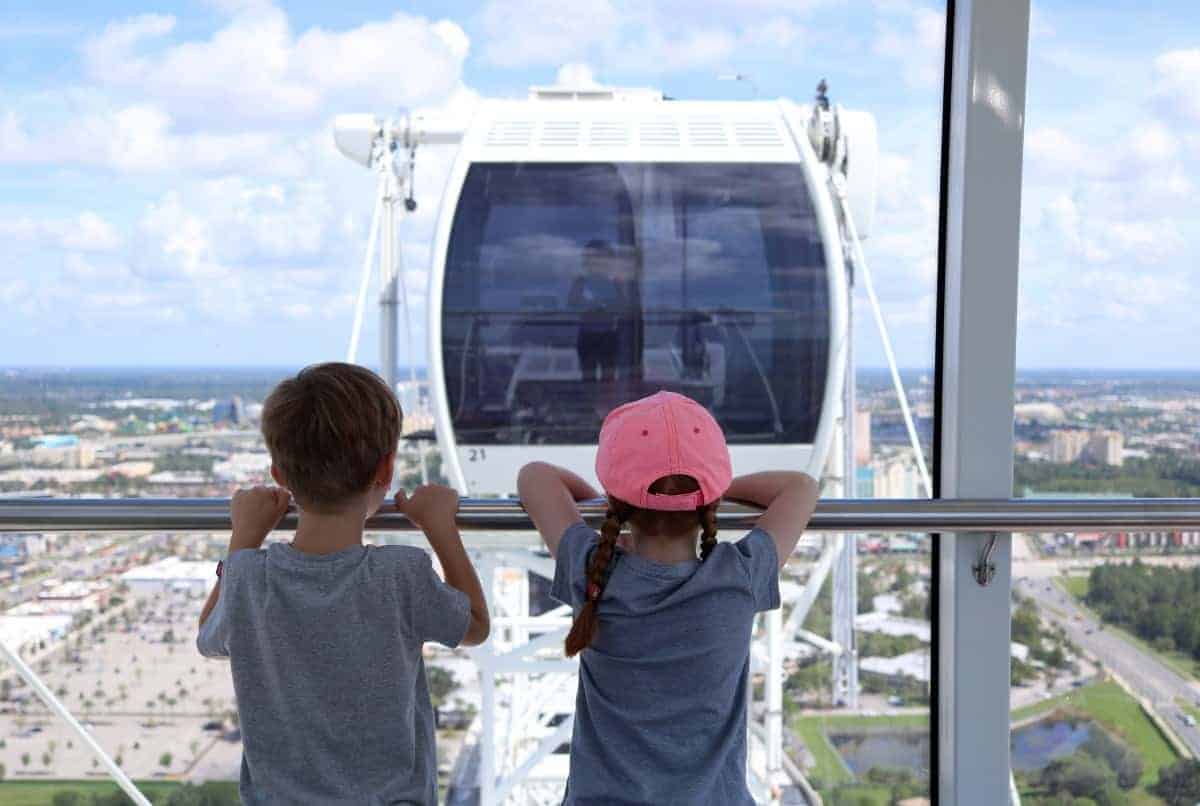 All the capsules have air-conditioning and stability control in every capsule, making it so much more than just another ferris wheel. Plus, there are 64,000 color-changing LEDs built into it, creating unique light shows as soon as the sun goes down. It's great fun for the whole family.
Read about our trip on the Wheel At ICON Park here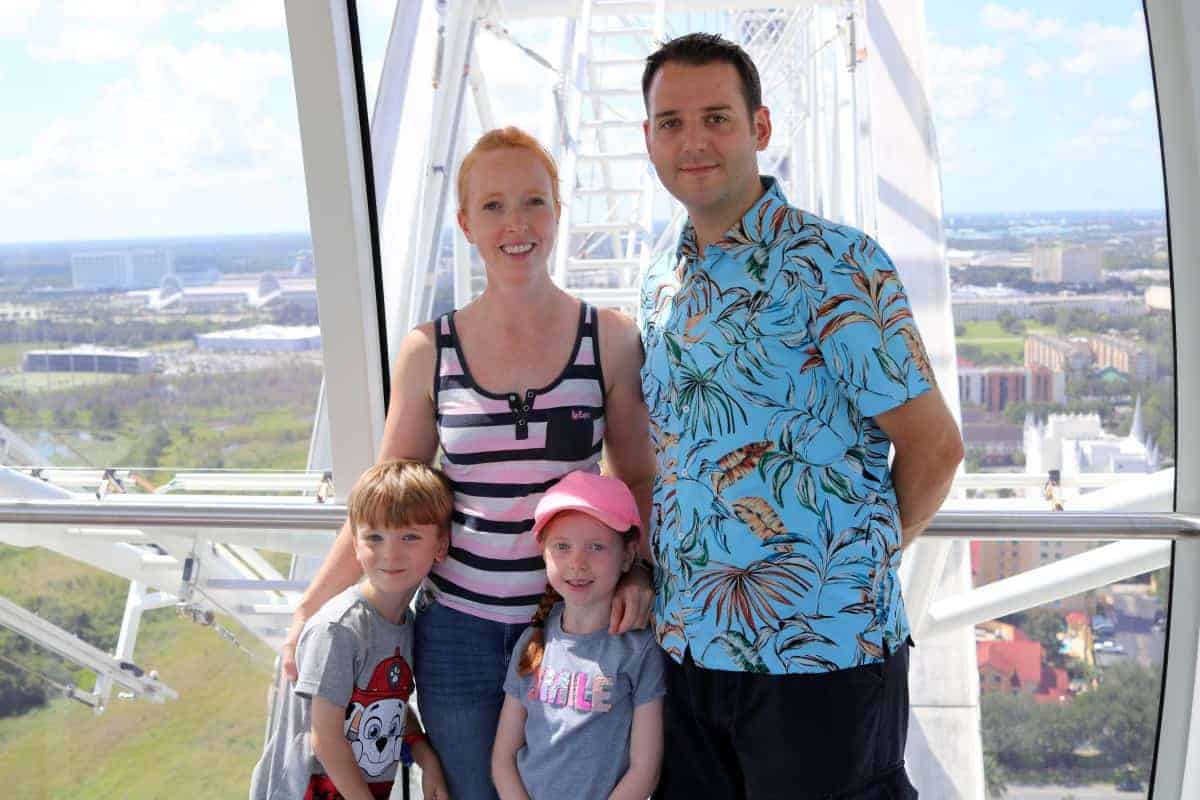 Madame Tussauds Orlando
We love a visit to any Madame Tussauds Wax Museum and the Orlando one is fantastic! Get up-close and personal with the hottest celebrities and enjoy the glitz and glamour of Hollywood life whilst you dazzle your friends with the ultimate selfie striking a pose with Taylor Swift, kicking a goal with Neymar, flying back through history to meet great leaders, and saving the world with Superman, Batman, and Wonder Woman. It's a must for any tourist day out!
Read about out visit to Madame Tussauds Orlando here
SEA LIFE Orlando Aquarium
Who doesn't love an aquarium? At Sea Life Orlando you get to come face to face with thousands of fish, sharks, stingrays, sea turtles, and more. It takes you on an adventure deep into the oceans and even has a 360 degree ocean tunnel giving incredible views under the sea. Plus, there's a rescue sea turtle to meet, exotic starfish and anemones to touch and so many keeper talks.
Read about our visit to Sea Life Orlando here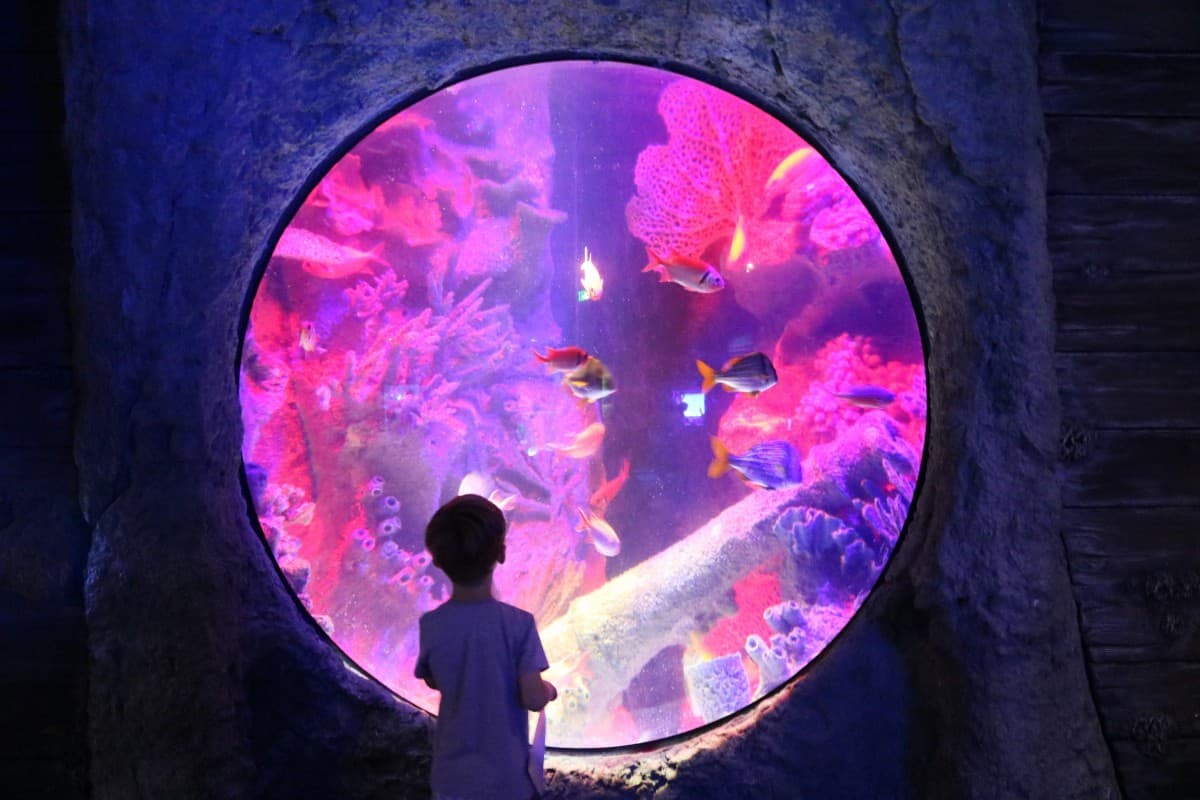 Museum Of Illusions Orlando
Museum Of Illusions brings optical magic to life through jaw-dropping, walkthrough exhibits that invite you to step outside the laws of nature. Everything is super interactive and there are many photo opportunities with staff on hand to help at every step of the way. It's great fun and just a little bit bonkers too.
Read about our day at Museum of Illusions Orlando here
The Great Florida Road Trip
The Great Florida Road Trip takes visitors on a nostalgic holiday through midcentury Florida – before the era of sprawling theme parks and resorts. Part game, part educational opportunity, this experience puts the spotlight on Florida's legacy as an entertainment and tourist destination.
Each participant will receive a camera like device to photograph destinations and earn points while raking a ride around The Wheel. At the end, someone from each capsule will receive a $5 gift card that cane be used in the arcade.
Max Action Arena
Max Action Arena is an 8,000-square-foot entertainment center that is home to a variety of experiences and drinks too! The indoor attractions and experiences include Zero Latency Extreme Virtual Reality, Axe Throwing, Adventure Rooms, and Escape Room and more.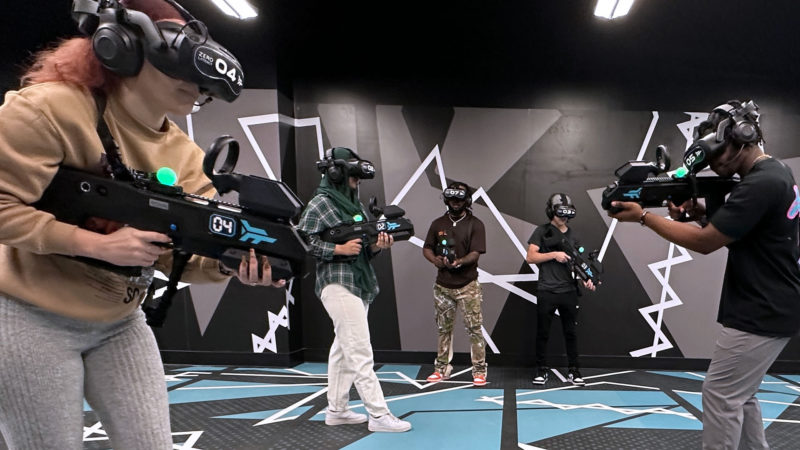 In The Game
In the Game has yet more experiences on offer! There's a Mirror Maze, 7D Motion Theater, Virtual Reality experiences, great games, prizes, and more! It's a must for any family trip to ICON Park.
Carousel On The Promenade
Who doesn't love a carousel? At ICON Park you can have a ride on the Carousel on the Promenade! A 36-foot, hand-crafted masterpiece with detailed carvings and thirty figures of various animals, including horses, reindeer, rabbits, zebras, and more. The carousel also features two chariot benches, making it suitable for guests of all ages and accessible for people with disabilities. Plus, it's great fun to stand and watch even if you don't get on for a ride. The music is lovely!
Pearl Express Train
The Pearl Express Train tour shows you all the sights, sounds, and smells of ICON Park. Perfect for all ages, the train runs throughout the day giving everyone a lovely experience that they'll always remember.
Dining at ICON Park
As well as the many attractions at ICON Park, there are also so many dining options too. Here's what's currently on offer at ICON Park:
Ole Red Orlando
Ole Red offers made from scratch meals all accompanied by live country music from local acts and emerging talent. Plus, there's bull riding every Friday too! It's the full country experience
Yard House
Yard House is the modern American gathering place for anyone who loves beer and good food. It's home to 140 taps of local, craft and import draft beers, handcrafted cocktails and a globally-inspired menu.
Brother Jimmy's BBQ
Brother Jimmy's is built on over 25 years of legendary North Carolina, slow-smokin' barbeque. It's the place for "down-home" cooking, southern hospitality and merriment brought right to the heart of Orlando.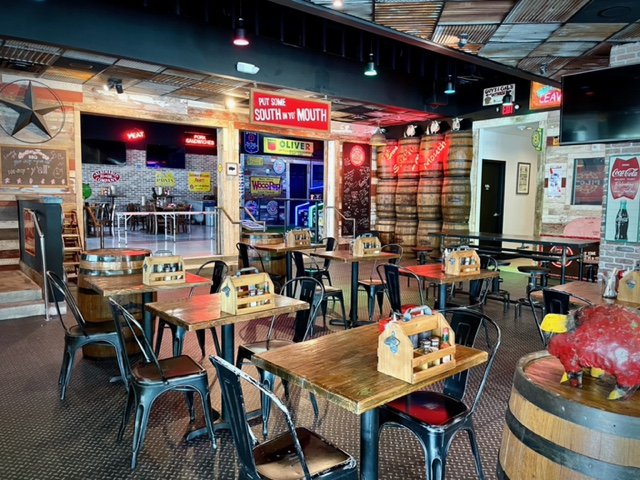 Gordon Ramsay Fish and Chips
Gordon Ramsay's is the epitome of British food. We all love good fish and chips – and now you can get them in ICON Park during a lovely Orlando day out. Gordon Ramsay's serves takeaway-style fish and chips, chicken and shrimp and Gordon's signature shakes – Sticky Toffee and Biscoff.
Sloppy Joe's Orlando
Sloppy Joe's is a world-famous Key West Bar and Restaurant, best known as author Ernest Hemingway's regular hangout, that has been transported right to ICON Park Best known for dazzling tropical drinks, live island music and great food selections, Sloppy Joe's is a favourite for every age group. It's the place for a celebration.
Tapa Toro Spanish Restaurant
Tapa Toro offers classic and contemporary Spanish cuisine, with a robust tapas menu, shareable paella and many vegetarian and gluten-free options. If you love Spanish food then you'll really love Tapa Toro.
Tin Roof
Tin Roof has been bringing live music and good times to captive audiences all over the country for over 12 years and now Tin Roof is in Orlando, thanks to acclaimed Executive Chef Will Zuchman who has crafted a fantastic menu to be enjoyed alongside live music.
Shake Shack
Shake Shack is a fantastic, modern, roadside burger stand known for its 100% all-natural Angus beef burgers, hot dogs, frozen custard, crinkle cut fries, craft beer and more. It's one of our favourites!
Sugar Factory
A celebrity favorite, Sugar Factory is an American brasserie that is sure to satisfy the sweet tooth cravings of tourists and locals alike. Decadent crepes, milkshakes, and burgers await. It's heaven on a plate – or in a glass!
iCafe de Paris
iCafé de' Paris is right under The Wheel at ICON Park. This French Café is well known for amazing crepes, desserts and beverage options. You can stop by and enjoy freshly squeezed orange juice or a mouthwatering Bella de' Paris crepe. They serve breakfast too.
Outback Steakhouse
You often can't beat Outback Steakhouse. They created the modern casual steakhouse and are best known for bold, expertly grilled steaks, Outback offers a wide variety of delicious chicken, seafood, salads and their signature Bloomin' Onion.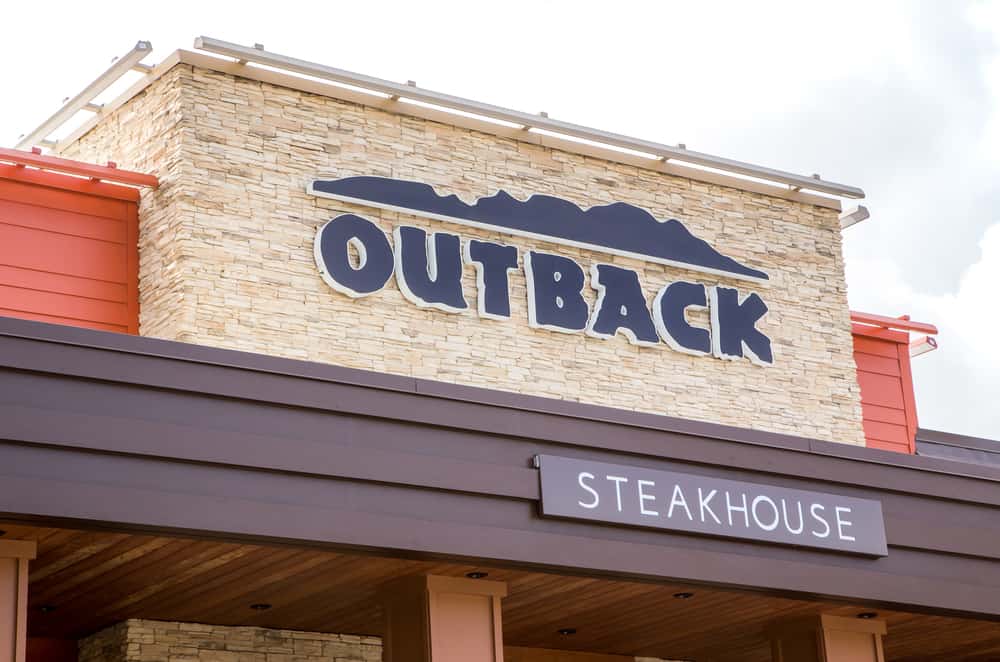 Carrabba's Italian Grill
Carrabba's Italian Grill offers authentic Italian cuisine passed down from the founders' family recipes. Carrabba's uses only the best ingredients to prepare fresh and handmade dishes cooked to order in a lively exhibition kitchen.
Uncle Julio's Mexican Restaurant
Home of the best fajitas and margaritas in town, Uncle Julio's Orlando provides the ultimate Mexican food dining experience. It's the perfect location for a signature margarita or a one-of-a-kind chocolate piñata. The cocktails are incredible!
Buffalo Wild Wings
Buffalo Wild Wings offers boldly-flavored, made-to-order menu items including its namesake Buffalo, New York-style chicken wings. The menu specializes in 21 mouth-watering signature sauces and seasonings with flavor sensations like Sweet BBQ or Blazin'.
iLounge Istanbul
After a long day, iLounge Istanbul is the best spot to hang out with friends, drink wine or beer and relax. The stylish and cozy atmosphere will make you feel at home. With a great view of ICON Park, you can enjoy sitting at our patio with friends, family, or special someone. A great place for a date night.
Wheelhouse Market
The Wheelhouse is home to The Wheelhouse Market, right in the heart of ICON Park. It's a food hall offering authentically prepared and internationally inspired foods like pizza and pasta, freshly made sandwiches and burgers, sweet treats, fresh coffee, and even tacos,
Shopping at ICON Park
As well as restaurants and attractions there are also a handful of shops to enjoy at ICON Park. Here's what's currently on offer:
Wheelhouse Gift Shop
The Wheelhouse Gift Shop lets you take away memories from your ICON Park experience. They sell exclusive Florida plushies, unique apparel and souvenir items.
Build-a-Bear Workshop
Our children loved discovering Build a Bear Workshop ICON Park. It lets you experience a unique world of wonder and stories by creating Build-A-Bear inspired toys, a fantastic souvenir from your Florida holiday.
Calenoi Sunglasses
You can browse athe Calenoi Sunglasses collection of stylish sunglasses that'll get you through the brightest of days of your vacation.
ICON Park Gifts
ICON Park Gifts have so many products that would make perfect keepsakes and mementos of your time in Orlando.
Sugar Factory
As well as being a restaurant, Sugar Factory also offers more than 300 delicious novelty candy and souvenirs, including the world-famous bedazzled Couture Pops. These designer lollipops have been spotted on the red carpet in the hands of various celebrities! Why not take some home with you?
So, there you have everything to do at ICON Park on your next trip to Orlando. We already have our next visit pencilled in with some activities planned and are working out where to go for lunch or dinner! There's so much choice that one visit may not be enough. Plus, it's also only a stones throw from Ripley's Beilieve It Or Not and WonderWorks Orlando if you're looking for even more to do.
If you're planning a trip to Orlando, these posts may also help: