When we spent the day at Discovery Cove on our recent summer holiday to Florida, we were keen to do some of the extra activities on offer. Our tickets included swimming with dolphins and as Dave is a qualified diver, he was eager to spend some time under water.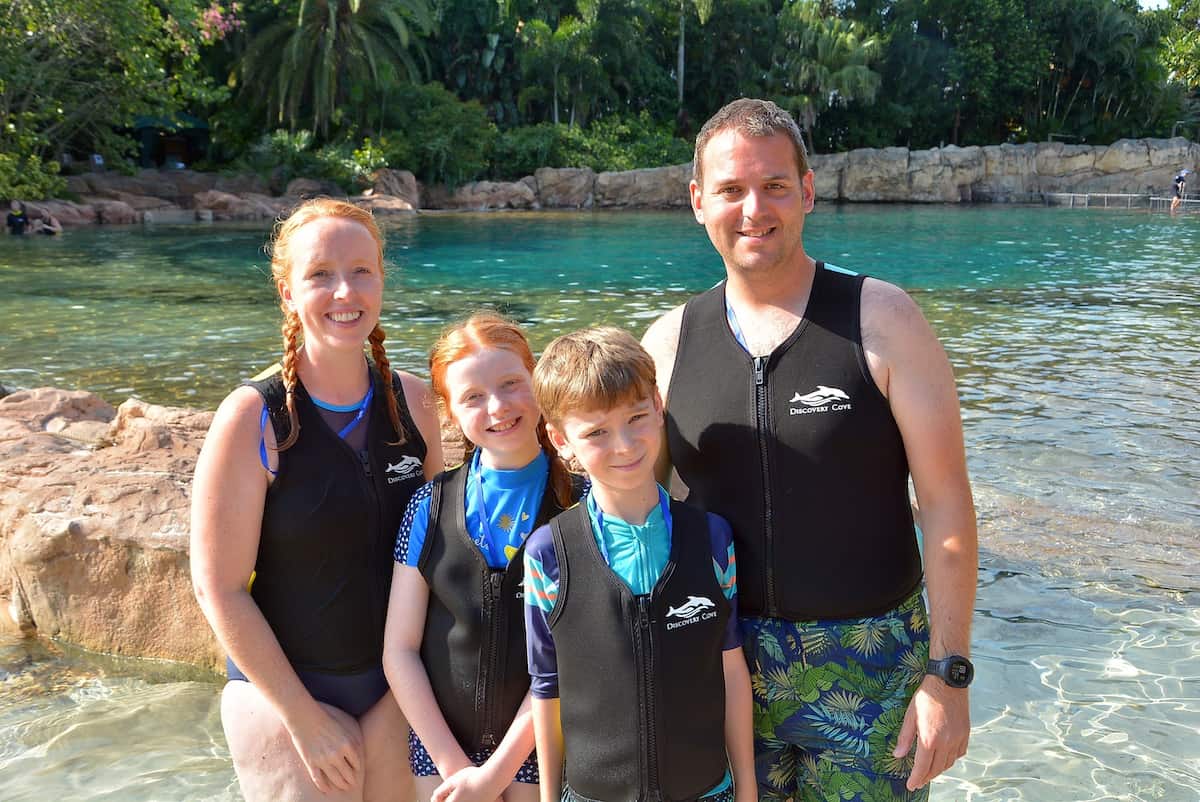 What is Seaventure?
Discovery Cove offer an experience called SeaVenture and for $79 in the peak August season, it's as close to diving as you can get inland! Open to those over 10 years old, Discovery Cove SeaVenture is a guided underwater walking tour of the Discovery Cove Grand Reef. Guests use a diving helmet to get face to face with reef sharks (through an 8 foot panoramic window!) and hundreds of tropical fish, including majestic rays.
We booked two slots for Dave and LP as part of her birthday present, as under 14s need to be escorted by an adult. Little Man was too young and it's not something I'd fancy doing as I only learnt to swim recently.
The Seaventure experience
When Dave and LP arrived at the briefing hut they were given shorty wetsuits to use as is standard when spending time under the water at Discovery Cove. Lockers were available for any valuables that people might have with them and then there was a short safety presentation during which ground rules were given along with hand signals to use underwater.
As we had also booked a Discovery Cove photo package for the day, Dave and LP were given a GoPro to use by the dive team. Eager to get in, they made the way to the jetty and were helped into the water.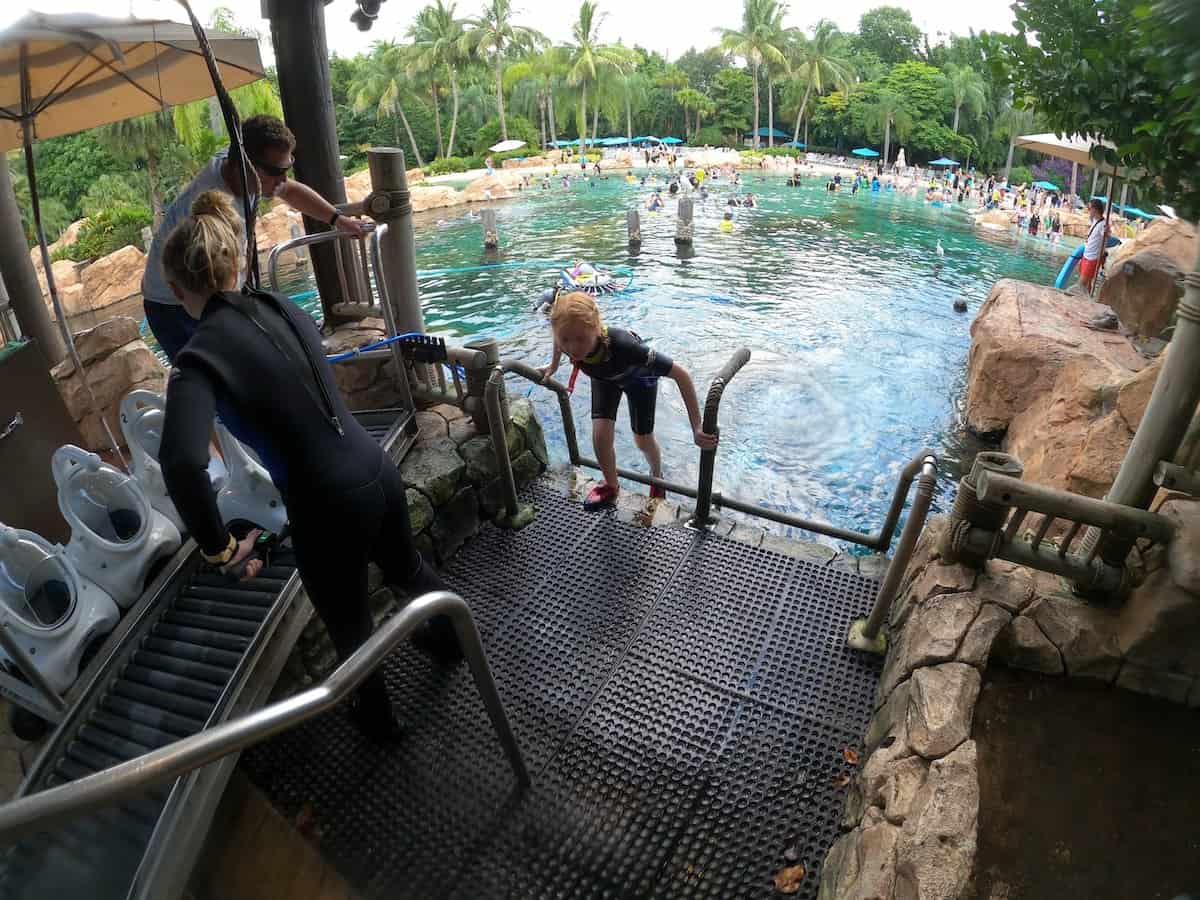 Just before their heads were submerged, land staff assisted with getting the helmets on, which weigh about 15lb, but as they are underwater the weight is negligible during the experience. A safety handrail encompasses the underwater route and divers are instructed to use it throughout.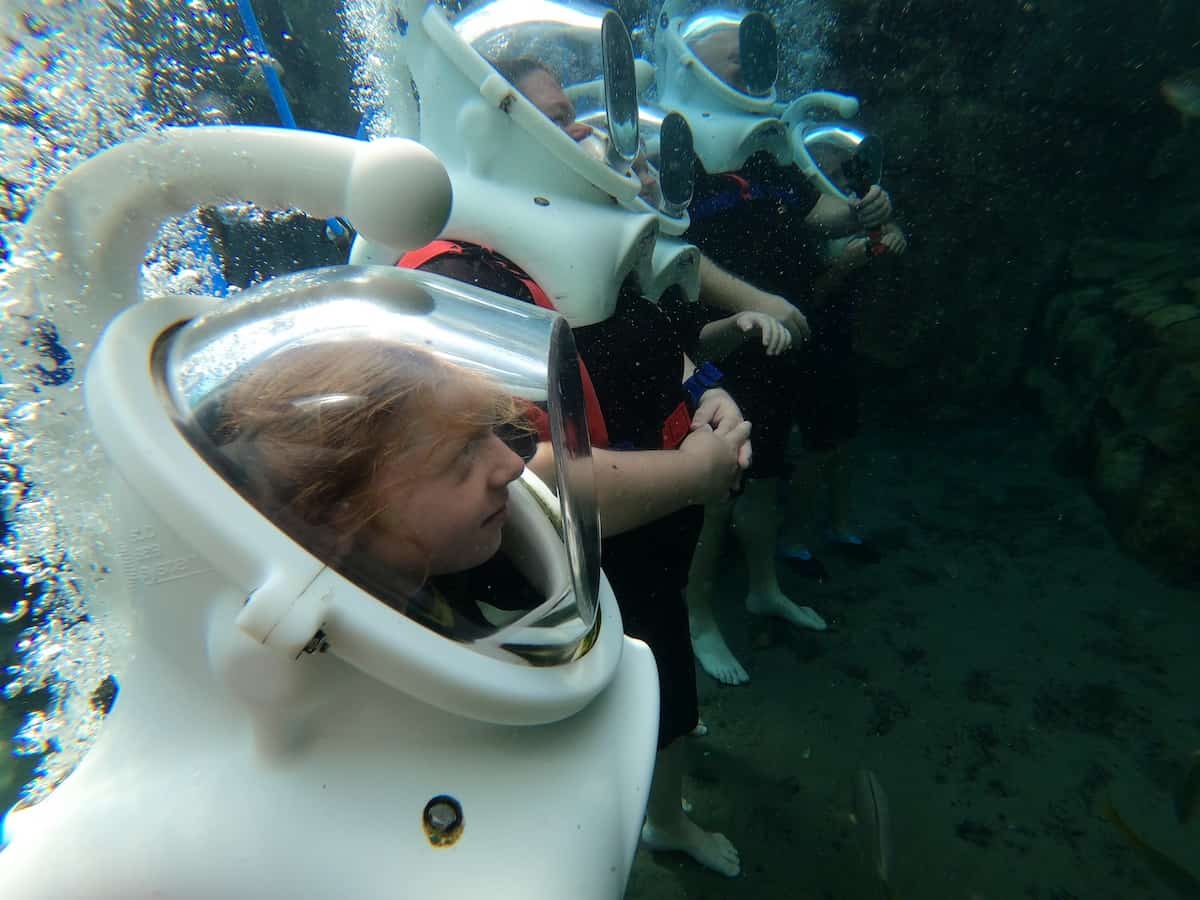 Wearing the helmet was a very strange experience as you can always hear the soft hiss of the air intake from the surface, but this is reassuring to know you're connected! Once all the divers were lined up, they set off on their Seaventure underwater walking tous and were immediately surrounded by massive schools of fish from every direction.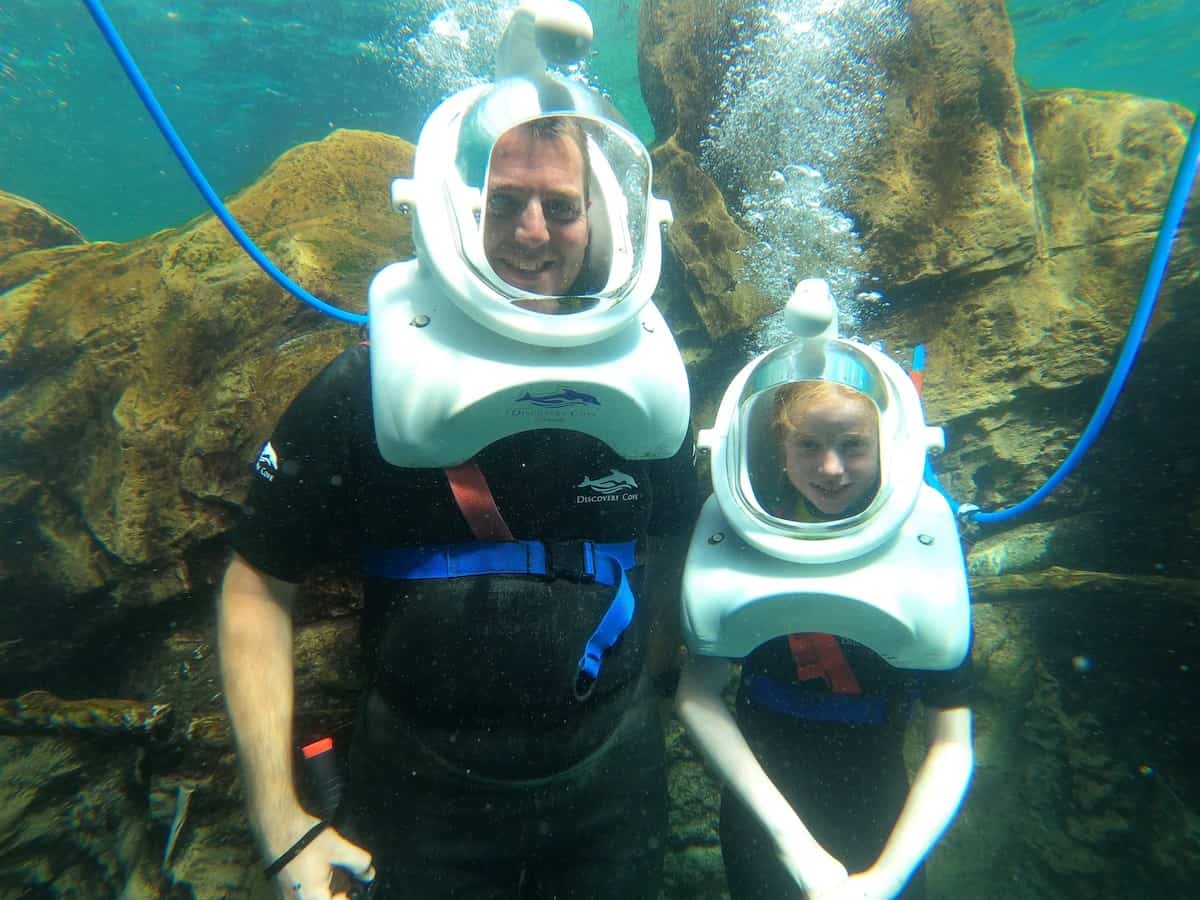 Huge rays brushed past and the helmets gave excellent visibility all around. The shark tank was great, as a number of the massive sharks were gathered right at the edge of the viewing window, making a great underwater photo.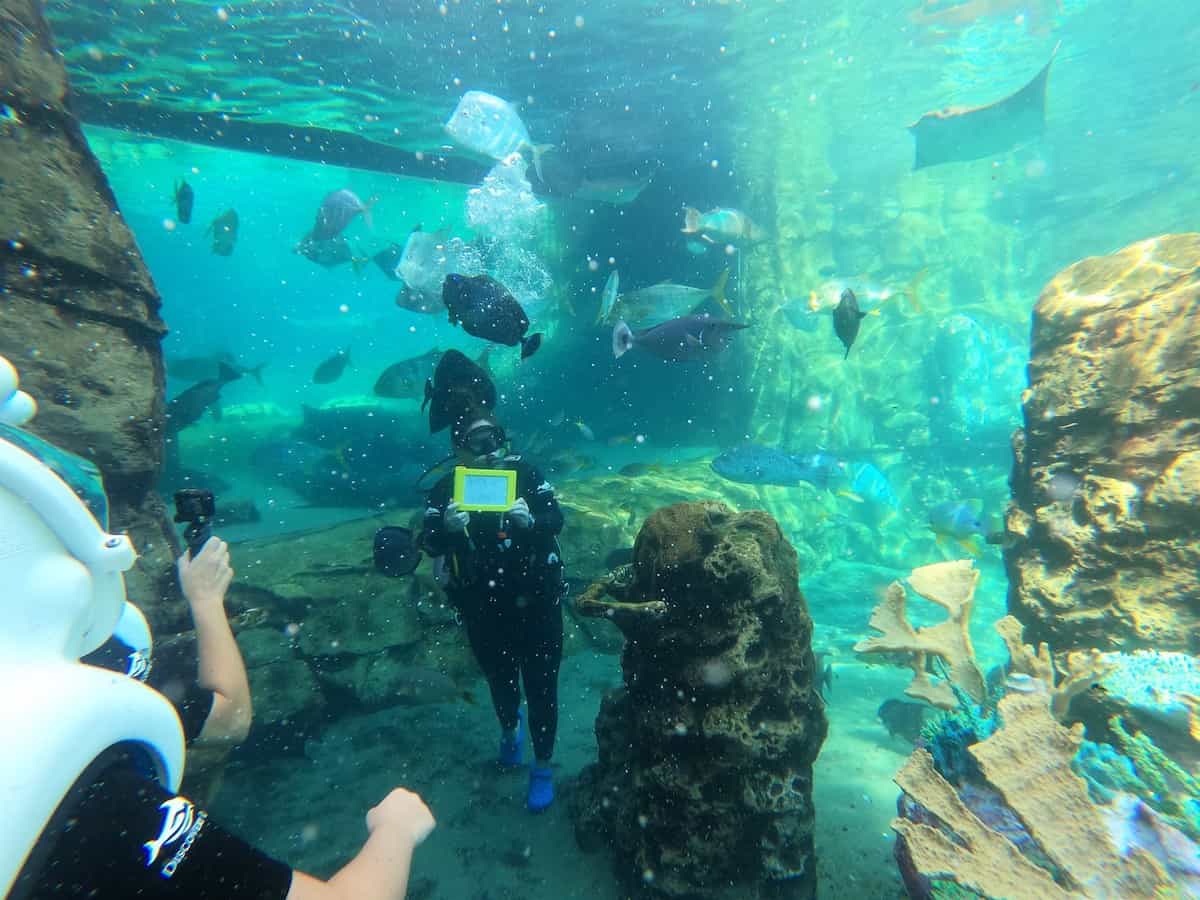 The lead dive staff had an underwater message board to communicate with guests when a hand signal wouldn't work. They pointed out things like particular fish to see, points of interest and facts about the sea life. Those with cameras were also snapped by the dive team along the route to get unique memories of you and your dive buddy.
As the tour came to an end, divers were told to look up. They saw staff on the surface putting food for the fish into the water. This of course caused literally hundreds of fish to swarm around the people underwater, an incredible experience that they won't soon forget.
After the feeding frenzy had died down, divers ascended the same ladder used to get into the reef, with the heavy helmet hooked out by land staff, getting out couldn't have been easier. The whole experience from briefing to getting out was about 45 minutes long.
Dave gave the camera back and was told that they would be able to view all the photos taken on it within about half an hour, across the cove at the photo hut. The photos came out really well and we were able to take them all home as part of our photo package.
LP really enjoyed her first taste of underwater adventure and can't wait to get into the ocean on a real dive as soon as she can. It was definitely a fantastic birthday treat!
You can find out more about Seaventure over on the Discovery Cove website and you might also enjoy these blog posts: