One of my favourite places on our recent trip to Orlando was Pioneer Village at Shingle Creek. It's somewhere I came across randomly online and knew we just had to visit. We love a living history museum here in the UK and it felt only right to take a little step back in time when we were in Florida too.
What is Pioneer Village at Shingle Creek?
The Pioneer Village is a permanent collection of authentic structures which once stood in different areas of Osceola County. They were carefully relocated to their present location and have been gently preserved to demonstrate how life was once lived before modern times.
What can you see at Pioneer Village?
The village includes a general store and post office, schoolhouse, church, train depot, homesteads from Osceola settlers, a Seminole settlement, a cow camp and working structures like a blacksmith shop, citrus packing plant, cane grinder, and barn.
When we visited Pioneer Village we were able to park easily as there is plenty of free parking on site. We went straight into the first building, a cute house made into a shop and reception complete with toilet facilities.
We'd already booked our tickets through Groupon and were given a map and shown where the toilets were before starting our visit. As soon as we walked out the back of the shop, we were met with so many buildings to explore.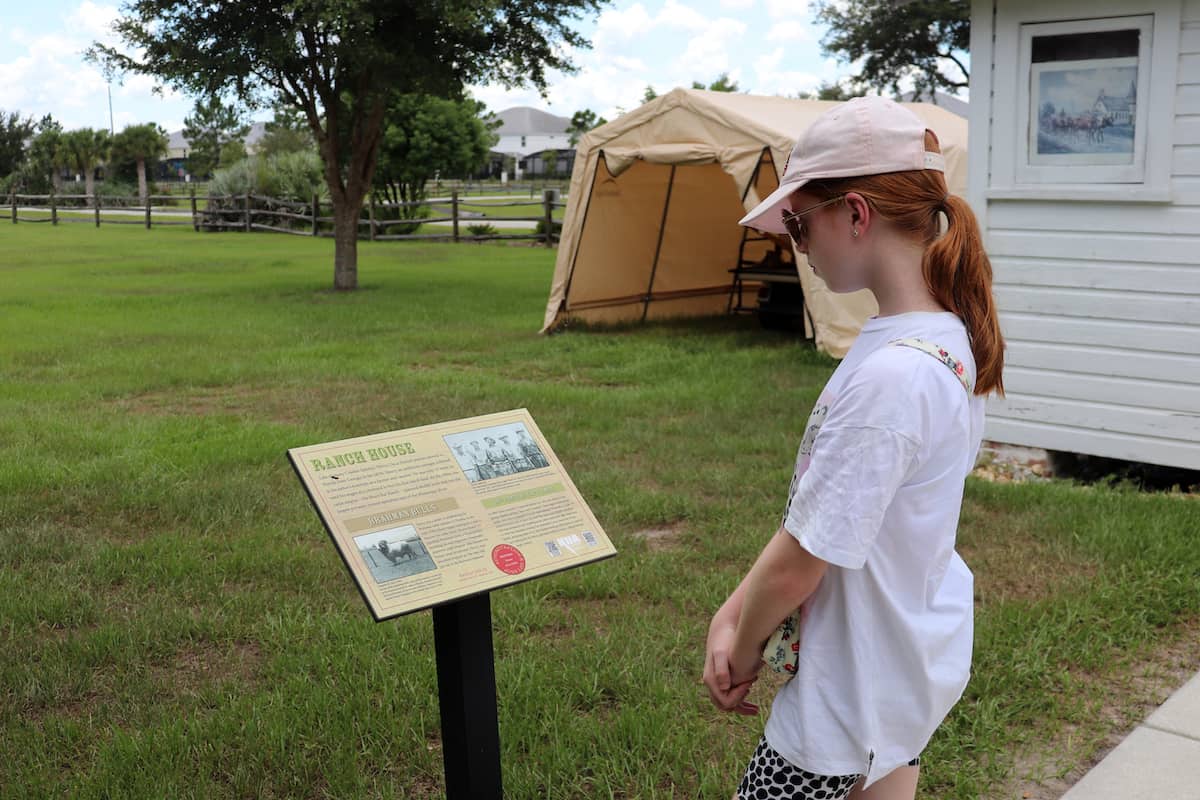 Guided tours at Pioneer Village
Pioneer Village offers guided tours on a Saturday but outside of those times you can visit and explore at your own pace – which is what we did. We actually had Pioneer Village to ourselves and it was lovely – like being transported back in time.
We started our trip at the General Store where we got to see so many traditional goods on sale. It's a beautiful wooden building with steps up to the front and so much little features that really bring it to life – like a wagon parked at the side.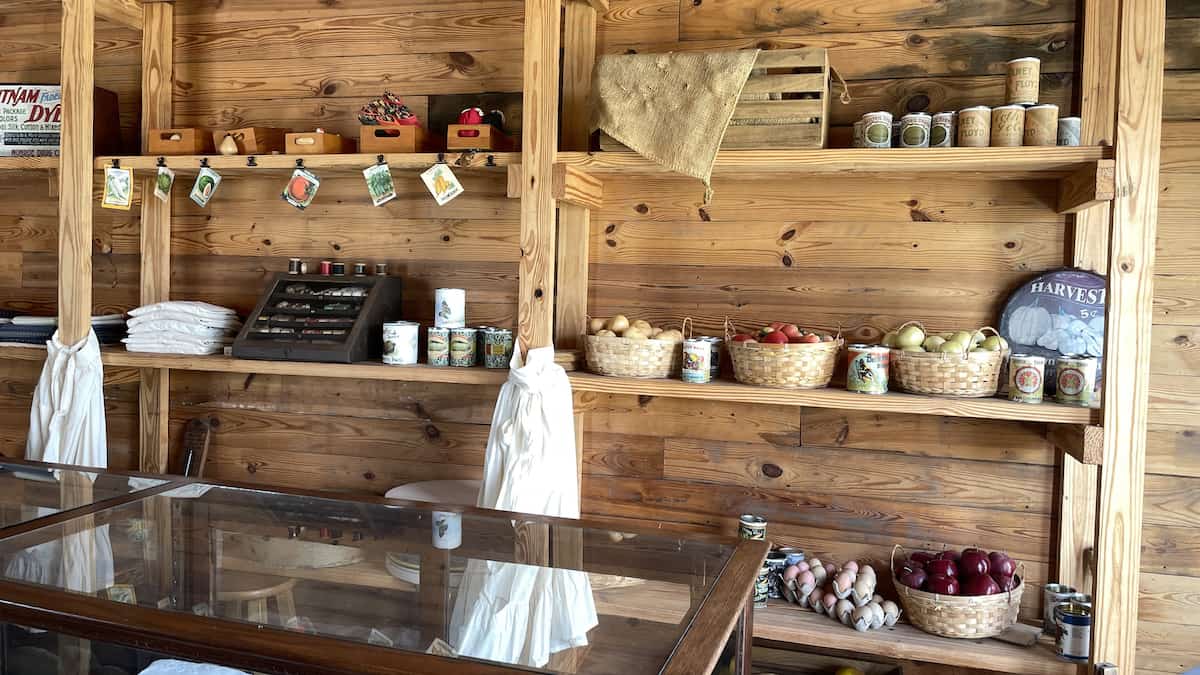 Next, we went in the school house which was beautiful, smelt really woody and was just so different to schools at home – even in years gone by. Much of our trip to Pioneer Village was spent comparing it to our lives and the UK history we knew. The children loved the school house but couldn't imagine learning in a place like that.
Like the shop, the school had so many little extra touches – it had desks and chairs, a blackboard and even a bell outside to ring for the start and end of lessons. There's so much detail at Pioneer Village which really brings each building to life.
We then walked to the little homestead at the far end of the site. This is such an idyllic space, showing the whole life of a family in a time gone by. There were chickens running around, goats out the back and a sparsely furnished by homely farmhouse.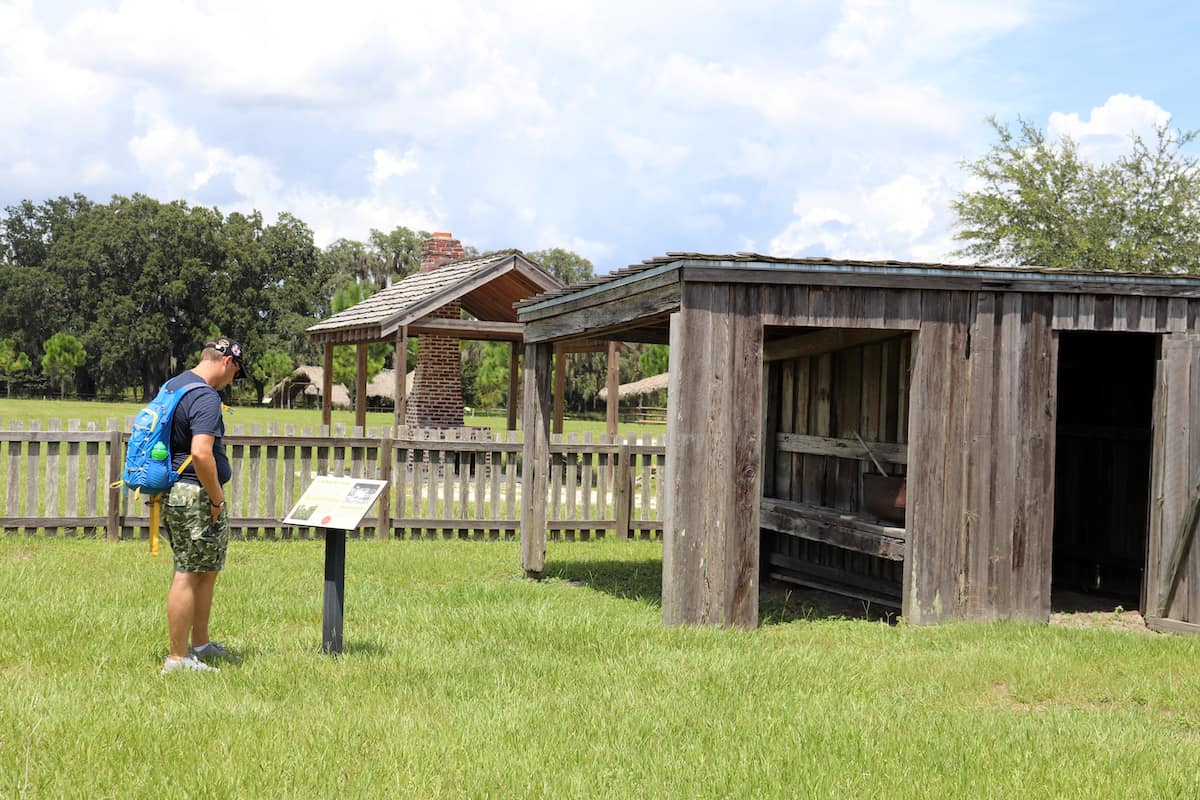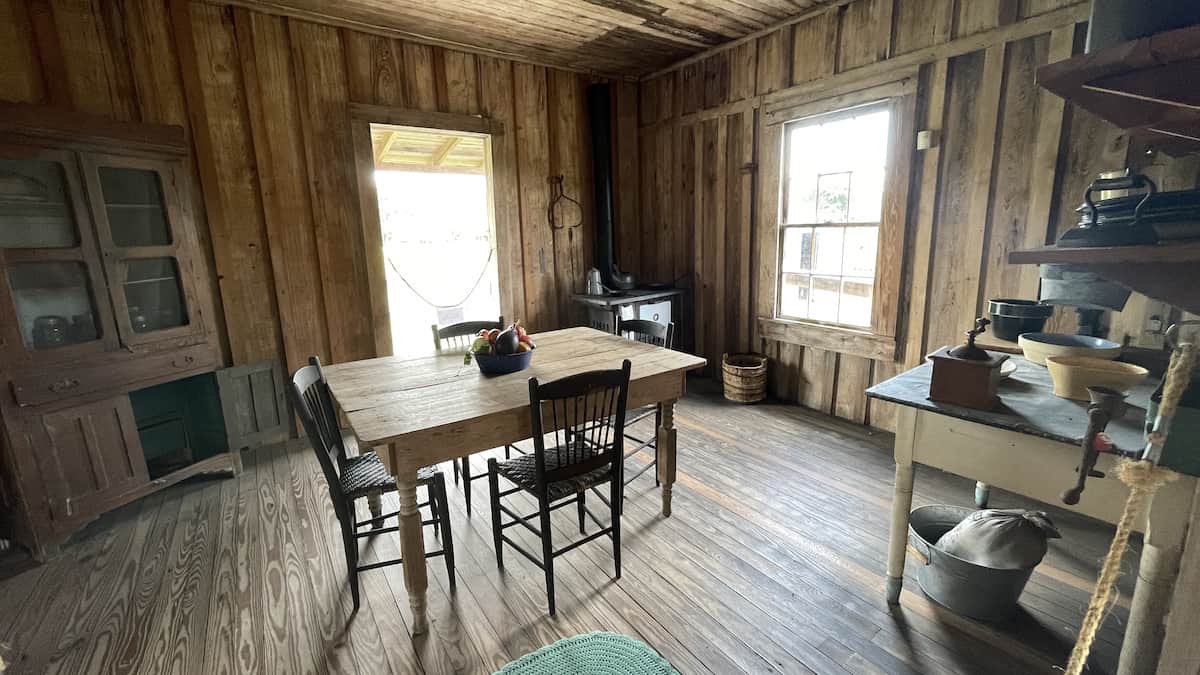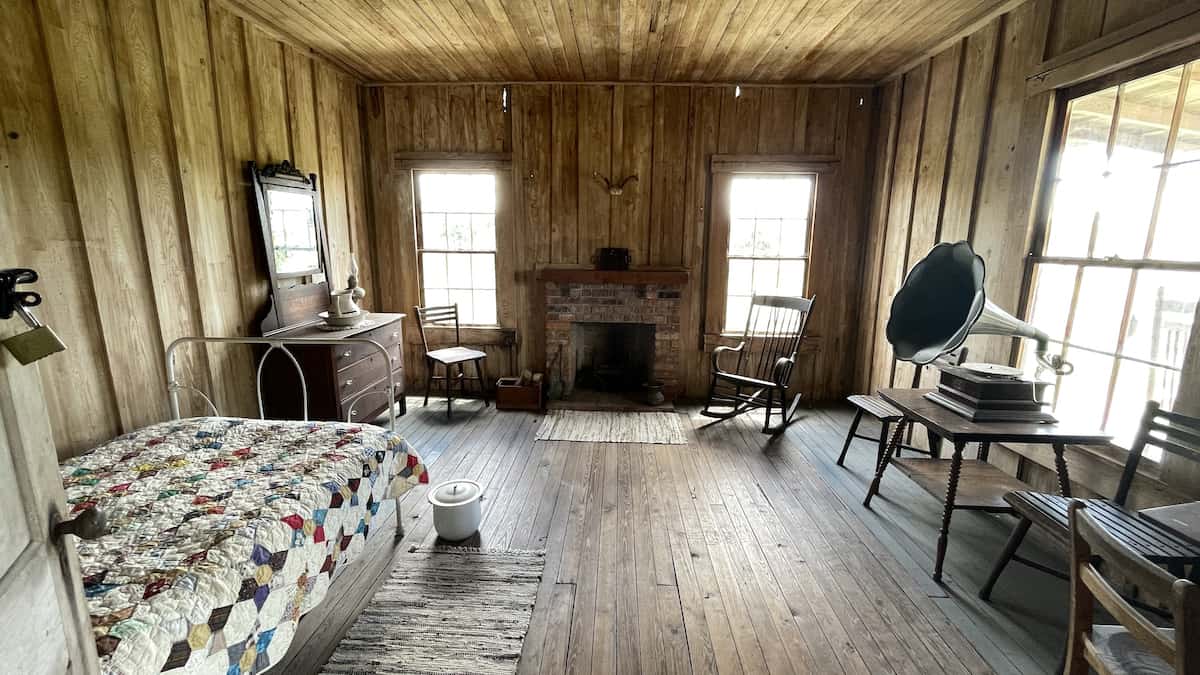 The farmhouse had a little triangle on the porch to ring everyone in for dinner and you could just imagine people working hard in the barn out the back. It felt so traditionally homely, a place of hard work and togetherness.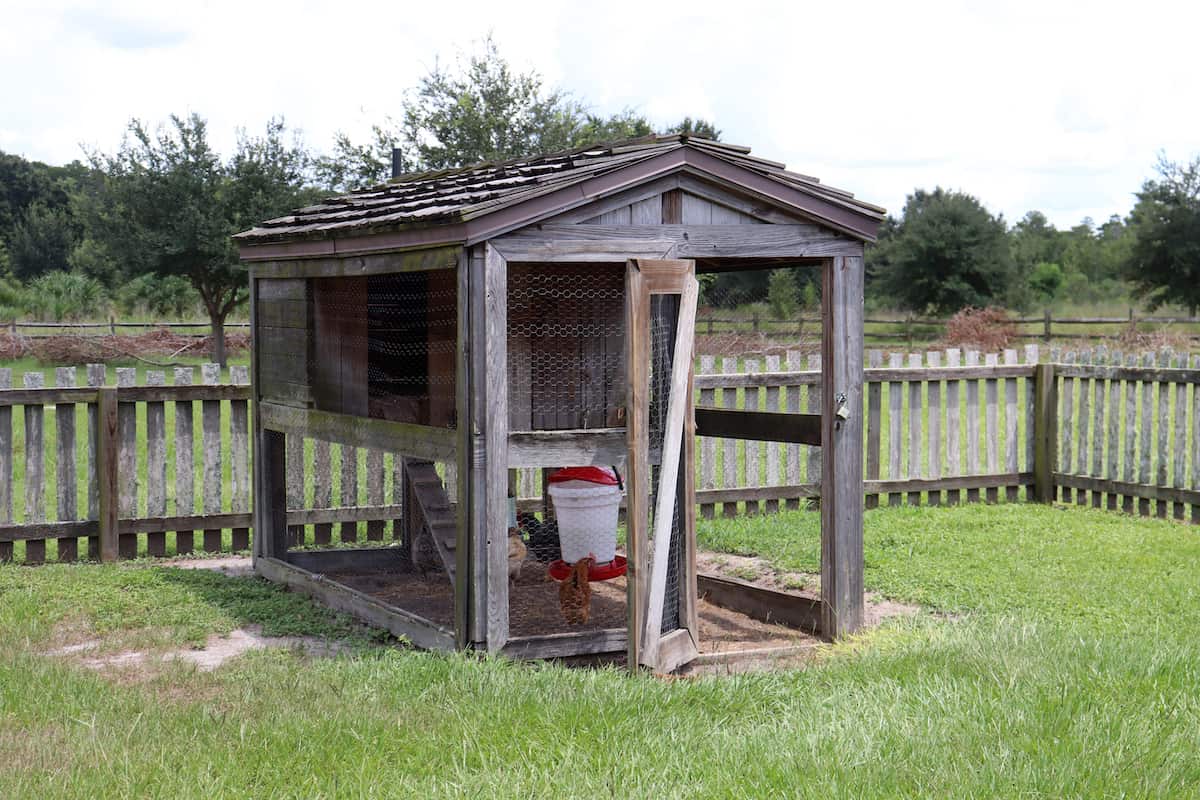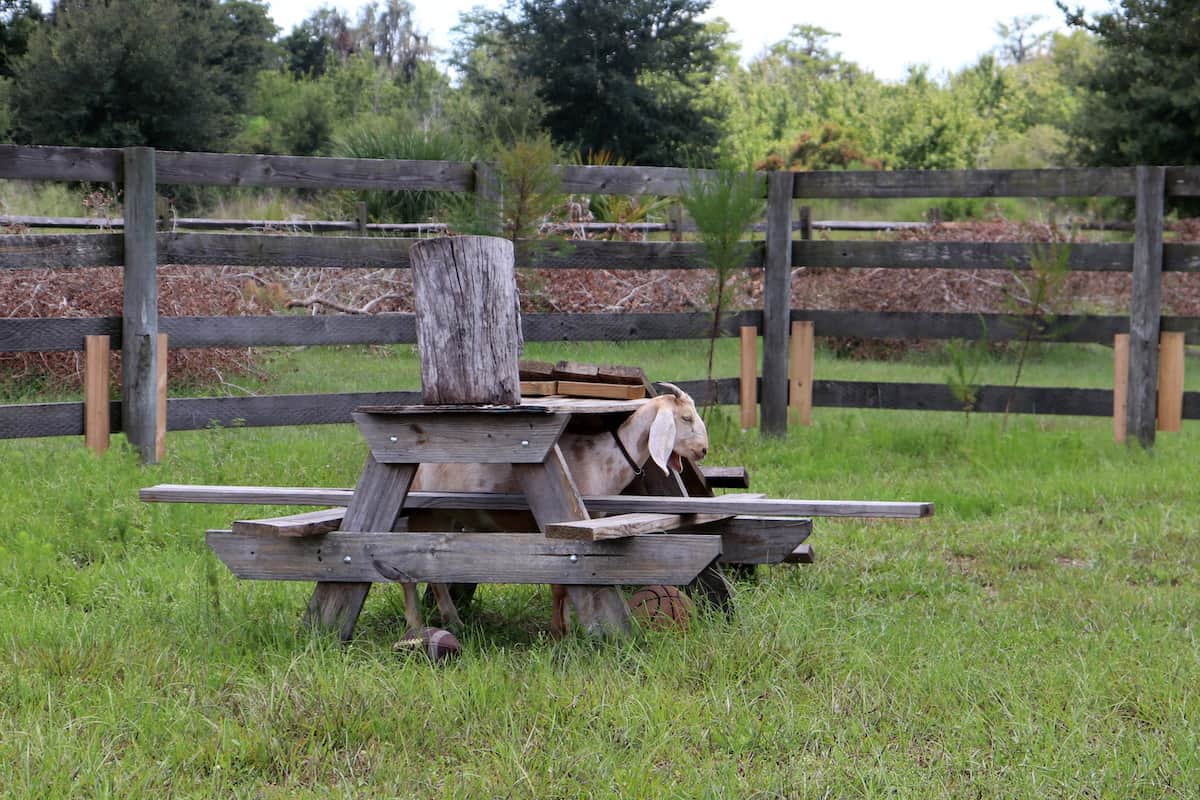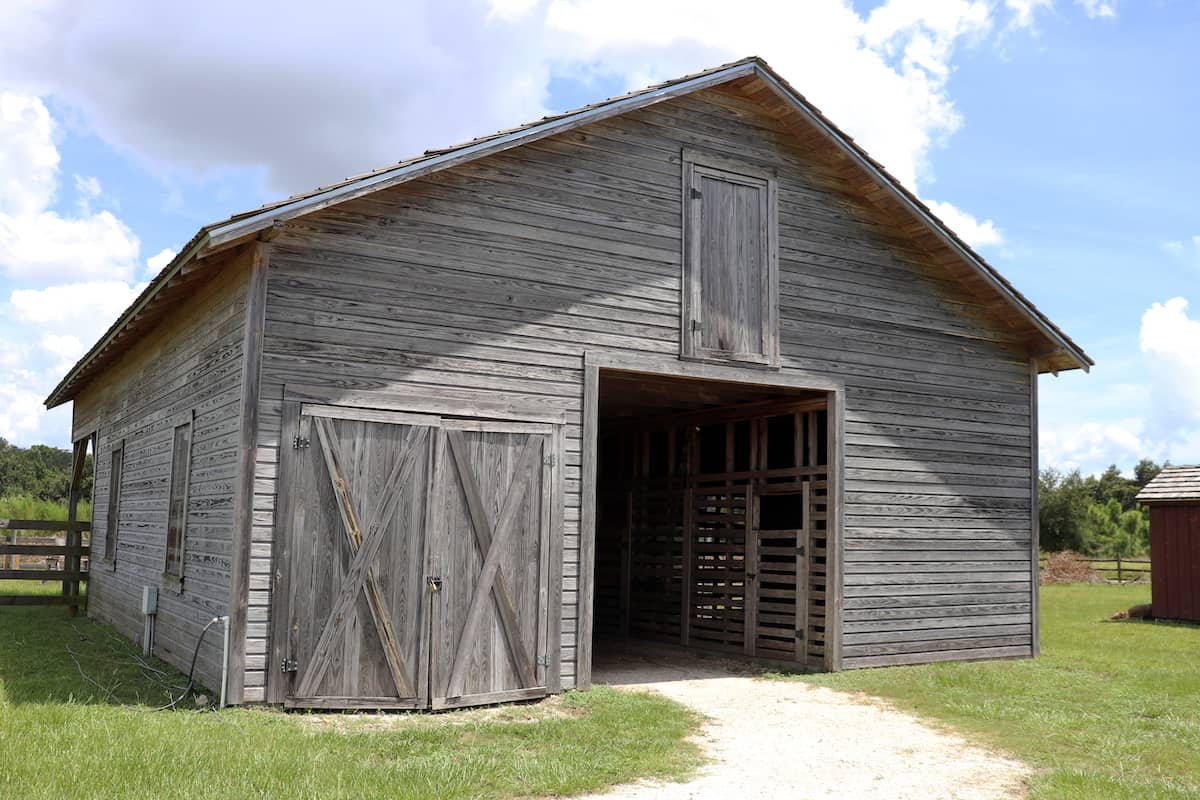 Carrying on our loop of the site we explored and learnt about the Seminole settlement and cow camp. Every different structure had a sign with information about it, photos and drawings to really help bring the place to life. The children read every sign and learnt so much during our time at Pioneer Village.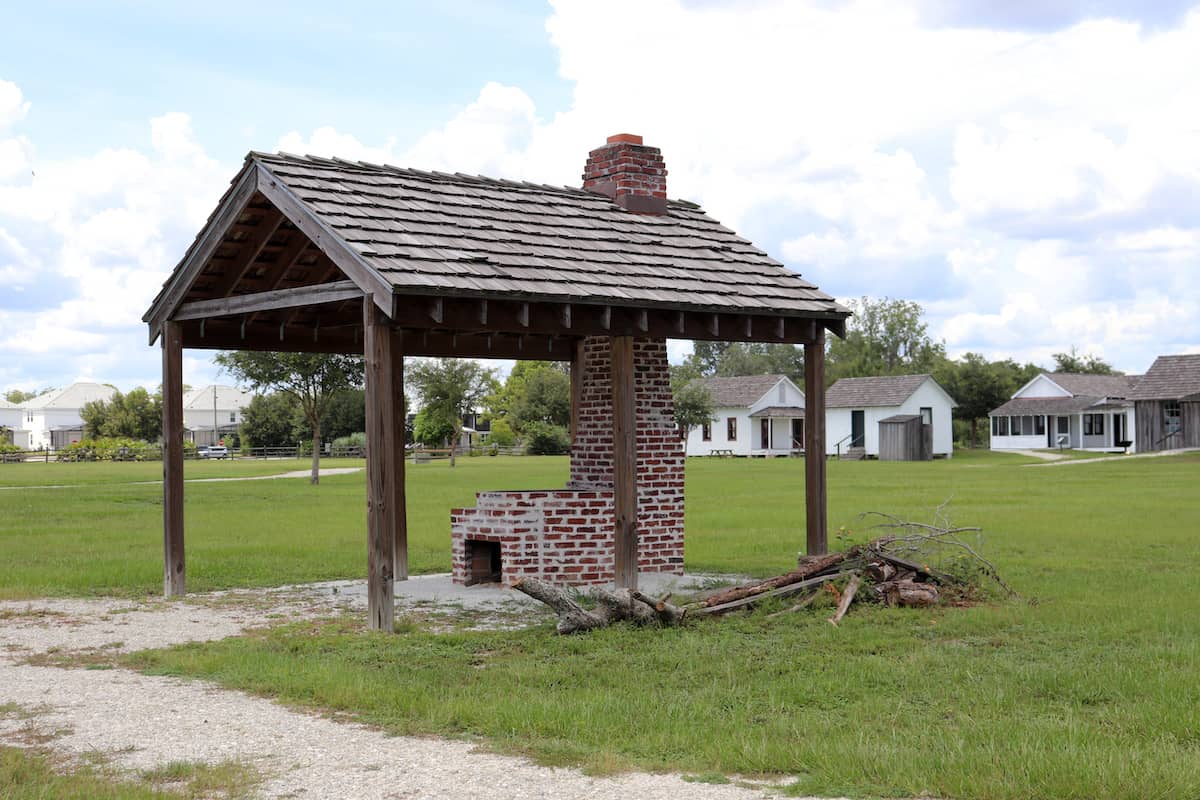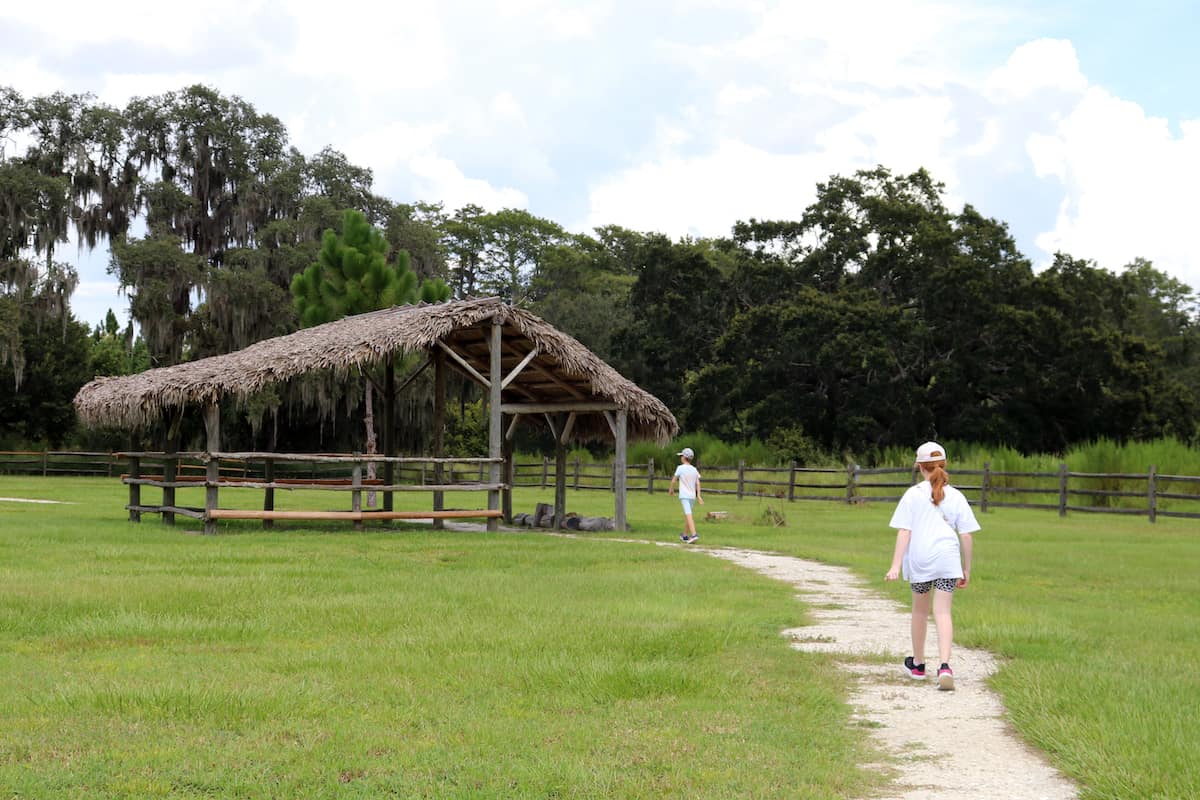 The next buildings were another homestead. Whitewashed buildings, interlinked with covered walkways. Each room was again sparsely furnished but felt practical, homely and well lived in. We loved that the houses had porches with rocking chairs, somewhere to sit and watch the world go by.
It was really interesting to picture the families of bygone days, living in their houses, going to work and bringing up a family. It all felt so familiar and yet so far removed from the UK city history we're so familiar with.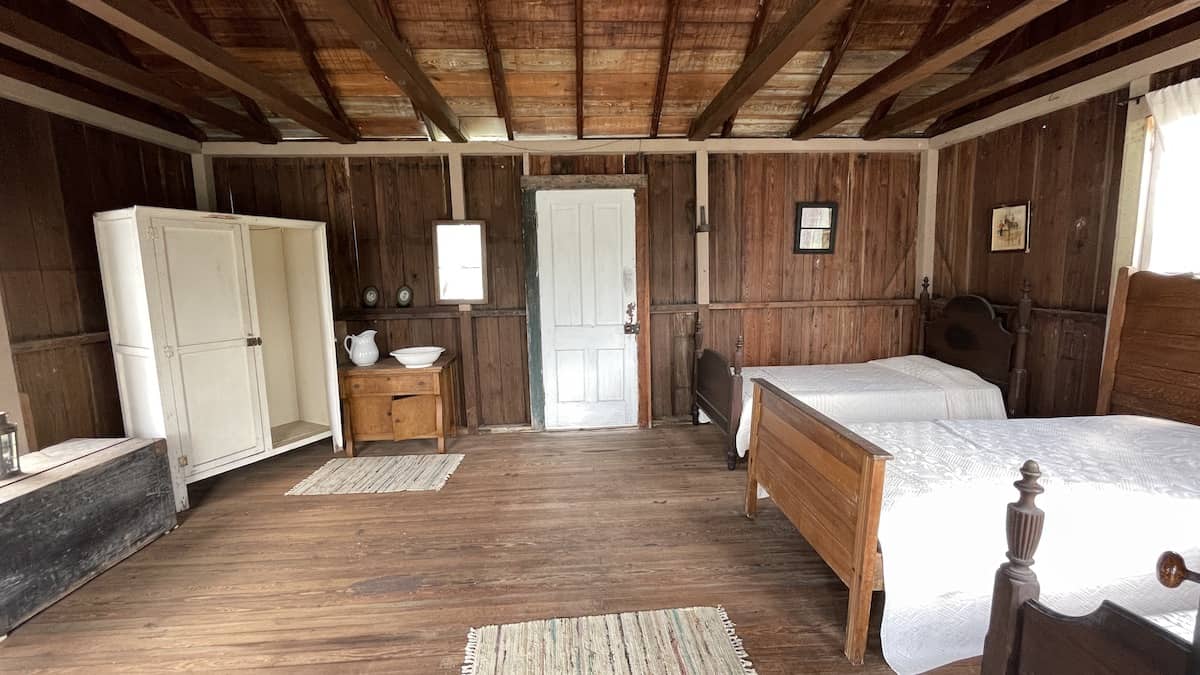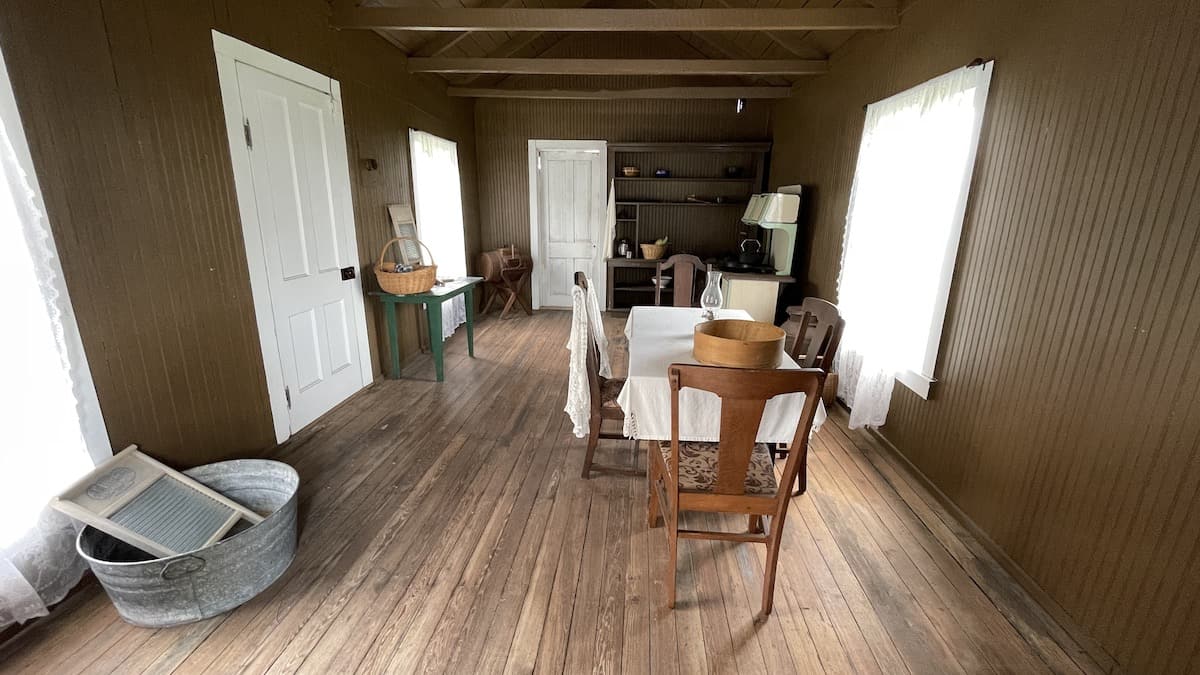 It was then time to go in the church, one of the most impressive buildings within Pioneer Village. Complete with pews, a spire and stained glass windows, it's a really lovely building and one we really enjoyed exploring.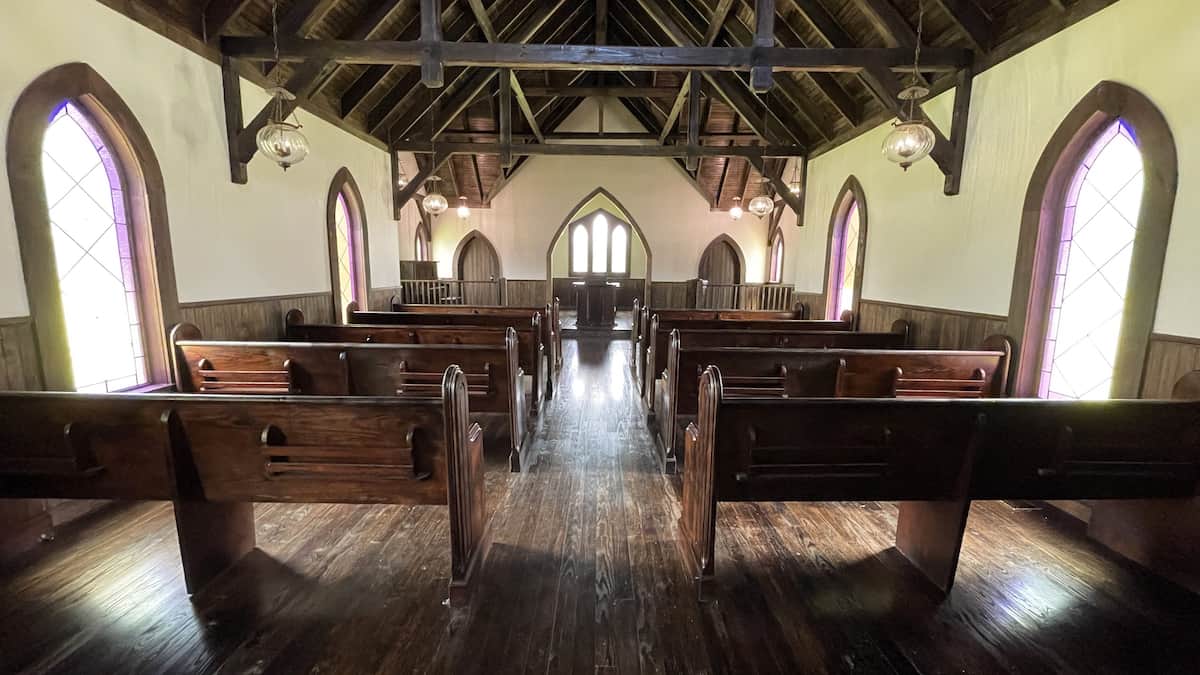 After the church we explored another small home with a lovely porch and steps up to the front. All of the homes were how I'd always pictured old American buildings and it really made my imagination come to life.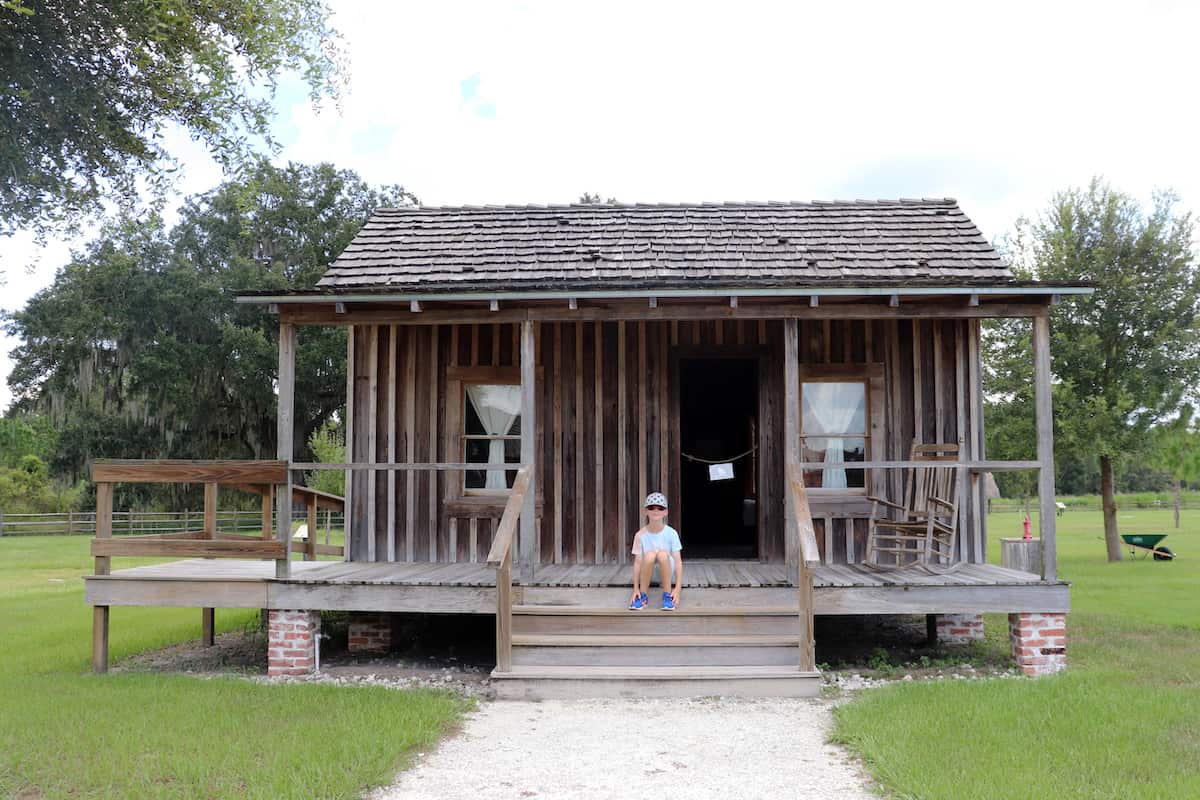 We saw the blacksmith shop, workshops were fruit and other produce was packed and, finally, the train depot – complete with ticket window, waiting room, platform and track. The children loved this part, racing up and down the track, pretending they were trains and imagining boarding a train from the rustic little platform.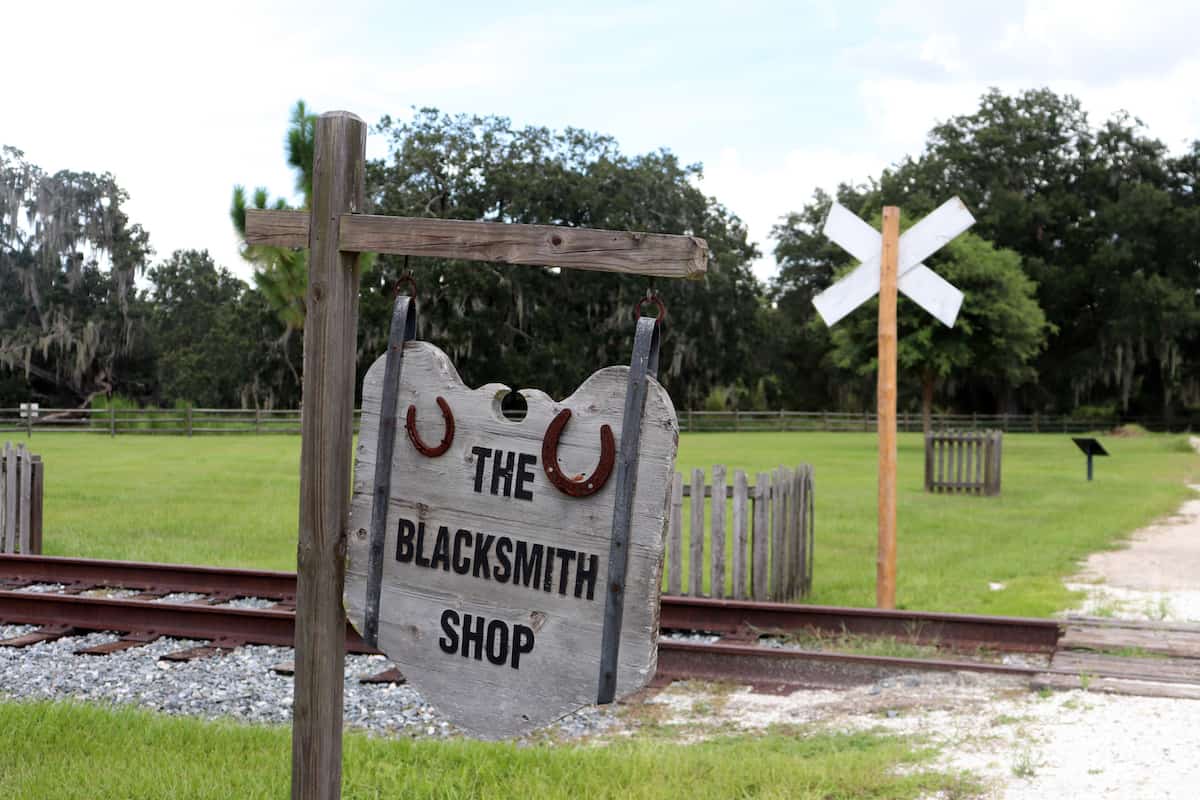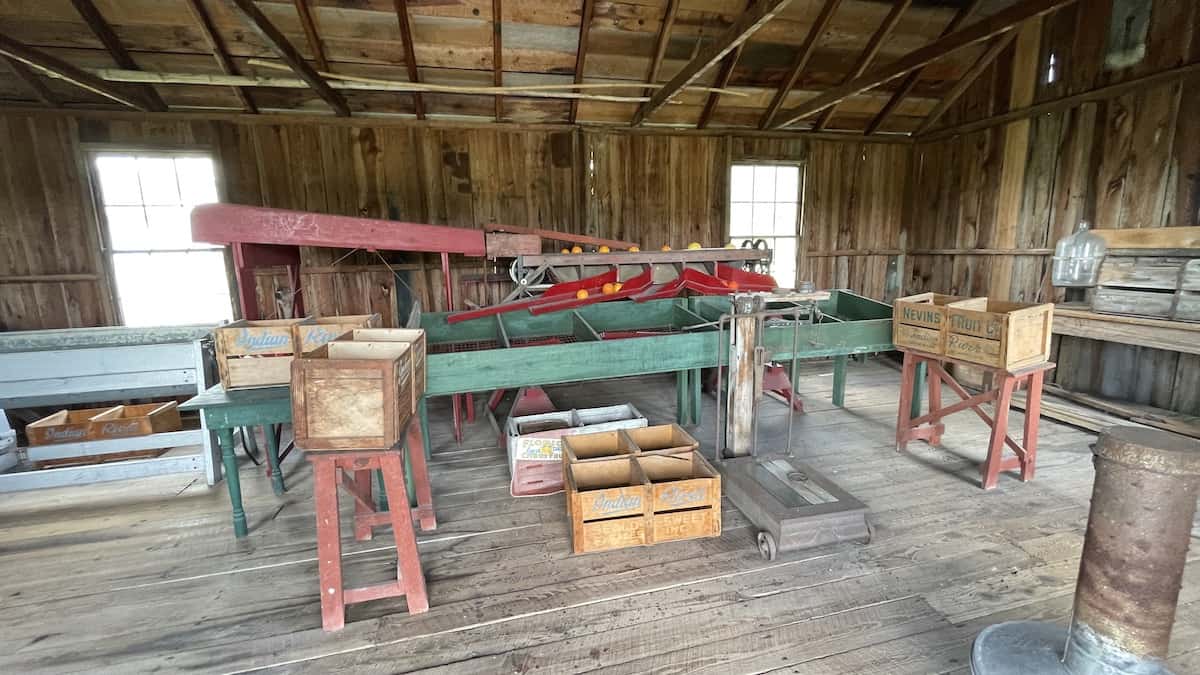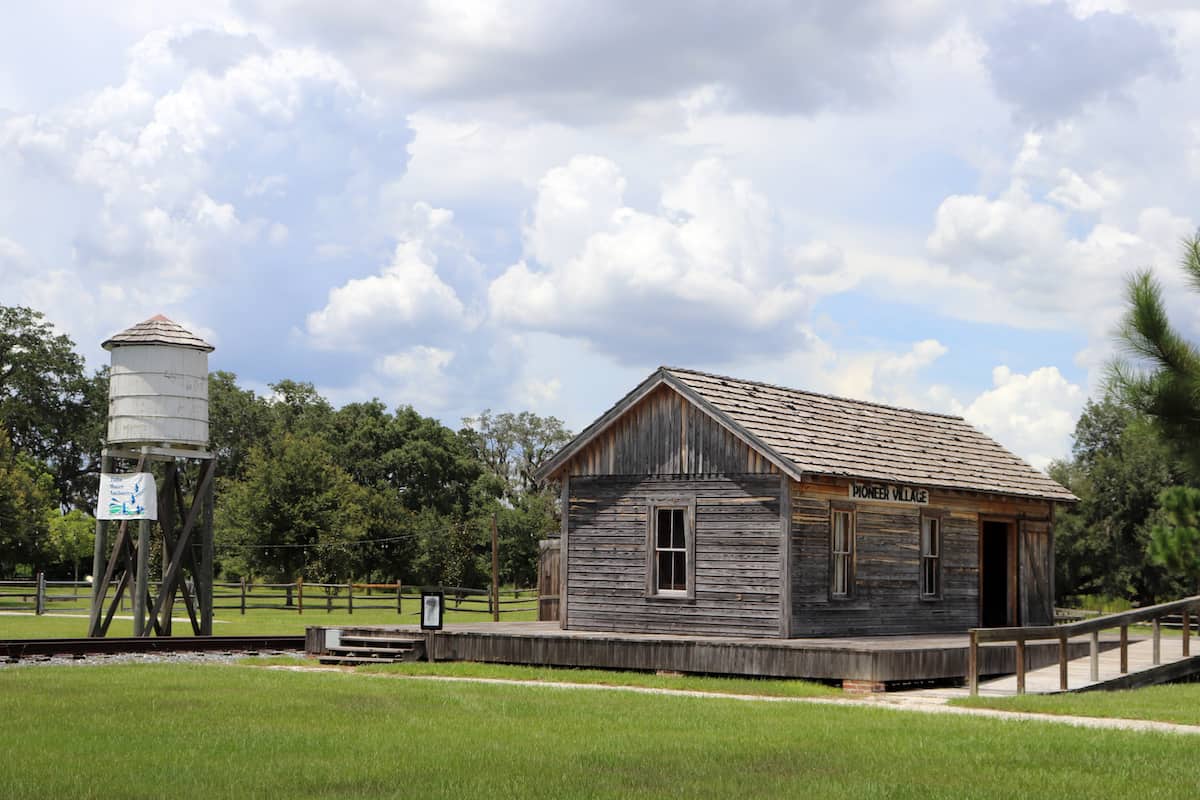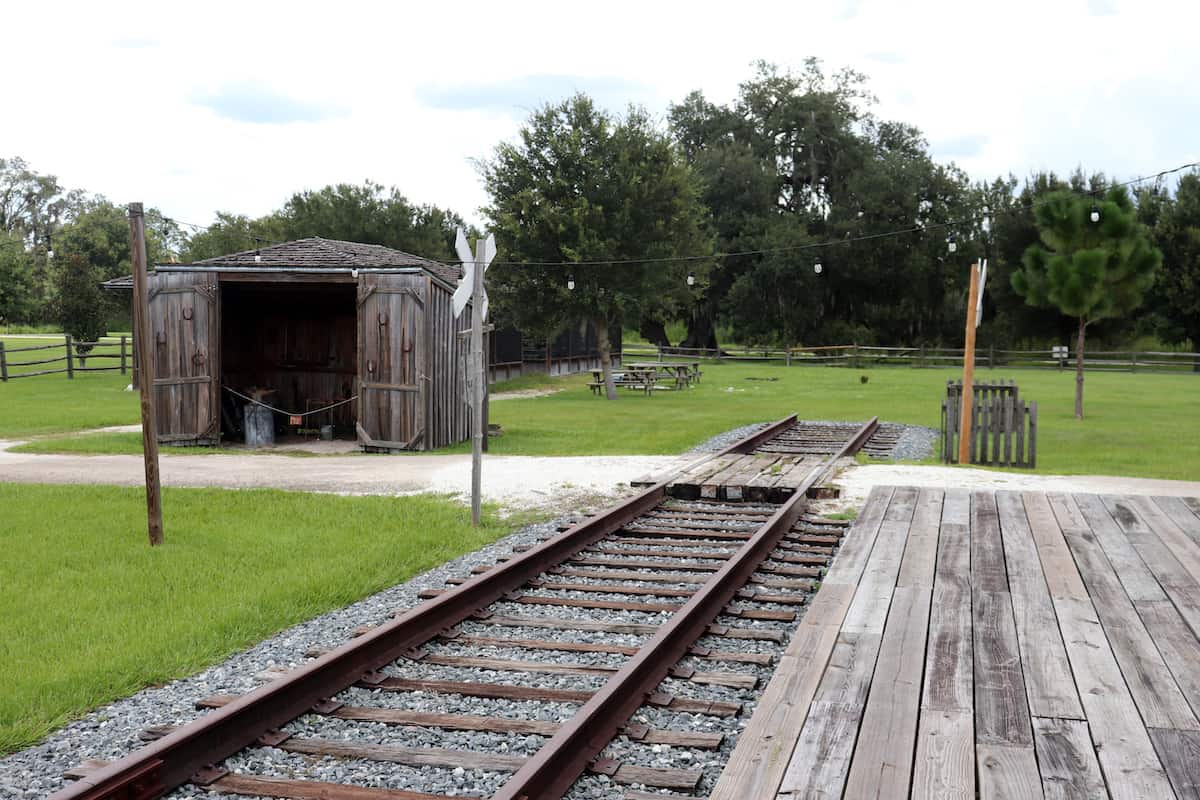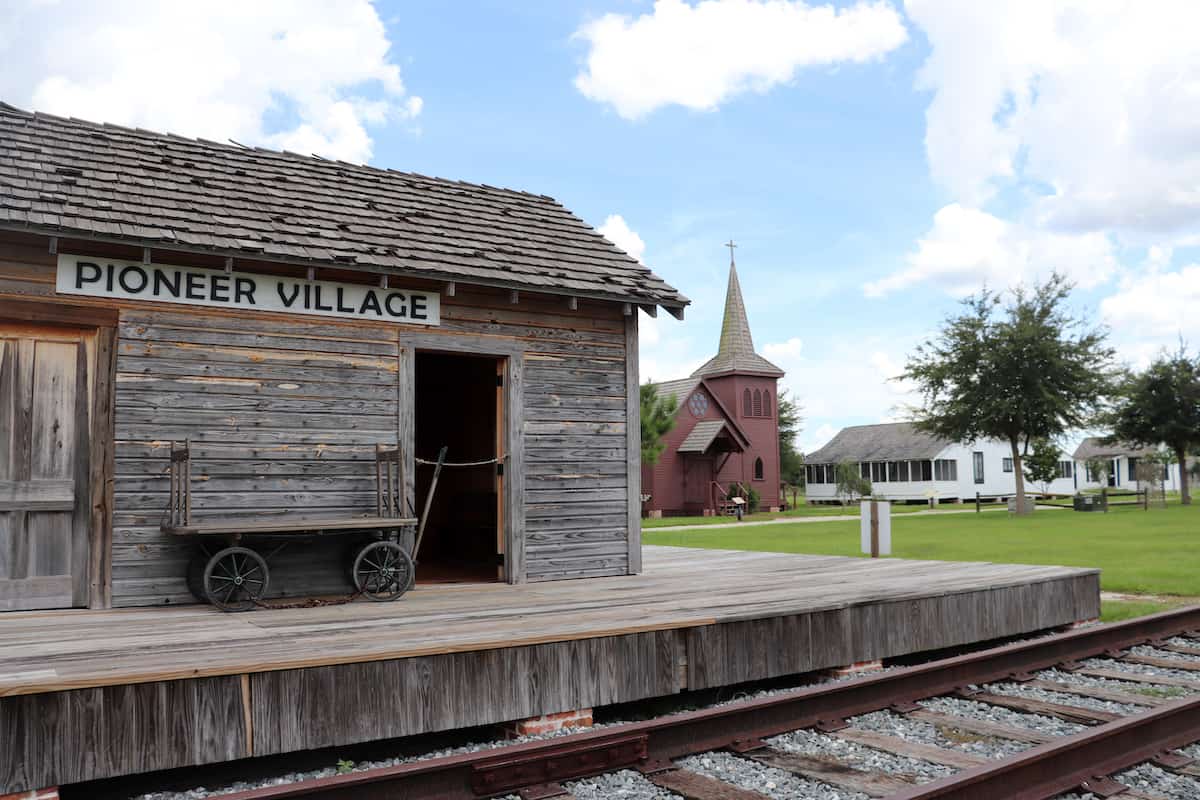 Mary Kendall Steffee Nature Preserve
Pioneer Village is part of Shingle Creek Regional Park, operated by Osceola County. Within the park is the Mary Kendall Steffee Nature Preserve, a piece of Osceola County as it was in the time of Florida's original Native American tribes and early pioneers. The vegetation growing on the preserve provided the early inhabitants materials needed for dyes, clothing, medicine and other necessities.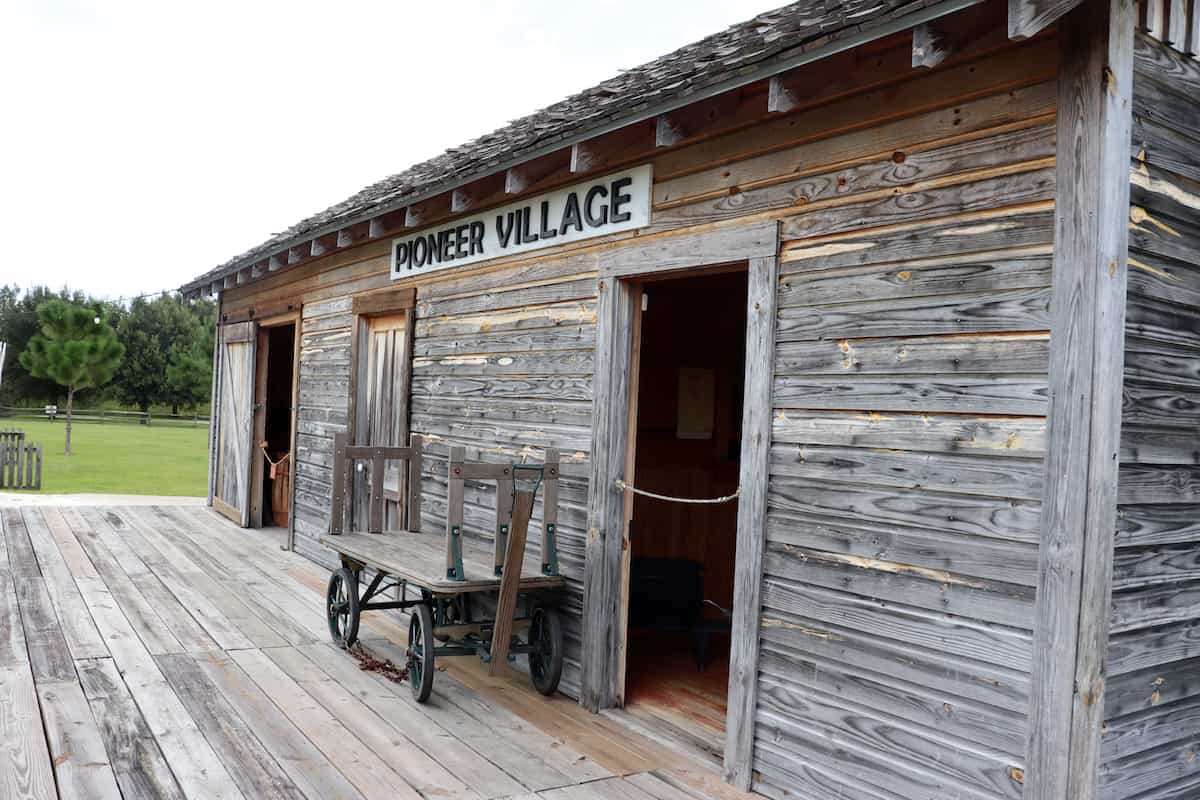 Osceola County Welcome Center & History Museum
You can also visit the Osceola County Welcome Center and History Museum which has free admission and teaches more about the local area through the ages. It features realistic dioramas showcasing different habitats across Osceola County as well as exhibits related to the citrus and cattle industries, transportation and early tourism in the area.
You can find out more about Pioneer Village at Shingle Creek over on the Osceola History website. For reference, the address is: 2491 Babb Rd. Kissimmee FL 34746
You can see a Reel of our trip on Instagram here: