Disclosure: We were invited on this break for the purpose of this review however all opinions are my own.
Last weekend we were invited to spend a couple of nights at the family friendly Knoll House Hotel in Studland on the Dorset coast. It's a part of the country we haven't visited before and we couldn't wait to experience Dorset for the first time.
Location
Knoll House Hotel is a real coastal retreat, situated just a couple of minutes walk from Knoll Beach on Studland Bay. The beach is managed by the National Trust and is absolutely beautiful – it was a great first impression of Dorset!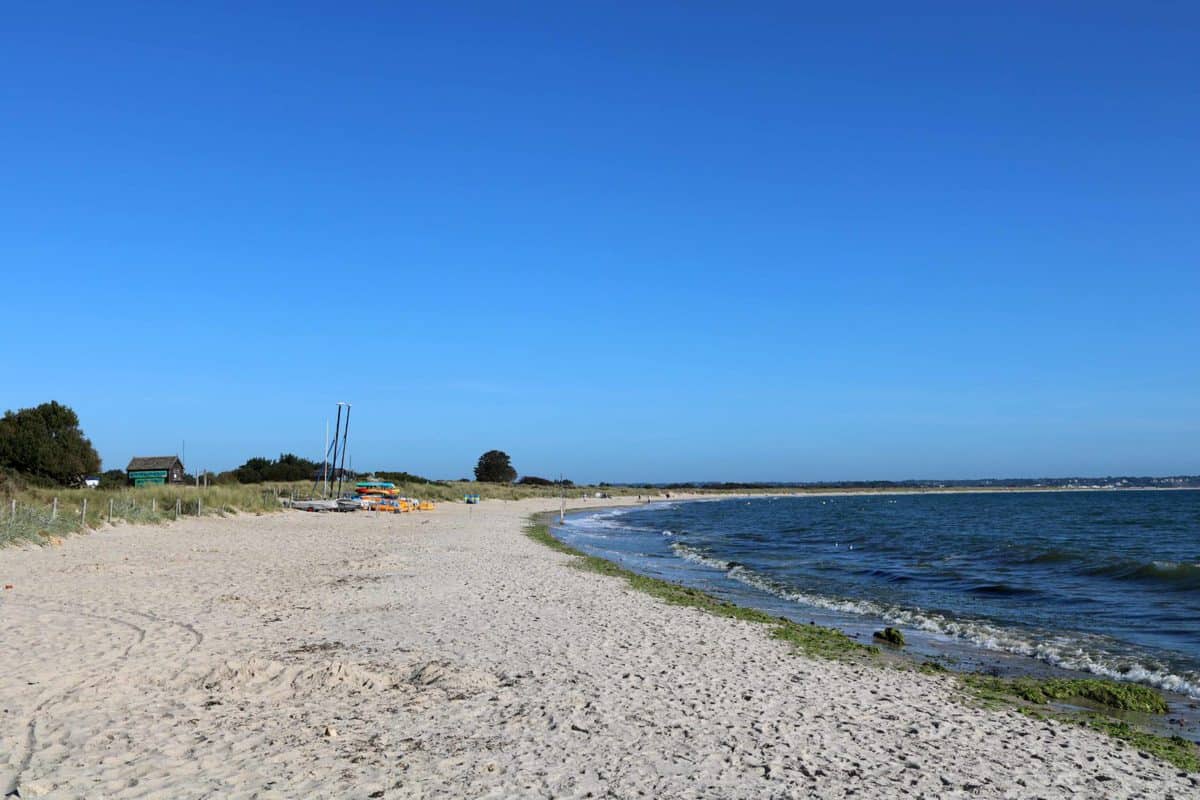 Between the hotel and the beach there's a golf course and woods that the children loved walking through to get to the beach – it felt like a real adventure.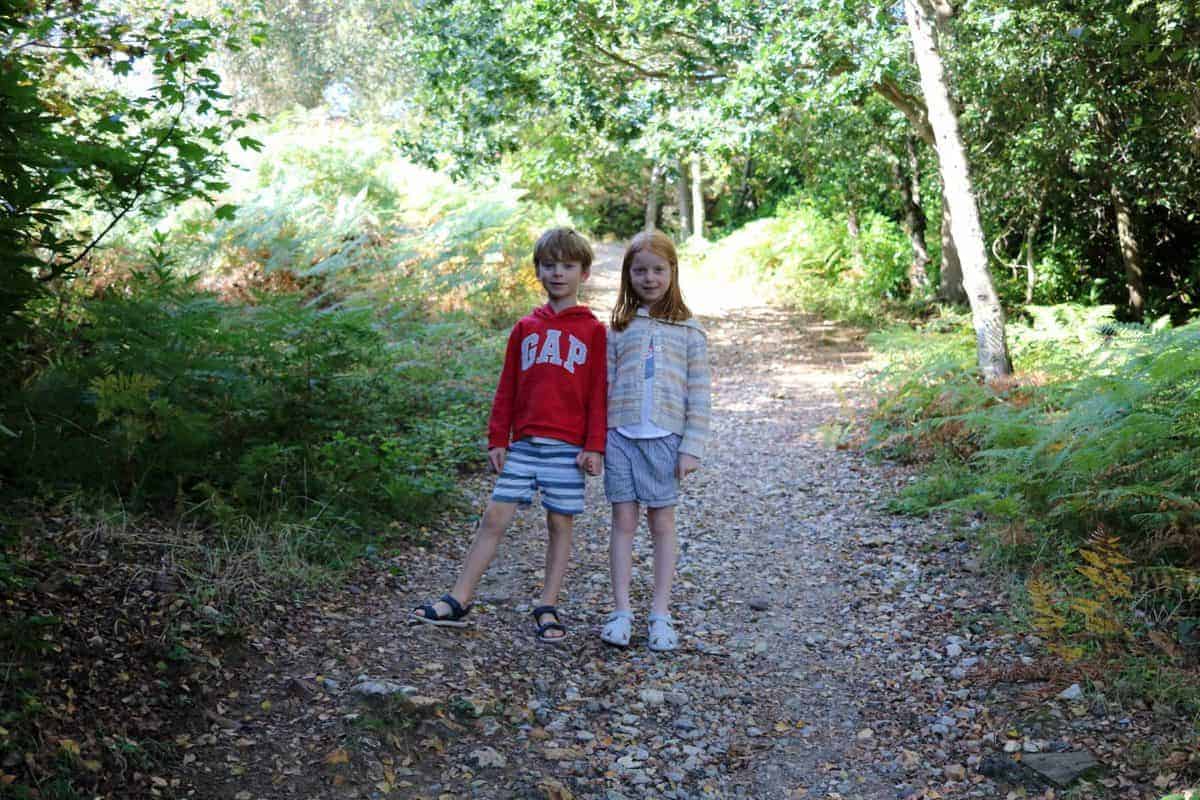 Accommodation
When we arrived at Knoll House Hotel we were impressed with the unspoilt views of the Dorset coast and the sea beyond which we would could see from the windows in our room. We had a two bedroom suite on the ground floor which had a main double bedroom, a compact bathroom and a twin room for the children up a small flight of stairs.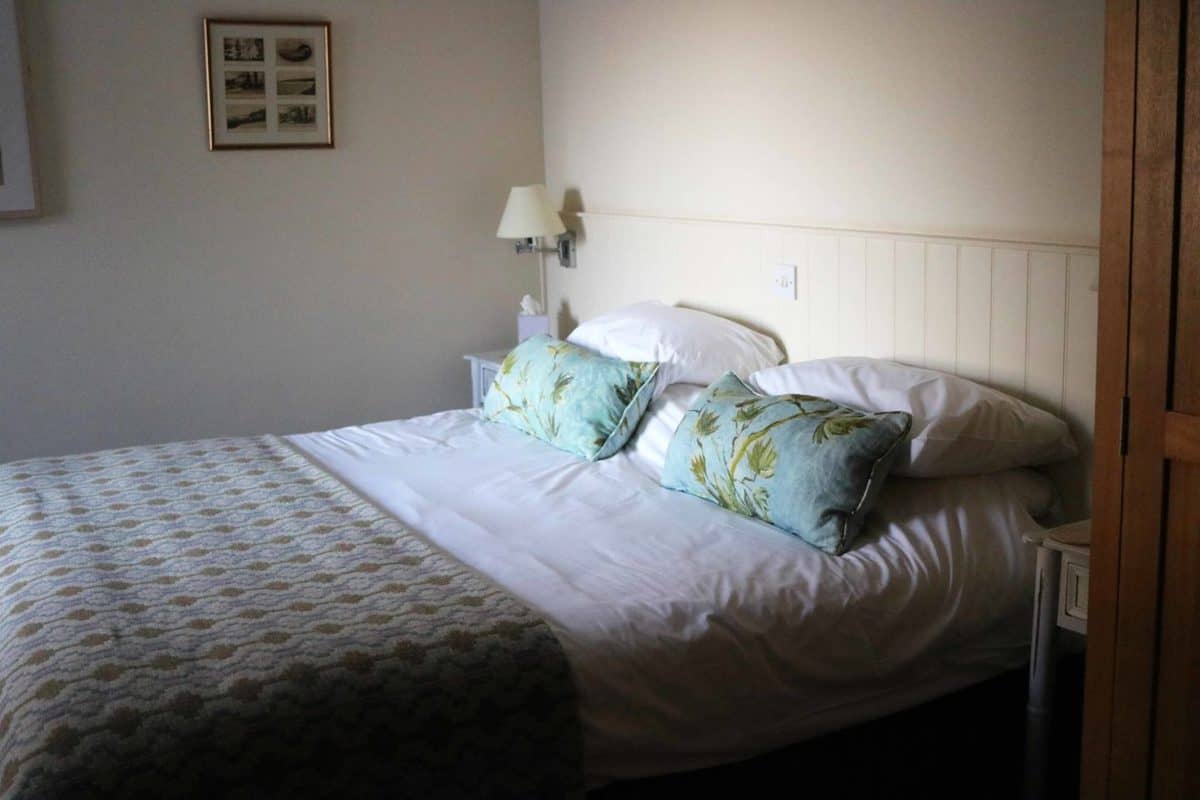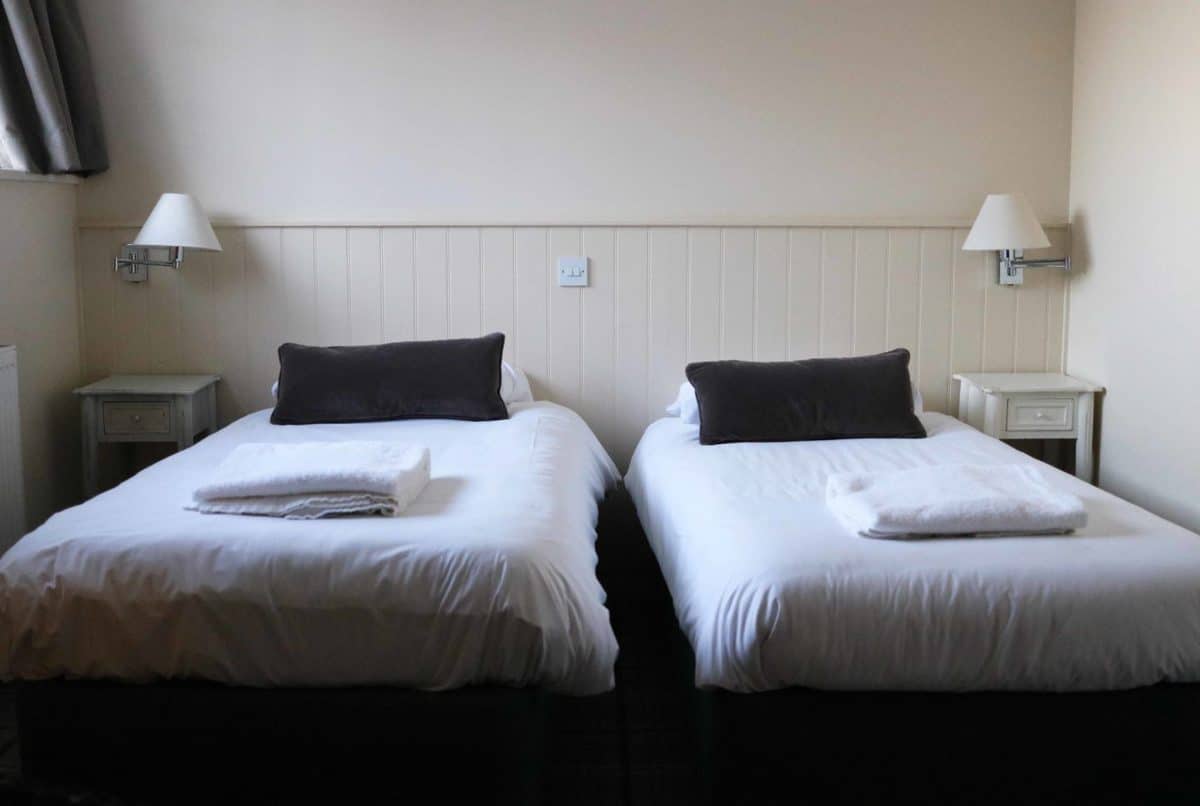 The rooms did feel like they needed an update, especially the carpets but it was a great size space and we always prefer having a separate sleeping area for the children when we're away from home. Randomly the bathroom didn't have a sink in it and instead there were sinks in both our bedrooms.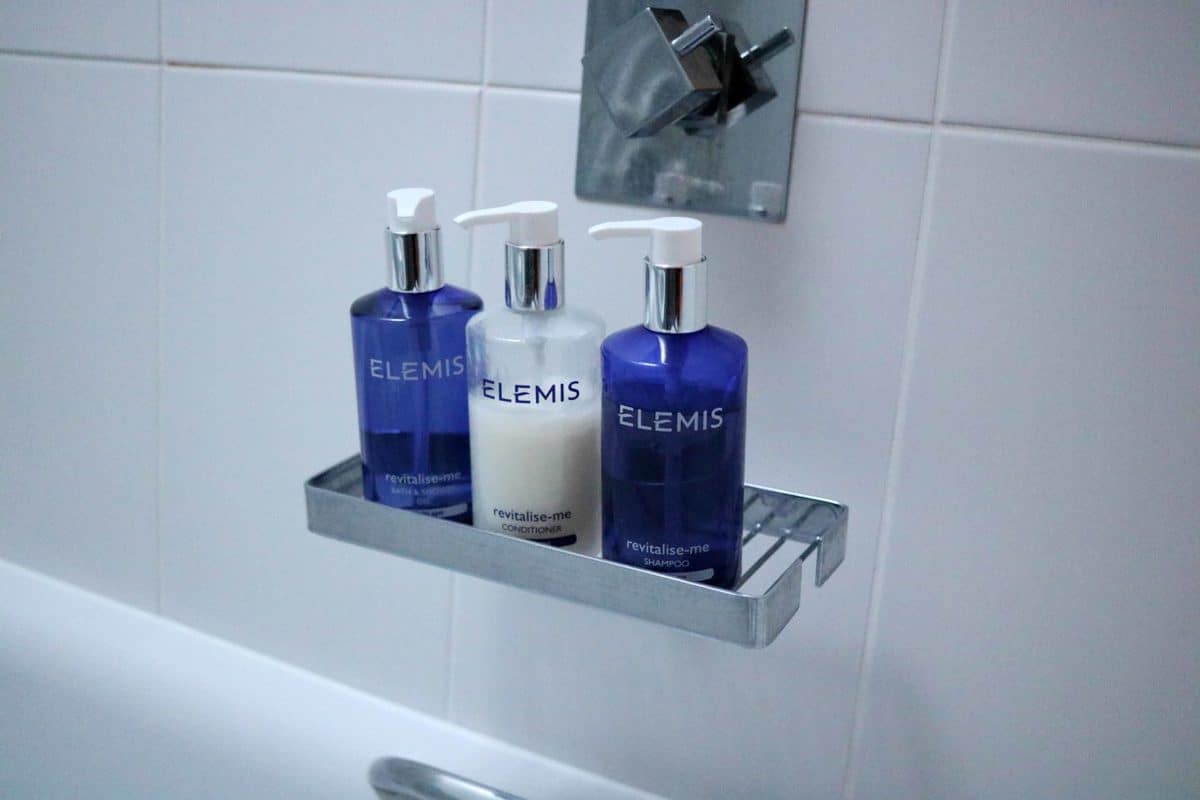 There was a lovely welcome plate of sweet treats and we found complimentary robes in our wardrobe. There were complimentary Elemis toiletries to use and plenty of towels for the four of us. We had a sea view which was lovely and there were tea and coffee making facilities too. Our room had everything we needed for a family break away.
Dining
On our first night at Knoll House Hotel we had dinner in the hotel restaurant. It felt like quite a formal setting whilst still having a relaxed atmosphere and our table gave us lovely views across the hotel grounds to the sea.
The hotel has a seasonal menu and also a daily specials menu for evening meals. We did find that having two menus gave quite a lot of choice and just one menu would have been enough. The children also had their own menu with a really nice variety of children's options.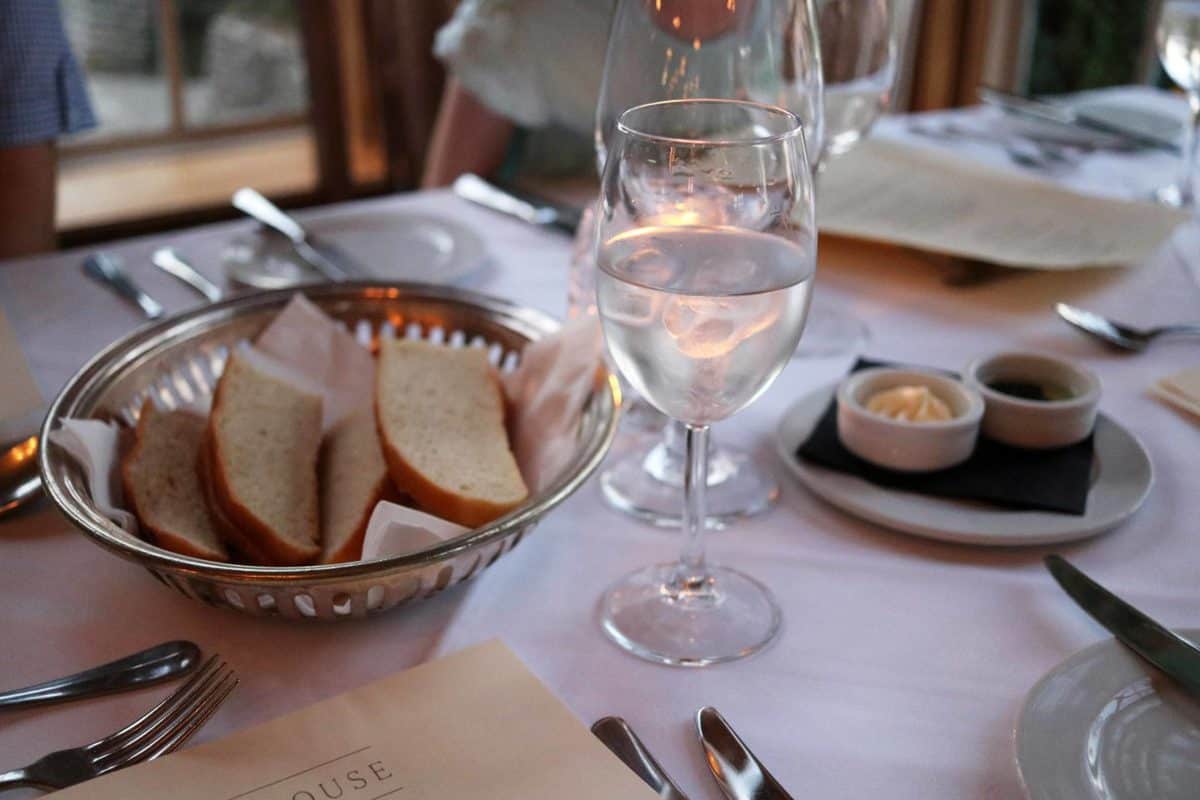 The children had hummus and crudites to start although the crudites turned out to just be sticks of unpeeled carrot – and selection of vegetables would have been appreciated. Their mains were cheese and tomato pizza and chips that they both really enjoyed.
Dave and I chose scallops and a crab cake to start. They were really good portion sizes and we followed with spinach and ricotta cannelloni and braised lamb shoulder with all the trimmings.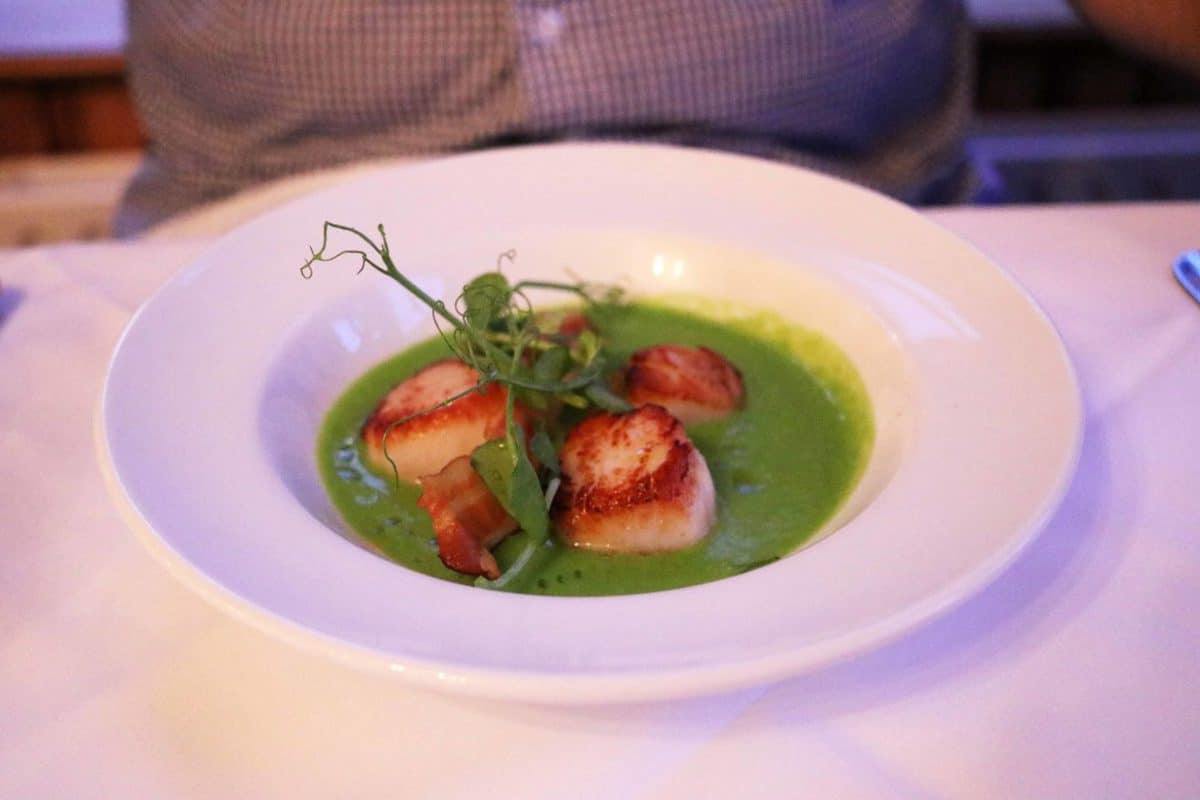 These were really lovely dishes and it showed us that the type of meals available at Knoll House Hotel really are well cooked, seasonal and full of flavour. We did have to skip dessert as the service was quite slow in places and we didn't have time for another course.
We had breakfast in the main restaurant and were pleased to find that we'd been allocated the same table for the duration of our stay. We got to enjoy the breakfast buffet with the sun pouring in and it was a really lovely start to the day.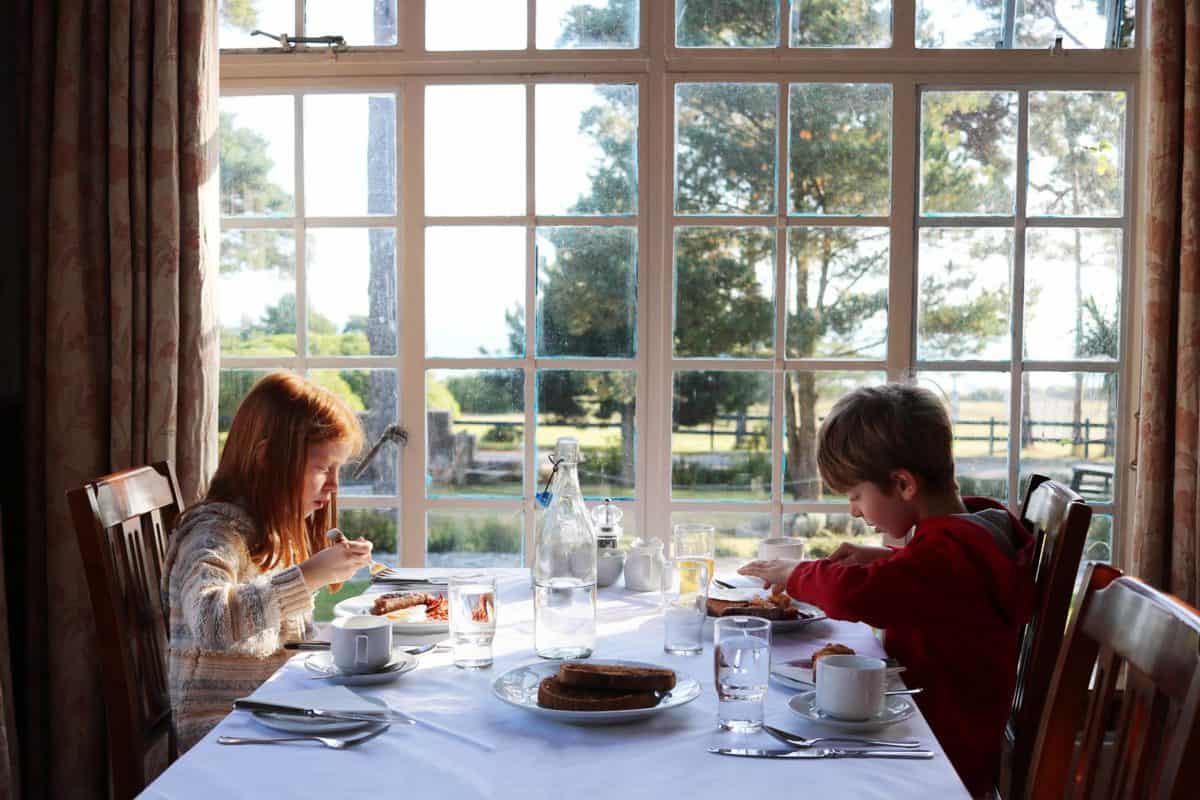 The breakfast was buffet style and had a good variety of cooked options, cereals, fruit, pastries, hams and cheese, breads and fruit juice. On our first morning our hot drinks sadly didn't arrive at our table but on the second morning the service was much better and the children loved having hot chocolate with their breakfast.
The hotel also has a Bistro which is open from 11am until 5pm each day. It served a wide variety of drinks, cakes and full dishes from sandwiches and light bites to burgers and afternoon tea.
The Bistro was such a lovely space – bright and airy with an enclosed playroom adjoining it for children to play safely in whilst waiting for their lunch or whilst parents are relaxing over their meals. I would have loved for the Bistro to be open a little longer as it would then give us an alternative, less formal and quicker option for dinner. This was one of my favourite parts of Knoll House Hotel and we spent a couple of hours in the Bistro whilst the children played on our last day.
Facilities
Knoll House Hotel has so much to do for the whole family. The children loved the outdoor pool and could have happily spent the day in there. We were incredibly lucky with the weather too which meant it was still warm enough to be outside in a pool – something that doesn't often happen in the UK in September! There were plenty of loungers and just a few parasols would have been appreciated.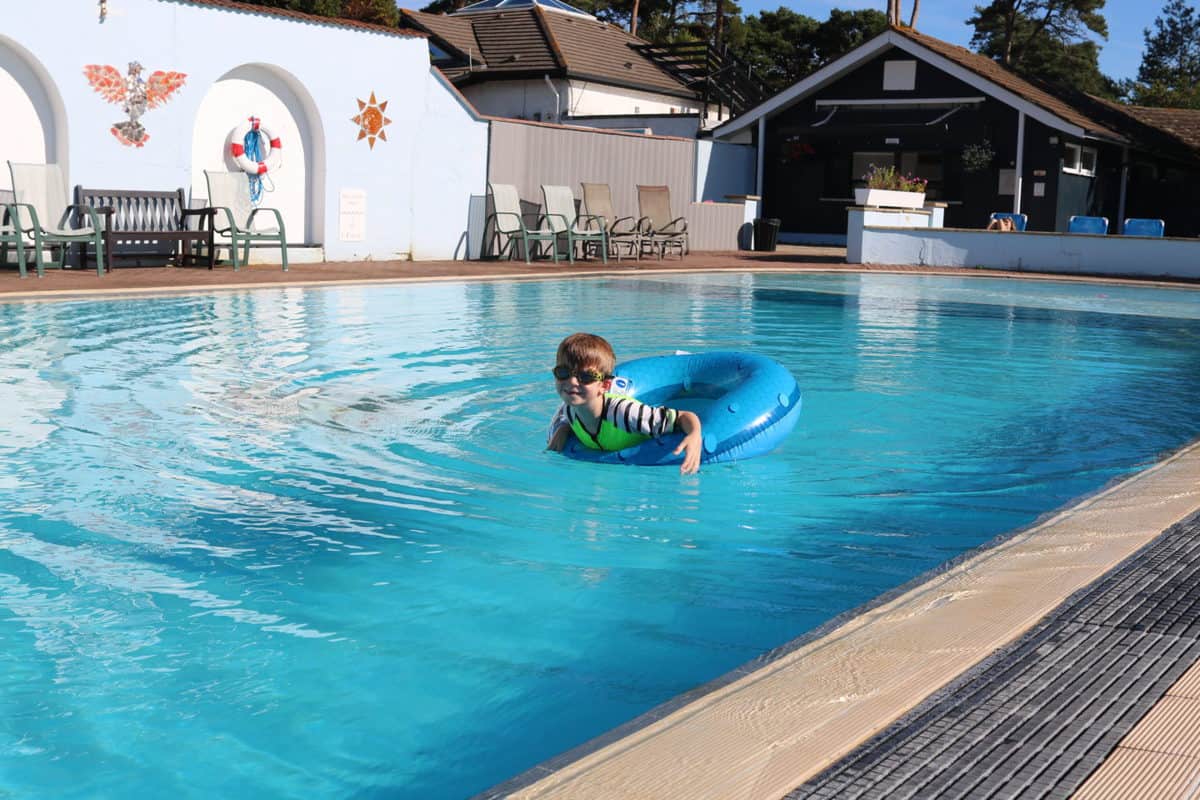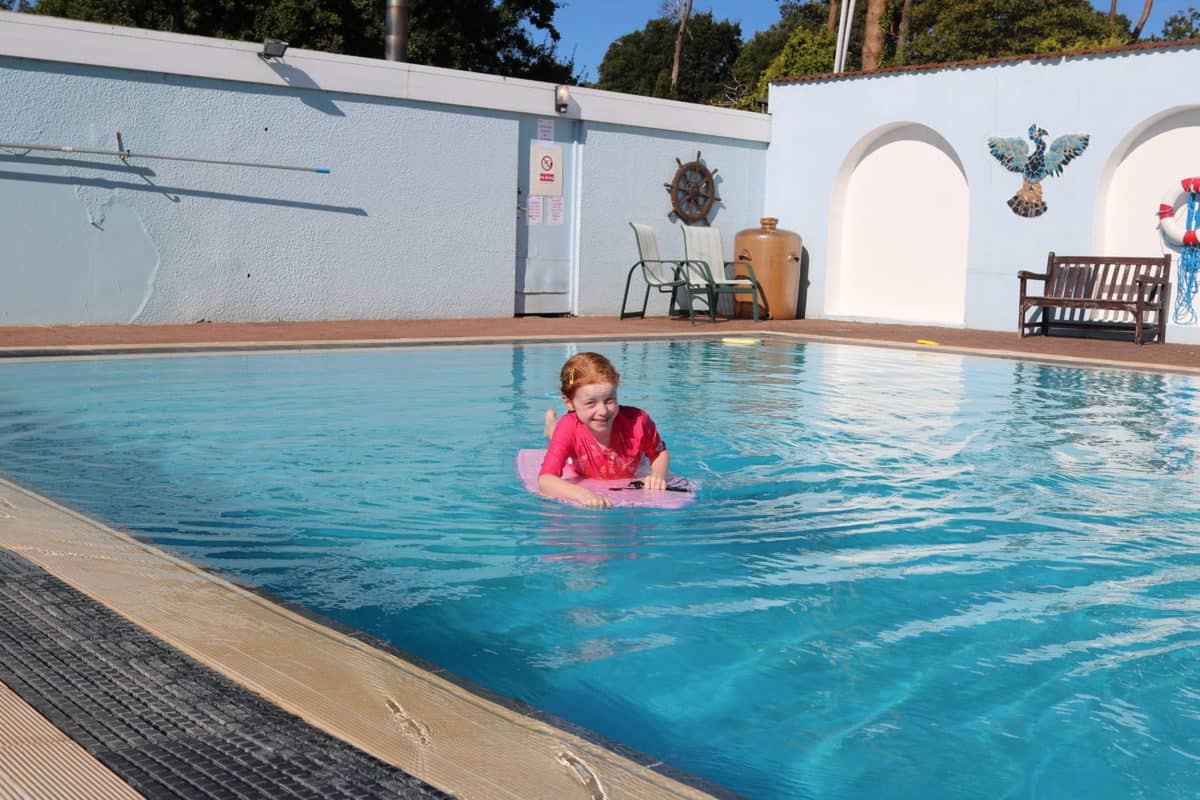 There's also a hot tub outside which was closed when we visited. There's a compact indoor pool, jacuzzi and steam room which were some of the smallest indoor leisure facilities we've come across in a hotel. This space could definitely do with a refresh and doesn't quite feel of the same standard as the outdoor pool. There are fresh towels available for guest use which we really appreciated.
The playroom alongside the Bistro is a great space for children of all ages with a wide range of toys available. There are also books, DVDs and plenty of space to relax. LP and Little Man, although 6 and 8, happily spent over an hour in the playroom and would have spent longer if we hadn't needed to leave the hotel to head home. The room is full of natural light, has its own toilet and baby changing facilities and a gate to close when in use so children stay safely in the room.
The hotel has a fantastic adventure playground that the children spent time in on numerous occasions over the course of the weekend. It had climbing structures, slides, a zip line and just so much to do for all ages. It's one of the best play areas I have come across at a hotel and the children could easily have spent the whole afternoon there.
We did find that the zip line was quite high and not quite at enough of an angle for the children to go fully from one end to the other. There were also no swings as it looked like they'd been removed at some point – the frame was there but without swings attached. This didn't seem to bother the children and they happily played with everything else in the play area.
I would have loved some more benches for parents to sit on whilst the children play. As the play area is situated within the hotel car park it isn't somewhere I would be happy with the children playing unaccompanied so extra seating for parents would help the children spend even longer playing. At present there is just one small two seat bench near the playground entrance.
Knoll House Hotel also had a giant chess set that the children loved and a games room for older children with pool and table tennis tables and arcade games. This was mainly used by groups of adults during our stay though. There was also a golf course and tennis courts for guest use too.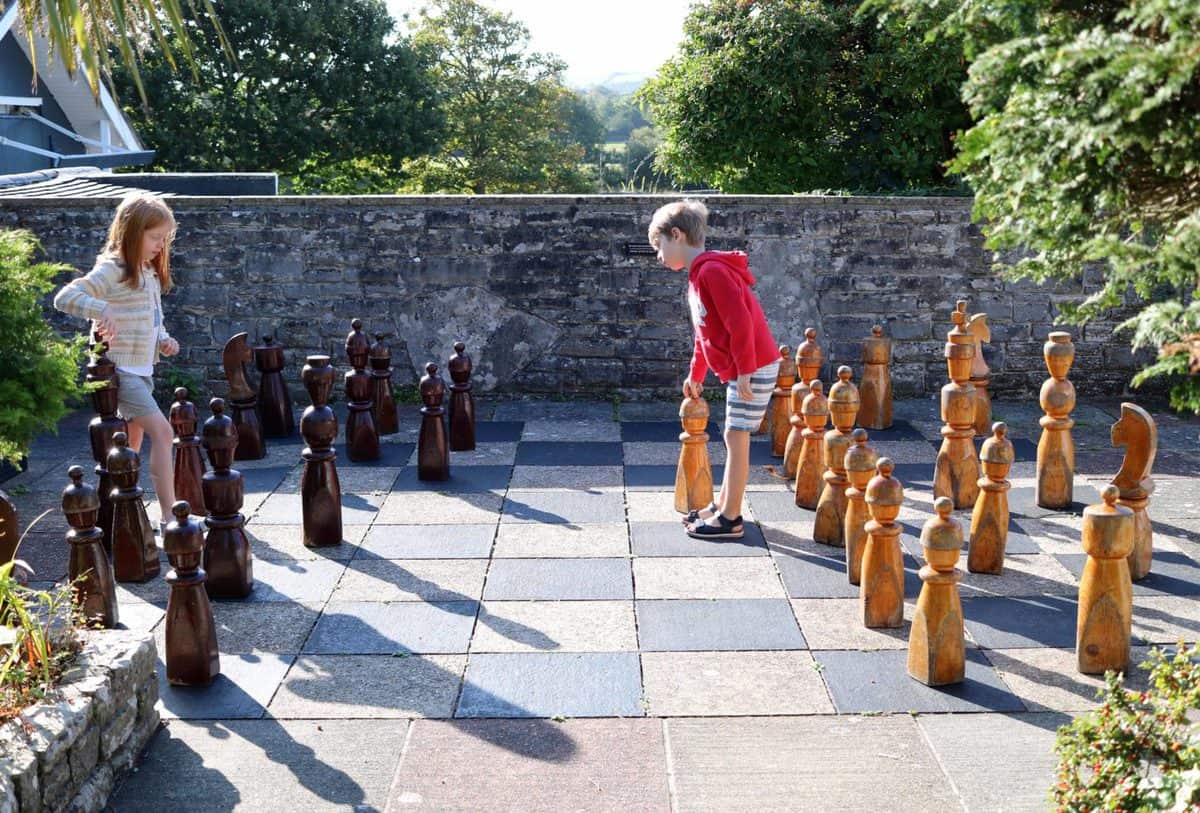 The hotel does have WiFi available and the signal is best in the main communal living areas in the hotel however, we found it to be intermittent at best and not usable in our bedroom as it spent more time trying to connect than working.
The hotel
Knoll House Hotel Studland is a dog friendly hotel. They have dog treats and water bowls throughout the hotel and separate dining and living spaces for guests with dogs. It really feels like everyone is welcome at Knoll House Hotel and the staff were all really friendly and helpful.
There is a lot of Knoll House Hotel history. It's been established since 1931 and seems like a real local treasure. There are families that have been coming to Knoll House Hotel for generations and I can really see the charm of the hotel and why people would keep coming back. It's also where Enid Blyton often stayed and she took a lot of inspiration from the local area when writing her books.
Knoll House Hotel is in a fantastic position to explore the local area and we visited Durdle Door, Corfe Castle and Swanage during our trip as well as spending time at the hotel enjoying the facilities. There is so much more to see in the local area too – Old Harry Rocks and plenty of National Trust sites too.
At the moment Knoll House Hotel does feel quite tired. The main communal living rooms are full of an eclectic mix of furniture from years gone by and the carpets throughout have seen better days. The exception being the Bistro and playroom which feel bright, airy and modern.
Knoll House Hotel was a fantastic base for us for a weekend in Dorset and I know that the hotel could be an amazing hotel with some updating and modernisation. It's currently going through the planning permission process which I think will really help to improve the general feel of the hotel whilst retaining the character and charm that keep guests coming back year after year. You can find out more about Knoll House Hotel planning permission here.
You can check availability at Knoll House Hotel, make a room booking and find out special offers by contacting the hotel directly. Find out more over on their website. For reference, the hotel address is: Ferry Rd, Studland, Swanage BH19 3AH and phone 01929 450450.