Disclosure: We were invited on this break for the purpose of this review however all opinions are my own.
At the weekend we were invited to Southampton for a festive family break thanks to Visit Southampton. It's the start of all the festive fun in Southampton and we couldn't wait to see what the city would have in store for us! We've only really spent time in the city when getting cruises from Southampton so we were looking forward to spending some quality time there.
Getting to Southampton
We drove to Southampton and there are car parks everywhere plus plenty of short stay, on street parking too. You can also get the train to Southampton, with the whole city being easily accessible from Southampton Central Train Station.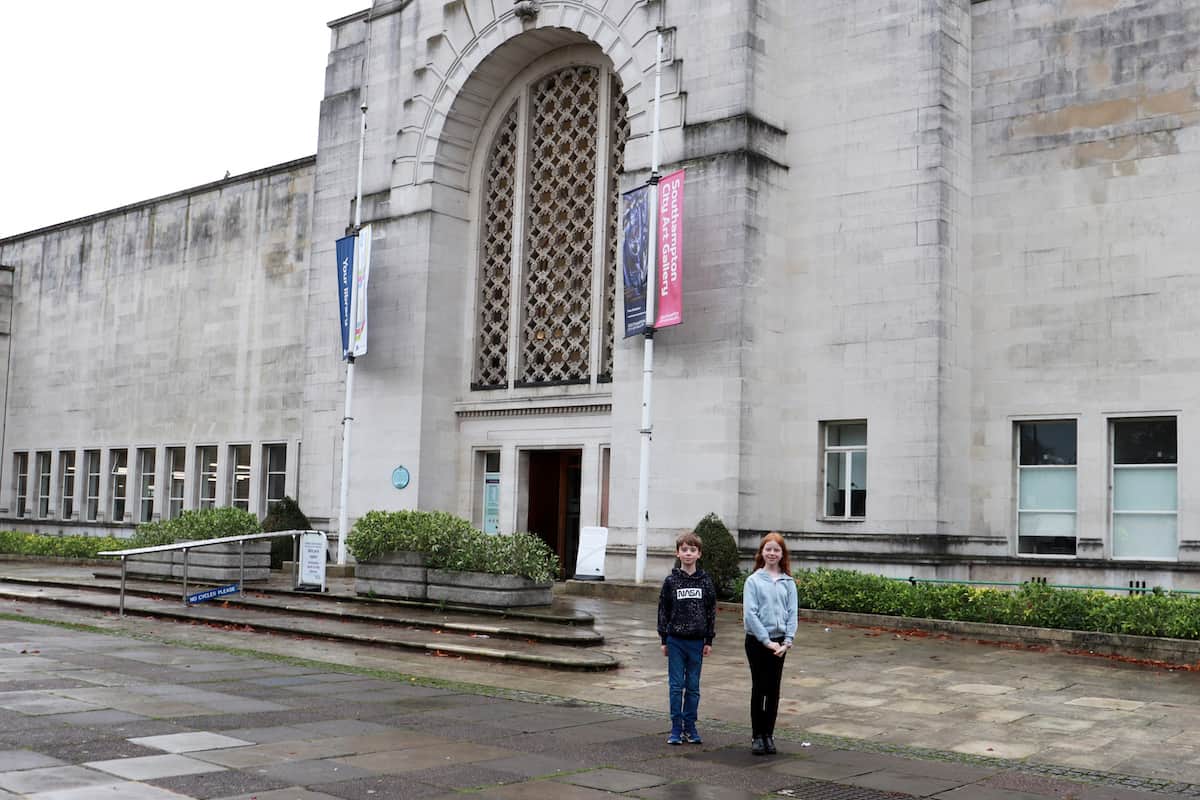 Elf Making at Southampton City Art Gallery
Our first stop was Southampton City Art Gallery, a fantastic community space, with free entry, full of art work. It's in the same building as Southampton Library and plays host to many events throughout the year – like the Elf Making Workshop we were attending.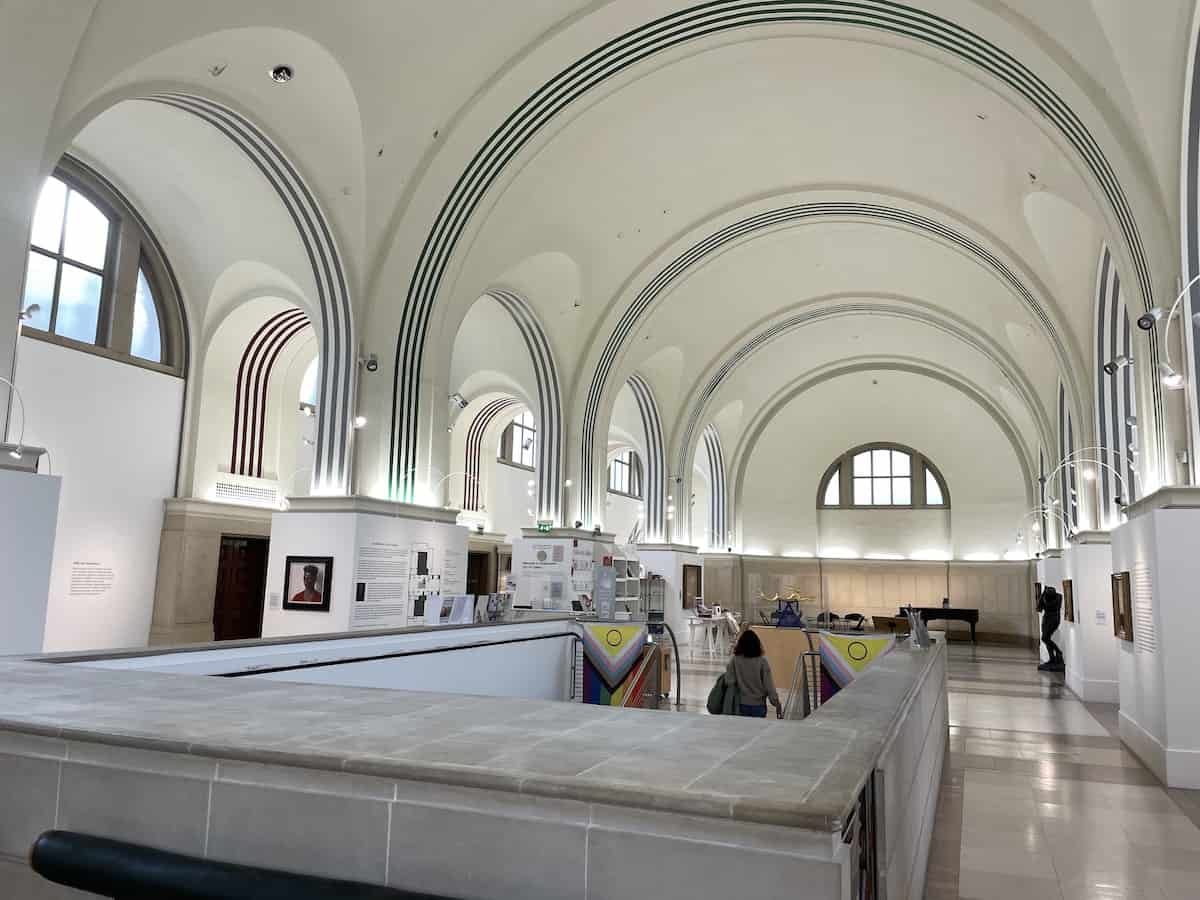 The workshop was really well organised, with a member of staff overseeing the activity and tables laid out with supplies and instructions to get us started. There was also a big table full of craft materials that we could collect as we needed them.
The children had a wire elf that they covered in pipe cleaners before drawing a face on a polystyrene ball, adding felt hair and then making an outfit for it out of brightly coloured felt.
The activity was aimed at age 4+ but most of the children attending were older – and younger ones needed much more help from their parents. Our children, at 9 and 11, loved it and really liked having their own elf to take home with them.
You can see all the the upcoming events at Southampton City Art Gallery here and although the gallery is free to enter, activities have individual costs – our elf making was £7 per child. More info here.
The Sea City Museum
Our next stop was the Sea City Museum which is right next door to the art gallery in a beautiful old court building. It has a cafe inside if you're looking for a pit stop but we just went straight to the exhibits!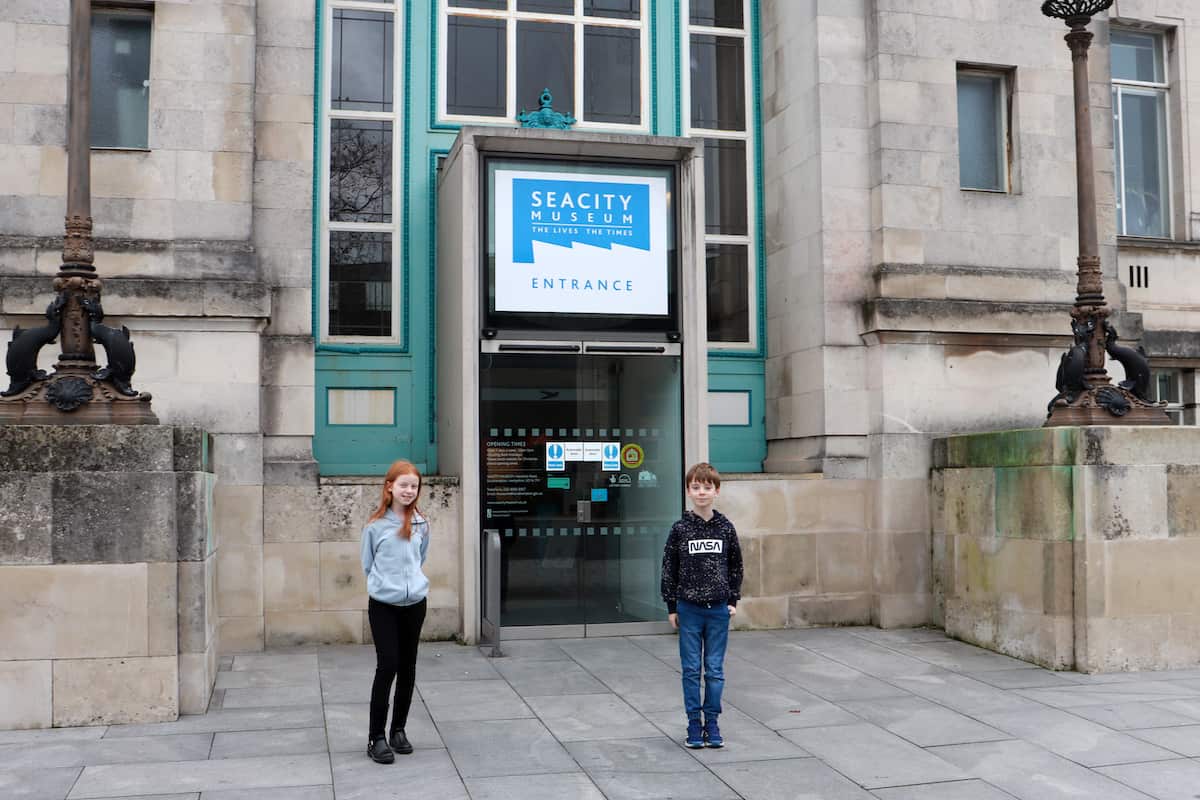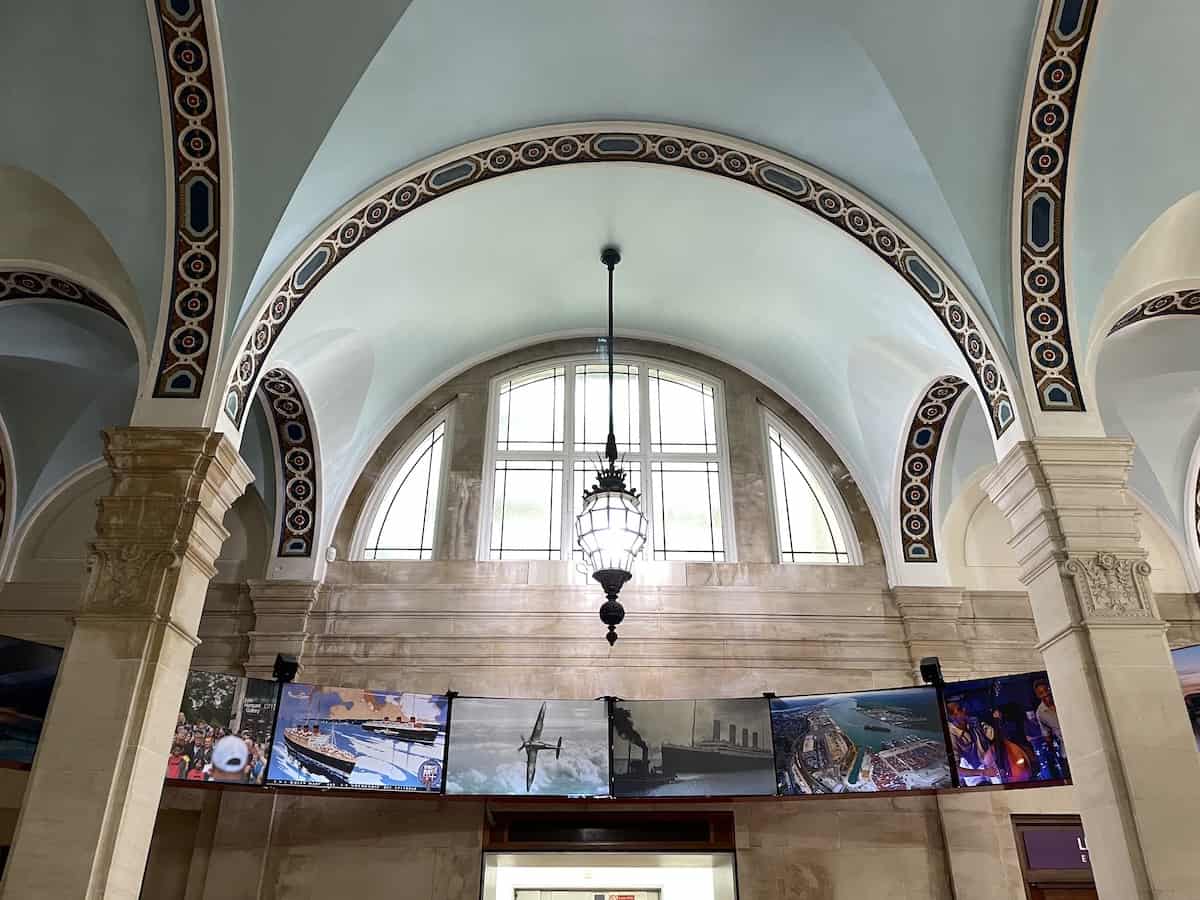 A big chunk of the museum is dedicated to Titanic and the relationship that Southampton had with the ship. As the place where Titanic last sailed from, the vast majority of the crew were from Southampton and the surrounding areas. The museum really reinforced the impact this would have had on the city and its people.
It was one of the best Titanic exhibitions we have been to and we all learnt something from it. Plus, there were loads of interactive parts that the children loved – from piloting a boat to learning morse code. It was great fun!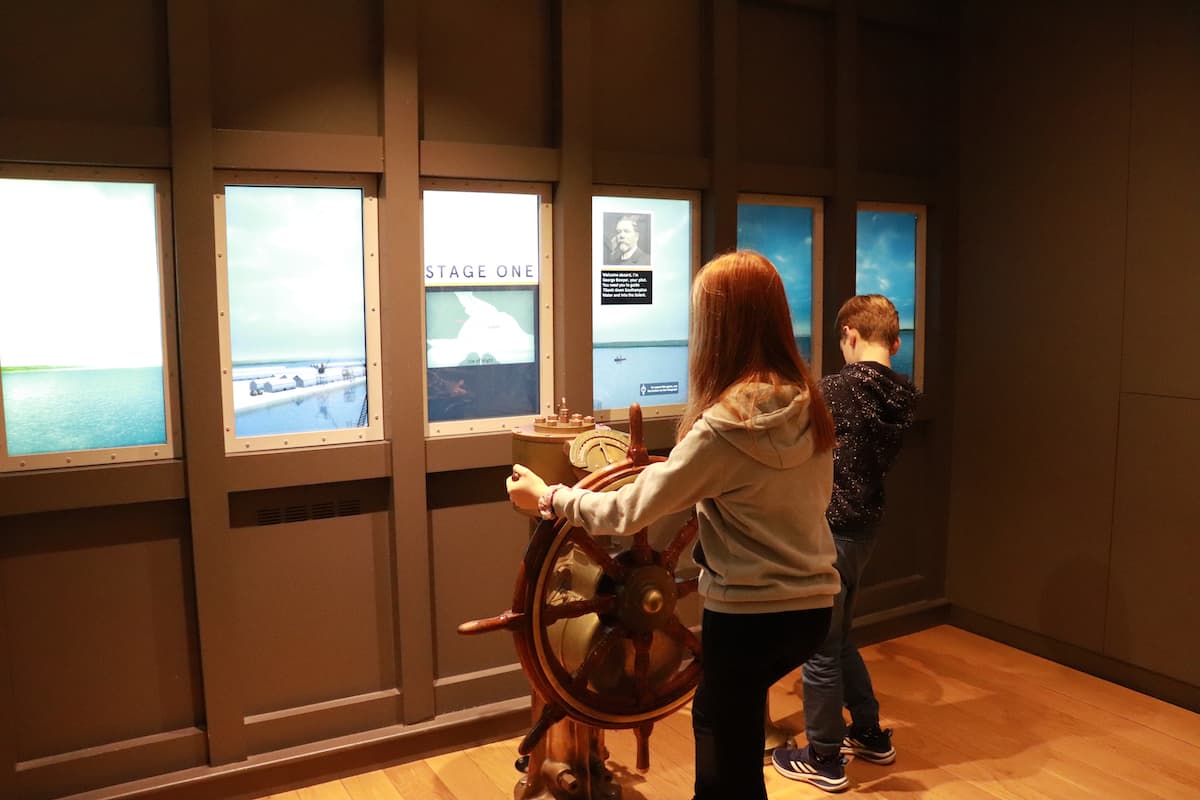 As well as Titanic, the museum had so much about local history, going all the way back to Saxon times and with so many artefacts to see and touch. It's a really educational place to visit.
You can find out more about the Sea City Museum here. Tickets are £9.50 for adults, £7.00 for children and under 5's go free. Family tickets are available at £29.00 for two adults and up to three children.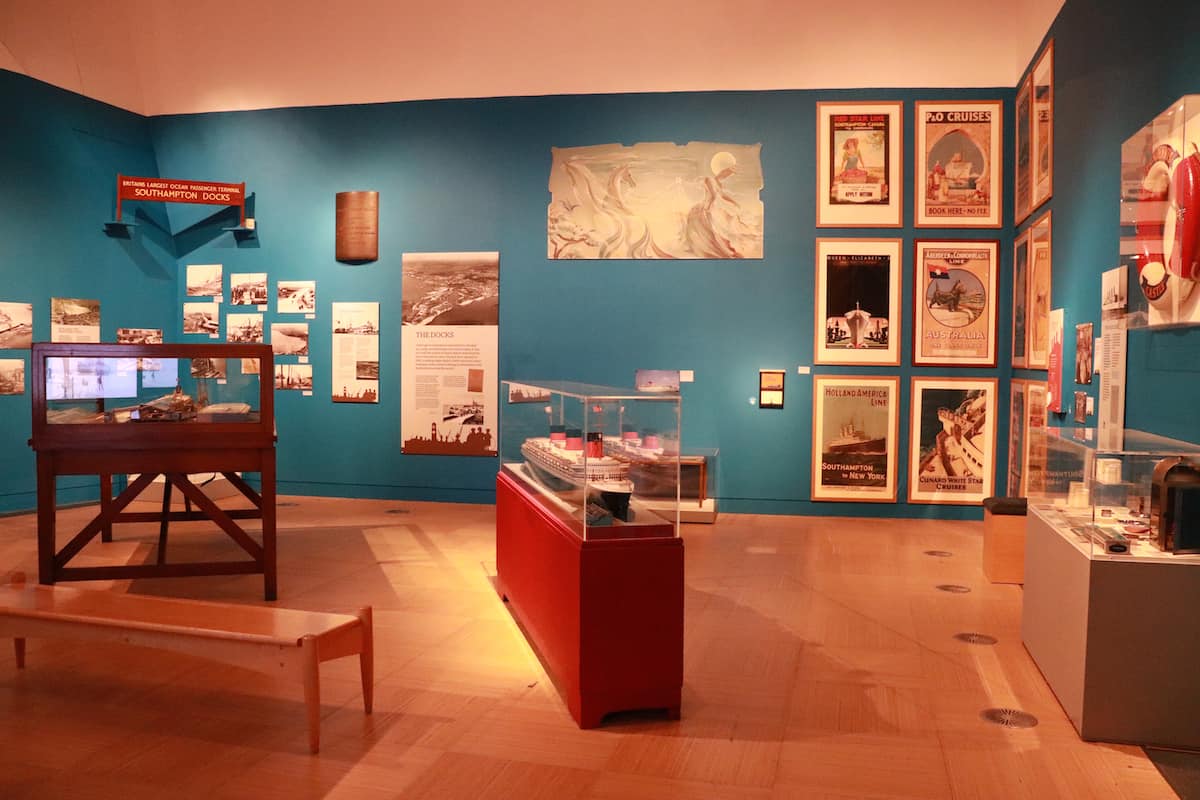 Lunch at West Quay
We then popped over to West Quay to have lunch at The Real Greek. West Quay is a fantastic place to visit for restaurants and entertainment as well as shopping and there's a really lovely, festive atmosphere at this time of year.
We had lunch at The Real Greek and as we'd never dined there before we had no idea what to expect. But it was lovely! The service was fantastic and it was a really enjoyable meal.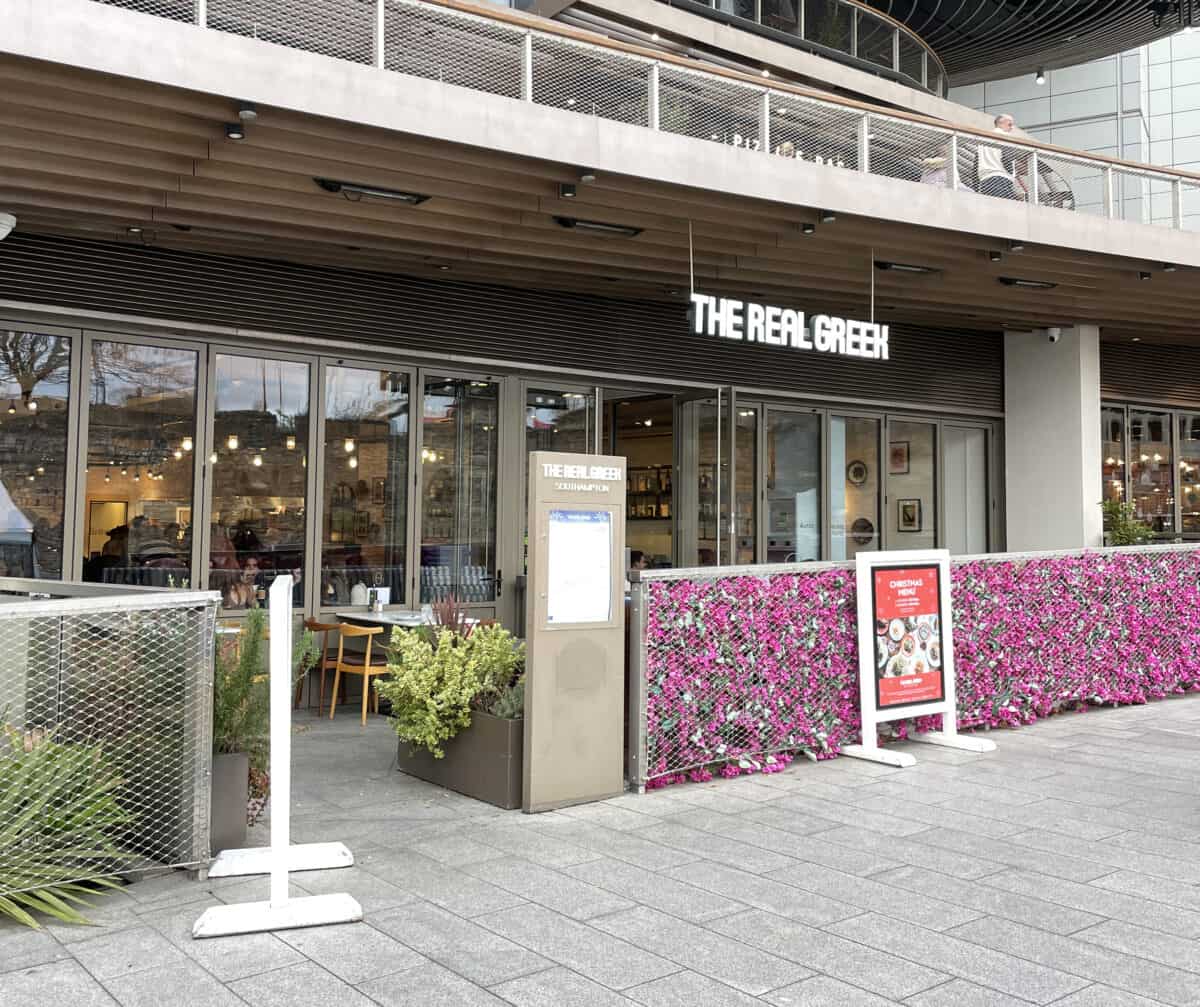 The children's menu has a choice of either a flatbread wrap or a meze plate. The wrap has a choice of fillings and chips or salad as a side whilst the meze plate has a whole list of choices to pick three items from. The children had one of each and they were perfect for them. great portions sizes and meals that really suited their tastes.
Dave and I had a set menu for our lunch and it came out on two afternoon tea style trays, the first for starters and the next mains. The starter were bread and two different dips that were delicious. We could have carried on eating them all day!
Our mains were a fantastic mix of falafel, chicken, meatballs, filo parcels and potatoes. So many dishes, each with their own sides, and all so full of flavours. It was such a sociable way to dine and we all really loved it. The children tried bits of our dishes and we all found new things that we'll be trying again in the future.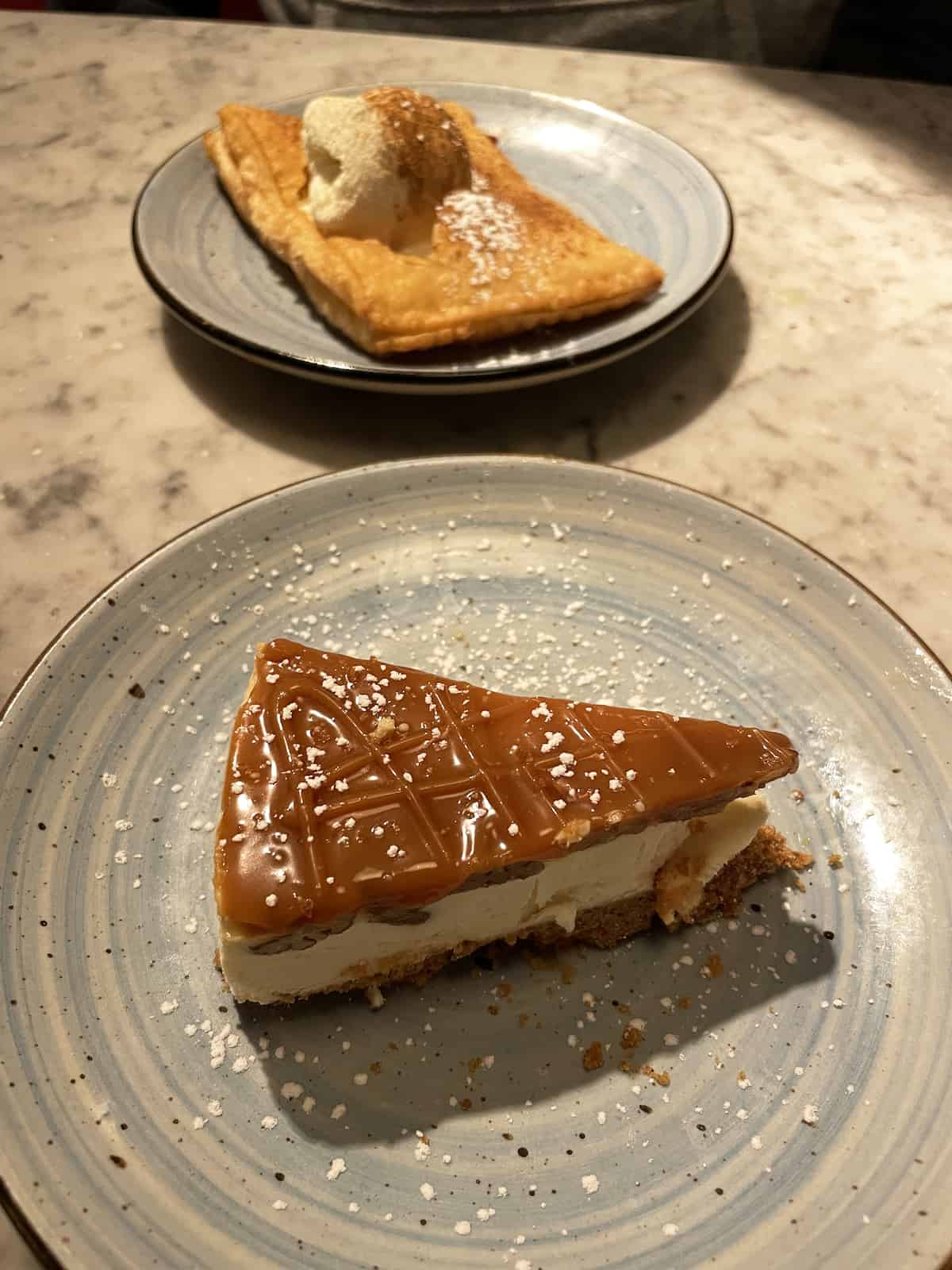 For dessert the children had ice cream or sorbet and Dave and I chose from the main dessert menu – a traditional custard pie and a pecan cheesecake. Such a great way to end a really lovely meal. Find out more about The Real Greek here.
The Tudor House and Garden
Afterwards we went on a little walk to the Tudor House and Garden to learn more about the local area. It's a real hidden gem that you probably wouldn't visit unless you knew about it – so definitely make the trip!
The Tudor House and Garden starts off with an immersive experience in a dark room with lights, sounds and voice clips all adding to the experience before you leave the room and head out into the gardens.
There's an audio tour if you want it but we just went at our own pace, reading signs as we went along. The gardens were compact but beautiful and the route leads you around the garden and back into the house.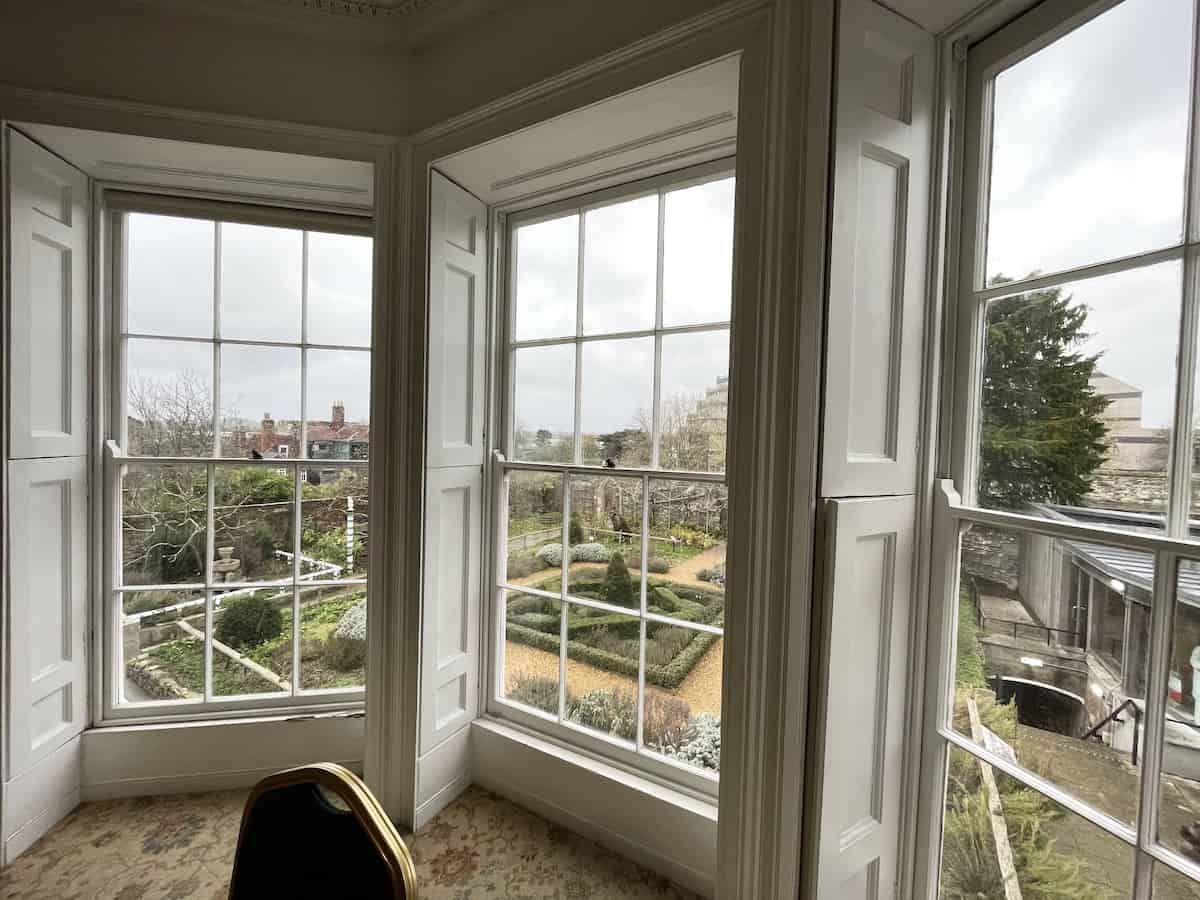 Inside, we learnt about so much of the history of the house and how the different rooms had been used through the generations as well as seeing some artefacts from when the house had been a museum. It was really interesting.
You can find out more about Tudor House and Gardens here. Ticket prices are £6 for adults, £5 for children and under 5's go free. Family tickets are available at £19.00 for two adults and up to three children.
Ice Skating at West Quay on Ice
In the evening we went to West Quay on Ice and it was so lovely seeing Southampton all lit up. As you can imagine, ice skating was really popular and so it was quite busy but really well organised.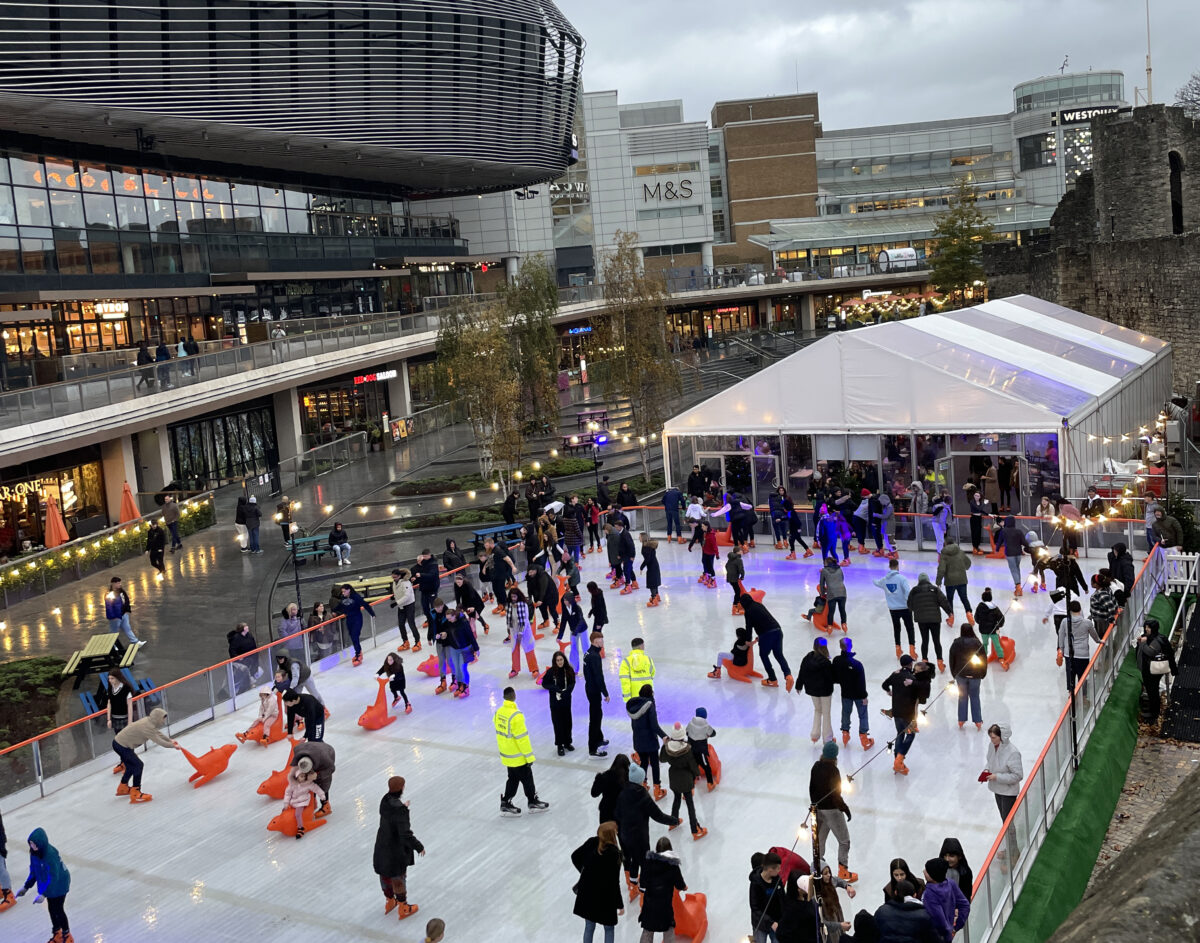 We swapped our shoes for skates, wrapped up warm and spent nearly an hour on the ice. There were skate aids available for the little ones if they needed them – although many adults were using them too – and a local radio station were playing a great variety of music during the skate session. Find out more about West Quay on Ice and book tickets here.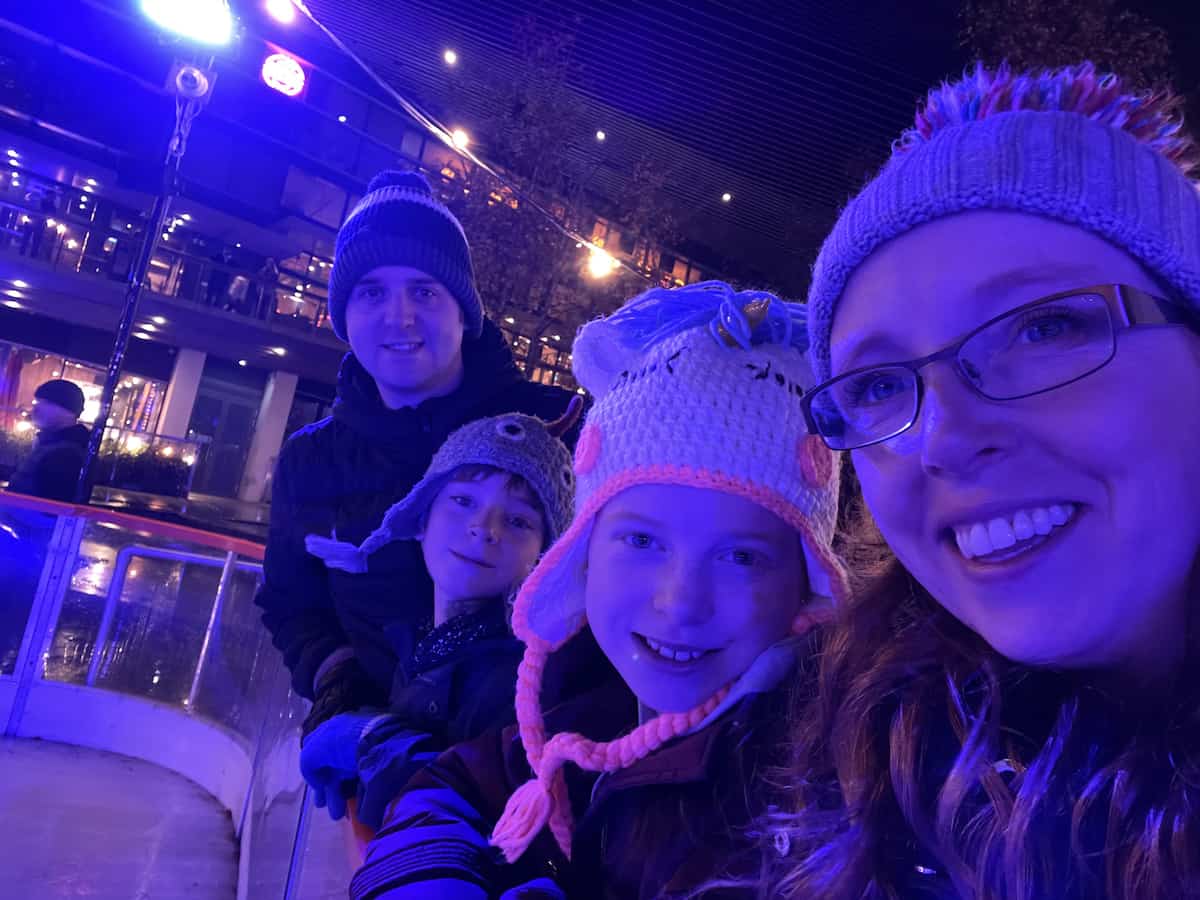 Socialising at Apres Bar Southampton
At the end of our skate session we had a cabin booked for drinks at Apres Bar, right outside West Quay on Ice. Whilst we waited for the cabin to be ready the children toasted marshmallows which was such a lovely treat.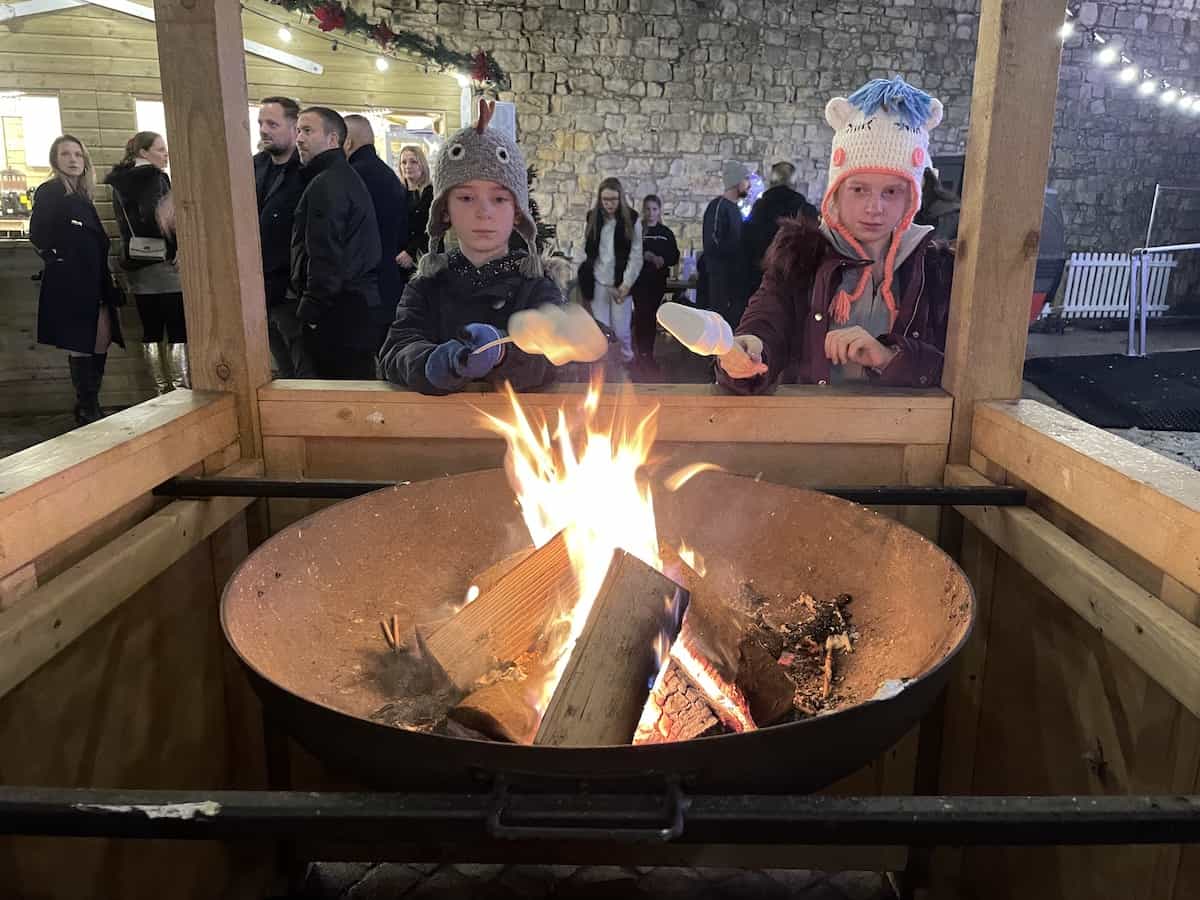 Then we spent over an hour in our own little cosy cabin, complete with heaters, cushions and blankets. It's a fantastic space to socialise in and the children loved it. It was warm and cosy and a really lovely way to wind down at the end of a busy day. You can find out more about Apres Bar Southampton here.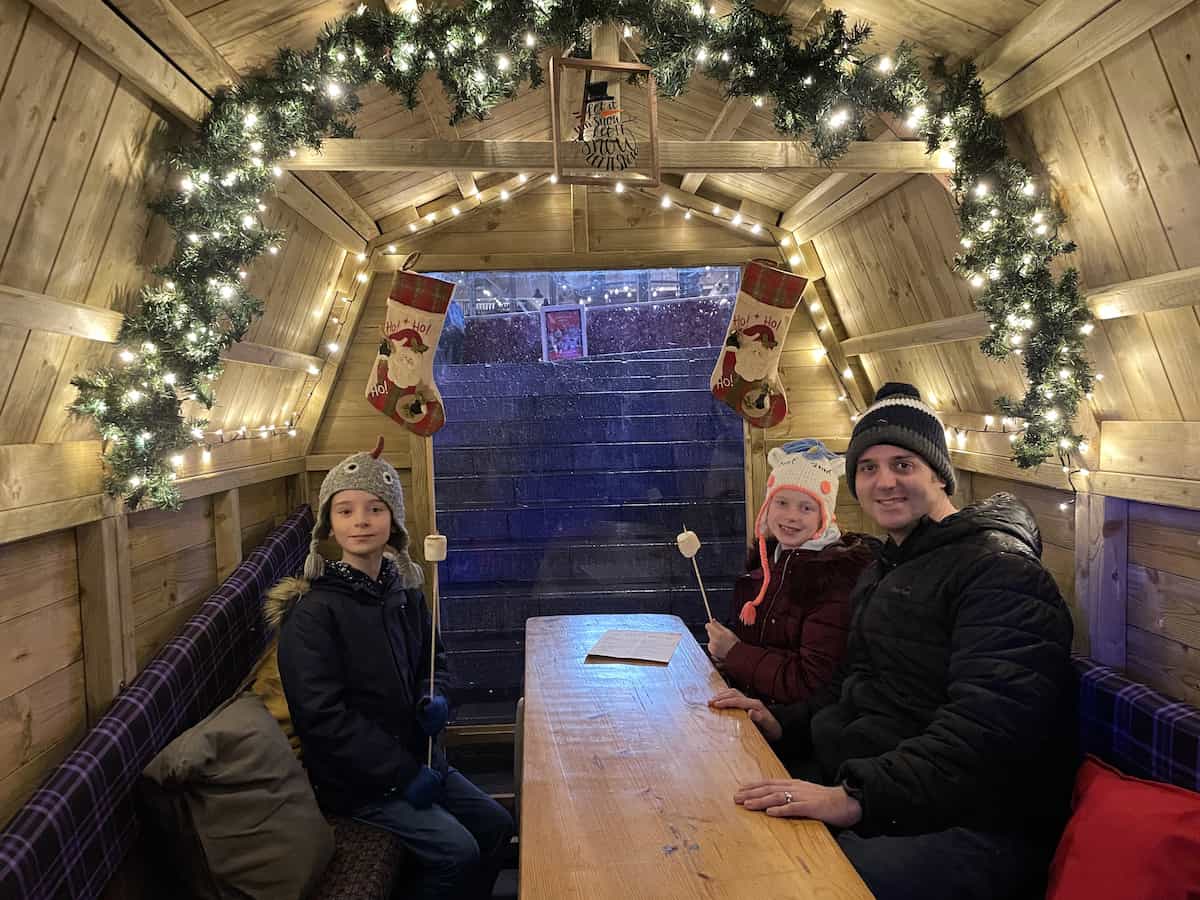 The Southampton Christmas Market
Before heading home in the morning we went to the Southampton Christmas Market, situated just outside West Quay Shopping Centre. It's a great selection of market stalls with so many food, drink and gift options and a really nice atmosphere. There's even a carousel!
Staying at the Room2 Hometel Southampton
We spent the weekend staying at the Room2 Hometel in one of the coolest rooms I have ever stayed in. The Master Loft was more like an apartment than a hotel room, with a really spacious main bedroom with seating area, a little kitchen with dining area, a really big bathroom and an upstairs sleeping area for the kids.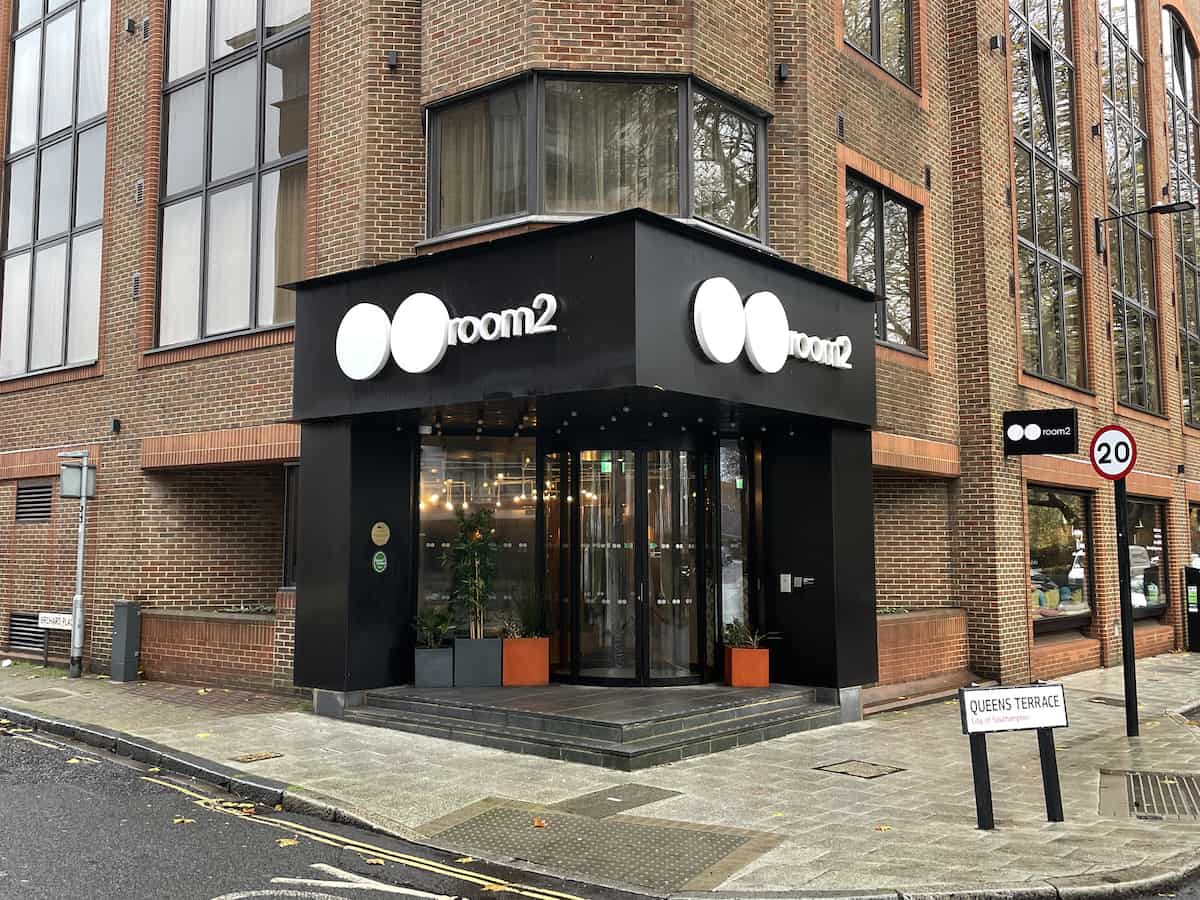 The room was fantastic. So much room, a fully functional kitchen complete with dishwasher, complimentary tea and coffee, fluffy towels, toiletries and free wifi. It was the perfect base for a family weekend away – and we had lovely breakfast bags delivered for us in the morning too.
Southampton was a fantastic place to visit for a family break away, especially at Christmas. We all had a really nice time, learnt a lot about the city and got well and truly into the festive spirit!
Find out more about things to do in Southampton this festive season over on the Visit Southampton website. You can also see our Stories from the weekend here and a little Reel of our trip here.