Disclosure: We were invited on this break for the purpose of this review however all opinions are my own.
We love having a family weekend away and last weekend we were invited to stay at the Hilton Bankside for a night and planned a whole weekend based around the hotel's proximity to so many of London's attractions. We arrived early, dropped our suitcase off and headed into London for a day of adventuring.
Before we left the lovely staff gave the children a fox map to hunt for foxes around the hotel. There's also a map to hunt for foxes around the local area too if you're in that part of London and looking for a free and simple activity to do with the children outside over the summer.
We were offered a phone call to let us know when our room was ready but we knew it would be the late afternoon before we made it back to the hotel. When we finally came back, at about 5pm, our room was ready and our bag had been taken up for us. We'd been given interconnecting rooms that were absolutely perfect for a weekend away.
One of our rooms was a twin room with a huge walk in shower in the bathroom and the other was a king bedroom with a really large bathroom complete with bath and shower over it. If I was being really picky I would have preferred the shower to be with the king bed and the bath with the twin room but we were all happy to share for the weekend and it was lovely to have the choice of bath or shower and so much space to relax and enjoy.
The children had cuddly toys and goodie bags on their beds – complete with activity packs, sweets and children's toiletries. Both rooms also had tea and coffee making facilities, complimentary soft drinks in a little fridge and complimentary toiletries too as well as fluffy robes and slippers. They were both such lovely rooms and such a great space for us as a family.
We had dinner in the hotel's Oxbo Restaurant which has beautiful rustic decor and the fox theme continued through the restaurant. The staff were fantastic with the children, helping them spot foxes around the restaurant and talking to them about their adventures in London. They had a dedicated children's menu – either an a la carte menu or a set menu and we chose their meal from the three course set menu.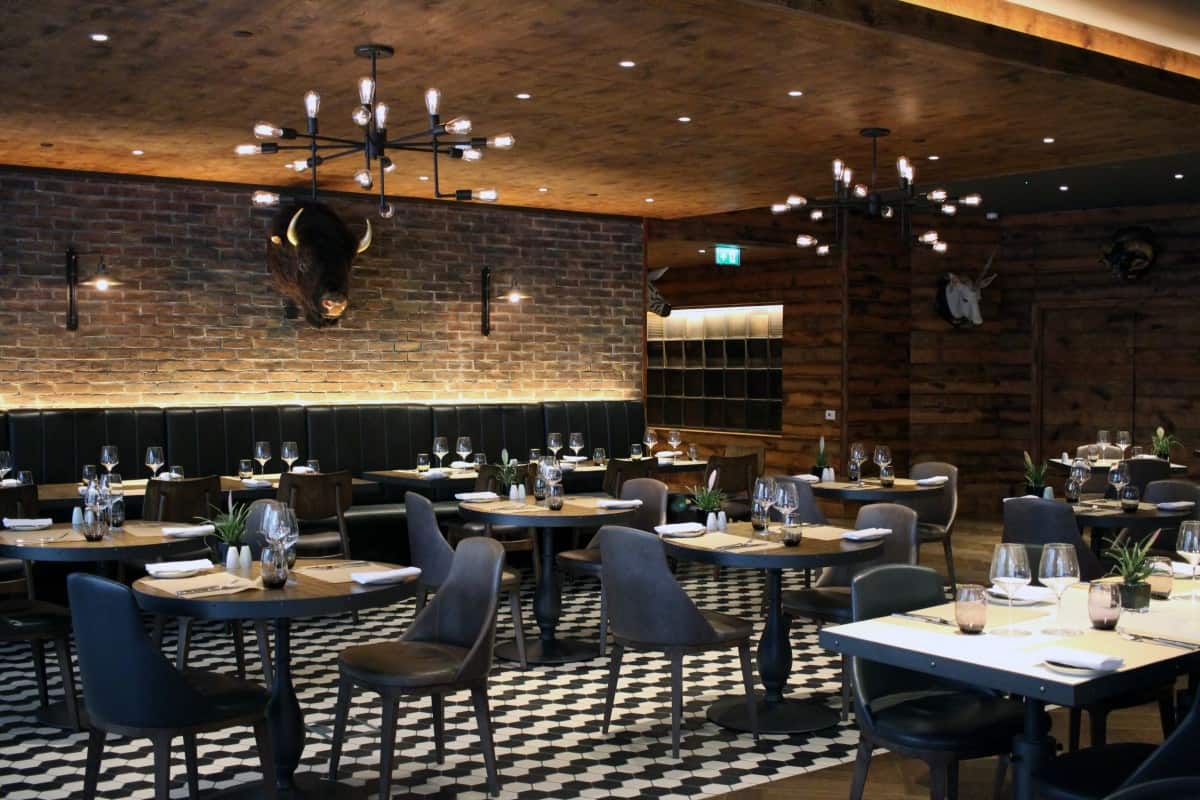 The children had melon and cucumber balls to start which was a lovely and different starter to a usual fruit salad. This was followed by a cheese burger and chips for Little Man and chicken skewers for LP which were both a good portion size and so full of flavour. It was nice to see that rather than doing typical children's food the menu was a smaller version of the type of food on the main adult menu, inspiring children to try new things.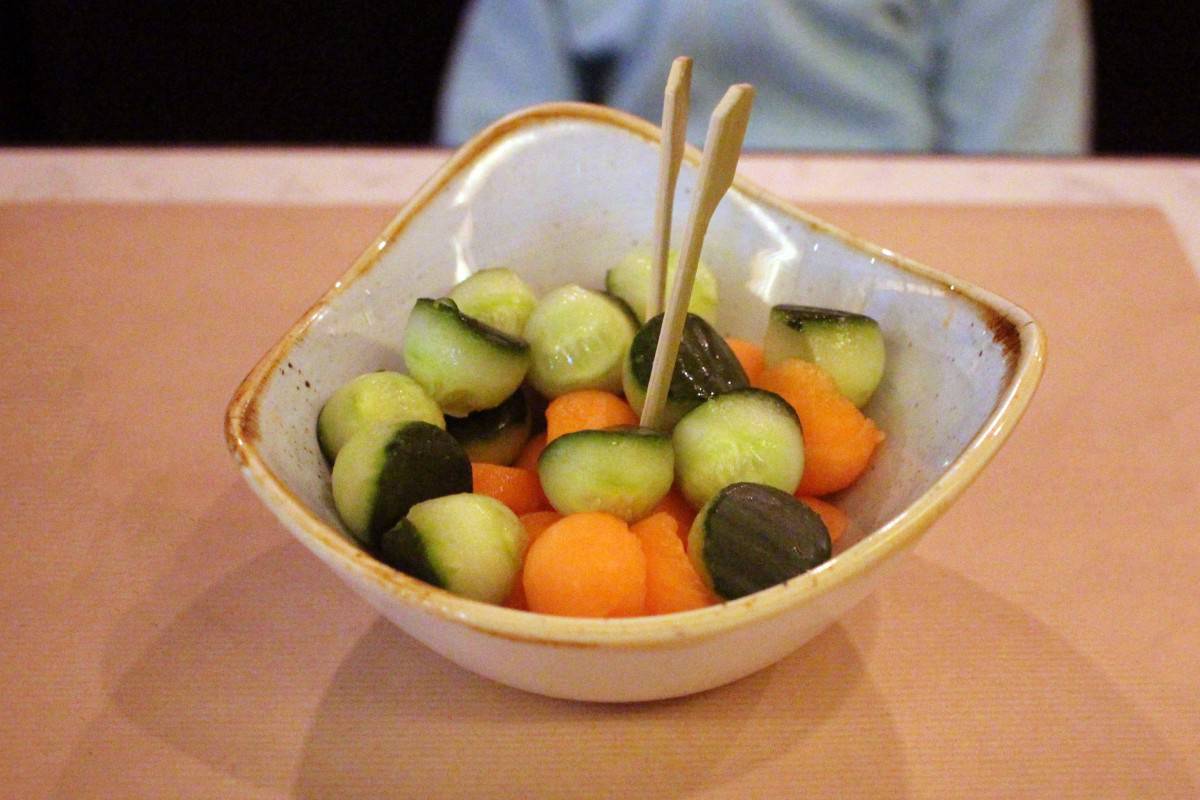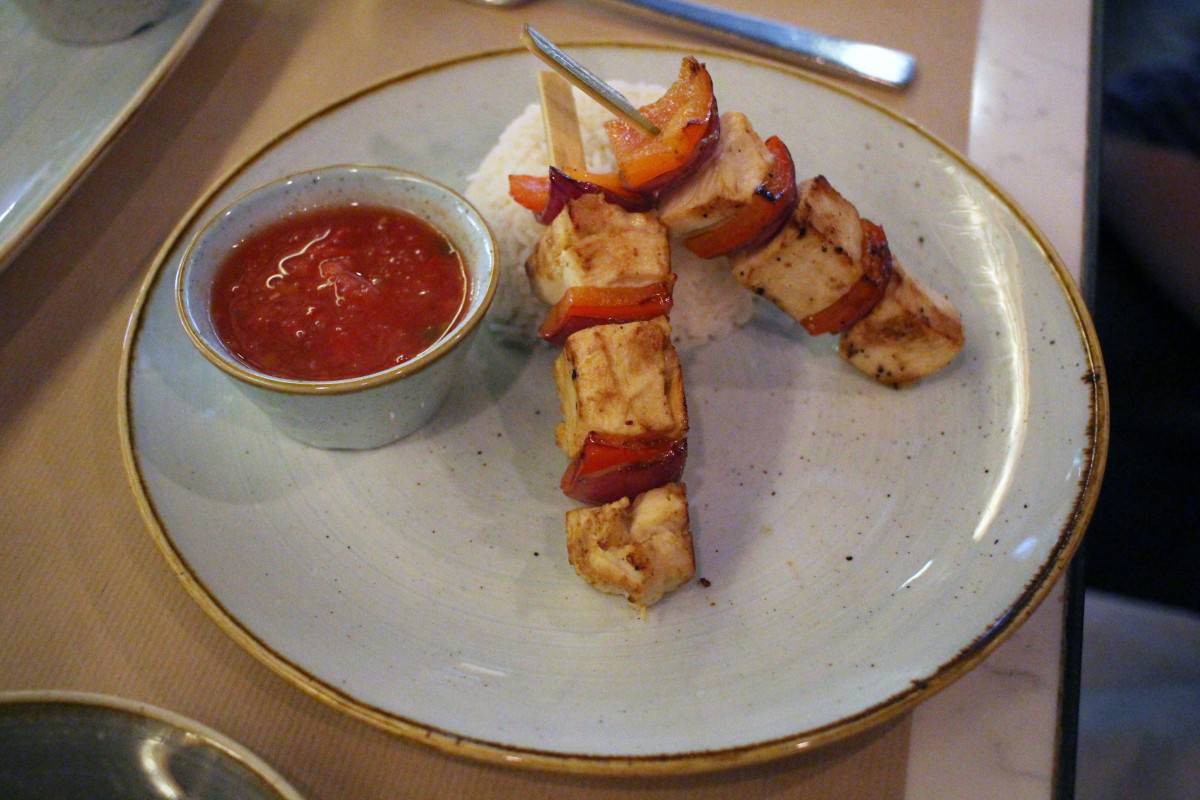 For dessert both the children had the raspberry creme brûlée which was lovely but the children didn't eat much of it as they were so tired by that point – but Dave and I helped them to make a good dent in it!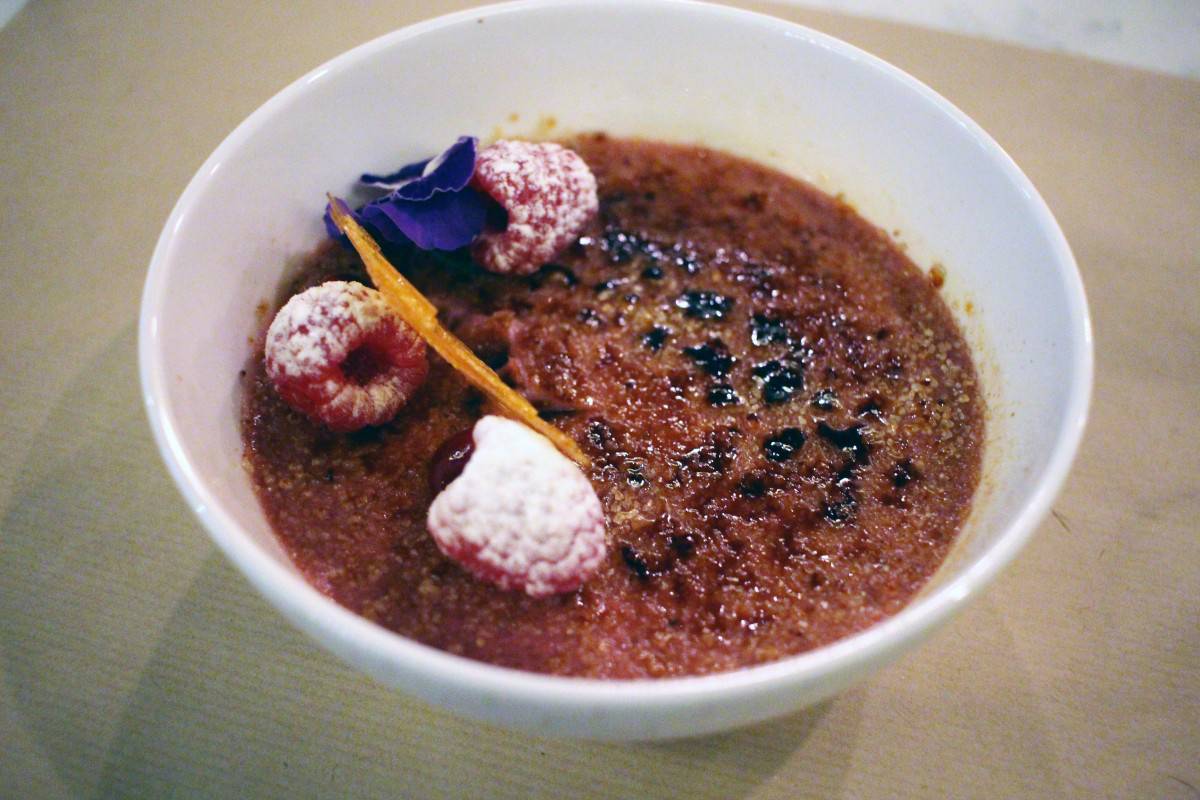 Dave and I chose our meal from the main menu and went for the scallops which were served with with broccoli puree, tempura prawn and champagne cream and the duck spring roll which came with smoked duck and a pear and celeriac Waldorf salad. Both were lovely, light dishes with so much flavour and a great start to our meal.
For our mains I chose the chicken and spiced shrimp caesar salad with focaccia croutons and parmesan. Unlike most caesar salads I've had in the past this one was mainly chicken and shrimp – rather than mainly lettuce. It was so filling, with just the right amount of dressing and the perfect main course.
Dave chose the rib eye steak which was served with tomatoes and chips. It was well cooked and came with a Béarnaise sauce which complimented it perfectly. You really can't beat a steak on an evening out.
For our desserts I went for a peanut butter biscuit which was a lovely slab of light, rich chocolate cake with a peanut sauce and peanuts sprinkled over. It was so lovely, full of peanut flavour and a great way to end our meal. Dave chose the ice cream sundae which had so many different parts to it – it was a pretty dream dessert which we all ended up trying a bit of.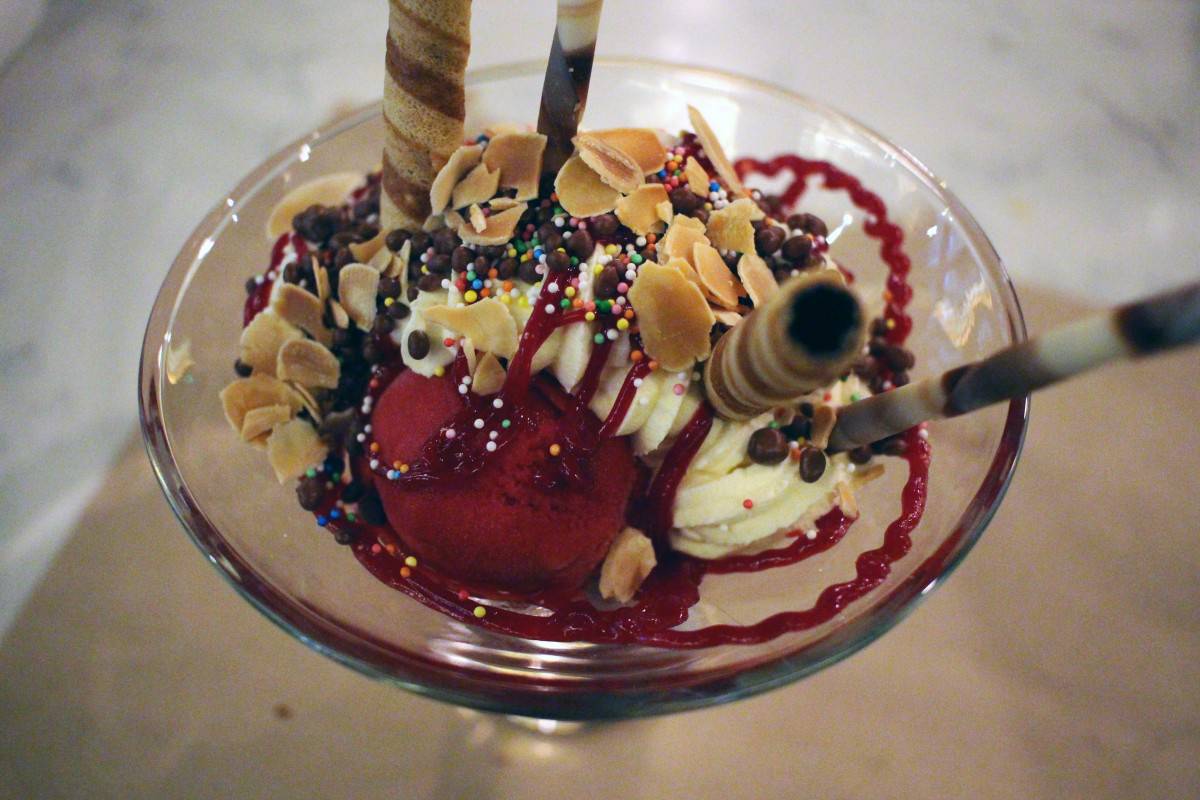 After dinner we headed back into the city briefly to take the children up The Shard but we came back to our room to find that both rooms had been turned down for the night, with the curtains closed, duvets pulled back, slippers next to the bed and music playing softly.
The children were asleep as soon as their heads touched the pillow and Dave and I managed to relax for half an hour before we went to sleep too – playing tourists in London is exhausting! We all slept so well, I don't think I even moved in the night until Little Man climbed in with us at 7:30am and then he slept until 9am – and his sister didn't stir until then either! The beds were so comfortable with the best quality duvets and pillows that it really couldn't have been a better night's sleep.
Breakfast at the Hilton Bankside was probably the best hotel breakfast we have ever had. There was a buffet of breads, meats and cheeses, fresh fruit and pastries, juices and smoothies as well as a hot buffet selection and counters to get freshly made waffles, pancakes, eggs however you want them and even omelettes. The children had pancakes, Dave and I had a cooked breakfast and we finished off with a selection of cakes and pastries. It really was a great start to the day.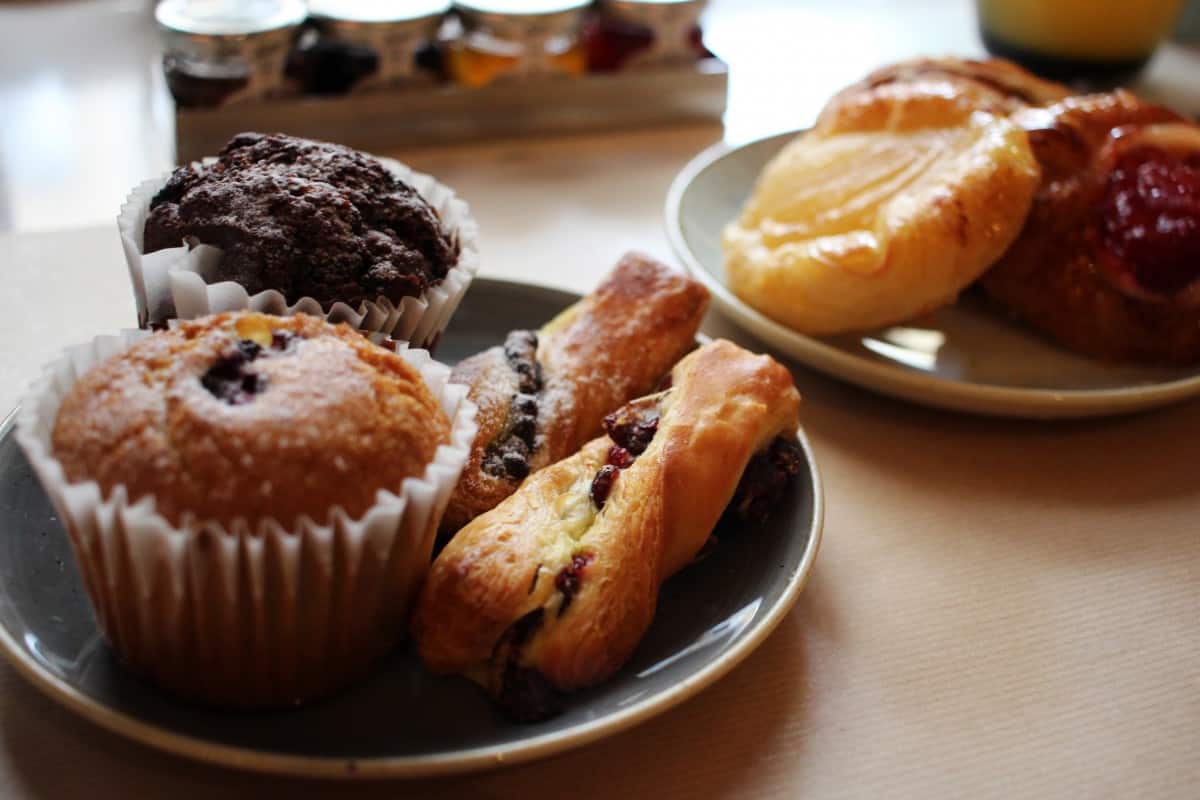 When we checked out of the hotel the children showed the lovely concierge their completed fox maps and were given a fox shaped biscuit and candy cane as a prize – they couldn't have been happier!
We loved staying at the Hilton Bankside. It was so incredibly family friendly, it had such lovely staff who couldn't do enough to help us throughout our stay and the whole hotel was lovely and comfortable with places to sit and relax throughout. Plus, it was in a great location to explore More London and the surrounding area on the banks of the Thames. It really will be our first choice when visiting London for a weekend in the future.