*This is a paid post
One thing that hasn't changed since I was little is a child's love of temporary tattoos. Whether we're at a party or away on holiday, if there is the opportunity to have a temporary tattoo the child will jump at it. So, what child wouldn't enjoy having beautiful glitter tattoos at home?
Who are Glitterify Me?
Glitterify Me create fantastic glitter tattoo kits for children. They come in a range of styles and colourways so you can be sure there will be one to suit every child's tastes and personality.
The kits are affordable, easy to use and create beautiful, waterproof tattoos. I asked LP to choose which kit she'd like to test out from the Glitterify Me range and she chose Dreamworld – a mix of fantasy creatures with pink, purple, red and blue glitter.
What is in the Glitter Tattoo Kit?
The Glitterify Me kits come with everything you need to create so many temporary glitter tattoos. There's a bottle of glue, four jars of cosmetic grade glitter powders, an applicator brush and 24 glitter tattoo stencils plus full instructions.
The kit had a really nice variety of stencils – unicorns, hearts, mermaids and fairies all in different styles. I immediately thought how great this would be as a party activity, being able to give all the guests glitter tattoos so easily at home or a party venue. It would be a great alternative to face painting.
How do you use the kit?
The kit is really simple to use and comes with easy to follow instructions and tips to help along the way. You just clean your skin, apply the stencil, add a thin layer of glue, add the glitter powder and dust off any excess before peeling off the stencil. It could not be easier!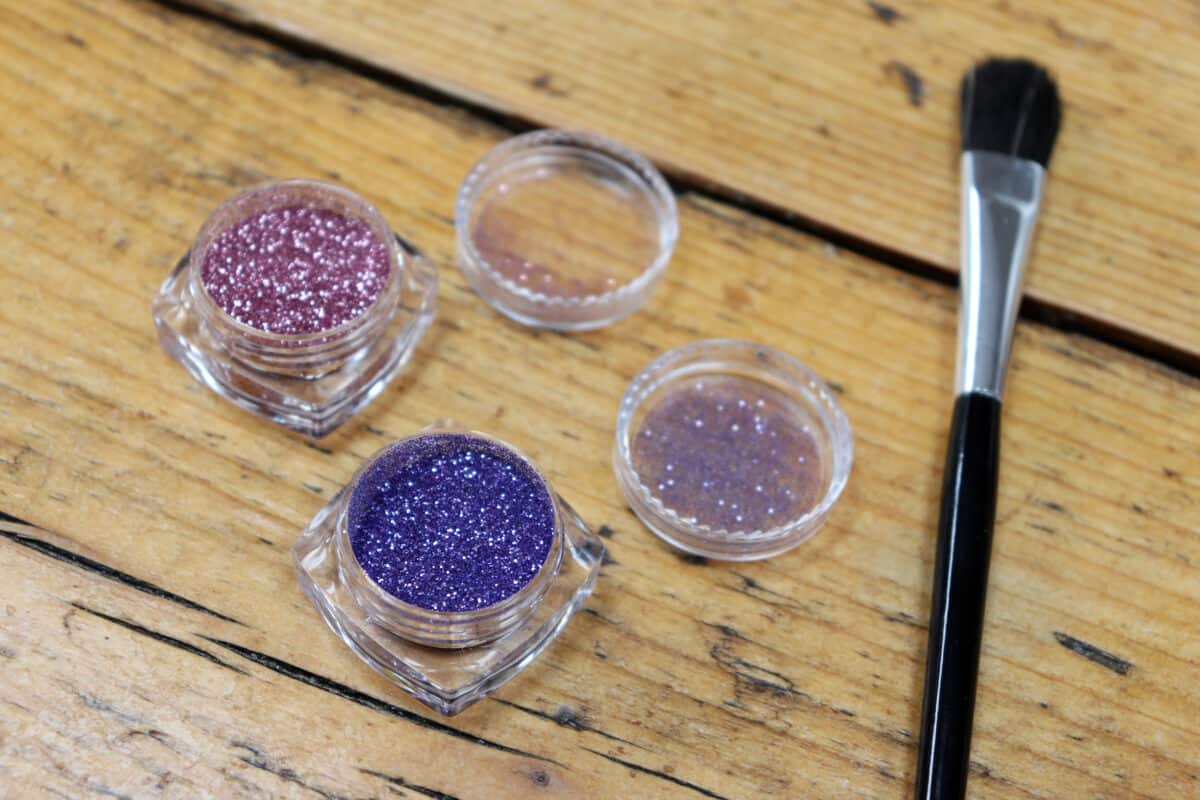 How did we find using the tattoo kit?
LP loved having the tattoos done. It's a kit that children could use by themselves but I think it goes further, and gives better results, if an adult helps. LP and I had great fun using the kit together. It was so creative and much more exciting than ready made, stick on tattoos. LP loved picking out colours and deciding which colours would go well together.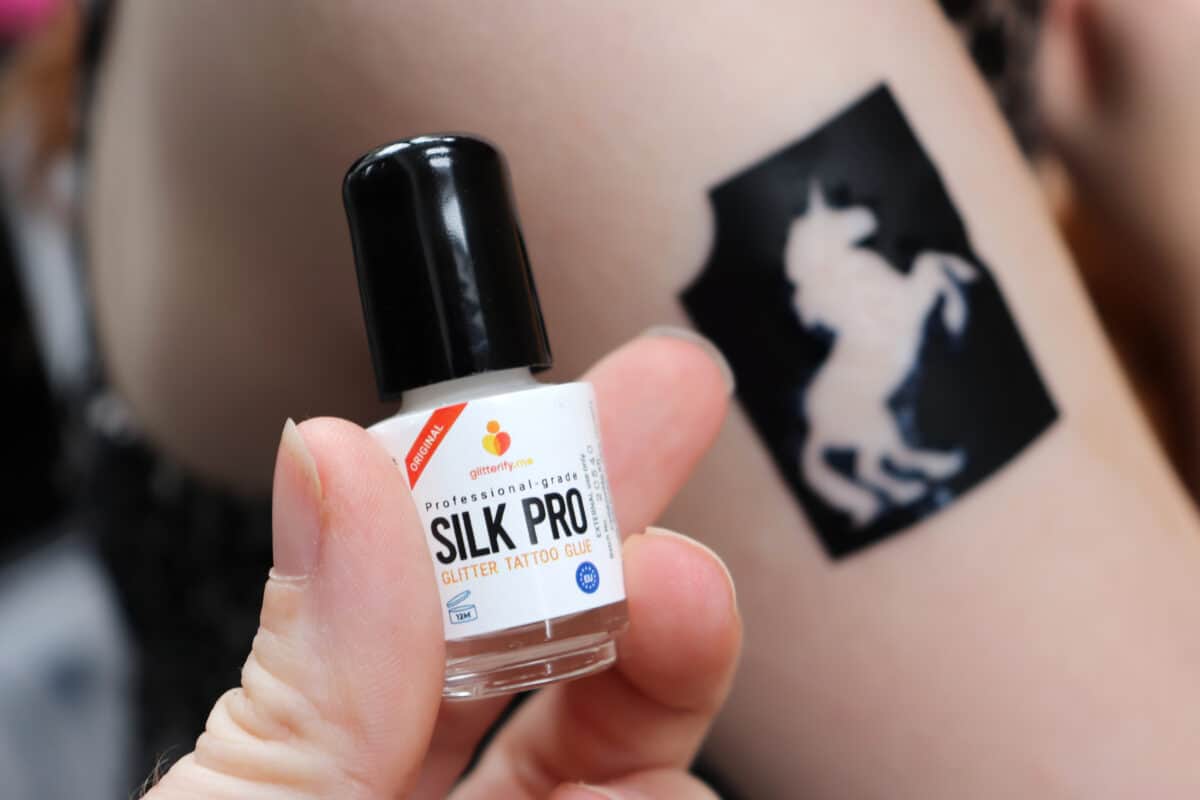 On first impressions, the glue bottle looks small but you don't use very much so there is more than enough to create so many tattoos. The glitter also goes a long way, you really don't need much at all. You also need to make sure you screw the lid tightly on the glue for storage so that it doesn't dry out.
The kit says that it can make at least 25 glitter tattoos and I think that's a really conservative estimate. If you use just the right amount of glitter, and are careful with the stencils, you could make many more.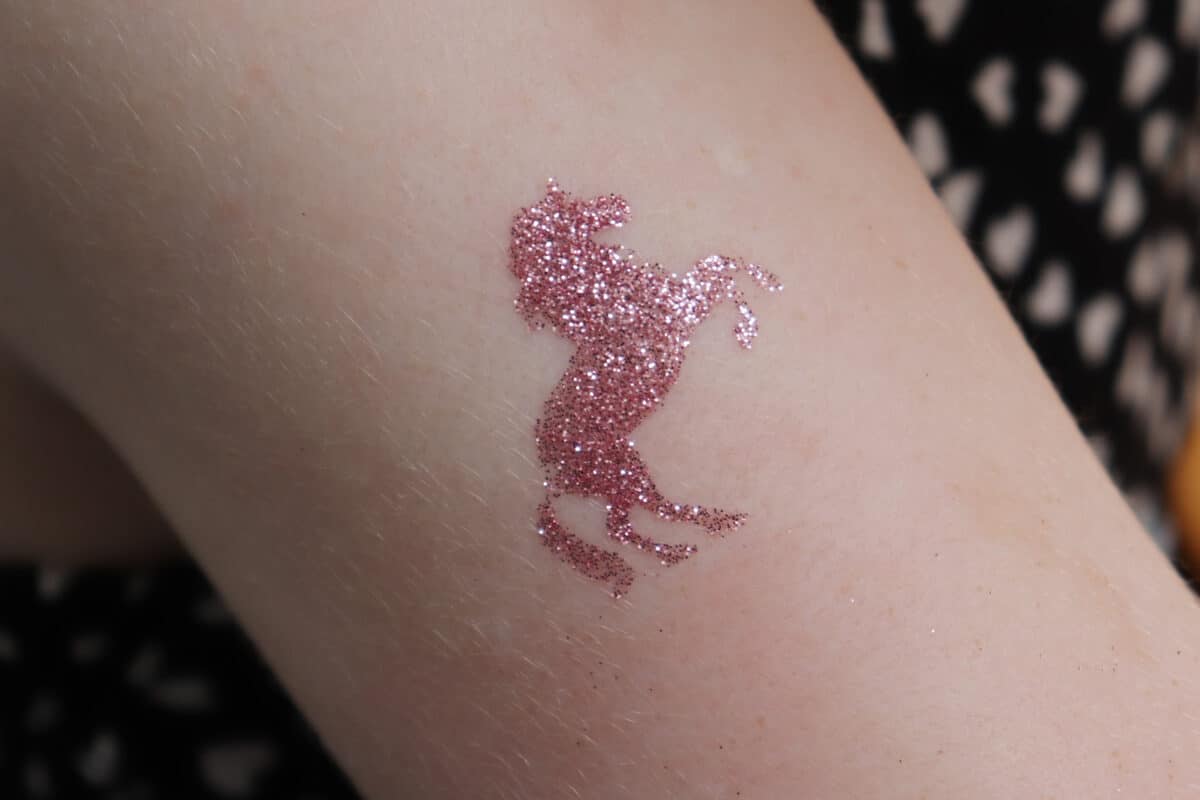 Are the Glitterify Me kits safe for kids to use?
Glitterify Me kits are made in the EU, adhering to the strict EU regulations. This means that the kits are easy on children's skin, using cosmetic-grade glitter and skin-friendly glue. I've even seen on their reviews that people with sensitive skin have used the kits without any issues.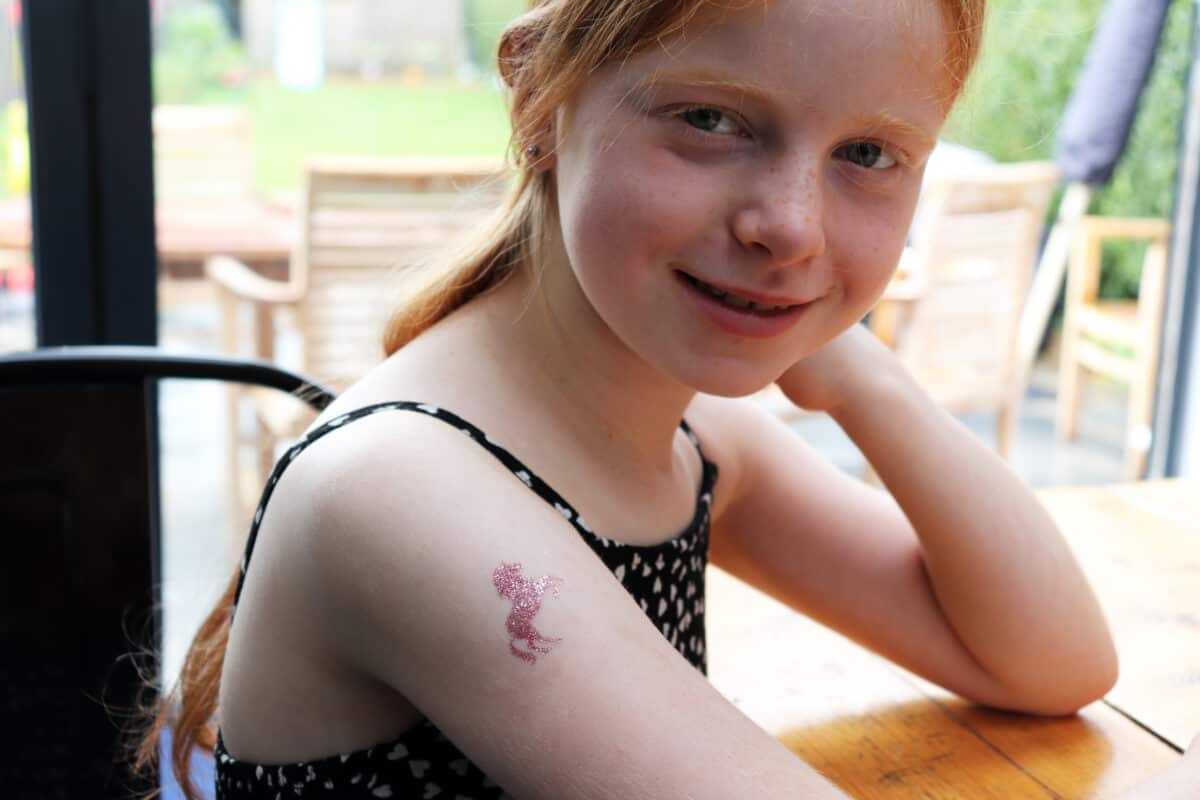 How easy are Glitterify Me tattoos to remove?
The glitter tattoos will gradually come off on their own after about a week but we found they came off easily, whenever we wanted, with baby oil or olive oil. We just put some on cotton wool and rubbed gently in circles.
Glitterify Me tattoos are waterproof so they last well in the bath, shower or swimming and only start to come off if you really scrub at them. LP loved that she could still have a bath with the tattoos on and even had water fights with her brother in the garden and the tattoos didn't budge!
The Glitterify Me kits are great. They're easy to use, a great price and something that would make a really lovely gift. They're going to be high on my list for any birthdays coming up in the future.
The Glitterify Me kits have an RRP of £14.99 and you can see the full Glitterify Me range here.