Disclosure: We were invited to see this show for the purpose of this post however all opinions are my own.
No festive season would be complete without a family trip to see a panto, and we were lucky enough to be invited to the opening night of Robin Hood at Camberley Theatre in Surrey. As the children have grown older we have been to see a pantomime a few times in recent years and loved Sleeping Beauty at Camberley Theatre last year. A panto is always a highlight of our festive season and the children were thrilled to be returning this year. Plus, they were really looking forward to being out on a school night!
Camberley Theatre is handily situated right next to Knoll Road multi storey car park and well signposted. The theatre foyer was festively decorated and there was even a local choir group entertaining everyone. We collected our tickets from the box office and made our way to the bar area, which is just outside the main entrance to the auditorium. It was well stocked with friendly staff on hand and very reasonably priced. Robin Hood themed souvenirs were also on sale at pocket money prices as well as Robin Hood themed decorations everywhere. It was soon time to make our way into the spacious auditorium and we were directed to our seats by the member of staff on the door. We had a great view, a few rows from the front and right in the middle. The children were buzzing and singing along to the music whist the room filled up. It was such a great atmosphere.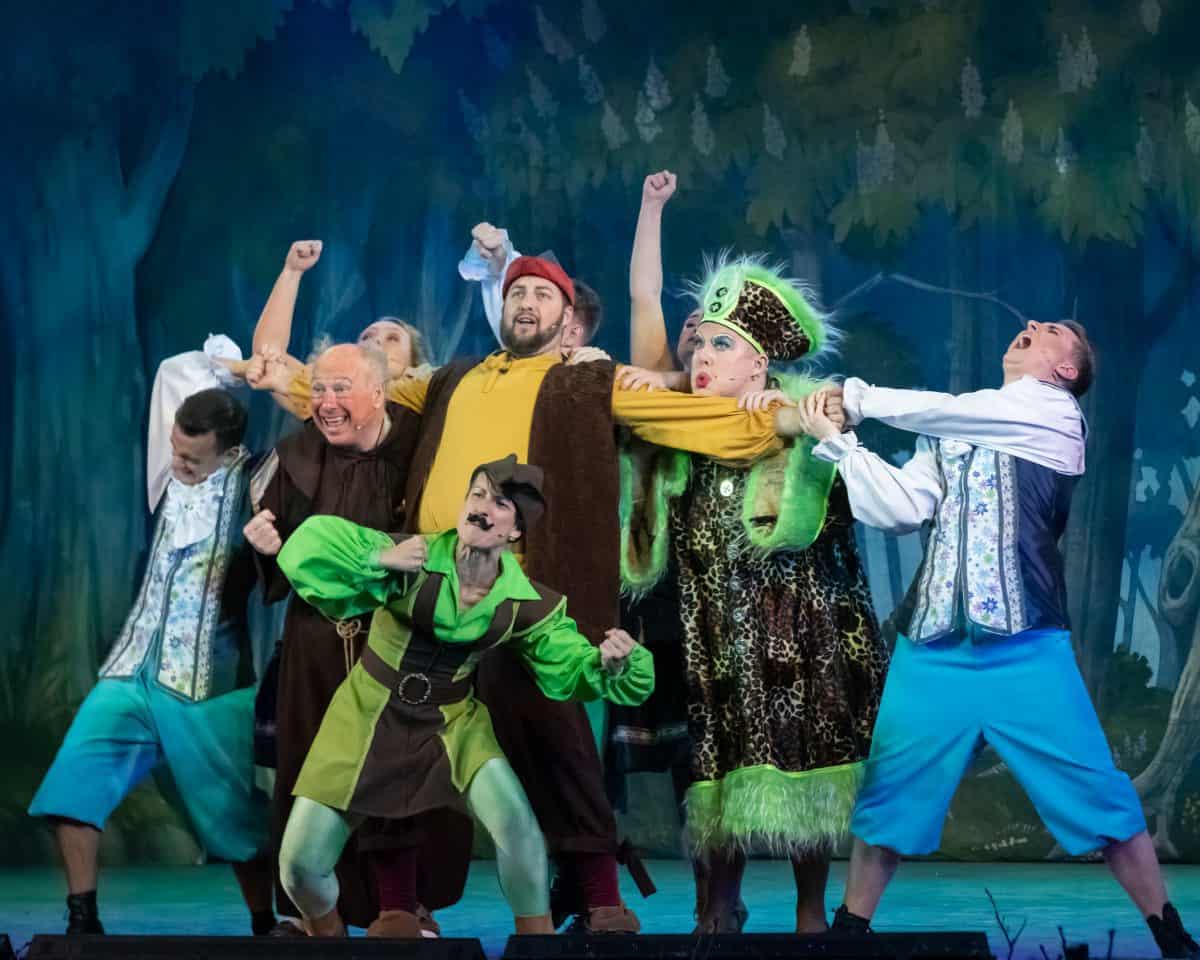 Soon it was time for the show to start and it opened with a big musical number as we were introduced to the characters and given a bit of background story through the narration by Friar Tuck. Played by Mark Hyde, he is no stranger to Camberley Theatre having played King Cedric in Sleeping Beauty last year. He was great in his role as Friar Tuck, bringing humour aimed at both children and adults alike.
Robin Hood is played by Harrison Spiers who is also a Camberley Theatre regular with this being his third appearance, second in the lead role. Kate Hume appears as Maid Marion with Matt Ian Kelly as Dame Cherry Bakewell. Sebastian Calver is Will Scarlett, Josh Harvey is Little John and completing the band of merry men is Suzi Budd as 'Alan' Dale. The final member of the main cast is of course the Sheriff of Nottingham, played by Jack Everson.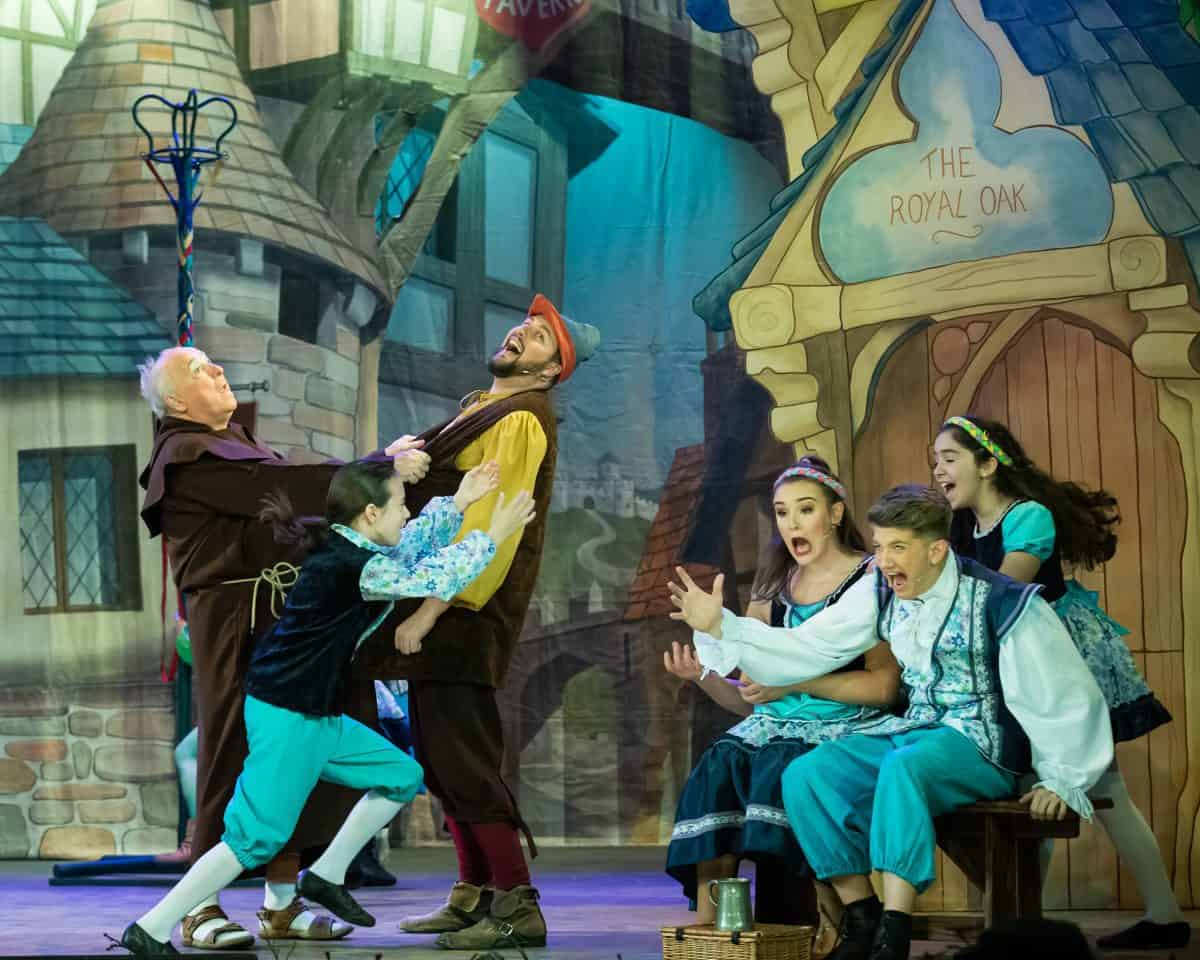 The story is familiar yet fresh, with the evil Sheriff set on taking over the country whilst King Richard the Lionheart is away fighting the crusades. Maid Marion is his niece who has been bullied out of the castle by the dastardly Sheriff and is currently running the local tavern, The Royal Oak.
We join the merry men as they clash with the Sheriff at every turn, fighting for the locals and restoring Sherwood to what it should be. The cast were really into their roles and it was obvious that they were having a great time, interacting with the audience when appropriate and really making us feel part of the show. Little John's 'dream' is simply great and made us laugh every time. The show has humour aimed at adults and so many puns and slapstick moments that the children loved. The whole show is literally a laugh a minute.
Although Pantos are always very near the mark and full of innuendo, I did feel the level of fat jokes wasn't necessary and it made me uncomfortable. Dame Cherry was the butt of all of those jokes and it was a running theme through the show – with the audience shouting regularly no Cherry, you can't have cake, you're on a diet! Aside from that we really enjoyed the show. The mix of humour worked well and the children were laughing pretty much constantly throughout.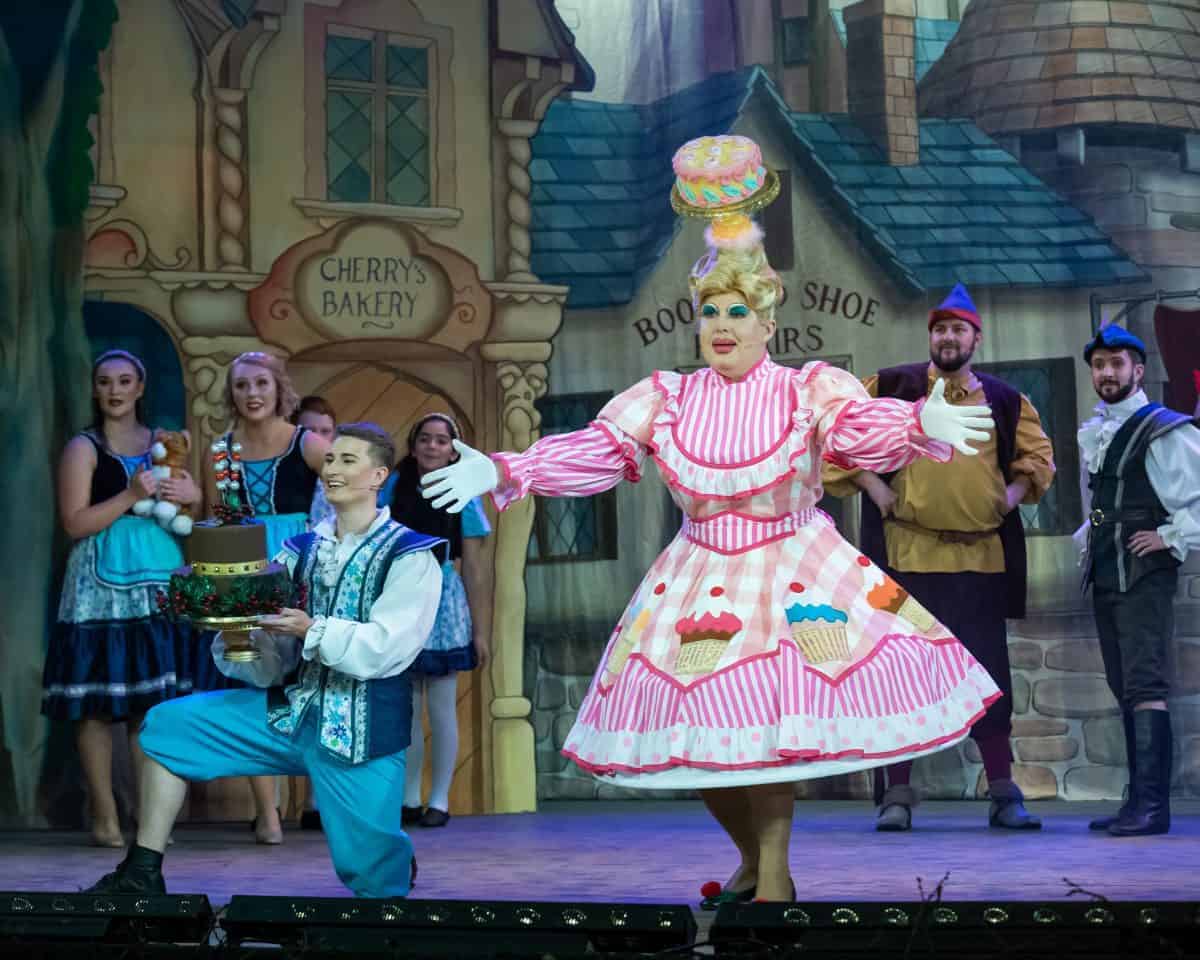 The jokes come thick and fast in pantomime style and the musical numbers are all fantastic, with great choreography and beautiful songs, each cast member getting to show off their vocal skills. The Sheriff of Nottingham stole the show for me though with his rendition of Madonna's Vogue! There's some great re working of lyrics to suit the show, getting big laughs from the whole audience. The final set piece of the show is simply fantastic with a good ol' panto wedding with a very modern twist.
The Sheriff was probably our favourite character with Jack Everson portraying him as the bad guy you can't help but love. Sometimes the baddies in panto are really dark and sinister but Jack's Sheriff was mean and nasty – as he should be – whilst being so funny and just a little bit daft!
Robin Hood finished with a reminder that you can be whoever you want to be. That the Merry Men don't have to just be men, they are just a group of people who want to help others and do the right thing. I found this really inspiring and a great note to end on.
The song were fantastic, the choreography was faultless and the young members of the cast did a fantastic job. They sang their hearts out and danced their feet off. It was amazing to watch. The set was also fantastic – scene changes were faultless and, without spoiling the surprise, the animated aspects of the set were unexpected and exciting. LP even shrieked out loud at one point!
We had a great time at Camberley Theatre and I know it's something that the children will be talking about for ages. It was quite a long show at just under three hours including the interval but we had such a great time that it whizzed by! I can't wait to go to Camberley Theatre again soon.
You can find out more information about Robin Hood and book tickets here.