Disclosure: We were invited on this break for the purpose of this review however all opinions are my own.
Last week we were invited to stay at Potters Resort in Hopton-on-Sea in Norfolk to see what the resort had to offer families over the summer holidays. I first heard of Potters Resort around a year ago and only knew it was a holiday village on the Norfolk coast so it was nice to arrive for a week away with no expectations.
When we arrived we checked in easily and were given an information pack of everything we needed for our stay. We had a resort map, a schedule of activities and were told which car park was best to park in for our accomodation.
Accomodation
We were holidaying with my best friend and her two children and were allocated adjoining Premier Hotel Rooms which each had twin beds and an extra bed in them. Each room was perfect for a family of three and they each had really spacious bathrooms, complimentary toiletries and a balcony with a sea view.
Each room had a fridge which was great for storing a few drinks and chocolate in the hot weather. There were tea and coffee making facilities, air conditioning and complimentary wifi – although we did find this a little hit and miss depending on the time of day. Potters Leisure Resort has many different room options to suit all group sizes and accessibility requirements and would allocate you one depending on your party size and needs.
Activities
A huge part of Potters Resort is the immense range of activities available to children – and adults – of all ages at no extra cost. We have been to other holiday resorts across the UK previously and have never had such a vast range of inclusive activities. We were really impressed that everything the children wanted to do they could do without us being out of pocket and there was something for them to do every hour of every day – sometimes multiple options too.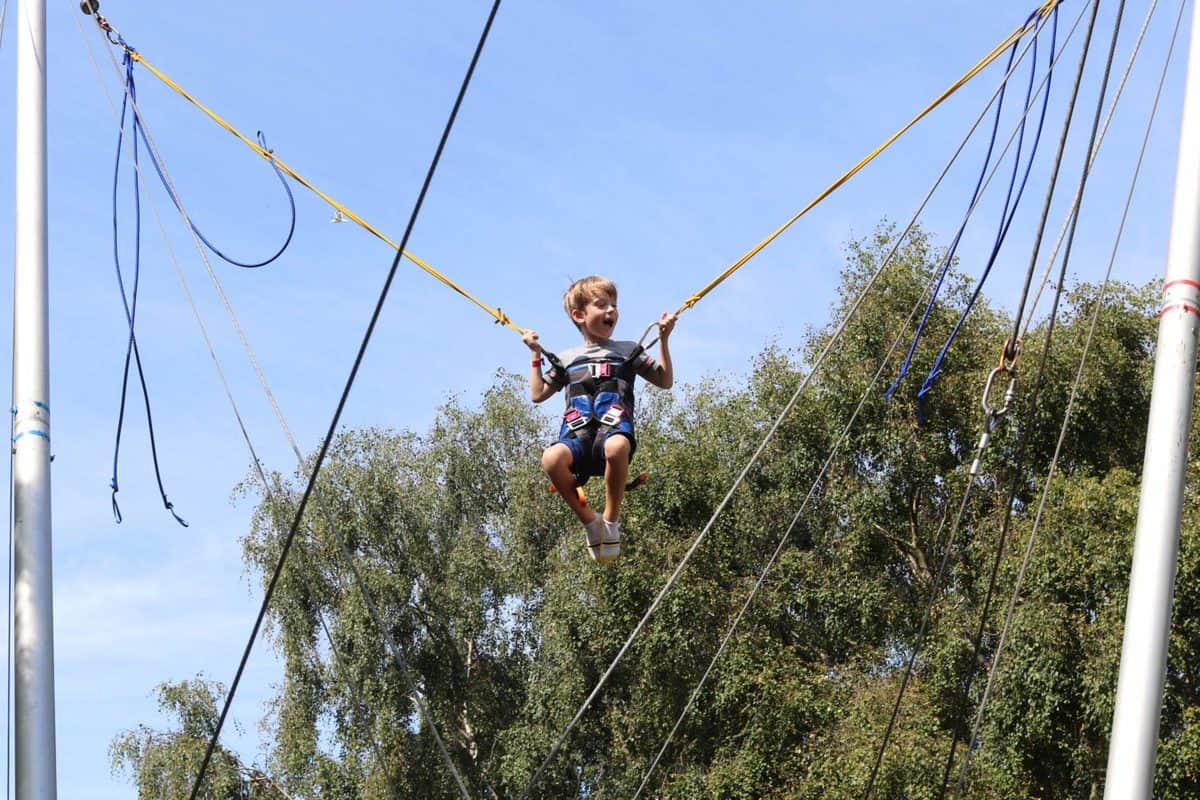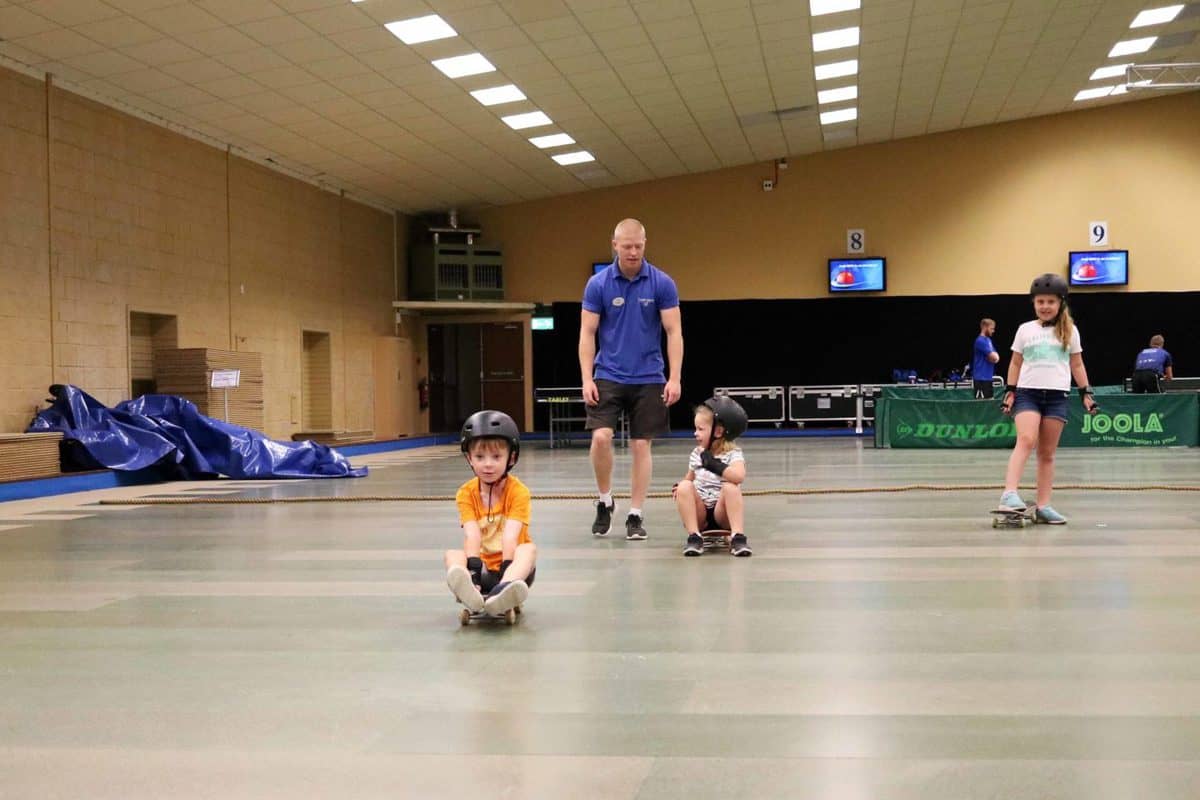 Throughout the week the children did so much. Skateboarding, quad bikes, fun karts and K-bikes, bouncy castles, assault courses, climbing walls, the giant sweeper inflatable, rodeo bull, dancing, singing, crafting and so much more. There was something for every personality and ability plus staff made sure that even the most shy or nervous of children were eased into an activity and got to take part.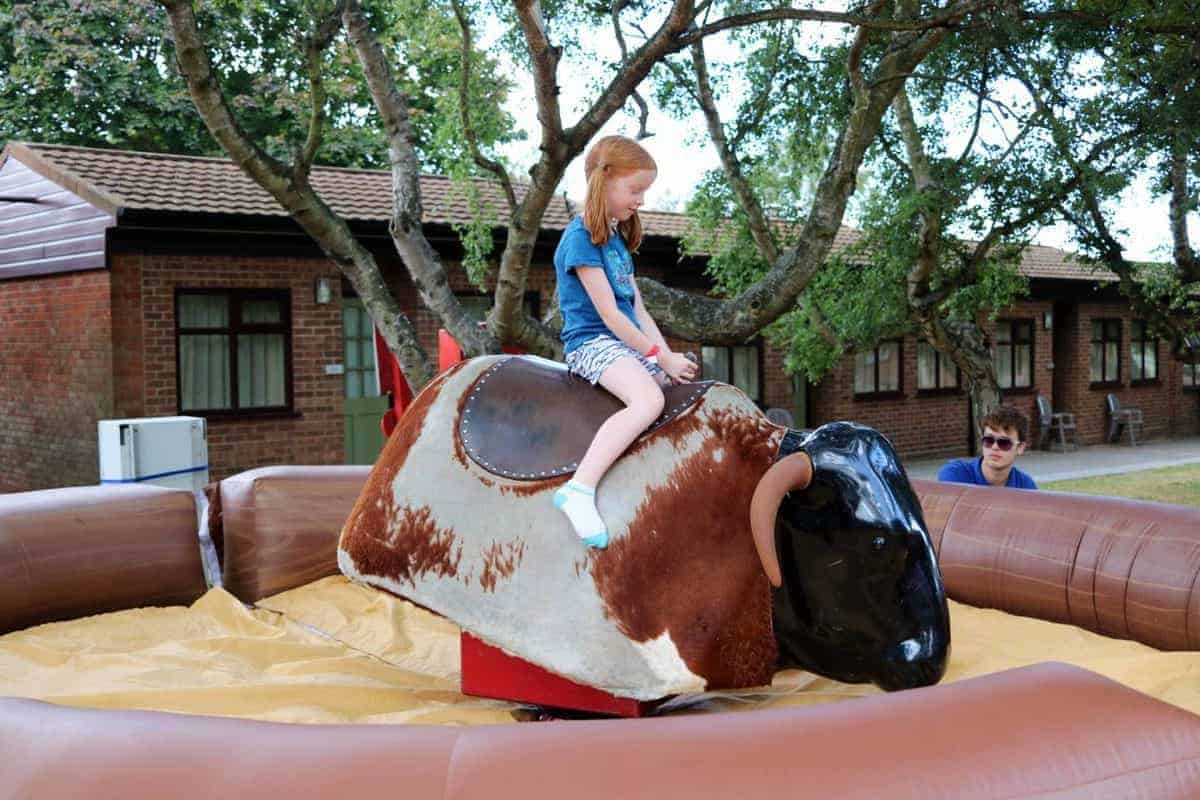 Some of the activities had height or weight restrictions which were clearly displayed at each activity and in paperwork we were given when we checked in. This meant we could ensure the children were the right size for something before we promised them we could go on it.
All of our children's activities were aimed at under 8s or all age ranges. There were different activities for older children and teenagers that were suited to their ages and a lot of activities for adults like fitness or dance classes too.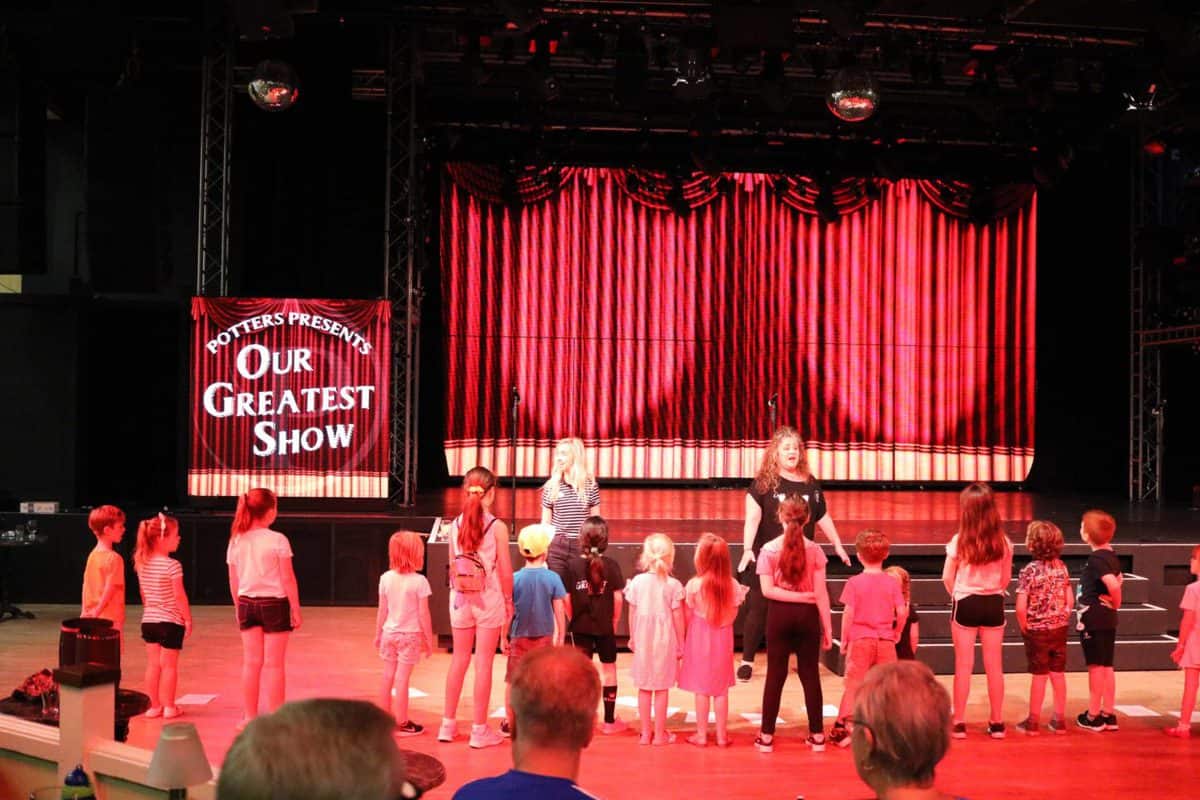 Entertainment
At various points through the day there were shows for the whole family to enjoy. We went to the Exciting Science show one morning which the children were amazed by – real life science experiments live on stage!
Each evening there was fun and games for the children in the Terrace Bar with plenty of prizes and it was one of the children's favourite times of the day. This led nicely into the evening entertainment in the main Atlas Theatre – an impressive room that was lovely to spend an evening in.
The evening theatre shows started between 9pm and 10pm each night of the week, with a different show each day. The shows were phenomenal. Created by Potters Theatre Company, they have an amazing cast, fantastic singing and great choreography. They were as good as any West End show we have seen. The children were too tired to stay up to watch them all so it would have been lovely if they'd started just a little earlier – but this isn't really possible as there's just so much to fit in to each day at Potters Resort.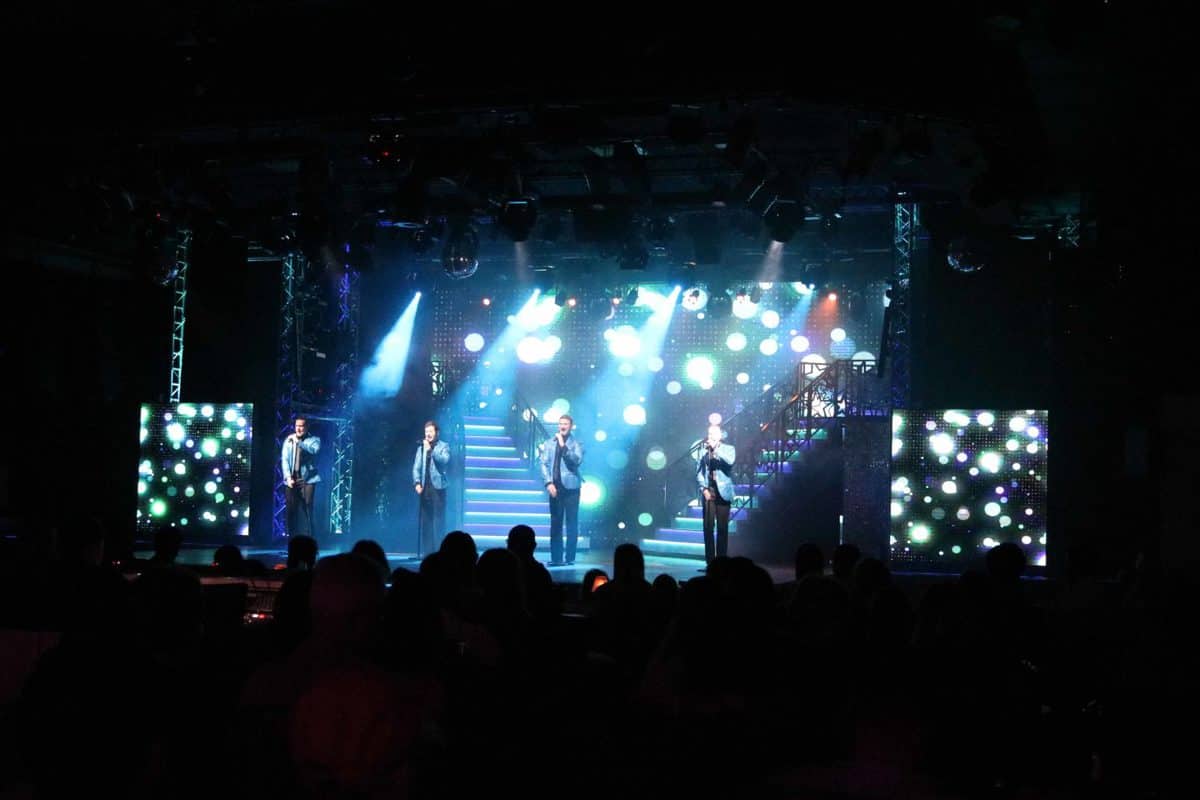 Food
On our first day at Potters Resort we were allocated a table in the dining room restaurant that we kept for our whole stay. Our table was lovely – big and round and well positioned for the entrance as well as the self service areas. Our waitress, Andrea, was fantastic – such a credit to the Potters team. We had her for the whole week at every meal and she soon learnt little things about us – we like to have a jug of water at breakfast, bread rolls at lunch, Sarah was vegetarian and Little Man would have ice cream with chocolate sauce at every opportunity!
For breakfast there was a menu of options from the kitchen as well as a cooked buffet, continental buffet and so many sweet treats and pastries. Andrea brought us toast and hot drinks to the table each day and Sarah and I ate a lot of Eggs Benedict and Eggs Florentine – such a great dish! The children loved the amount of fruit and pastries and we found breakfast a really great start to the day.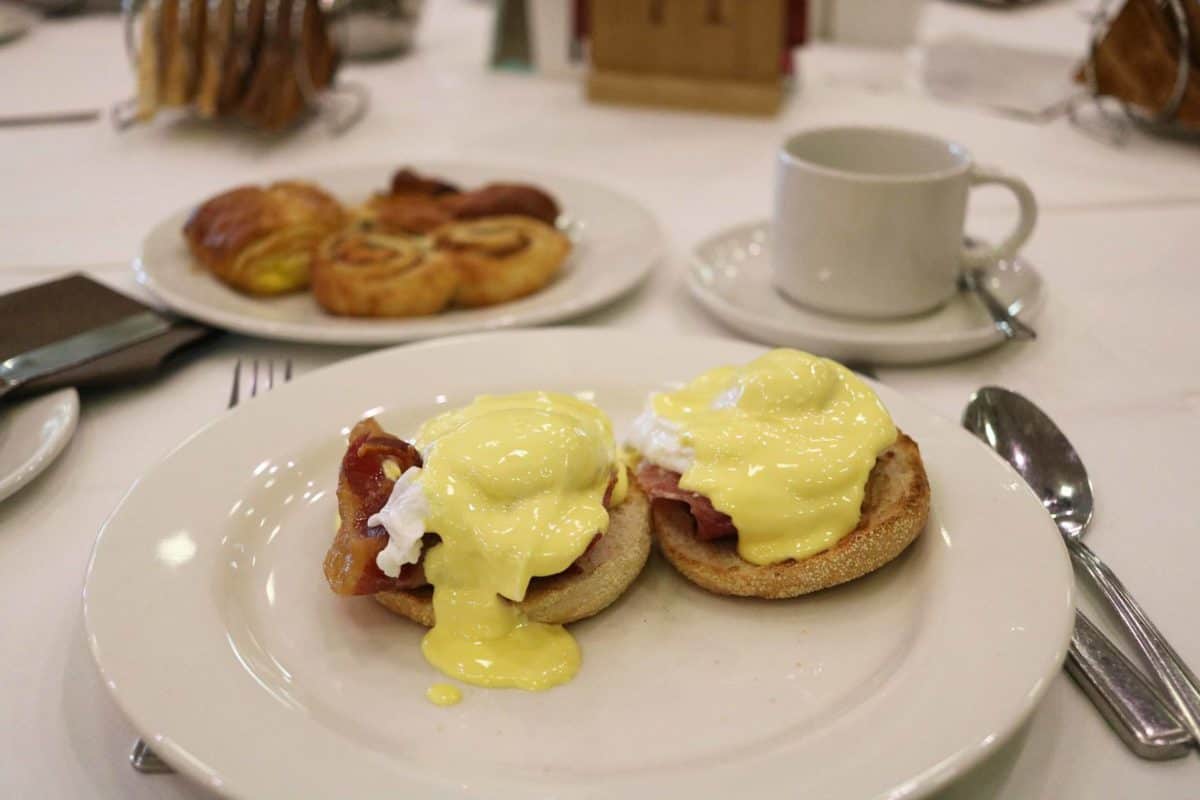 Lunch had a different menu each day and we had a couple of options from the kitchen for both starters and mains as well as a couple of buffet style mains and the children's food at both lunch and dinner was all on a buffet so they didn't have to wait any time for it which was lovely.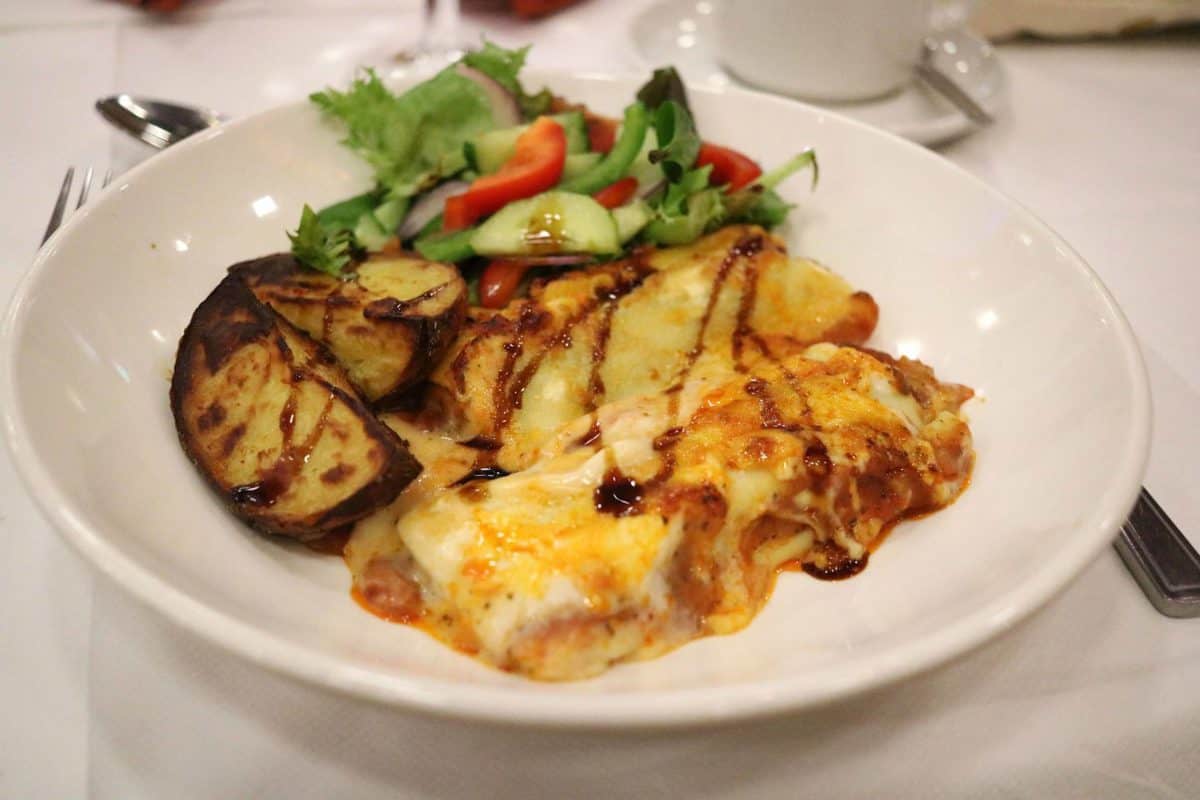 We had some lovely lunches – southern fried chicken salad was a favourite and there was a huge salad bar that we helped ourselves to each day as well. We all loved that there were jacket potatoes and a variety of fillings each day too – after all, who doesn't love a jacket potato?!
Dinner was pretty similar to lunch but with more starter and main menu options that came straight from the kitchen and just one adult buffet style meal each day – usually a stir fry style option. There wasn't a salad bar at dinner but this would have been a lovely addition as we really enjoyed it at lunch. There were a lot of vegetarian dishes on the menu and Potters Resort also catered for all dietary requirements.
Desserts were available with lunch and dinner – with a different hot option at each sitting and an extensive list of cold options. There was everything from ice cream and profiteroles to cheese cake, tortes and cheese and biscuits as well as crumble, pie or brownies for the hot options.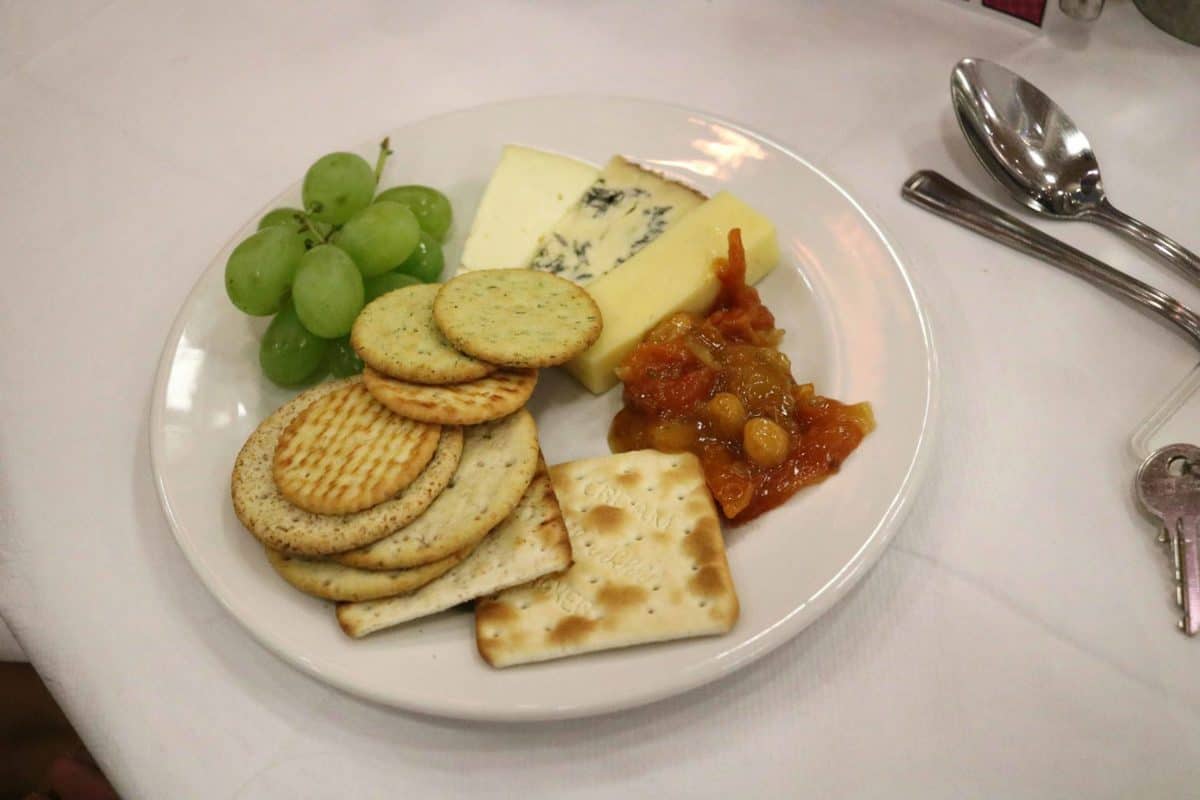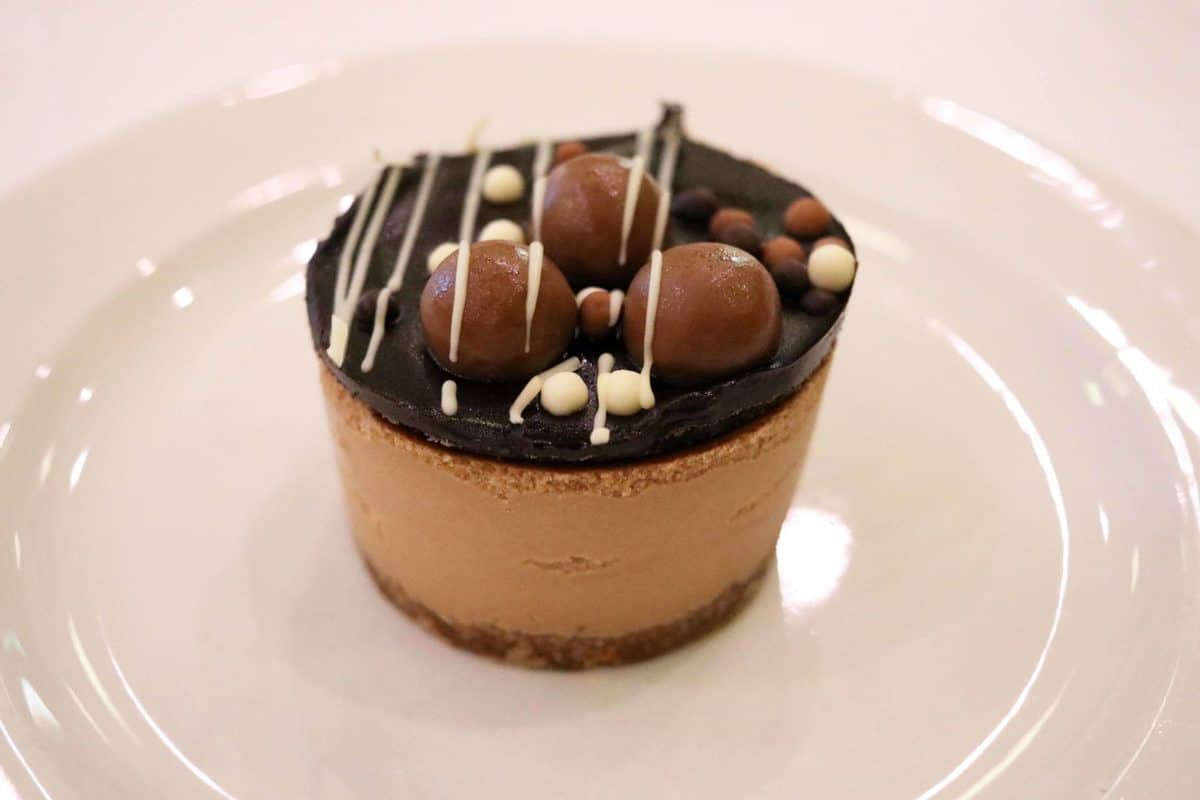 We loved our meals at Potters Resort. The restaurant had a really nice atmosphere to it and there were always announcements, celebrations and things going on during our meals. There were quite regimented meal times with an hour or an hour and a half sitting – but they worked well and fit nicely around the entertainment and activities. There was so much food and also a midnight feast fourth meal of the day for those that were still up partying then!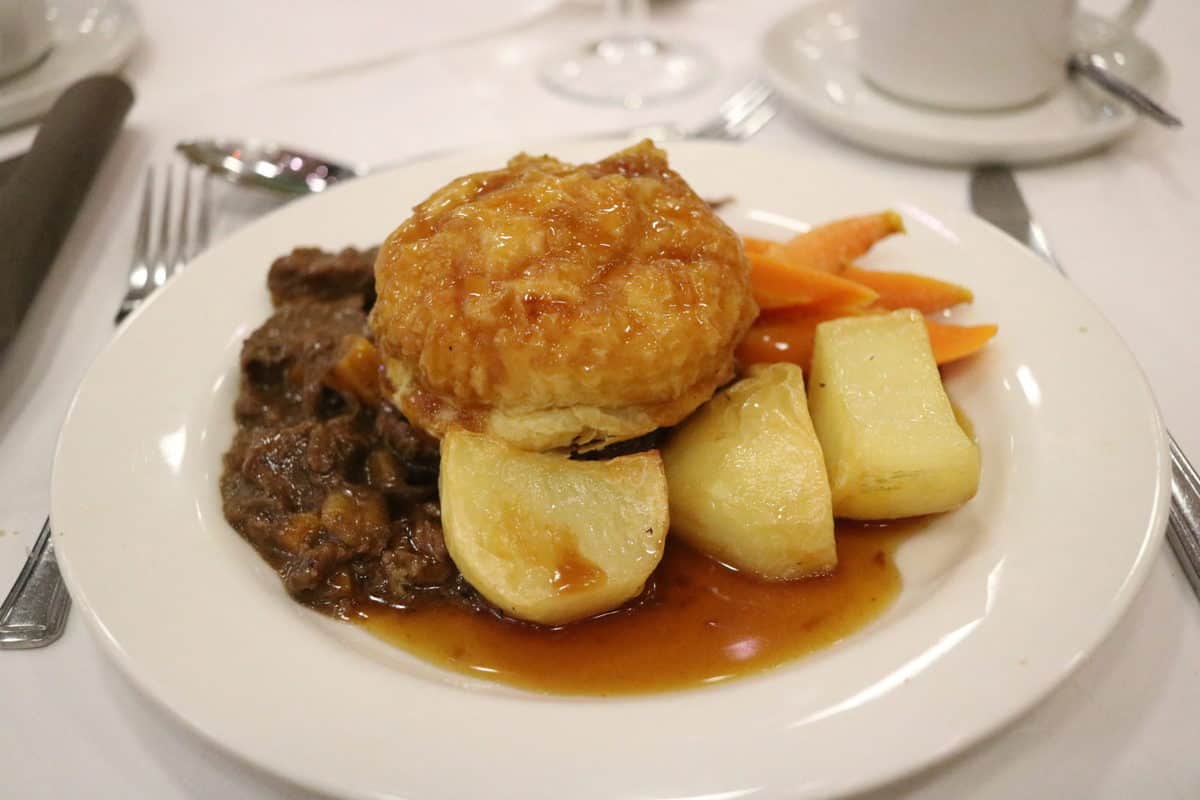 All the food is included in the cost of your break with the only additional cost being drinks. Through the course of the week we bought milkshakes, soft drinks, cocktails and glasses of Pimms and they were all pretty average bar prices, not inflated as we usually expect on holiday destinations.
As an alternative, Potters Resort is also home to the Black Rock Grill. This is a fantastic restaurant on the Potters grounds but it isn't included in your break. A lovely treat if you fancy something different during your stay.
Facilities
There's a nice shop on site to buy gifts, toys, magazines, snacks and drinks as well as a bowling alley, soft play and little arcades. There's also bowls, tennis courts and crazy golf – and probably so much else that I've missed off. The activities on offer are so vast and there is always something going on that you can join in with.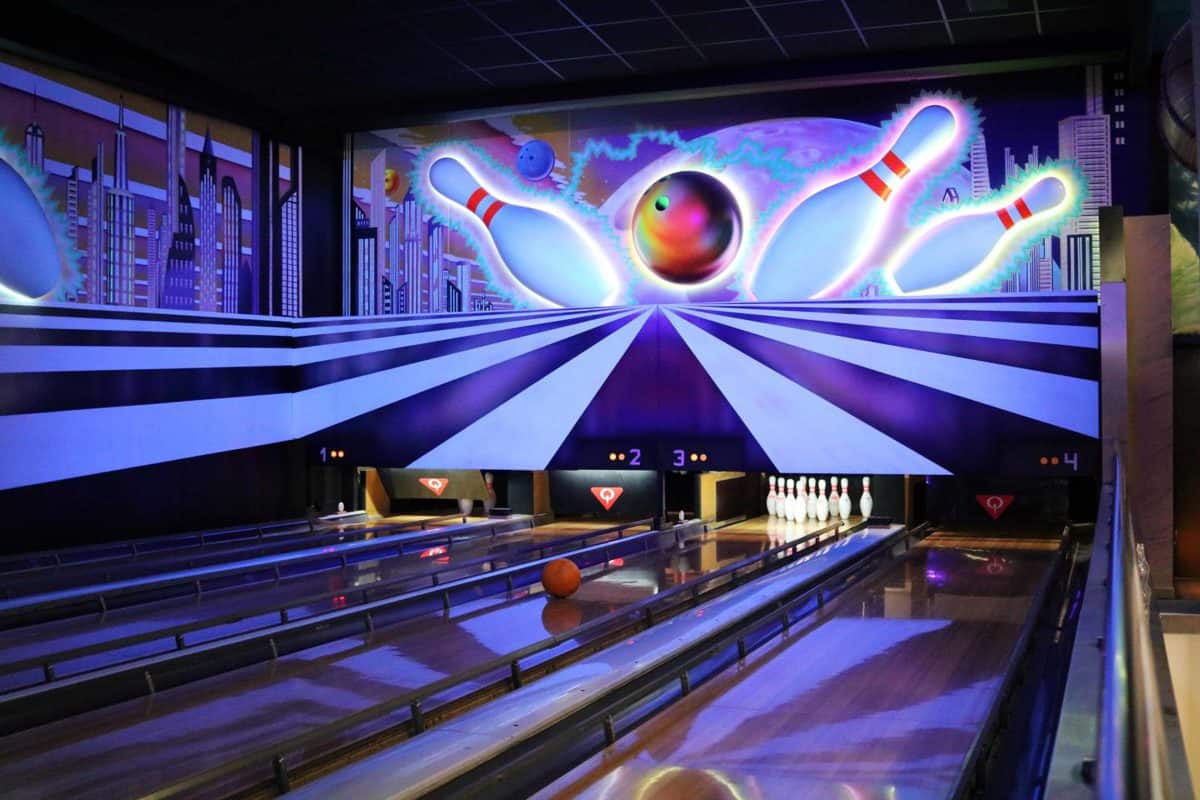 Potters Resort has a beauty studio on site where you can go for a complete relaxation package or just for a treatment or two and the prices were really competitive. This would definitely have been something I would have indulged in if we'd had the time. That was the only problem – so much to do and so little time, despite being at Potters Resort Monday to Friday!
The children loved the Potters Resort swimming pool which we could use throughout our stay. There was a main indoor pool linked to an outdoor section, a shallow splash pool area for young ones and another really warm pool that was a nice depth for families to spend time in. The changing rooms were clean and a good size and all we needed was £1 coins for the lockers. There was also a gym and plenty of exercise classes if we'd wanted fitness options during our break.
The resort is on a 65 acre estate located on the seafront and you can walk across the lawn at the back of the holiday park, through a big green space and down some steps to the beach. Every time we visited the tide was in but if we'd skipped some of the activities and gone earlier or later in the day it would have been wonderful. It's always so nice having a coastal break.
Potters Resort has its own play park too which was always fairly quiet – I think because there was so much else to do in the resort and you can play in a park at home! Our children loved passing ten minutes or so in the park each day and there were sun loungers just outside the park to relax whilst they played.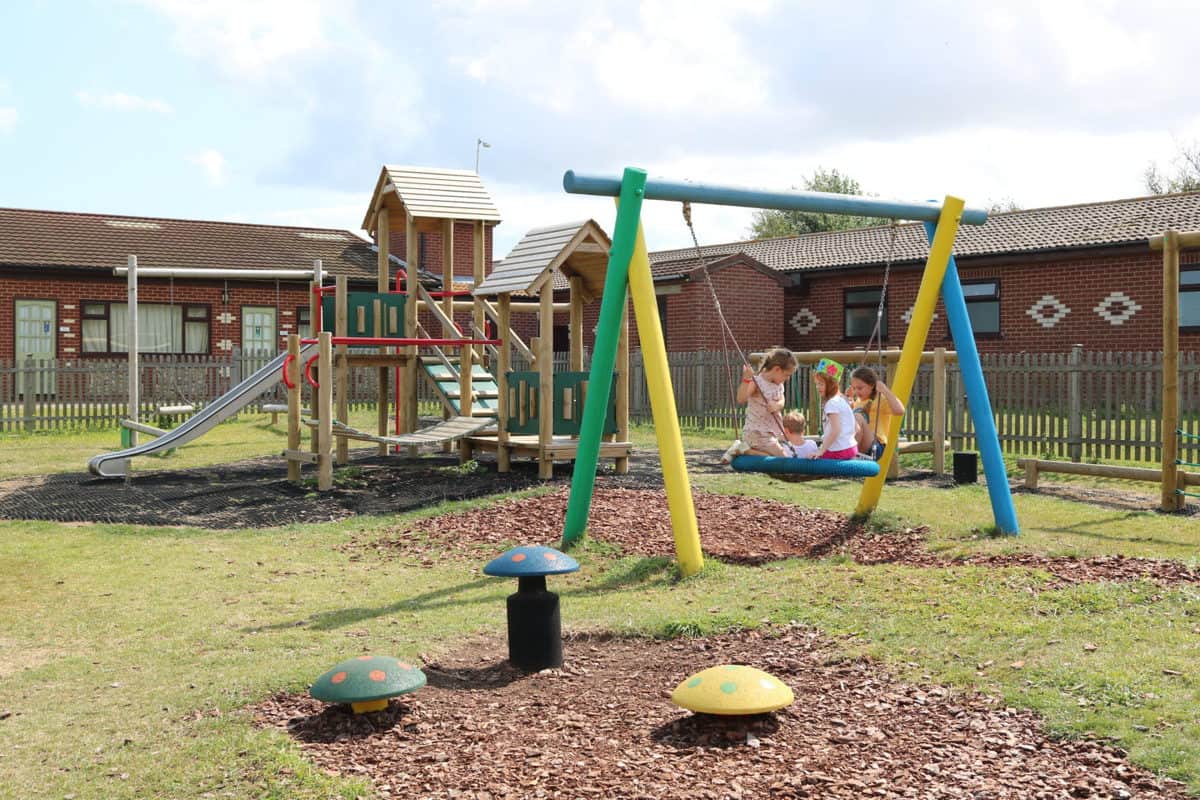 One of our favourite days at Potters Resort was on the Thursday afternoon. The family green was turned into a village fair with stalls, sideshows, balloon modelling, ice creams and prizes to be won. Amazingly – this was all complementary and included in the cost of the holiday. We won tickets for playing games and these were then used as raffle tickets to win prizes – and we somehow won two! The afternoon had a real family feel to it, as though the whole of Potters was just one huge extended family and it really helped cement my feeling about our Potters Resort break.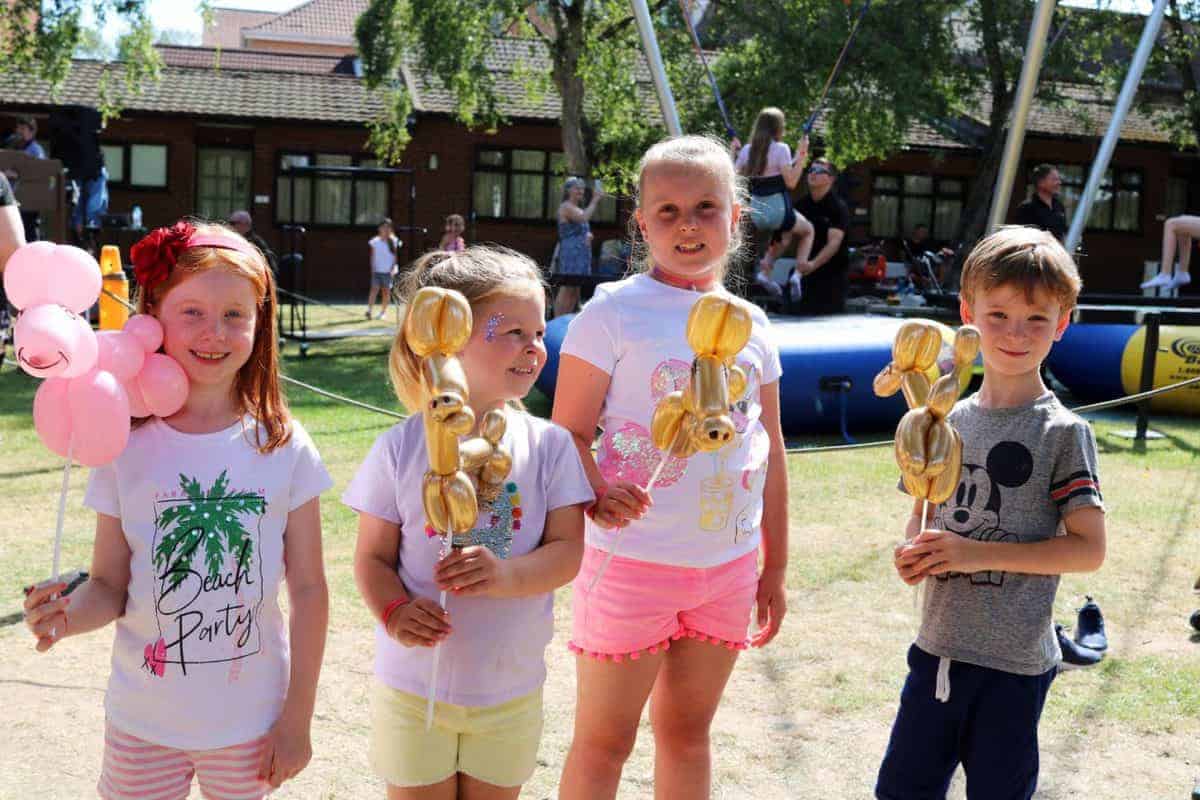 We have been to so many holiday parks over the years and I have never stayed anywhere where the staff are as friendly, welcoming, happy and just as glad to be there as the Potters Resort staff. Nothing was too much trouble and they really made every guest feel like they were so happy that they were staying with them. They loved their jobs, loved making the children smile and loved going above and beyond.
It's easy to see why the majority of Potters Resort holiday-makers have returned year after year. The staff have seen children and families grow summer by summer and they all have such a rapport with guests, spending time with them, getting to know them and looking forward to the next time they visit.
Being at Potters Resort for the first time was like stepping into a family reunion – with hundreds of people. Everyone was welcome, there was something for everyone to do and the aim was for every guest to have the best time they possibly could. It was wonderful to be a part of. On the Potters site it says that 'what makes Potters unique is a feeling of happiness, warmth, family and friendly spirit' which I can't help but agree with. That sums up our experience perfectly and it's definitely not something we've encountered on a UK holiday before.
We had such a great time at Potters Resort and it felt like a real British institution rather than just a holiday park. Potters is a five star resort that has always been family owned and it's been around for 100 years next year – I have no doubt it will be around for many more too. The children loved the break and are already talking about when we can go back again – it can't come soon enough for us!
Unlike other holiday resorts, Potters is open all year round with breaks to suit everyone and a focus on Quality Time Together. You can find out more about Potters Resort here and you can sign up to receive their family holiday brochure too. They have everything from a one night break to much longer stays. Thanks to Mark Brewer for such a fantastic place to holiday. I cannot wait to go back!
Here's a little video we made of our trip: