Disclosure: We were sent the featured products for the purpose of this post however all opinions are my own.
This post contains affiliate links and I may receive commission if you visit a link and buy something. Purchasing via an affiliate link doesn't cost you any extra, and I only recommend products and services I trust.
Recently Bambino Merino sent us a sleeping bag to try out and review which was great timing as Little Man can't seem to sleep without a sleeping bag – he hates it if his legs are 'free' when he's asleep and wakes himself up constantly so I was happy to try out a new sleeping bag with him.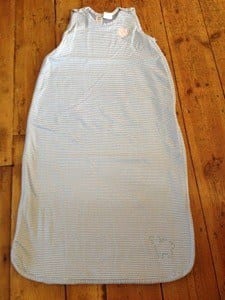 Why should you get Bambino Merino?
Bambino Merino products are made from merino wool which regulates body temperature. The sleeping bag I was sent is suitable from 2 months of age right through to 2 years and is designed to be worn all year round. Breathable natural fibres regulate body temperature to keep baby safe and warm – but never too hot – in all seasons. This means there is no TOG rating and you only need the one sleeping bag throughout the year.
What is a Bambino Merino sleeping bag like?
When we received the Merino baby sleeping bag it was packaged really nicely in a drawstring storage bag and had a really informative tag attached stating how to care for the sleeping bag and what the baby should wear when in the bag. These were pretty standard instructions – vest/nappy when hot, long sleeved vest/Sleepsuit when cold – and it stated room temperatures. The sleeping bag can be used from 17-30 degrees.
We started putting Little Man in the sleeping bag straight away for naps and at bedtime.
The sleeping bag felt lovely and soft. The feel of it was a lot nicer than mainstream 'synthetic' sleeping bags. It also felt quite thin which I was happy with as LM's room has been a constant 26 degrees or higher for the last few weeks.
How was the Bambino Merino baby sleeping bag to use?
One addition that I liked with the Merino sleeping bags was a set of extra poppers under the arms for smaller babies – they section off the arm holes so that the baby's arms can't come back through – making the sleeping bag suitable from 2 months of age. The poppers are hardly noticeable and kept Little Man very secure – Usually quite a lot of fabric gets bundled up at the top of his back and neck but with the Bambino Merino sleeping bag the fabric stayed nicely in place around his shoulders.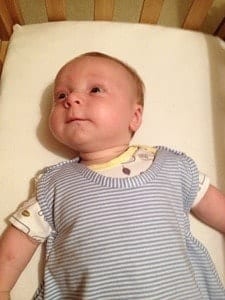 Did the Bambino Merino sleeping bag work?
Little Man slept well in the sleeping bag. The only criticism I would make is that as the sleeping bag is suitable up to 2 years it is very long. We rock LM to sleep at nap times and found that when holding him there was a huge amount of excess material at the bottom of the sleeping bag. This is obviously needed if using the bag for a 2 year old, however it would be nice if there was a way of keeping the excess out of the way – more poppers to clip it up or zip off sections.
What are the benefits of the Bambino Merino sleeping bag?
Aside from that, having 'no tog' baby sleeping bags would make life a lot easier and take a lot of worry out of getting a baby ready for bed in different weather conditions. It also means that you don't need a lot of different sleeping bags. The Bambino Merino sleeping bag is a big expense to start off with (£59.99 RRP or £99 for two) but would make a great gift for a new parent, and in the long run would save you buying a lot of standard sleeping bags in different Tog ratings and sizes.
We found that the Bambino Merino sleep bags stayed 'fresh' feeling and smelling for longer than a standard sleeping bag and we followed the guidelines to air the bag on the side of the cot when not in use. Not having to wash/dry a product as often is definitely an added bonus.
We really liked our first Merino wool experience and would definitely get another Merino sleeping bag in the future. You can also get Merino baby clothing and Merino kids clothing which would be fantastic. Merino clothing would keep you cool when needed and warm when needed too without any need for a temperature guide. I'll be looking to invest in Merino toddler clothing when the time comes.