When we were in Florida this summer we wanted to try out a couple of the waterparks as a break from theme parks and other attractions. The children were much younger last time we came to Florida and we didn't really have time for water parks but this time we wanted to give them a go – and our first stop was the Typhoon Lagoon Water Park.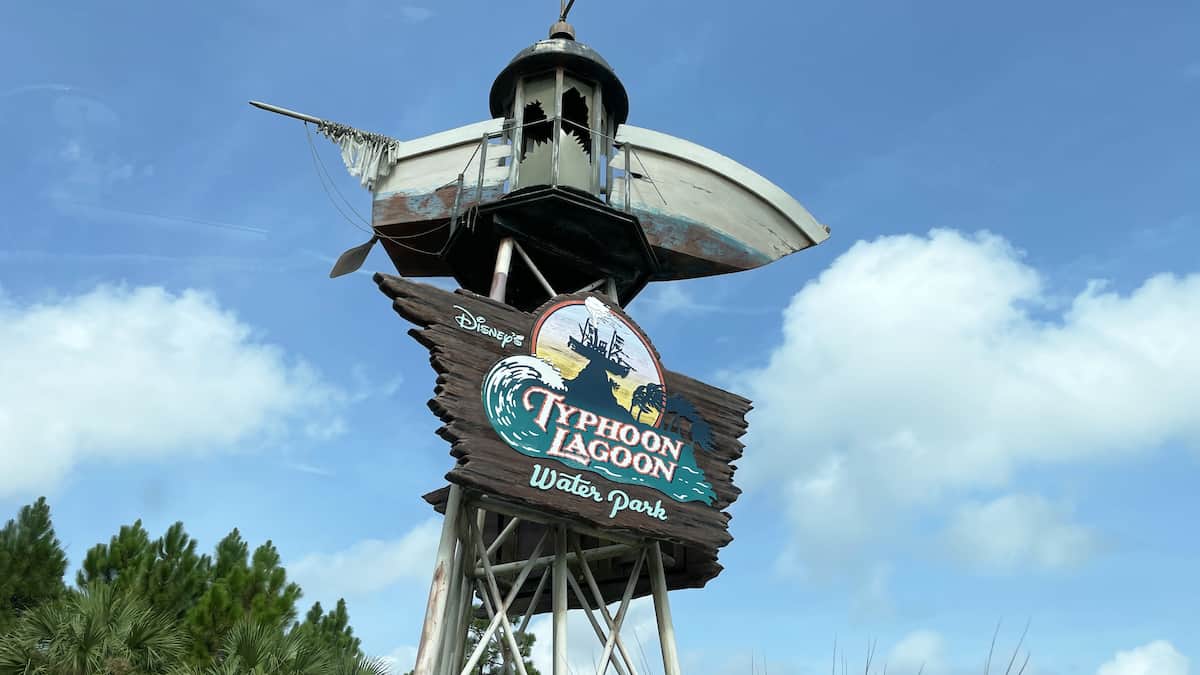 What is Typhoon Lagoon Water Park?
The Typhoon Lagoon Waterpark is a whole resort full of sand, water, water based activities, restaurants and shops. It's pretty much a mini theme park and the children couldn't wait to explore. It's part of the Disney World Resort, along with the Blizzard Beach Water Park, making it super accessible too.
We arrived at Typhoon Lagoon at opening time. Parking is free and access is included with the Walt Disney World park tickets we bought in the UK. You don't need to book a park reservation for Typhoon Lagoon either, just turn up and enjoy.
We arrived pretty much beach ready – with our swimwear under our clothes – and so went straight to find a lounger, get settled and start our day.
Shade at Typhoon Lagoon
One thing we noticed about Typhoon Lagoon immediately is that there isn't really any shade. There are plenty of loungers but they're all in direct sunlight. Typhoon Lagoon does offer the option of hiring a parasol or cabana and prices start at $70 plus tax.
Once we were settled we went straight in the main Typhoon Lagoon Surf Pool that was easily the children's favourite part of our trip. The pool has incredible waves that comes on at scheduled times throughout the day. The waves can be fierce but super fun and the children loved being caught up in them. The waves go up to 6ft high and are amazing to experience.
Around the whole park is the Castaway Creek lazy river which you can enjoy either in an inflatable tube or just by swimming. The water is fairly calm and fine for swimming although it isn't very deep. We used a mixture of swimming and inflatables and really enjoyed it although the whole of Castaway Creek does get quite busy.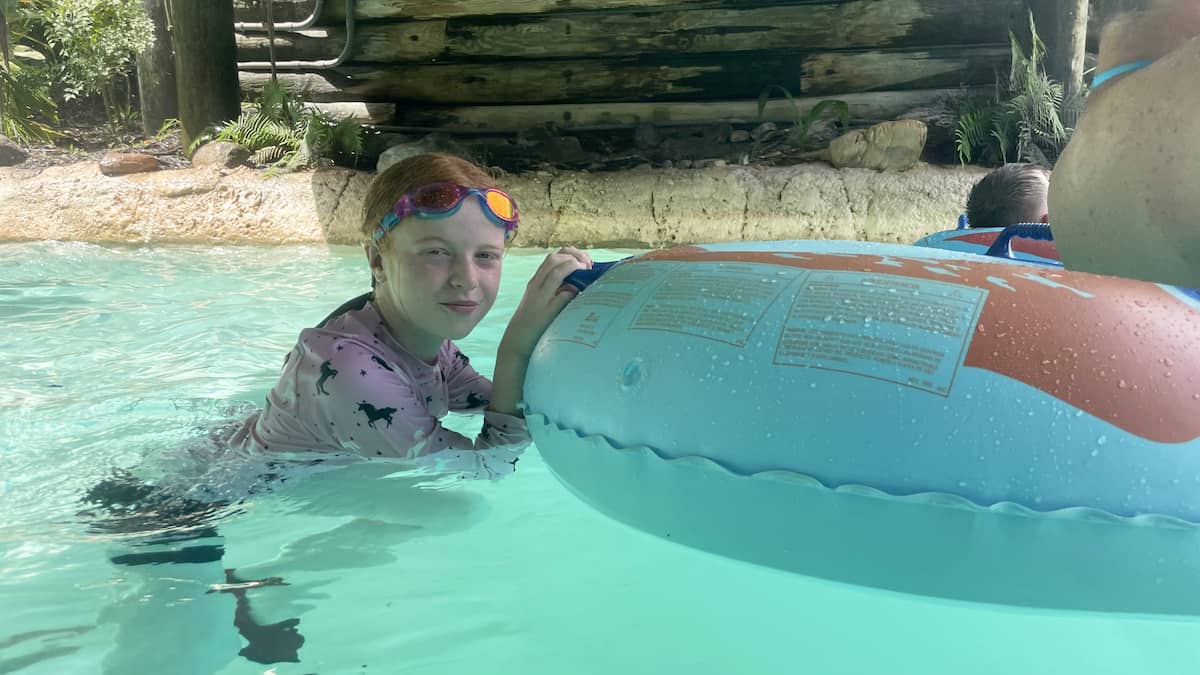 The children tried a few storm slides and body slides during the day but preferred the wave pool. We also queued up for Gang Plank Falls and were really surprised at how short a ride it was given the queue length. It seemed to be over before it had even really got started.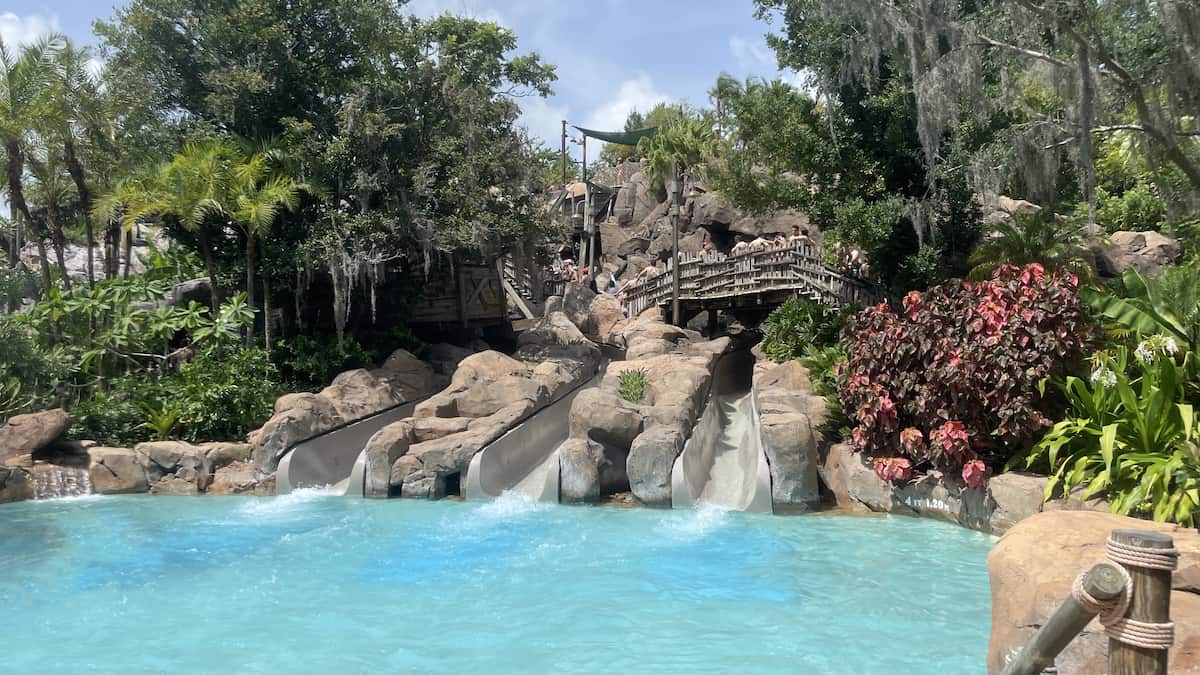 We found that most of the slides and rides at Typhoon Lagoon had really busy queues – like Miss Adventure Falls, Humunga Kowabunga and Keelhaul Falls – which put the children off fairly quickly. They preferred to play in the wave pool and just swim which made us feel like the pool at our villa was just as good as the water park really. If the queues weren't as long for rides I'm sure they would have enjoyed going on more.
Typhoon Lagoon does have smaller slides for younger children and a dedicated Ketchakiddee Creek area just for little ones as well as sandy beach-like areas but the majority of slides are aimed at bigger children.
Typhoon Lagoon have toilets dotted around the park as well as changing rooms and showers – although the showers were very hit and miss. Half were cold or the pressure wasn't the best. They also have lockers available to rent for a fee. We didn't use them and just left valuables in the car. Typhoon Lagoon also have plenty of life jackets available to use as well.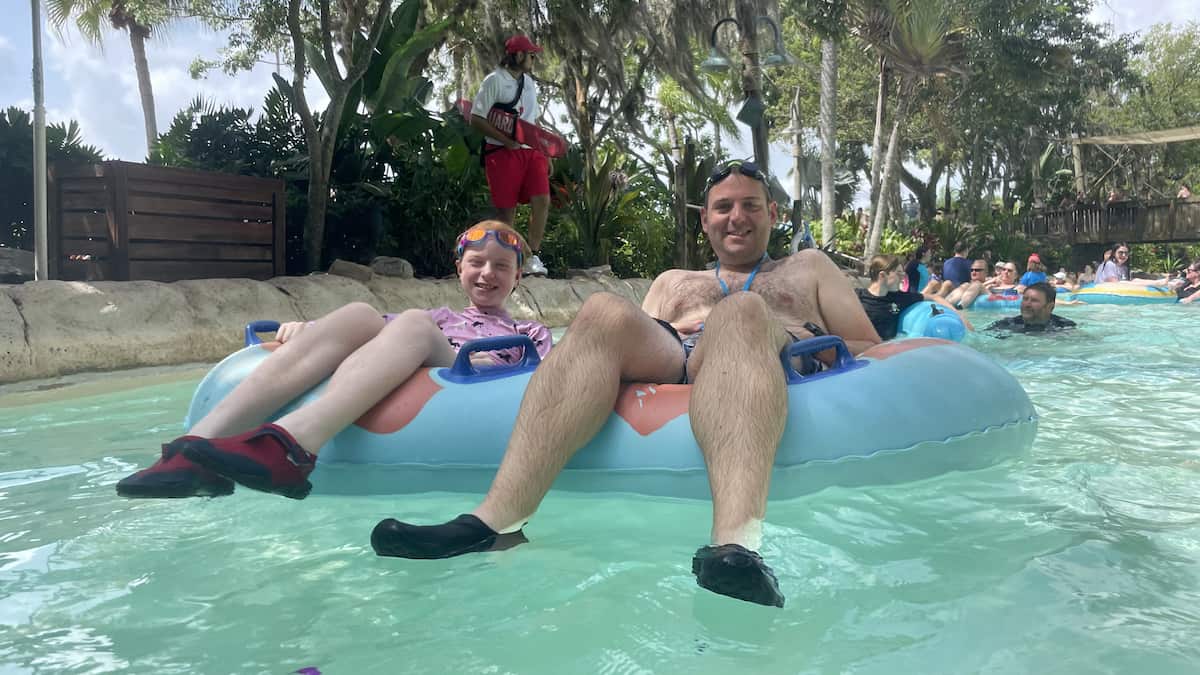 We wore beach shoes throughout our time at Typhoon Lagoon as the bottom of the surf pool is quite rough and they protected our feet from the hot floor too. However, you can't wear them on some rides but can hold them whilst you slide.
Food and drink at Typhoon Lagoon
Typhoon Lagoon has many quick service dining options available to enjoy during your trip whether you want a cold drink or ice cream, a hot dog or a more substantial meal. You are also able to bring snacks and drinks into the park with you.
We spent a morning at Typhoon Lagoon and that was enough of an experience for us. It was fun and different but it's probably not somewhere we would visit again in the future. You can find out more about Typhoon Lagoon over on their website and for reference the address is: 1145 E Buena Vista Dr, Orlando, FL 32830