*Some of the items mentioned in this post were provided for us to feature however all opinions are my own.
This post contains affiliate links and I may receive commission if you visit a link and buy something. Purchasing via an affiliate link doesn't cost you any extra, and I only recommend products and services I trust.
Whether you're going on a long car journey, a flight or just going away somewhere for a few days or couple of weeks, you'll be looking for things to keep the children entertained.
I thought I'd put together our favourite travel games kids can enjoy to give you some inspiration for your next trip. I'll include fun travel games with options for all ages and I hope it gives you some inspiration for your next trip.
Travel Board Games
Many classic board games now come in travel versions that are fantastic for taking away with you. But, as much as we love Monopoly or Cluedo, often the children don't have the patience for those games when we're on holiday. So here are a few games we love:
One of our newest discoveries is The Best of Kids. Based on the Logo board game, The Best of Kids tests general knowledge of all the things kids know and love.
We loved Qwirkle since the first time we played it and were super happy to discover there was a travel version of the game too! A strategy game of matching colours or shapes, it's a beautiful game that will get you thinking!
The children really enjoy Rapidough. It's so much fun seeing who can create the best models within a time limit and whose models are completely unrecognisable!
A classic game that never gets old is Connect 4. Such a simple game that takes no time to learn, all kids love to play it – and usually play it again and again!
The quick thinking, fast talking 5 Second Rule always makes the children laugh. They have to name three of something and it's hilarious to see the different things that always come to mind!
One of our favourite games is OK Play and the children will happily play it with their friends or we play it as a family. It's always so much fun, a twist on a classic 5 in a row game, but one that really gets you thinking.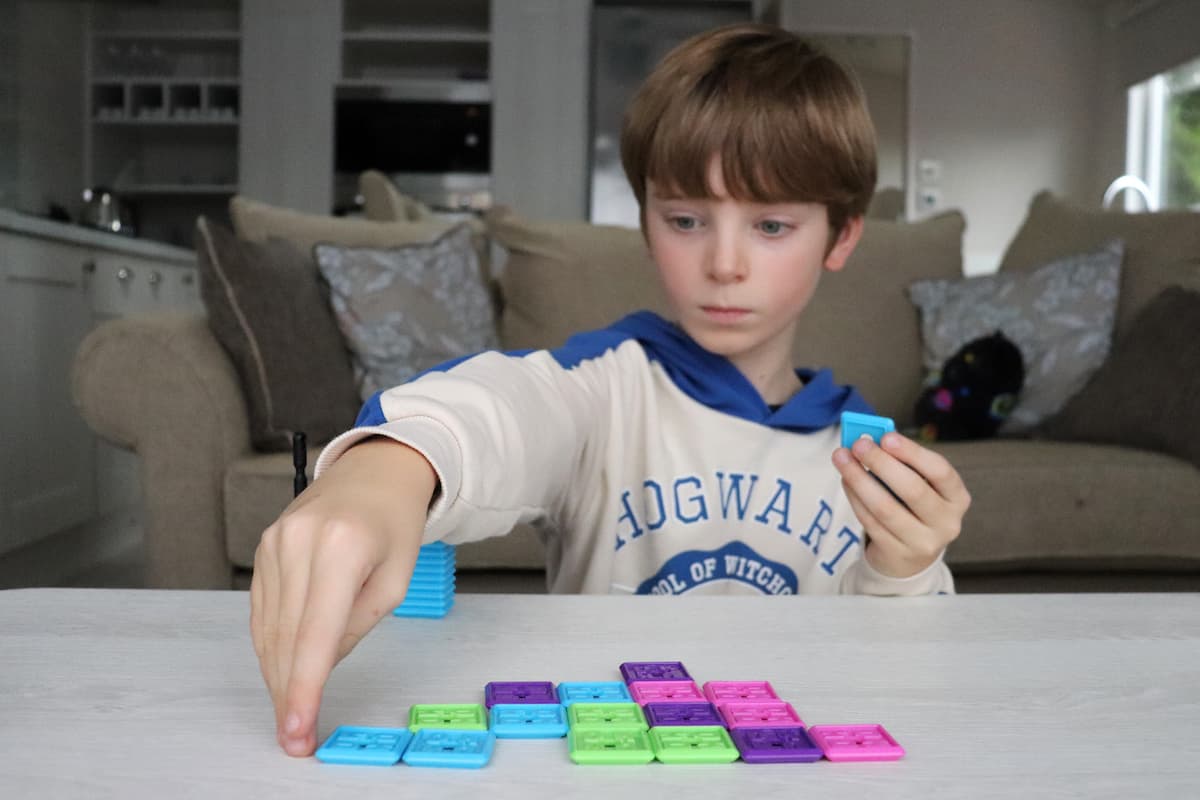 Rummikub is another great tile game that the whole family love. It's just like the Rummy card game and the children always pick it up really quickly, creating sets and runs of all different colours! We have both the full size and travel versions so we can always play it, wherever we are.
Articulate for Kids is another great word game, trying to describe things without saying certain words. A really fast paced and fun team game.
Bananagrams is one of our favourite word games and it's great to help the kids learn new words. You work independently, making your own word grid and it's fast paced and fun.
Another classic that never gets old is Pass The Pigs. Roll the pigs and see how they land. I used to love it as a kid and our children seem to just find the different positions they land in hilarious!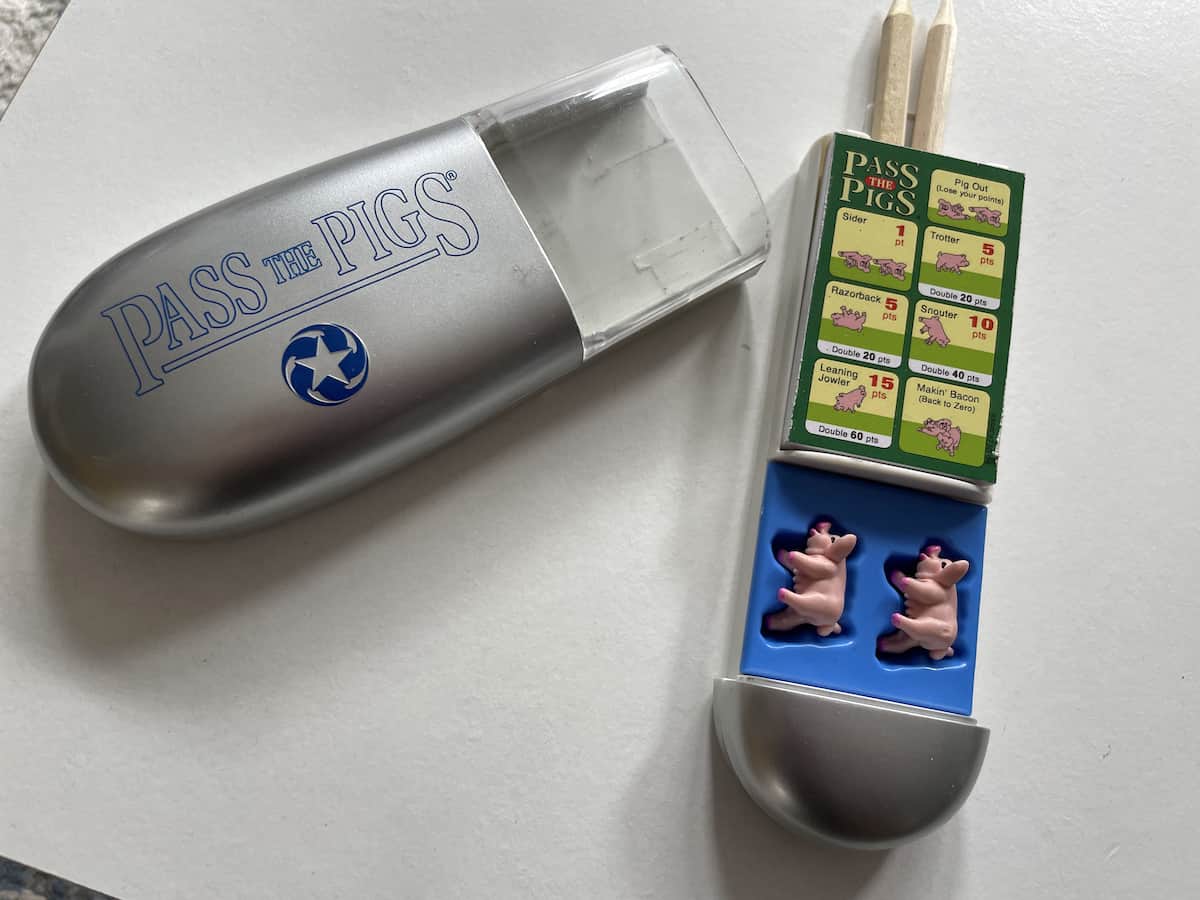 Orchard Toys Mini Games are fantastic for travel. They small, but not too small, easy to pick and easy to learn, perfect for younger players.
Magnetic Travel Games
Some of our favorite travel games are simple magnetic games. They can be played in the car, on a flight or even on the beach and the magnetics make sure that the pieces don't move around in the wind or a bumpy road.
Battleships, Chess, Checkers and Ludo are some of our favourite magnetic travel games that the children really enjoy.
Family Road Trip Games
We are always looking for new games and road trip activities to play on family road trips and they are often some of our favourites to play with the whole family – especially older kids. We have so many favourite word games that don't take long to play, that the kids love and we play games often even on short car rides. Here are our favourites:
We started playing the License Plate Game in Florida and it's great fun! There are loads of apps that help you play, ticking off number plates from different states as you see them.
You can also find simple Printable Road Trip Bingo games to play online. Print off a few sheets every time you have a long journey and everyone will have their eyes peeled throughout the trip!
Another great game for in the car, on a plane or anywhere you want to pass the time is Guess in 10. Each player takes it in turns to think of something from a category – actors, countries, food – and the other players can ask them up to 10 yes/no questions to work out the answer. There are Guess in 10 game sets too if you need inspiration.
We also love Shaggy Dog Stories for passing time. Tell a story using the three words on the card and see if anyone can guess which words they are. Really simple and really helps children expand their vocabulary and gain confidence too.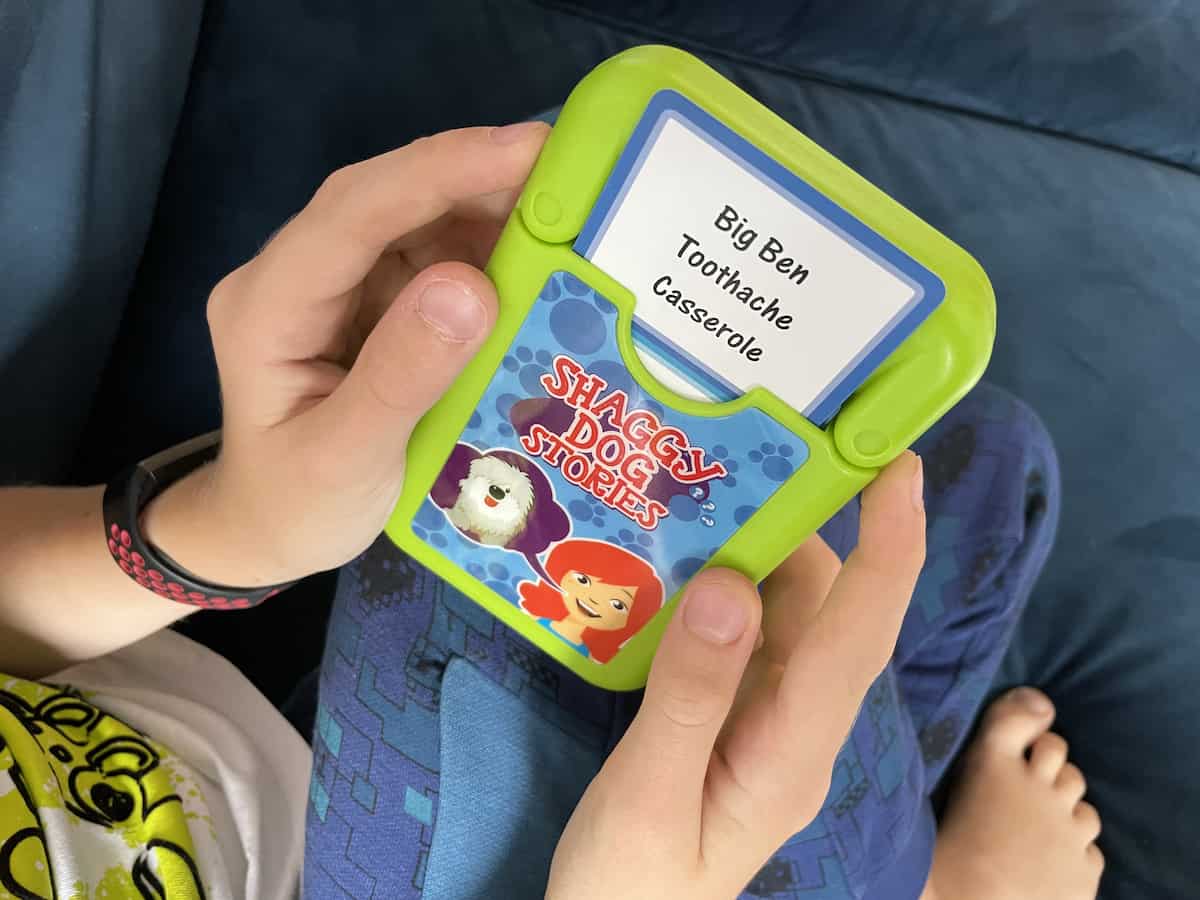 Travel Card Games
Cards are always popular travel games, whether it's a standard deck of cards and a quick game of snap or a more modern card game – and we have quite a few that we play regularly and really enjoy.
Uno is such a classic card game and one that we absolutely love as a family. It's easy to pick up – and hard to put down! We often play a few games in a row and it's lovely to play on the balcony on holiday in the evening.
The children love to play Exploding Kittens, a fast paced game that combines kittens and russian roulette! So much fun and one that we always have on a family game night – and take on our travels too.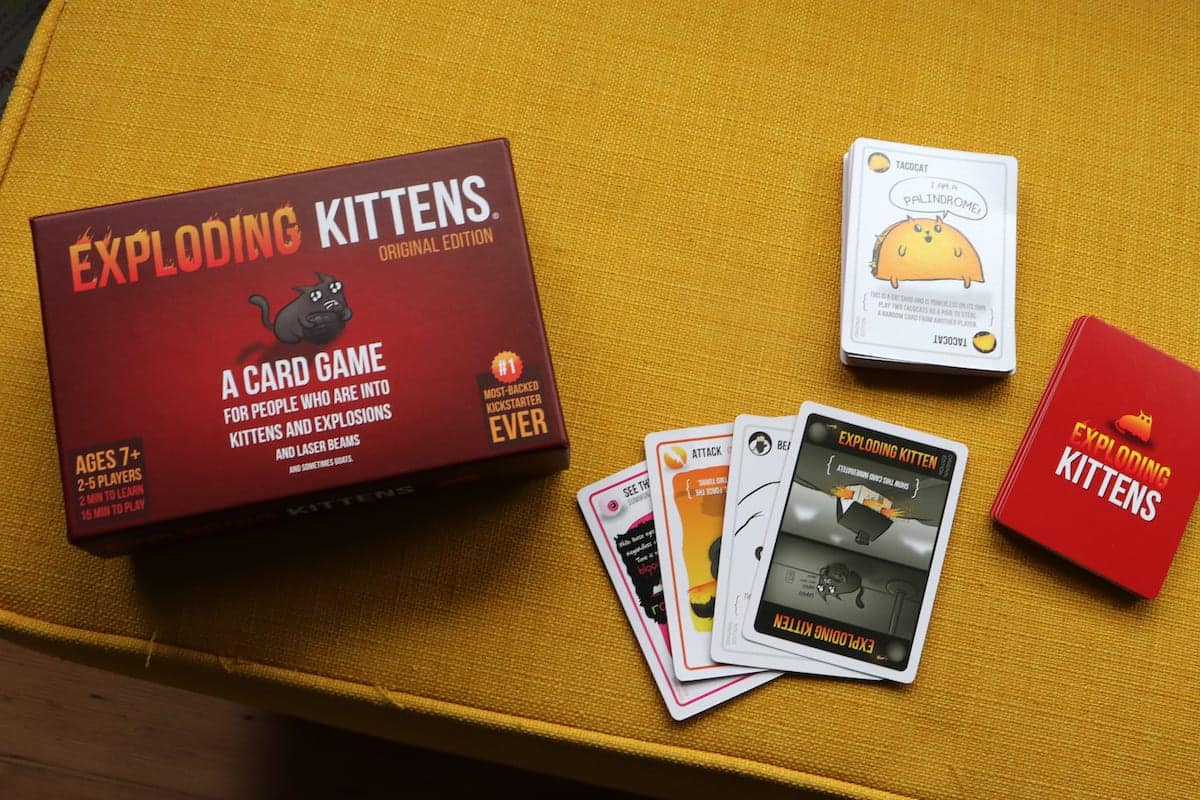 Happy Families and Old Maid are two old classic games that children often love to play and the special sets of cards are pretty cute too.
Dobble is a game that we've been playing since it launched and you can now get loads of different themed sets – like Harry Potter Dobble. It's great fun and a perfect travel game that all generations can enjoy together.
Junior Colour Brain is another great game, that comes in a travel size set making it perfect for taking away. All the answers are colours and it's great to see how much your children know. From the colours of Disney characters to the colours of flags. It's great fun.
P is for Pizza is a fantastic game to play as a family and really gets everyone thinking. A fastest answer wins game, can you think of a pizza topping beginning with A, a job beginning with a B or a country beginning with a G? Another game that is great for expanding vocabularies.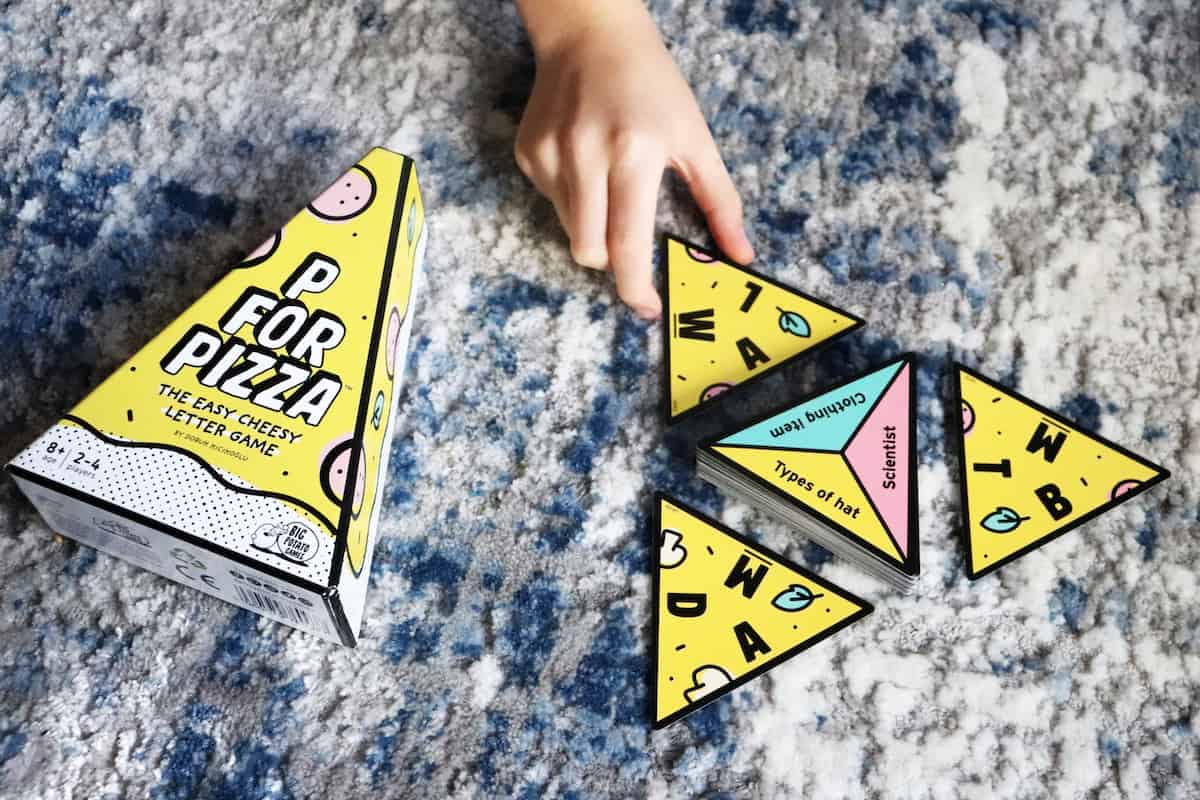 Another great game for shouting out the answers is Tension. Play in teams and see how many answers you can shout out in a category in a set amount of time. Do you know wizards from literature? Poets? Yellow flowers? Irish things? It's a great, fast paced game that everyone will love.
The Catch Phrase Card Game is always fun where you simple say what you see – it's almost as much fun as the TV show! Every time we play we end up all shouting out the answers – and getting the wrong more often than right! This game also has a cool online feature where you can see video catch phrases like on the TV show.
Creative Travel Toys and Games
A LCD writing/drawing tablet is a great alternative to colouring books or scratch art as it's completely free of mess and can be taken anywhere. Great for using by the pool, on the beach or relaxing in a hotel room in the evening.
Dry erase boards and pens are a great alternative to LCD writing boards and perfect for creative children on holidays or long journeys. 
Sticker Books are another go to for us. From the peel and stick, reusable sticker activity books that the children had when they were tiny through to more intricate mosaic sticker books as they've got older. A great activity for long journeys or sitting by the pool. 
Galt have a range of Travel Activities kids love. With travel foil art, velvet pictures, water magic and more there is something for every gage and interest.
Travel Toys
Although not really games, toys can be great for travel too. The children have had quite a few favorite travel toys that they've loved over the year and road trip toys that we always take in the car or on a plane too. Here are some of our favourites:
We had Lamaze toys from birth and kept them for years and they are definitely some of our favourite travel toys for little ones. Complete with hooks to easily clip them on to pushchairs, bags or seats, Lamaze are a must for toddlers travel activities. With so many sensory aspects, they keep young children entertained for hours. 
Fidget Toys are a new found love and something that children always have in their backpack, whether we're going away on a big holiday or just an overnight trip. From fidget spinners to pop toys, they are the perfect kids travel activity. Small, light and easy to pack. 
There are a great range of Lego Carry Cases and Playmobil Travel Cases that are great for long journeys or taking away on holiday. The case provides a really nice play area and an easy storage solution all in one. 
I hope that's given you some inspiration for things to pack alongside the road trip snacks the next time you're travelling. If you have any more ideas to keep the kids entertained do let me know!