When we last went to Orlando Florida in 2018 we hired a car and then paid each road toll as we went through them on our travels around central Florida. We didn't realise there was any other way of paying tolls and didn't want to be signed up to anything that would cost us more money than we needed to pay. But paying tolls gets quite time consuming and we thought there must be an easier way. And there is. The Orlando Visitor Toll Pass.
Paying tolls in Orlando
Tolls are a normal part of driving in many areas and Orlando is no different. Run by the Central Florida Expressway Authority, the toll prices vary from cents up to a few dollars and you can pay as you drive through the toll booth often with cash or card.
Alternatively, many car rental companies offer a toll paying service so that they will sort the tolls out for you and then debit you with the total at the end of your trip. This often comes with associated admin costs to make it worthwhile for the rental car companies, making the amount you pay much higher than the actual toll costs.
And then there's the Orlando Visitor Toll Pass. You sign up on the Visitor Toll Pass app, pick up a card to hang on your rearview mirror at Orlando airport and away you go. It couldn't be simpler to use. With the Orlando Visitor Toll Pass you always pay the lowest toll rate throughout Florida with no hidden or extra fees.
How does Orlando Visitor Toll Pass work?
The Orlando Florida Toll Pass uses a simple app, available on Google Play and the Apple App Store. Once downloaded, you register and add details of your trip, setting up the Toll Pass account. You pick up a hanger to attach to your rear view mirror from a toll pass vending machine at Orlando International Airport and are debited with $10 deposit. This is either taken from your toll costs or reimbursed at the end of your trip.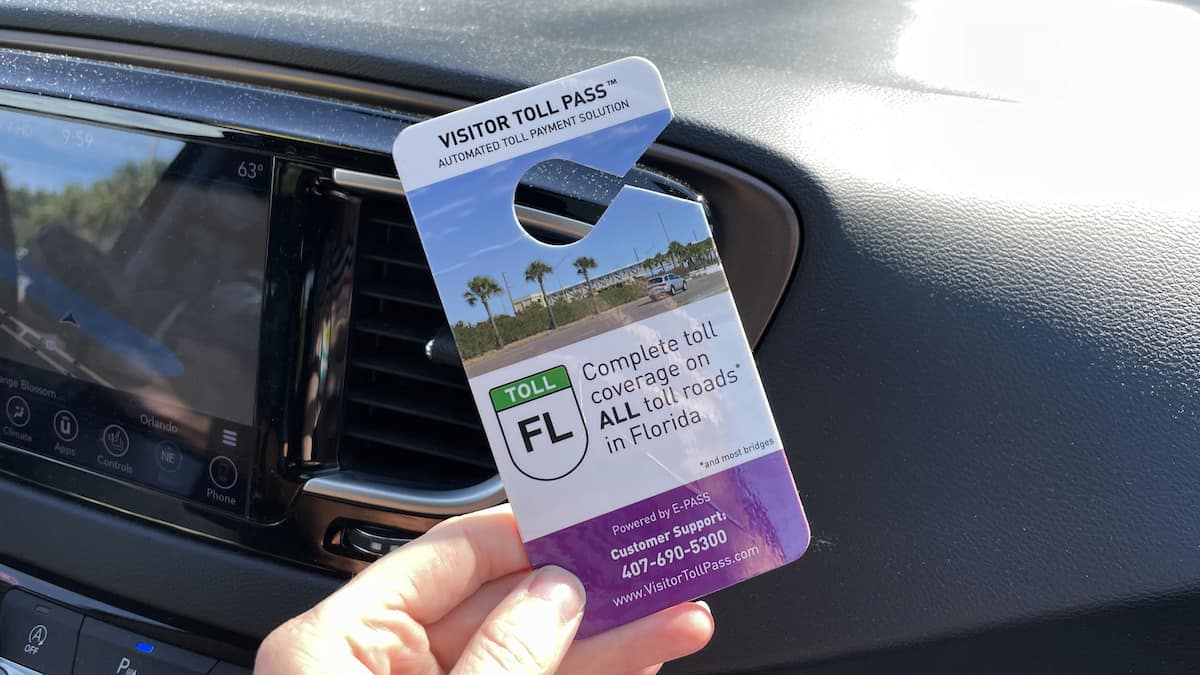 Then, you add your car registration and off you go. Whenever you drive through a toll during your trip, you use the prepaid lane and the amount gets debited from your account and you can see each amount pretty much instantly on the app.
When you finish your trip you simply post the card hanger back into a box at the airport. Your account is then tallied up, the deposit amount taken off and you're charged for just the tolls you have used. It means you don't have to pay anything extra to the car rental company, making the trip as cheap as possible.
How much does an Orlando Toll Pass cost?
The Visitor Toll Pass has no additional costs. You literally just pay the lowest toll rate possible. Our tolls $0.80 and over the course of three weeks, using the car every day, we paid $11.03 in tolls. No other costs at all.
Can anyone use the Visitor Toll Pass?
Anyone renting a car and making a round trip through Orlando International Airport can use the Visitor Toll Pass. You also need access to the app to use the service. Basically, it's perfect for anyone on holiday or business in Orlando who hire a car.
What did we think of the Orlando Toll Pass?
The pass makes it so much easier and quicker to use Florida toll roads. When you're planning a holiday to Disney World or the Universal theme parks there is so much to organise – where to stay, a rental car, park tickets, whether to take cash or use a credit card… The Visitor Toll Pass just took a weight off our minds. It was one less thing to worry about.
The Toll Pass is something I would definitely recommend to any other visitors to Orlando. It's basically a free service that makes car toll charges as low as possible whether you're staying at a villa or hotel. It's a service that can be used by anyone renting a car in Orlando and we'd definitely make use of it again in the future.
You can find out more about the Visitor Toll Pass over on their website.