We love visiting London and go there as often as we can as a family. But, if you're from further afield or don't get to visit the capital very often then you might need to make a more structured itinerary for your visit. I've put together our favourite family friendly places to visit in central London and I hope it helps you make the most of your trip.
London Days Out with Kids
Tower of London
The Tower of London is one of the most famous buildings in the country and it's an incredible day out for the whole family with so much to see, so much to do and so much to learn. There are Beefeater tours, crown jewels to see and so much to explore.
You can read about our whistle stop trip the the Tower of London here.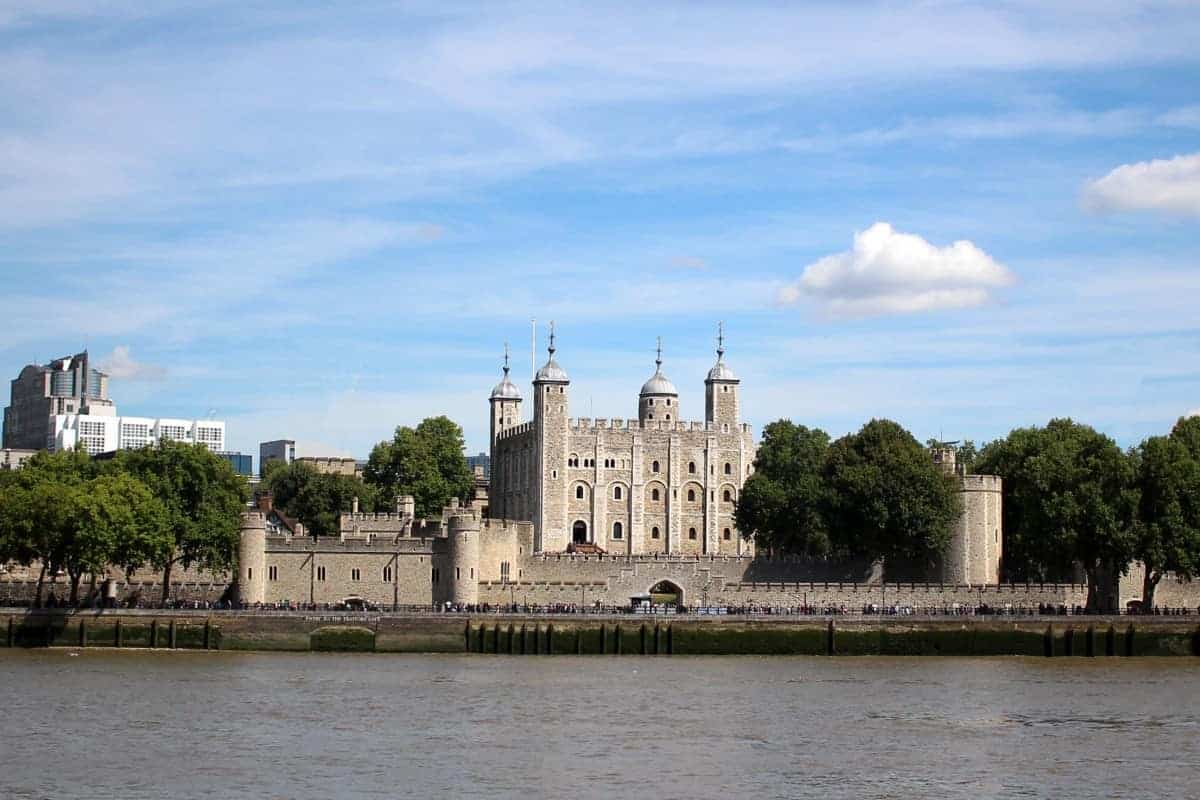 ---
Monument
All children learn about the Great Fire of London at school and so a visit to Monument is something that they would really enjoy. With 300 steps to walk up it's quite a challenge for little legs but one that will make them so proud of themselves as soon as they see the incredible views across London.
I wrote about our trip to Monument as part of a weekend in London here.
---
Churchill's War Rooms
Such an historic place in London, Churchill War Rooms tell the story of the war from beneath the streets of London. There are so many rooms to explore, seeing where and how Churchill and his wife lived during the war, where important phone calls were taken and where huge decisions were made.
You can read about our visit to Churchill's War Rooms here.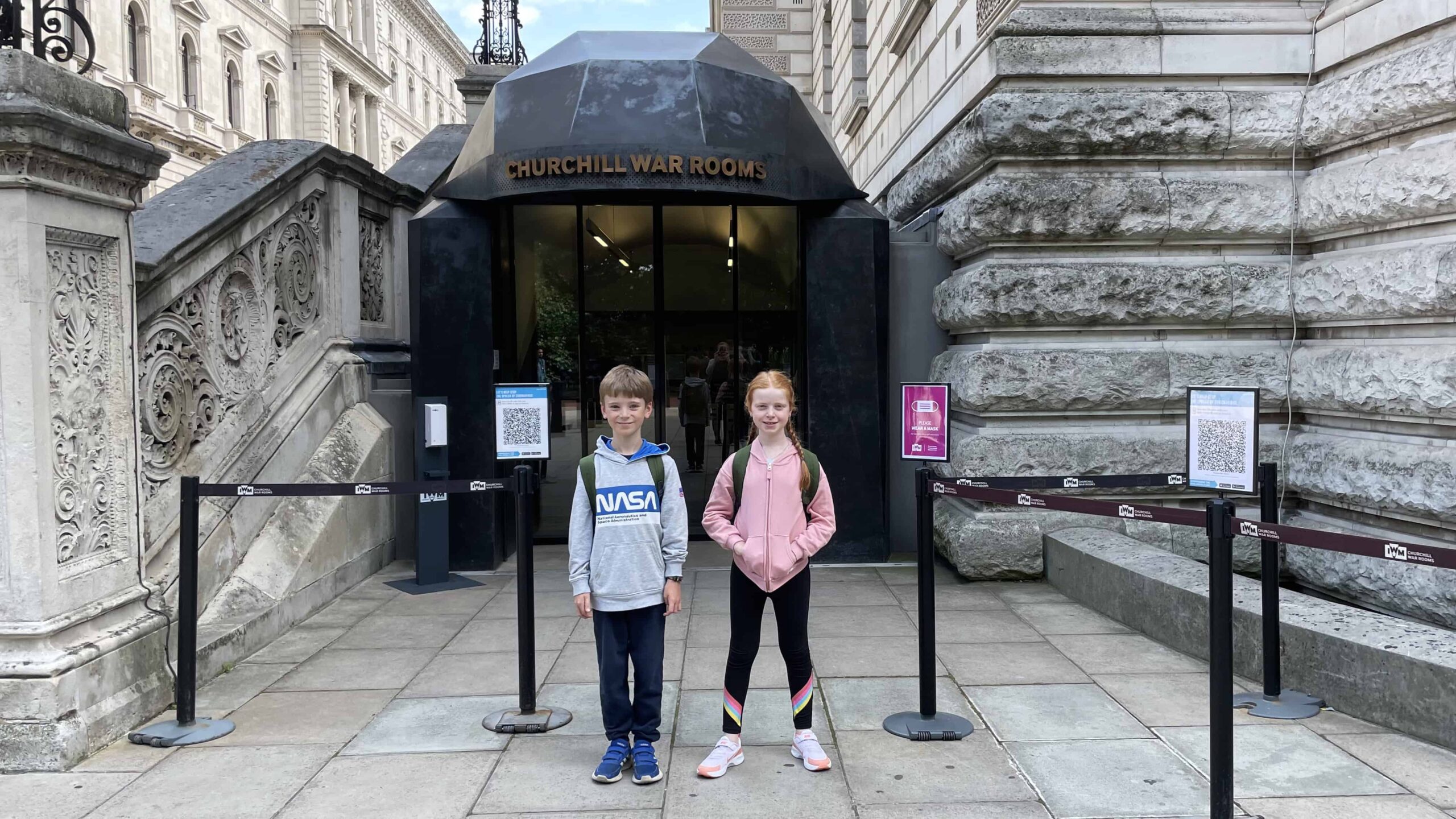 ---
The Shard
The Shard is one of London's newest attractions and one that any child would love to experience. Our children loved knowing they were inside such a well known building and the views across London are spectacular – especially at dusk when we visited.
You can read about our visit to the Shard and whether we thought it was worth the money here.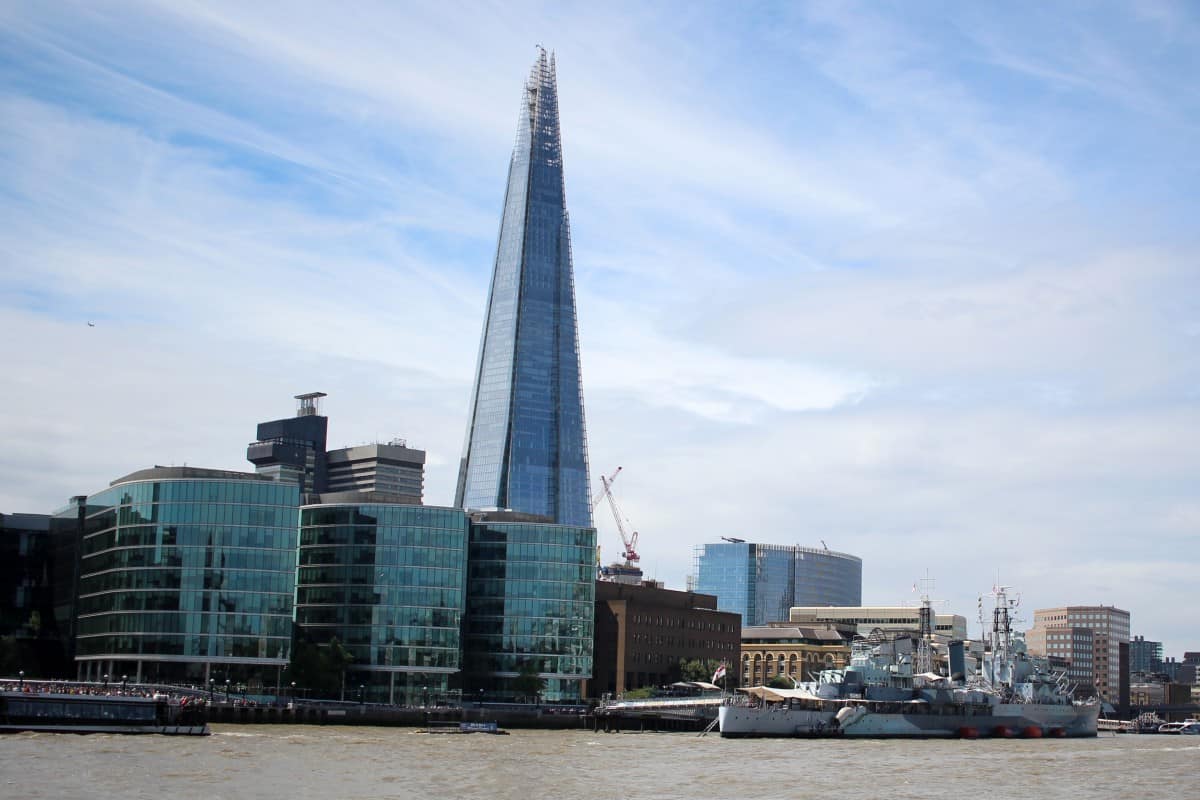 ---
St Paul's Cathedral
So beautiful and with a great position on the Thames, St Paul's Cathedral is a fantastic day out for the whole family whatever the weather. The inside is huge and breathtaking. You can climb up to the top of the dome and the lower floor is full of tombs of so many famous people from history. It's well worth a visit.
You can read more about our visit to St Paul's Cathedral here.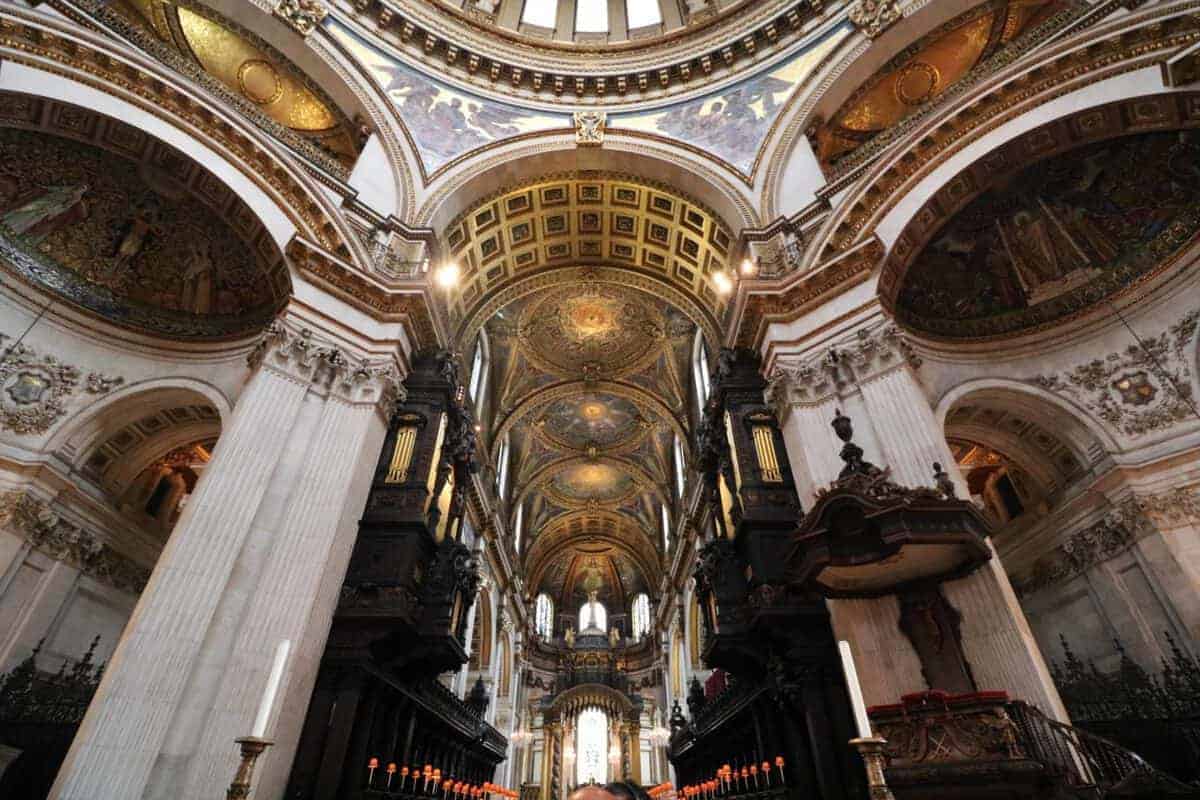 ---
Tower Bridge
The Tower Bridge Experience is something the children loved. You can see every part of the famous bridge from the very top and the glass floors giving a view of the street below, all the way down to the power rooms under the streets of London. This is a must see on any trip to London – and you might be lucky enough to see the bridge raise to let ships through too.
You can find out what the whole family thought of our Tower Bridge visit here.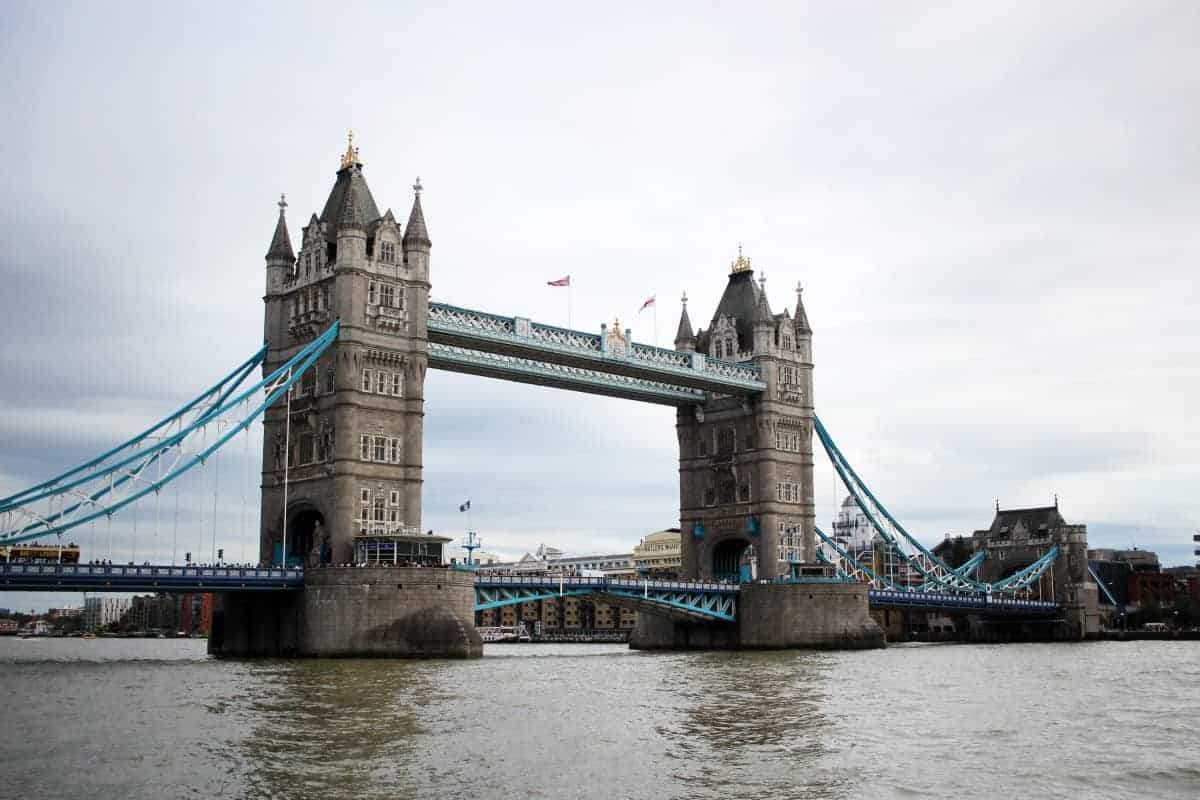 ---
HMS Belfast
One of the most educational attractions in London was a visit to HMS Belfast. Being able to go on board such an iconic ship and such a fantastic fixture on the Thames was amazing for the children and we learnt so much during the visit. There are also audio guides available at no extra cost.
You can read more about starting our weekend in London with a trip to HMS Belfast here.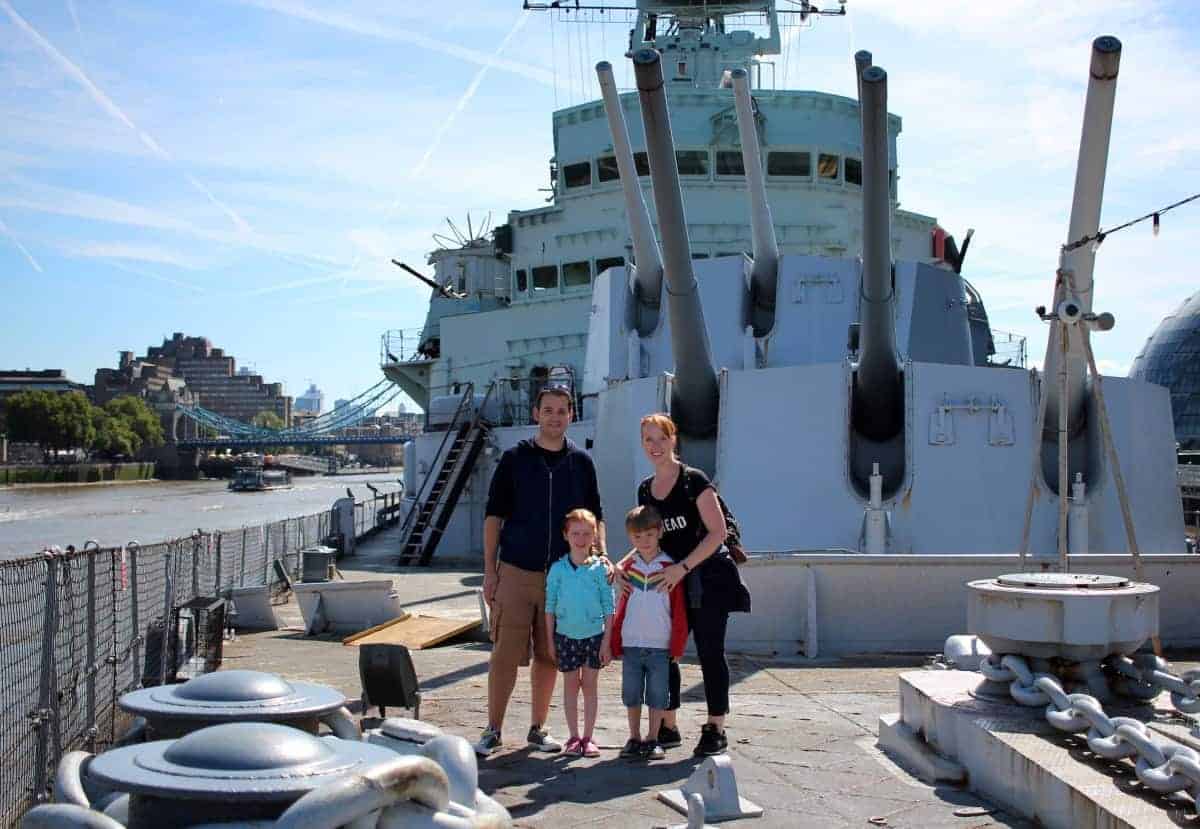 ---
The Golden Hinde
Another fantastic boat experience is a visit to the Golden Hinde – and you can even stay on it overnight if you want to. Learning about life at sea in 1577 it's a really fun and educational place to visit and so kid friendly too.
You can read how we found an overnight stay on the Golden Hinde here.
---
London Eye
The London Eye is one of the most iconic buildings in London and an attraction that is visited by thousands of people every single day. There are computers in each capsule to learn more about the sights of London and being on board gives a little respite from the hustle and bustle of the city below.
You can read more about how we make the most of the London Eye with kids here.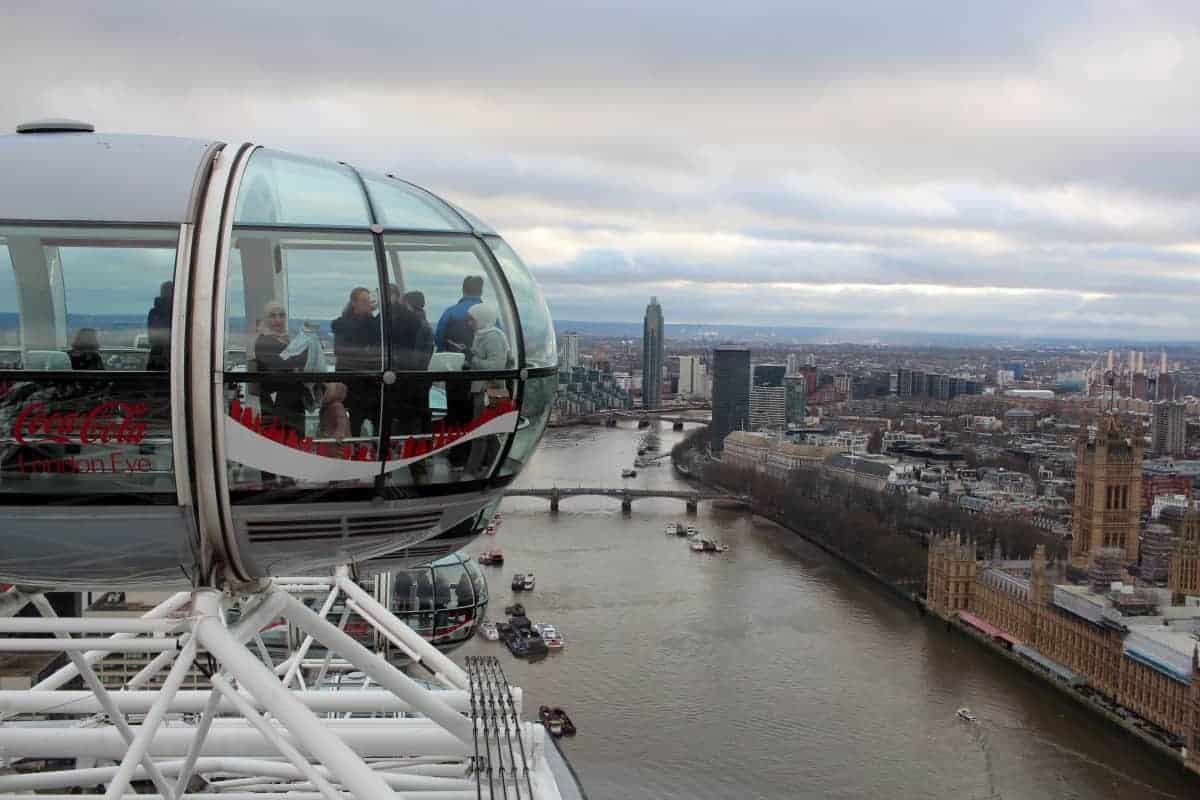 ---
Sea Life London
All children love an aquarium and the Sea Life London aquarium on the South Bank is a great aquarium to visit. One of London's Merlin attractions, it has so many different types of sea life including a fantastic penguin enclosure which is something you don't expect to see in such a busy part of London. Sea Life London would make a great addition to a family day out.
You can read more about how we spend a trip to Sea Life London here.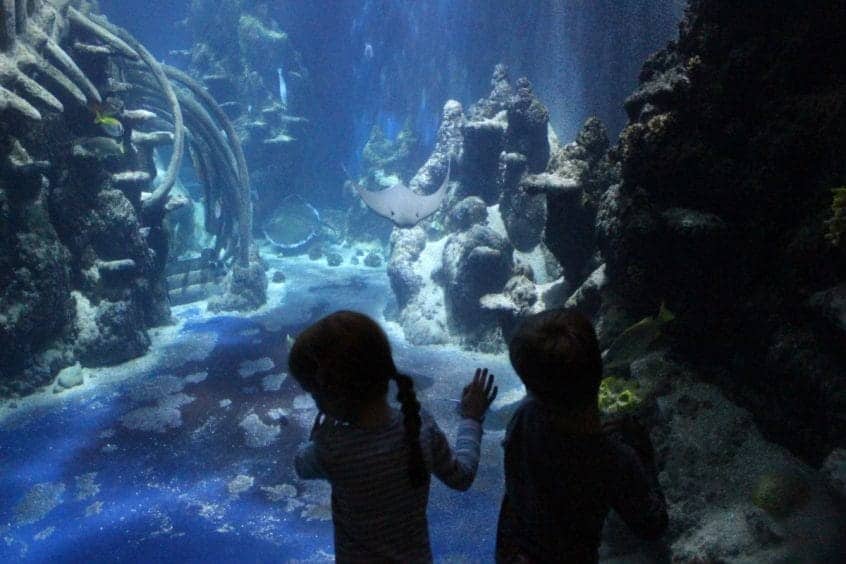 ---
Madame Tussauds
Depending on the children's ages, a visit to Madame Tussauds can be a really fun way to spend a couple of hours. When we visited the children learnt a lot about people from pop culture but they also knew quite a few of the historical figures too.
You can read our tips for visiting Madame Tussauds with children here.
---
Kidzania
Kidzania is such a fantastic day out for children. It takes imaginative play to a whole new level where they can work in different industries and get paid for the activities that they complete. They can then save the money or spend it doing fun things around Kidzania or in the shop at the end.
You can find out more about why we love Kidzania here.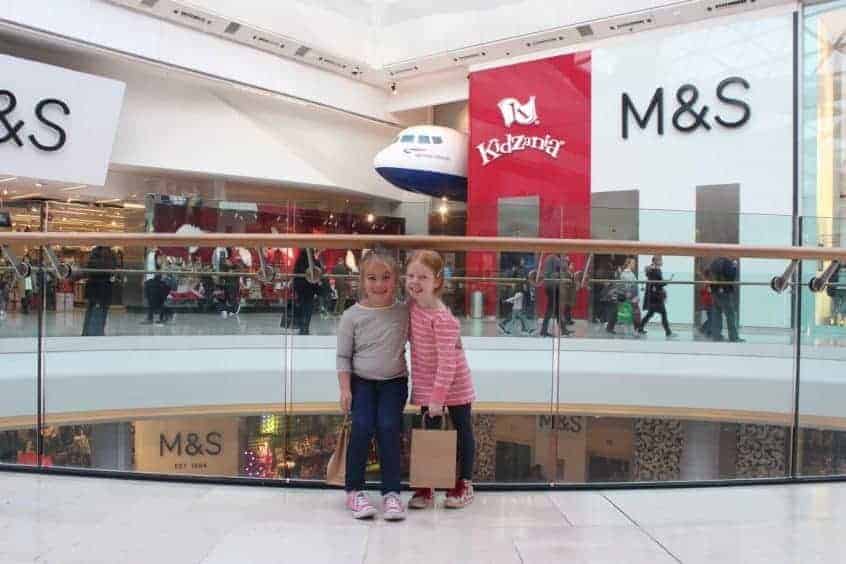 ---
Shrek's Adventure
Shrek's Adventure is one of the many Merlin attractions in the capital. You get to meet all the characters from the movie whilst navigating an interactive adventure that the children will never forget.
You can read about our trip to Shrek's Adventure here and inspiration for visiting the South Bank with a Merlin Pass too.
---
Warner Bros Studio Tour
The Warner Bros Studio Tour London is a great family day out whatever the weather. Any Harry Potter fan will love immersing themselves into the world behind the movies, seeing characters, Harry Potter filming sets, costumes at the Harry potter Studio Tour and even getting to ride on a broomstick. Walking down Diagon Alley is something you'll never get bored of.
You can read about our Harry Potter Studios experience here.
---
London Parks
A family trip to London isn't complete without at least walking through a park or finding a nice play area. Queen Elizabeth Olympic Park, Hyde Park, Green Park, Richmond Park, St James Park, Battersea Park, Regents Park – there are so many to choose from and they all give children the space to run around and explore as much as they like.
You can read about our trips to Battersea Park and Victoria Park as well as spotting deer in Richmond Park.
---
Emirates Air Line London Cable Car
I'm not sure whether most people would call the Emirates Air Line London Cable Car a day out or just a mode of transport but for our children it was very much part of a family trip to London. We did a round trip on the cable car and got to learn a lot about aviation in the Emirates Air Line Aviation Experience too.
You can read more about our Emirates Air Line London Cable Car experience here.
---
Uber Boat by Thames Clippers
Another great way to travel that's also amazing to do as a tourist is a trip on the Thames Clippers boats. Once you've arrived in the big city by car or train, left your big bags at King's Cross Luggage storage (if you're having an overnight stay); it's an exciting way to get around. With a hop on hop off ticket you can see so much of London from the Thames!
You can read about our trip on the Uber Boat by Thames Clippers here.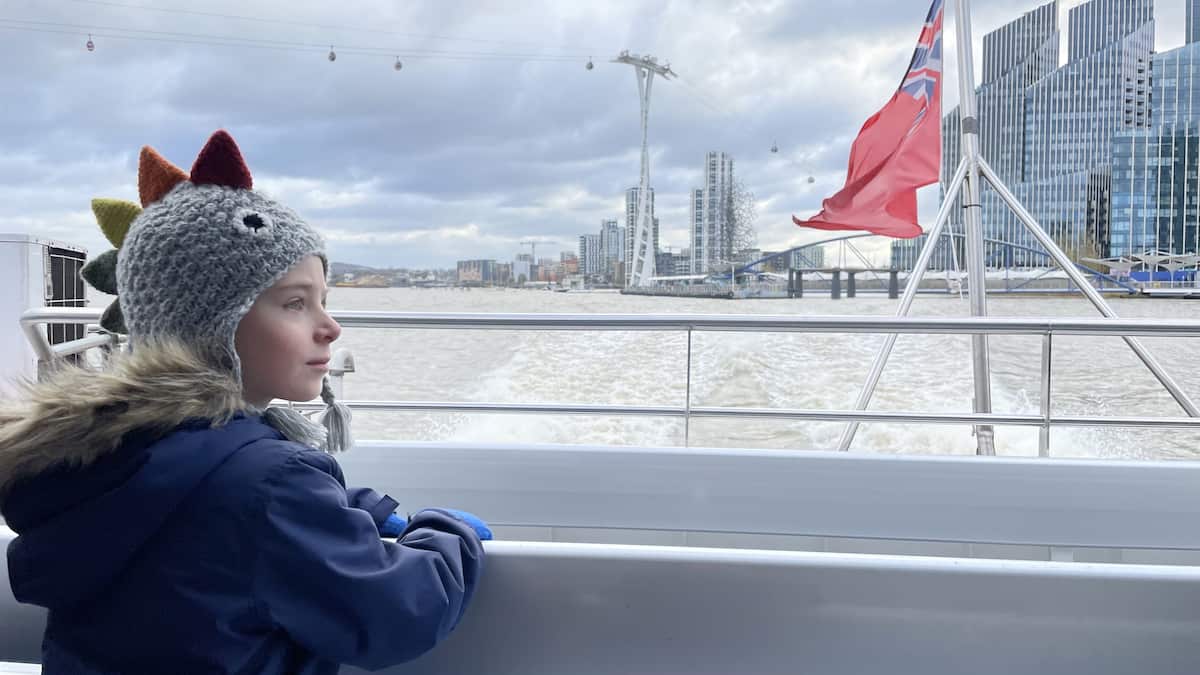 ---
London Zoo
I absolutely love London Zoo because it's so surreal having such an incredible zoo in the heart of London. It's somewhere that the children have loved since they were toddlers and there is always something new to look at.
You can read more about how we spent a day at London Zoo here.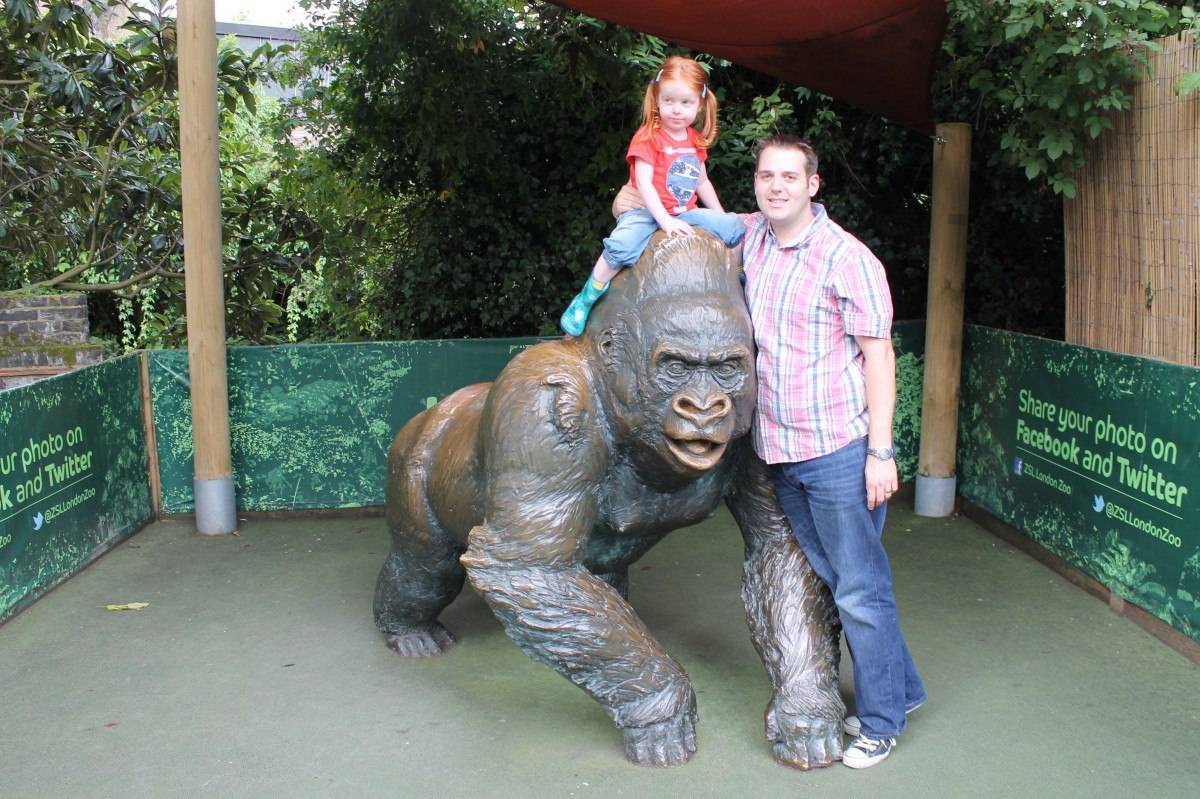 ---
Science Museum and Natural History Museums
I couldn't write this post without including the Science and Natural History Museums. They are some of the most visited attractions in London and as they are free to visit and have activities and exhibits suitable for all ages they really are a great choice for a family day in London.
---
The British Museum
The British Museum is fantastic for any school age child and beyond. There are areas dedicated to everything children learn about at school – from the Ancient Greek and Romans to the Egyptians, Saxons and more. It's a fantastic place to explore.
You can read about our trip to The British Museum here.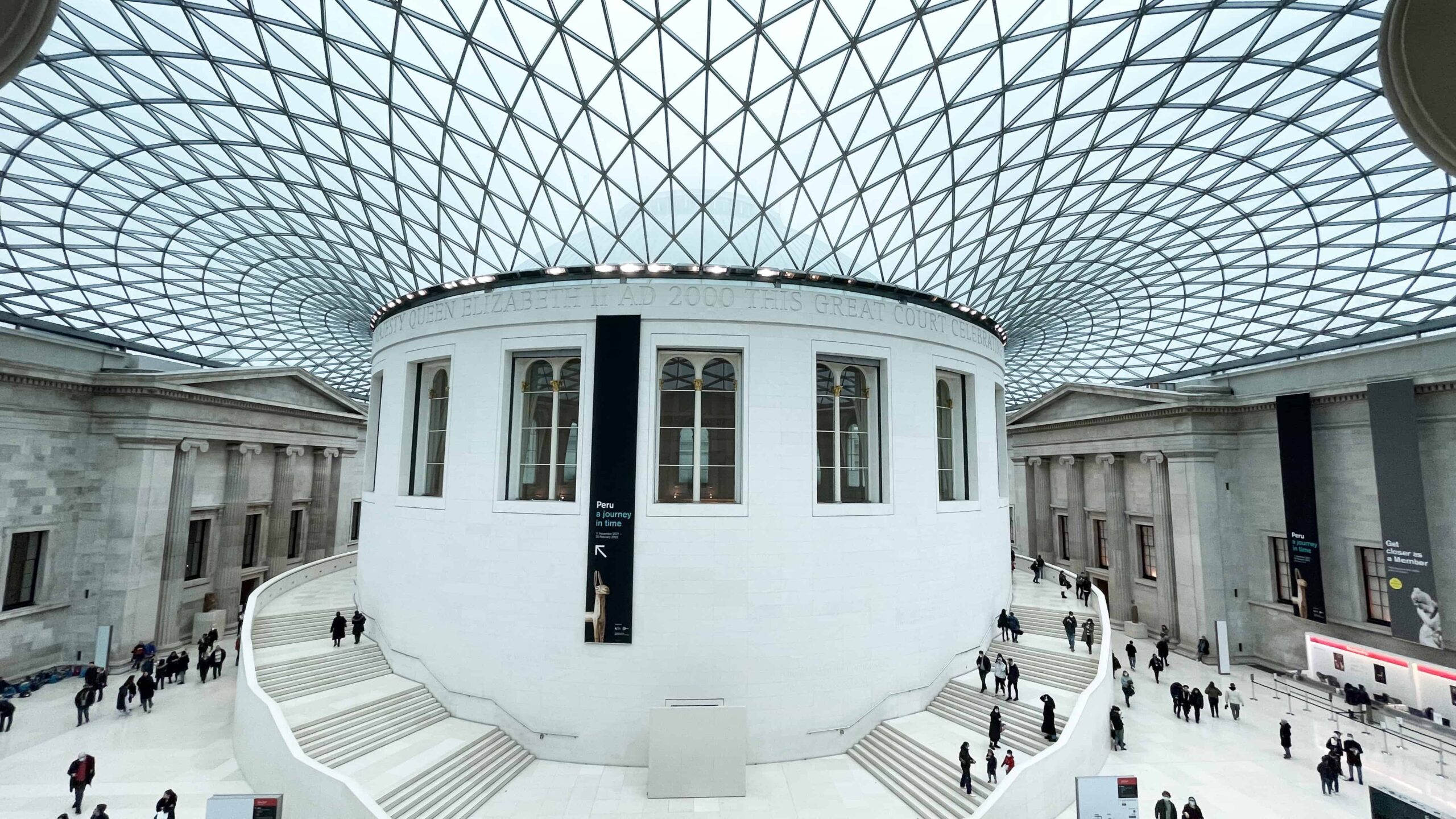 ---
The National Gallery
Although not strictly a museum, the National Gallery is a great, educational day out that the whole family will enjoy. Housed in one of London's most beautiful buildings, there are so many incredible works of art to see by some of the world's most famous artists.
You can read about our trip to the National Gallery here.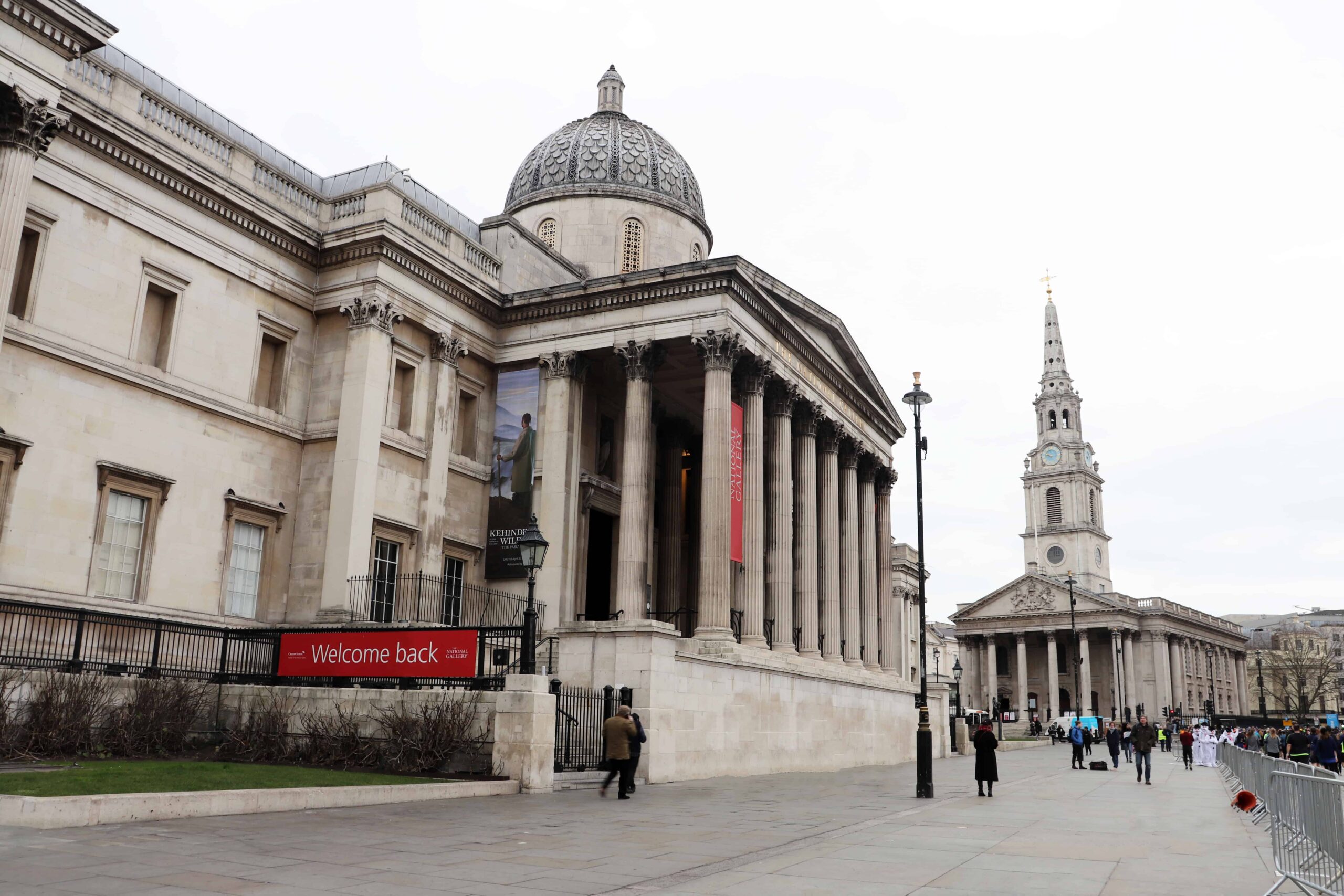 ---
Royal Museums Greenwich
Greenwich is somewhere that you could spend a whole weekend and not even scratch the surface. With so much to do from exploring Greenwich Park to boarding the Cutty Sark, exploring the National Maritime Museum and seeing a planetarium show there really is something for every member of the family.
You can read more about how we spent a day in Greenwich here and we had two days in Greenwich as a family too.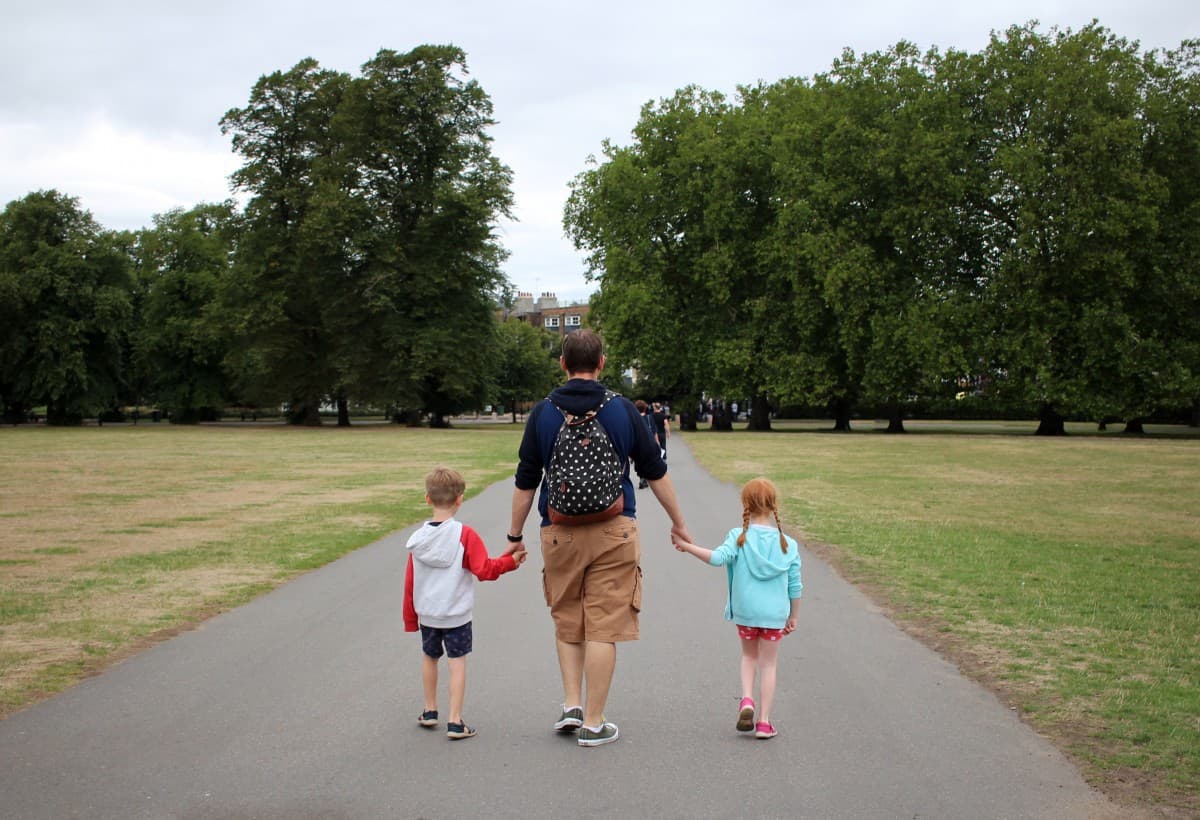 ---
Kew Gardens – Richmond, Surrey
I first went to Kew Gardens on a school trip in my teens and it's somewhere I have loved ever since. With huge glass houses to explore, beautiful gardens and pushchair friendly paths it's a great day out for the whole family and we went again after lockdown.
You can read more about our time at Kew Gardens here.
---
Syon Park – Brentford, Middlesex
Not too far from Kew Gardens is Syon Park, a bit of a hidden gem as we've driven past so many times and never stopped for a visit. With a beautiful house, incredible glasshouse and amazing gardens, it's a fantastic day out for the whole family. We visited in the rain and can't wait to go back in brighter weather. There's a cafe next door, kids go free during school holidays and it has a natural play trail too.
You can read about our trip to Syon Park here.
---
A GoBoat Cruise on the Thames
Sailing along a river can be so educational – with so much to see, so much to learn and the whole boating experience to take in. It's great fun for the whole family and GoBoat have bases in Kingston or Paddington to suit wherever you are in London.
You can read about our GoBoat Kingston trip here and GoBoat Paddington here.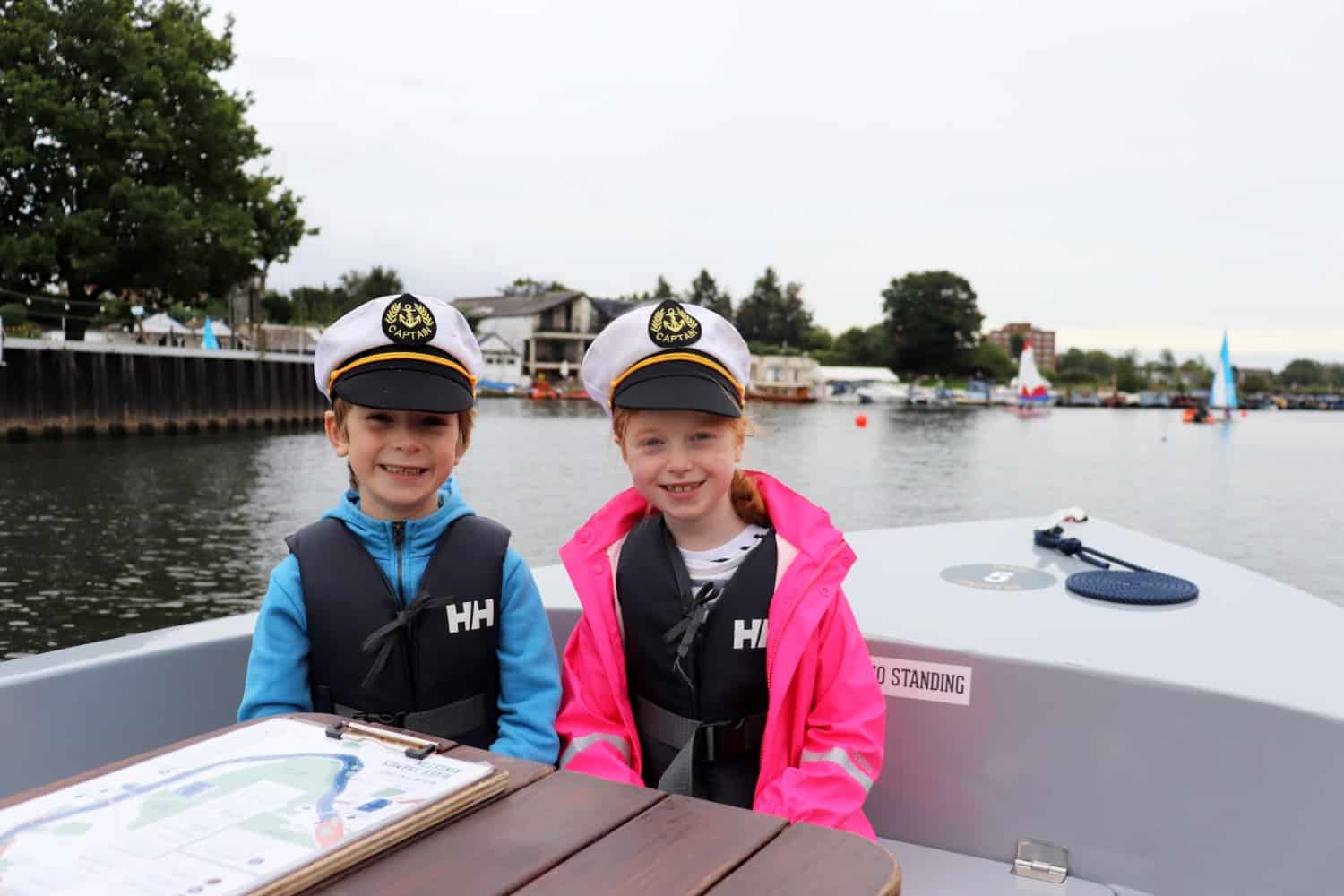 ---
London Transport Museum
The London Transport Museum is a fantastic day out for the whole family in the heart of Covent Garden. It has so many different public transport vehicles to climb aboard, so much to learn and so many interactive exhibits and things for children to do. There are stamp trails, fun and games and even a really lovely bar cafe too.
You can read more about our trip to the London Transport Museum here.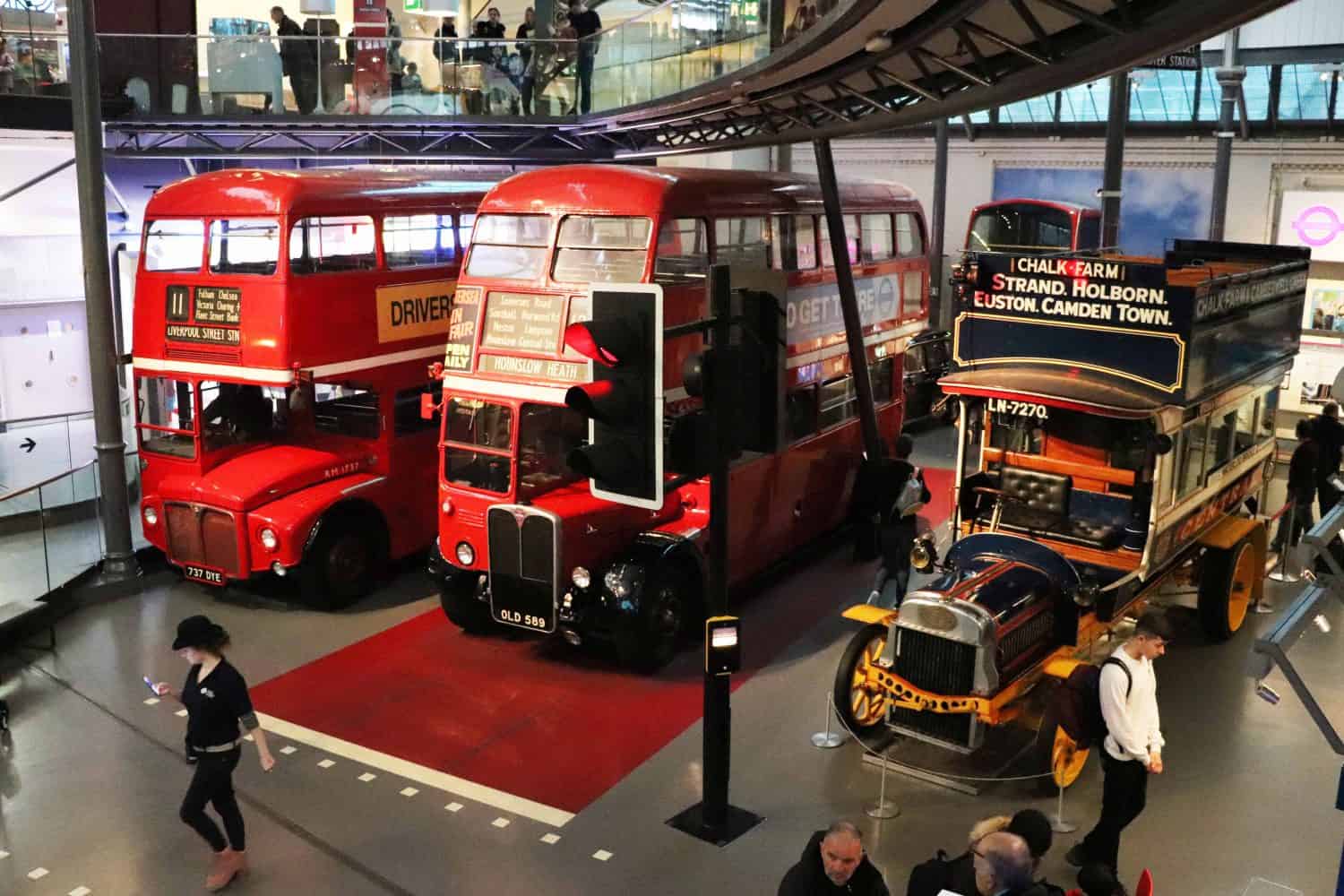 ---
Crystal Maze LIVE Experience
As a wild card I thought I would include the Crystal Maze LIVE Experience. It's open to anyone over the age of 13 so would be a great London activity for any families with teenagers – and it's great fun too.
You can read more about our Crystal Maze LIVE Experience here.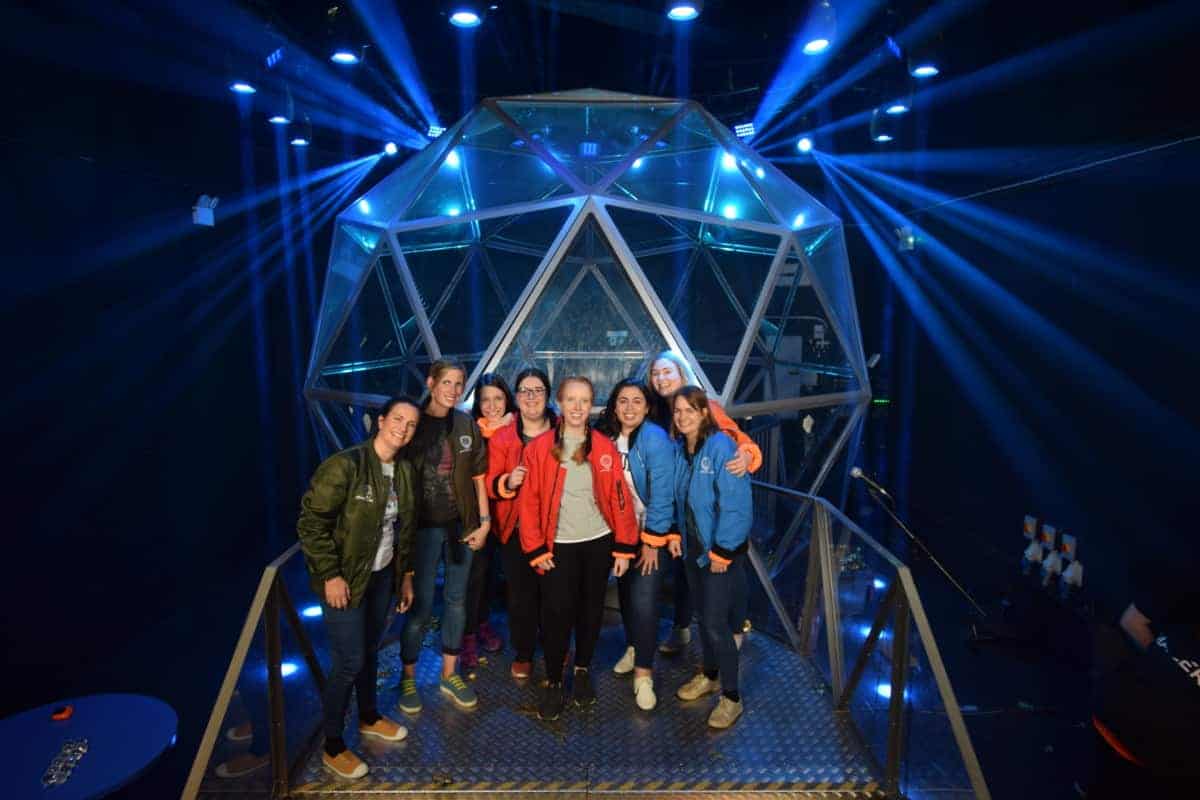 ---
For any family vacation in London or just a day trip make sure you have a travelcard that can take you across the city, an Oyster card to hop between tube stations or money to spare for taxis! Or, do what we do and walk until your feet ache! We love nothing more than to walk from sight to sight, Trafalgar Square to London Bridge, taking in afternoon tea in Covent Garden, Buckingham Palace and all the luxury London hotels we pass too.
If you're looking for more inspiration for things to do with kids in London make sure you take a look at our 48 hour London itinerary. It may also be worth investigating the London Pass to see if it could save you money on your next London adventure. I'll make sure to add more London attractions for kids to this post as we visit them. If you have any ideas for our next London day out please do let me know.