Everyone loves a day out that involves animals, whether it's a trip to a wildlife park or simply walking through a park and appreciating the squirrels and birds. So I thought I'd put together all the animal themed days out, attractions and activities that you can do across the greater London region.
Animal Things to do in London
Cat cafes
Cat cafes are a relatively new thing but something that has become so popular across the country. Cat cafes give you a traditional cafe experience, often with full on brunch or afternoon tea, all accompanied with gorgeous cats. What's not to love?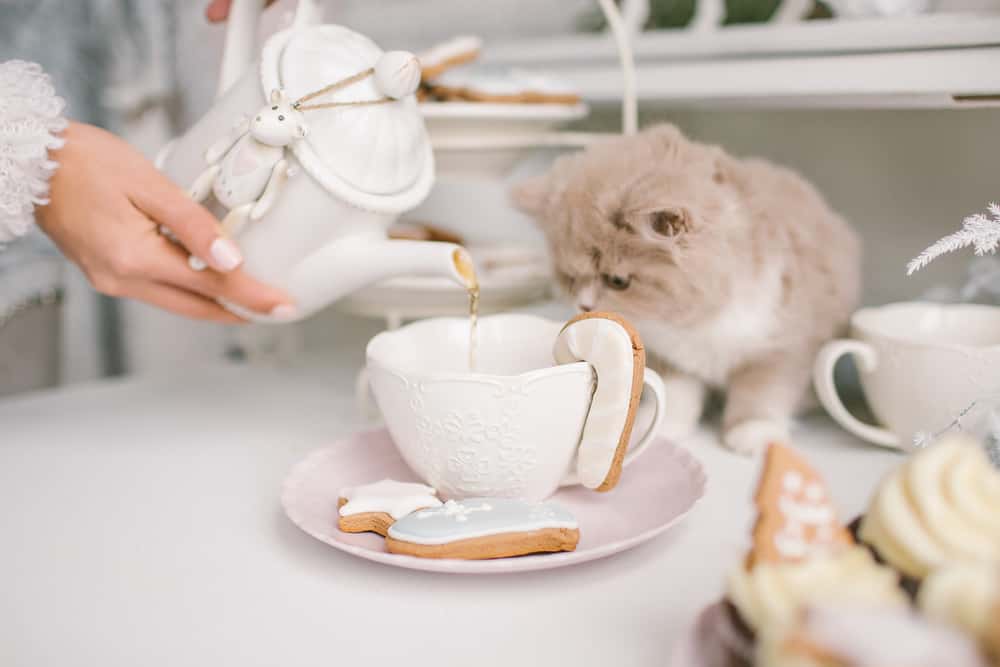 Here are some of our favourite cat cafes across London:
Whiskers & Cream – 593 Holloway Road, Archway, London N19 4DJ
Relax and unwind with incredible cats whilst indulging in artisan drinks, light bites or an indulgent afternoon tea.
Java Whiskers – 105 Great Portland Street, London W1W 6QF and Ariel Way, London W12 7HB
With a kitten lounge, cat lounge and incredible menu, Java Whiskers hopes to find homes for cats whilst offering a unique experience for both cats and their human visitors.
Lady Dinah's Cat Emporium – 152-154 Bethnal Green Road, London E2 6DG
London's first cat cafe, Lady Dinah's Cat Emporium has a Mad Hatter's Tea Room and Basement Forest where you can get to know gorgeous cats whilst enjoying all that the cafe has to offer.
---
Zoos
Zoos and wildlife parks are the obvious choice when it comes to animal days out in London. Somewhere you can go and see many animals all in one go. So here are our favourite zoos in London, starting with the most obvious!
London Zoo – London NW1 4RY
ZSL London Zoo is one of the best known zoos across the country and is the world's oldest scientific zoo. Situated in Regent's Park, it's home to so many creatures of all sizes, from alpacas and otters to lions, monkeys and zebra including many endangered species. Plus, there are play areas, keeper talks and more. A great day out for the whole family.
Battersea Park Children's Zoo – Battersea Park, London SW11 4NJ
Right in the middle of Battersea Park, Battersea Park Children's Zoo provides a thrilling and immersive experience that captivates and inspires. It's home to so many creatures from the exotic to the endangered, farm favourites to the more unusual. Children of all ages will have a great day out.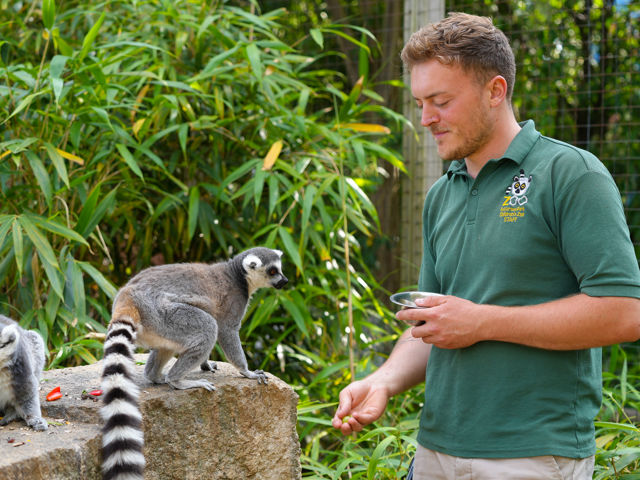 Hanwell Zoo – Church Road, London W7 3BP
Hanwell Zoo – formerly known as Brent Lodge Park Animal Centre – is home to a selection of birds, mammals and gorgeous characters like a porcupine, a mob of meerkats and a flock of Flamingos! Kids of all ages will love to see and get up close to the zoo's variety of residents.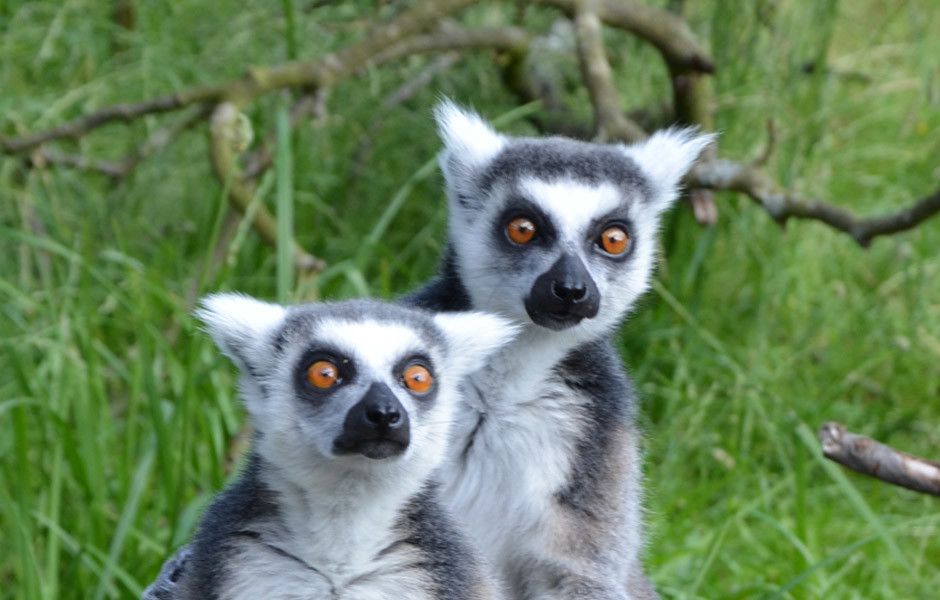 Golders Hill Park Zoo – North End Way, London NW3 7HE
Golders Hill Park Zoo is a small zoo that is home to a number of exotic mammals and birds. It's situated near the children's play area in Golders Hill Park and is free to visit.
---
Farms
There are so many farms across London, many more than you'd expect for a vastly urban area. But, city farms have grown in number over recent years, not just to help look after animals but also to educate and inspire the people who visit them. Here are some of the farms across London:
Vauxhall City Farm – 165 Tyers Street, London SE11 5HS
Vauxhall City Farm is one of the oldest and most central city farms in London as it's super close to Big Ben! They have so many farm animals with opportunities to handle animals or even have a VIP Meet and Greet experience or be a farmer for a day! They also have a riding school. Entry by donation.

Spitalfields City Farm – Buxton Street, London E1 5AR
Spitalfields City Farm is the nearest city farm to the City of London's square mile. The farm is home to many much loved animals and great characters who help the farm to educate and raise awareness of the health and welfare issues surrounding pets and food producing animals. Free to visit.
Hackney City Farm – 1a Goldsmiths Row, London E2 8QA
Hackney City Farm offers children and grown-ups the opportunity to get up close to a range of farmyard animals. You can see, smell and plant vegetables and other food plants and learn new skills to live a healthier, happier life with a lower environmental impact. Hackney City Farm is free to visit.
Freightliners City Farm – Sheringham Road, London N7 8PF
Freightliners Farm is a community space in the heart of Islington. The farm has a variety of farm animals, many of which are rare and traditional breeds. There's also gardens to enjoy and a cafe. Free to visit.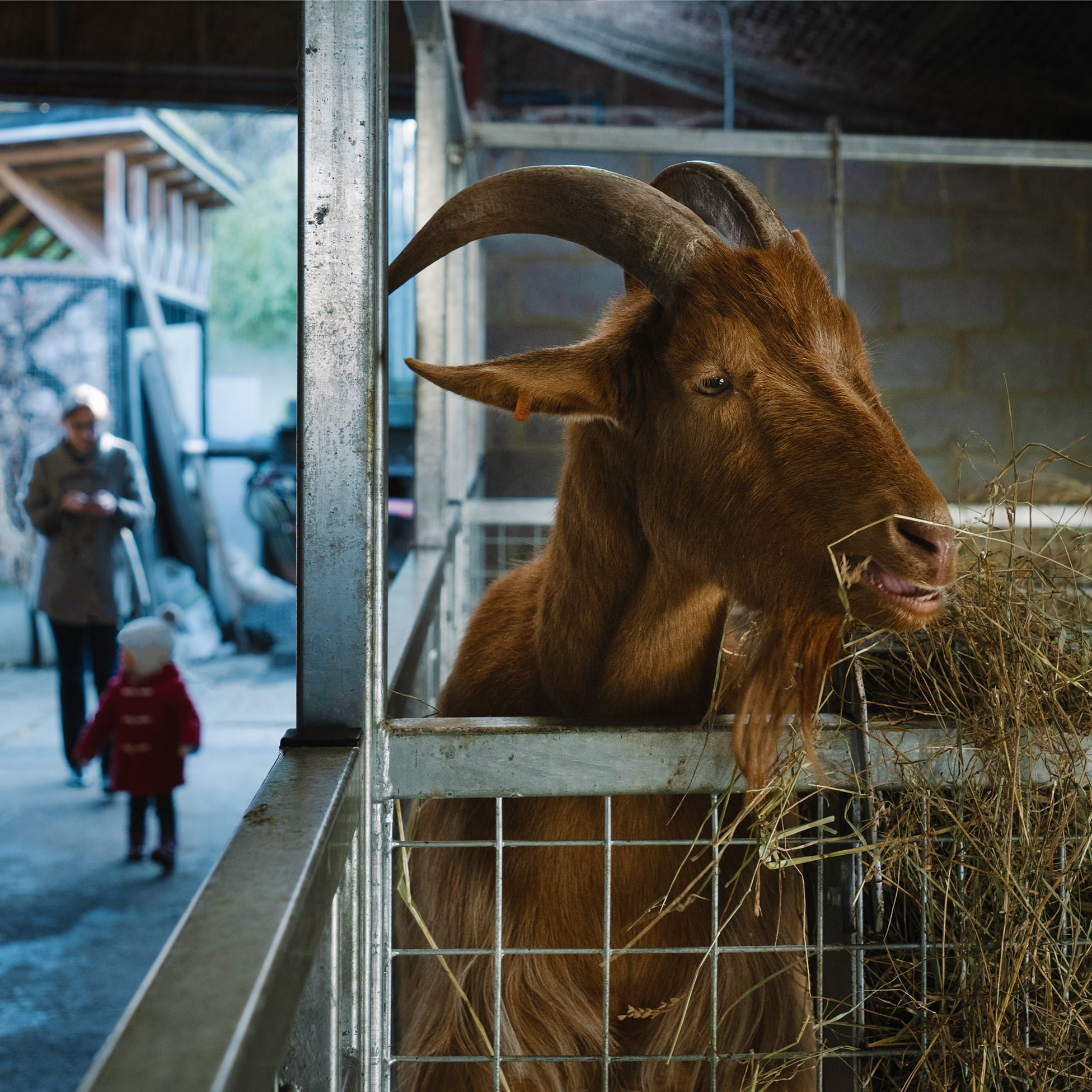 Stepney City Farm – Stepney Way, Stepney Green, London E1 3DG
Stepney City Farm is a three acre working farm in the heart of Tower Hamlets. It gives children and adults a chance to meet farm animals, learn how to grow food and try out arts and crafts. Plus, every Saturday there's a popular Farmer's Market. Free to visit.
Kentish Town City Farm – 1 Cressfield Close, London NW5 4BN
The UK's first city fram, dating back to 1972, Kentish Town City Farm helps people connect with animals, nature and the environment. The farm covers four acres, running alongside two railway lines in the inner London Borough of Camden. It features animal pasture, community gardens, a wildlife pond, and a riding arena. Free to visit.
Surrey Docks Farm – Rotherhithe Street, South Wharf, London SE16 5ET
Surrey Docks Farm is a working city farm that enables the whole community to learn about farming, food production and the natural environment. Free to visit.
Mudchute Park and Farm – Pier Street, London E14 3HP
Set in 32 acres of countryside in the heart of East London, the Mudchute is a working farm that also has a children's nursery and offers a wide range of educational activities. Free to visit.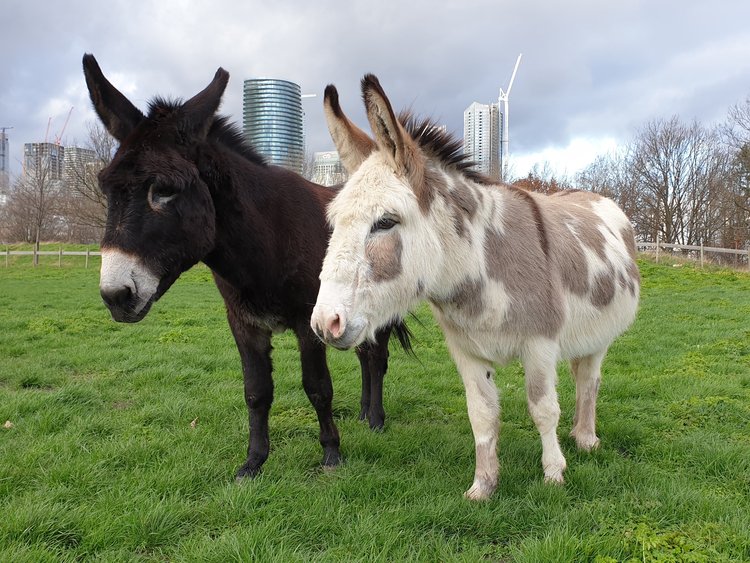 Deen City Farm – 39 Windsor Avenue, London SW19 2RR
Deen City Farm is an urban farm with an educayionsl focus in the heart of the London Borough of Merton. They teach the local community about the rural environment and where their food comes from and also has a a Riding School offering affordable lessons to the local community. Free to visit but with a recommended donation of £2 per person.
Belmont Farm – The Ridgeway, London NW7 1QT
Belmont Farm makes it possible for anyone, young or old, to meet, handle and feed a huge variety of farm animals. All the animals are happy, healthy, and a joy to see on the farm.
Hounslow Urban Farm – Faggs Road, Feltham TW14 0LZ
Hounslow Urban Farm is one of London's largest community farms. Covering 29 acres, it is an important educational resource and leisure facility for all the family. Visitors can see a variety farm animals close-up, including five types of pigs, goats, cows, rabbits, ducks, geese, alpacas, rheas, peacocks and more.
Maryon Wilson Animal Park – Flamsteed Road, London SE7 8HT
Maryon Wilson Animal Park, is a happy home to domestic animals including a gang of sheep and goats, two pigs, a busy duckpond, small petting animals and three hard-working ponies who give rides to people with disabilities.There's also a beautiful herd of deer.
---
Days out with animals
Across London there are so many days out that give the opportunity to see animals but, unlike a zoo or farm, there is more to the day out, more activities, more to see and more to do, making them a great choice for a really full day out in London.
Hobbledown Heath – Staines Road, Hounslow TW14 0HH
Hobbledown Heath is a fantastic day out for the whole family. Part farm, part adventure, it has so many activities on offer and the added bonus of animals too. Explore four themed villages, set in acres of beautiful woodland and meadow. Climb towers, crawl through tunnels, and step inside one of the largest indoor play arenas in London. And all while coming face-to-face with goats, meerkats, capybara, highland cows, and many other exotic and traditional farm animals!
Capel Manor Gardens – Bullsmoor Lane, Enfield EN1 4RQ
As well as the beautiful gardens, Capel Manor also has a collection of exotic and domestic animals. The mini zoo is home to over 75 species of animals including lionhead rabbits, barn owls, ring-tailed lemurs, meerkats, Scottish wildcats, wallabies and more.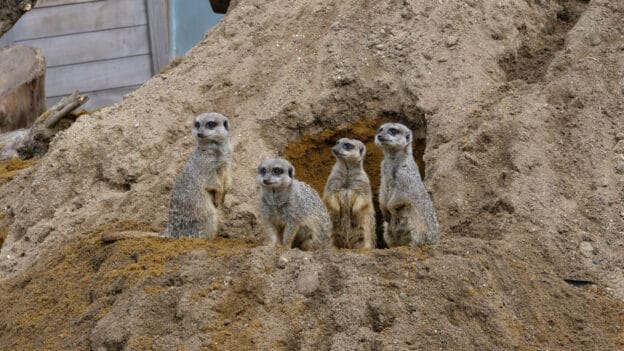 Chessington World of Adventures – Chessington KT9 2NE
Originally Chessington Zoo, Chessington World of Adventures is now a fantastic theme park but it is still also home to a collection of animals. The zoo part of Chessington includes lions, tigers, gorillas, monkeys, penguins and underwater creatures in the on site SEA LIFE centre.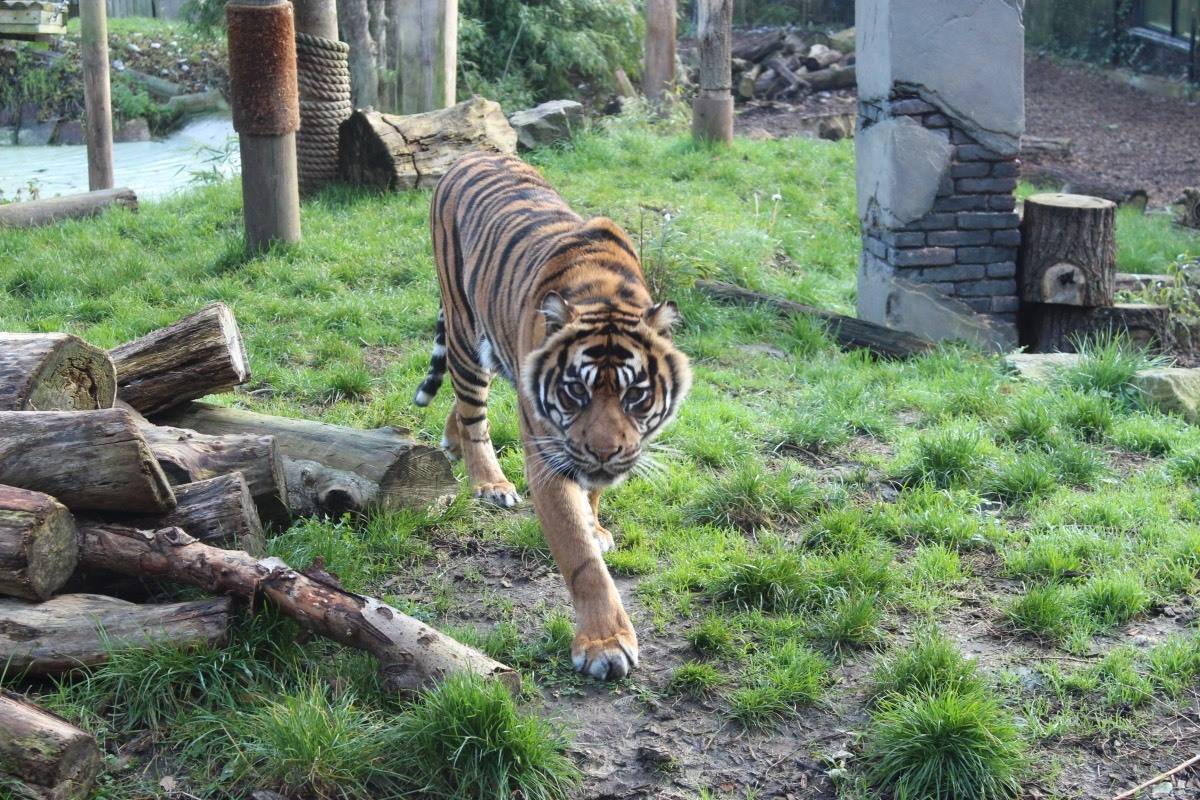 London Wetland Centre – Queen Elizabeth Walk, London SW13 9WT
At the London Wetland Centre you can leave the hustle and bustle of the city behind and step into a wonderful wetland oasis of colourful water birds. Get up close with nature in one of the most tranquil place in the city.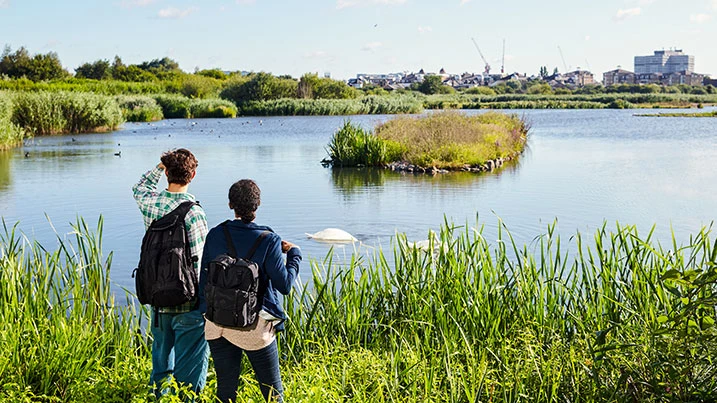 Sea Life London Aquarium – Riverside Building, County Hall, Westminster Bridge Rd, London SE1 7PB
One place you can visit in London to venture under the sea is the Sea Life Aquarium. Walk through the underwater tunnel and see sharks, rays and even penguins. Plus there are keeper talks and touch pools too. A great addition to any London day out.
Horniman Museum & Gardens – 100 London Road, London SE23 3PQ
As well as being a great museum, Horniman Museum & Gardens is also home to a fantastic aquarium, butterfly house and an animal walk that is home to goats, sheep, guinea pigs, rabbits, chickens and alpacas.
Household Cavalry Museum – 6 Horse Guards Avenue, Whitehall, London SW1A 2AX
Not a typical place you'd think of to see animals, but the Household Cavalry Museum is a working museum, home to the Household Cavalry. Because of this, visitors gain a unique look at the working stables through a large glazed partition. You might see the horses being brought in, groomed, fed and watered, their hooves oiled and shoes checked, their saddles adjusted ready to go on guard or just see the stables themselves being cleared or washed down. So you can learn about the history and accomplishments of The Household Cavalry whilst seeing the real life horses too!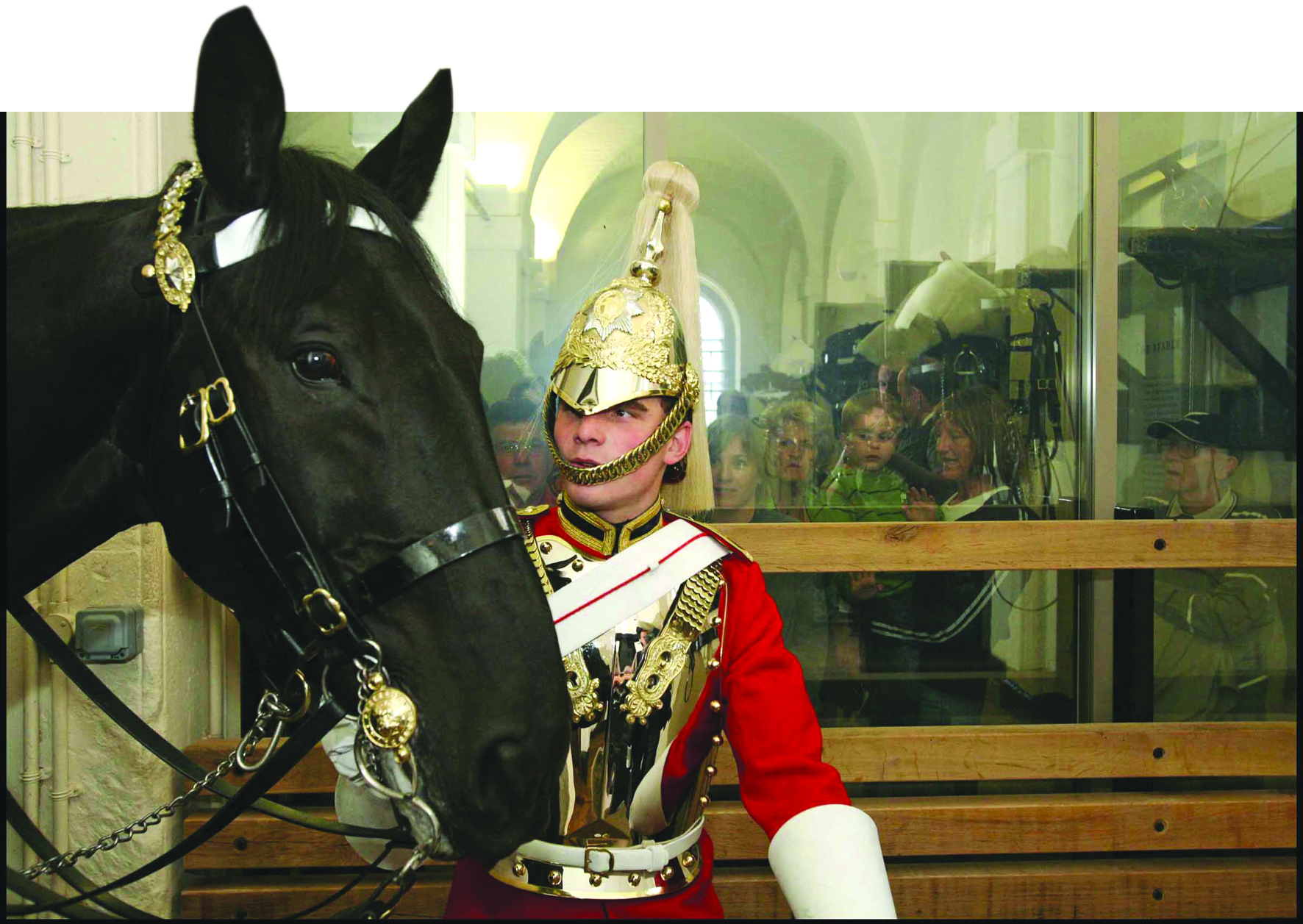 ---
Free to enter parks and gardens with animals
Clissold Park – Green Lanes, London N16 9HJ
Clissold Park os a fantastic community space which includes a children's play area, splash pad and so much space to explore as well as aviary and animal enclosures. The collection of animals is one of the most popular features of Clissold Park with birds, goats and a small herd of fallow deer.
Greenwich Peninsula Ecology Park – Olympian Way, London SE10 0QZ
Greenwich Peninsula Ecology Park is an urban wetland made up of four acres of freshwater habitat and is home to an array of wildlife. The tranquil park is a stunning natural area for people to discover and enjoy in the heart of Greenwich.
Camley Street Natural Park – 12 Camley Street, London N1C 4PW
Camley Street Natural Park is a unique urban nature reserve, surrounded by new development between King's Cross and St Pancras. The woodland, grassland and wetland habitats include ponds, reedbed and marshy areas, that provide a rich habitat for birds, butterflies, amphibians and plant life.

Kensington Gardens and Hyde Park
Dreamed up by Queen Caroline in the 18th century, Kensington Gardens were originally part of Kensington Palace. Today, they are open to everyone – no longer exclusive, but still extraordinary. But as well as being beautiful parks, Kensington Gardens and Hyde Park are also home to a vast array of birds – including parakeets in Hyde Park!
St James' Park – London SW1A 2BJ
The most royal of London's Royal Parks, St James' Park has been shaped by generations of monarchs and is bordered by three royal palaces. But it's also home to so much wildlife. From friendly squirrels to ducks, birds and even bats, you can't go far through the park without coming face to face with a creature or two.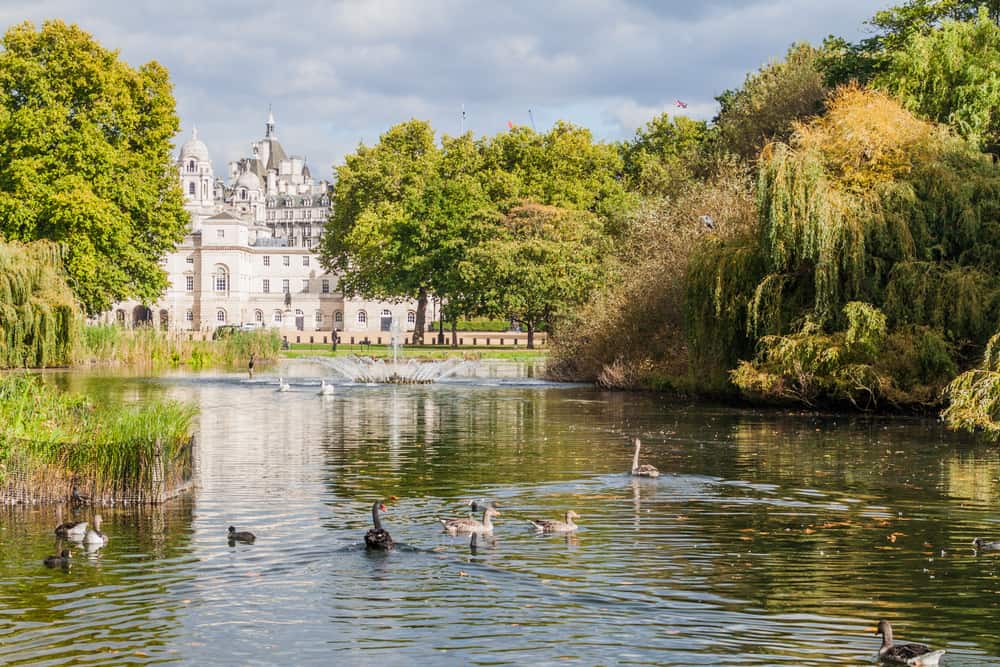 Richmond Park / Bushy Park / Home Park
Around Hampton Court Palace there is so much parkland that is home to herds of deer amongst other wildlife. It's amazing to go to Richmond Park or Bushy Park early in the morning to see the deer grazing peacefully before the parks get busy.
---
Something different
Battersea Dogs and Cats Home – 4 Battersea Park Road, Nine Elms, London SW8 4AA
You might not want to rehome animals, just see them. But, Battersea Dogs and Cats Home offer tours where you can learn more about the work they do whilst getting up close to the animals currently staying with them. It helps raise money for the charity whilst raising awareness of the work that they do.
Natural History Museum – Cromwell Road, London SW7 5BD
You won't find any living animals at the Natural History Museum but, you can see animals from through the ages including mammals, reptiles, insects, dinosaurs and even a dodo!
If you're looking for other places to see animals a little further afield than London, some of our favourites are:
I'll add more animal attractions in London and places where you can see London wildlife as I come across them and if I've missed off one of your favourites please do send me a message and let me know.
If you're looking for more inspiration of things to do in London, these articles might help: