Disclosure: We were invited on this day out for the purpose of this post however all opinions are my own.
One of our favourite film franchises is Shrek and as each of the movies have come out Dave and I have loved them. We introduced LP and Little Man to Shrek as early as possible and now they love Shrek, Donkey, Princess Fiona and all the other characters so when we were invited to review Shrek's Adventure on London's South Bank we couldn't wait to go. It looked like a fantastic family day out in London and a great wet weather activity too. It's turned into one of our favourite London attractions.
Shrek's Adventure is easily accessible, really close to London Waterloo. It's right next to so many other attractions – The Sea Life London Aquarium, London Dungeons and the London Eye and you can even buy joint tickets to visit a couple of the attractions in one day, having an action packed day on the South Bank.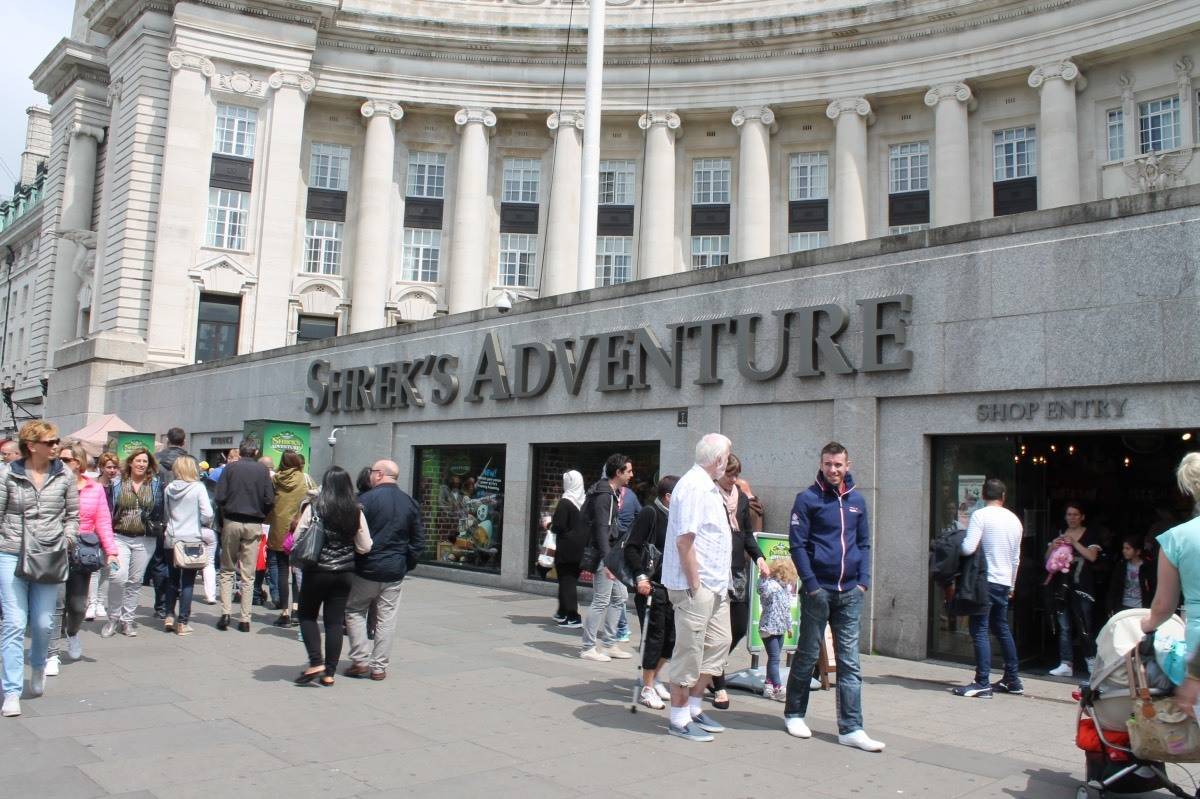 Make sure, if you're visiting, that you book a time slot and book tickets in advance. By the time we left Shrek's Adventure at only 2pm on a weekend there was a sign out the front saying that they'd sold out for the day. If you turn up without a ticket you will more than likely be disappointed. Even Merlin Pass holders can book tickets online for just a small fee to reserve their time.
When you arrive at Shrek's Adventure the queuing system is a bit chaotic. You have to queue one side to get your tickets and then go back outside to queue up again on the other side to have your bags searched and gain entry to the attraction. In hindsight, it would have been better for us to collect our tickets as soon as we arrived in London, letting us go straight in at our ticket time.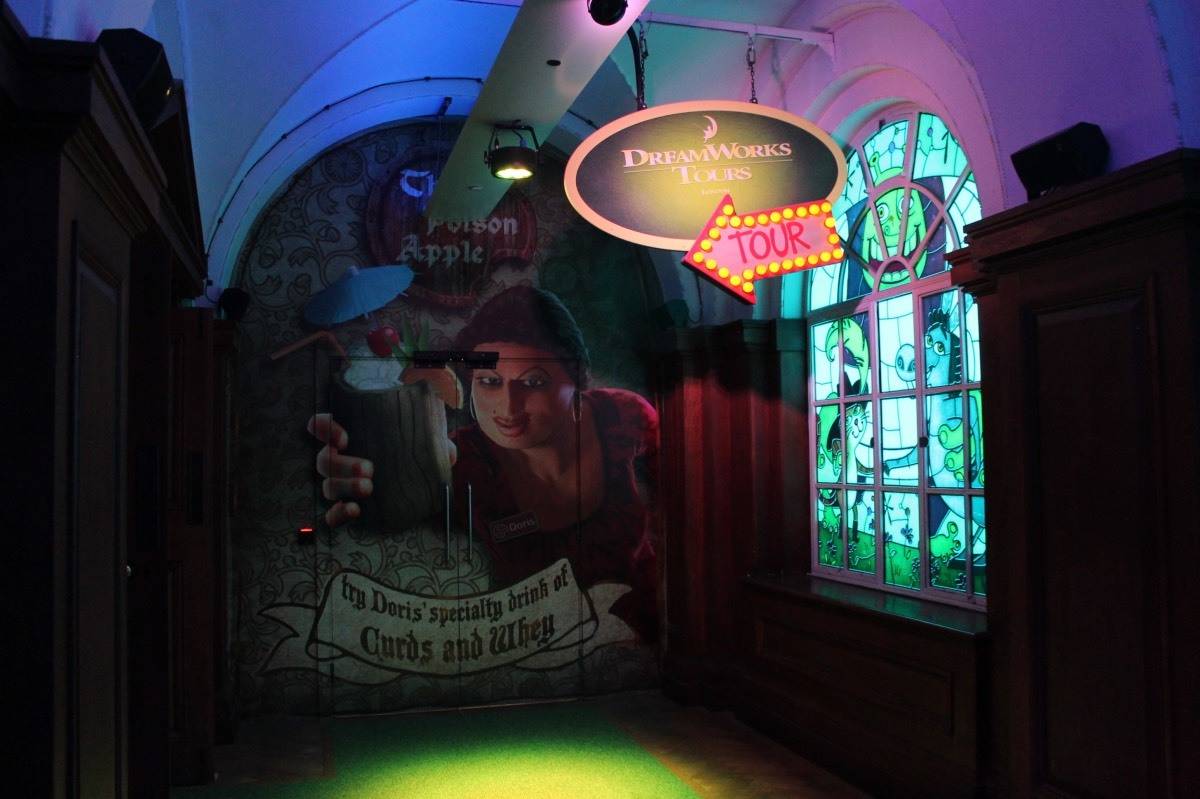 Once inside Shrek's Adventure all of the people are in character, dressed in airline costumes or dressed as characters from Shrek as well as many different princesses. The children really thought we'd been transported to another world and it was great to see the expressions on their faces.
At the start we were given a little briefing – no cameras, no mobile phones, just go and have fun – and then the fun starts. We were sent on a journey to find Shrek and it started with a bus ride, driven by Donkey, where you are taken on an epic 4D adventure over London and Far Far Away.
The journey takes us to so many different rooms and meeting so many different characters – Cinderella, Sleeping Beauty, The Muffin Man, Puss in Boots and many, many more. Both children and adults participate in the tasks and conversation in each room and the whole thing is a really great, interactive experience.
The only part the children weren't keen on was when we were in a dark maze of mirrors for quite a while. The next door didn't seem to open when it should and so people started to work their way back and LP was a bit scared but before long Sleeping Beauty helped us find our way through and the children were both smiling again.
I won't spoil the story but the children, Dave and I all had a great time. You are really submerged into a different world and with no natural light it's hard to know what time of day it is, where you are or even who you are and you get completely sucked into the story.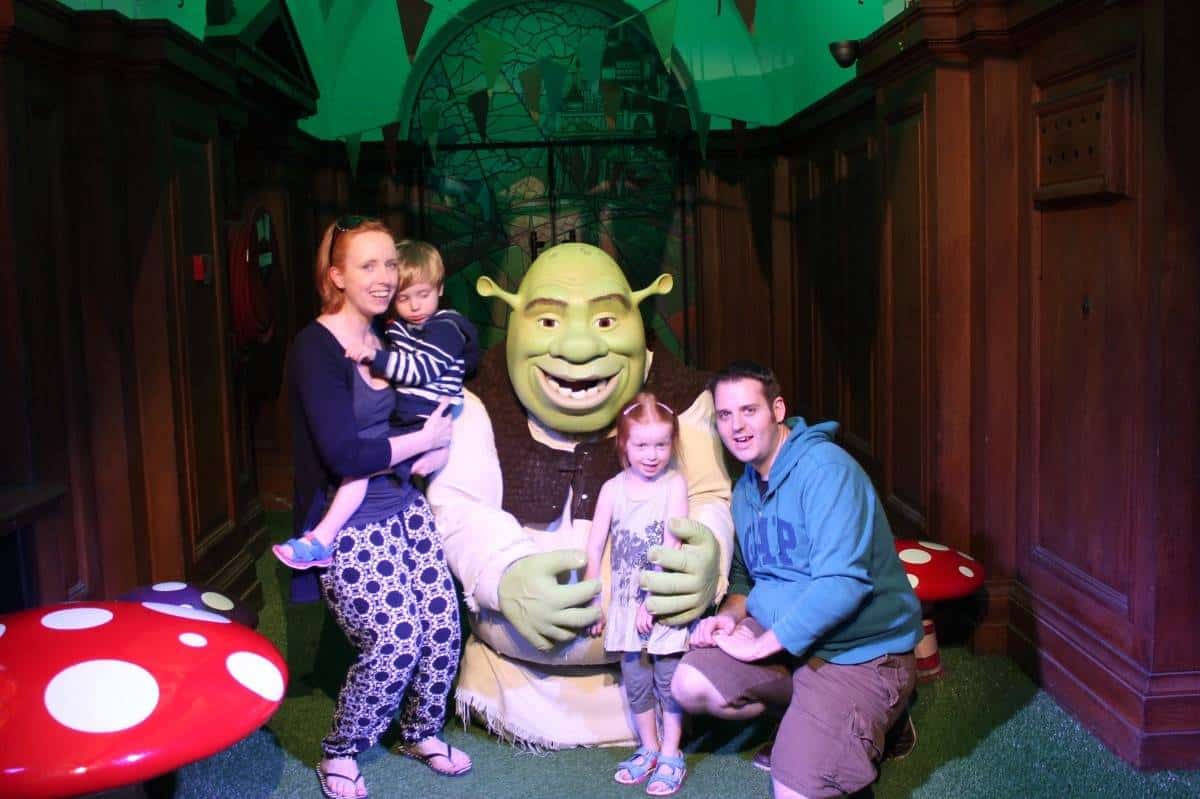 We loved Shrek's Adventure. The whole experience takes just over an hour – including a visit to the gift shop. The only criticism I have is how the photos are dealt with at Shrek's Adventure. Like many tourist attractions you're encouraged to have your photo taken at various points but at the end of the adventure children are handed big hardback travel journals with their adventure in it – all the photos printed.
You are then expected to go into the next room and pay for the book – £25. It would be hard to take the book from the child and explain that actually, you're not buying it and I would rather be shown the photos and given the chance to buy them at the till rather than handed a book with the photos pre-printed. I didn't like that aspect at all.
But before you get handed the photo book there is opportunity to take your own photos with many Dreamworks characters and mini sets and the children loved posing for their photographs.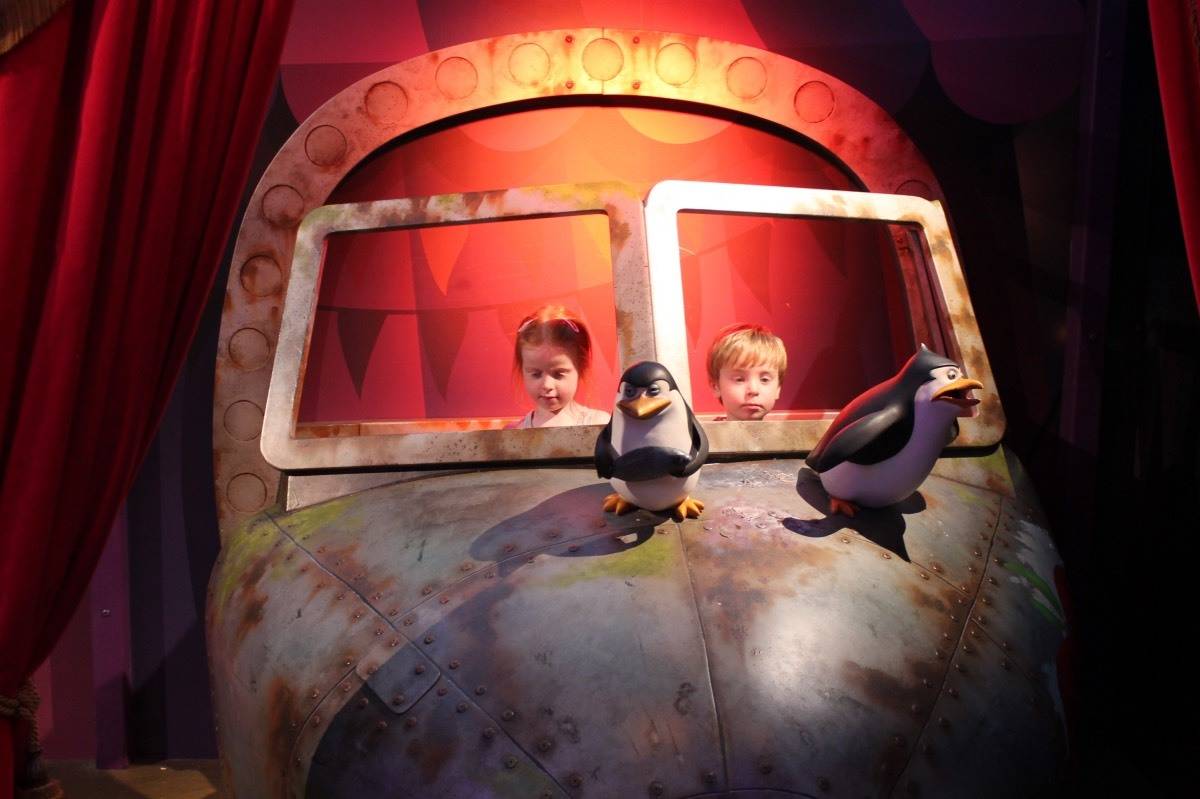 The children were talking to us about Shrek's Adventure long after we came home. It was so different, so interactive and a really great addition to a day in London. We would definitely go again in the future.