Disclosure: We were invited on this break for the purpose of this review however all opinions are my own.
Last weekend we were invited for probably the most unique experience we have ever been a part of. A Night Voyage on the Golden Hinde is an overnight, fully immersive experience that lets you take on roles aboard the famous ship, learning about life at sea in 1577. I had no idea what to expect but we were all excited for the evening to begin.
We were given a full itinerary before our Golden Hinde sleepover and told what to bring – sleeping bags and mats, clothes to sleep in, toothbrush and a torch mainly. The emphasis was on travelling light and really throwing yourself into the experience – so that's what we did.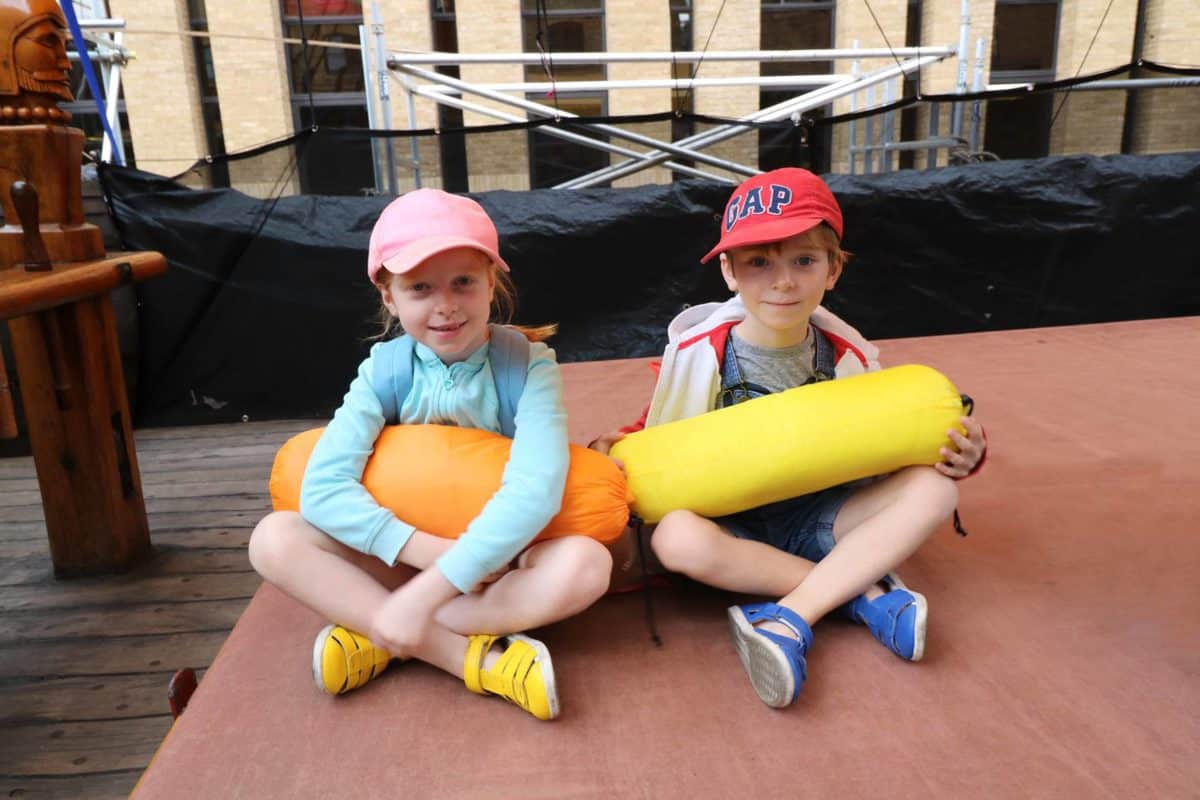 When we arrived on the Golden Hinde we were split into groups and got into our costumes – oversized shirts to throw on over our clothes, a belt to show which group we were in and hats. It really helped us get into character and set the scene for the evening.
When everyone had arrived the show began. I say show because our hosts were actors, performing parts but it wasn't like being at the theatre. It was so fully immersive with everyone participating and everyone having a role to play. It was fantastic!
The evening started with a bit about the rules aboard Sir Francis Drake's ship – how to go up and down ladders, no leaning over the sides of the ship and no stealing or swearing! We were told about how people were punished in 1577 and the children were so engaged – I've never seen them so completely into an experience before.
After that we set off in our groups. There were three groups and about thirty people in total. We started off with the Master of the ship, getting to know each other and finding out that, for this experience, we were all men. Women would never have been allowed on board!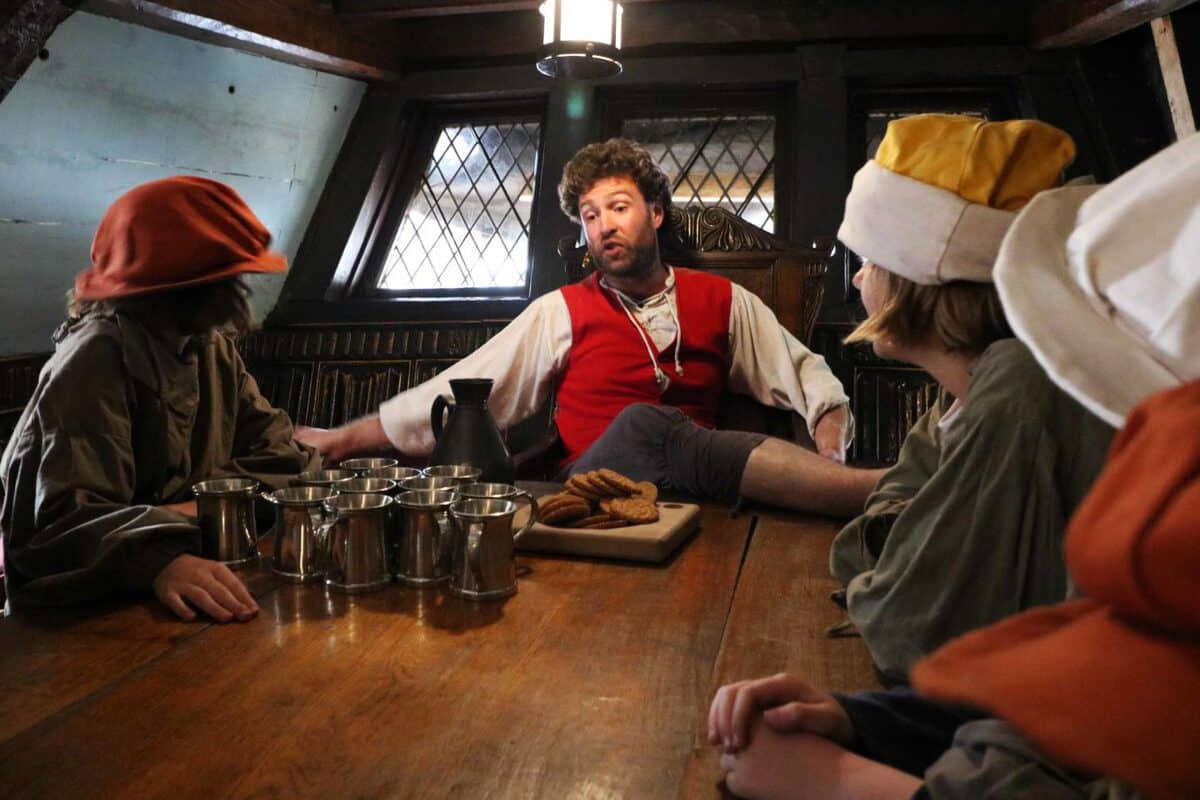 We had cider (apple juice) and biscuits and had a chat around the Master's table before learning how to pull the anchor up. From the very first moment I realised how much I was going to learn about life at sea and also what utter hard work it would have been back then. It was an experience for all of us.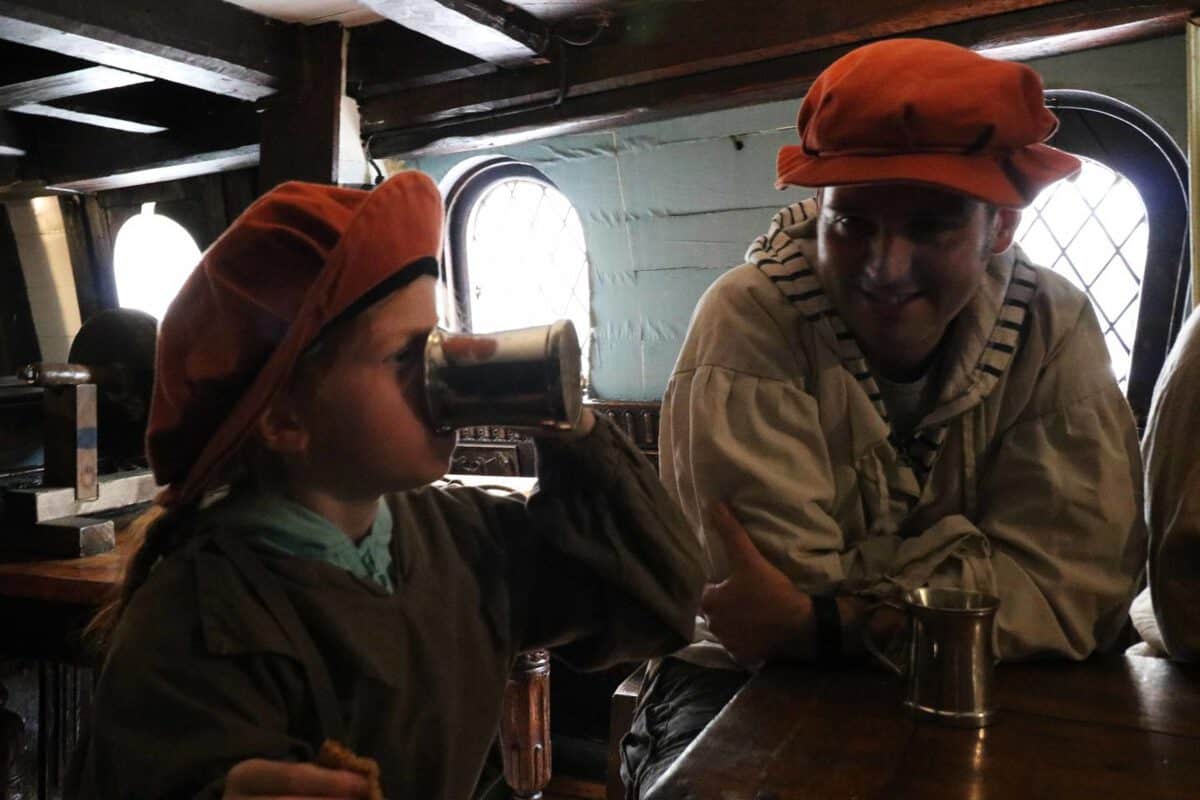 We learnt about the different roles on board the ship, the names of the different sides of the ship and how seafarers would tell the time at sea. We spent time both above deck and below deck, giving us such a full experience of the whole Golden Hinde.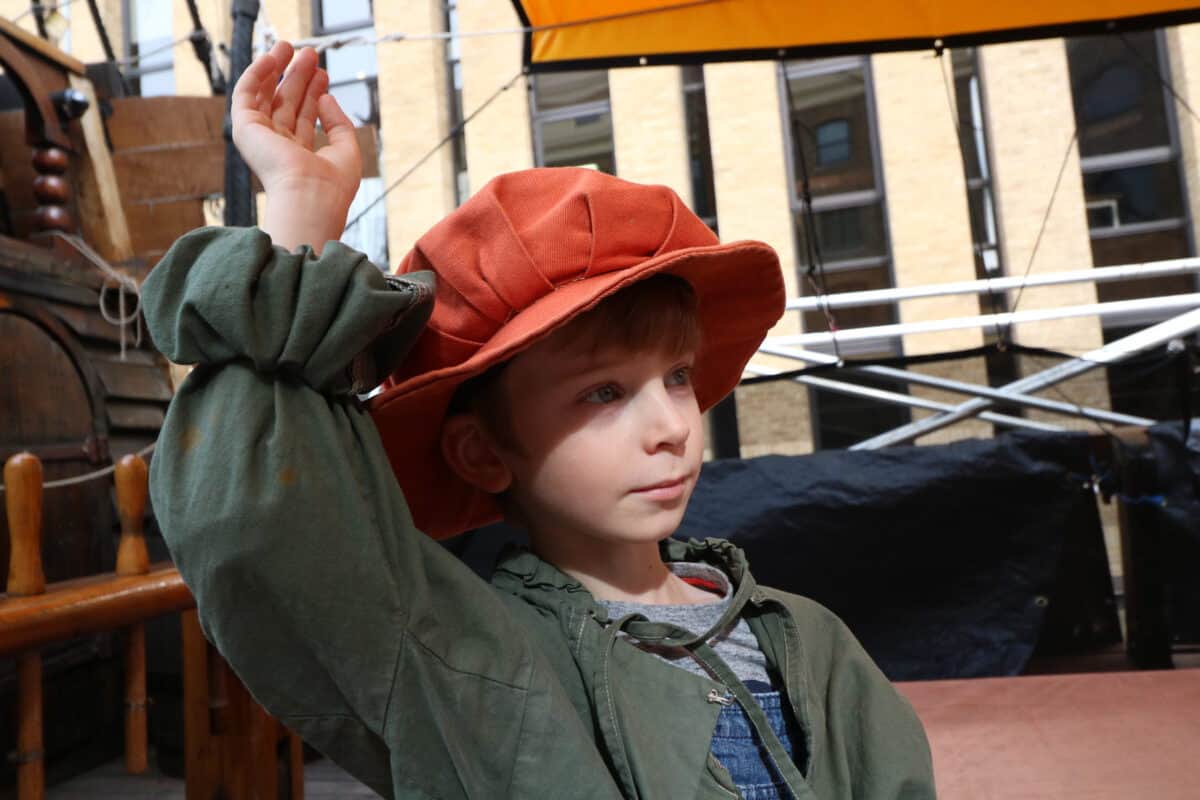 The Golden Hinde is in the heart of London, in a really busy part of the South Bank. This meant that whilst going through our experience so many people were watching from the shore – again, I say shore, but the Golden Hinde is in a dry dock. We didn't go anywhere but it really felt like we did!
Throughout the experience the main glass doors onto the Golden Hinde were locked. No random passers by could come aboard but they could stand and watch – most finding it really entertaining or even joining in for the noisy parts!
Next we were with the Gunner who showed us how to fire cannons. I realised that before this I knew there was a cannon and a cannon ball but not much else – finding out the amount of work involved in firing and reloading just one cannon was eye opening and the children loved taking part in the action.
Dinner on board was provided and it was a really nice vegetable stew and plenty of bread to go with it. It's quite a basic meal but one that fit well with the experience. Tea and coffee were available after dinner and it was just the right amount of down time before carrying on with the experience.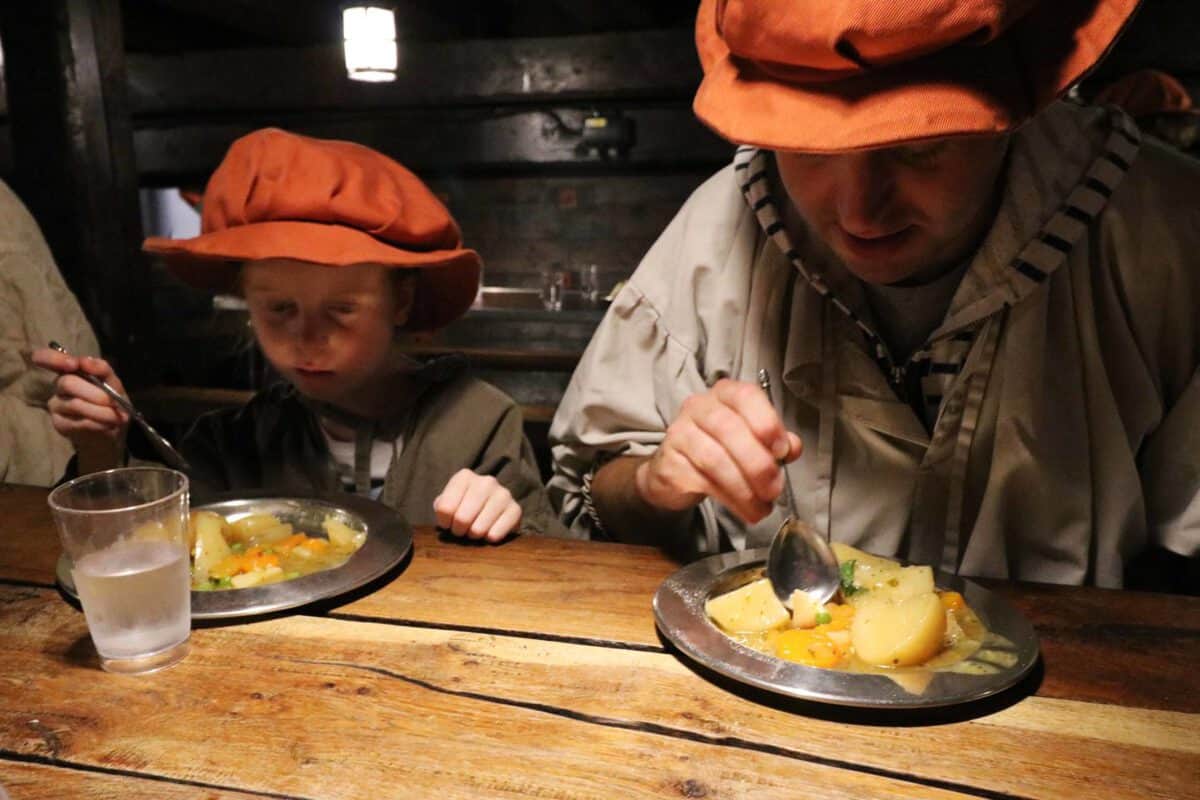 We learnt to sword fight, learning three basic moves for both attacking and defending before all having a turn. This was great fun and part of the experience that all the adults and children got involved with.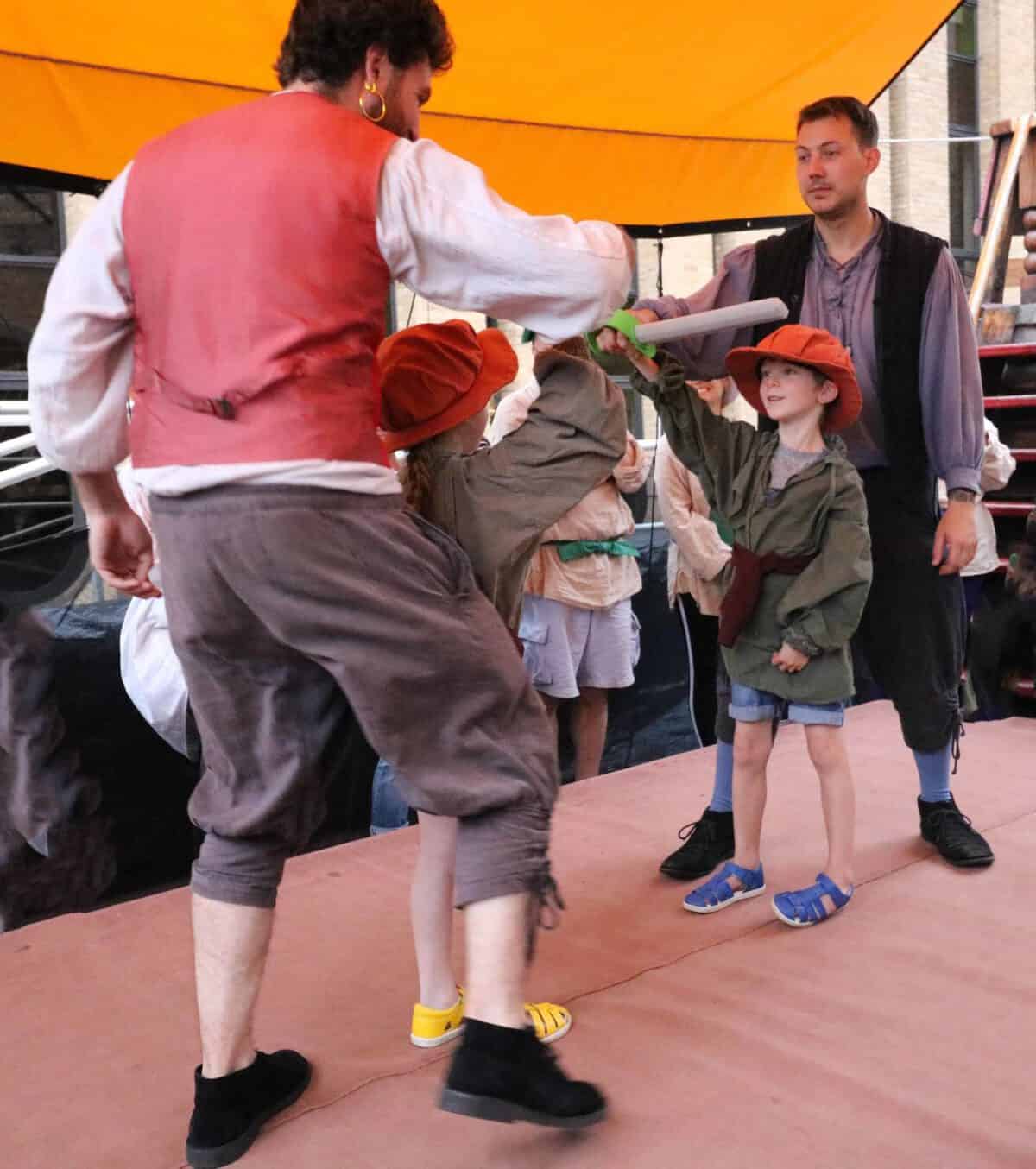 The last person we met was the Barber Surgeon who looked after the crew's hair as well as being the medical help on board ship. We found out all about the things people believed in 1577 about how you could heal them, the tools that were used for surgery and the ailments that sailors would often suffer from.
We then found ourselves under attack and had to hide in the hold before peace was restored and we went back on deck for the grand finale of the trip. We got a coin to take home with us and then got ready to wind down and sleep on board the ship.
We all set ourselves amongst the cannons on the gun deck, rolling out our mats and setting up camp. This part of the experience wasn't very well organised as we all had to carve out our own space for our families – I imagine if it was one big group like a school trip or scouts there would be a lot more order to it. But, we found our space and set up camp for the night.
The ship has two toilets on the bottom deck which had enough space for an adult and child to go into them to get ready for bed. Dave and I took it in turns to take a child each and it worked fine. The toilets are clean and basic but they were fine for our needs.
The experience finished just after 8:30pm and lights went out at 10pm. By about 9:15pm we were settled in bed, as were a few other families but a handful of children were left to their own devices – playing hide and seek, running and jumping over all the sleeping bags and even attempting sack races in their sleeping bags at one point. Any experience where you are sharing space with other people can definitely be impacted positively or negatively by the people you are sharing with and that was definitely the case in this instance.
Just after midnight it started raining which came through onto our deck in places. Some people had to find somewhere else to sleep and we woke up to our deck being very wet in the morning.
One member of staff stayed on board with us all night who cooked and helped with anything we needed. She helped people find alternative places to sleep and was just a constant point of contact if we needed anything.
Breakfast in the morning was bread, cheese and fruit – apples, bananas and satsumas – as well as tea, coffee and hot chocolate. It was a welcome start to the day and by about 8am we were ready to depart.
We had a really great time on our Night Voyage on the Golden Hinde and I can imagine it being a really great school or scout trip. LP and Little Man loved the experience and it was so different to typical guided tours. The children gave the sleepover a double thumbs up each and I know that their friends would love it too. If their school offered it as an experience I know how well received it would be and it's definitely something I am so glad I have done with the children.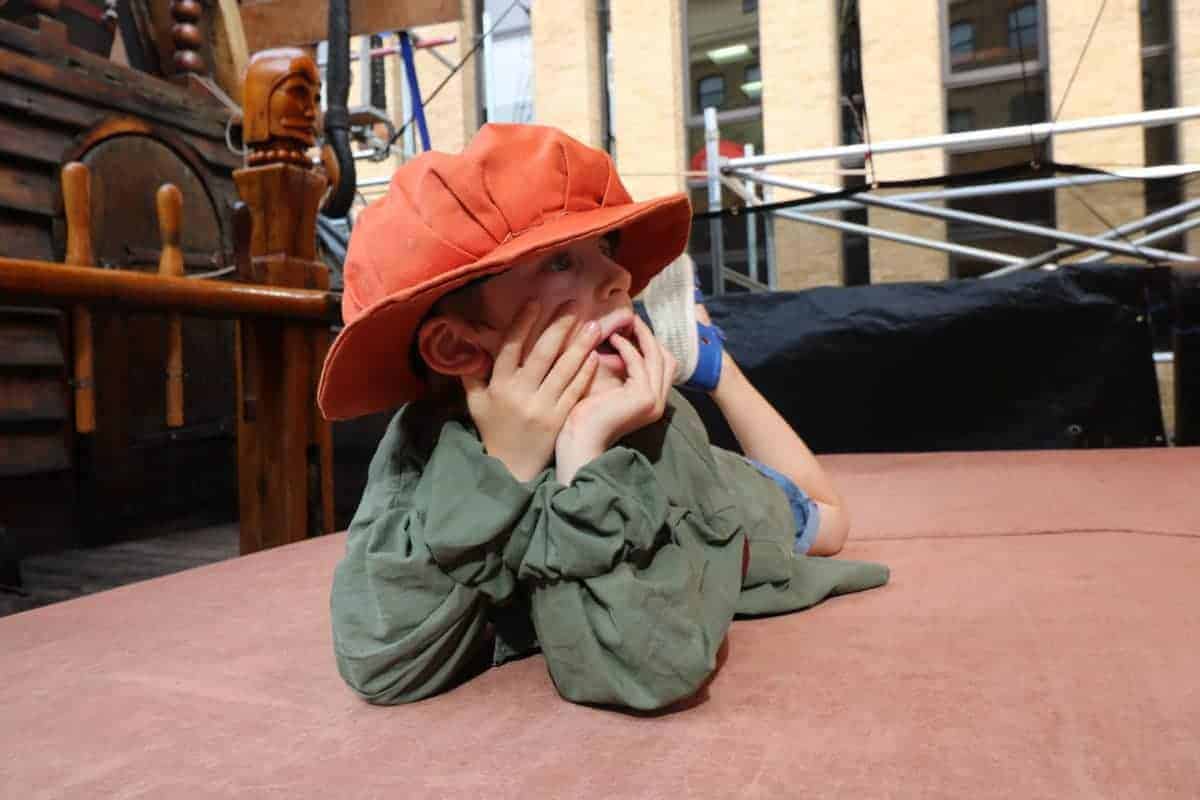 A sleepover on the Golden Hinde would be a great family experience for a birthday treat or just a weekend in London. To make the most of it I would suggest taking ear plugs and an eye mask, investing in an inflatable mat and making sure you set up camp towards the end of the gun deck in case it rains. If you sign up knowing the sleep isn't going to be great but throwing yourself into it anyway then I know you'll have a great time!