Disclosure: We were sent the featured products for the purpose of this post however all opinions are my own.
This post contains affiliate links and I may receive commission if you visit a link and buy something. Purchasing via an affiliate link doesn't cost you any extra, and I only recommend products and services I trust.
We have been using twin double strollers now for over 18 months and pushchairs in general for nearly three and a half years and feel like we know the things we like and don't like in pushchairs. With this in mind I was quite excited to see what the Graco Ready2Grow would have to offer as on first glance it looked like a really innovative pushchair.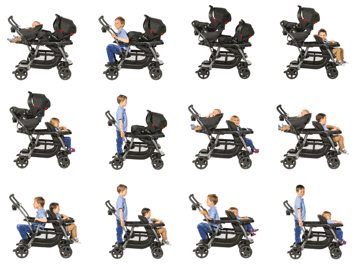 What is the Graco Ready2Grow Pushchair?
The Graco Ready2Grow Click Connect Double Stroller has 12 different configurations and seating options that make it suitable for two children from birth onwards. The pushchair has a front seat which can also accommodate a Graco SnugSafe car seat.
It then has a rear section which is incredibly versatile. It can either hold a second Graco SnugSafe car seat, a second seat or has a choice of a bench seat for a toddler to sit on or a standing platform to act as a built in buggy board.
How easy was the Graco Ready2Grow Pushchair to put together?
The Ready 2 Grow Graco double stroller was delivered in one large box and was easy to put together. The main pushchair came as one part and then the wheels, trays, hoods and axel just needed attaching. It also comes with a raincover that fits really well. I was disappointed to see that footmuffs weren't included and for me, especially at this time of year, well fitting footmuffs is a necessity.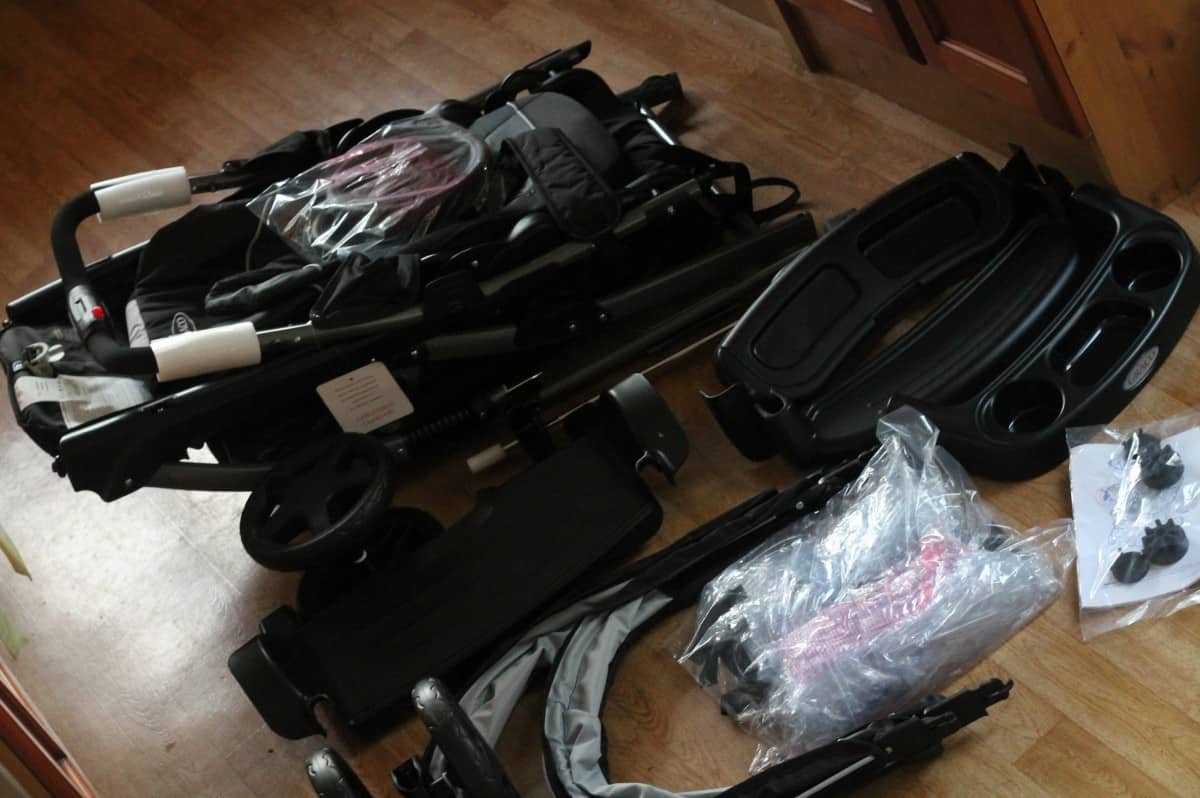 How does the Graco Ready2Grow stroller work for two different aged children?
The Graco Ready2Grow pram had so many options that I couldn't wait to try it out. I soon realised that for our age children – 18 months and 3+ we could use either both seats or the front seat and either the standing platform or bench seat.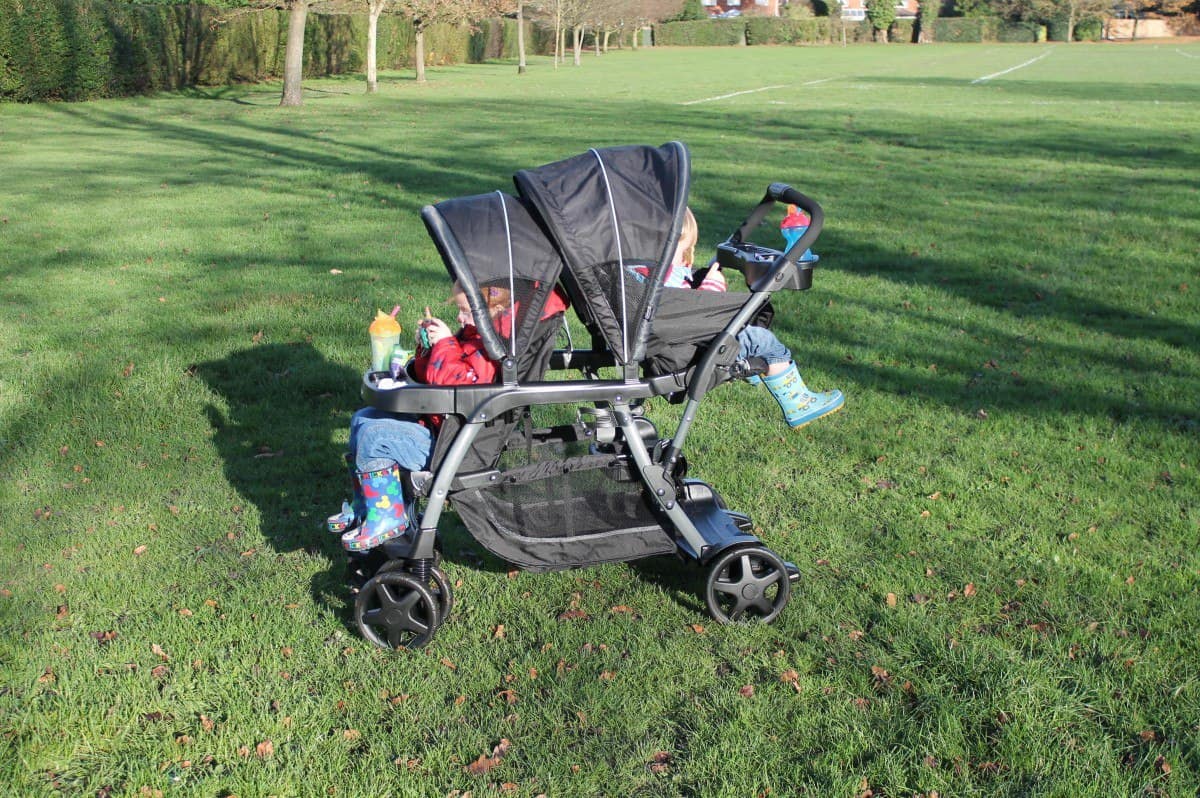 The rear seat is smaller than the main seat and has a lower weight limit than the front seat but Little Man was just small enough to still be able to use it showing the great age range of this pushchair.
When using both seats though I did find the pushchair felt much heavier than when LP was using the standing platform or bench seat. Both seats have the choice of three or five point harnesses and the front seat even comes with a tray for snacks, drinks or toys – a feature that I love.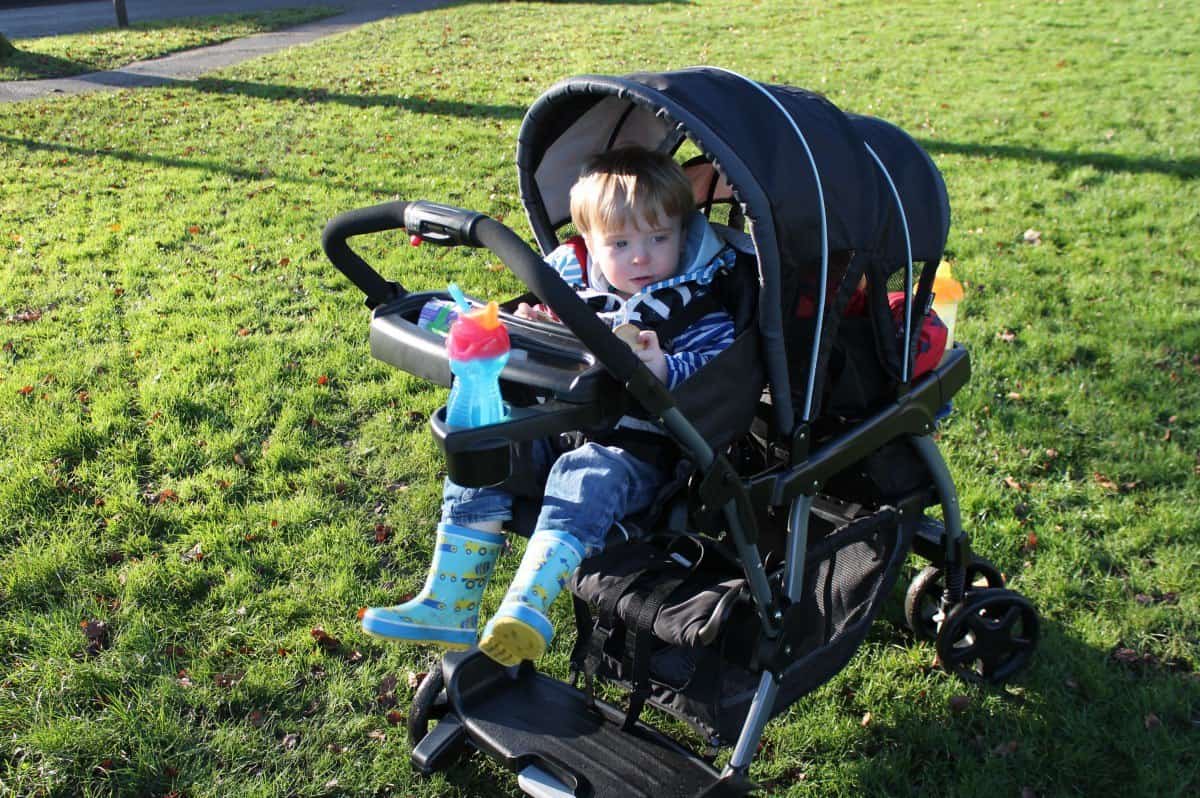 How do the Graco Ready to Grow Double Stroller positions work?
LP hasn't sat in a pushchair for over 6 months so I preferred having the standing or bench seat options for her although she loved sitting in the seat. I did find that LP, being a small three year old, looked and felt quite big for the front seat and it would be better suited to a younger child with the children then progressing to the standing platform when old enough.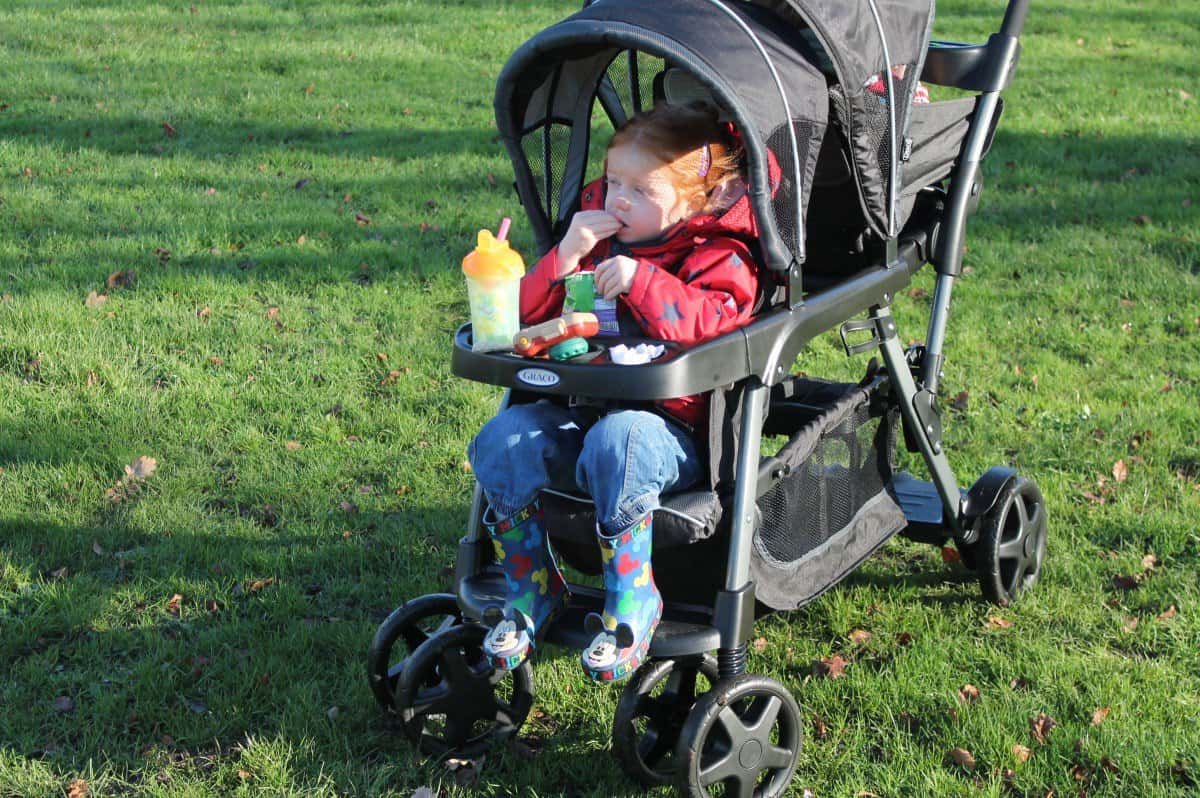 The standing platform is a great size and having it built into the pushchair means that you aren't forever attaching it and taking it off. The standing platform also has two feet built into it that allow the pushchair to stand upright when folded – a great bonus and a feature I loved on the Graco Sky.
The one slight niggle with the standing platform is that I did kick it as I walked every so often and I'm not very tall, I think taller people would kick it more often.
The bench seat is a huge positive of this pushchair. LP had taken to sitting on her previous buggy board on the way to and from nursery as her legs got tired easily so this bench seat gives her the option of standing or sitting and it's a lot more safe than sitting on a buggy board. The bench seat is well padded and has a 3 point harness for added safety.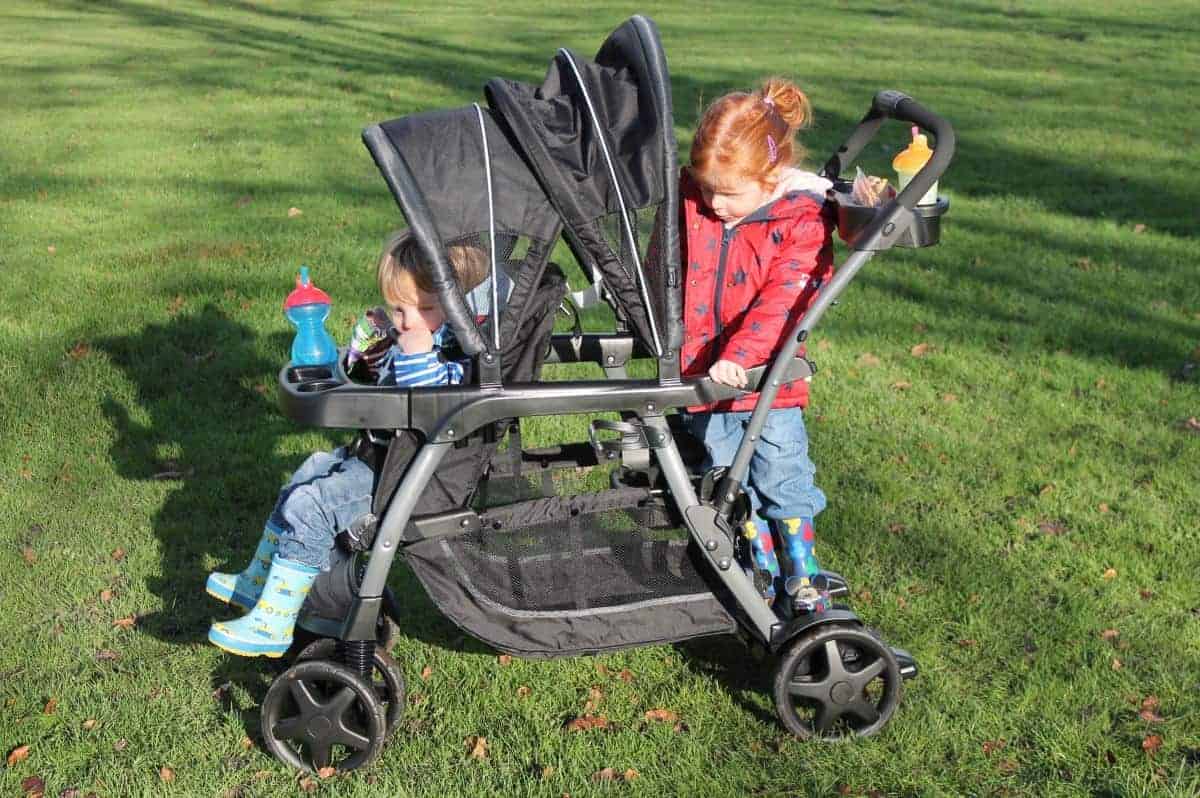 LP loves sitting on this seat and the only thing I thought she might not like was being pushed along facing backwards but she didn't mind at all. She hasn't been parent facing in a pushchair since before Little Man was born so it was nice to be able to see her and talk to her about her day at school. It was also easy for her to have snacks or a drink whilst sitting down.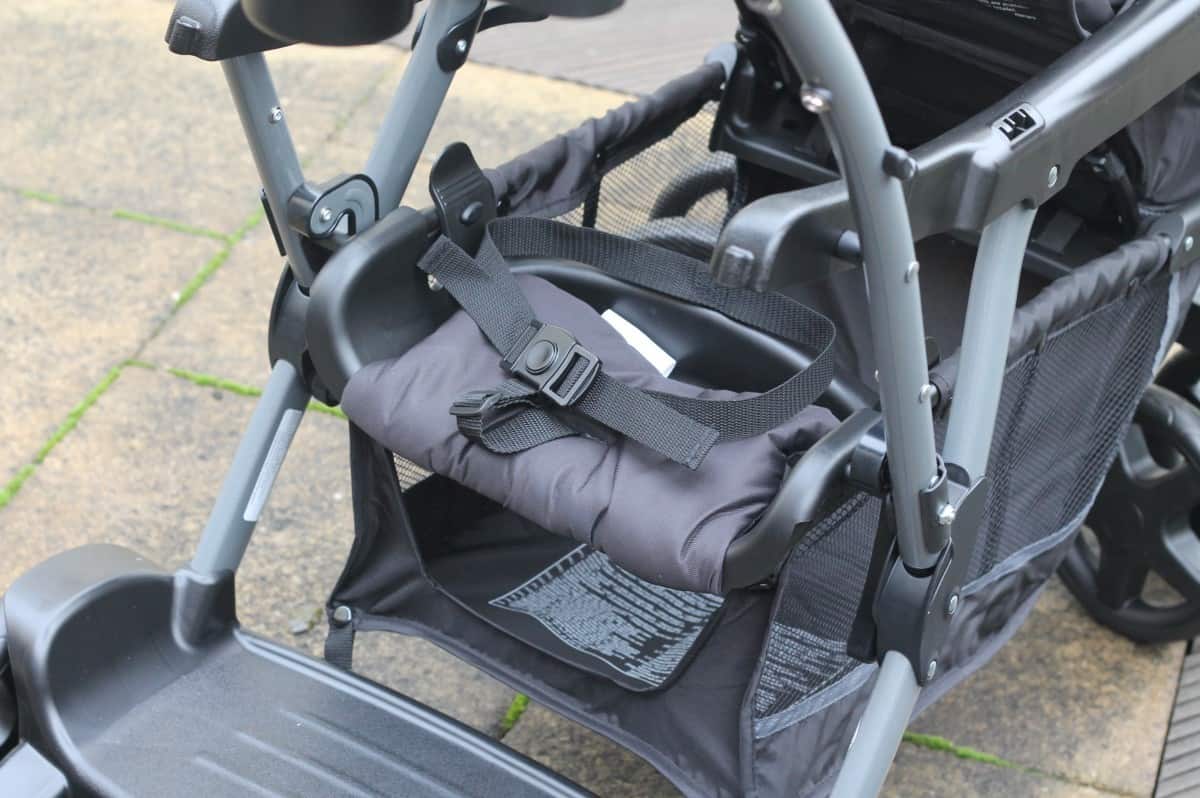 The Graco Ready to Grow stroller has a lot of great features – the parent tray with drinks holder and storage compartments is great for putting bits and bobs when out and about.
The Graco Ready2Grow double pushchair storage basket is HUGE, the shopping basket is so much bigger than any other pushchair I've used and it folds quite flat for a tandem stroller although it is quite long when folded so the child tray may need to be taken off to get it in the boot of most cars. The one handed fold is also fantastic and something I have become used to with Graco strollers.
Are there any negatives with the Graco Ready2Grow Pushchair?
There are a few niggles with the Graco Ready 2 Grow twin pushchair though. As expected with any pushchair holding two little ones it is very heavy to steer and needs both hands to keep it going in a straight line.
It's really not as lightweight as other double pushchairs we have tried in the past. If you're looking for lightweight strollers then this would probably not be the right option for you. The hoods are also a bit strange.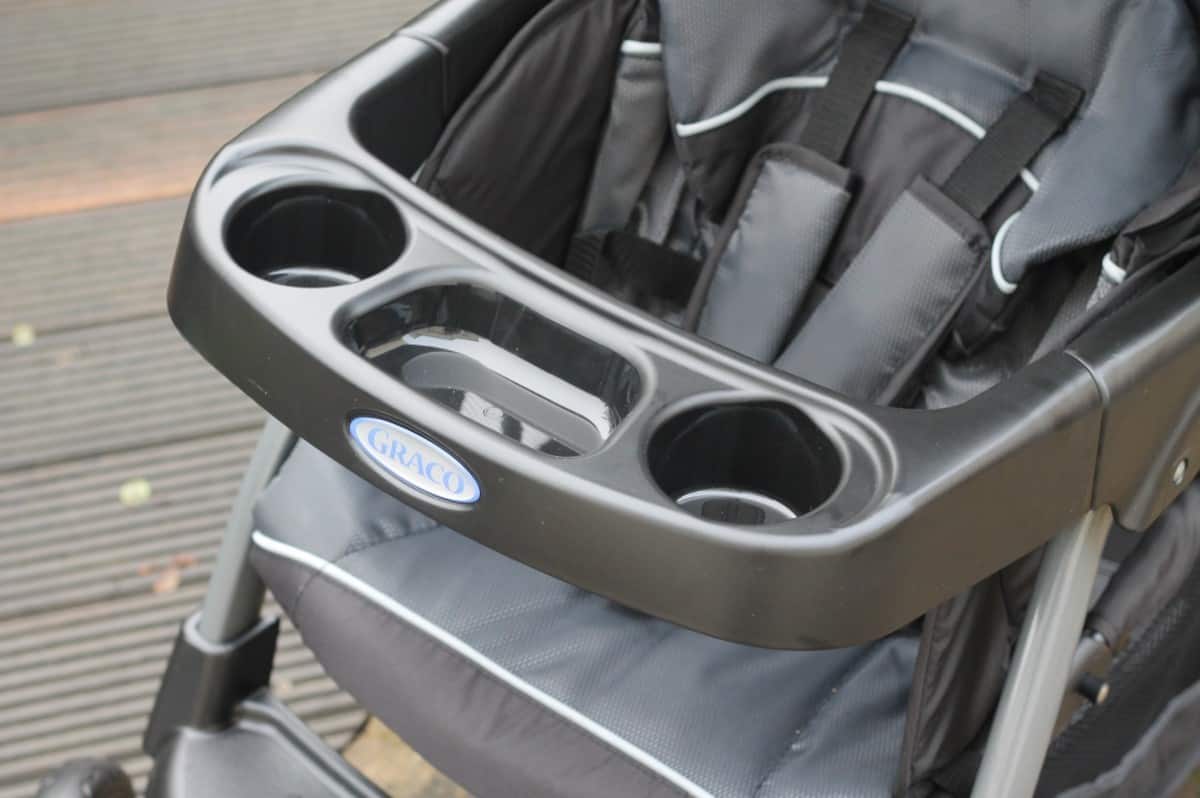 Each seat has a hood but they aren't very deep – only 2-3 sections on each one. The hoods work well when both are on the pushchair but they can't be pulled down lower to give good coverage from the elements.
Also, the rear hood gets in the way when LP is standing on the standing platform but if you take the hood off then the remaining front hood looks daft on it's own as Little Man is completely exposed from both front and back.
I still have no idea how I'm meant to use the hoods but my preference is to have them both attached and LP to use the bench seat, that way the hoods work fine although shade is limited. One positive of the hoods though is that they do have additional pull down sun shades that keep out a little bit of extra sun.
It is also hard to get the Graco Ready2Grow twin stroller up and down kerbs and I have to put my foot on the standing board to give leverage – but I think this is to be expected with any double length stroller. It also has a large turning circle because of the length which makes it just a bit harder to go around corners.
One big issue for me is that this pushchair could suit baby twins from birth in car seats, as it's car seat compatible, but when they outgrow the car seats the pushchair seats are better suited to different age children.
None of the 12 ways of using the pushchair show two children of the same age using it past the car seat stage and for that reason I think it is better suited to families with children of different ages.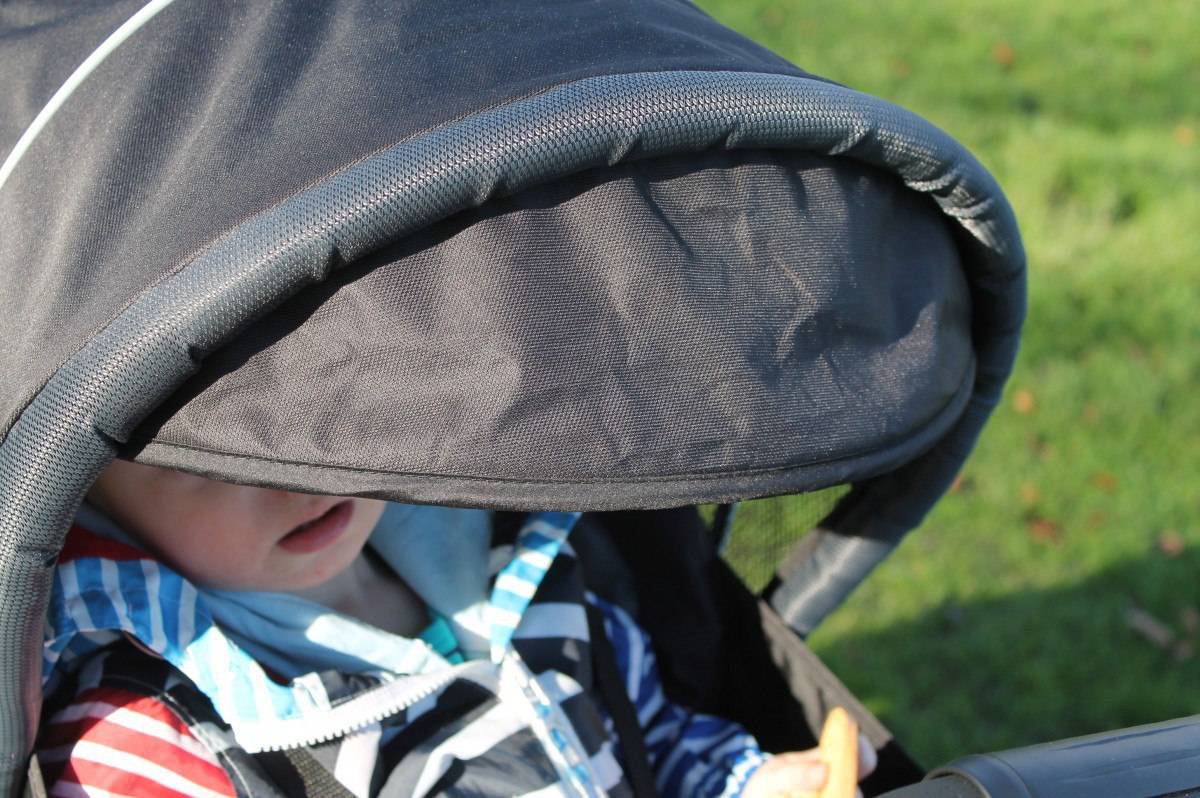 Would we recommend the Graco Ready2Grow Pushchair?
So, would I recommend these travel systems to other parents? The Graco Ready 2 Grow stroller is so different to any other Graco twin double stroller.
I think the Ready2Grow has a lot of great features and the option of a standing board or bench seat as well as a standard pushchair seat make it an incredibly versatile product. I think that if you are expecting your second child and funds are limited then the Graco Ready2Grow would be a good investment when you have two kids. It has a lot of options that other strollers don't have and for the price I do think it is good value.
The Graco Ready2Grow has an RRP of £299.99 and it's also known as the Graco Sit and Stand Stroller.