Disclosure: We were sent the featured products for the purpose of this post however all opinions are my own.
This post contains affiliate links and I may receive commission if you visit a link and buy something. Purchasing via an affiliate link doesn't cost you any extra, and I only recommend products and services I trust.
I love reviewing Graco pushchairs and love the Graco brand – our first pushchair was a Graco one and I absolutely loved the Graco Sky Travel System – it's one that I will always recommend to people expecting their first child. With this love of Graco I was excited when they launched the Graco Evo XT and I have finally had a chance to review it.
What were our first impressions of the Graco Evo XT Pushchair?
The Graco Evo XT arrived all in one box and was easy to put together, literally just clipping the axle, wheels and basket into place. The pushchair was up and ready to be used within no more than fifteen minutes and I was impressed with how sturdy it was and generally how great it looked. The Graco Evo XT is a really solid option for anyone with an outdoors lifestyle – It comes complete with front and rear mudguards, large puncture resistant wheels with rubber tyres and a multi terrain tread to handle rough ground, refined suspension on all the wheels and even a mosquito net and luxury footmuff. The package is fantastic.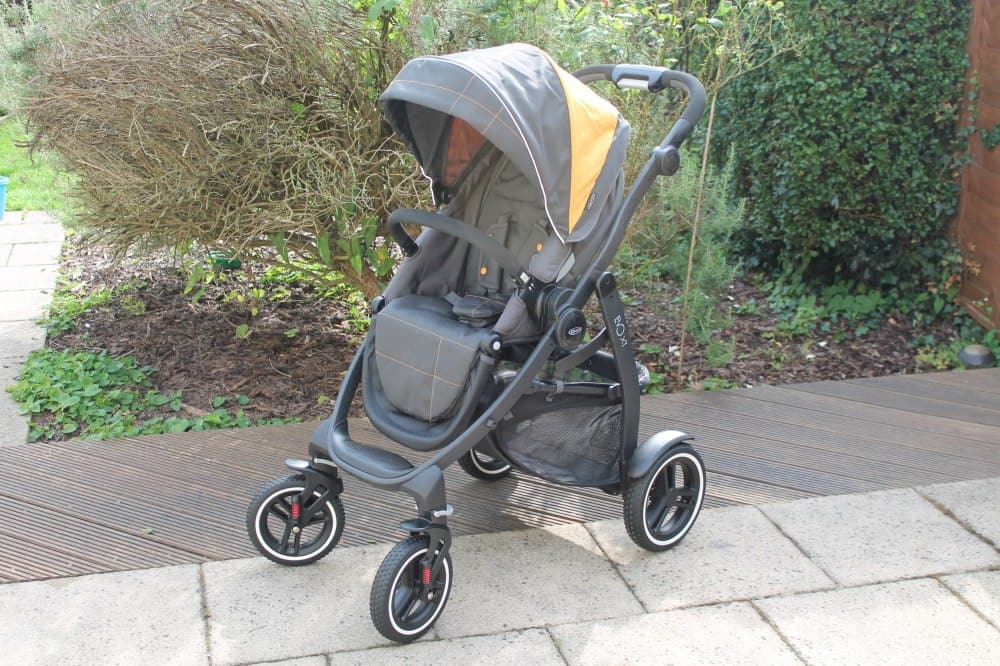 What's the shopping basket like on the Graco Evo XT Pushchair?
The first things I noticed about the Graco Evo XT were the huge basket – I'd been impressed with the size of the Graco Sky, Graco Evo and Graco Evo Mini baskets but the Evo XT has the biggest basket I have ever seen on a pushchair. This is a great selling point as it doesn't detract from how good the Evo XT looks and uses all the room available.
The Graco Evo XT also has a multi position handle which is a great feature. I find a lower handle better but Dave prefers the handle to be higher as he is taller than me. The only slight issue is that when the handle is in lower positions it makes it hard to maneuver the pushchair up and down kerbs as the leverage isn't quite right.
How does the Graco Evo XT Pushchair fold?
The Graco Evo XT folds really nicely with a smooth one handed fold. It collapses with the seat attached in forward facing position but needs the handle in the upright position to fold fully. When folded it is fairly compact although still bulky, as is the same with most pushchairs of this style.
Little Man loves being in the Graco Evo XT. The footmuff is really soft and comfortable but the normal pushchair seat on the Evo XT is well padded anyway, making for a very snug environment. The footmuff folds over and closes using a toggle and velcro which is a great design although Little Man has worked out how to get his feet out of the footmuff so a standard design could be better where they are zipped in and completely secure and safe from the elements.
What's the Graco Evo XT Pushchair rain cover like?
The rain cover is huge and covers the Evo XT really well. It's simple to put on and stores easily in the shopping basket, leaving plenty of room for other things. It also has really useful air vents in the sides and the size of the rain cover makes it harder for Little Man to kick off which is a definite tick in the box for us.
The Graco Evo XT also comes with a padded bumper bar which is great for Little Man to hold onto. Unfortunately though it is covered in foam and Little Man chose to bite a hole in it and then pull it off with his fingers on the first day we used it. This is definitely a design issue and I wouldn't choose a pushchair with a foam bumper bar in future although Graco did replace the bumper bar the following day which was fantastic customer service.
What modes are available with the Graco Evo XT Pushchair?
The Graco Evo XT quad travel system can be used both forward facing and parent facing and can be turned into a travel system with the help of the Graco Evo XT carrycot and Graco Snugsafe car seat (sold separately).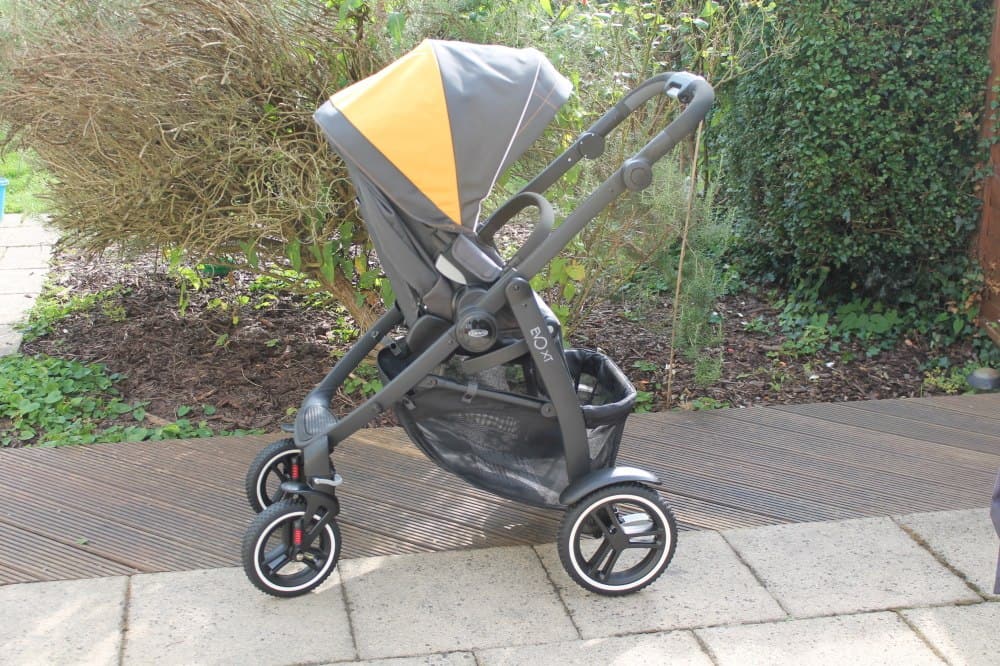 What age is the Graco Evo XT Pushchair suitable for?
The pushchair is suitable from newborn as it reclines fully and the multi position recline means it has a seating position to suit any age and need. Little Man sleeps well in the pushchair fully reclined and the extendable sun hood stops most light coming in so he is safe from the sun at all times and less likely to get disturbed when sleeping.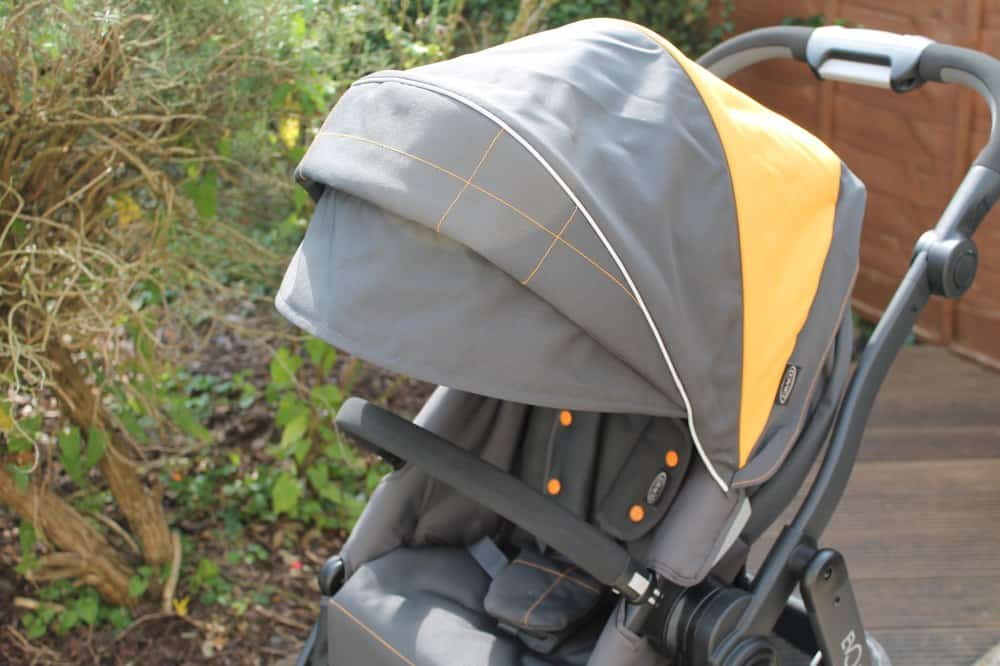 What were our overall thoughts of the Graco Evo XT Pushchair?
Having used the Graco Evo XT for a while now I have to be honest and say that it really isn't the pushchair for us. It's great to push out and about over grass or rough terrain, and it's great when all you have to do is push the pushchair with both hands however, we use our pushchair daily for the school run and more often than not I am holding onto LP's hand at the same time as pushing the pushchair. I am used to pushing pushchairs with one hand and choose pushchairs with one solid handle for this reason but the Graco Evo XT is very heavy to push and keeping it moving in a straight line with one hand is impossible, it's just too heavy to steer one handed.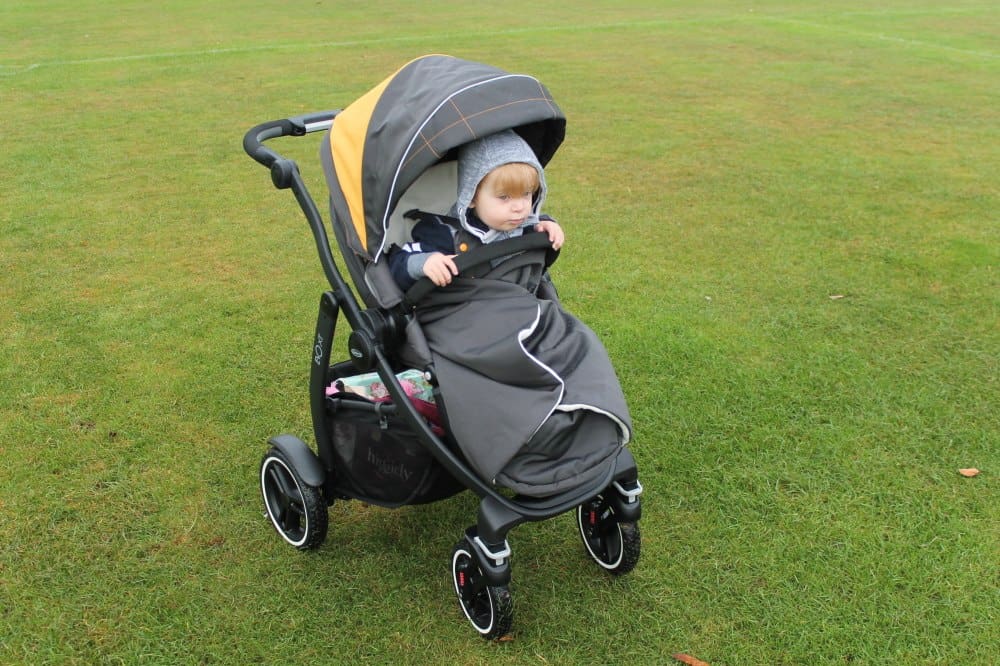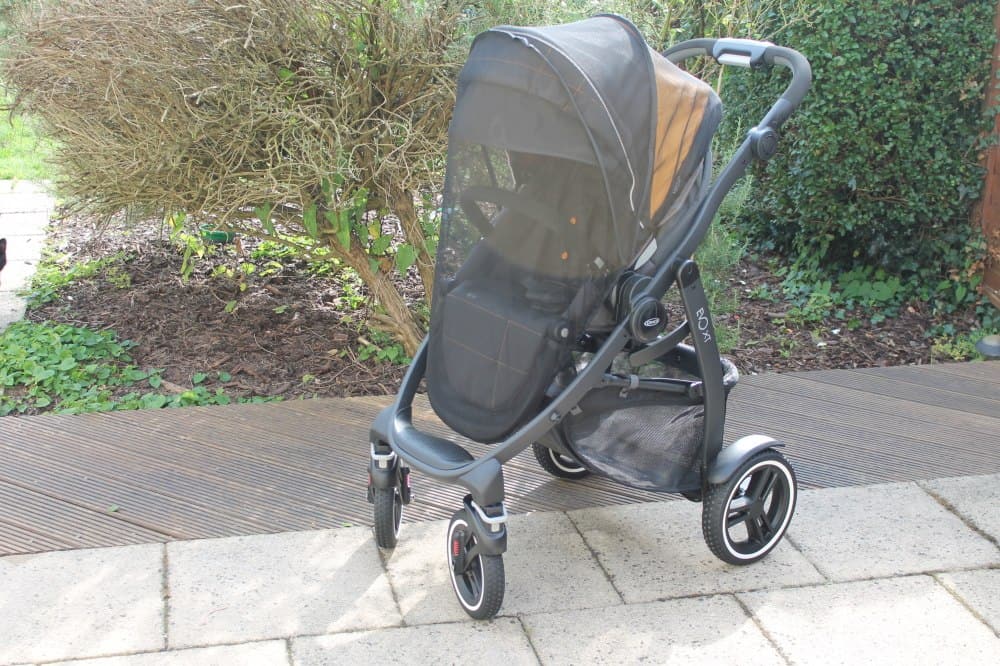 If you have a mainly country, off road lifestyle and don't often need to push a pushchair with one hand and don't have to go up and down kerbs very much then this would be a great option for you – the wheels and suspension are fantastic as well as the comfortable seat, extendable canopy, mosquito net and vast shopping basket. But for a mainly urban lifestyle there are alternative pushchairs that would be a better choice.
The Graco Evo XT has an RRP of £379.99