When we went back to Weymouth this summer, Abbotsbury Swannery was top of our list of places to visit, alongside its sister site, Abbotsbury Subtropical Gardens. We ended up visiting both attractions in one day, with the swannery in the morning and the gardens after lunch.
When you visit the Abbotsbury attractions you get 25% off when booking tickets to both through the Abbotsbury Tourism website. However, we used our Tesco Clubcard vouchers, making it feel like a real bargain day out!
What is Abbotsbury Swannery?
Abbotsbury Swannery is the home to the world's only colony of nesting mute swans. It covers 25 acres and was originally created by monks who had a monastery on the site. Now, it's one of the most popular attractions in Dorset and is often used in filming – it even featured briefly in Harry Potter!
What can you do at Abbotsbury Swannery?
When we arrived at Abbotsbury Swannery we had no idea what to expect. We've never been to a swannery before! But we were pointed in the direction of a main path and off we went. The landscape was beautiful!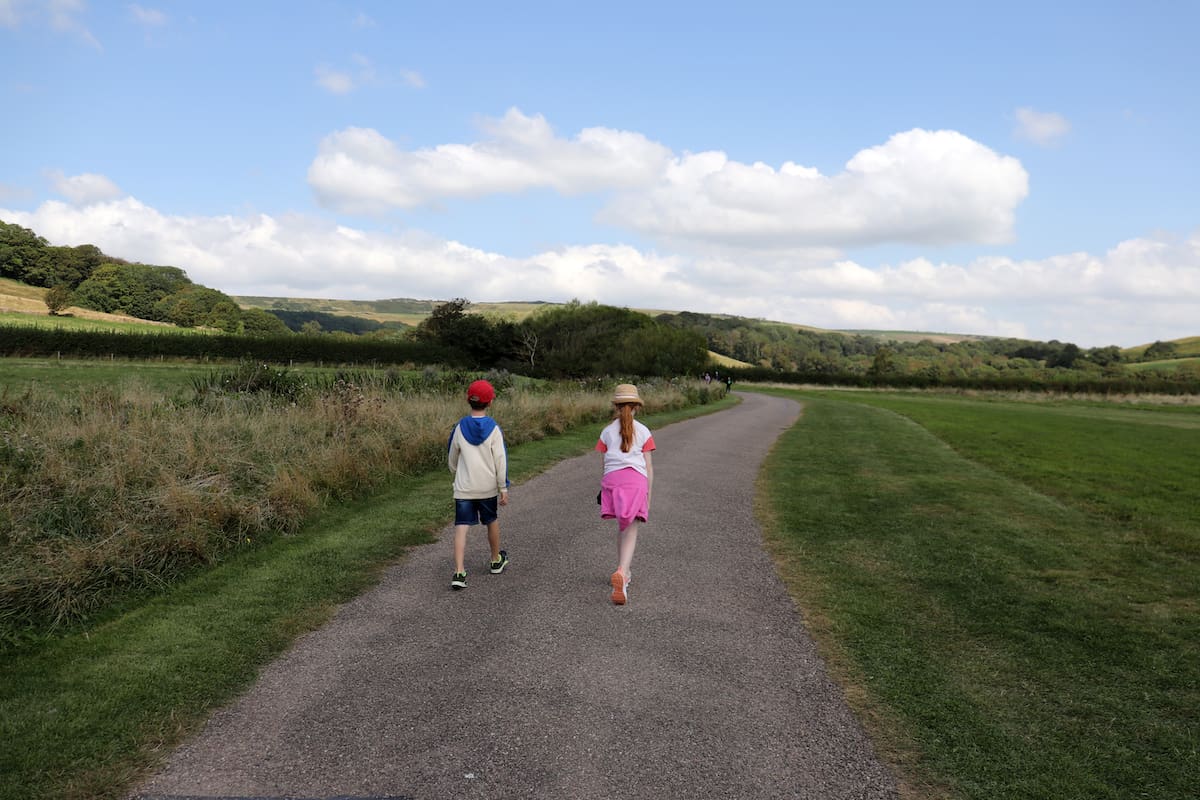 The children were so excited when the first thing we came to were pedal go karts. They immediately jumped on and did laps of the track before we headed on our way. This wasn't something we had expected so it was a lovely surprise.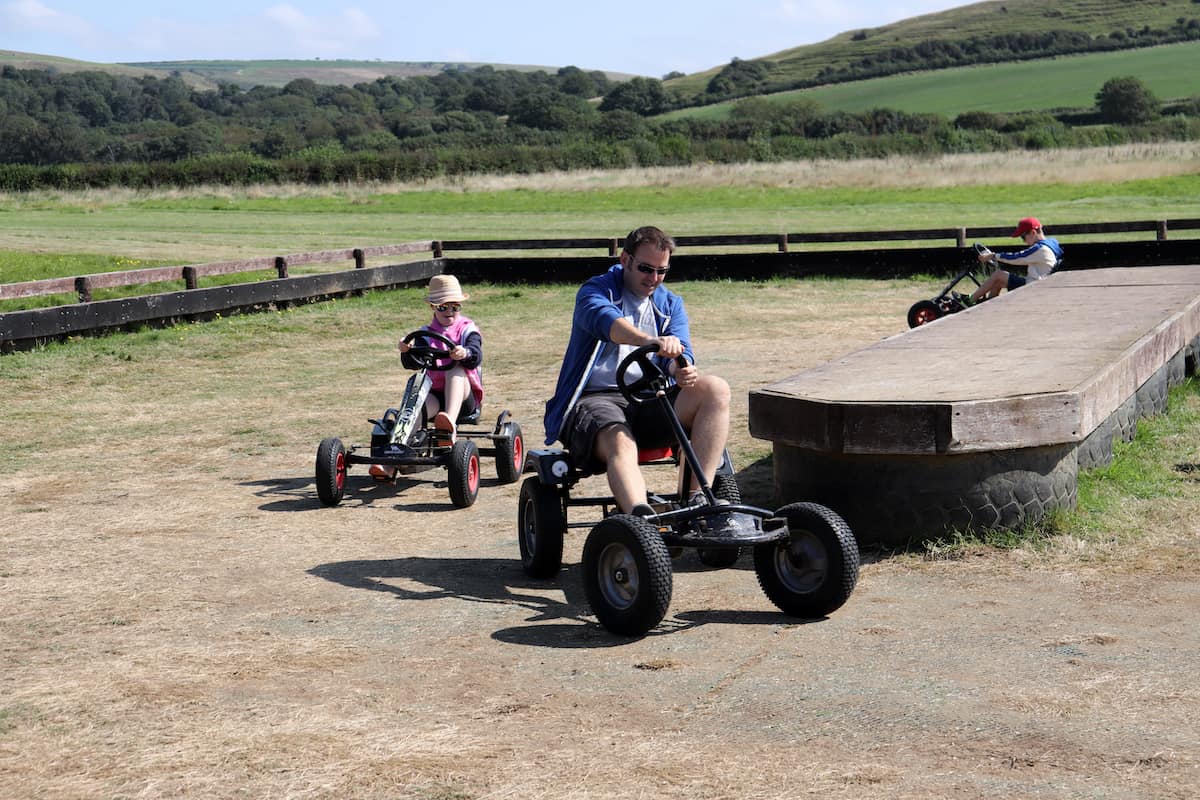 Next, we came to the Abbotsbury Swannery maze. This is in the shape of a swan and the children loved working their way through it. At the start is a nice clearing where you can relax, have a picnic and even play on a huge xylophone or have a photo in the stocks!
After that we were in the heart of the swannery. There are information boards with so much to learn as well as buildings to explore. But, the main highlight are the swans.
Abbotsbury Swannery is a sanctuary – not a zoo. All the swans are free and can come and go as they please. They're all banded, with one colour for swans born at Abbotsbury Swannery and another for swans who have come from elsewhere. It's so interesting seeing the mix that must have seen so many places in their lifetime.
Because the swans are free, they are everywhere. They'll wander across your path, sit happily in the water or wade through the mud. It was amazing to watch them. Plus, I have only ever seen swans in pairs in local parks. Sometimes with a group of babies with them. They have always seemed so on edge and have always made me quite nervous. But, Abbotsbury Swannery was a completely different experience.
The swans are all so calm and relaxed. It's such a tranquil place to spend time and seeing so many swans – and geese – in one place was eye opening. We had a fair few wow moments. I can only liken it to seeing a herd of something running across the African plains on safari. Seeing so many creatures that close to their natural habitat. It was incredible.
Can you feed the swans?
Twice a day Abbotsbury Swannery have mass feeding sessions where you can go right up to the water's edge and feed the swans under supervision of the staff. This is really relaxed and informal. LP went in with Dave and she happily scooped the feed out of the bucket and threw it wide across the water. She absolutely loved this and I'm sure Little Man will give it a try next time.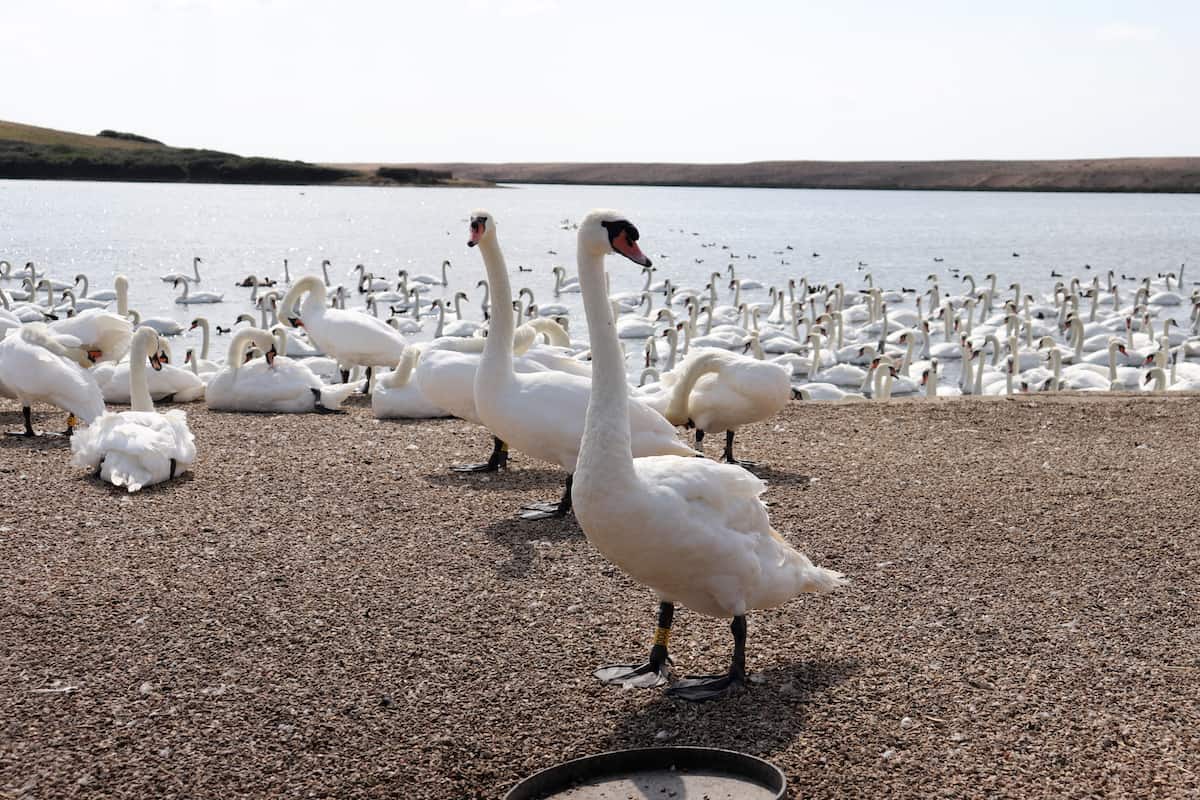 We had such a nice time at the Abbotsbury Swannery. We spent a good few hours there and you could easily make it into a full day trip if you took a more leisurely pace, read every sign and spent longer on the maze and pedal karts.
Is there a cafe at the swannery?
Next to the entrance there is the Swannery Cafe. It's open to everyone, not just visitors to Abbotsbury Swannery. It has a little playground that was sadly closed when we visited as well as toilets and a fantastic selection of cakes, drinks and lunch and snack options. We stopped for tea and cake, and to eat our picnic, before heading to Abbotsbury Gardens and it was so nice and shady, a lovely pitstop.
You can find out more about Abbotsbury Swannery and check opening times over on their website. For reference, their address is: Abbotsbury Swannery, New Barn Road, Abbotsbury, nr Weymouth, Dorset, DT3 4JG.
You can see our video at Abbotsbury Swannery over on Instagram here: