Disclosure: We were sent the featured products for the purpose of this post however all opinions are my own.
This post contains affiliate links and I may receive commission if you visit a link and buy something. Purchasing via an affiliate link doesn't cost you any extra, and I only recommend products and services I trust.
We haven't used double strollers in quite a while now, since we started using a buggy board. But there are times when LP can't walk very far, where she tires easily and where I end up pushing Little Man in the pushchair whilst giving LP a piggy back. When Joie got in contact to introduce us to their Joie Aire Twin Stroller I thought it would be a solution on our tiring days out.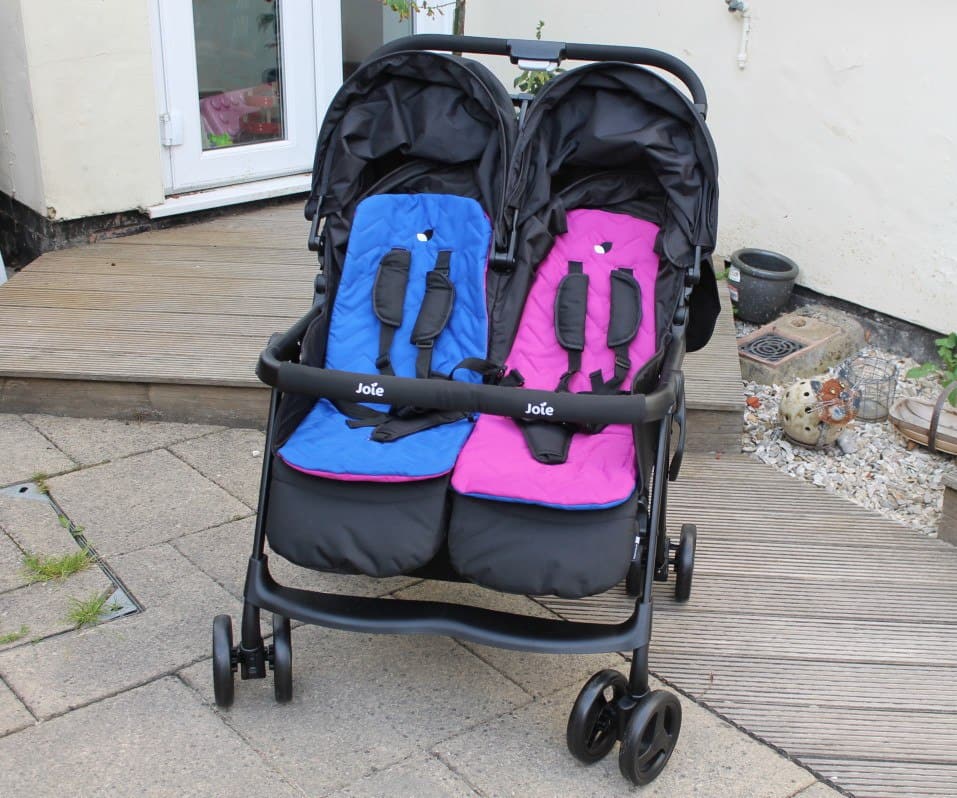 What were our first impressions of the Joie Aire Twin Double Stroller?
The Joie Aire Twin comes near enough ready to use – you just have to fit the wheels and storage basket in place. From the minute the wheels were on I was impressed with how easy it was to move. It has the smallest turning circle I have ever seen on a side by side pushchair. The wheels are swivel wheels but can also be fixed in place to suit however you use the twin buggy.
What features does the Joie Aire Twin Double Stroller have?
I was impressed with the Joie double pram immediately and loved all the features on it. It's got a one handed fold and it stayed upright once folded. The one hand fold is a complete revelation and amazing when dealing with young children. It has a HUGE shopping basket and the windows in the hoods were tinted to stop the glare from the sun.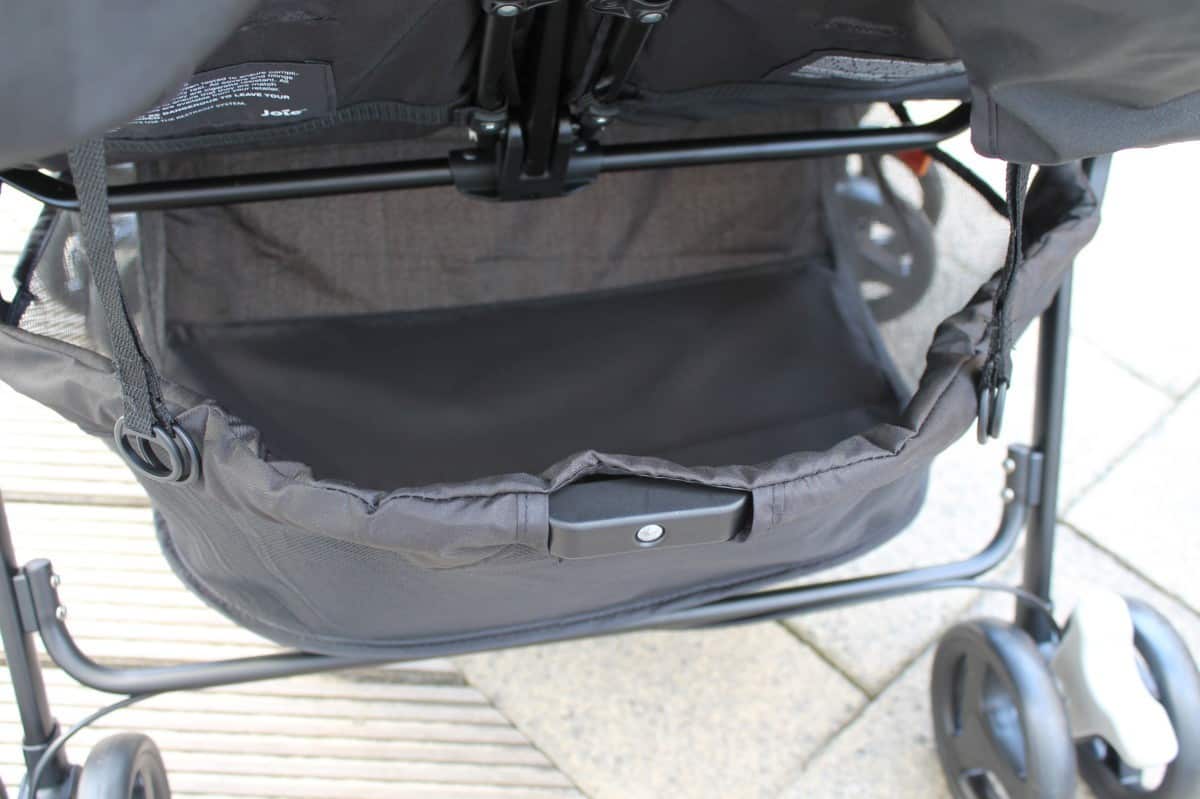 I also loved the way the back cover of the pushchair could be fastened out of the way so you can keep an eye on the children if they were sleeping. Plus, the seat units were easy to recline and move back into a sitting position, giving a lot of options to make sure the kids have a comfortable ride.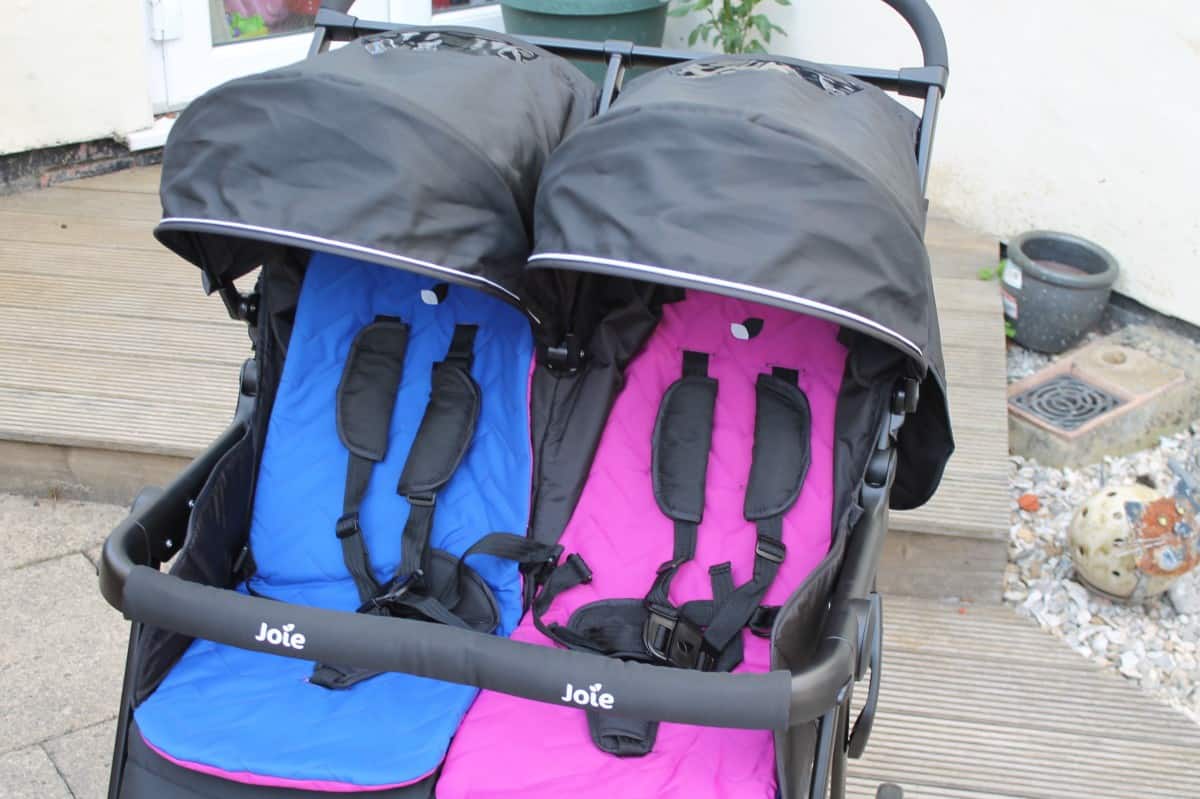 This Joie double buggy has independently reclining seats too so you can have the children in different positions yet still side by side in the double pushchair. Having both seats recline independently is fantastic and one more thing that we love about this pushchair!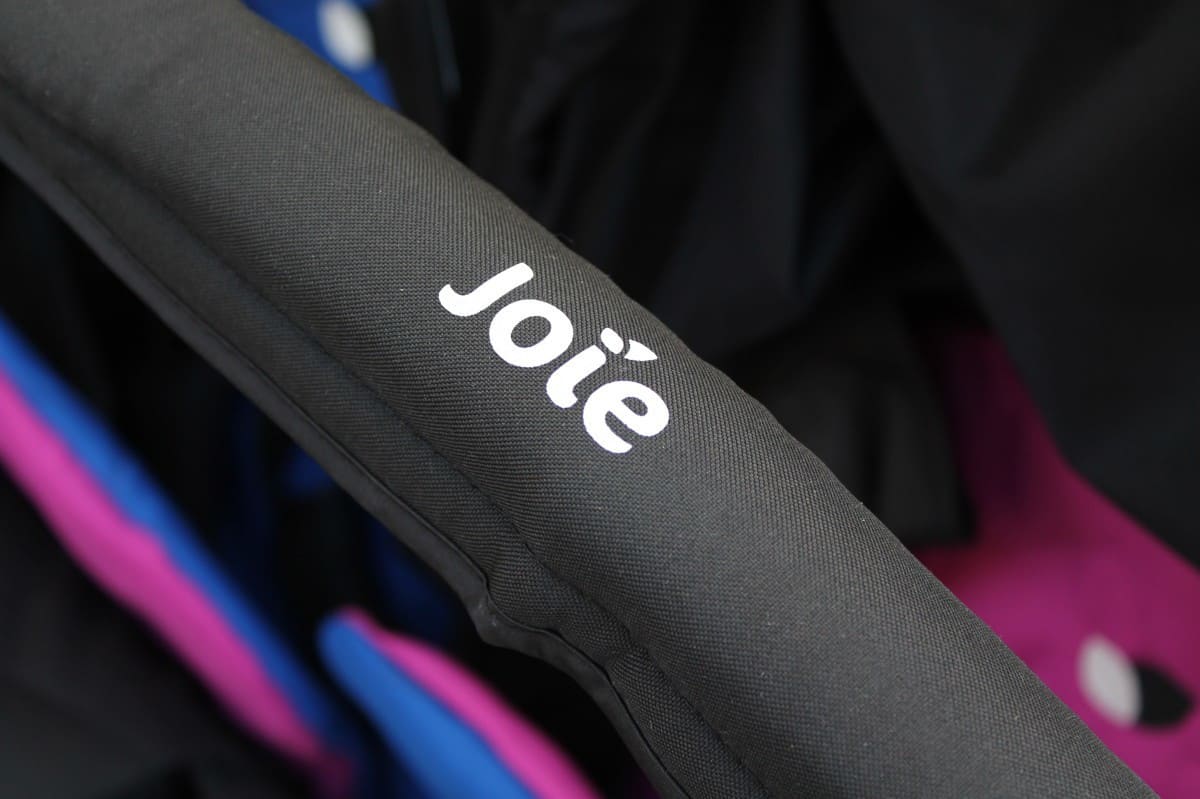 The Joie Aire Twin comes complete with reversible seat liners, blue on one side and pink on the other. The Joie Aire Twin Stroller blue pink seats won't be to everyone's taste. But LP loves having a pink seat and Little Man loves having a blue seat too. I gave them the option of having the other colour but they chose the seats themselves. It definitely makes a great change to a plain black stroller.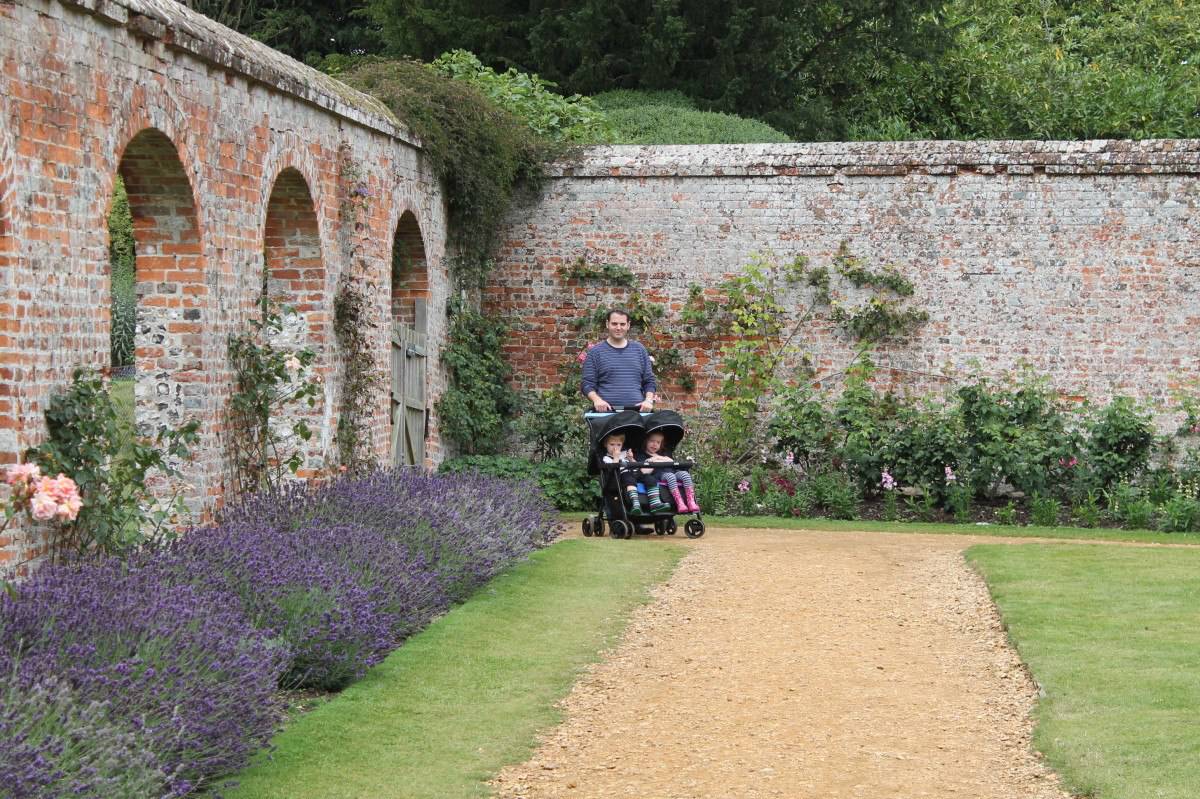 The children love the new pushchair. They're comfortable in the Joie twin stroller seats and even with LP being nearly four – although petite – she fits well into the seat with a lot of room and can put her feet comfortably on the foot rest. The seats also have a leg rest that can be up or down.
The safety harness is a 5 point harness system with three heights. This works well and is really easy to adjust. My only criticism is that the padded bits on the adjustable harness come off far too easily. The pushchair doesn't come with a footmuff but it is cosy toes compatible and you could use pretty much any premium footmuff with it.
How does the twin pushchair compare to other pushchairs?
Joie Aire Twin Strollers aren't travel systems – you can't attach car seats to it for little ones. But it's just the double buggy we need for our family on a day to day basis with two children. This would be a fantastic cheap double buggy for twins or for children of different ages.
It can't compare to a mountain buggy or any other off road pushchair. It wouldn't be the best choice in baby strollers – check out this article if that's what you were looking for. But, for two children who can sit unaided it's a really great option for a tandem pushchair.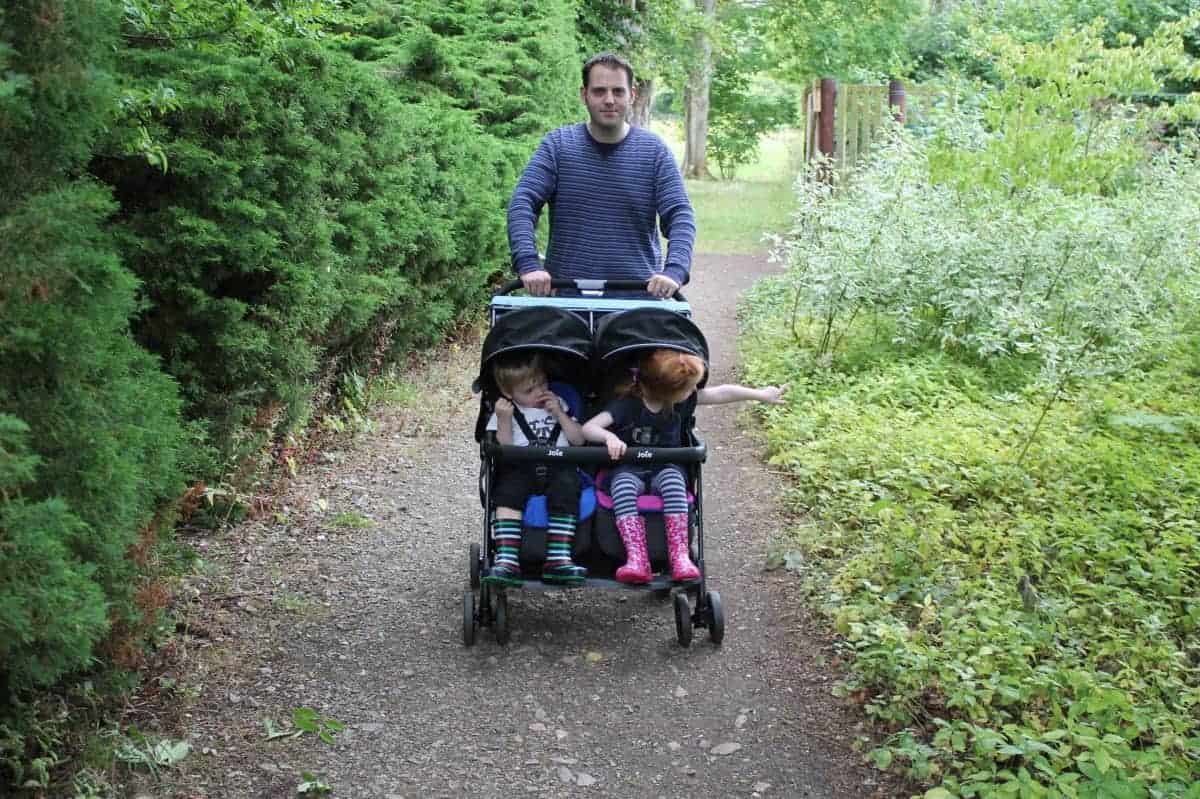 Overall what did we think of the Joie Aire Twin Double Stroller?
I have loved using this pushchair and know that it will feature on our days out until the children no longer fit in it. That won't be for a while yet. It comes with a rain cover, the hoods give great coverage and it's suitable from newborn. They are also really lightweight double buggies and not at all flimsy.
If I could change one thing about this pushchair it would be to make it slightly narrower. It doesn't fit through my front or back door at home but the product definitely ticks every other box.
The Joie Aire Twin has an RRP of £170.00