Disclosure: We were invited for this meal for the purpose of this post however all opinions are my own.
We love finding new places to take the children out for a meal so when we were invited to The Fox and Goat in Tiddington, Oxfordshire for Sunday lunch we couldn't wait to see what it had to offer.
What were our first impressions of The Fox and Goat, Tiddington?
Situated just outside of Oxford and easily accessible from the M40, The Fox and Goat is the perfect place to drive to. It has ample parking and would make a lovely meeting place for a meal with family and friends or a great stop off point on a long journey.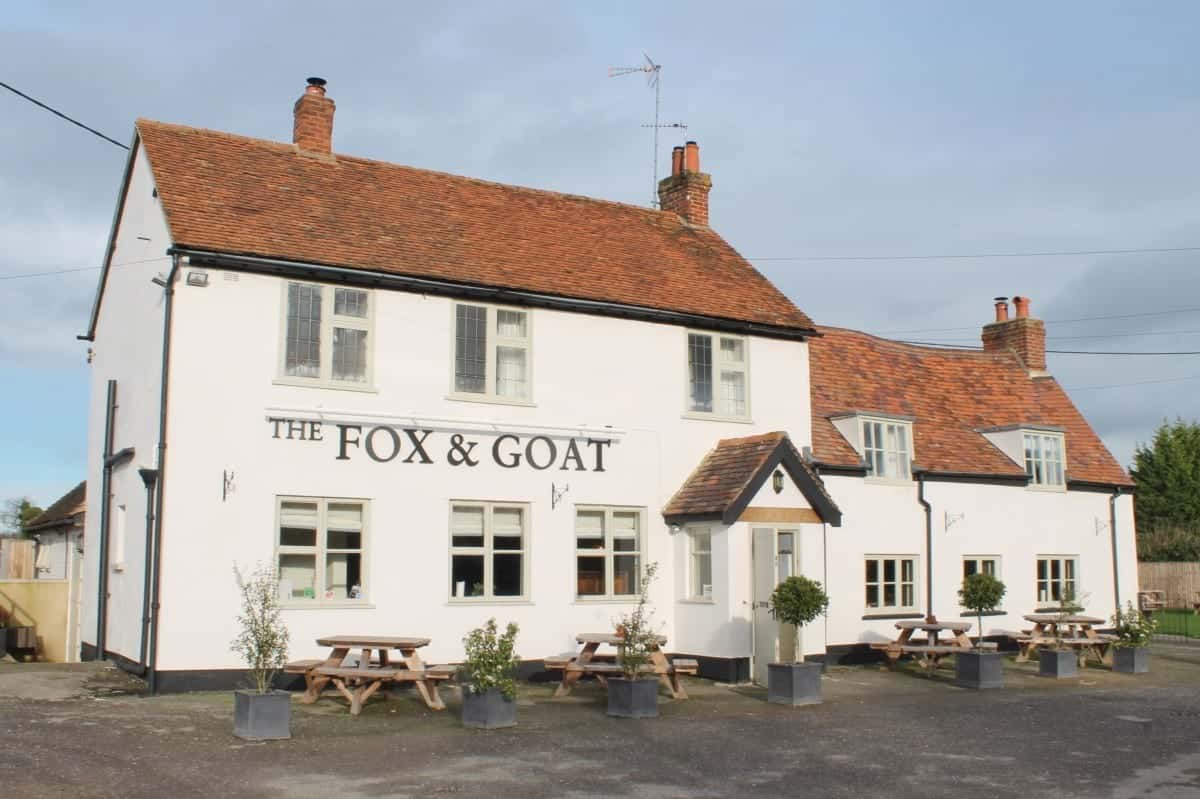 As soon as we parked up at The Fox and Goat we loved it. It's a classic British pub with so much character and a lovely bright and airy feel. It has obviously been refurbished quite recently but it has been done really tastefully, keeping so many classic features. Wherever we looked there were things to look at like the big iron stove, the wooden beams and fairy lights adding a warm ambience.
I was expecting the restaurant areas to be quite dark from previous experience of older pub buildings but it was lovely, bright and airy and had a really welcoming feel. We were sat in a corner with a great view of the rest of the restaurant and although we were there for two hours The Fox and Goat remained busy throughout – this is clearly a popular place to go on a Sunday lunchtime.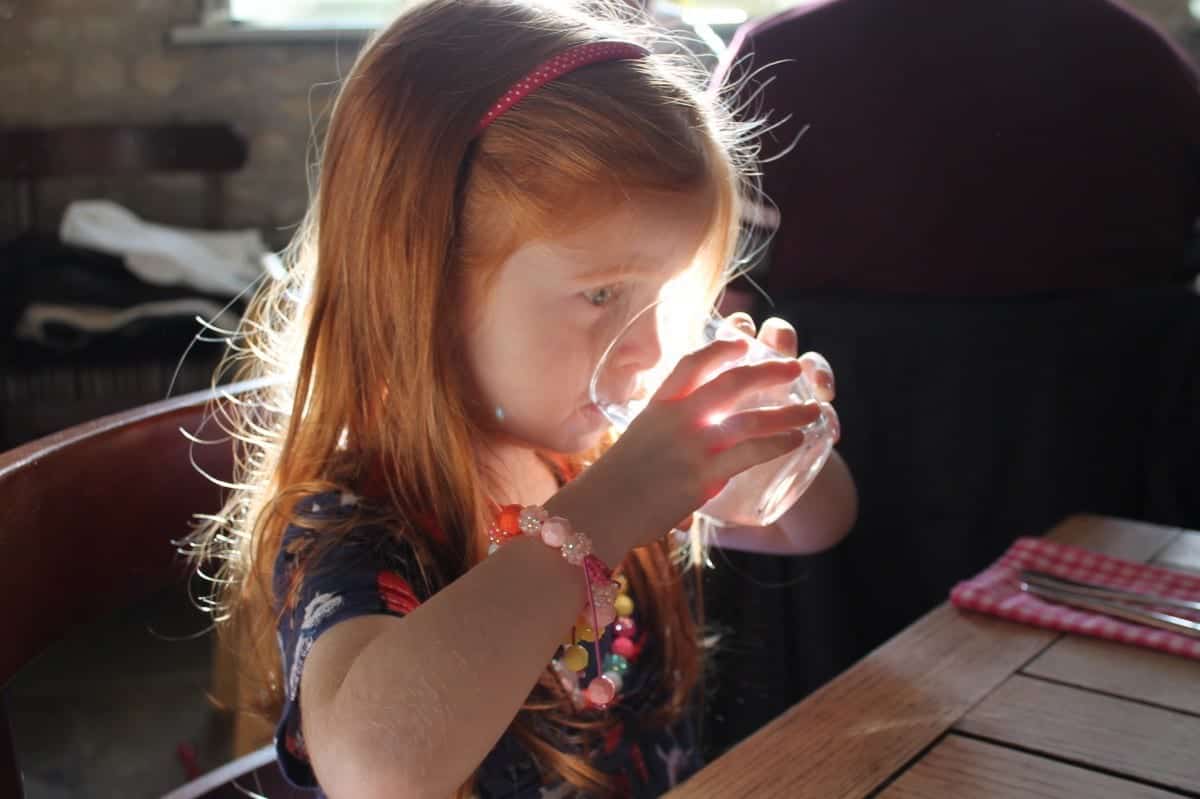 Is The Fox and Goat, Tiddington family friendly?
We were offered highchairs for the children and given colouring pencils and paper as well as children's cutlery. Although we were given the children's menu we were also told that they were happy to provide a smaller version of any adult main too if that was more suitable and really I felt that The Fox and Goat would do as much as they could to accommodate children.
We were given a bottle of table water and our drinks order was taken whilst Dave and I were deciding what to have from on the main menu. There was so much choice and everything was nicely seasonal – it would be great to go back in the summer to see how the menu changes through the year.
Dave went for the Ham and Cheese Potato Skins for starters. This is his kind of food and something a bit different to typical starters. He really enjoyed the combination of flavours and the portion size was perfect. I went for the Pate with Toasted Brioche and Salad and again the portion size was just right. I always go for pate if it's on a menu and this was really nice – especially the chutney served with it. A wonderful combination of flavours.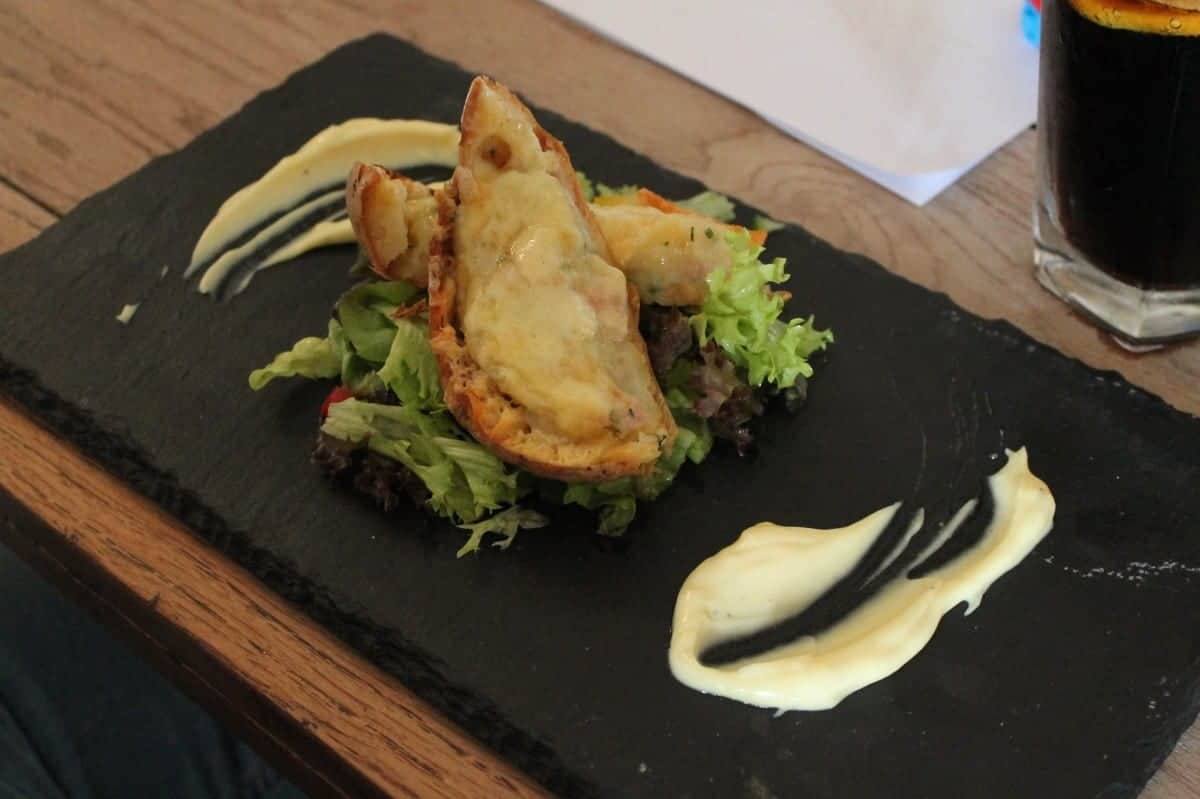 What is the children's menu like at The Fox and Goat, Tiddington?
The children's menu had a really good selection of children's classics and Little Man chose the Cheese and Tomato Pasta which he loved. He doesn't often have tagliatelle at home so it was a novelty for him. The sauce was clearly homemade and he loved it.
LP chose a smaller portion of the adult Roast Turkey and it was a really good portion size for her. The turkey came served with roast potatoes, carrots, cauliflower, broccoli and lots of gravy and vegetable puree. This is LP's favourite dinner and she really enjoyed it.
For his main Dave went for the Hunters Chicken with bacon, cheddar cheese, barbecue sauce, fries and salad. This again was really nice. The flavours worked well together and the fries were really generously portioned – meaning the children could share them too!
I went for the F&G Burger that contained onion chutney and mature cheddar and was served with gherkins and fries. I love a good burger and this is, without a doubt, one of the best burgers I have had in a very long time. The addition of onion chutney made it for me – what a lovely meal! Such great flavours and definitely a dish I would have again.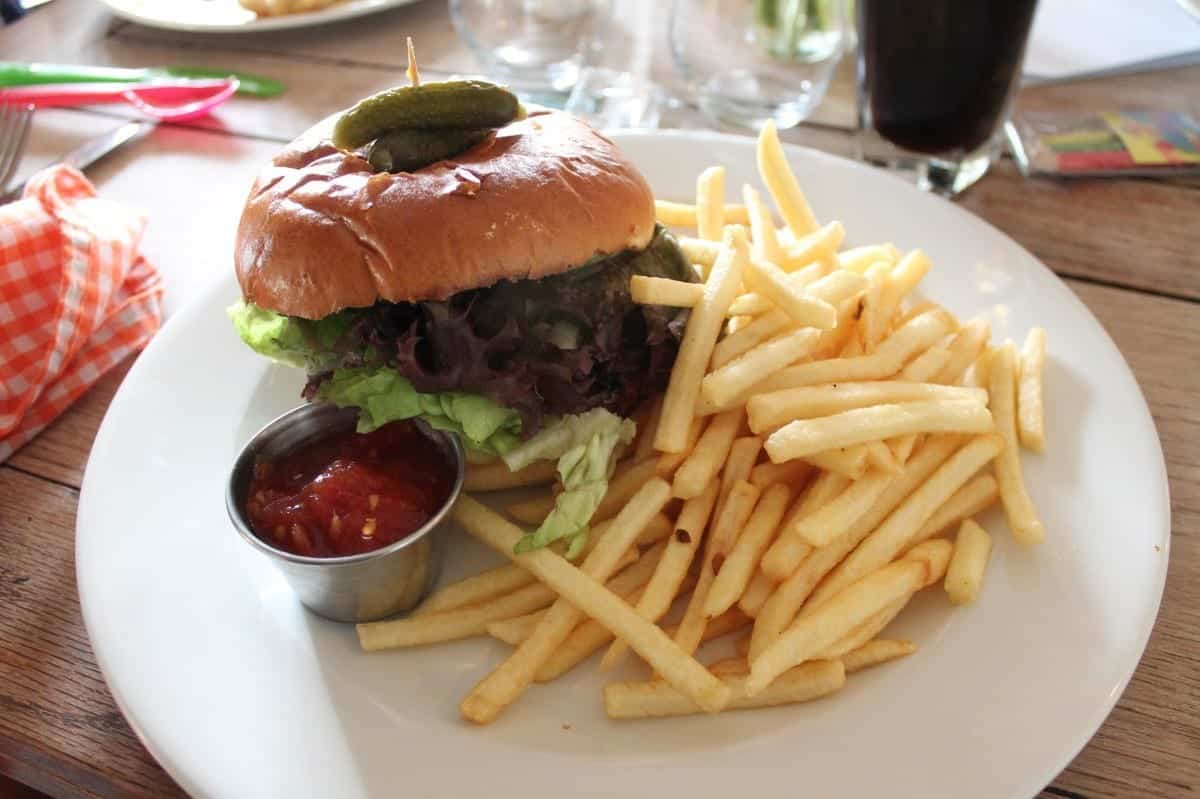 The children had ice cream for dessert and I was impressed that their main and dessert cost less than £6 each, really great value. They both loved their ice cream and the staff were so attentive – even changing Little Man's spoon for a different colour one to make him happy.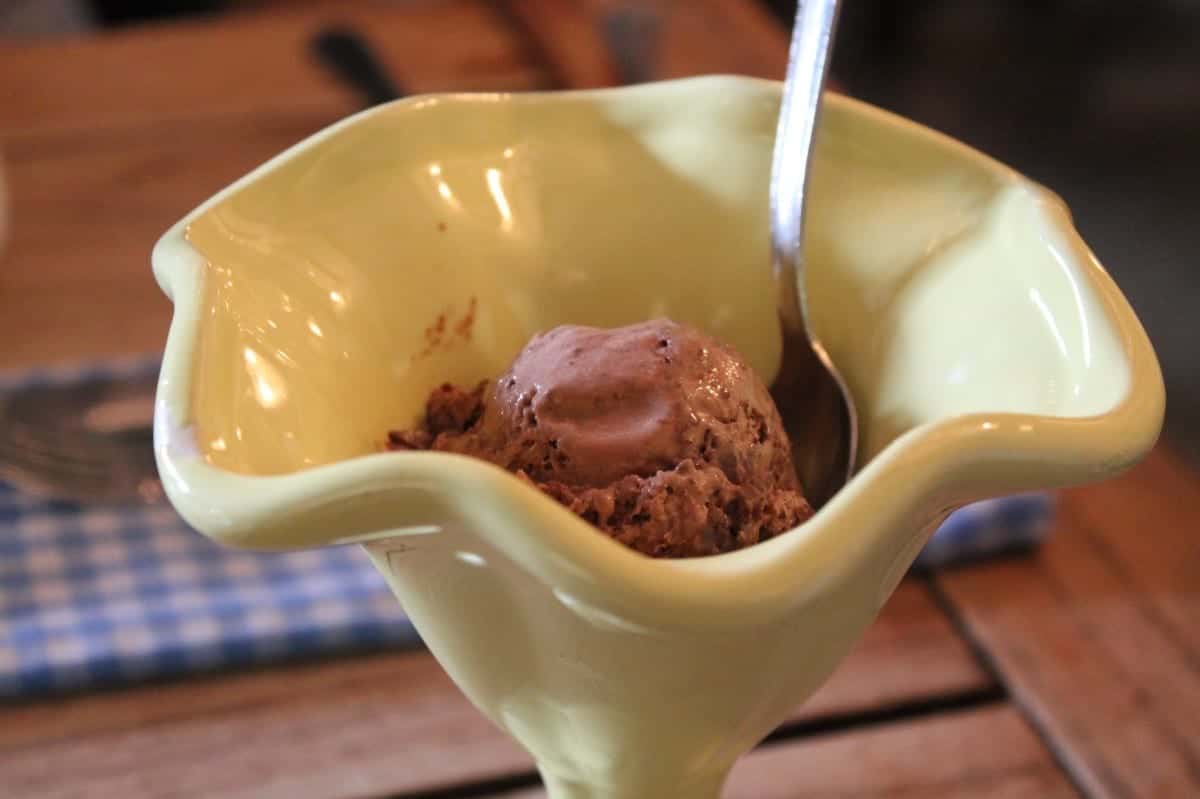 Dave had the Sticky Toffee Pudding and Custard. This is one of our favourite puddings and the portion size was really good. Dave really enjoyed it and would definitely have it again.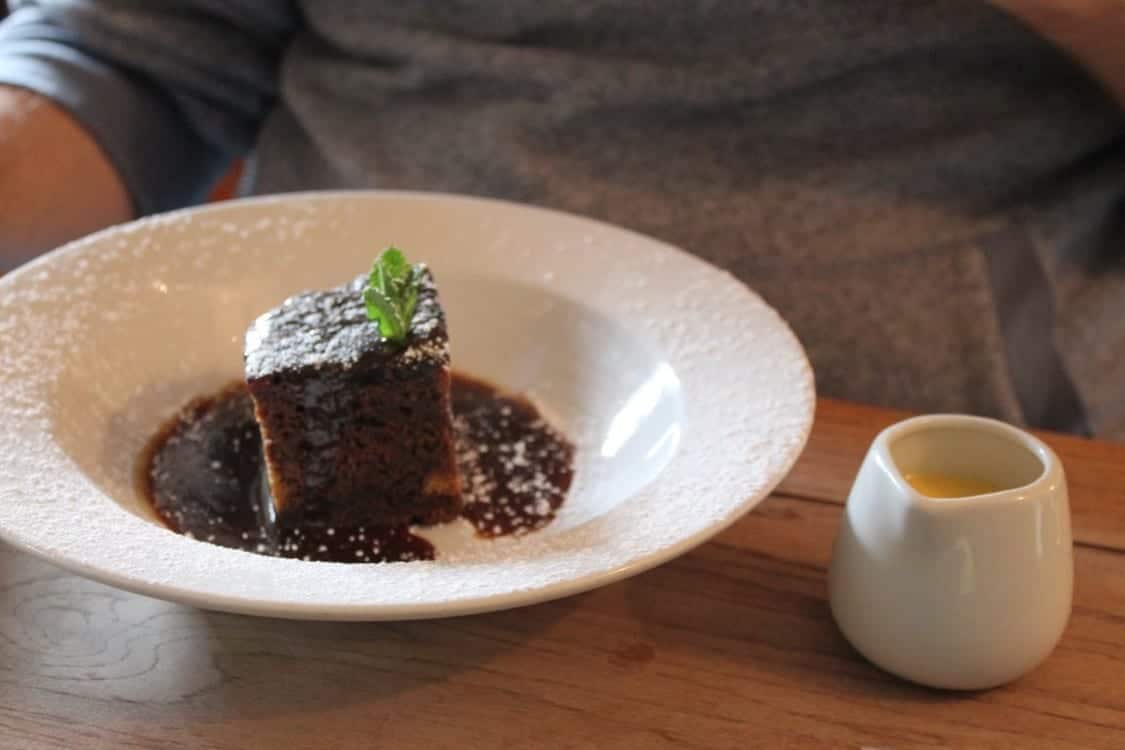 I went for the Lemon Drizzle Cake and Raspberry Sorbet which, although not a combination I would have put together myself, worked really well and was a really nice dessert. It was full of flavour but very light so the perfect pudding after a large main course.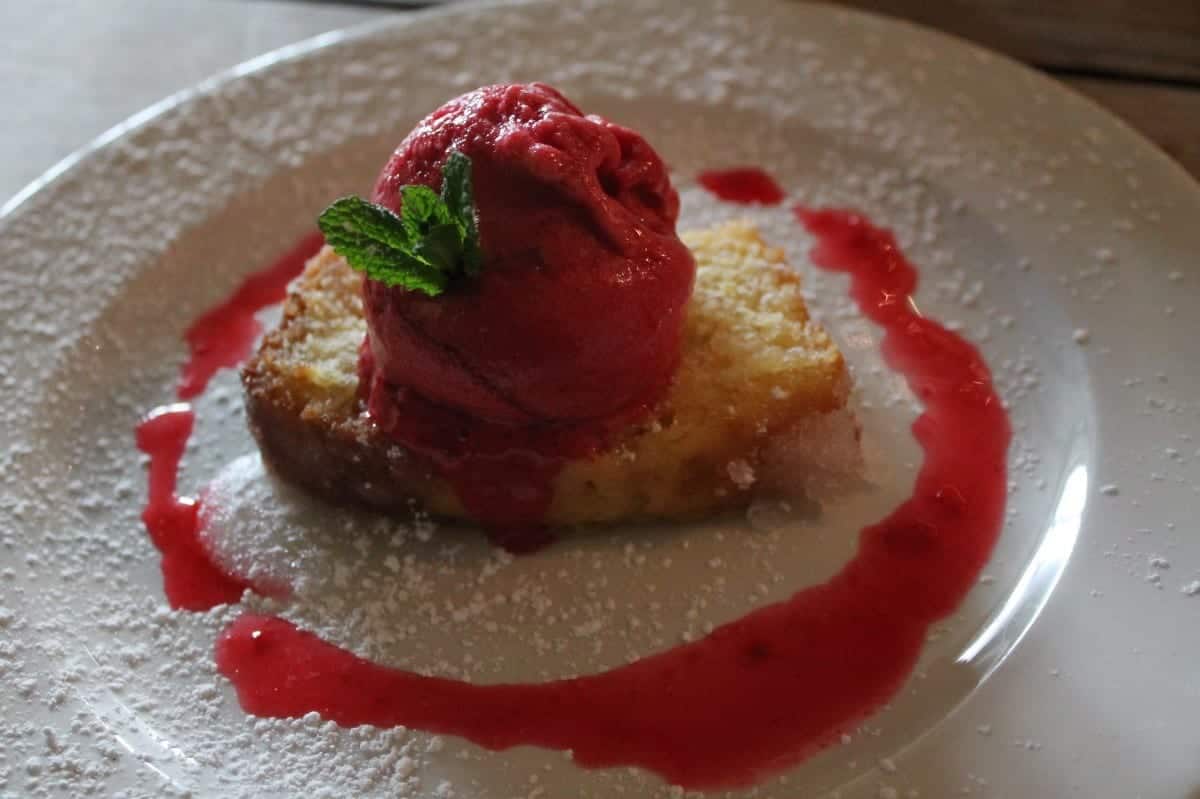 I finished my meal off with a lovely cup of tea and was impressed the the pot had enough in for more than two cups. Overall we really enjoyed our meal. The surroundings were lovely, the atmosphere was relaxed and friendly and The Fox and Goat staff were all so lovely with the children.
Is there any outside space at The Fox and Goat, Tiddington?
After lunch we explored The Fox and Goat garden which would be lovely in the summer. There's so many picnic tables on a nice lawn next to the pub with easy access to the bar and restaurant. The best thing for us though was the children's play area complete with climbing frame, slide and monkey bars. There were even scooters left out and the children loved playing even though it was quite cold.
The Fox and Goat is the perfect place to go as a family any time of year – and we can't wait to go back in the summer. I am already dreaming of a nice cold drink in the beer garden whilst the children play. If you are looking for somewhere to visit for Sunday lunch or a meal at any other time of the week then The Fox and Goat would be a great choice.