As regular readers will know, LP loves Monkeys. Monkeys are her all time favourite thing. Meee-meees. She loves them. Because of this we decided to take her to Longleat for her Birthday – to see the Monkeys jumping on the cars and to introduce her to other wild animals.
We left home at 9:30am, having given LP enough time to open her Birthday presents and have a little play. It's about an hour and a half from us to Longleat so thought we could get there, feed Little Man, do the drive through safari and then have lunch before seeing the rest of the safari park.
What was our first impression of Longleat?
We turned into Longleat just after 11am and immediately found ourselves in a queue of cars. It hit me at this point that it was still summer holidays. We ALWAYS avoid doing anything during school holidays and weekends as a rule as we know everywhere would be so much busier. I was so fixated on LP seeing monkeys that I'd completely forgotten about school holidays!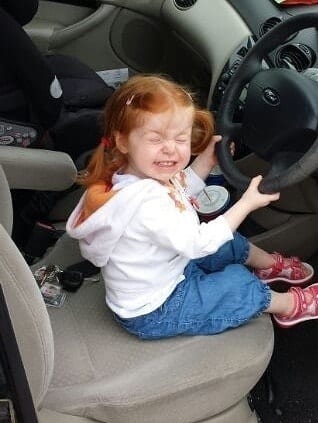 It took us 20minutes to get to the kiosk to pay. We then stopped to feed Little Man and we moved LP into the front seat of the car so she'd have a better view of the animals. I sat in the back with Little Man in his car seat. First off we stopped at the African Village to see the tribal dancers, a walk with the lemurs, the Wallaby Wood and a look out across the giraffes and zebras. We were there for about an hour and then we headed for the safari.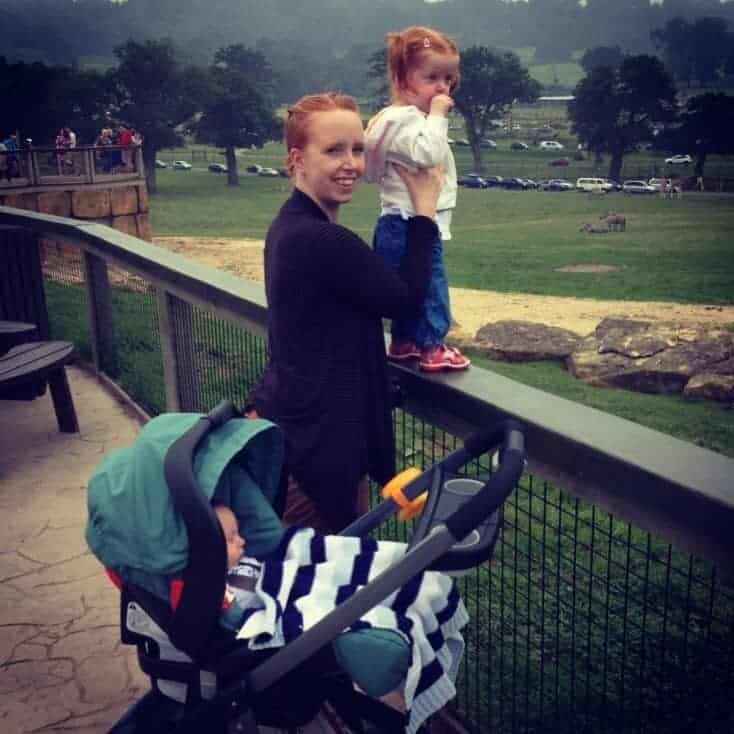 What is the Longleat drive through safari like?
The drive through the safari had clear directions – stop on the left and pass through on the right. Two clear lanes. Unfortunately, it was clear from the start that a lot of other drivers cannot read even the simplest of instructions. We meandered through the animals on the one road, slow and steady progress.
The monkey part was quite slow going but entertaining as we saw parts of people's cars being pulled off – people in brand new cars and motorhomes losing seals from around their windows and having parking sensors fiddled with. After this we drove past rhinos, wildebeest, camels, deer and one very sad looking elephant called Anne who just stood and rocked from side to side.
We then got to the dangerous animal enclosure and began our drive through. Windows closed, doors closed, don't get out the car, beep for help. Got it. We were immediately faced with a queue of traffic. In both lanes. The progress was incredibly slow. The section contained lions, tigers, cheetahs and wolves. As we crawled along it was obvious where the animals were – it was where all the cars had stopped – in both lanes. We couldn't go anywhere. We were stuck.
We had started the safari at 12:45 and were still in this enclosure at 3pm. Our lunch was in the boot. I ended up feeding Little Man in the back seat and rocking him to sleep on my lap – twice. I have never been so fed up at an animal park as I was during this safari at Longleat.
There were far too many cars, not following the clear instructions and no way for anyone to enforce it. By the time we saw a bunch of sleeping lions I was happy to just leave and be able to get out of the car for lunch, but we had to instead sit in the most scenic traffic jam of my life – like the M25 but with trees and deadly animals.
We filed slowly past two tigers, one of which was taking refuge in a 1960's garage block. I don't remember seeing a cheetah and by the time we got to the wolves we were so fed up we just drove past.
The only consolation was that LP ate a whole tub of breadsticks and enjoyed the whole thing. 2 year olds are incredibly perceptive but incredibly oblivious all at the same time! We then parked up at Longleat House and went in search of somewhere to eat our packed lunch – I'm eternally grateful to cool bags and ice packs!
What are the facilities like at Longleat Safari Park?
Longleat has been 'done up' since the last time Dave and I visited a few years ago. There are now Costa Coffee shops everywhere you look – even in the African village 'Watering Hole' – so authentic…! We sat in the Costa near the main square, had a tea and coffee and ate our lunch. The service was appalling and my teapot was dirty but at this point I was just happy to eat my lunch.
We then stopped to do nappy changes and went in search of other attractions – mainly the train and boat rides. On our walk to the train stop we saw the prices of all the new food and drink outlets – £2 for a 500ml bottle of coke and £8.50 for a burger. Glad we took packed lunches!
What are the train and boat cruise like at Longleat?
The train had a huge queue that could compete with any theme park. Dave was just keen to take LP to see the Gorillas so instead we went in search of the Jungle Cruise that would take us past the Gorillas. We had to queue for at least half an hour for the cruise but we knew LP would love it. The only issue with the queuing was that every bin that we were forced to stand next to was a magnet for wasps. I lost count of the number of wasps that Dave had to swat away from us and LP.
We got on the boat, great commentary and we saw the gorillas! There were also sea lions and a pair of hippos. The jungle cruise definitely made up for the dreadful safari!
At this point it was 5pm and time to head home. We had spent 6 hours at the park and had barely scratched the surface.
We took LP to the gift shop, bought her a cuddly monkey wearing a Longleat T-Shirt for £10 and headed back to the car.
What else is there to do at Longleat?
We would have liked to have taken LP on the train ride, to see Postman Pat's village, on the adventure castle, to cool off in the splash pools and to see the Birds of Prey displays but we didn't have time – the safari took at least an hour and a half longer than it should have.
Can you use Tesco clubcard vouchers to get into Longleat?
We used Tesco loyalty card vouchers to pay for our day tickets for our trip. The two children, being under 3 were free and we didn't need to book in advance – just switch our clubcard vouchers for Longleat ones online. If we had of paid £31.50 per adult and £22.50 for a child over the age of 3 I would have been incredibly disappointed with the day out – £108 for a family of 4 to be held hostage by dangerous animals in a tree lined car park for half the day is not my idea of a good value day out.
In future I'll be sticking to term time days out for as long as possible and will continue to take packed lunches with us!