Welcome back to another week of the Ordinary Moments. If you haven't joined in before this is a weekly linky that launches every Sunday morning and is open until midnight on the following Saturday. It's a linky that celebrates any ordinary moments in your life – or the not so ordinary some weeks too. Basically – anything goes. I'll be sharing and commenting on the posts that are linked up during the week and there's a badge at the bottom of the post if you'd like to add it to yours too.
Back in May Little Man had his first wobbly tooth that resulted in a gap quite soon after. He bit into a cracker at school and it came out. Simple. But, roll on a couple of months and he has three wobbly teeth. The rest of his front ones are determined to come out in quick succession.
I thought after that first tooth that wobbly teeth with Little Man would be a painless process – but I think that first one lulled us into a false sense of security.
Little Man's next tooth was quite an emotional process. He wobbled it but didn't want to wobbly it so much that it came out. He was forever touching it but so cautiously as he didn't want it to come out. He would eat so slowly, stop talking mid sentence and he would hold the tooth in place when he was concentrating.
In the end his tooth was hanging on by a thread for pretty much two days. It turned him into an emotional wreck. He didn't want it in his mouth, he didn't want it out of his mouth. He didn't know what he wanted but he definitely didn't want help getting it out.
Thankfully after two days of solid trauma for all of us the tooth came out in the car on the way to a day out – and Little Man was so relieved. He seemed to instantly relax and was happy again straight away.
Wobbly teeth is something I really wasn't prepared for before having children and I still can't get my head around the vast quantity of emotions that wobbly teeth produce – and the rollercoaster that you're on when your child has a wobbly tooth – whether it's their first, sixth or last!
Little Man now has two wobbly teeth at the top which I am hoping come out sooner rather than later. And I hope they come out easily on a biscuit or biting into an apple. That was definitely the easier option!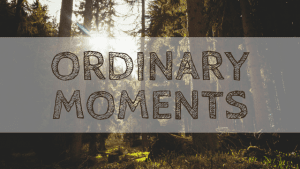 If you have an ordinary moment this week, come and link up – I'm looking forward to reading the moments that you share and will comment and share them on Twitter through the course of the week. Thanks so much for taking part.
You are invited to the Inlinkz link party!