We've been to Stoke on Trent a few times now and it's always a fantastic base for a holiday or weekend away as a family. There's so much to do in Stoke and the surrounding area, with so much history and a really eclectic mix of activities on offer.
So here are a few ideas for when you next find yourself in Stoke. And, if you're looking for somewhere to have a nice weekend away, Stoke on Trent is a fantastic choice.
Family Days Out in Stoke on Trent
Theme Parks
Alton Towers
I had to start this post with the most obvious attraction near Stoke on Trent – Alton Towers. Just a half hour drive away, it's easily accessible from Stoke and has something for all ages – and plenty of accomodation options if you wanted to stay on site too.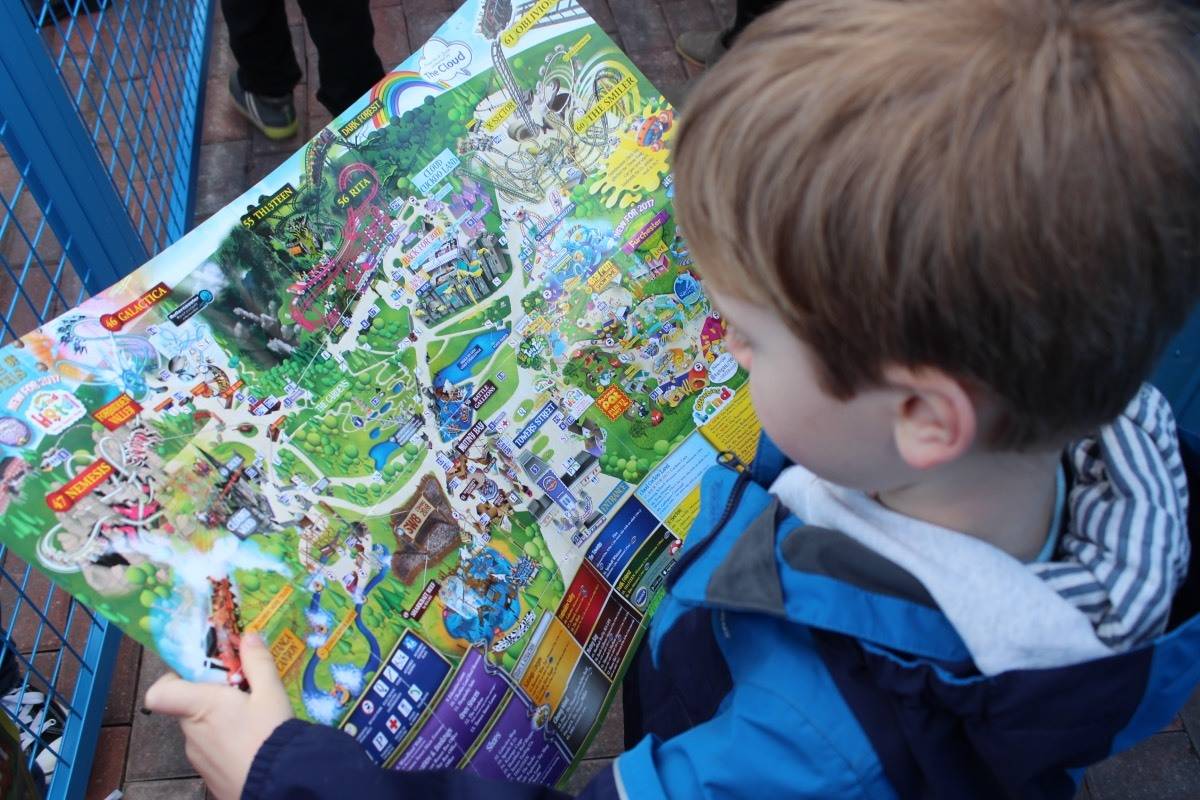 With CBeebies Land and so many rides and attractions, as well as the water park and seasonal events throughout the year, it's a great place for the whole family to visit.
You can read about our trips to Alton Towers here: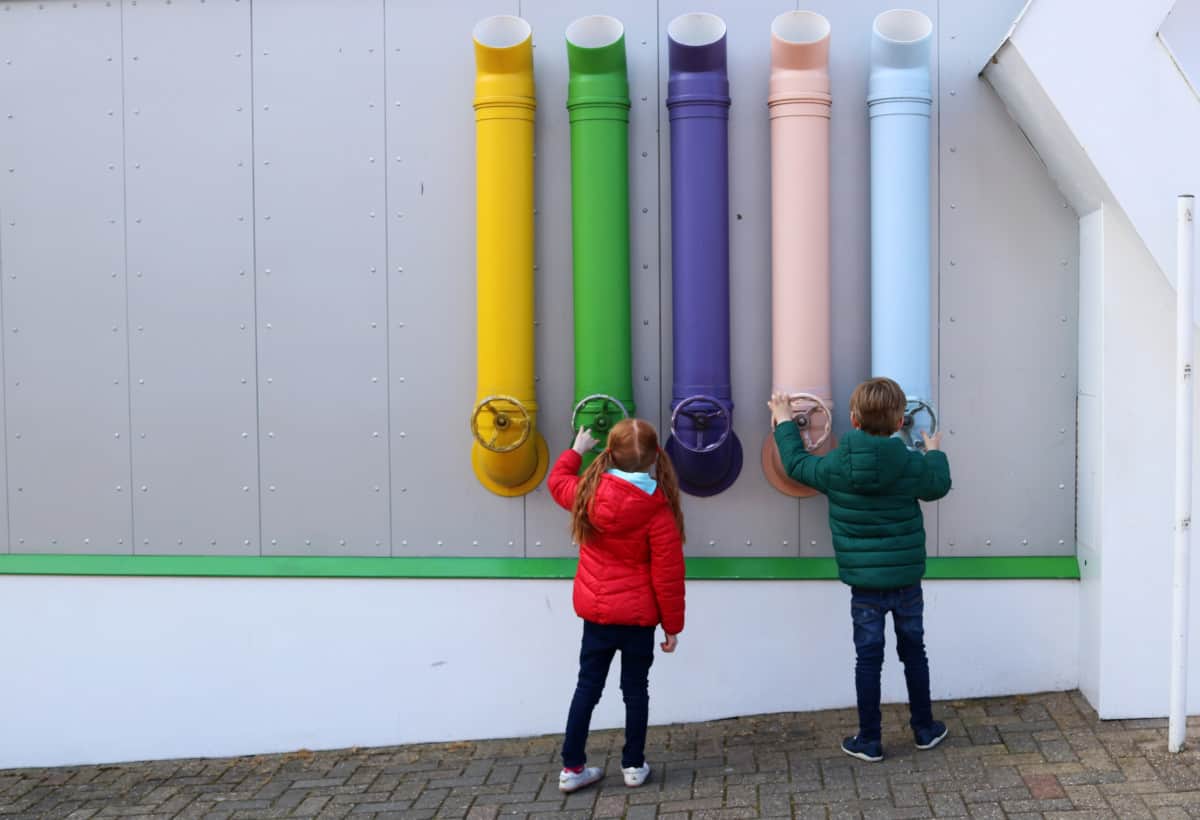 The Potteries
The potteries are a huge part of Stoke history and there are many in and around Stoke that are well worth a visit.
Emma Bridgewater Factory
The Emma Bridgewater Pottery Factory is a great place to spend a day. With factory tours, a shop, cafe and decorating studio, there's loads to entertain the whole family – and they do fantastic afternoon tea too.
You can read about afternoon tea at Emma Bridgewater here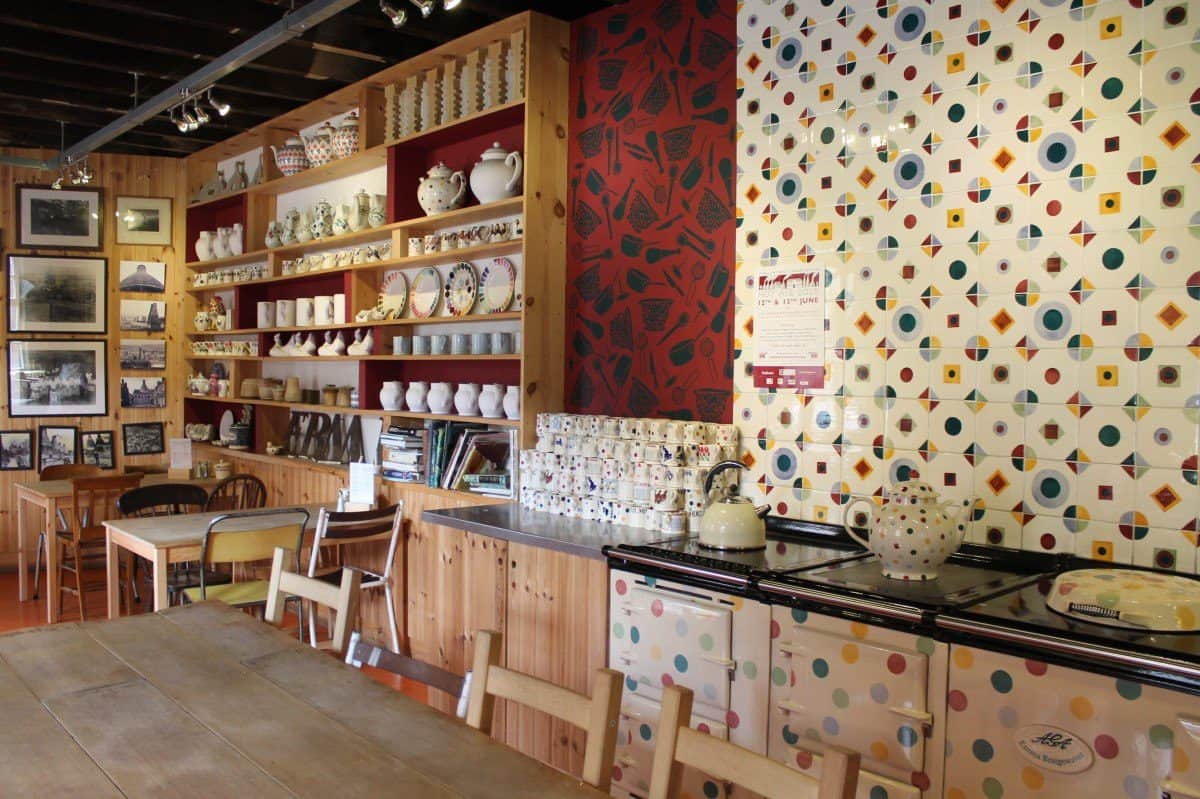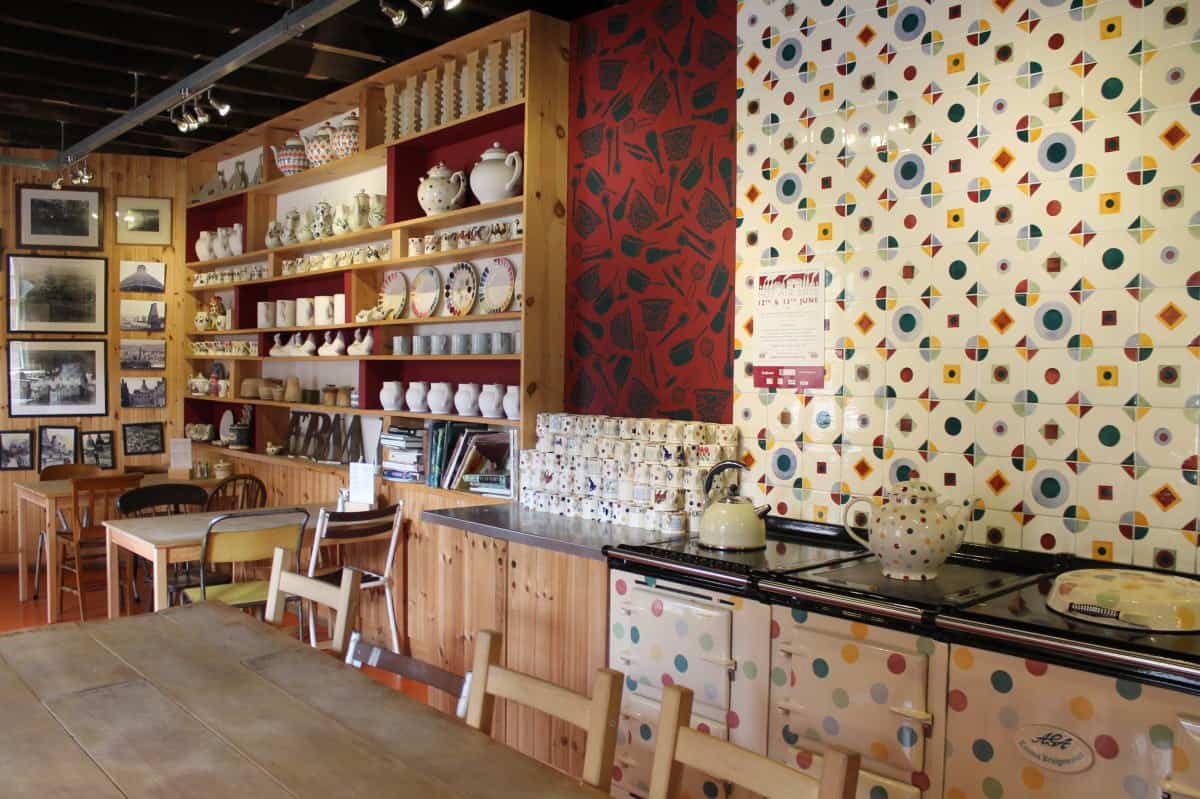 Royal Stafford Pottery Factory Shop and Ceramic Cafe
The Royal Stafford Pottery Factory Shop and Ceramic Cafe is another great place to visit. The Royal Stafford Factory shop is a shopper's dream of perfect gifts or treats for yourself. Plus, you can visit the cafe and paint your own pottery too.
World of Wedgwood
The World of Wedgwood is fantastic to visit with a factory tour, clay studio sessions, the decorating studio, shop and cafe. But, there's also the vast outdoor space of Barlaston to explore, including a fantastic nature trail.
You can read more about the World of Wedgwood here.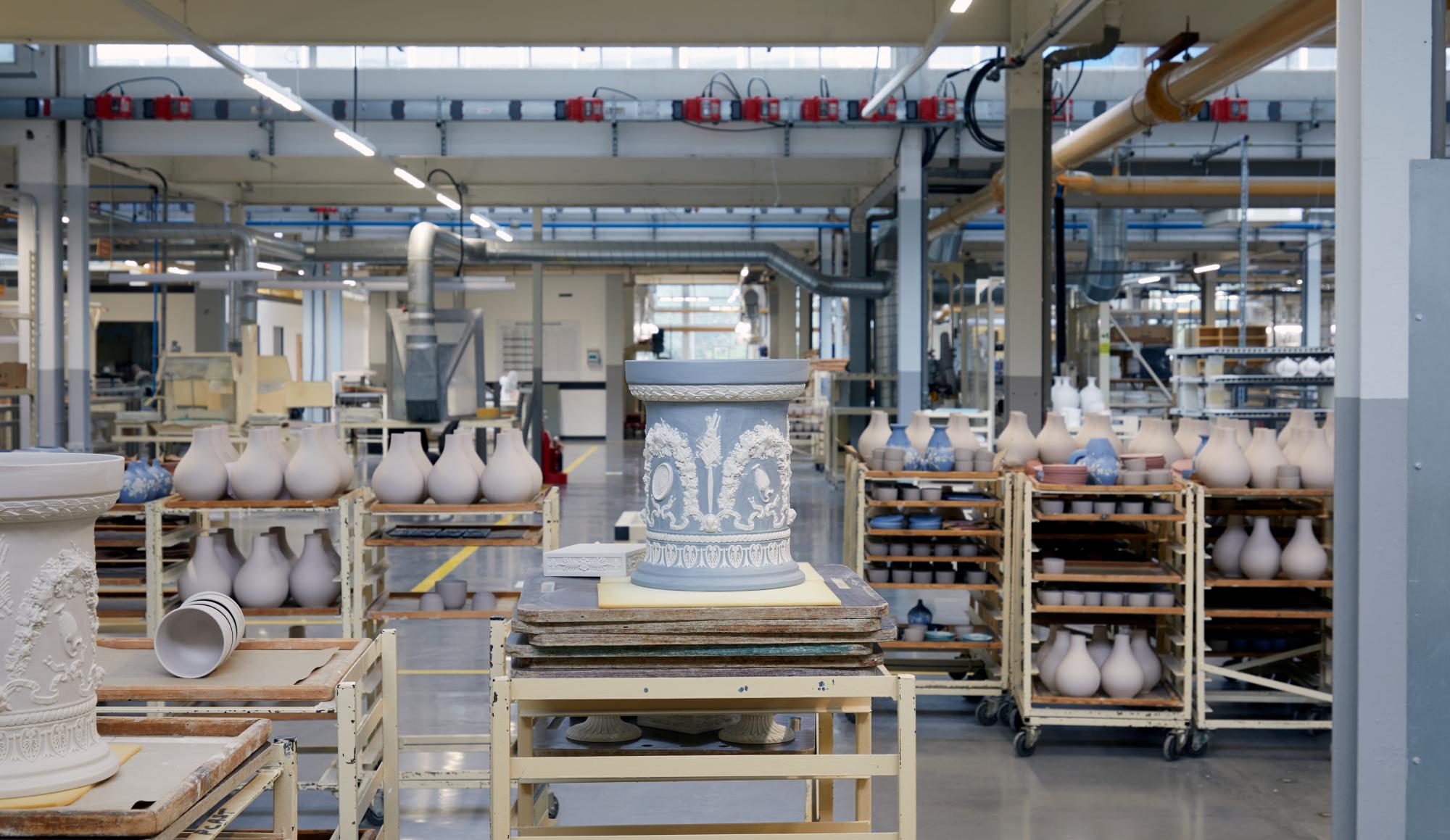 Gladstone Pottery Museum
The Gladstone Pottery Museum was one of our favourites when we visited Stoke. The bottle kiln ovens are amazing and there's so much to learn on site – as well as opportunities to get hands on with pottery and spend time in the cafe and shop afterwards.
You can read our full review of Gladstone Pottery Museum here.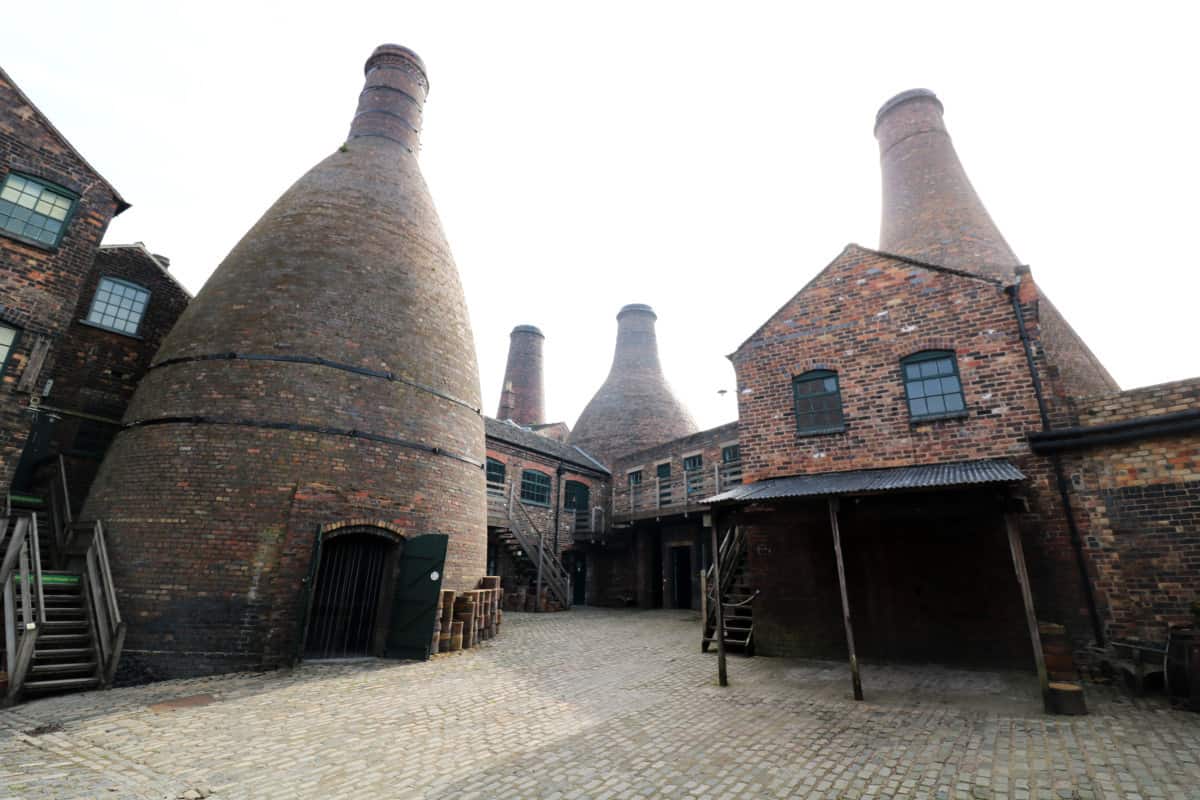 Museums and Educational Fun
Potteries Museum and Art Gallery
The Potteries Museum and Art Gallery is home to a collection of Staffordshire pottery that is widely acknowledged as the finest in the world, plus other collections of fine and decorative arts, natural science, social history and archaeology which all have local, regional and national significance. It's a fantastic, free place to visit.
You can read our full review of Potteries Museum and Art Gallery here.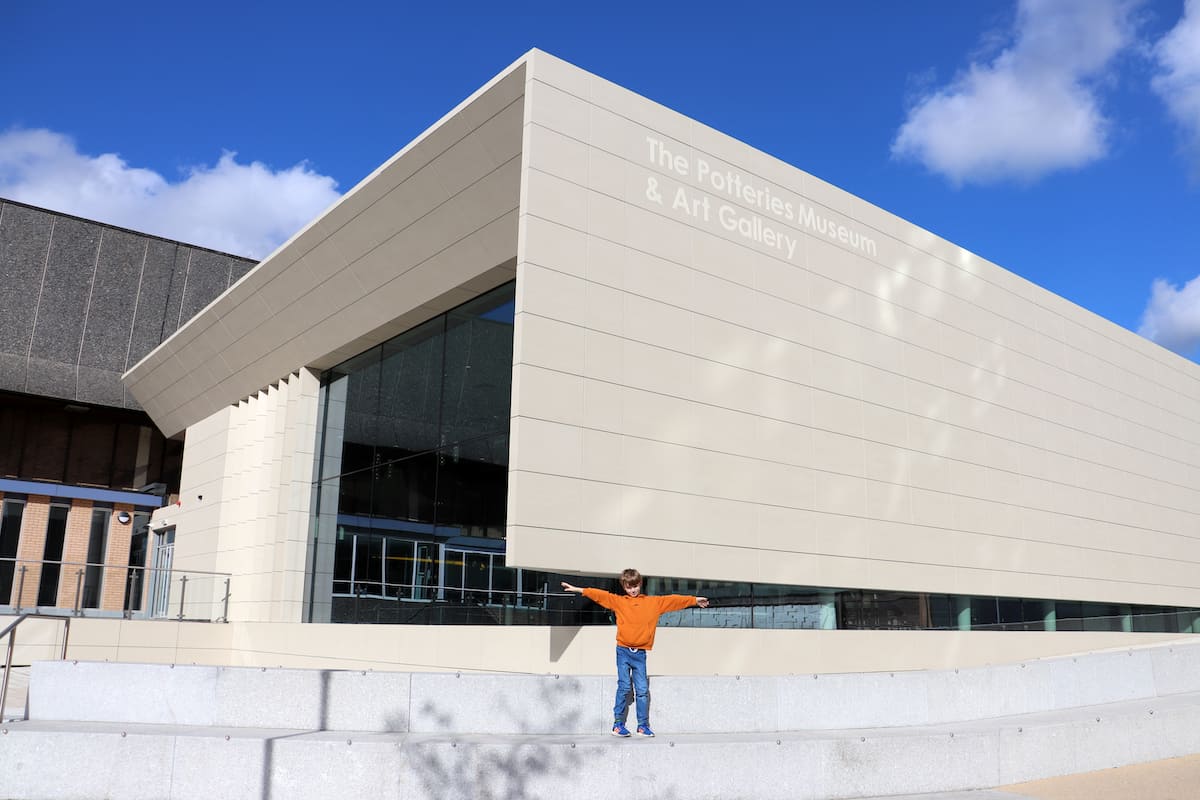 Dudson Museum
The Dudson Museum is housed in an old bottle oven, making it a really unique place to visit. It teaches you all about the history of Dudson Pottery.
Hack Green Secret Nuclear Bunker
There are so many places to visit within a short drive of Stoke on Trent and Hack Green Secret Nuclear Bunker is just half an hour away. The bunker stayed secret for more than 50 years but now it's open and you can discover the world inside a nuclear bunker.
Jodrell Bank
Another fantastic day out, just a half hour from Stoke, is the Jodrell Bank Observatory. Jodrell Bank is an amazing, unique, and awe-inspiring place. It's a world-leading deep-space radio observatory, a UNESCO World Heritage Site, and an award-winning national visitor attraction. It's a science centre like no other.
You can read our full review of the Jodrell Bank Discovery Centre here.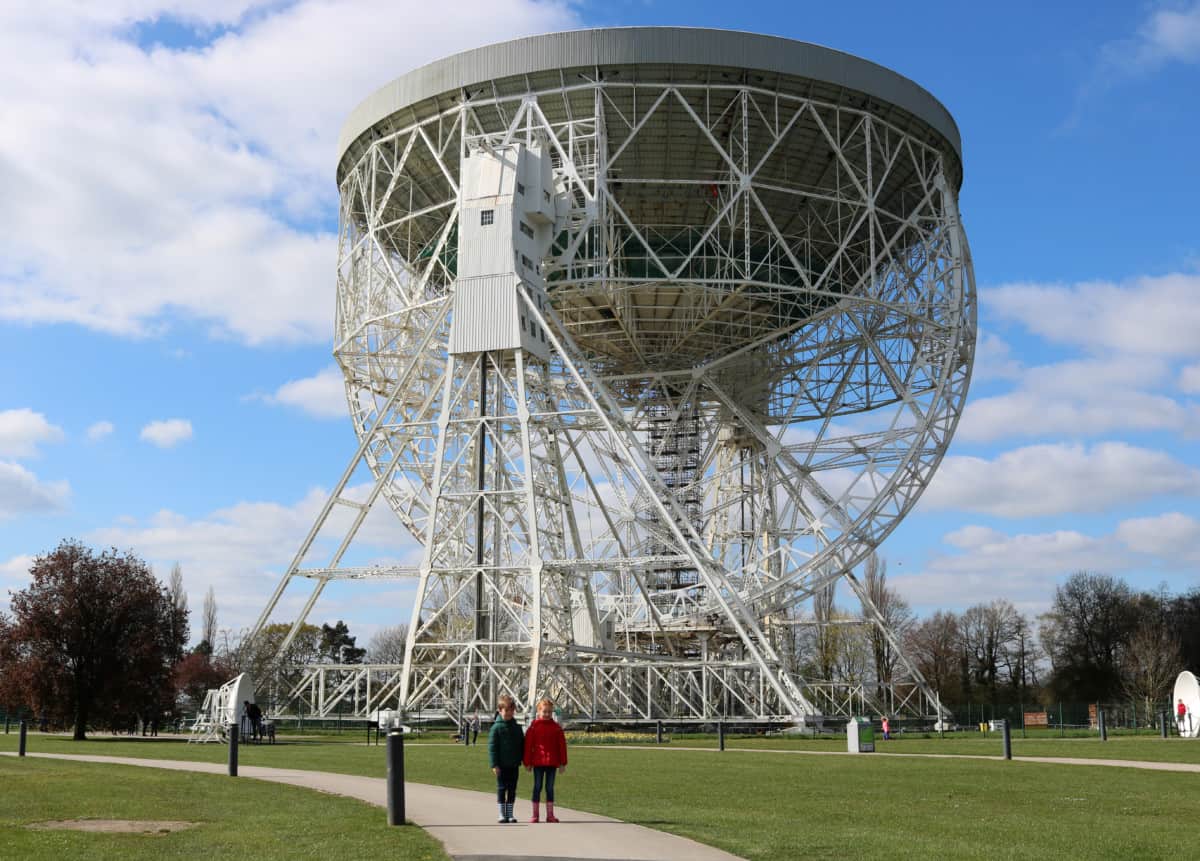 Crewe Heritage Centre
Another real hidden gem half an hour from Stoke is the Crewe Heritage Centre. Crewe Heritage Centre is a mostly open air railway museum, nestled between the railway and the town centre. You can watch live demonstrations, taking a trip on the Miniature Railway and even visit the record breaking InterCity APT.
You can read our full review of Crewe Heritage Centre here.
Outdoor Adventures
Trentham Estate
Trentham Estate is a fantastic day out, with 725 acres of spectacular natural beauty, award-winning gardens, ancient Woodland and an outdoor shopping village.
From the tranquillity of Trentham garden and wildlife walks at Trentham Monkey Forest and the thrill of Treetop Adventures, there really is something for everyone within the Trentham Estate.
You can read more about the Trentham Estate here: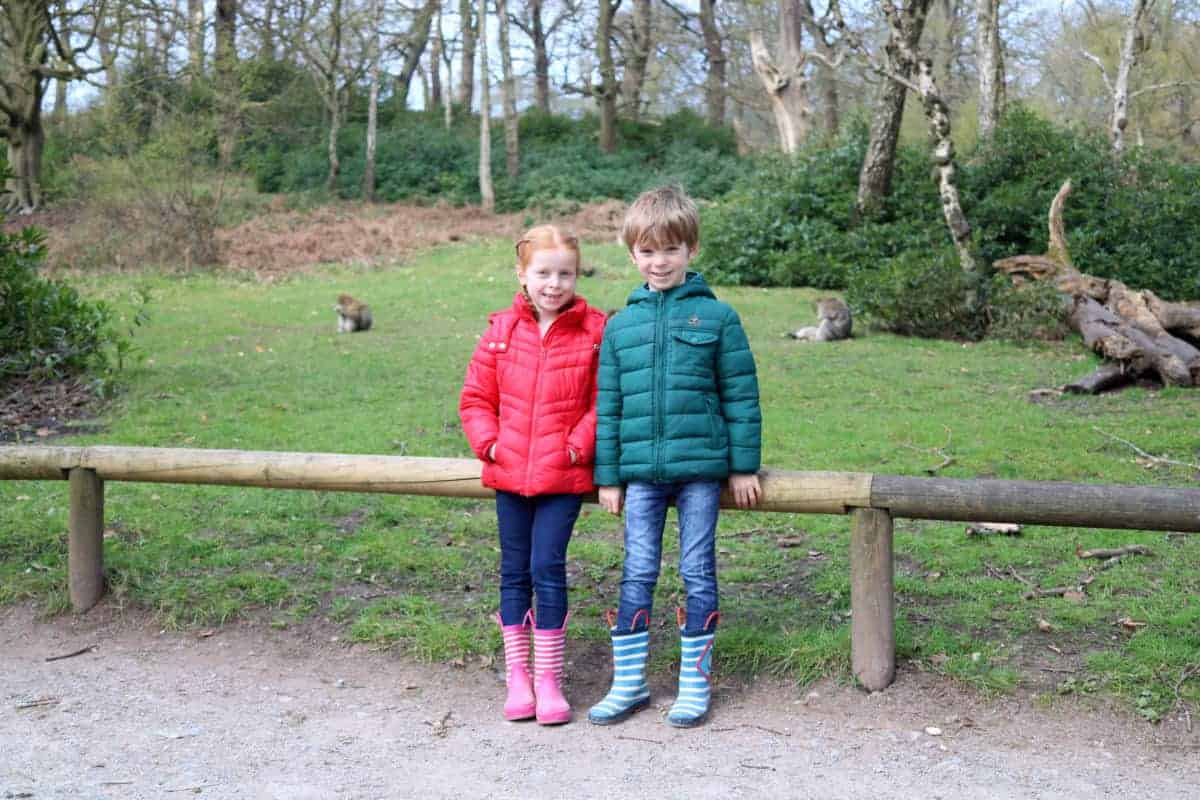 Gentleshaw Wildlife Centre
Just 25 minutes from Stoke, Gentleshaw Wildlife Centre is a small sanctuary for exotic animals and birds of prey. The centre is home to over 30 different species of birds of prey, primates, reptiles, invertebrates, raccoons, cats and much more.
Peak Wildlife Park
Just a little further away is Peak Wildlife Park. The zoo offers a truly unique and immersive animal experience with large walkthrough exhibits that allow you to come face to face with exotic and endangered animals. It's a day out that the children will love.
Wheelock Hall Petting Farm
Wheelock Hall Petting Farm is a beautiful place that the whole family will really enjoy. The farm has pigs, sheep, goats, calves, donkeys, chickens and ducks that you can see and feed. Plus, there's a garden centre, a large outdoor play area and a fantastic tearoom and farm shop.
Brampton Park
Brampton Park is one of many parks around Stoke and the surrounding area. Brampton Park has a fantastic adventure play area for all ages, plus a giant sandpit and a water play area too. There's also the sensory and rose gardens to explore and an aviary and a pond. There's a museum in the park and a little miniature railway. It's a fantastic place to visit.
Hanley Park
Hanley Park is one of the Stoke's heritage parks. Has is home to the beautifully restored Pavillion Cafe, a Boathouse and a floodlit sports zone for cricket, football, basketball, hockey and tennis with a bowling green; fishing; lake and fountains; sensory play area; children's play zone; and art sculptures. It's such a lovely park and a great place to spend time.
You can read about our visit to Hanley Park here.
Westport Lake
Westport Lake is a beautiful place. Home to the RSPB Visitor Centre, it's a great spot for bird-watching and walking, with a welcoming cafe, regular family activities and a lovely play area too.
Biddulph Grange Garden
Biddulph Grange Garden is a really lovely National Trust site just twenty minutes from Stoke that the whole family will enjoy. The amazing Victorian garden takes you on a global journey from Italy to the pyramids of Egypt, a Victorian vision of China and a re-creation of a Himalayan glen.
Cotton Dell
Half an hour from Stoke, Cotton Dell is park of the Staffordshire Wildlife Trust. It's a pretty nature reserve with ancient woodlands and flower-rich grassland, all located within a secluded river valley.

Stafford Castle
Stafford Castle is just half an hour away and well worth a visit. The castle was first built by William the Conqueror to subdue the rebellious population, and it has dominated the Stafford skyline since – for over 900 years! Visit to uncover the secrets of the castle through Norman times, the medieval period, the English Civil War, right up to the present day. It has over 26 acres to explore and a fantastic day out.
Bewilderwood Cheshire
Bewilderwood is 45 minutes from Stoke but is well worth a visit. It's like the best adventure playground you have ever been to – a whole world of fun woven into a forest. Things to discover at every corner and shows, slides and ziplines that even the adults will love!
You can read our full Bewilderwood review here.
Railways
Apedale Valley Light Railway
There are so many railways around Stoke and the Apedale Valley Light Railway is just one of them – and it's a little one at that! The Apedale Valley Light Railway is built to a narrow gauge with just 24 inches between the rails. Historic steam and diesel locomotives haul trains on a 15 minute round trip beside the Apedale Community Country Park.
Foxfield Steam Railway
Foxfield Railway is one of Britain's oldest heritage steam railways and a really traditional family day out. It's the perfect place to create magical memories and it hosts fantastic seasonal events too.
Churnet Valley Railway
Churnet Valley Railway offers a nostalgic steam train ride through Staffordshire's hidden valley, and into the Staffordshire Moorlands on the outskirts of the Peak District. It's a beautiful way to spend a day and they have special events throughout the year.
Rudyard Lake Steam Railway
The Rudyard Lake Steam Railway is a great family day out, running alongside Rudyard Lake. The railway is 10.25 inch gauge and the trains run whatever the weather with covered coaches.
Indoor Activities
There are so many indoor activities in and around Stoke on Trent too with things like Team Sport Indoor Karting or Laser Quest, KilnWorx Climbing Centre and the XPVR Virtual Reality XPerience, now known as GameGrid.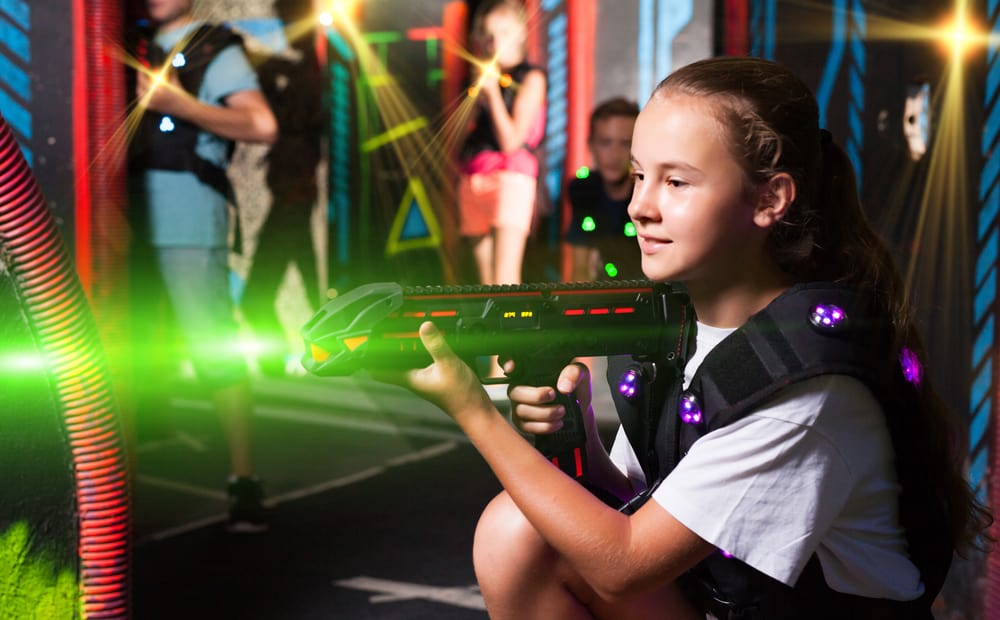 Whatever your family's interests, there'll be something for you. From Ninja Warrior UK to Waterworld or maybe skiing at Stoke Ski Centre or Kidsgrove Ski Centre. There are also plenty of soft play options, bowling alleys and cinemas, not to mention Jurassic Golf Bridgemere at Bridgemere Garden Centre that we loved when we visited.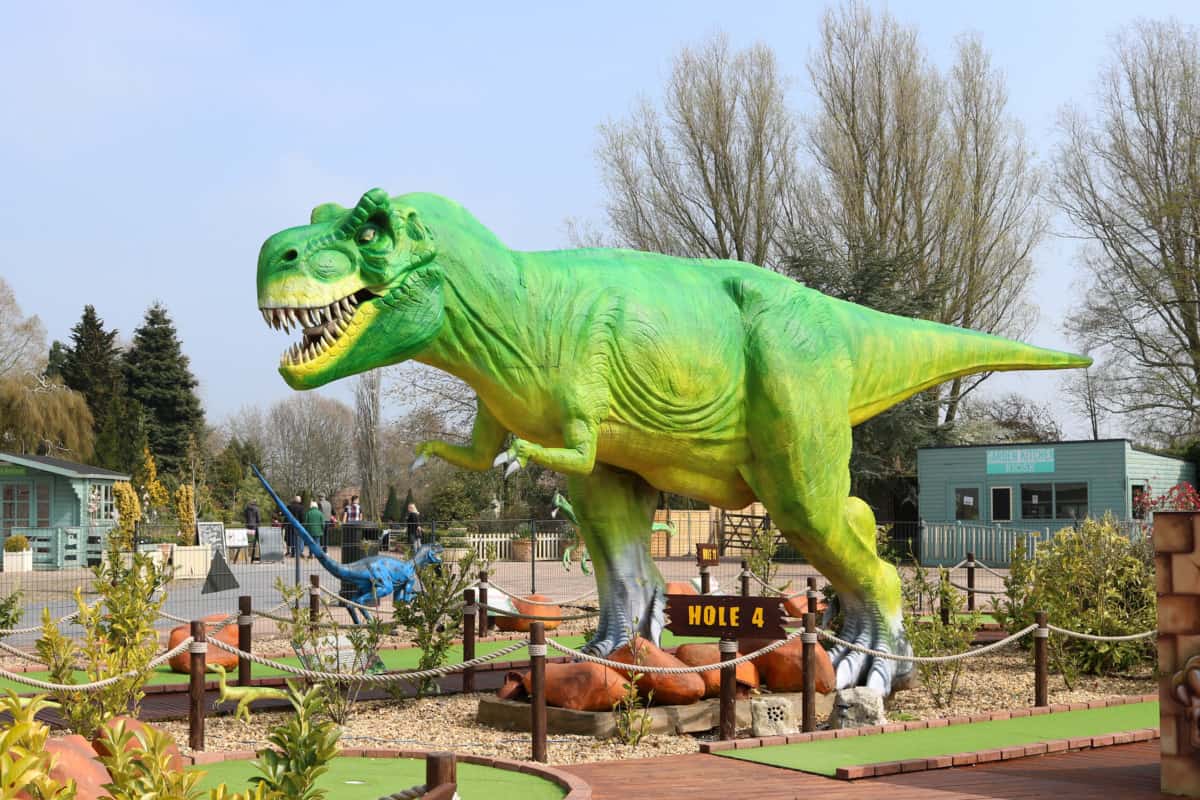 I hope that's given you some inspiration for your next day out in or near Stoke. It's a fantastic place to visit, with so much history and so much to see and do. It's perfect for a family break away. You could also do a Treasure Trail whilst you're there – we did one around Hanley and loved it.
If you're looking for other content around Stoke, these posts may be of interest: