Disclosure: We were invited on this break for the purpose of this review however all opinions are my own.
Last weekend we were invited to stay at the Hilton Garden Inn Stoke hotel which looked like a fantastic place for a family break. Situated in Hanley, one of Stoke's six pottery towns, we couldn't wait to visit and explore the local area.
Arriving at Hilton Garden Inn Stoke
The Hilton Garden Inn in Stoke is easy to find, and visible from much of the local area. It has a really brightly coloured building right next to it, making it stand out. The hotel offers free parking for guests although the car park isn't next door as you'd usually expect – it's across the road and you just need to drive around the block to find it. Then you simply cross the road to access the hotel.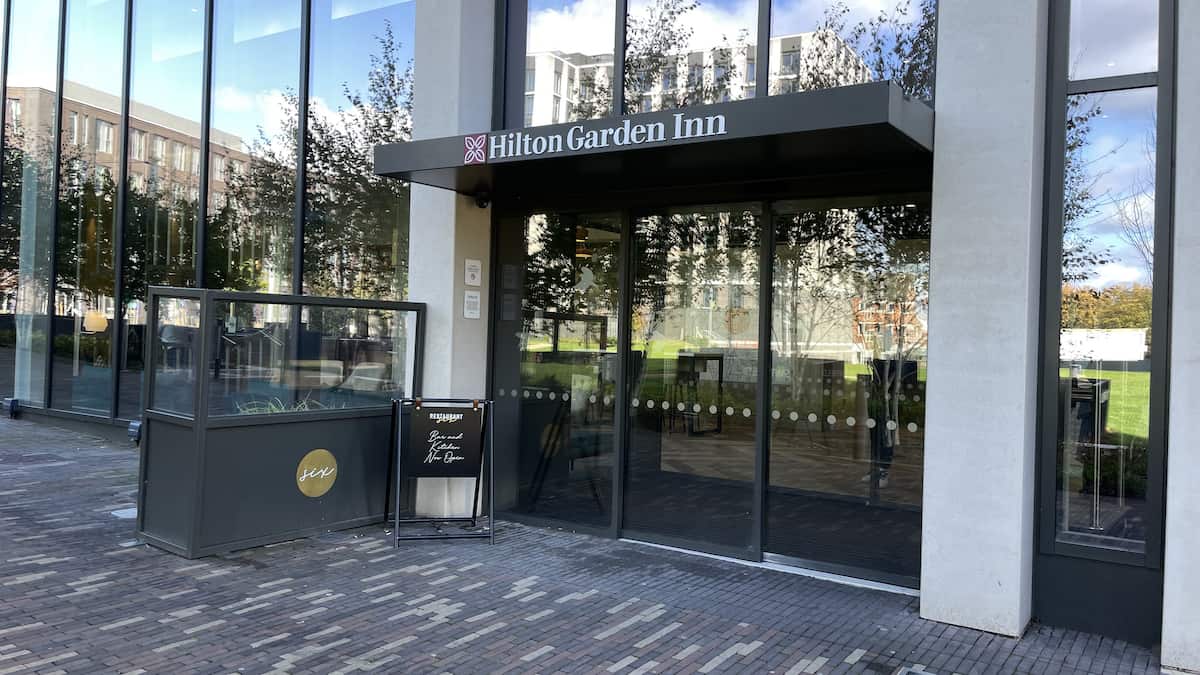 We were checked in by a really friendly member of staff and that was consistent throughout our stay – all the staff were lovely. We had a family room on the fourth floor that we accessed by a lift. The lifts were never very busy throughout our stay and one thing we really loved was that on each floor there were huge windows next to the lifts, giving great views of the local area.
Our family room consisted of two, almost identical interconnecting rooms – one for the grown ups and one for the children. This made a fantastic space for a family trip and is a great alternative to other hotels where you'd have one room with a bed and sofa bed – especially as the children get older.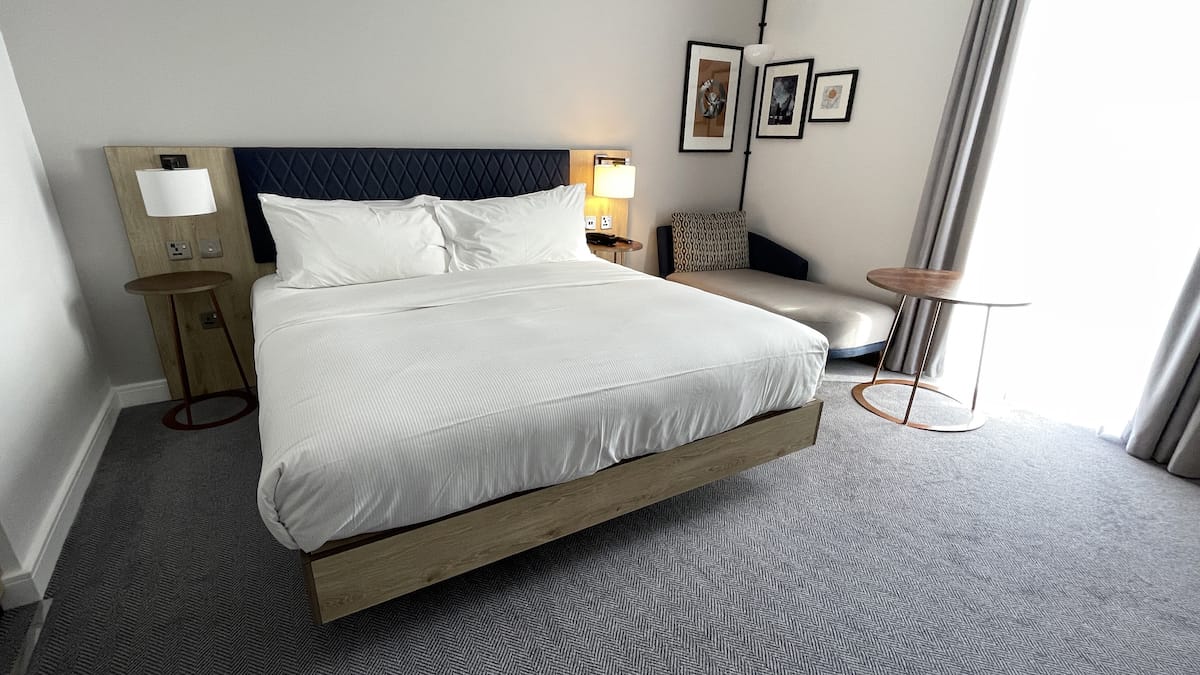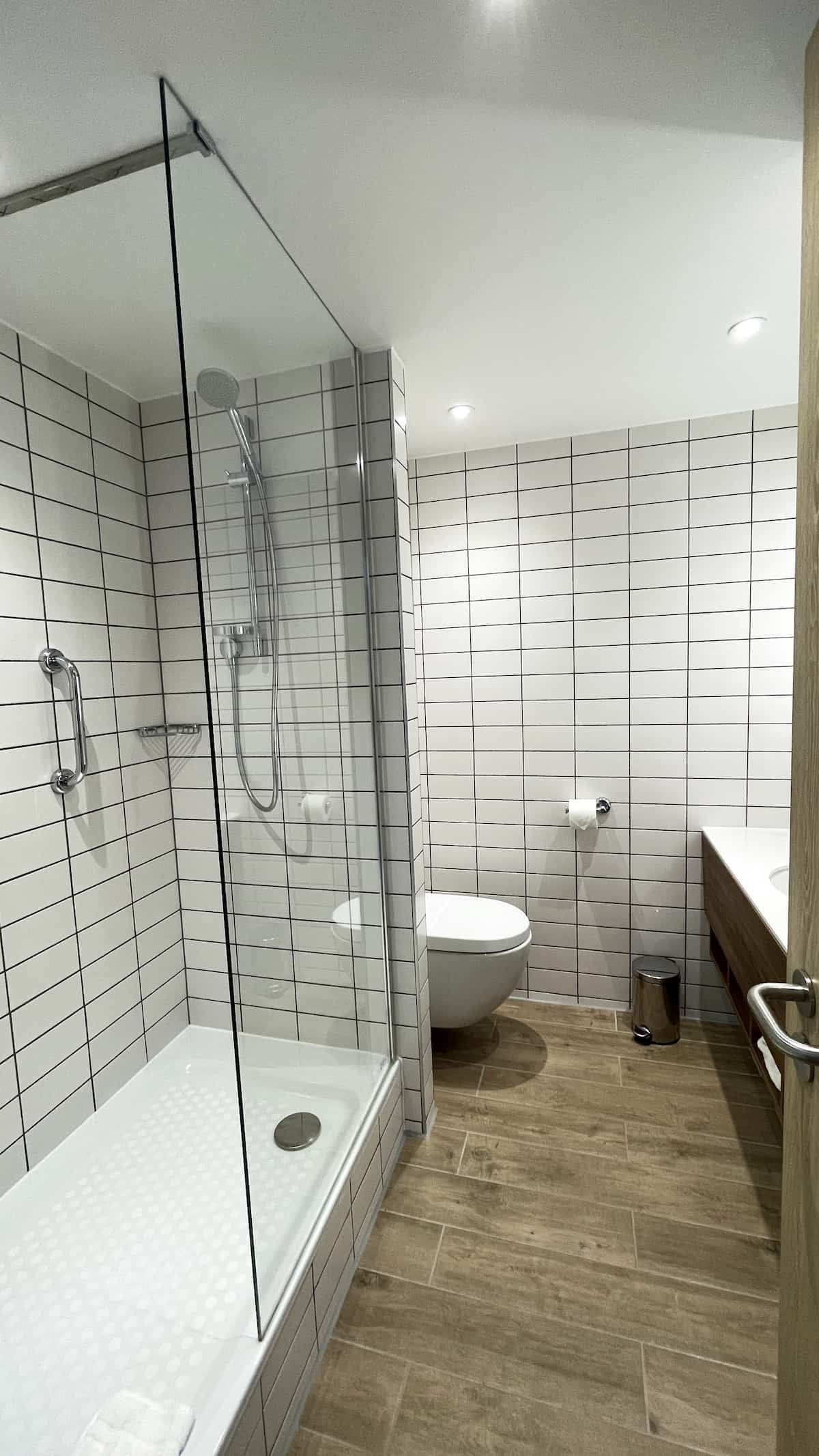 Each room had a bathroom – one with a bath and one with a huge walk in shower. There were plenty of fluffy towels and complimentary toiletries along with other in room amenities like mini fridges, complimentary wifi, climate control and really big TVs compared to most hotels we have stayed in.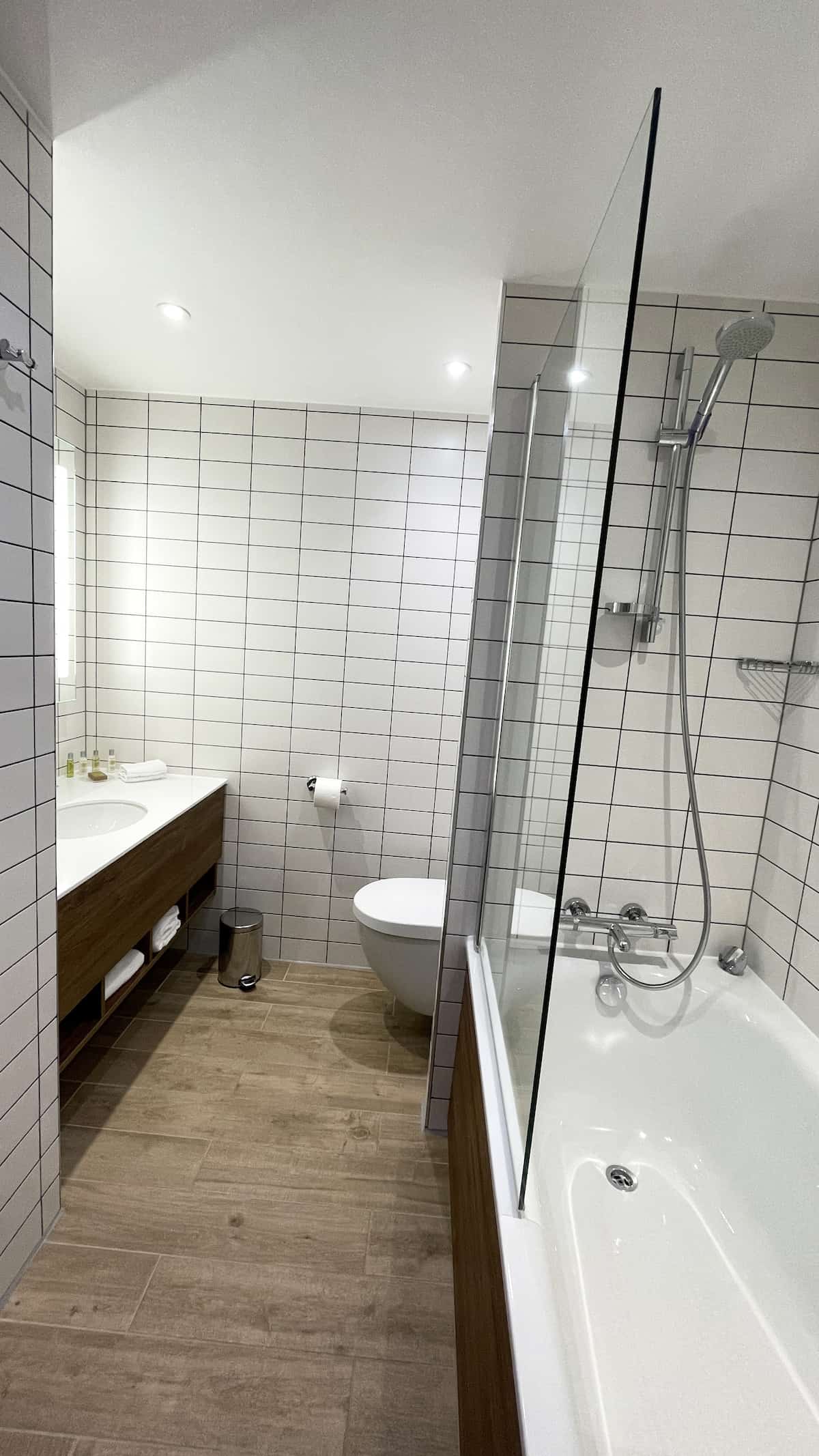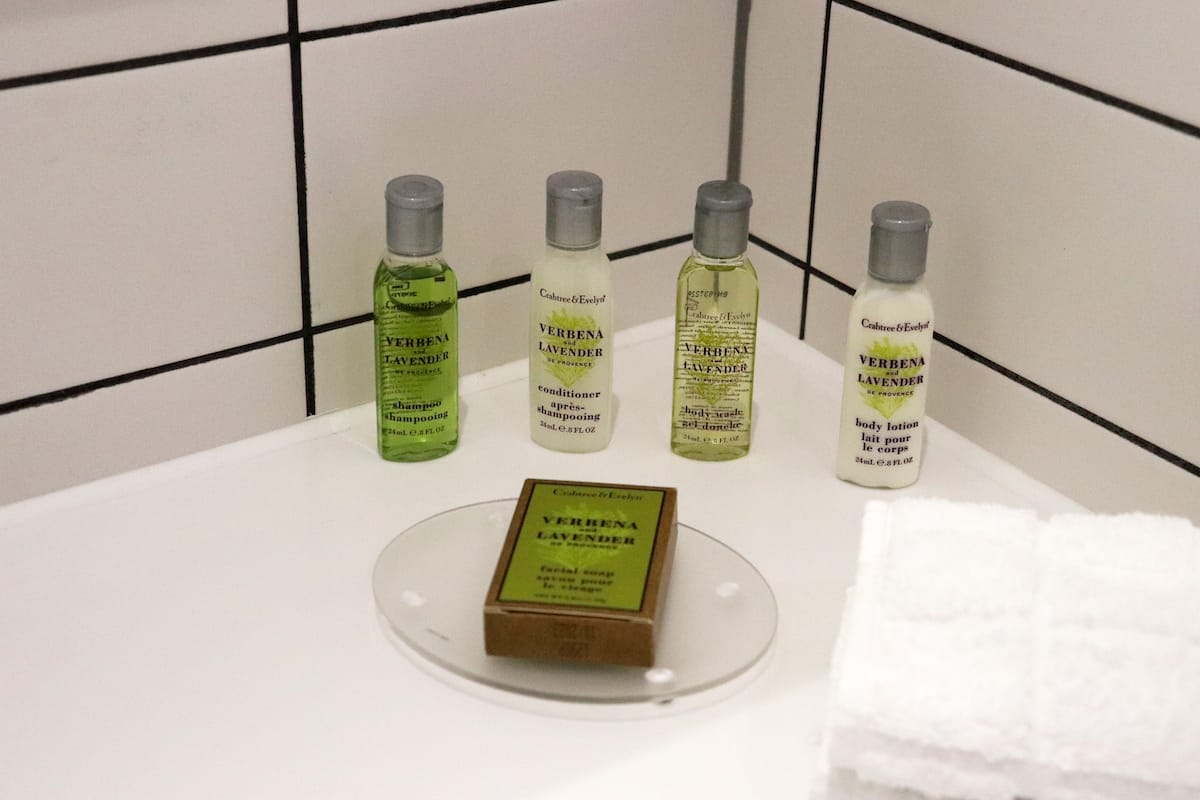 One of the most important things for us when staying away from home is the quality of sleep we'll have – and we slept really well at the Hilton Garden Inn Stoke. There blackout curtains were fantastic, the beds were really comfortable and the hotel was really quiet overnight. We've all said it was one of the most quiet hotels we have ever stayed in – which was surprising for such a vibrant, busy area.
The local area
The Hilton Garden Inn Stoke is in Hanley which we didn't know much about before our stay but we have been to Stoke on Trent previously and visited local attractions like the Gladstone Pottery, the Emma Bridgewater Factory and Trentham Monkey Forest but this time we wanted to appreciate Hanley and so started off with a trip to Hanley Park and lunch at the Pavilion Cafe.
This was such a fantastic park and a really credit to the local area. We don't have many parks that as well maintained and as perfect for families as Hanley Park is. It was a lovely place to spend time. But, we then walked back to the hotel to do a Treasure Trail, something we always love when visiting somewhere new.
The Treasure Trail took us all around town, teaching us the history of the area and about Sir Reginald Mitchell who designed the Spitfire. We walked our socks off but felt like we'd really explored Hanley by the end of it – promising the kids that we'd go to the Potteries Museum and Art Gallery before we went home to see a real life Spitfire.
After exploring we spent a couple of hours relaxing at the Hilton Garden Inn – and it was lovely. The kids read and played computer games, Dave and I watched TV and we just enjoyed proper down time – something that doesn't happen often. The hotel gave us plenty of space to relax together and it was a great way to unwind before dinner.
Six Restaurant at Hilton Garden Inn Stoke
We had dinner at the Six Restaurant in the Hilton Garden Inn and it couldn't have been better. After a few disastrous meals out recently, we were hoping for a nice, quiet family meal and honestly, we were so impressed with Six.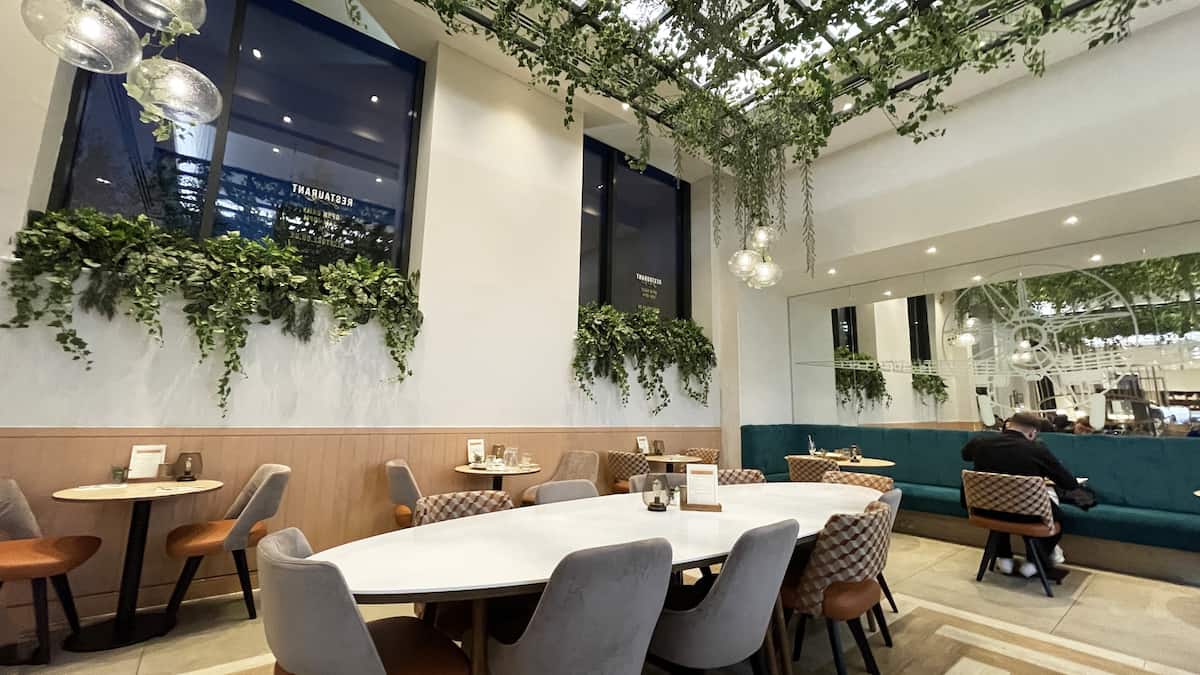 The restaurant was beautiful. With hanging lights, faux plants and greenery everywhere and such an opulent but relaxed vibe, it was a great setting for a meal out as a family. The service was speedy and the staff were great.
We started our meal sharing nachos which were delicious – and cooked on a tortilla bowl that was really clever! The kids don't usually have starters when we're out but we thought we'd all share them and it was such a nice way to start our meal. The kind of food that you can chat over and enjoy together.
For our mains Dave chose the 8oz fillet steak which was served with fries, a tomato and mushroom and blue cheese sauce. I went for the cod and chips which was served with mushy peas and tartare sauce. Both were absolutely delicious. Dave's steak was cooked to perfection and my cod and chips was some of the best fish and chips I have ever had.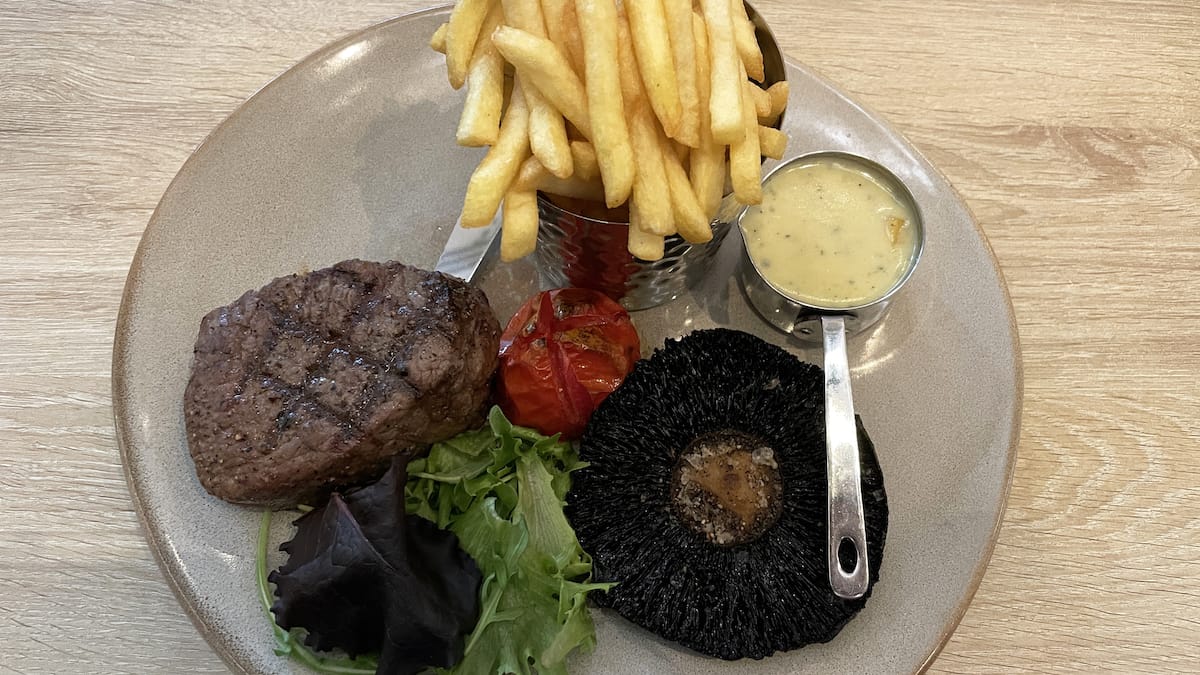 The children had a burger and chicken nuggets which were served with chips and a choice of beans or peas. They were great portion sizes although the restaurant does have some lighter options available for smaller appetites or younger children. Little Man's chicken nuggets actually turned out to be a sliced breaded chicken fillet which he really enjoyed and LP loved her burger – she gave it a big thumbs up.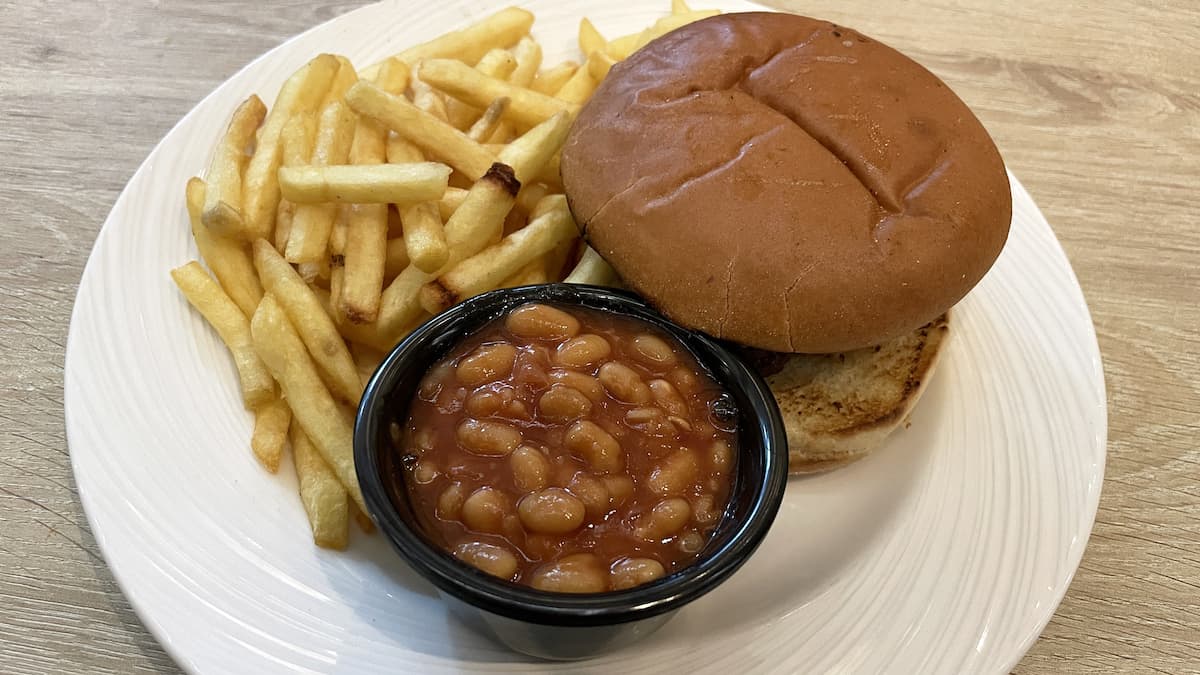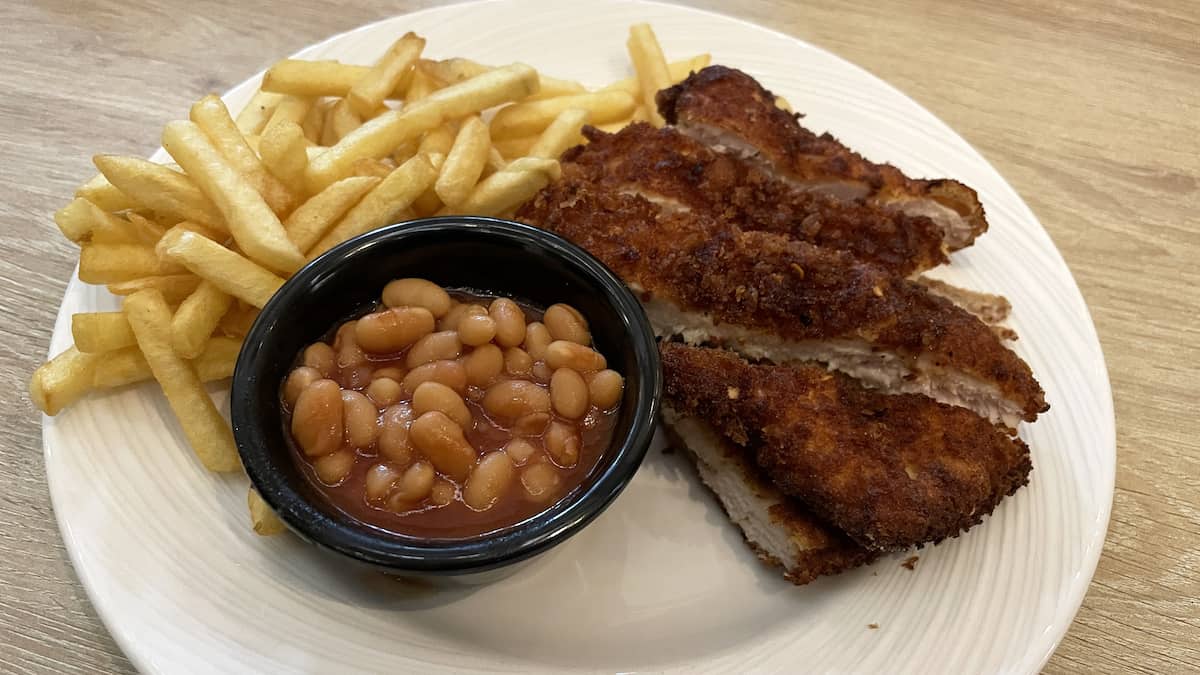 We were all pretty stuffed but had to have pudding so the children went for fruit salad that was served with squirt cream on top and a dish of melted chocolate, and a brownies served warm with ice cream. They loved the puddings and pretty much licked the bowls clean!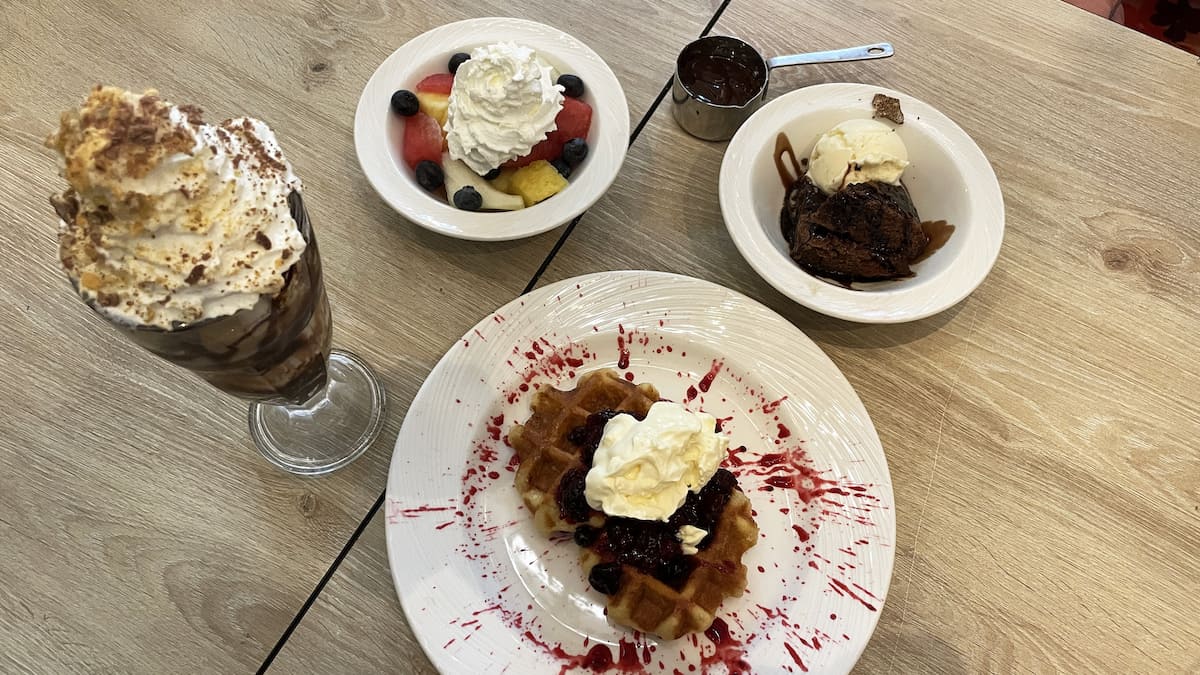 I chose the waffles, served with cream and fruit which was beautifully presented and tasted fantastic while Dave went for the overloaded sundae. We were told we could have a standard sundae of vanilla ice cream, sauce and chocolate pieces or a special sundae left up to the kitchen to create and Dave went for that – loving the mix of ice cream flavours sauces and toppings that arrived in front of him. A fantastic end to a great family meal out.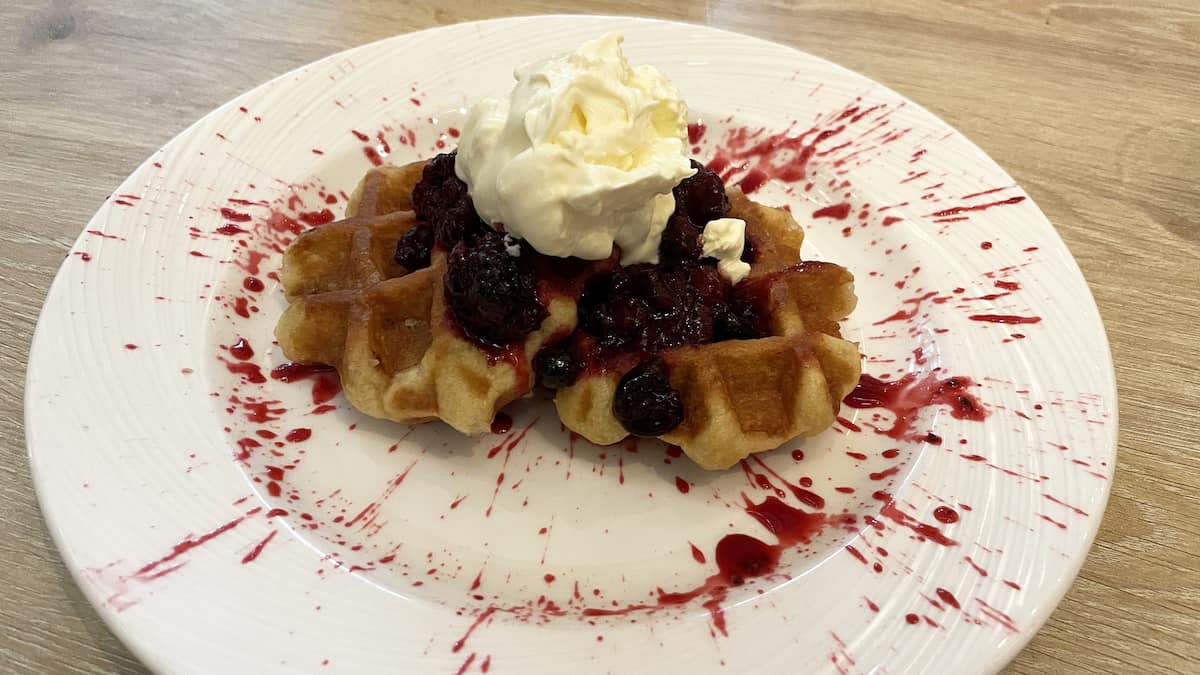 We were only in the Six Restaurant for an hour and a half which is great for three courses as a family. The service was quick, the staff were attentive and our food was fantastic. We really couldn't fault the experience and it was a highlight of our stay at the Hilton Garden Inn Stoke.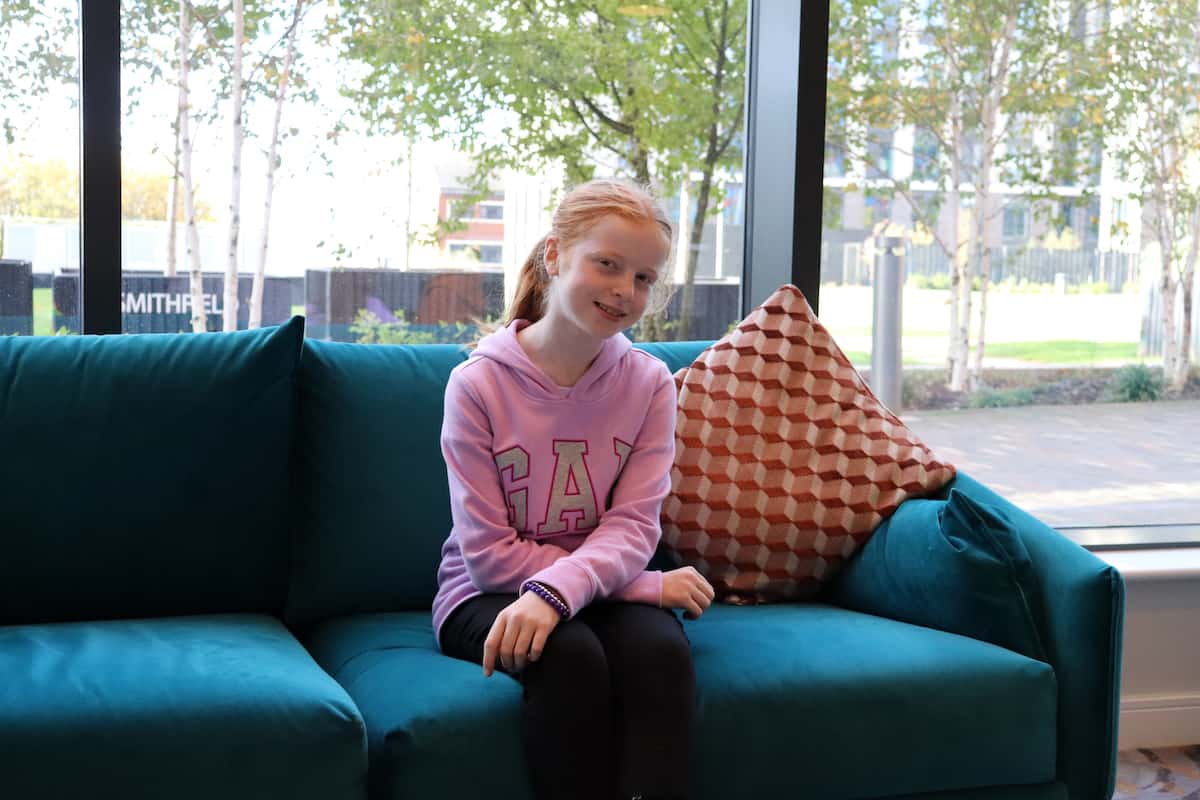 The next day we also had breakfast in the Six Restaurant although this was a breakfast buffet. Breakfast at the hotel runs from 7am to 11am and there's a great spread of breads, cakes and pastries, cold meats and cheese, yogurts, fruit and cereals as well as all the usual hot breakfast options – bacon, sausages, scrambled eggs, hash browns, beans, tomatoes and mushrooms.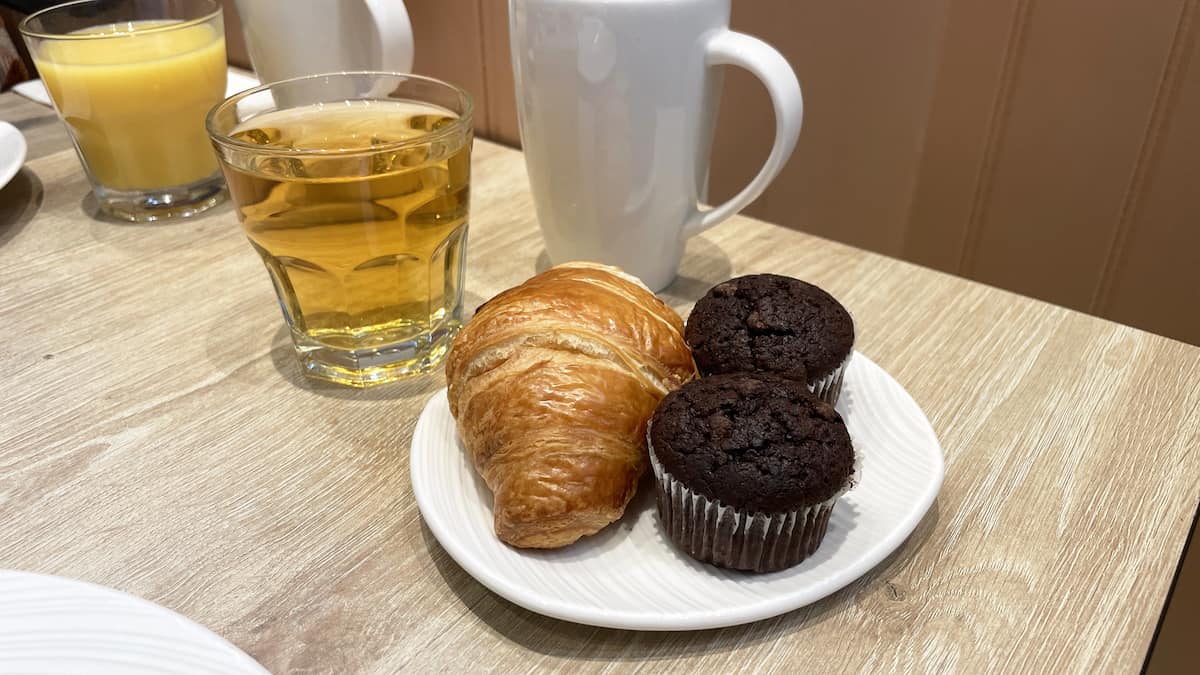 Little Man was in his element as there was a waffle machine. We made waffles for him, topped with golden syrup, that was the perfect start to his day. As you can expect, the machine did get busy, but it felt like such a treat for him on a weekend away.
Overall we had a really lovely stay at the Hilton Garden Inn Stoke and would definitely stay in Hilton Garden Inn hotels in the future. We had a fantastic night's sleep, got to explore a really lovely area and had a really nice meal too. It was such a nice break away and one we'd love to repeat in the future.
You can find out more about Hilton Garden Inn Stoke over on their website – and check out other Hilton Garden Inn locations too. For reference, the hotel address is: Potteries Way, Hanley, Stoke-on-Trent, Staffordshire ST1 4QA
You can see a Reel of our trip to the Hilton Garden Inn Stoke over on Instagram here:
You can find local day out inspiration here: