Disclosure: We were invited on this day out for the purpose of this post however all opinions are my own.
During our week away in Shropshire we were invited to visit BeWILDerwood in Cheshire which was only an hour and a half from where we were staying. It looked fantastic and we couldn't wait to go!
When we arrived, BeWILDerwood was really well managed with staff directing us to parking spots and ticket booths to check in. It's advisable to book online before your trip to make sure they have space available.
From the minute we got out the car we were excited. With a big BeWILDerwood sign right at the start and quirky ticket huts, it set the scene for the day. There were also toilets just before the entrance but also plenty within a short walk inside the park too.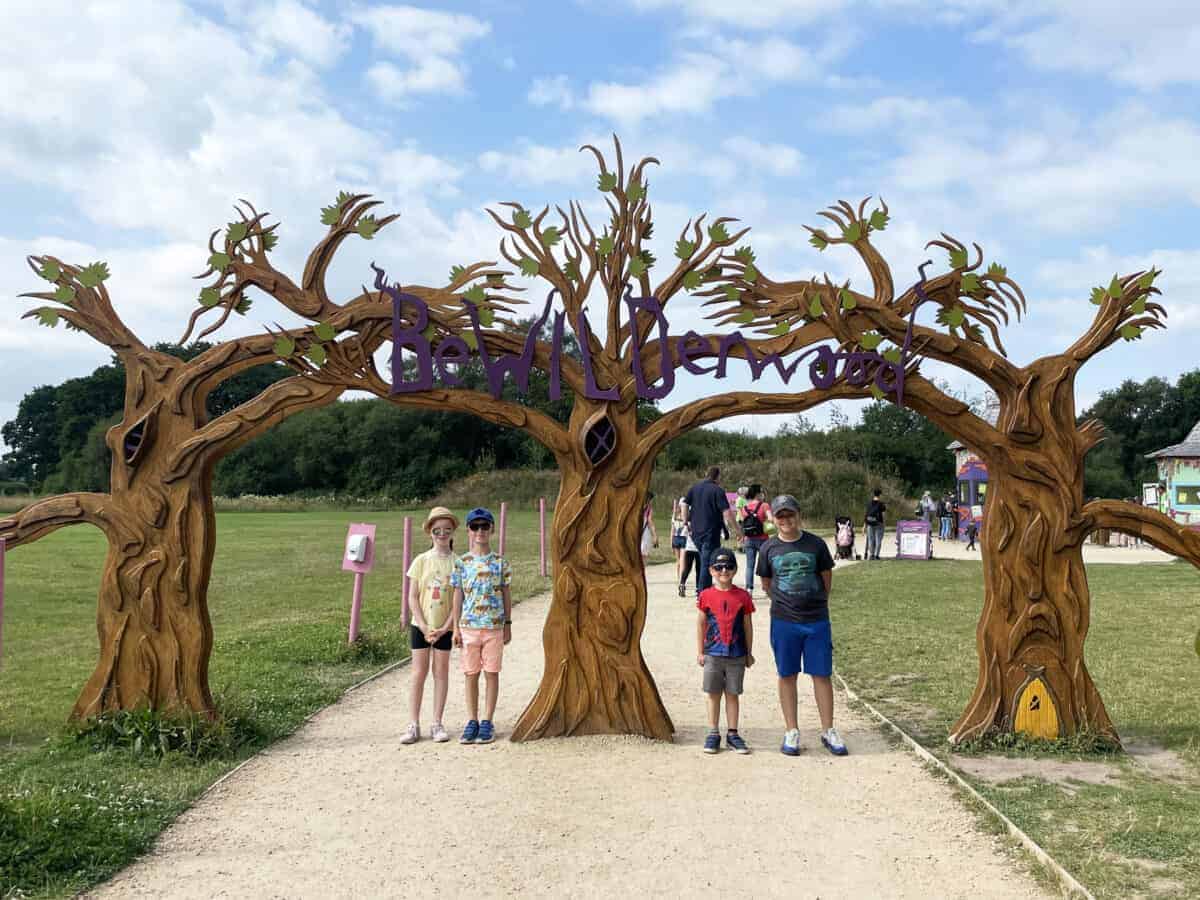 We were given a map but really just let the children decide where we would go. We headed for some toilets inside and followed the Treacherous Trail through the forest. This was amazing and a great start to our trip. The walkway meandered through the trees, making for a really exciting walk, especially with cute windows, doors and little houses hidden on the trees.
We came out right at the Slippery Slopes, three amazing slides that you go down in wearing sacks on your feet – that make you go even faster! One was extra wide so friends and family could go down together, one was a normal slide but much bigger and one was an extra steep slide. There was something for everyone!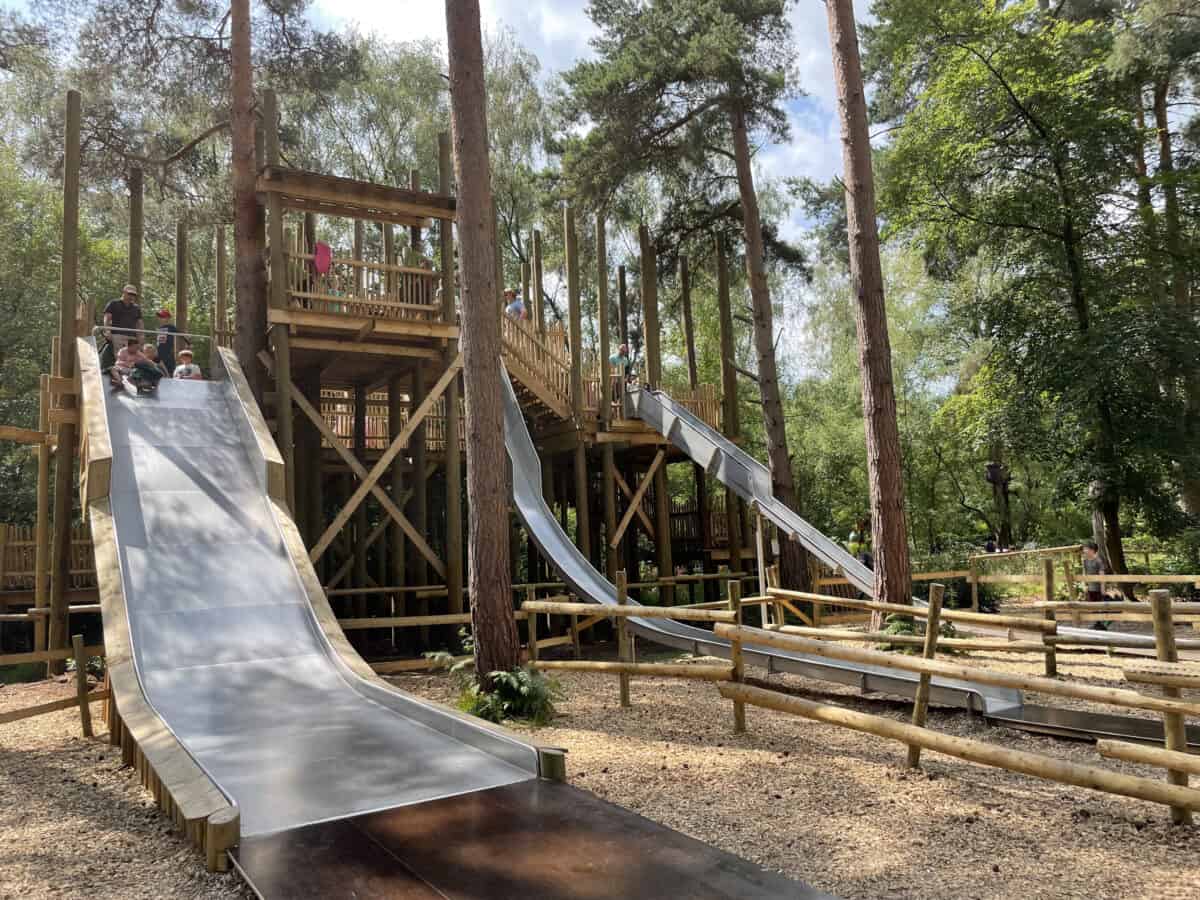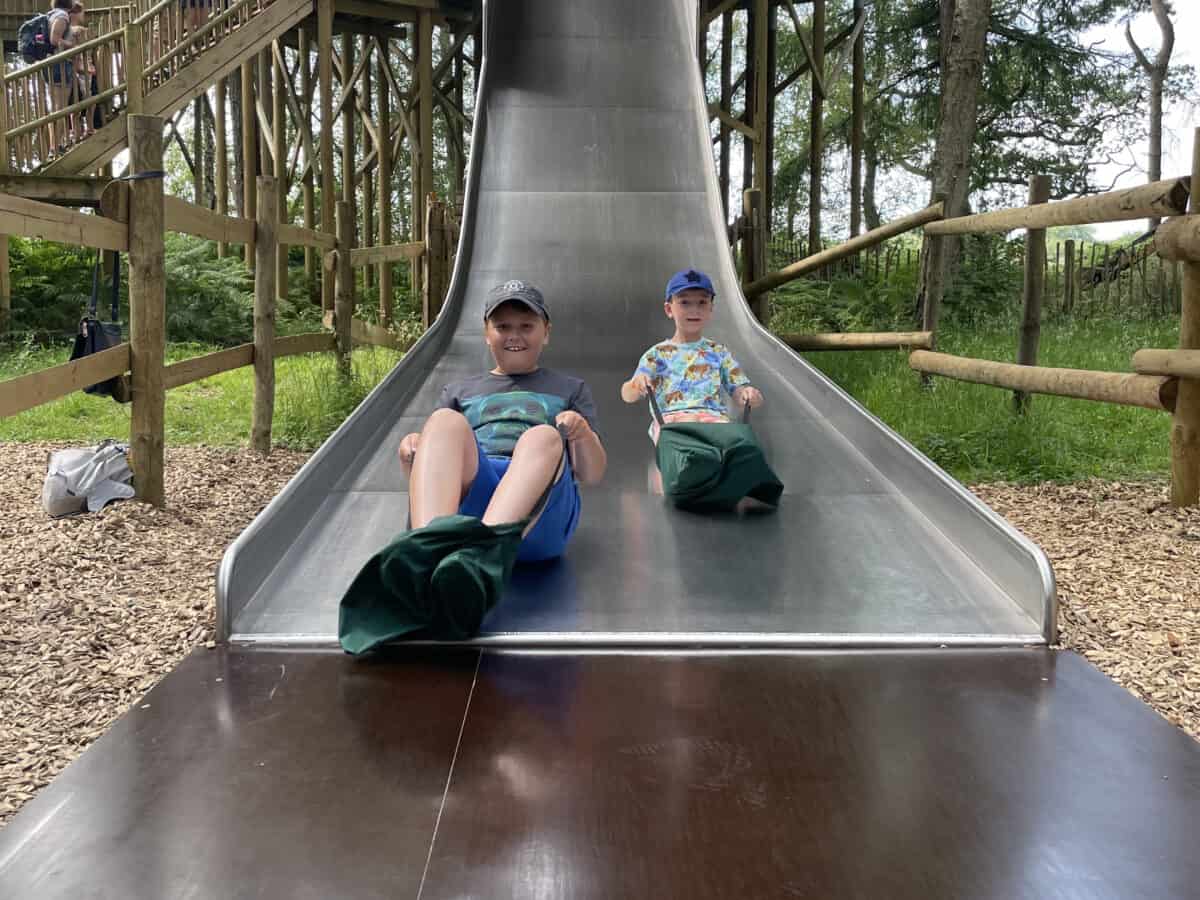 The children absolutely loved the slides – and the adults even had a go too! It was at this point I realised that BeWILDerwood was a day out for everyone. So many parents were really enjoying themselves and not just to accompany small children down the slides either!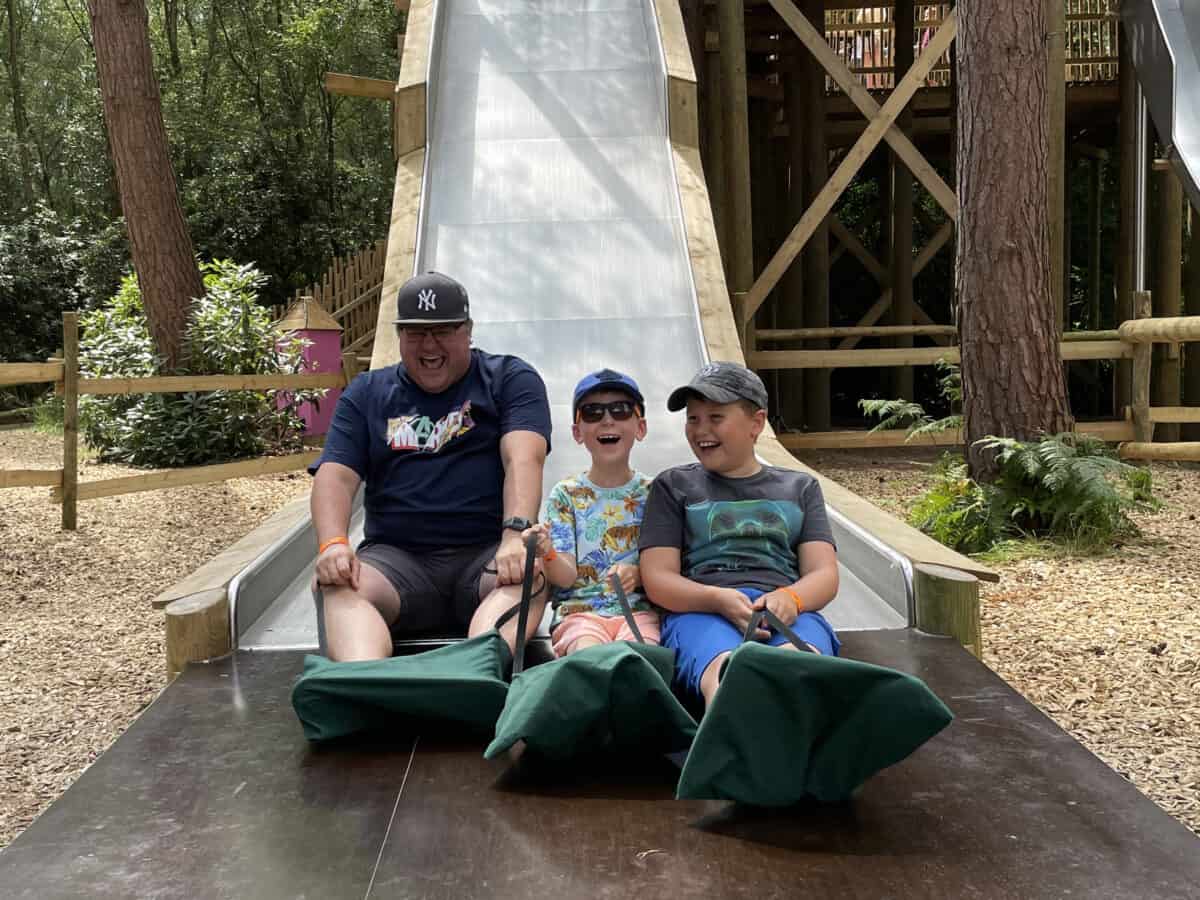 There were queues for the slides, and most activities, but there were staff members at the front of the queues who were giving advice and instructions and keeping everything flowing really well.
We found ourselves lost in the Mish Mash Maze which was great fun and the children loved choosing which way to go next. It was a huge wooden play structure with bridges, tunnels, twists and turns.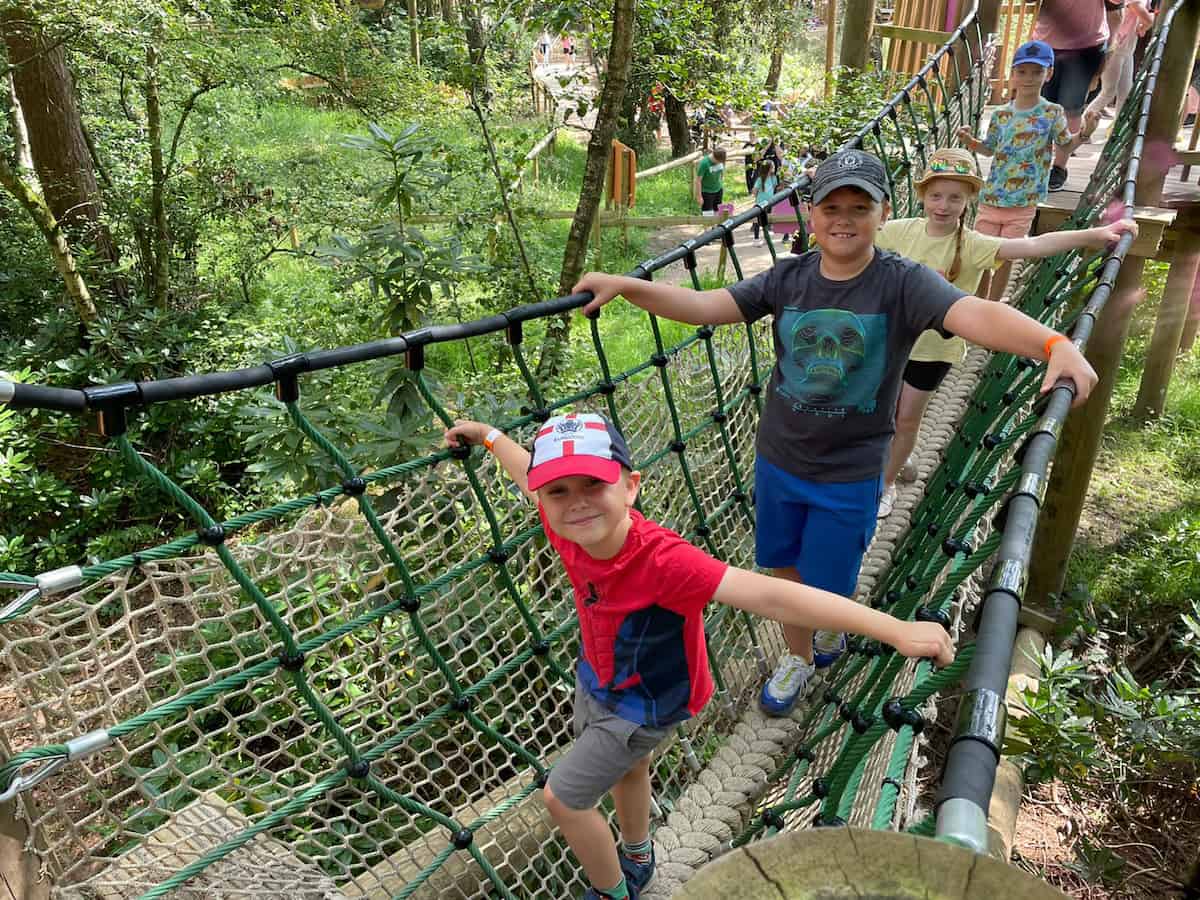 The thing I loved about BeWILDerwood was that even walkways between activities were fun. There was so much to look at, little trim trails to climb over and things hidden in the trees. It made every moment of our day exciting – we never knew what we'd seen around the next turn!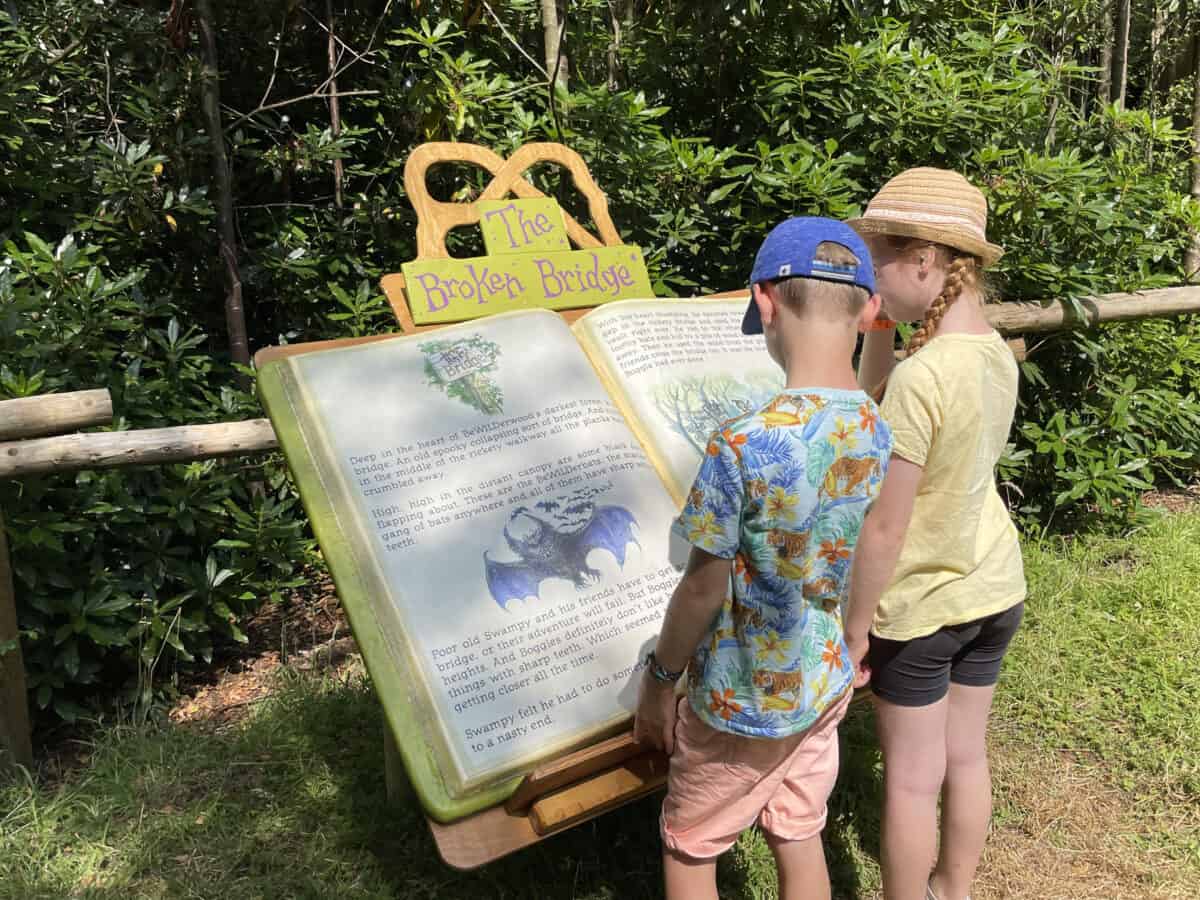 Another huge play structure was The Broken Bridge. This had so many bridges to cross – skinny ones, twisty ones, ones that took you higher and others took you lower and so many broken ones! It was great fun.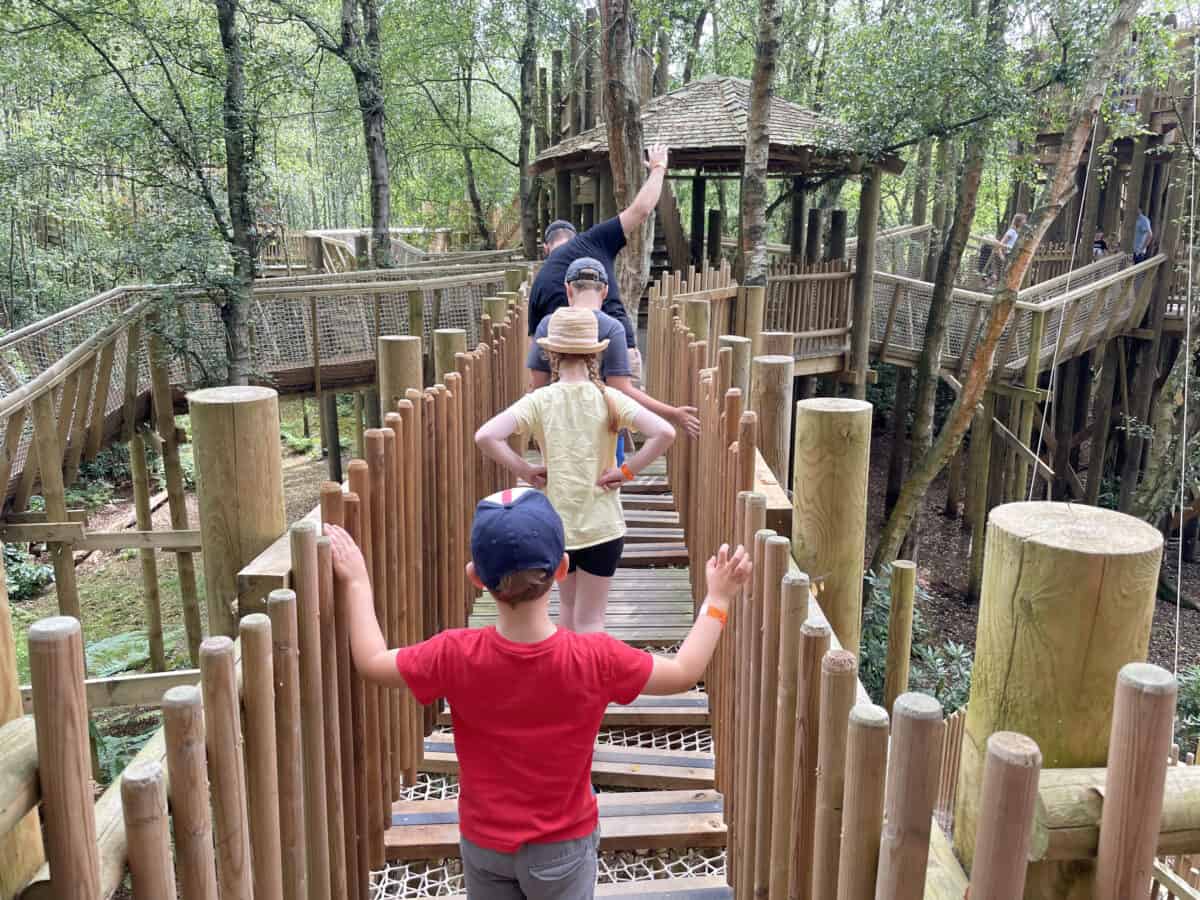 We found a picnic bench to have lunch, as we'd taken a picnic with us but there were a couple of places to buy food and drinks at too. Everything was reasonably priced and the service was quick.
A great thing about BeWILDerwood is that everywhere is well shaded. Trees cover most of the site and other places have sail shades stretched out. It means that even on a really hot day like when we visited, it's lovely and cool.
After lunch it was time for a story at the Storytelling Stage. The stories ran every hour, alternating between two different stories through the day. This part of the park isn't shaded but is well managed with socially distanced seating indicated by coloured bands on the benches.
The children loved the show we watched. It was really interactive with dancing and audience participation, featuring puppets of the main BeWILDerwood characters and a staff member narrating. It was about twenty minutes long and a nice way to break up our day.
We went on more Slippery Slopes and a giant swing that held three people – top tip for this, make sure the adult is in the middle – or two adults on the sides so the swing is well balanced! This was great fun and the children had never seen a swing like it before!
For younger children there were so many trim trails like Tiptoe Valley and the Toddlewood on the Hill play area. We were even surprised to see a super cute zip line for little children with a toddler swing seat attached! Such a great idea to make sure everyone has a great time!
The Sky Maze was great – and we had a challenge to find words dotted around the structure. This was another multi storey play structure with different walkways going in different directions. This was the only part of BeWILDerwood that I felt was incredibly busy, with people walking both ways along really skinny routes and congestion in places.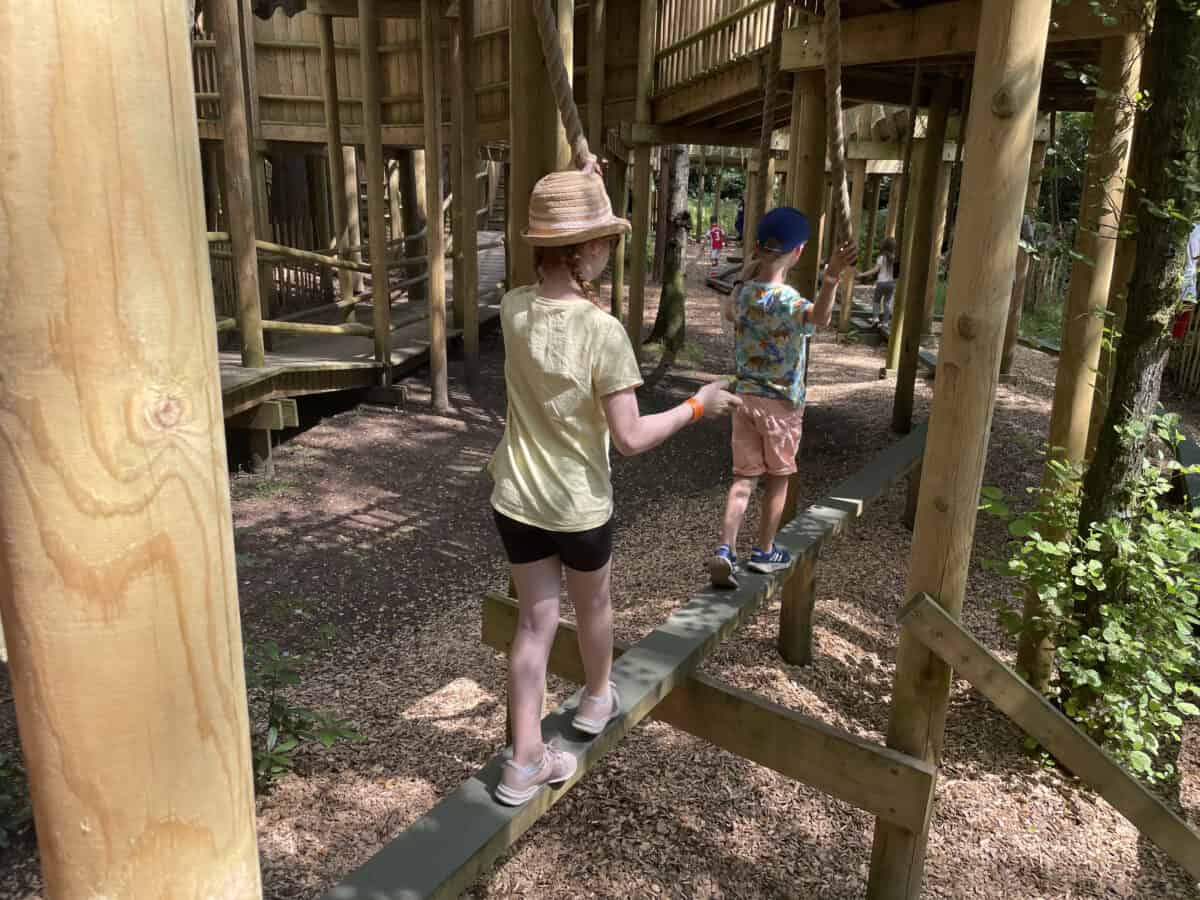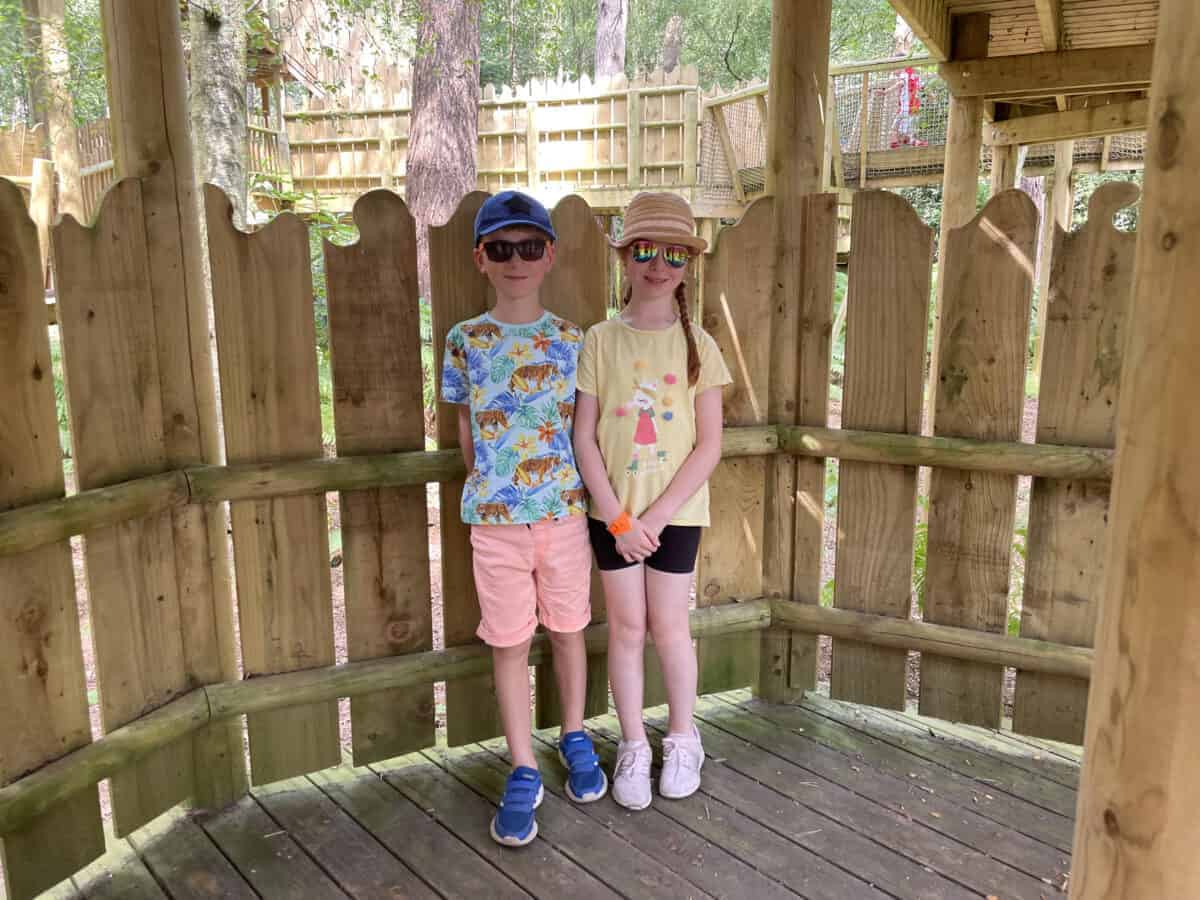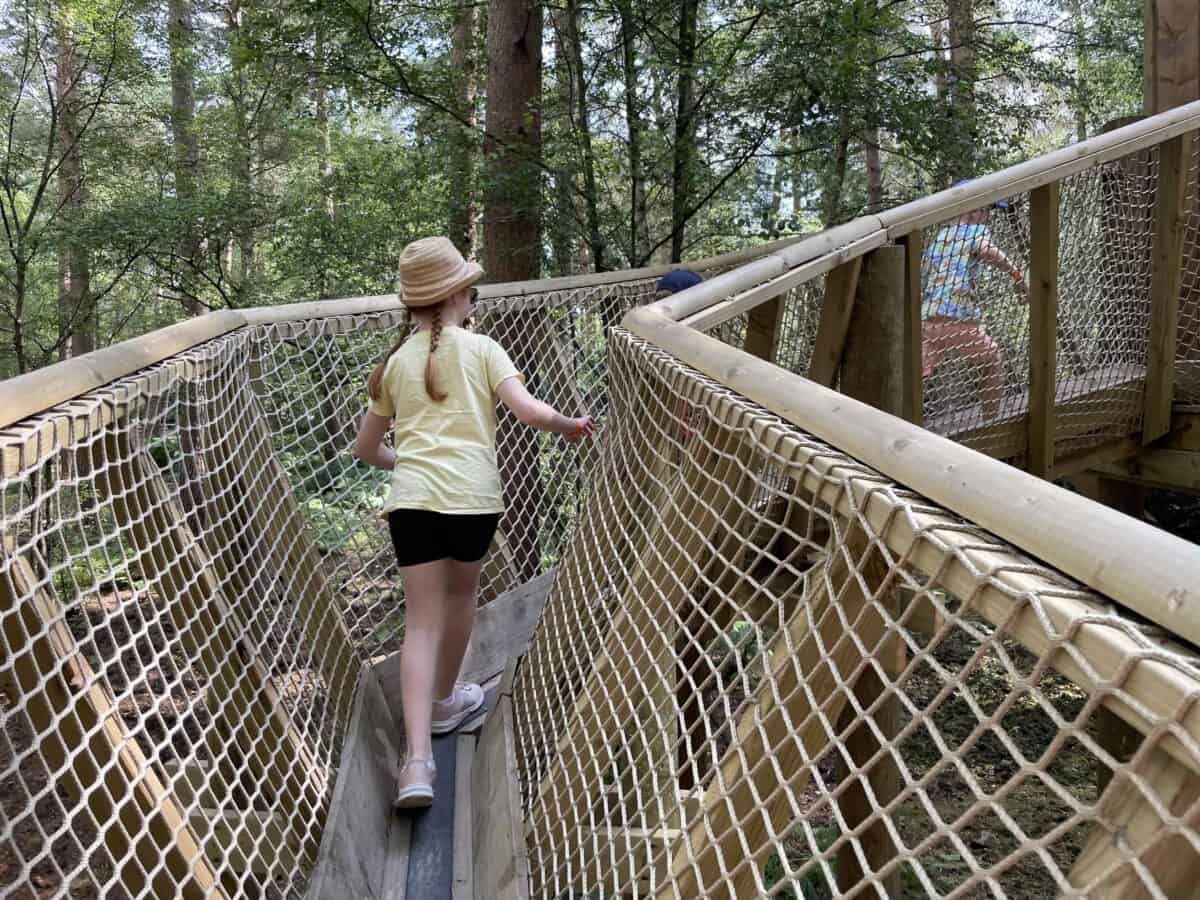 The den building area was fantastic and really well managed. Groups of visitors could use branches to build a den against a tree and then when they were done it was taken apart for another family to enjoy. Such a simple activity but one the children really enjoyed.
The Telescope Tower was one of the quietest activities for us – with a tower to climb giving great views of the site. We did find this one wasn't too well signposted, hence it being quite quiet when we arrived and not seeing any other visitors whilst we were on it!
The last activity we did was the Wobbly Wires zip lines. These were great fun and although they were incredibly busy it was all well managed. There were six standard zip lines and one for younger visitors and the queue moved pretty quickly.
The children – and adults – absolutely loved this part of the day and we were so glad we'd saved it until last, it was a lovely point to finish on. Everyone loves a zip line and there was plenty of places for people to spectate too.
Although our day finished there, there was so much else we could have done if we'd had time. There were craft activities in the Big Hat, with children making beautiful crowns and wearing them around BeWILDerwood with pride. There were other areas to look at like the Twiggle Village, Boggle Village and Witches House which really add to the environment and help build the BeWILDerwood story too.
Through the day the kids had an activity trail to complete – spotting BeWILDerwood characters holding letters around the park and finding the words in the Sky Maze. At the end they showed their trails to a staff member at the gate and got given a cute souvenir badge, a really lovely touch that little ones will really appreciate.
BeWILDerwood advise wearing covered arms and legs to visit but due to the extremely hot weather we thought we'd risk it and wear shorts. This was the right choice for us although we did get a few insect bites during the day – to be expected in a forest!
We loved our day at BeWILDerwood and it really is a full day out and fun for the whole family. They offer a reduced entrance price for anyone over 65 and those under 92cm go free and they also have annual passes if you want to visit regularly – we definitely would if we were closer! Find out more and book your trip to BeWILDerwood Cheshire – or their sister site in Norfolk – over on the BeWILDerwood website.
You can find more day out inspiration here: