If you're anything like us, wherever you go as a family, you want to make sure that the children will be entertained. Because of this, there's always that joy of finding local pubs with not just a large beer garden but a play area in it too. A pub that knows that parents want to enjoy a drink and relax whilst their children play happily, make new friends but remain close by and supervised.
Growing up in the 90s, some of my fondest memories are of sitting in pub beer gardens on a holiday afternoon or sunny weekend. My brother and I would have a glass bottle of Coke, drinking it through a straw whilst enjoying a packet of crisps in the sunshine. But back then, we talked or read a book whilst our parents relaxed. There weren't any outside play areas to keep us amused!
Now, the majority of pubs cater to families. They often have a lovely children's menu, activity sheets to enjoy whilst the children wait for their meal and have highchairs and baby change facilities. Pubs know that families are great clientele and will do all they can to make a family visit a great one, ensuring the pub is as child friendly as possible so that any family who visits will want to return again and again.
Kids play areas in pubs go that one step further. Not just creating family friendly pubs but actively wanting families to visit. So here are some pubs with outdoor and indoor play areas across Berkshire to keep your little ones entertained. I hope it gives you inspiration when you're next looking for somewhere to visit after a day out or just to spend a sunny afternoon with friends or family. There's also a map below so you can see easily where each pub is – and the vast majority have car parks too.
Family Pubs with Play Areas in Berkshire
1 – Jolly Farmer – Church Road, Cookham Dean, Cookham, Maidenhead Berkshire SL6 9PD
The Jolly Farmer is a village country pub servings a great variety of food and drinks. It has a large garden with a new play area and dogs are welcome too – as long as they're kept on a lead.
Things to do nearby:
Bekonscot Model Village and Railway
---
2 – The White Hart – Moneyrow Green, Holyport, Maidenhead Berkshire SL6 2ND
Friendly family atmosphere
The White Hart is a charming traditional English pub that is full of character. It prides itself in being at the heart of the local community and focuses on offering delicious fresh food, a great choice of real ale and a warm welcome to all. It has a log fire blazing in the winter and a lovely beer garden with separate enclosed children's play garden that is a hive of activity in the warmer months.
Things to do nearby:
Savill Garden
Ockwells Park
---
3 – Bel & The Dragon – High Street, Cookham Berkshire SL6 9SQ
Situated in the picturesque village of Cookham, just a short stroll from the Thames path, Bel & The Dragon combines our 600 years of history with the best in modern British cuisine. It has ten beautiful bedrooms, a large terrace and outside seating area as well as a lovely large play area for the children.
Things to do nearby:
Little Marlow Lakes Country Park
Winter Hill National Trust
---
4 – The Furze Bush Inn – Hatt Common, Ball Hill, Newbury Berkshire RG20 0NQ
The Furze Bush Inn is a family owned traditional hotel, public house and restaurant just outside Newbury. It sits in the North Wessex Downs Area of Outstanding Natural Beauty and has gardens that are the perfect place to relax and enjoy a drink or meal in good company, especially with the addition of a lovely play space for the children.
Things to do nearby:
The Chase National Trust
North Wessex Downs
---
5 – The Craven Arms – Skinner's Green Lane, Enborne Berkshire RG20 0HG
The Craven Arms offers a cosy pub setting complete with garden and fantastic play area. It's a family focused pub, offering great food and a really lovely atmosphere.
Things to do nearby:
Greenham Common Control Tower
Donnington Castle
Watership Down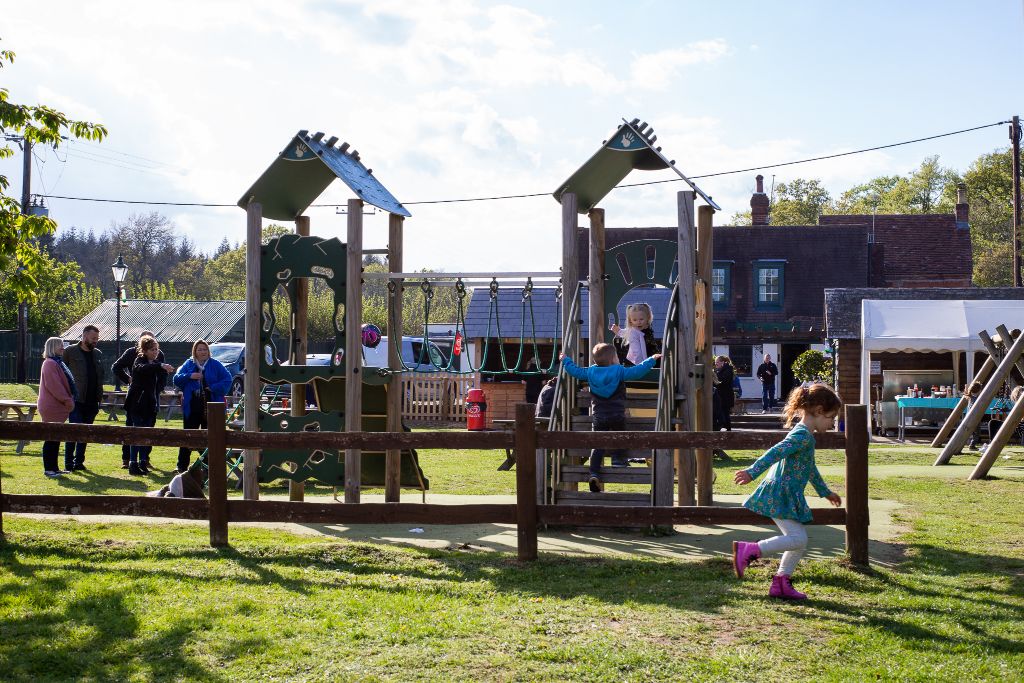 ---
6 – The White Horse – Newbury Road, Hermitage, Thatcham Berkshire RG18 9TB
The White Horse is a top local pub which has built up a reputation for providing excellent traditional food prepared from fresh, quality ingredients sourced from local suppliers. It has a fantastic garden that includes a safe, enclosed play area for children and dogs are also welcome both indoors and out.
Things to do nearby:
Bucklebury Farm and Deer Safari Park
---
7 – The Dukes Head – 2 Upper Village Road, Sunninghill, Ascot Berkshire SL5 7AG
The Dukes Head offers home-cooked gourmet dishes, fine wine, a log fire and a lovely, relaxed environment where the whole family will feel welcome. Plus, they have a little outdoor play area for the young ones too.
Things to do nearby:
Englemere Pond Nature Reserve
Windsor Great Park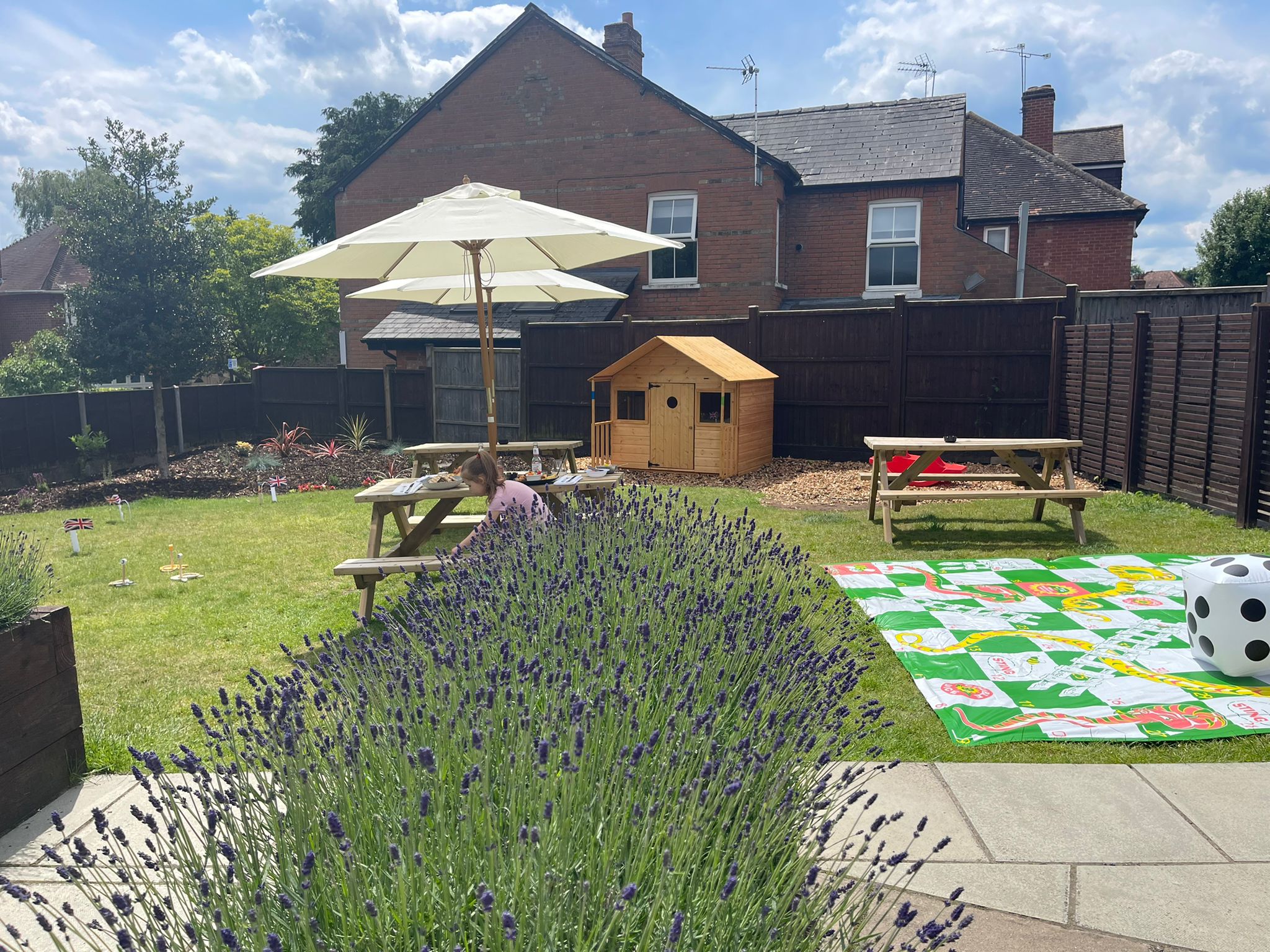 ---
8 – The Old Boot Inn – Stanford Dingley, Reading Berkshire RG7 6LT
The Old Boot Inn is a traditional pub offers traditional British home cooked pub food with a contemporary touch served alongside locally brewed British ales and a selection of fine wines. The beautifully 18th Century inn has roaring fires in Winter along with a family-friendly garden with fabulous views and a fantastic play area.
Things to do nearby:
Bucklebury Farm and Deer Safari Park
Pangbourne Meadow
---
9 – The Black Horse – Windmill Road, Fulmer, Slough Berkshire SL3 6HD
The Black Horse is a family friendly country pub, guesthouse and farm shop that started as a 17th century craftsman's cottage but has been lovingly refurbished and extended into a modern pub, with all the charm and character of its original setting. It's family friendly, dog friendly and has a fantastic garden complete with play area.
Things to do nearby:
Black Park Country Park
Stoke Park
---
10 – Rifle Volunteer – 141 Reading Road, Wokingham Berkshire RG41 1HD
The Rifle Engineer was originally the first inn on the road from Reading, but it's now a popular community local serving a good selection of real ales. It has a spacious bar and is very much a sports lover's pub with large TV screens and an alcove area for darts players but also a small room for children at the rear and a play area in the garden.
Things to do nearby:
Dinton Pastures Country Park
Museum of Berkshire Aviation
Caversham Lakes
---
11 – Elephant and Castle – Lodge Road, Whistley Green, Reading Berkshire RG10 OEH
The Elephant and Castle is a two bar community pub with plenty of pub games and a great menu of hot and cold, home-cooked food along with a roaring open fire in winter. The huge beer garden has a large children's play area and the pub is dog friendly too.
Things to do nearby:
Charvil Country Park
Dinton Pasture Country Park
Oakwood Climbing Centre
---
12 – The Coach and Horses – Bath Road, Midgham Berkshire RG7 5UX
The Coach and Horses is a traditional English pub bursting with character, complete with a cosy fireplace area and exposed beams on the ceiling. There's a large garden, sandpit for the children and a wonderful decked seating area along with a varied menu to suit all appetites.
Things to do nearby:
Silchester Roman City Walls
Ashford Hill National Nature Reserve
Englefield House
---
13 – The Greyhound – Tidmarsh, Reading, Berkshire RG8 8ER
The Greyhound is a real social hub at the heart of Tidmarsh village near Reading. Recently refurbished, the Greyhound offers a modern take on a classic country pub with contemporary style meeting 13th century charm. It has beautiful gardens and a lovely children's play area.
Things to do nearby:
Nuffield Place National Trust
---
14 – The Wellington Arms – 203 Yorktown Road, Sandhurst Berkshire GU47 9BN
The Wellington Arms dates back to 1857 and sits in the heart of Sandhurst. They offer delicious food, tasty cocktails and somewhere for a good dance! They're definitely a modern offering in a traditional setting, complete with a fantastic play area for the children.
Things to do nearby:
Horseshoe Lake Activity Centre
Shepherd Meadow Nature Reserve
Jake's Play Barn and Mini Farm
---
15 – The Fox and Castle – 21 Burfield Road, Old Windsor Berkshire SL4 2RB
The Fox and Castle is a dog and family friendly pub with a huge garden. Under new ownership, the pub no longer has its own children's play areas. However, there is a very large children's play area behind the pub in the recreation ground.
Things to do nearby:
---
16 – Running Horse – London Road, Bracknell Berkshire RG12 2UJ
The Running Horse are all about great food at tasty prices and it's a great place to stop for a bite to eat. Plus, there's a lovely garden and play area for the children.
Things to do nearby:
---
17 – Palmer Arms – 1291 Village Rd, Dorney, Windsor Berkshire SL4 6QW
The Palmer Arms is a country pub and restaurant in the village of Dorney. They serve serious, unpretentious food with great service in a friendly and relaxed atmosphere. There's always a welcoming environment and they are family friendly, with a large garden and children's play area.
Things to do nearby:
---
The Berkshire Arms Midgham and the Dundas Arms Hungerford also came really highly recommended but I couldn't find confirmation online of a play area currently at either pub.
If you know for sure, get in touch and I'll add it to the list! There aren't as many pubs with play areas in Berkshire as there are in Surrey and Hampshire and most tend to be across West Berkshire but there are still quite a few options here.
So, that was 18 child friendly pubs with outdoor play areas, climbing frames and play frames across Berkshire which I hope has given you some inspiration. I'll add more as I come across them and please let me know if you have a favourite that I've missed too. It's so nice to enjoy the outdoor space that many pubs offer, especially over the warmer months, and it's lovely that so many have dedicated an outdoor area to family fun to help keep the kids entertained!
You can also see pubs with play areas in different counties here: