Disclosure: We were invited on this day out for the purpose of this post however all opinions are my own.
Wellington Country Park near Reading in Berkshire isn't too far from us and we have been a few times since the children were toddlers. We went for LP's third birthday and again for Halloween around eighteen months ago. When we stayed at The Wellington Arms the children couldn't wait to go back to Wellington Country Park and I couldn't wait to see if it was as great a day out as I remembered.
We always find Wellington Country Park really well sign posted and it has so much free parking. The main reception and visitor centre is a really welcoming space with friendly staff, lovely clean toilets, a shop and well stocked cafe. There's plenty of seating inside and the staff are happy for you to make use of the space and sit inside to eat picnics outside of the main lunch hours which was nice to see. Wellington Country Park is a fully outdoor day out so it's nice that there's somewhere to go in sudden downpours or to have a break from the cold.
Wellington Country Park is situated around a lake and you can walk either way around the lake and still see everything. We started our day out at a play area, walking past connect four and an indoor soft play for younger visitors.
The thing you'll find with Wellington Country Park is that there are so many places to play. Every time we walked a bit further there was a new play area to explore and the children absolutely loved it.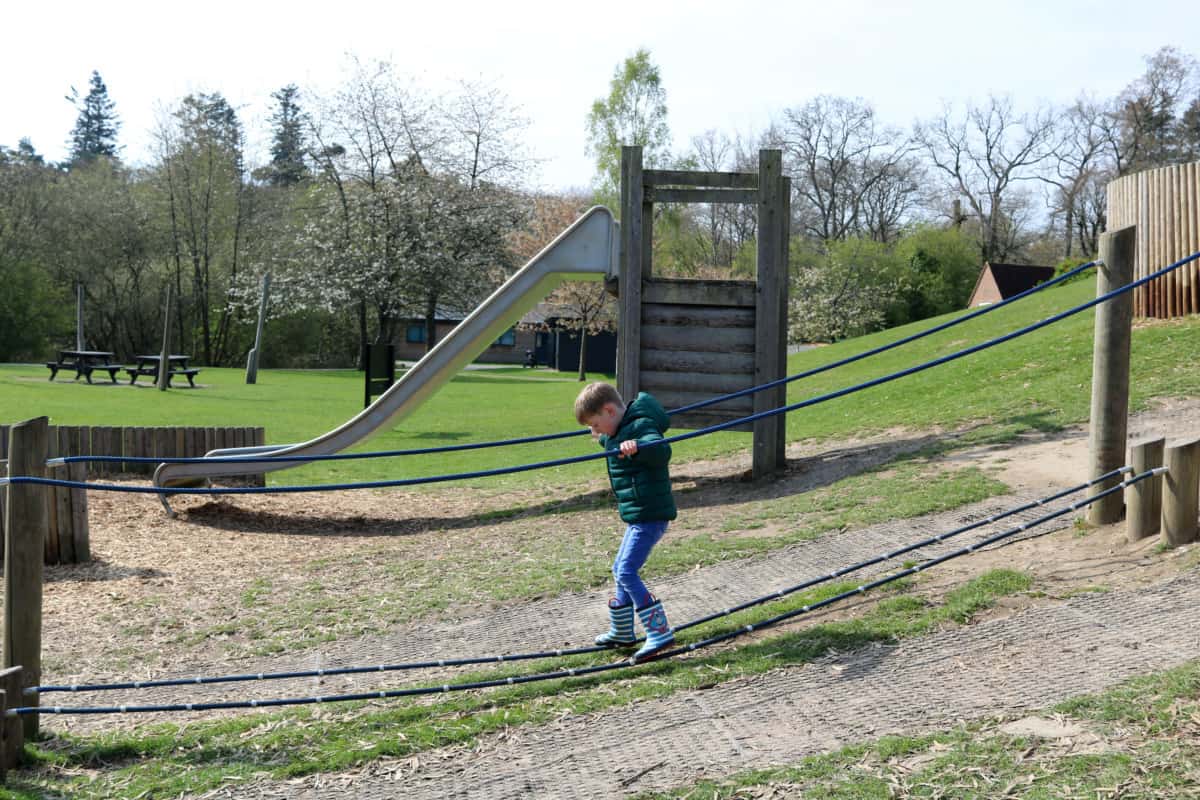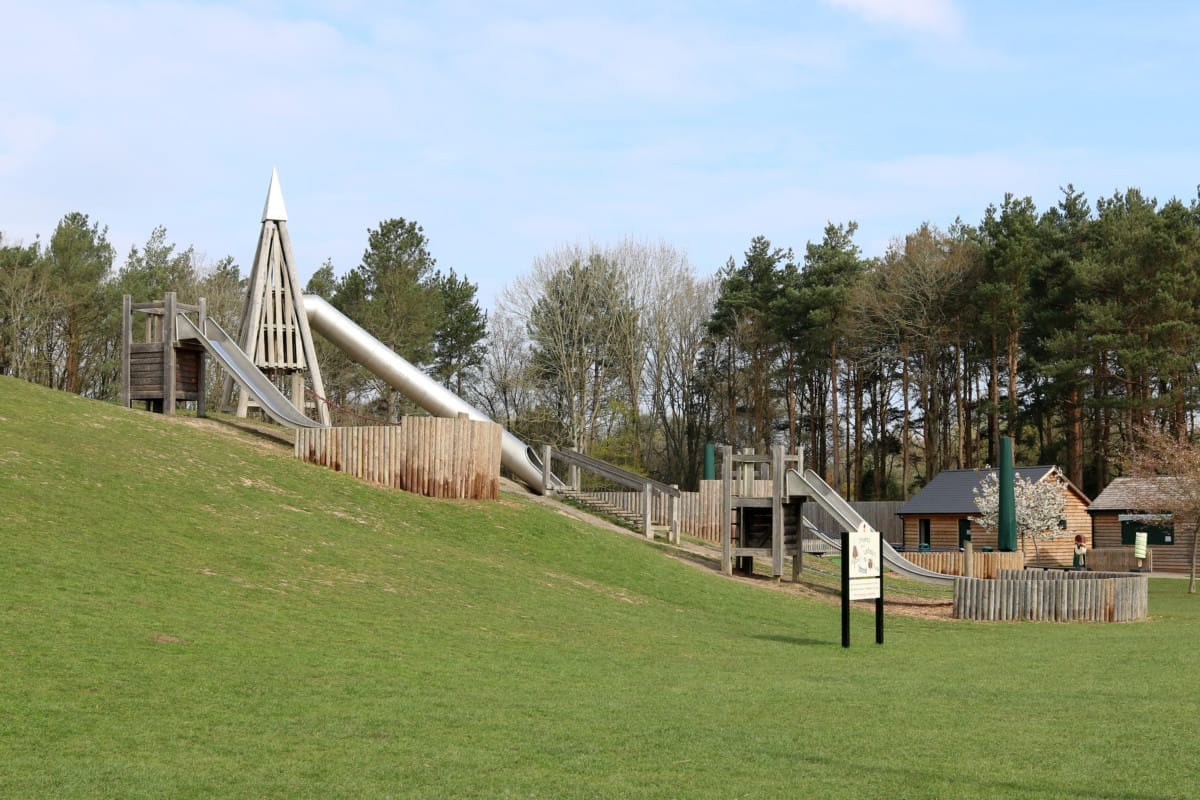 The first play area has slides and climbing structures all on the side of a pretty steep hill – adding to the adventure. There was a giant deckchair too and a splash park alongside it – complete with toilets and changing rooms – for when the weather is warmer.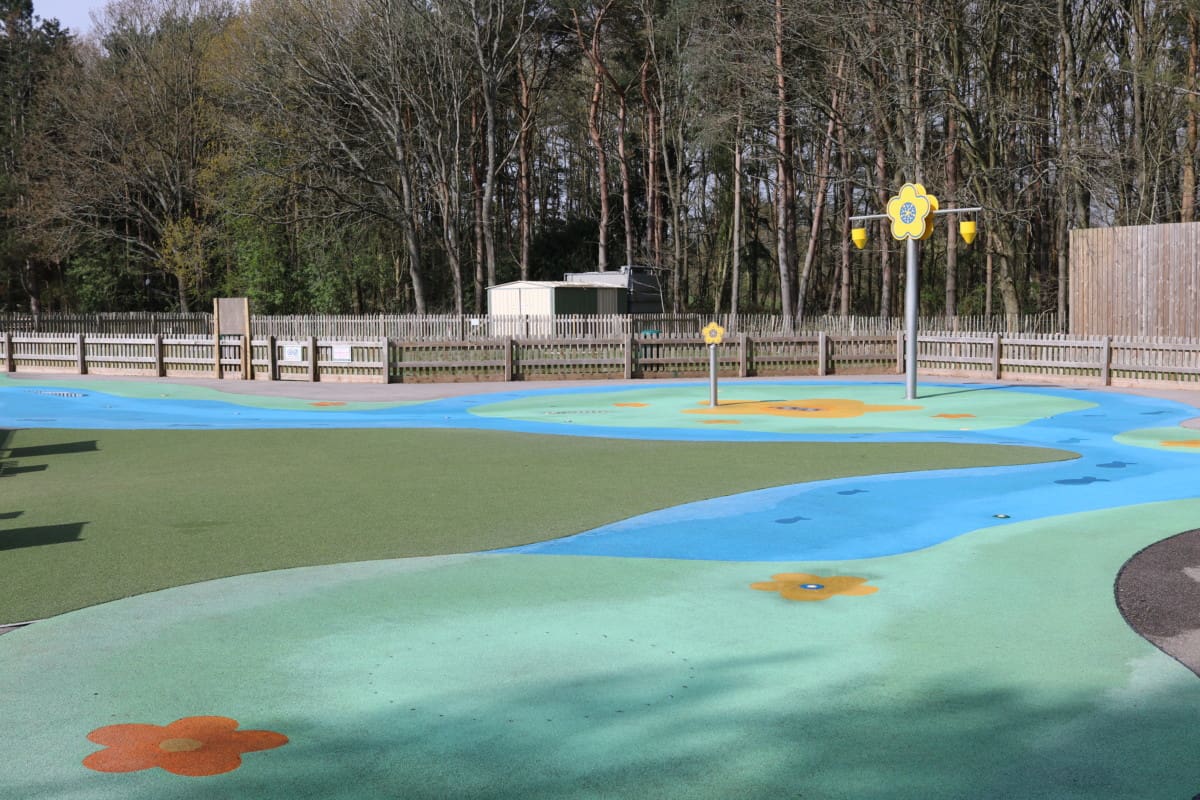 Next there was a small wooden play area before we walked around the dinosaur area. There are so many dinosaurs, all with information boards to learn about them and the children loved running around them and acting scared! Dinosaurs are always a great addition to a day out.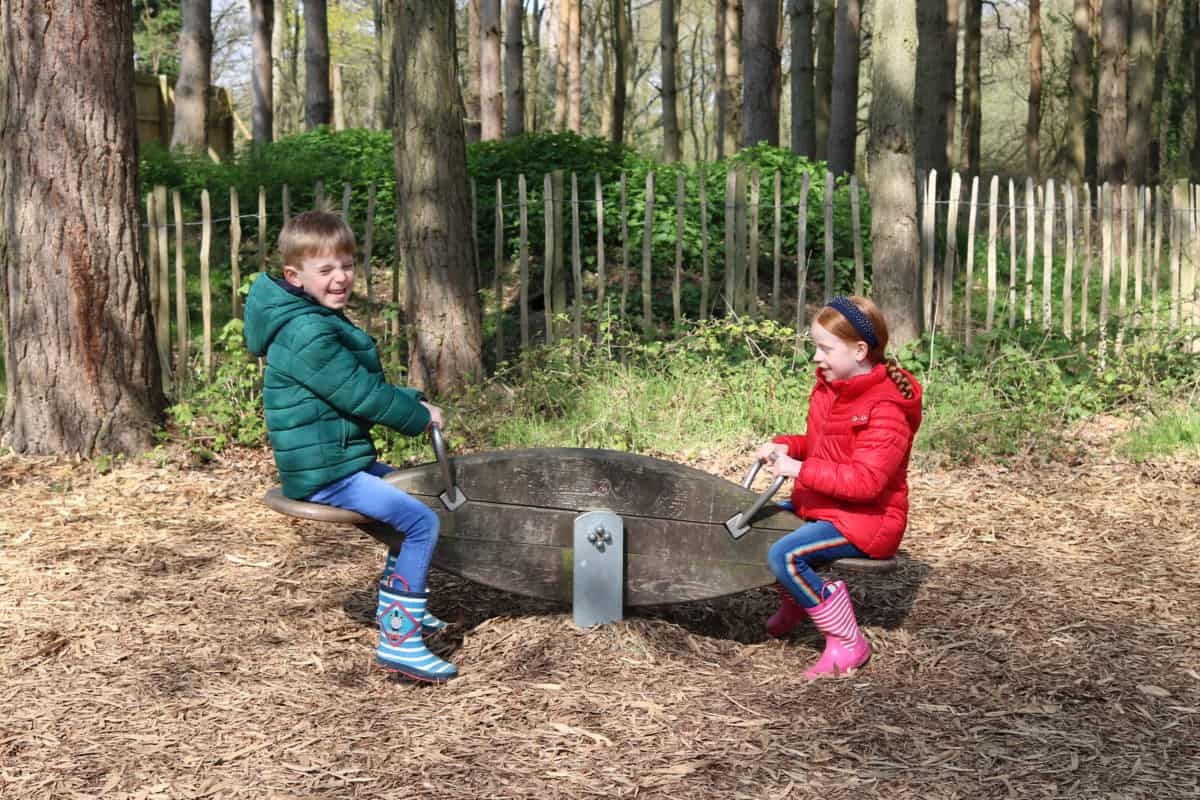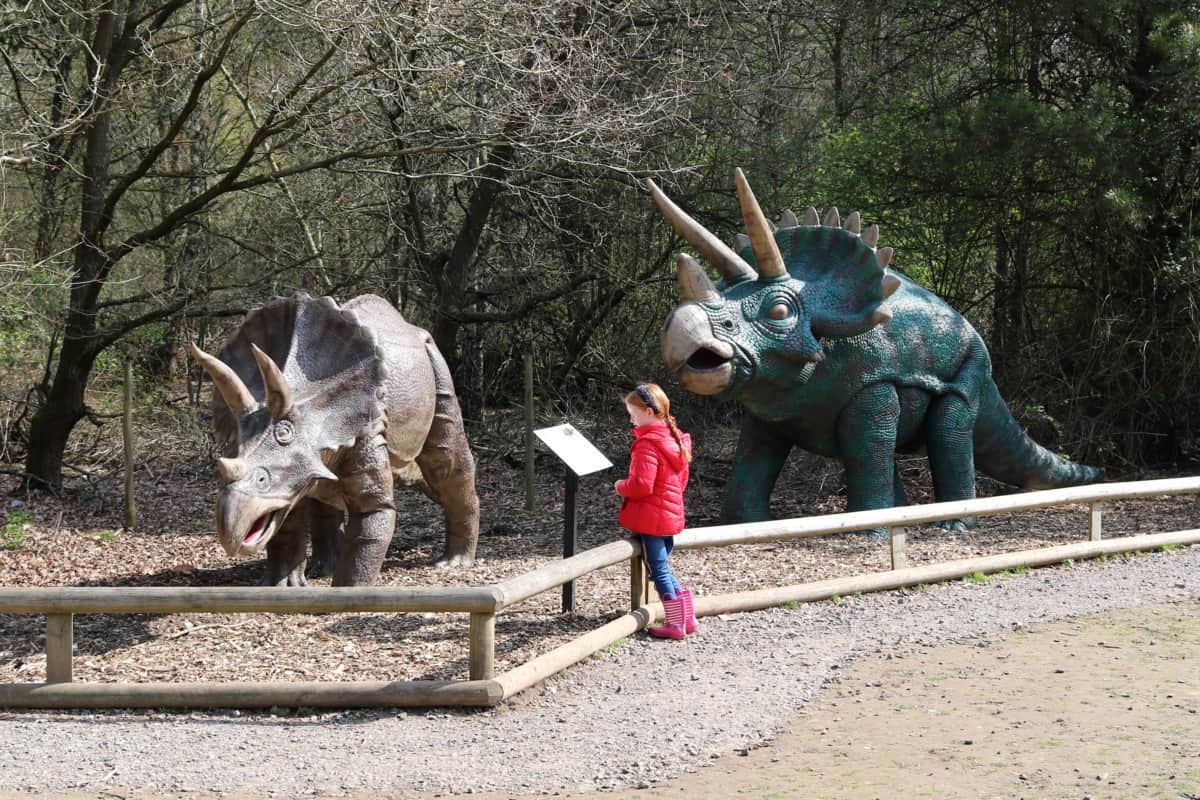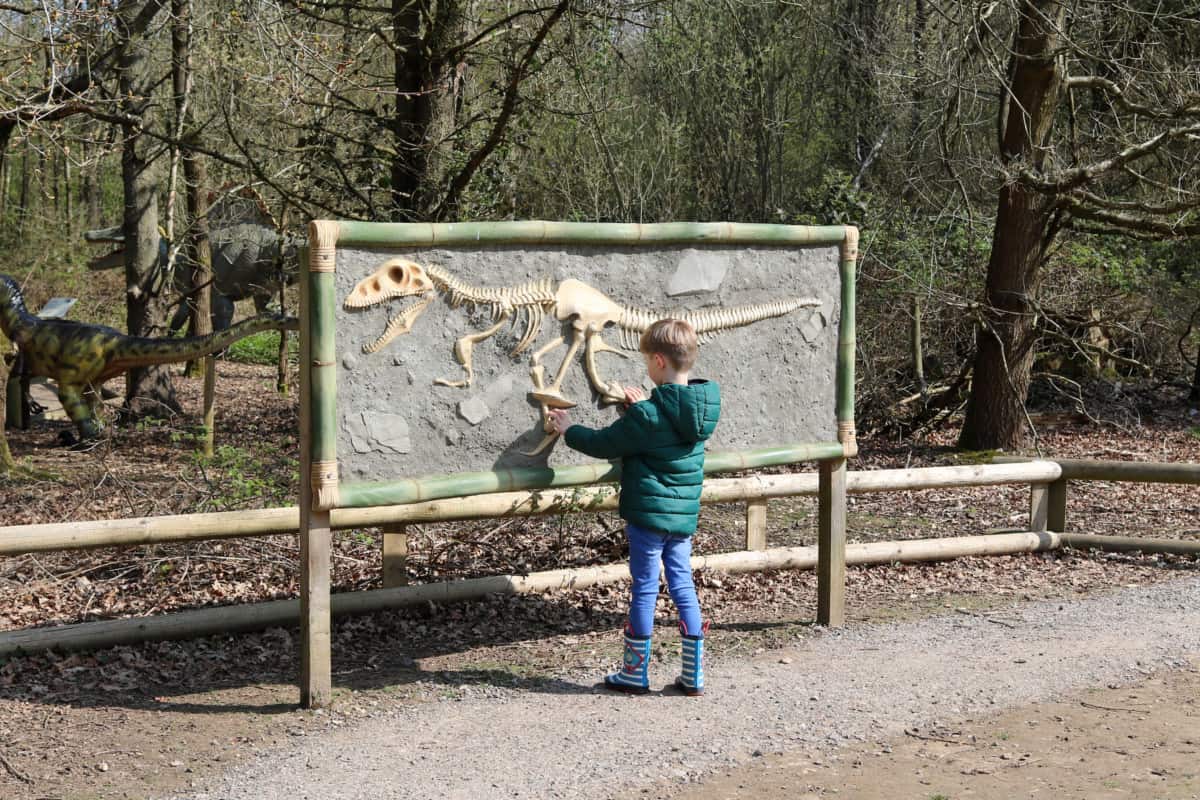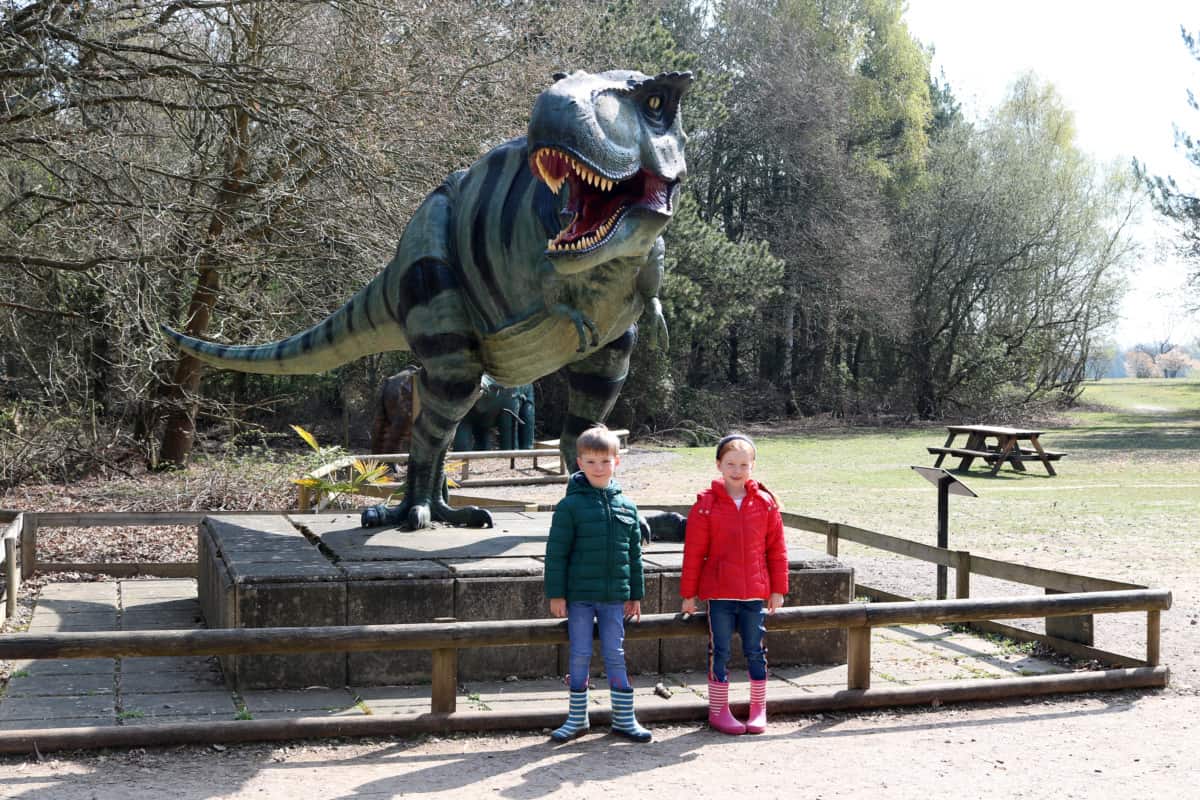 Another play area followed with wooden climbing frames, balance beams and so much outside space to explore. The merged nicely with brand new play structures that looked almost like a little wooden village complete with toadstools to sit on an wooden animals to discover.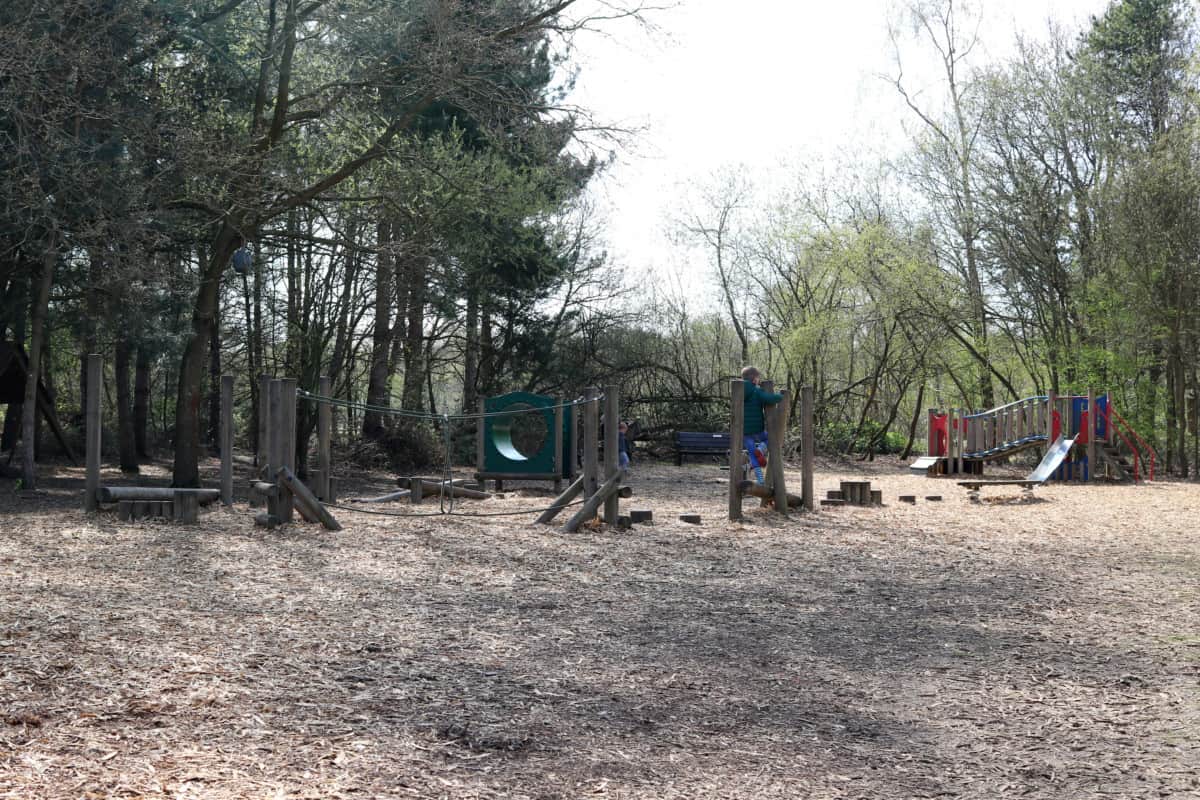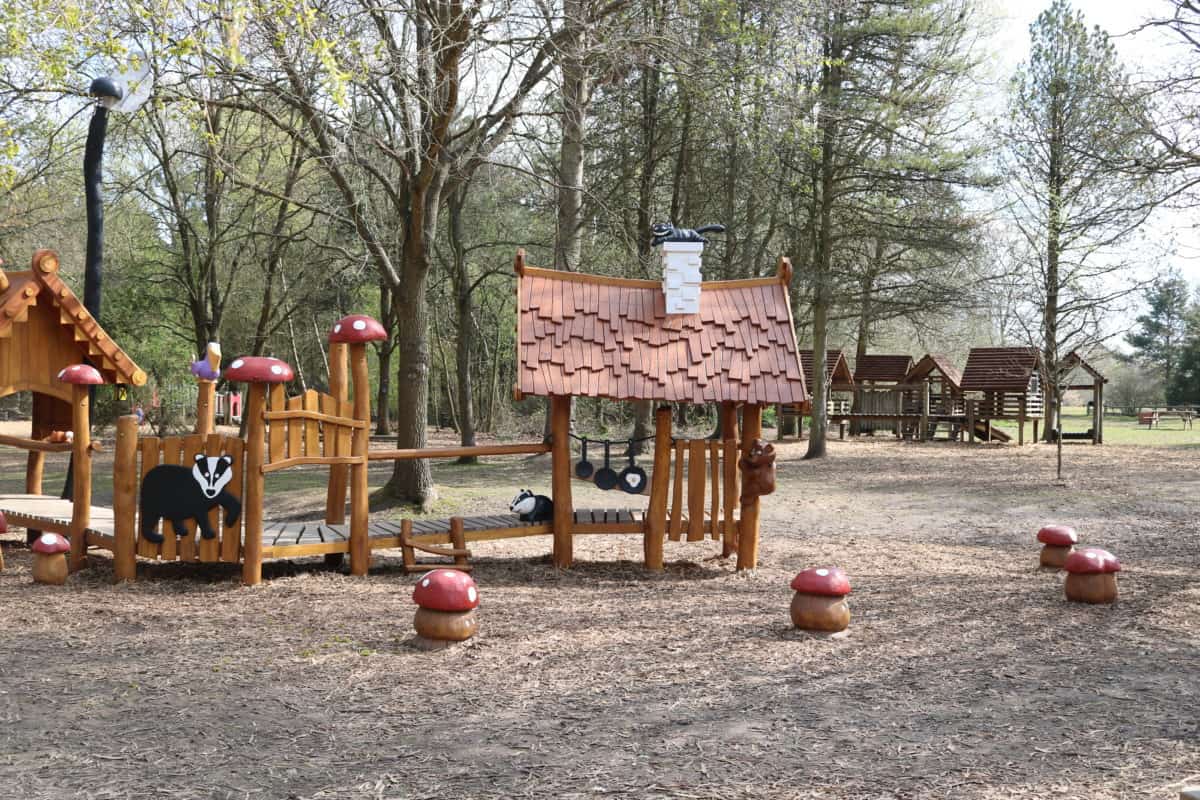 Throughout Wellington Country Park you will find so many places to stop, have a picnic, sit for a while and just watch whilst the children play. The play areas are mixed nicely with wide open space, trees and woodland and seating areas giving a really lovely outdoors day out.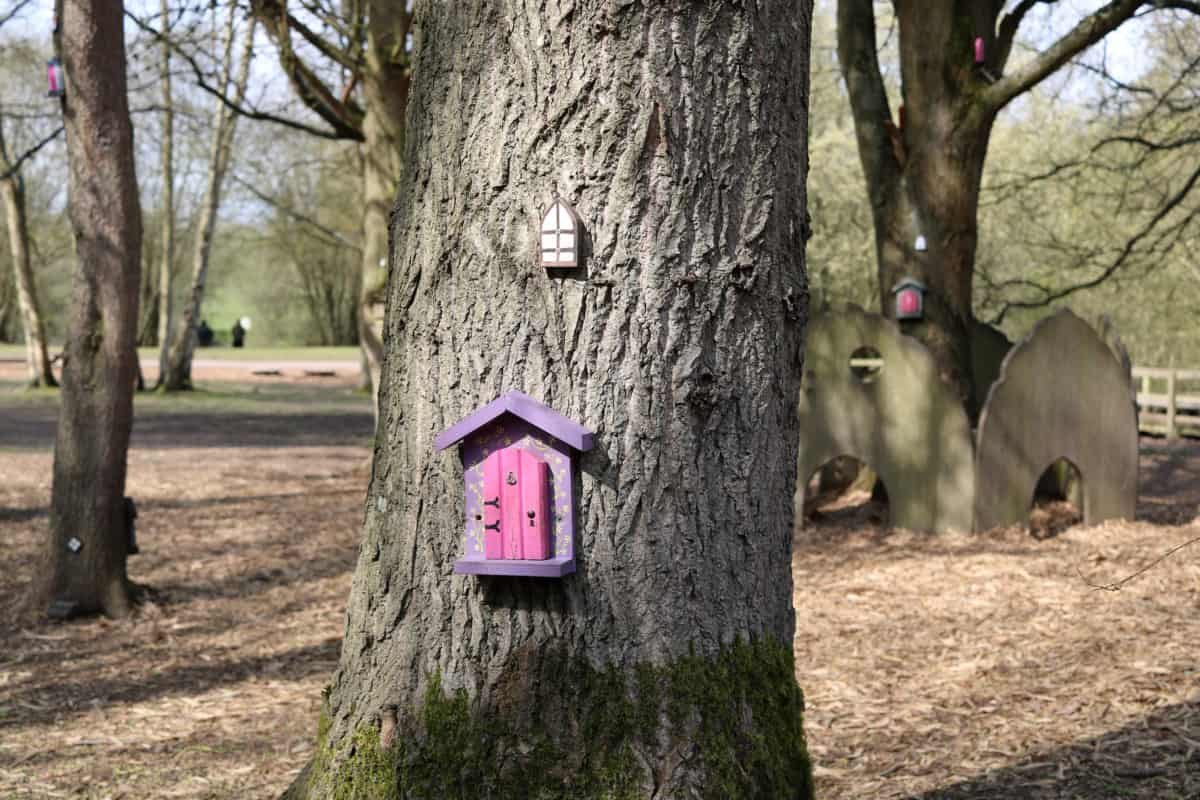 The children love the wooden trim trail area that they've enjoyed every time since our very first Wellington Country Park visit and it's a great place for them to see if they can accomplish more than they did the previous visit.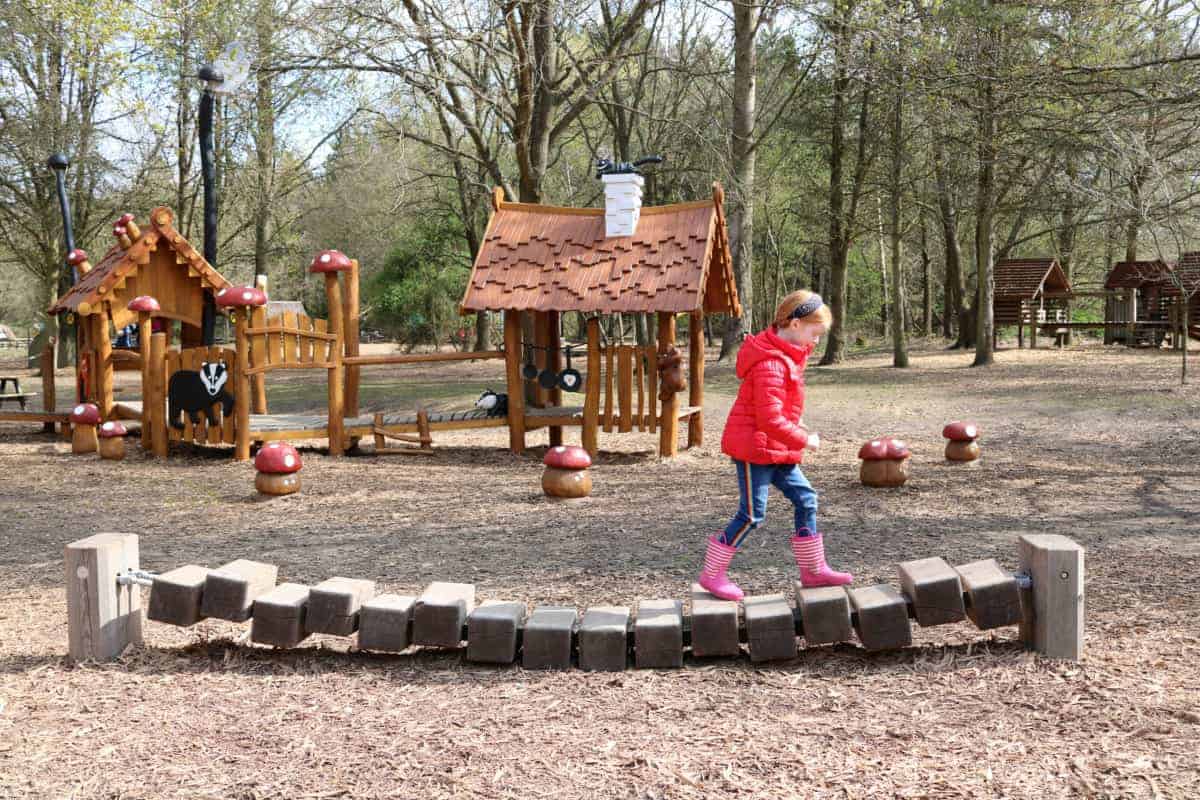 We then walked around the lake, admiring the view and stopping every so often to watch people fish. Wellington Country Park really is a day out for everyone.
One of our favourite parts of Wellington Country Park is the farm where we got to meet animals – and feed them if you buy a bag of feed from reception – and there are regular animal handling sessions throughout the day too.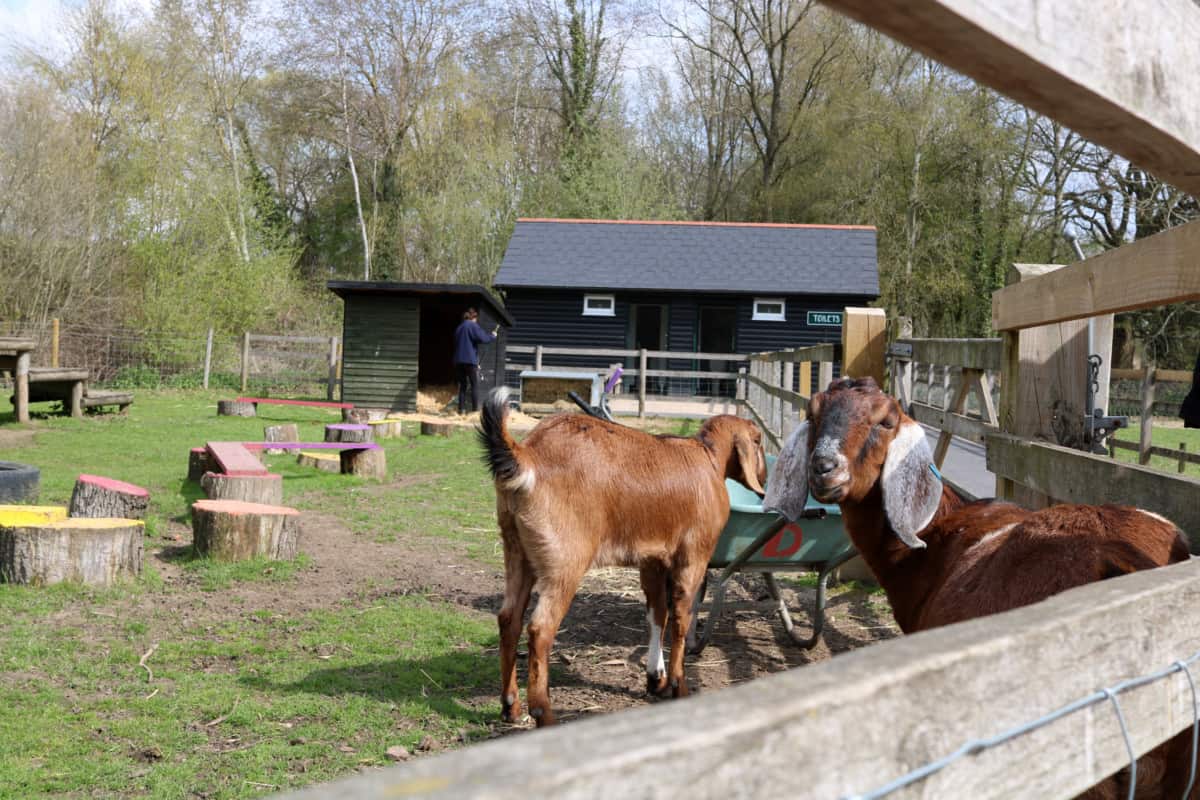 The children loved the animals especially a couple of lively, friendly goats that were born over the last couple of months. There are sheep, pigs, donkeys, chickens – everything you would expect to find on a farm.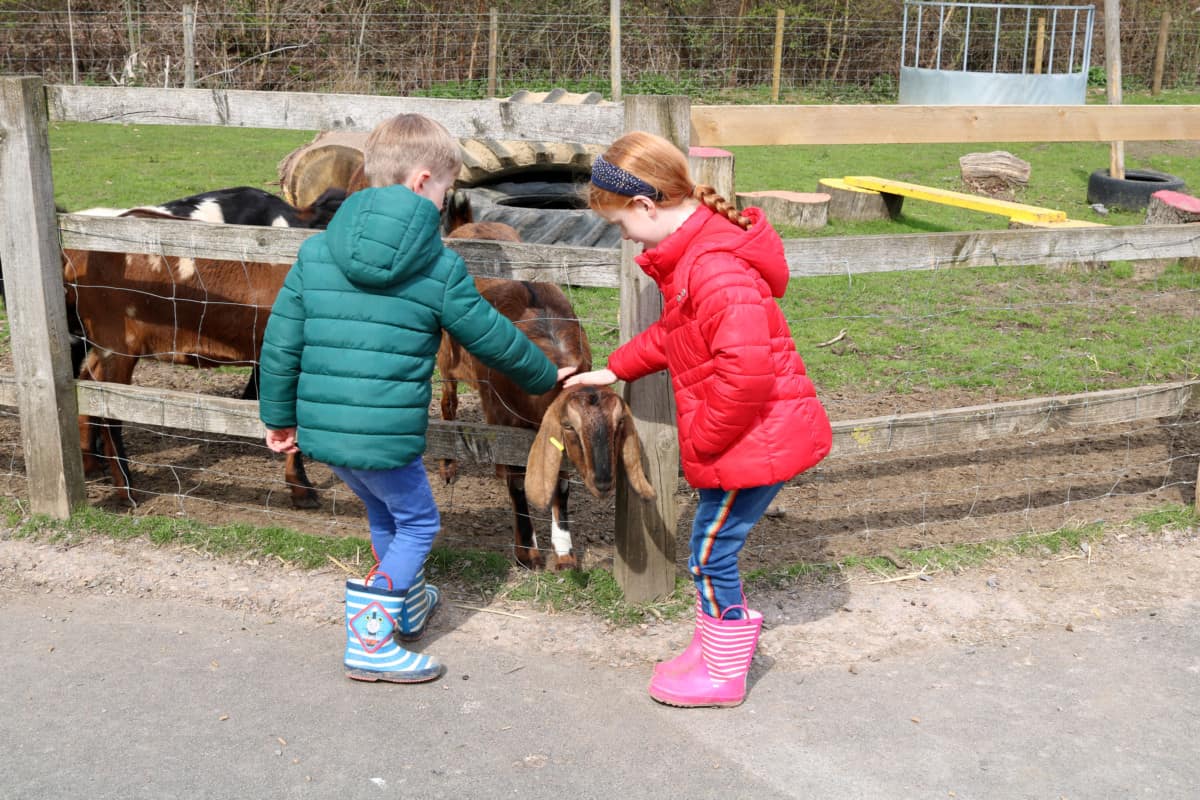 After meeting Zeus the tortoise we made our way around the rest of the lake, doing more trim trails and making our way to the Wellington Country Park train. Yep, it even has a train!
The train ride is an extra £1 per person but it's well worth the money – the children love it! Each season the train scenery changes and at the moment it was spring like with flowers and baby animals everywhere.
After the train ride we went to the children's favourite adventure playground where they spent probably an hour climbing, exploring, making friends and having a really lovely adventure.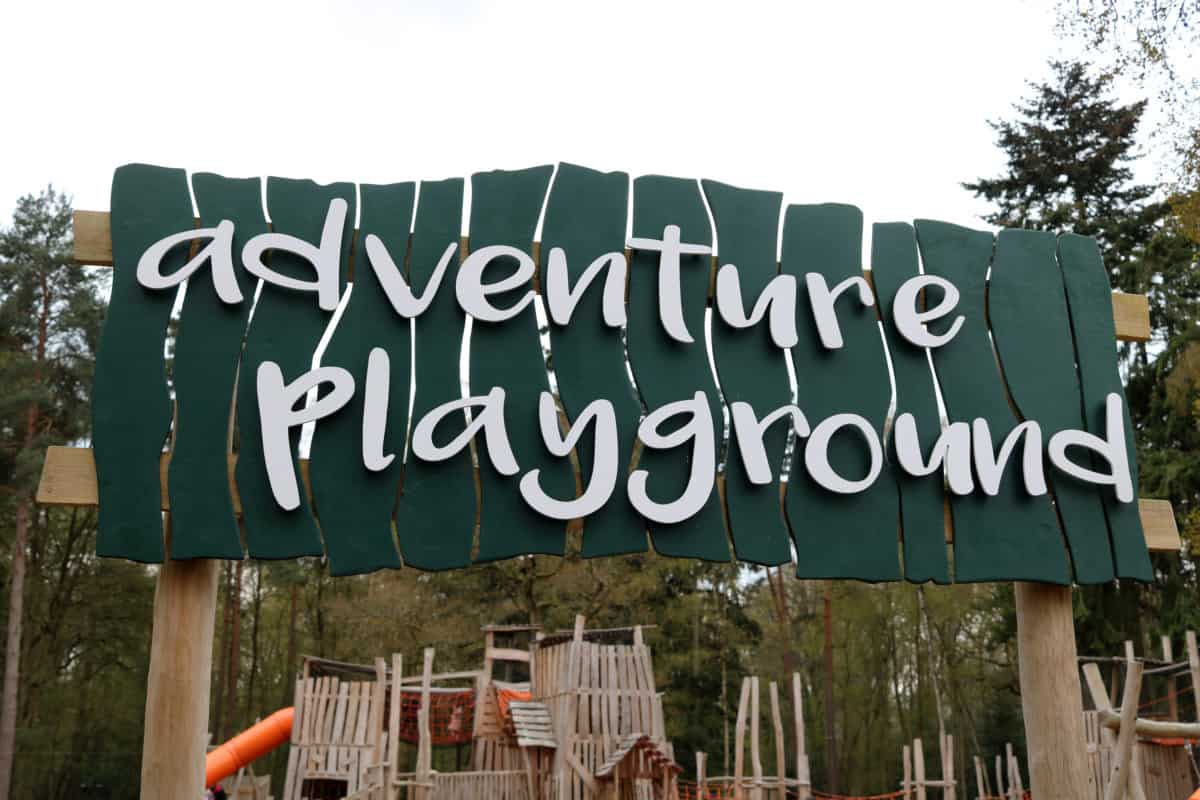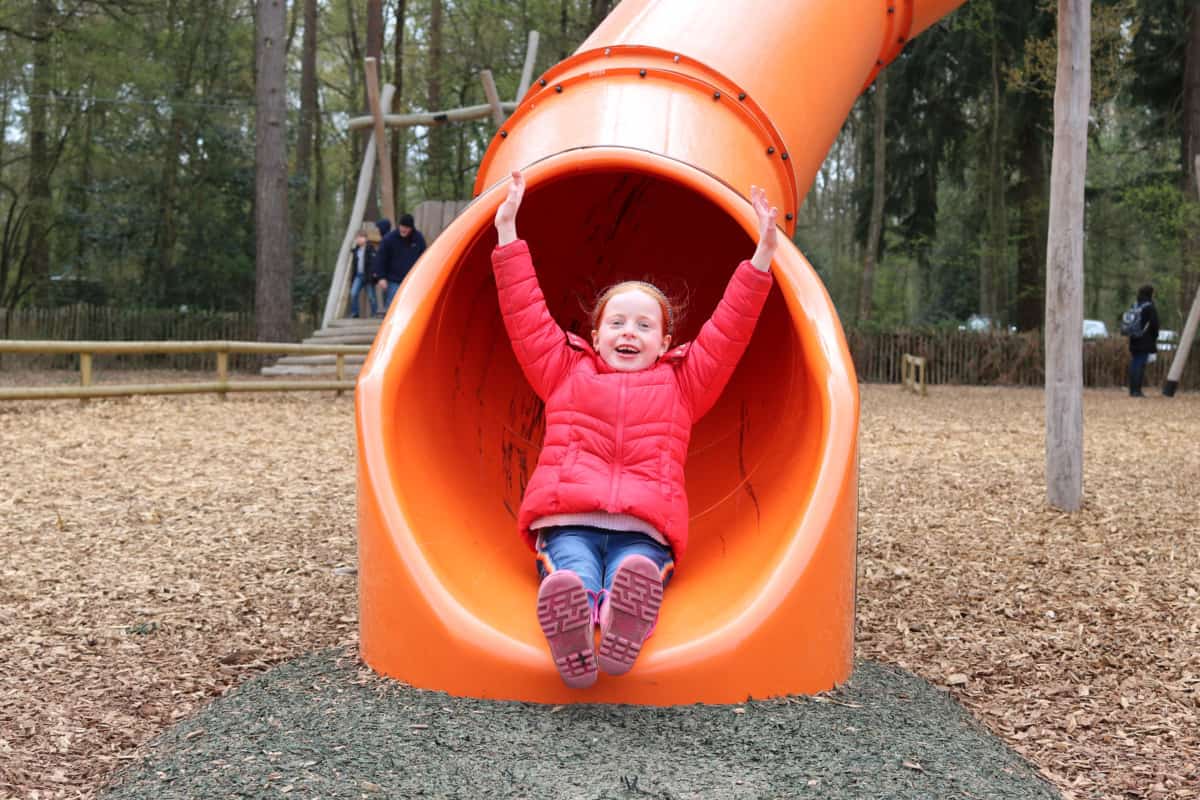 Wellington Country Park also has a show tent in the centre with various shows throughout the day as well as seasonal shows too. Just outside the tent we found a lovely new pirate ship and we bought drinks from the lakeside cafe to enjoy whilst the children played.
This area also has a water play area and sandpits which are always a hit with younger visitors, especially in the summer months. Any trip to Wellington Country Park wouldn't be complete without a bounce on the giant pillow too – something LP and Little Man absolutely loved.
We had such a lovely day at Wellington Country Park and it's made me want to go back again soon. It's always such a full but easy day where the children can play, we all get fresh air and the whole family come away feeling like we've had a proper grand day out.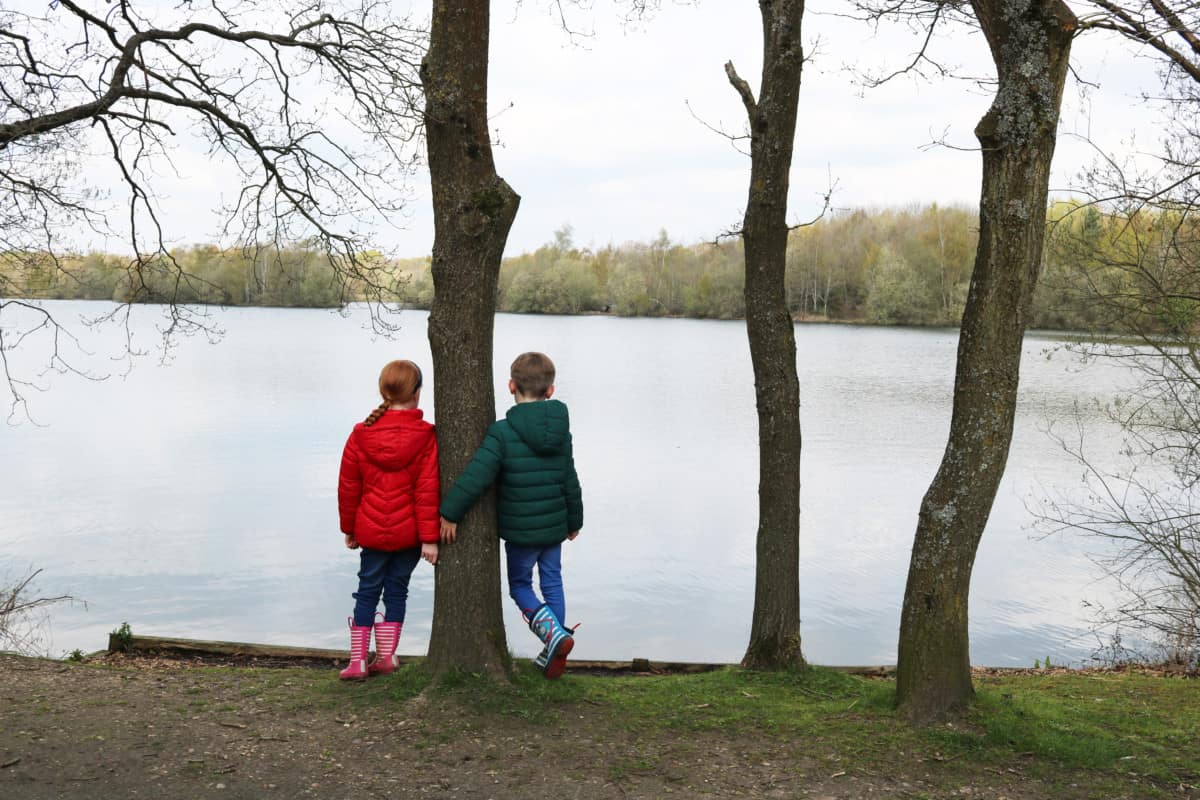 The country park has so many events through the year and we're looking forward to going to some of them as well. There are Wellington Country Park annual passes available too – as well as the Wellington Country Park camping site if you wanted to make a real break of your time there and turn it into a holiday. It's definitely one of the best country parks near Reading and we're so lucky to have it so close to us.