Disclosure: We were invited on this break for the purpose of this review however all opinions are my own.
It's so nice finding somewhere family friendly to stay not too far from home. Last weekend we were invited to stay at The Wellington Arms in Stratfield Turgis, Hampshire. It's actually not too far from us which made it feel like such a treat – a proper break away without an epic journey involved.
The Wellington Arms is part of the Wellington Estate with the Wellington Farm Shop, Wellington Country Park and the Wellington Riding School all in close proximity. The Wellington Arms has actually recently been refurbished and as soon as we parked up we were excited to see inside and start our weekend away.
When staying at The Wellington Arms there is a separate reception at the rear of the building so you don't have to walk through the main pub and restaurant. There's plenty of on site parking too and as soon as we walked through the doors we realised that this wasn't just a pub with rooms. It felt like a really stylish hotel from the very start.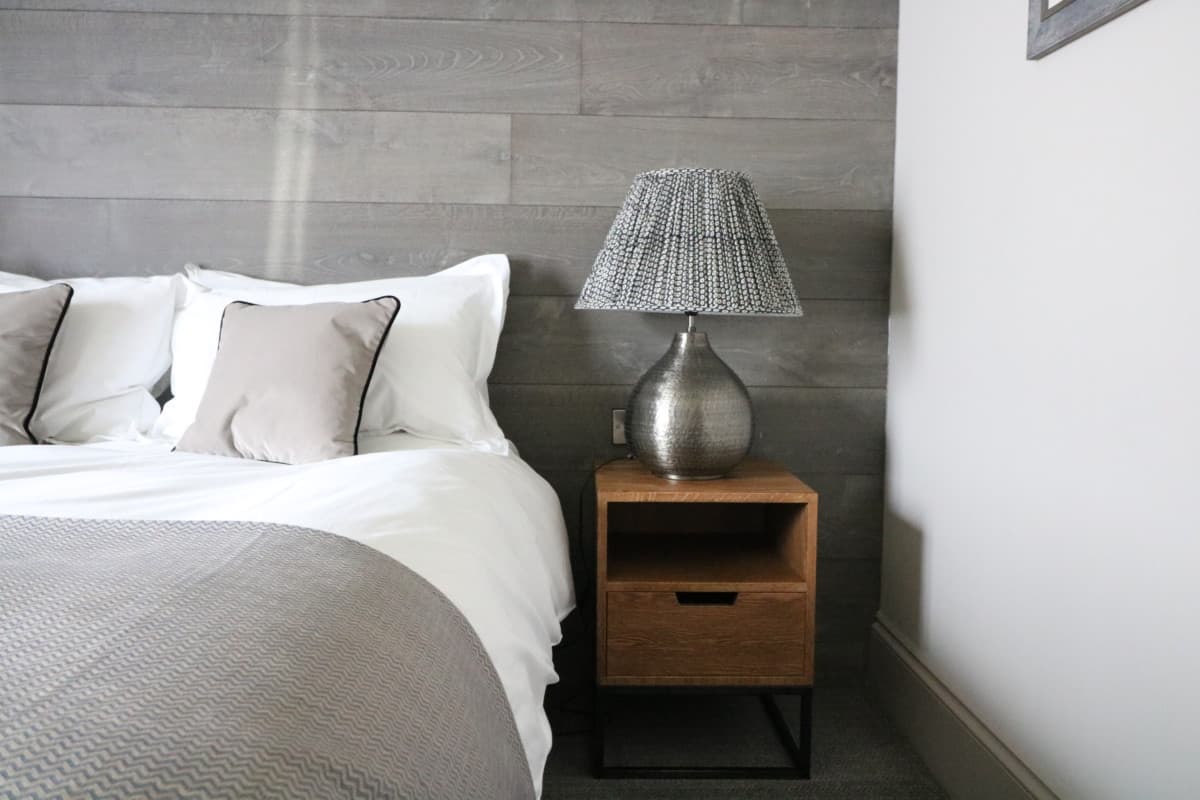 We were booked into adjoining rooms which couldn't have been better suited to a family stay. Our room had a king size bed and the adjoining room was set up as twin beds for the children.
Both bathrooms had a huge shower cubicle in them and decor that was like something straight from a magazine. There were complimentary toiletries – even children's ones in their bathroom – loads of fluffy towels and even robes.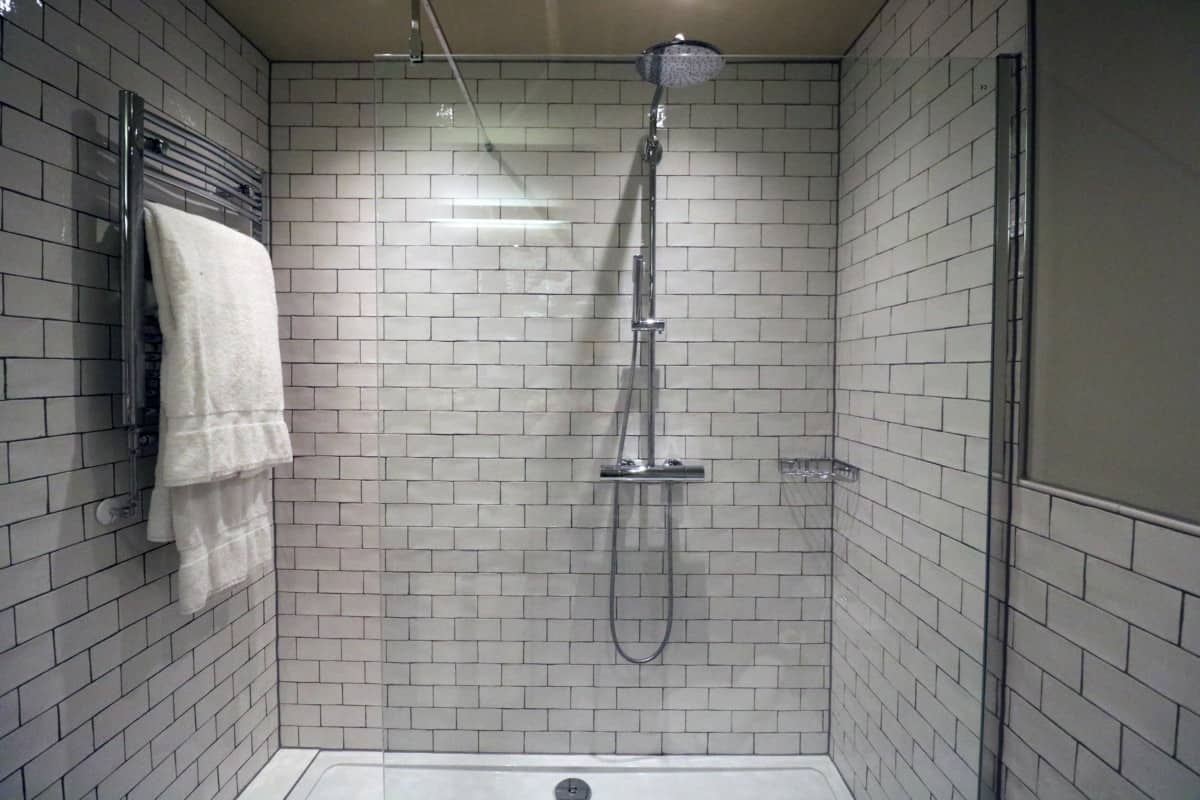 In our room there was tea and coffee making facilities, bottled water and a well stocked mini bar. The children had milk in their fridge and cookies for them to enjoy as well as a whole host of toys, games and books to keep them entertained. The Wellington Arms have done as much as they can to cater for families and it didn't go unnoticed – it was so much more than we usually expect from a family stay at a hotel and the children loved it.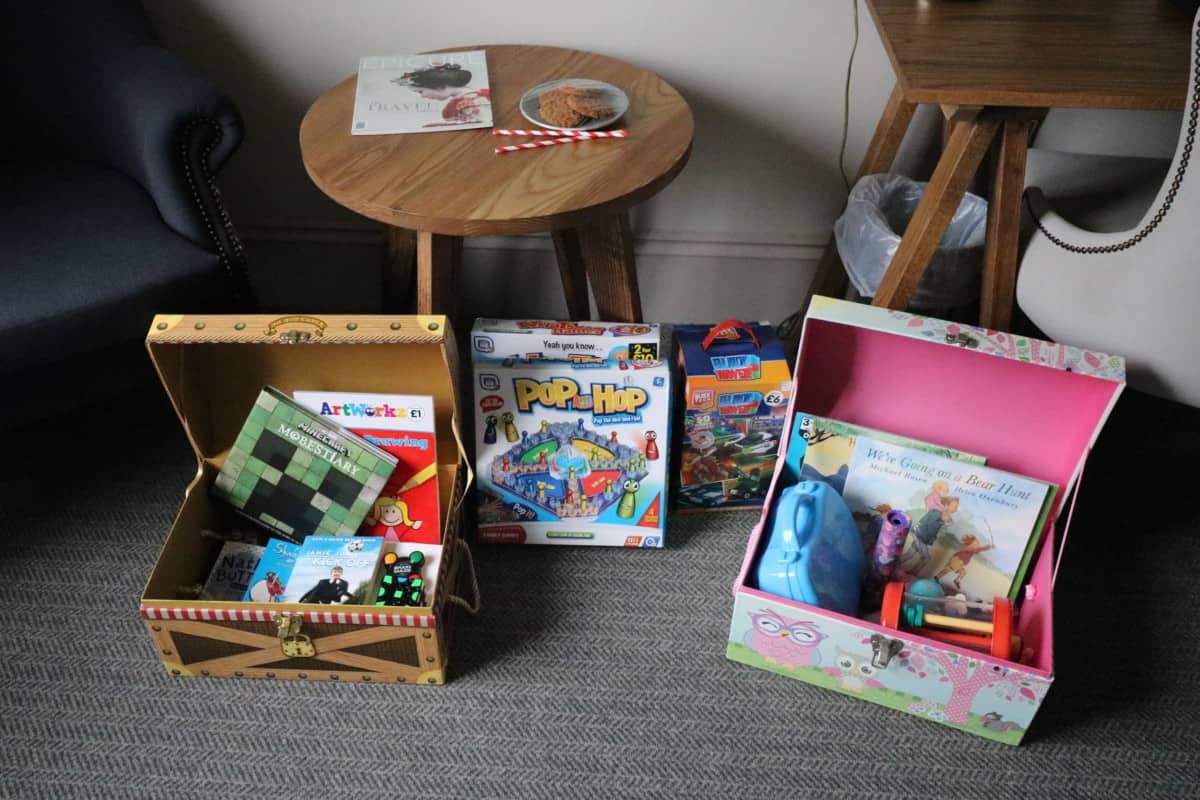 We spent a few hours relaxing in our room and it was lovely. We played games, I caught up on some work and we could even watch Netflix on the TV.
We had dinner in The Wellington Arms restaurant and were blown away by the decor. It was so in keeping with the building and the local area's heritage. It was a really lovely space to spend time as a family.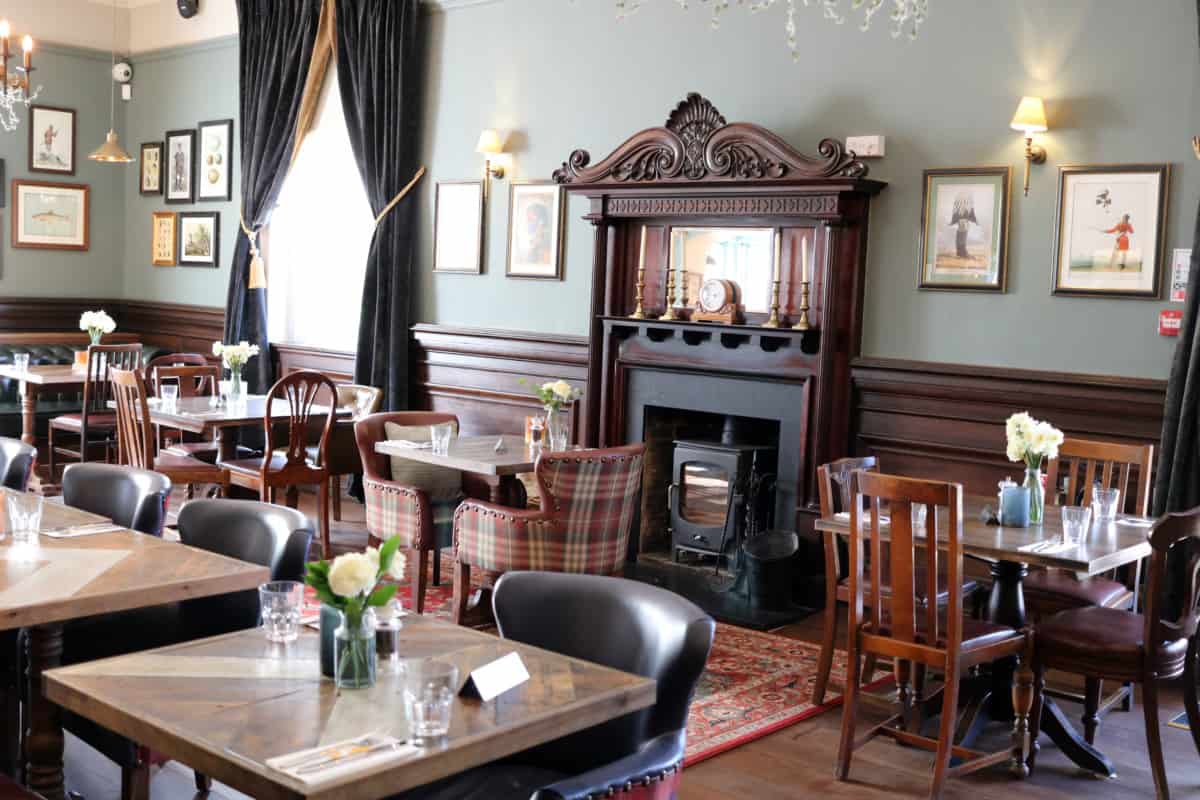 When we first sat down the children were given colouring sheet menus which are always really appreciated and keep them occupied until the food comes out. Dave and I ordered some cocktails, ordered our food and we had a pretty epic bread board to share whilst we waited.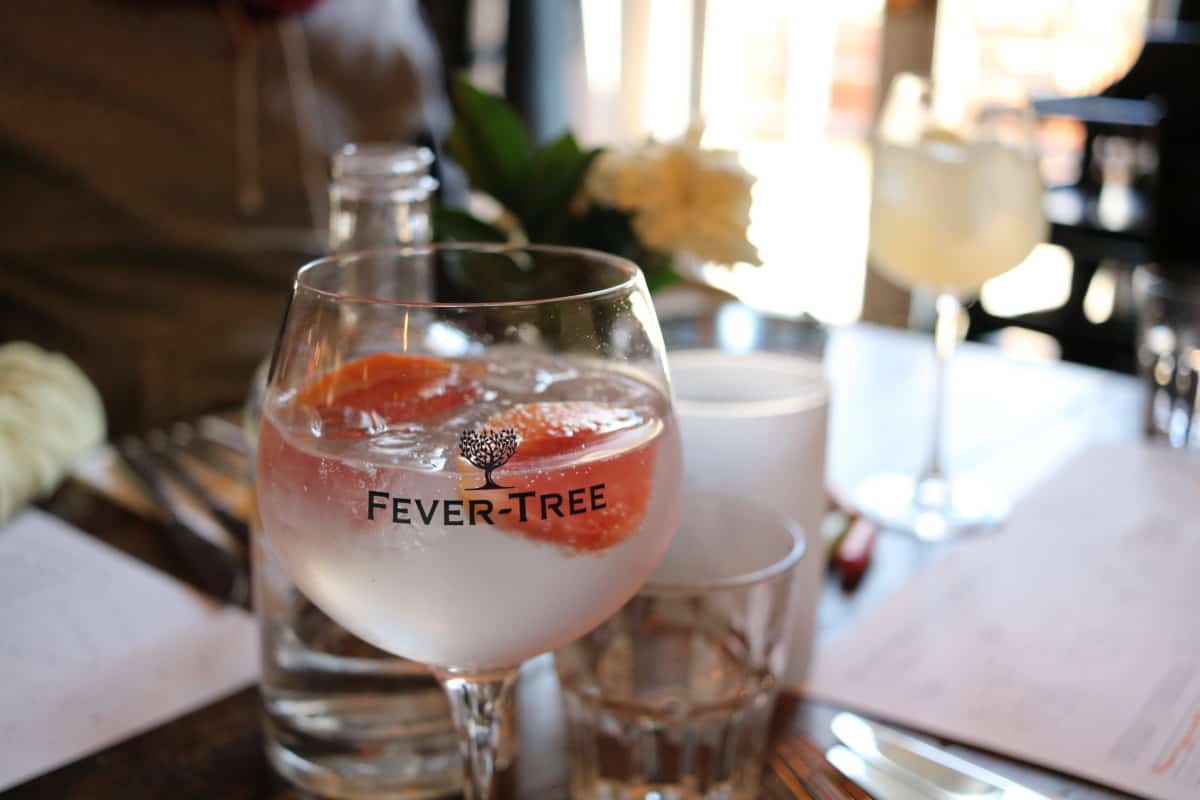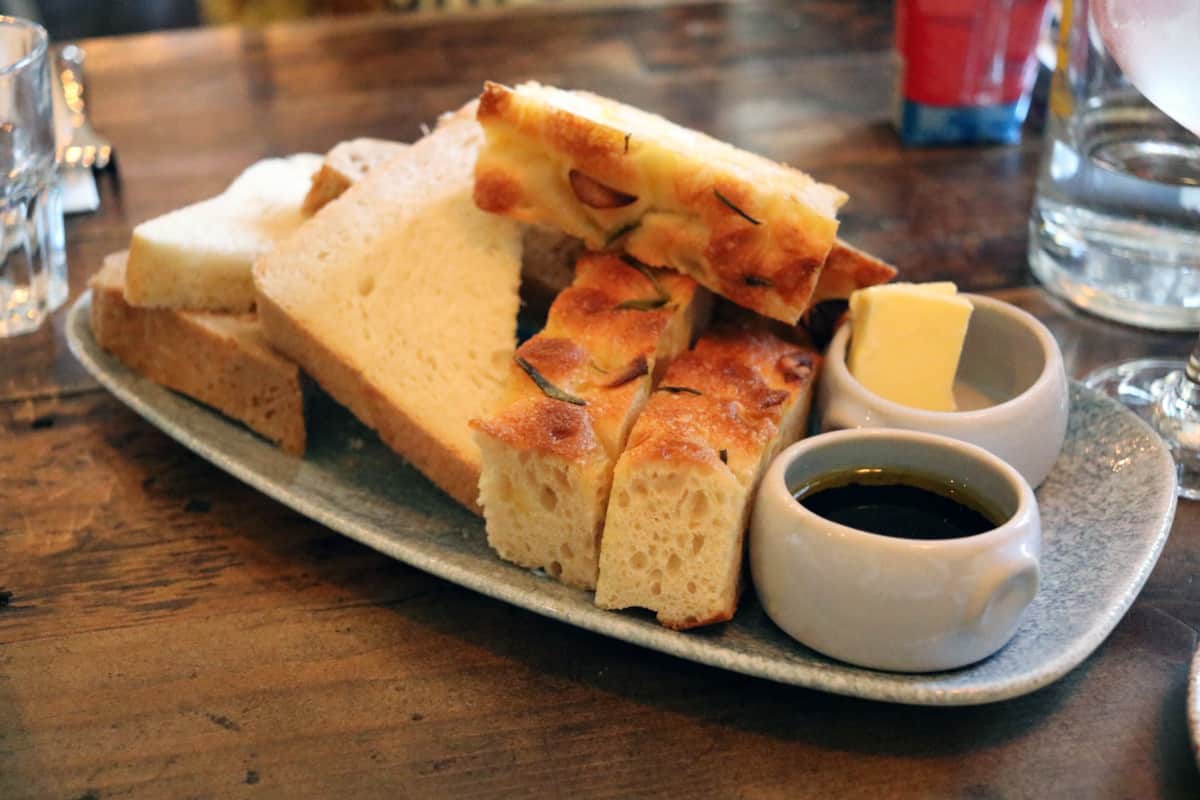 The service was fantastic although it did slow down slightly as the evening wore on and as the restaurant became busier which was to be expected. Cameron, our waiter, couldn't do enough to help, was really attentive and even made the children a turtle out of a champagne cork cage. Little things like that go a long way when dining as a family and it was really appreciated.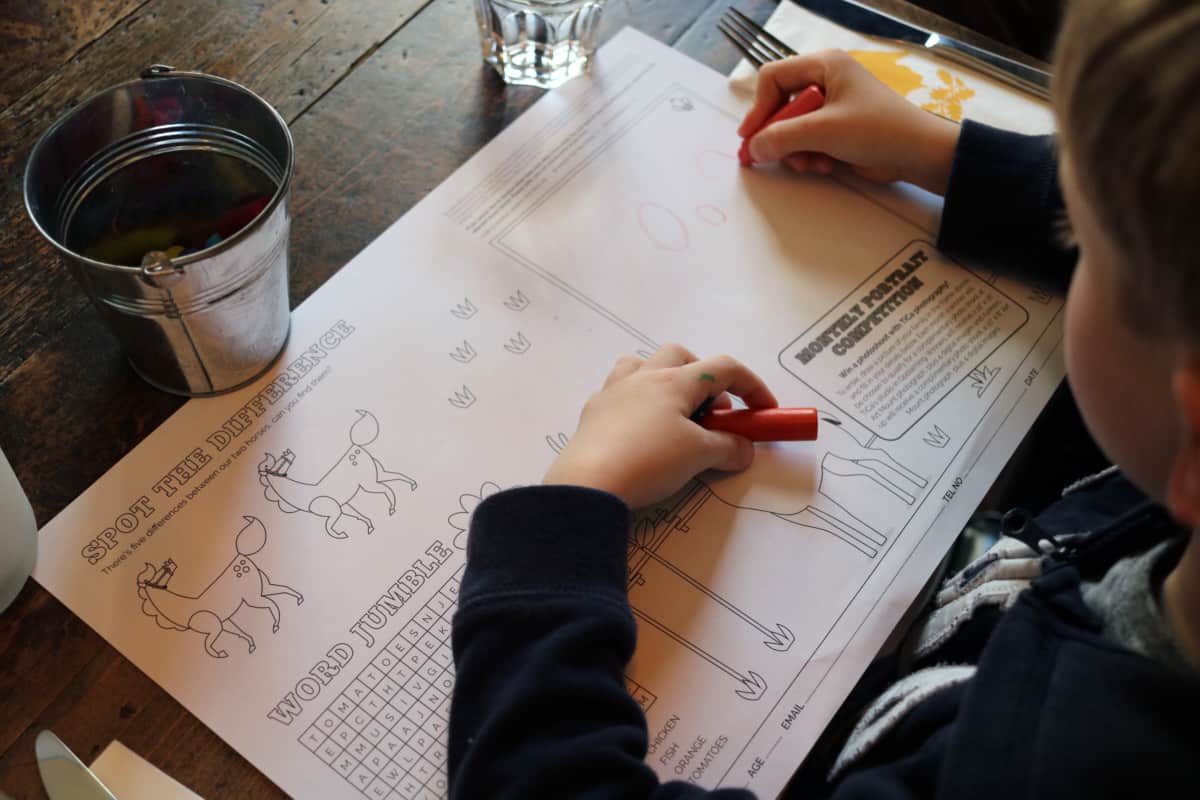 For their starters the children had hummus and crudites and garlic bread. These were great starters that the children really enjoyed although the hummus was a really large portion. LP said that it tasted like posh hummus and it was lovely, she really liked it.
Dave chose the black pudding which was served with a poached egg, a big brioche crouton and bearnaise sauce. It was a really hearty starter, full of flavour and just like something you'd have for brunch. I went for my go-to starter of chicken liver parfait which came with a red onion jam and ciabatta crostini. I always find that there is never enough bread with a pate starter and so a couple more crostini pieces would have been appreciated. Aside from that it was a great way to start our meal.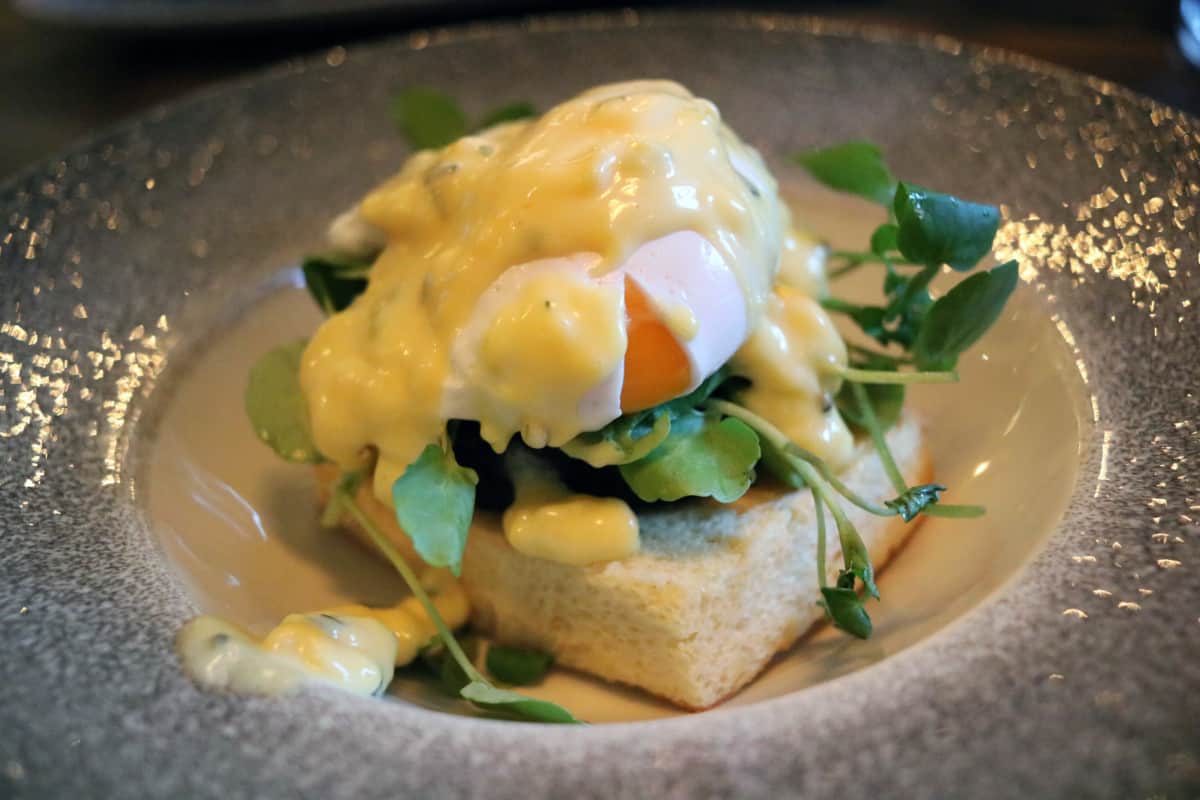 The children both had beef burgers for their mains, served with chips and beans. The chips were beautifully cooked and the burgers looked just like great quality takeaway burgers – the children loved them.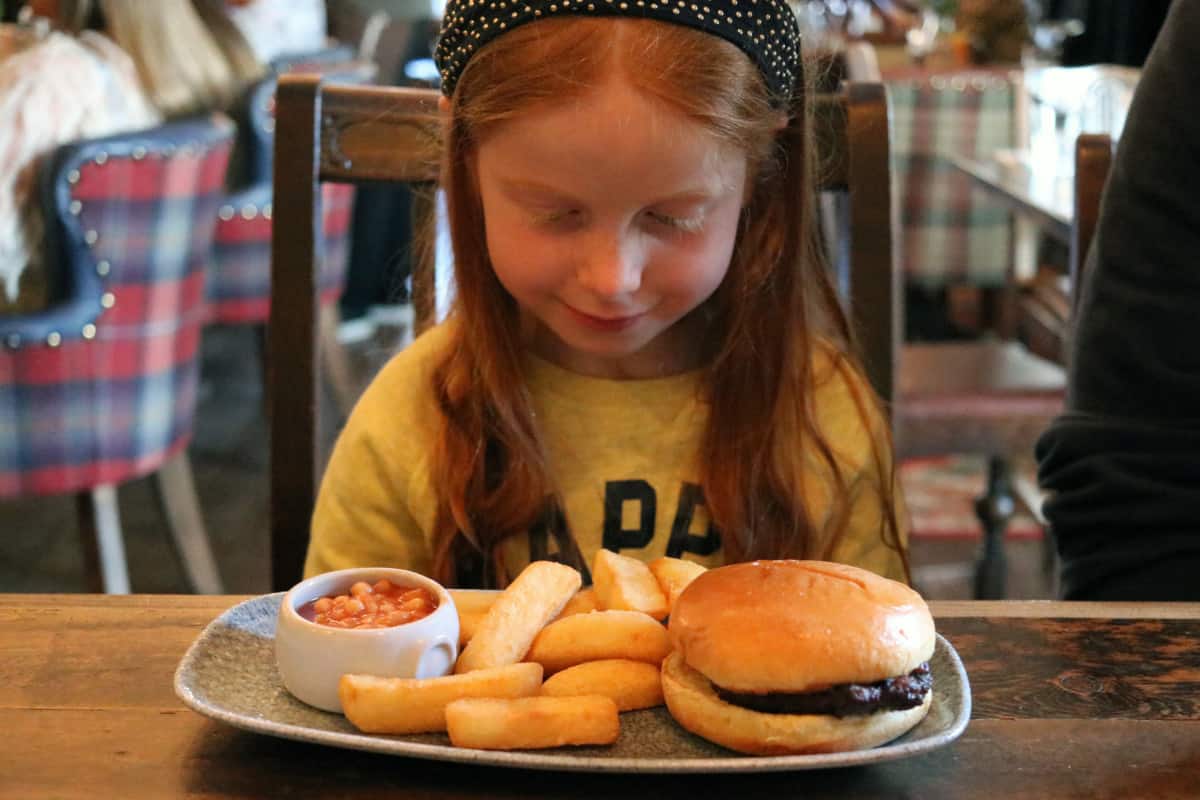 I chose the lamb and mint pie served with mash and spring greens for my main and it was wonderful. Full of flavour, full of meat and with perfect pastry. It couldn't have been a nicer main. Dave went for steak – always his main of choice when we eat out – and it was perfectly cooked and served with so many sides.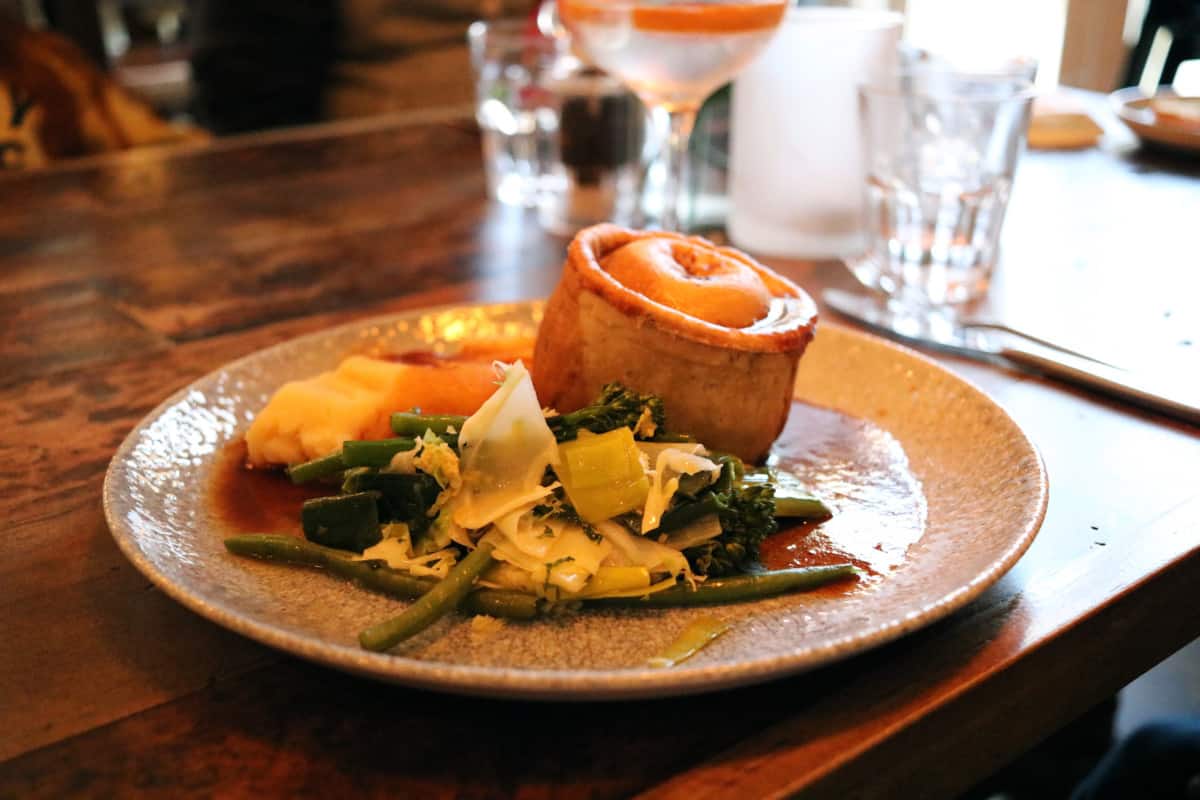 The children had ice cream for dessert which they really enjoyed. Dave chose the pecan pie served with ice cream which was really rich and a pretty decadent dessert, a lovely way to finish our meal. I chose the apple and rhubarb crumble served with custard which was full of flavour and piping hot but it could have done with some lumps in the fruit part as it did feel quite pureed compared to what we are used to when we order a crumble.
We had such a lovely meal at The Wellington Arms and went back to our room where we watched TV for a while before going to bed. The beds were really comfortable and we slept really well. Despite the pub being really busy, and our room backing onto the car park, we weren't disturbed by noise and had a great night's sleep.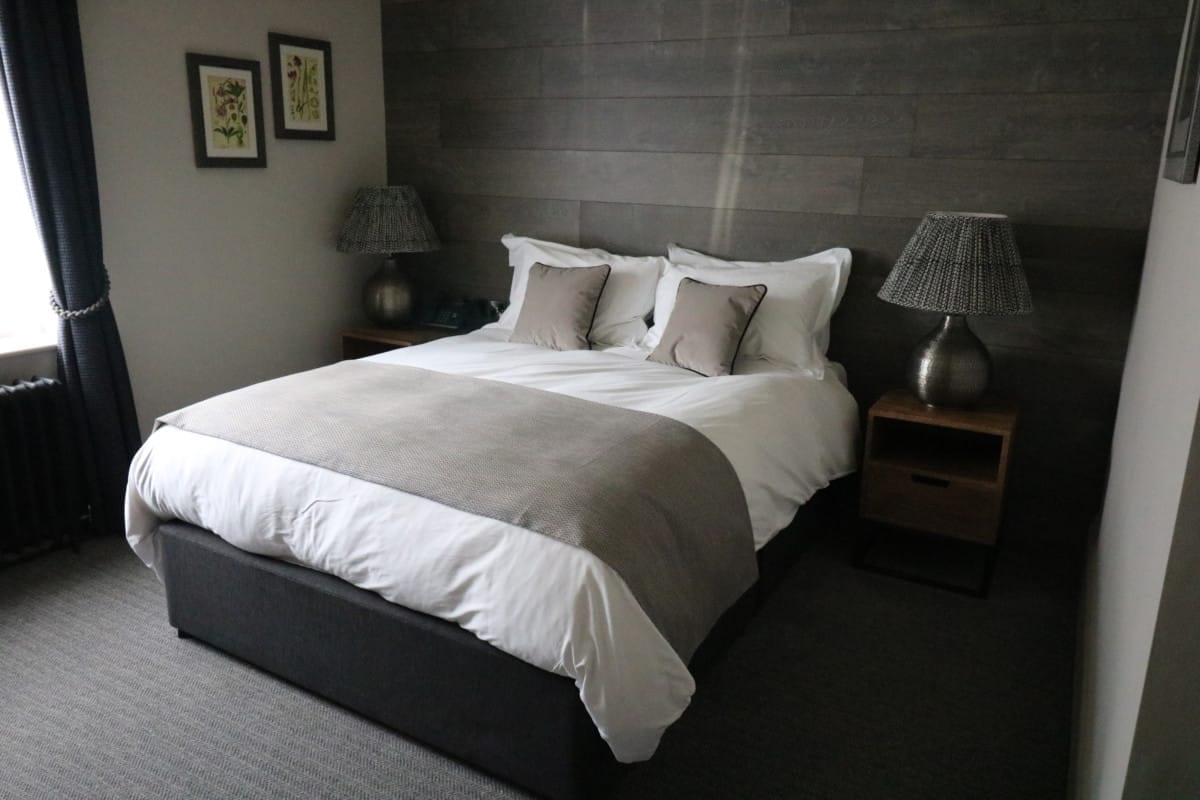 In the morning we had breakfast in the restaurant although it's served in a different part of the restaurant, near to the kitchen. Compared to the naturally bright main restaurant we were in the night before it did feel quite dark and it was noisy from the kitchen. It would have been a much nicer experience, and a better start to the day, served in the main restaurant.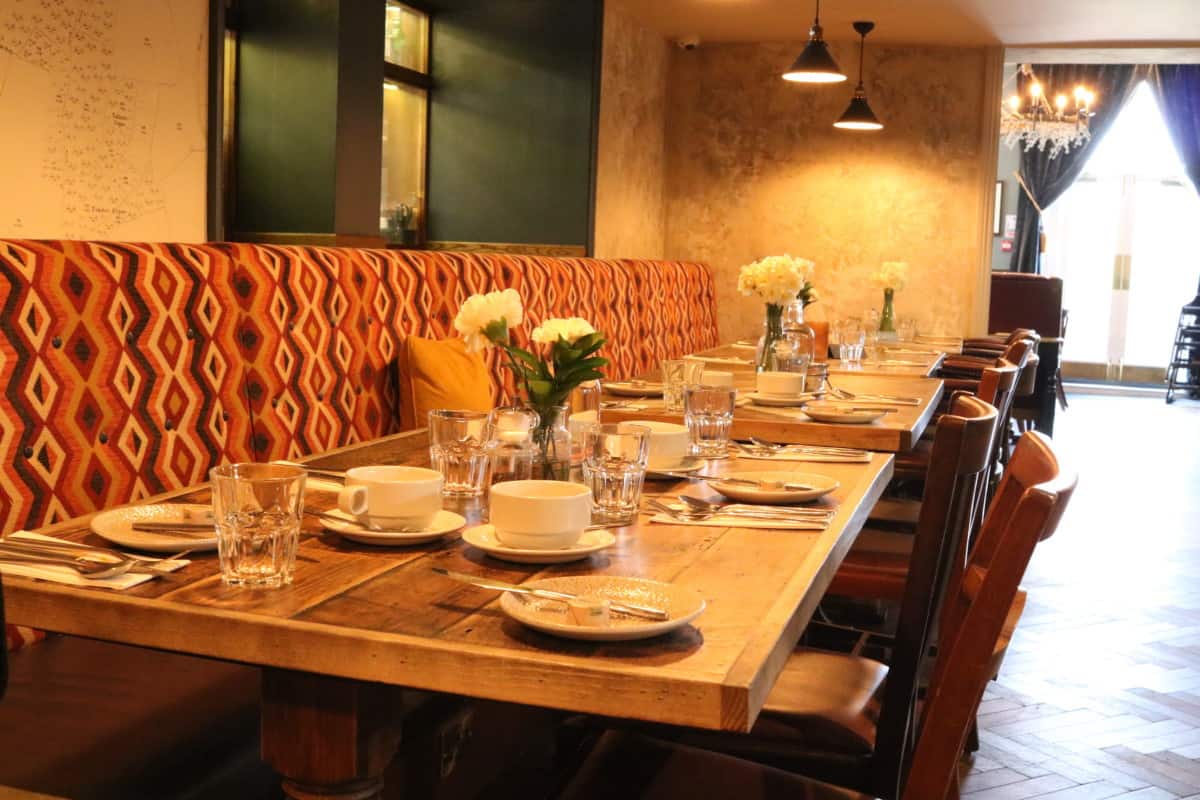 A continental buffet is included on all bed and breakfast stays at the hotel and you can pay extra for cooked options. Dave went for the full English breakfast, I chose the eggs benedict and LP had scrambled egg on toast. All were really well cooked, great portion sizes and a lovely way to start the day.
The continental buffet included breads, cheeses, boiled eggs and meat as well as yogurts, fruit, cereal, pastries and fruit juice. Little Man was more than happy with this selection and definitely ate his fair share of fruit and pastries!
We had a really lovely stay at The Wellington Arms and I know that we'll be back before too long. We've already spoken about going back for Sunday lunch or a special occasion like Fathers Day and we could tell that it's a really popular place to eat out locally. I can't wait to go back.
The lovely people at The Wellington Arms have given me a discount to share with readers if you'd like to book a stay there too. Use code REDHEADSAID until 27th April to get 15% off a bed and breakfast stay until the end of the year – valid on Thurs-Sun stays.