Disclosure: We were invited on this day out for the purpose of this post however all opinions are my own.
We've never had an opportunity to do any winter sports with the children so when we were invited to Chill Factore to try out their Snow Park I couldn't wait to play in the snow with the children.
We went to Manchester for the first time as a family and were pretty impressed with the Chill Factore building – the amount of activities on offer and the number of food and drink options and shops all under one roof. It's somewhere you could easily spend a whole day – or even a weekend.
When you arrive at Chill Factore you check in. The ticket prices include boot hire but you also need to wear gloves and appropriate clothing. You have the option of buying gloves – £5 each – and hiring trousers and jackets. If you have ski gear already then you can wear those jackets and trousers but we did see people who were just wearing their ordinary clothes – jeans and coats. The jackets and trousers cost £8 per person to hire and they kept us really warm and dry. Plus, we were provided with helmets to wear too.
The Snow Park is just one aspect of Chill Factore. It's a whole winter sports venue where you can ski, snowboard, have lessons or just play in the snow. As well as the Snow Park there is also Mini Moose Land which is just for under threes – pretty much soft play in the snow and sledging.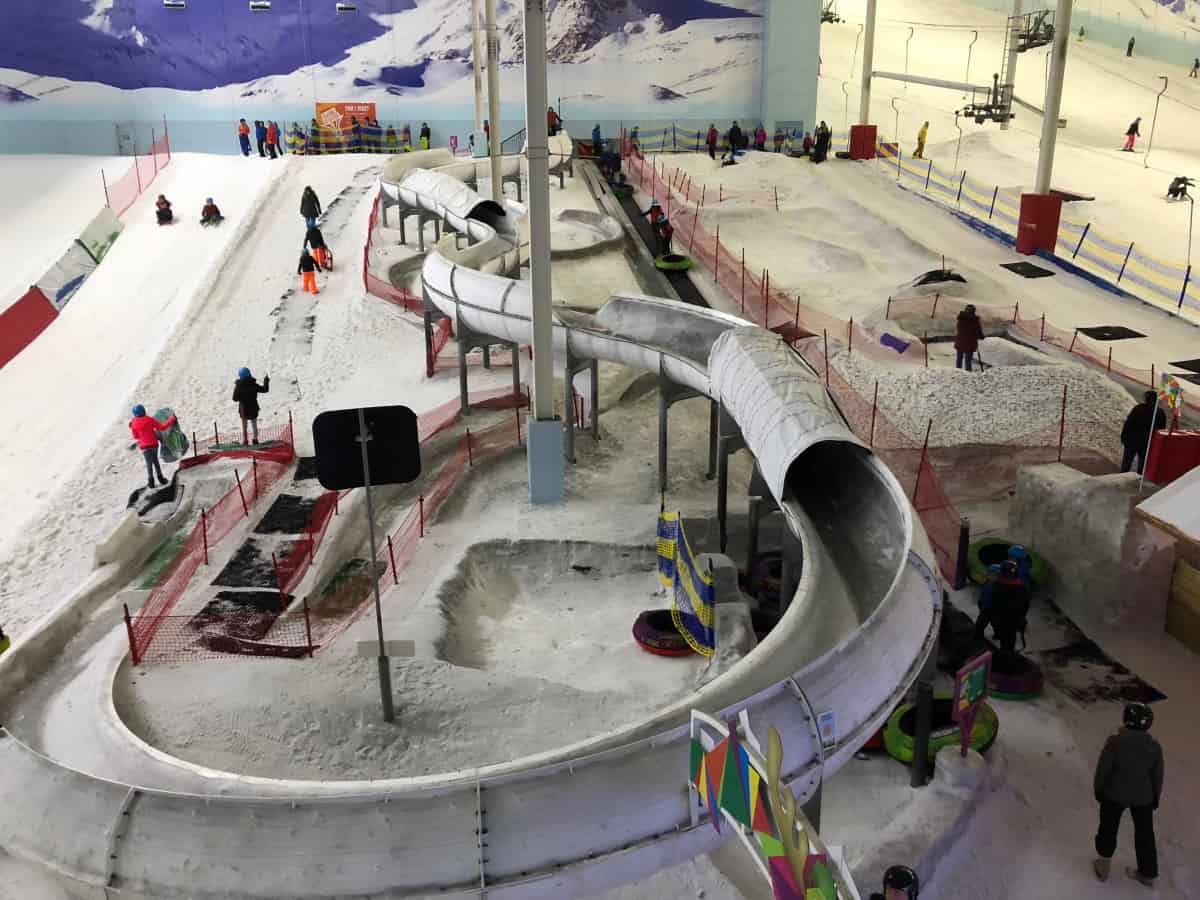 The Snow Park is the next step up from this, aimed at anyone over four and with sessions of either one or two hours long. Inside the Snow Park there are four activities – Sledge 'O' Mania, Downhill Donuts, Luge Slip 'N' Slide and the Snow Luge. However, the Luge Slip 'N' Slide and the Snow Luge are both age six and over – so if you have a child aged four to six, like our Little Man, there will only be two activities for them to go on.
We all loved Sledge 'O' Mania where you get to grab a sledge and zoom down a hill. There were three different types of sledges varying between ones for one person and one for two people plus a carver sledge for more experienced sledge riders!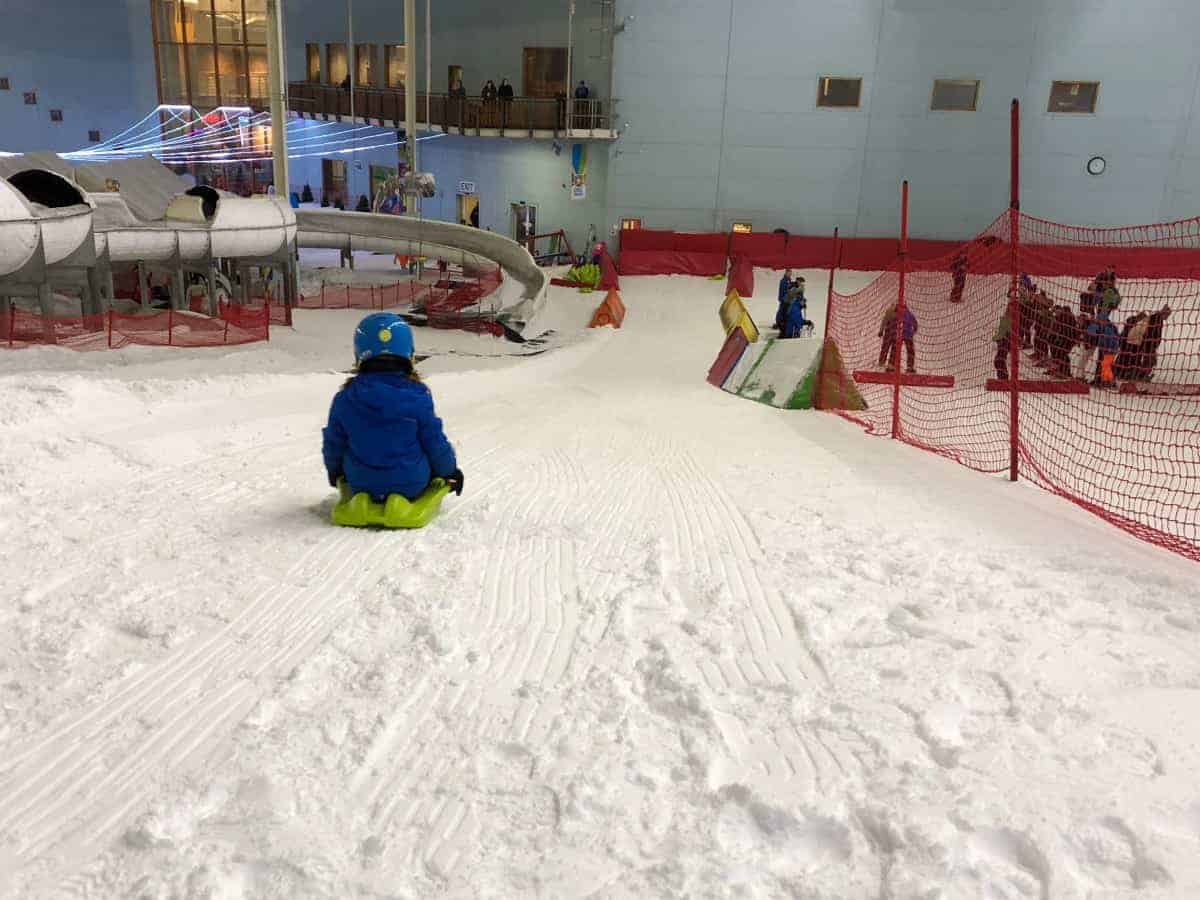 The children loved grabbing a sledge, climbing up the hill and then pushing off from the top and it was a pretty exhilarating activity. As soon as they got to the bottom they wanted to go right back up again!
Downhill Donuts was another favourite, where you choose a donut depending on your age/size – and whether you wanted to ride by yourself or with someone else – before stepping on a travelator to take you to the top of the hill. You could then choose to go down a steep, straight hill – the only option when riding one of the two people big donuts – or down the pinball track which was a longer but more bumpy experience!
The children loved bouncing around the pinball track and really enjoyed zooming down the steep slope with their Daddy or I. It was so different to anything they have done before but something they really enjoyed.
In all honesty the Luge Slip 'N' Slide and the Snow Luge are two activities we didn't really do. Little Man couldn't go on them and LP didn't really enjoy them the times she tried them – which may be because she is a very little six year old and so went quite fast down the slide. But, Dave had a go and enjoyed it however, we mainly stuck to the sledging and donuts so that all four of us could participate.
We loved our hour at Chill Factore and by the end the children were happily grabbing a sledge or donut and going up and down the slopes by themselves. It really instilled confidence in them and even our shy Little Man really enjoyed the experience – and was happy to climb up and sledge down by himself.
Chill Factore isn't a cheap day out – but is cheaper if you have your own trousers, jackets and gloves. It's something, though, that the whole family will enjoy and it's definitely something we would love to do again. It something that we would definitely do any time we visit Manchester in the future and if we were closer we would probably do it every couple of months as a great family treat. It was great fun and a really good experience – something the children will be talking about for years.