Disclosure: We were invited for this meal for the purpose of this post however all opinions are my own.
Last week we were invited to have afternoon tea at Moggerhanger Park in Bedfordshire. It tied in nicely with a spa break Lucy and I were going on and if there's one thing we both love it's afternoon tea, a chance to relax and a nice stately home.
Moggerhanger Park is a Grade 1 listed Georgian house set in acres of parkland and woods. It's the most complete surviving example of Soane's work and was sculpted by Humphry Repton. It's the sort of building that I love to visit, full of history, period features and a real classic appeal. We couldn't wait to see it for ourselves!
We found Moggerhanger Park easily and there was ample parking. The whole of the park was beautiful in autumn with so much to explore and places to sit. The actual Moggerhanger Park house did look tired – in need of a lick of paint and a facelift, but it is still, without doubt, a beautiful building.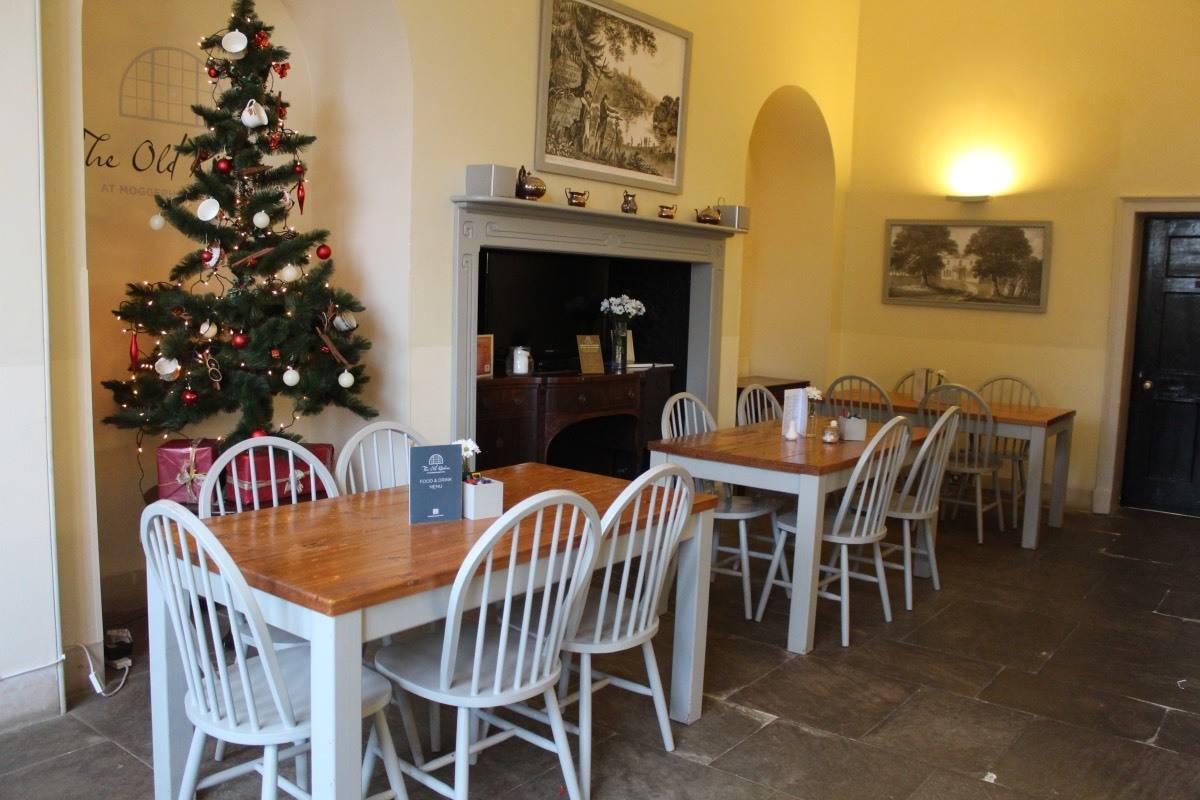 We had afternoon tea in The Old Kitchen and a table had been laid for us, complete with white linen. The room was really homely and welcoming and would be perfect for not just afternoon tea but a warming drink or a slice of cake after a long walk or day of exploring.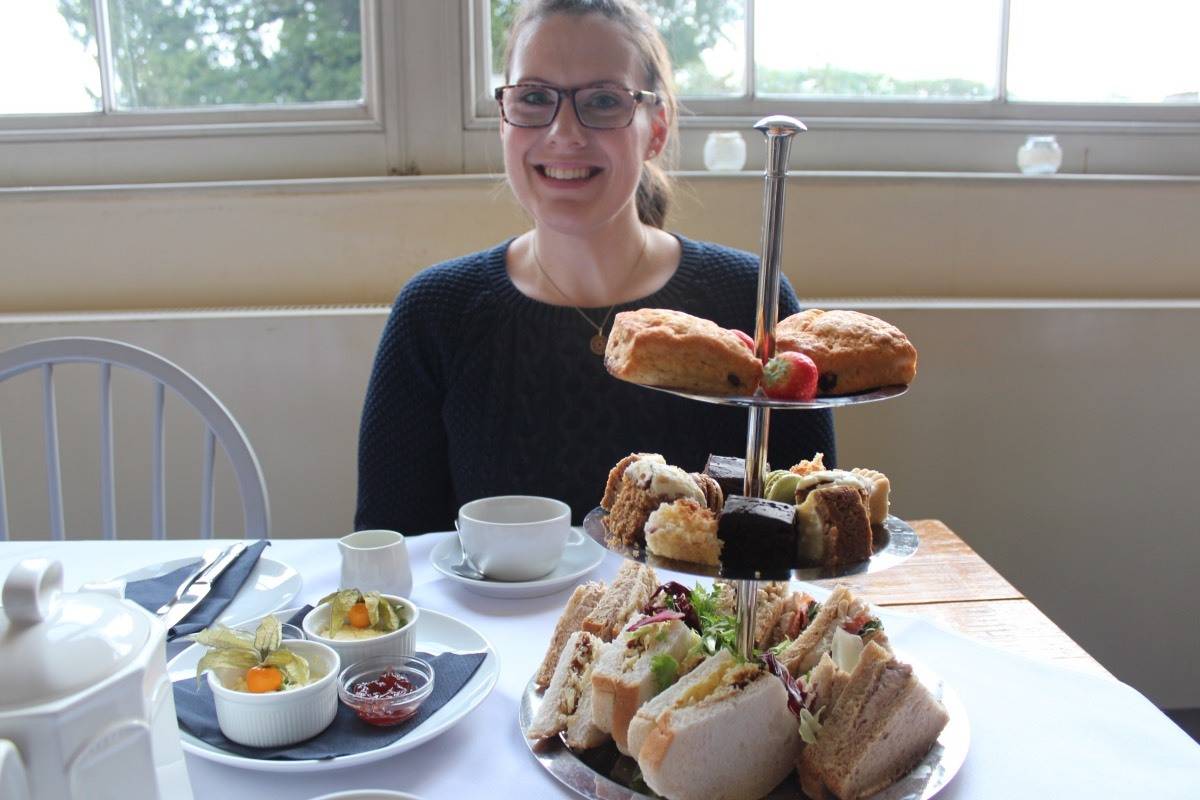 Our afternoon tea consisted of a huge pot of tea, sandwiches, cakes and fruit scones. There was so much food and I was amazed at the great value of it, being just £11.99 each. We were asked what sandwich we would like, and got to choose a sandwich each which we found slightly unusual, as normally an afternoon tea would give a selection of sandwiches, usually in fingers, to share and enjoy.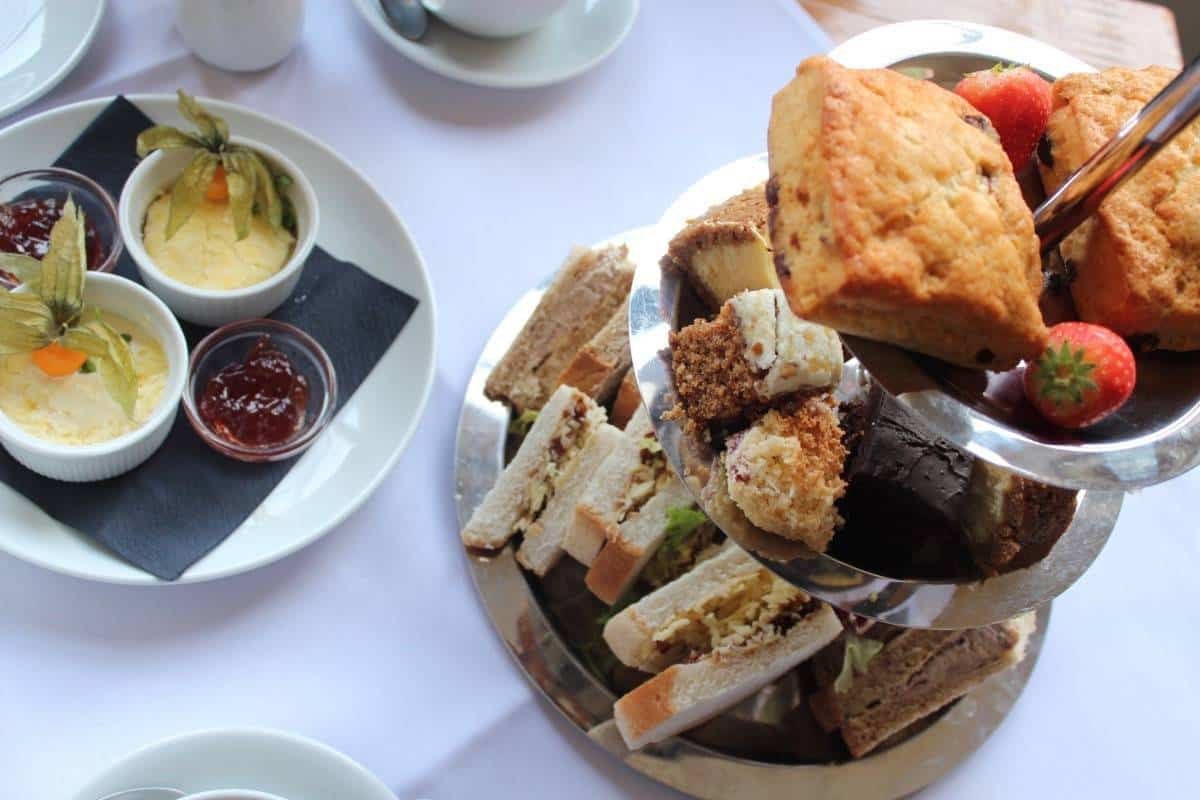 But we each choose a sandwich and as we were reviewing and asked about a selection they did an extra sandwich for us so we could sample a variety of the options on offer. In the end we had cheese and pickle, tuna mayonnaise and chicken, lettuce and tomato. All were served on a choice of white or brown bread and they were lovely sandwiches – with soft bread and plenty of filling.
After the sandwiches we made our way through the amazing selection of cakes. There were slices of cheesecake, chocolate cake, macaroons, cherry bakewell, carrot cake and a macaron each. It makes me want to go back just listing it all.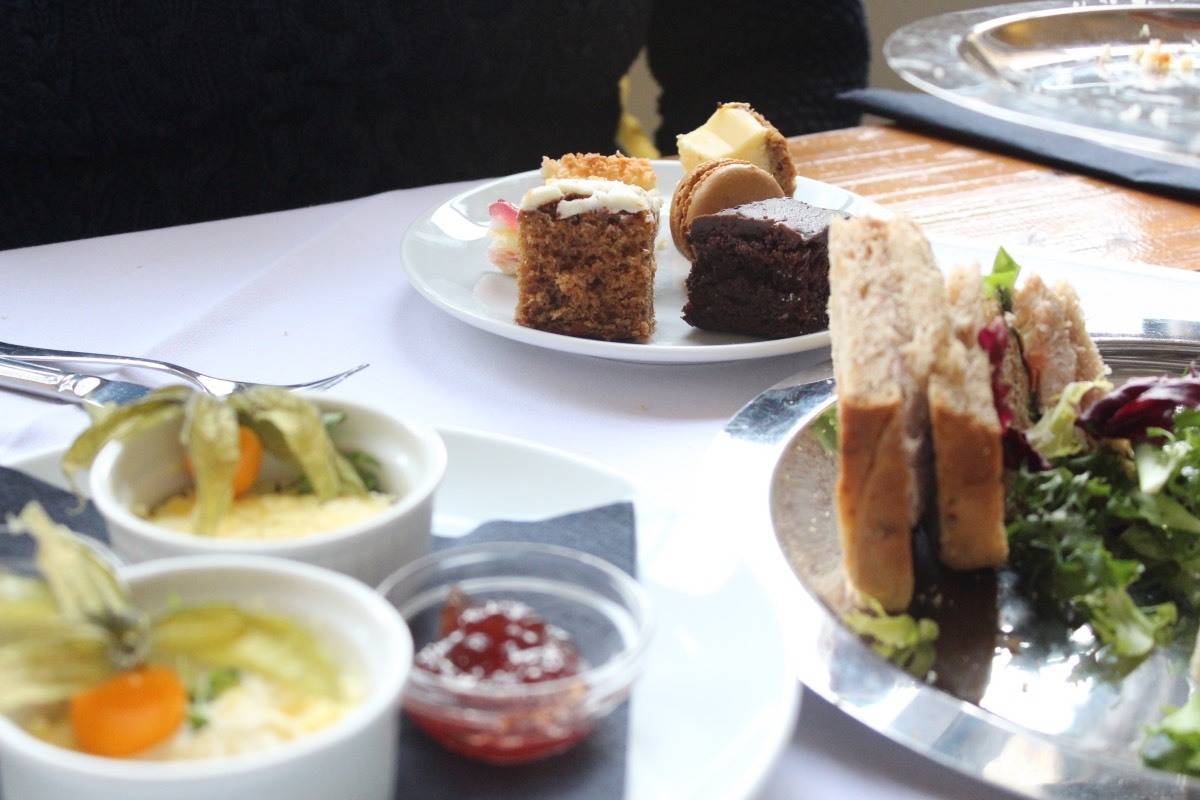 The cakes had a great variety and all tasted wonderful. There wasn't a cake that we tried that we didn't like or that we could even criticise – it was the perfect afternoon tea selection. The tea went so well with everything too and the staff made sure our teapot and milk were kept topped up – it was great service from start to finish.
We finished with our scones – huge square fruit scones with plenty of cream and jam. They were the perfect ending to our afternoon tea and we really enjoyed having such a lovely treat together. Afternoon tea is great to mark an occasion, something to do whilst catching up with a friend or as an impromptu treat and we were really impressed with the afternoon tea at Moggerhanger Park.
Moggerhanger Park was lovely to visit and aside from the outside of the building looking a bit tired we had a great time – and afternoon tea was a definitely highlight. I'm sure we'll be back!