When we went to London over the summer one thing the children wanted to do but we didn't quite have the time was a trip on the Serpentine Hyde Park with Bluebird Boats. So, when we found ourselves back in London at the start of September we made a pedalo experience top of our list of things to do.
Who are Bluebird Boats?
Bluebird Boats run the public boat hire service in several boating lakes around London. As well as Hyde Park London where we visited, they also have boat hire in another of the Royal Parks – Greenwich Park – as well as Battersea Park, Dulwich Park, Southwark Park and Barking Park.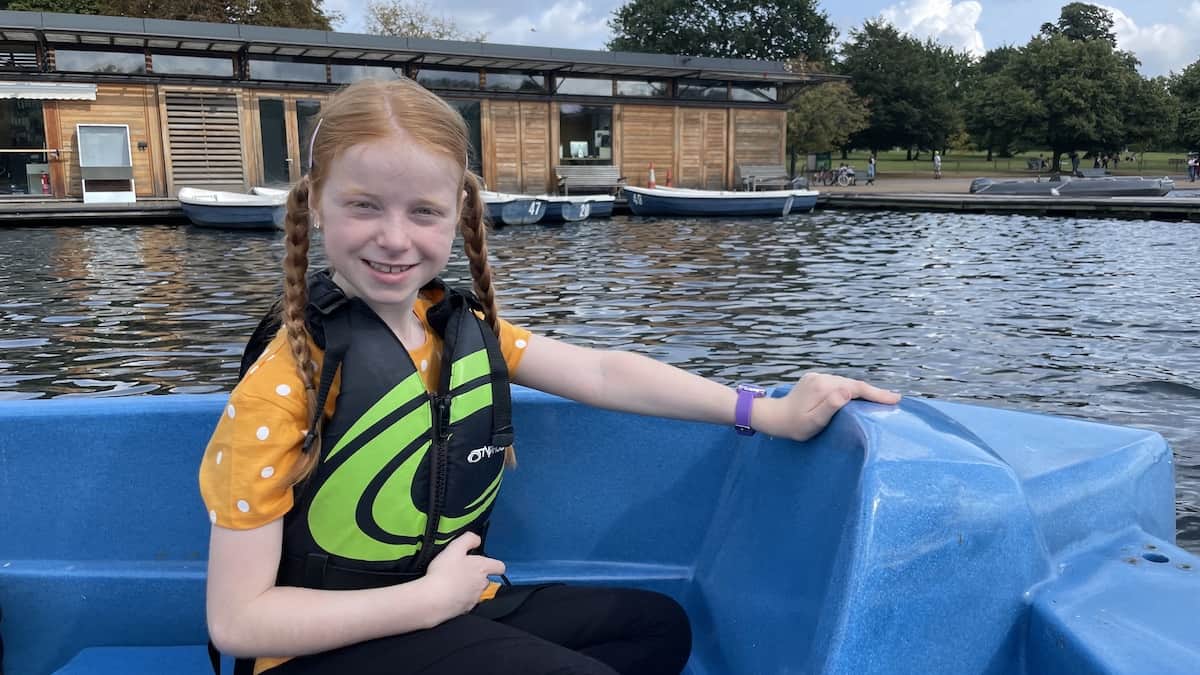 With Bluebird Boats you can hire rowing boats and pedal boats – although we chose pedal boats as we thought it would be less effort. More fool us! They don't operate a booking system and instead you just turn up, pay and get the next available boat or pedalo.
How much does boat hire cost?
With Bluebird Boats you can rent boats for half an hour or per hour. Half an hour was plenty of time for us – we didn't have the energy to pedal for much longer! However, an hour is only marginally more expensive than half an hour so great value if you have the time and energy. Prices start at just £10 for adults and £4 for children or £24 for a family of four per boat. All major credit cards are accepted.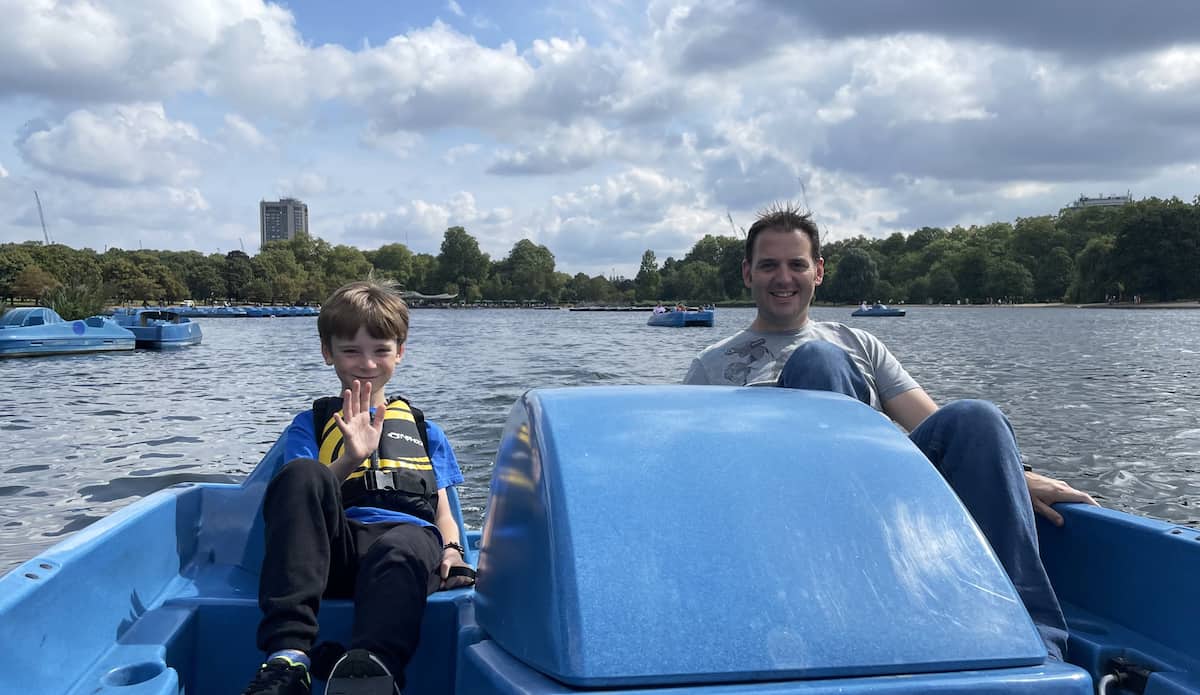 How safe are the pedalos?
When we had paid for our time slot, the children were given life jackets and Bluebird Boats have different jackets depending on whether the children can swim or not. However, the chance of actually falling in the water is slim and you can happily enjoy your whole time on the water without getting wet at all.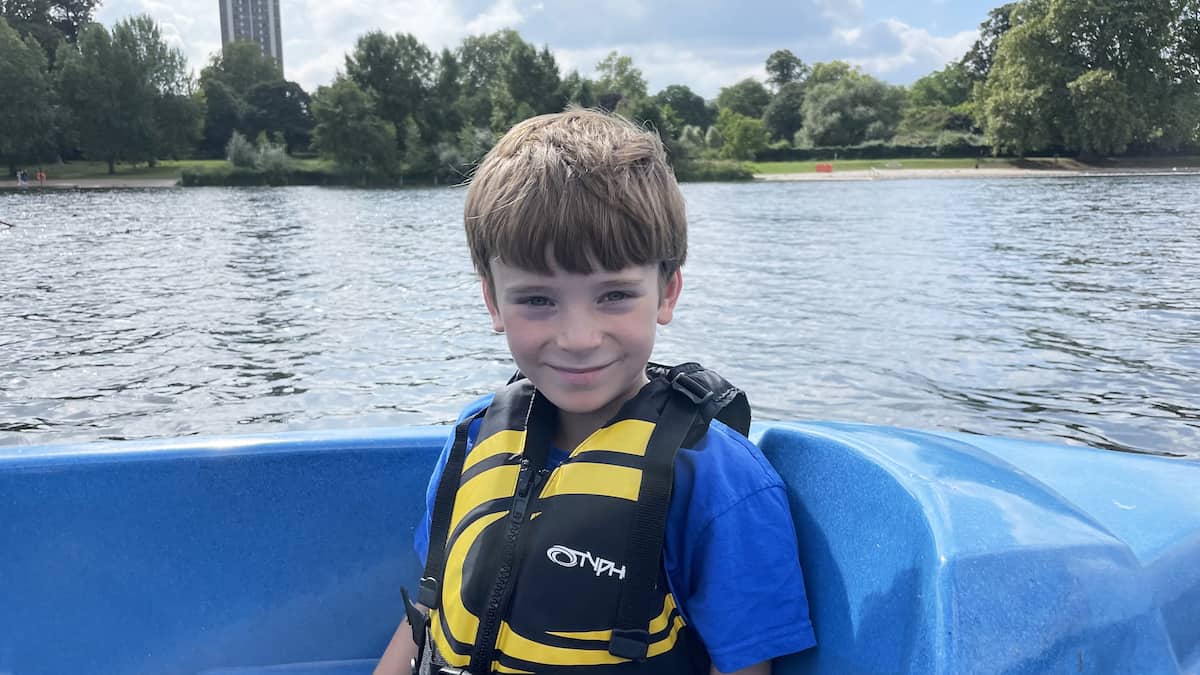 Children over the age of one are permitted on the boats but dogs aren't allowed – something to bare in mind if you're visiting Hyde Park with your dog. There also aren't any toilets at BluebIrd Boats but there are numerous toilets in Hyde Park for you to use before your adventure on the water.
We were helped into the pedalo by a friendly member of staff and off we went. We could explore pretty much down to the Serpentine Bridge and back again. It's a really good sized area that can accomodate a lot of boats – and plenty of ducks, geese and swans too!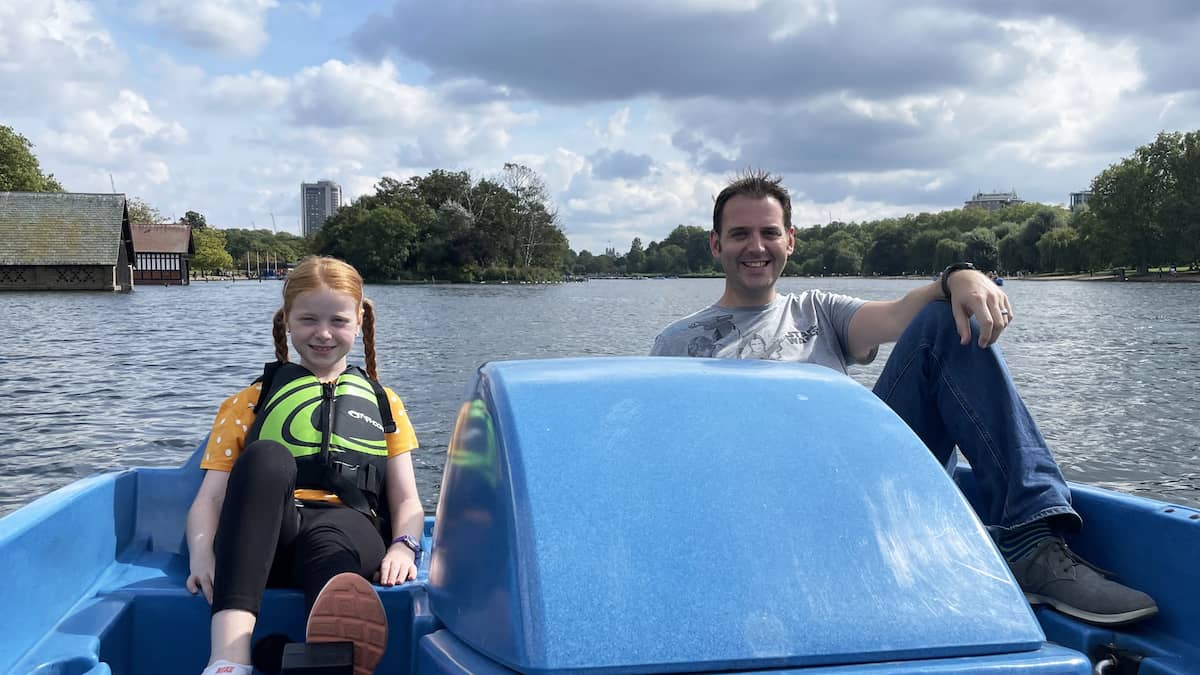 Spending time on the water allowed us to slow down and just take in our surroundings. The children loved it – and waved at so many people enjoying their day by the side of the Hyde Park Serpentine lake. It's a great place for people watching and just enjoying watching the world go by.
We had a great time in our pedalo on the Serpentine boating lake and know it's an activity we'll happily do again in the future – despite it being a lot of effort on your legs! Hyde Park boats are the perfect family activity and ticked a box on our list of things to do in London!
Bluebird Boats also have the UK's first Solarshuttle, a passenger ferry driven entirely by energy from the sun! The children have obviously asked to go on that next time we visit! Plus it's not far from the Serpentine lido either.
You can find out more about Bluebird Boats – the Hyde Park boating – and opening times over on their website – it's very weather dependant and times do vary seasonally and across school holidays and bank holidays but they generally open daily throughout the season. For reference, the address is: Boat House, Hyde Park, London W2 2UH
If you're looking for other things to do in London these posts may help: