Disclosure: We were sent the featured products for the purpose of this post however all opinions are my own.
Vauxhall have recently launched the new Crossland X SUV which is jam packed with technology and all the safety features you would expect from a major car manufacturer. We were loaned one for a week to see what a typical family would make of it and LP and Little Man instantly warmed to it, mainly due to the colour! It was quickly christened the 'Ginger Mobile' and we couldn't wait to take it out for the last week of the summer holidays.
Dave felt at home in the driver's seat as we currently have two Vauxhalls, with the cockpit looking and feeling familiar, but with lots of new additions making it feel fresh and new.
There is an eight-inch colour touchscreen infotainment system which is compatible with both Android Auto and Apple CarPlay. It also comes with a range of safety and assistance systems included as standard across the range and with some more funky features on the higher trim models.
The Vauxhall Crossland X includes a forward collision alert (with autonomous emergency braking), cruise control, Speed Sign recognition and a lane departure warning system. The lane departure system seemed to Dave to be a little bit too sensitive along country roads so he ended up switching it off, but for motorway driving, it is an invaluable addition to increasing safety and something we really liked using.
One of the most impressive gadgets is the 180 degree panoramic rear view camera. As expected, once reverse is engaged, the screen switches and a clear real time image with guide lines displayed. What really impressed us though, was the overhead view that appeared on the side of the screen. It showed a top down view of the space that you are reversing into which really aided when positioning the car perfectly into tight spots.
The infotainment system is also top notch. It boasts a digital radio and satellite navigation system which was quick to load and you can get turn by turn directions displayed on a smaller screen between the dials on the dashboard, so you don't have to worry about looking away from the road to see where you're going. You can even activate a WiFi hotspot and use the 4G network to get up to seven devices online whilst travelling in the car. The quality of the internet connection is of course dependant on network coverage. I tried it using my laptop on the M25 but it was really slow and frustrating. I gave up after a while and worked offline but I'm sure this would be a great addition in city driving.
There are plenty of 12v power sockets dotted around the cabin (handy for children's DVD players) and even USB points in the front to either charge your phone or to connect it to the infotainment system.
The Crossland X is also equipped with Vauxhall's OnStar system. OnStar offers an automatic, hands free crash response, stolen vehicle assistance and smartphone integration to name a few. The phone app allows you to locate your car, activate the headlights and even honk the horn! Handy if you're looking for your car in a packed carpark! One thing I would have liked to have seen is the ability to set a destination using the App to send directly to the satnav as many stand alone satnav devices do this, so If I can honk the horn from my phone, why can't I tell the car where to take me?
There was plenty of room in the back for two full sized child car seats with ISOFIX points. The middle seat did however become next to useless, but only due to the size of the chairs. The boot space was good enough for a car of it's size and also a little bit deeper than expected. There is plenty of room for bags of shopping, a small pushchair or suitcases for a family holiday.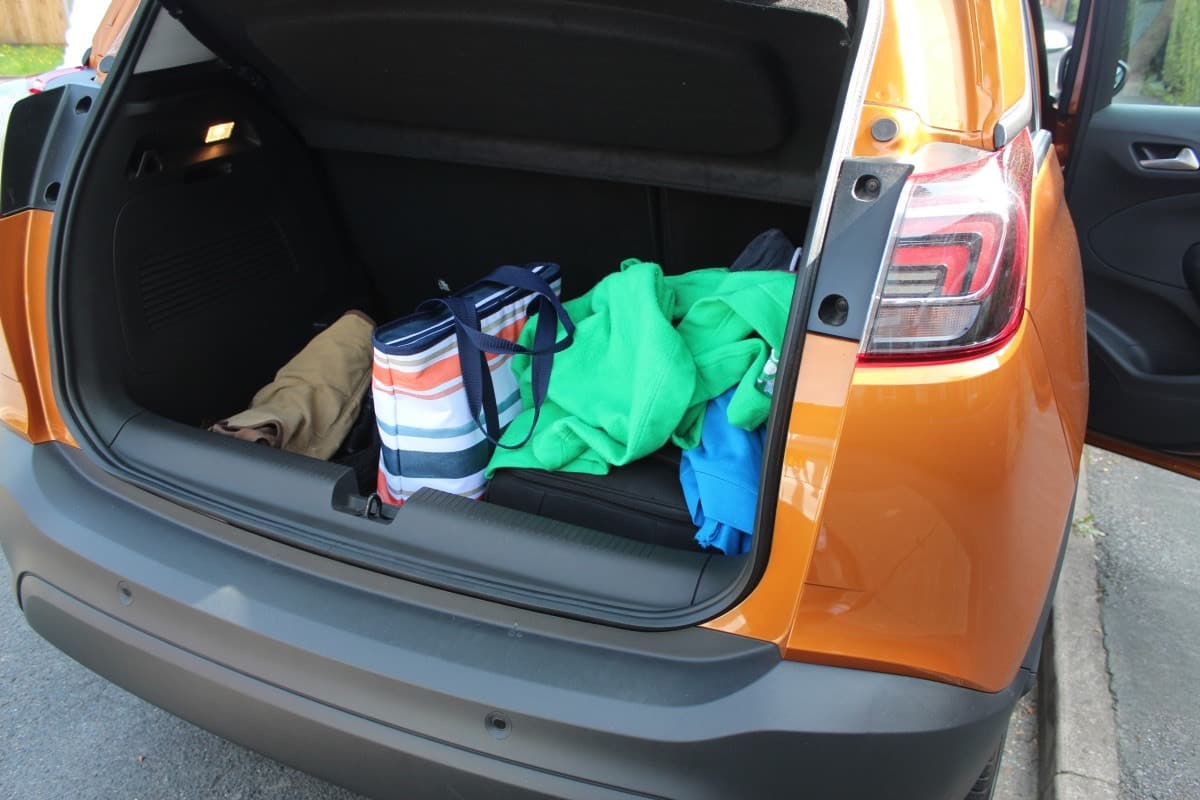 We really loved using this car for the week and it would definitely be high on our list of options when we next look to upgrade our car. It's the perfect family vehicle with so many safety features and giving a really comfortable drive. We were all sad to see it go at the end of the week.