Disclosure: We were invited on this day out for the purpose of this post however all opinions are my own.
We love going to visit Santa as a family each year. This year our first Santa Visit was at the Christmas Circus at Squire's Garden Centre in Badshot Lea. We had been to another Christmas event at the same garden centre last year – The Ice Grotto Adventure. I was expecting a similar winter event but it couldn't have been further from it!
We started off having hot drinks and mince pies in the cafe with the other families. After this we made our way outside – to an actual circus tent pitched just outside the garden centre car park. We hadn't seen it when we arrived. Although it was pretty dark by that point the children couldn't have been more excited. They have never been to a circus before – especially not a Christmas circus!
What were our first impressions of the Christmas Circus?
We were greeted by the cast at the door who gave us a lovely warm welcome and showed us to our seats. The view would be pretty good from anywhere inside the tent and we couldn't wait for the show to start.
The show started with the ring master introducing the show. He told us that it was 'Santa's Got Talent' to find out which act would get to perform at Santa's very special party for his elves. We then got to watch lots of different circus acts perform.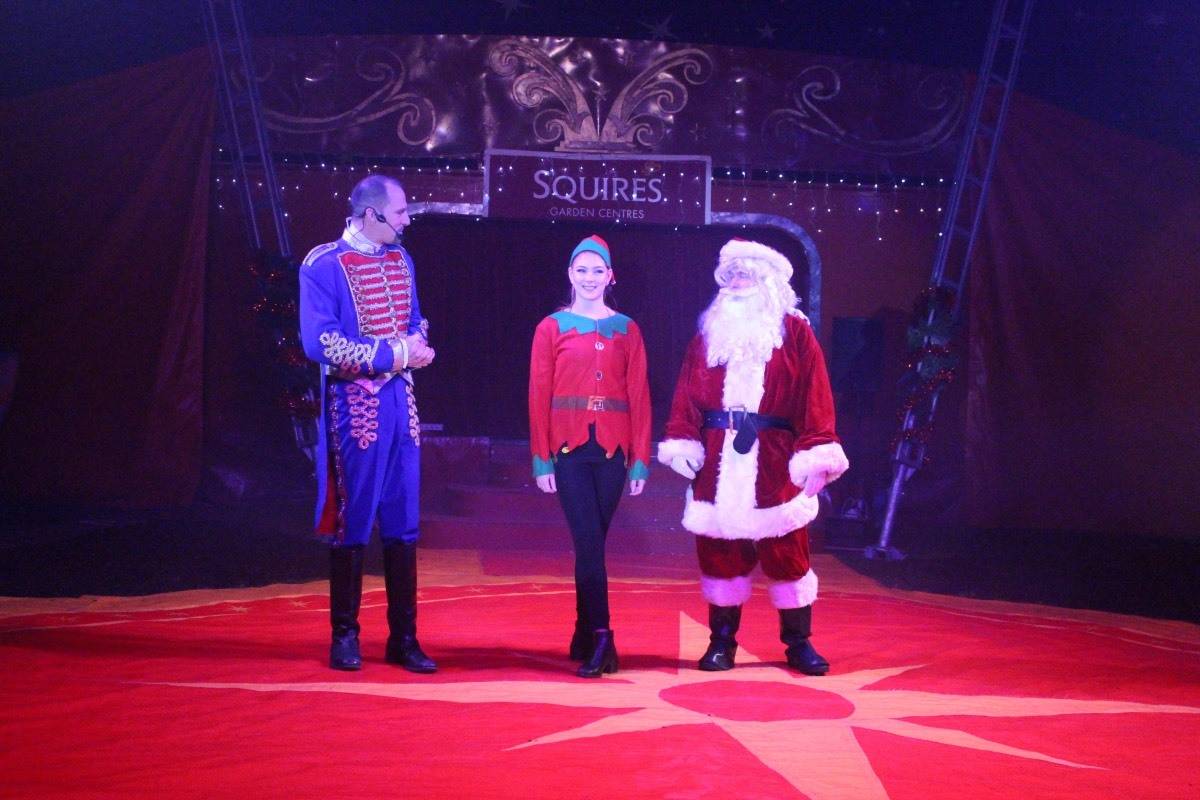 What were the Christmas Circus acts like?
The first was a cube artist who balanced from a hollow cube suspended from the ceiling. She was incredible – climbing, dangling and standing on the cube whilst looking so graceful. It was an incredible start to the show.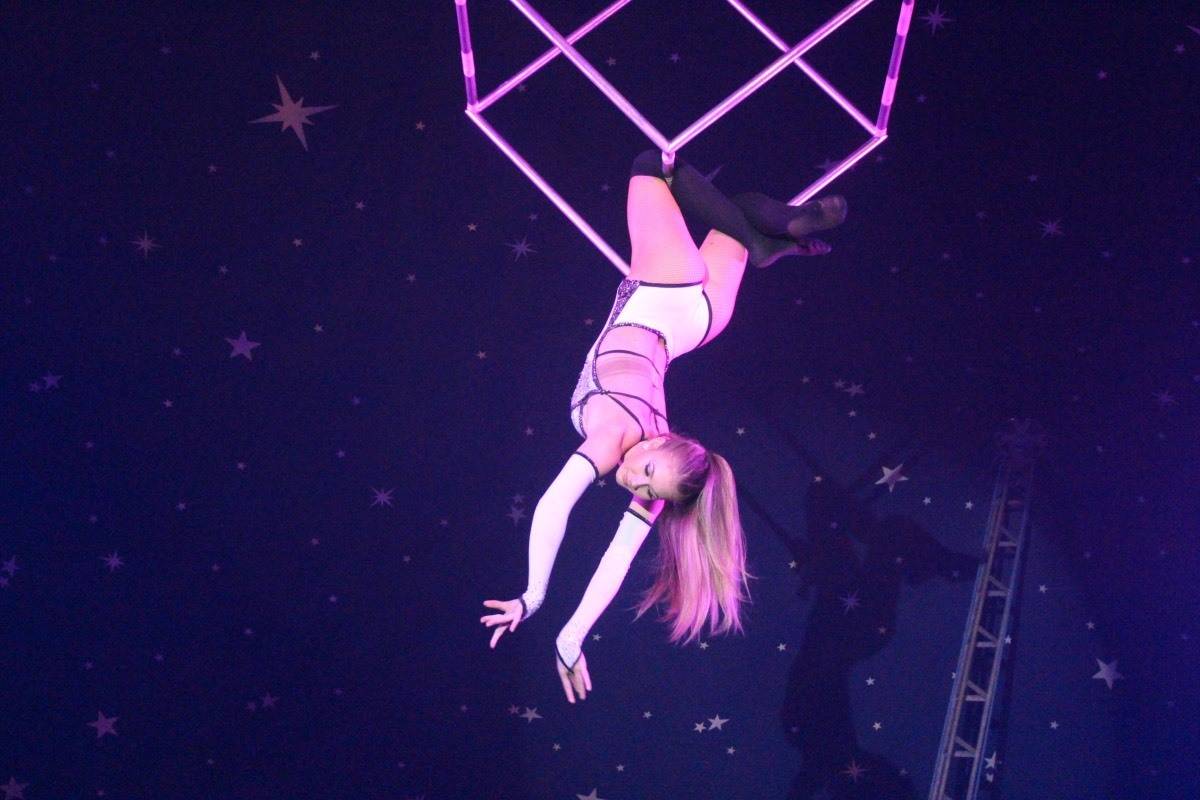 We were then introduced to the clowns who came back regularly throughout the show. Their first act was hiding balloons under bins and moving them around so the audience had to guess which bin the balloon was under.
The clowns came back later to squirt the audience with water. They threw confetti over everyone and even dance with a giant pair of teeth! They even protected the tree from The Grinch at one point – although not very successfully!
We'd never seen balancing acts like this before
We then watched an acrobat balance a sword from her mouth. She climbed up and down a ladder before balancing a huge candelabra on her forehead and doing the same thing. I have no idea how people even learn that they can do these things!
Next up was a man who could do amazing things with a diabolo. He even made two move along the string at one point. He moved all around the ring and even threw them up in the air. It was incredible to watch. He came back later to do juggling with skittles and rings. We saw him juggling so many of the things that they all seemed to blur into one. He was incredibly talented.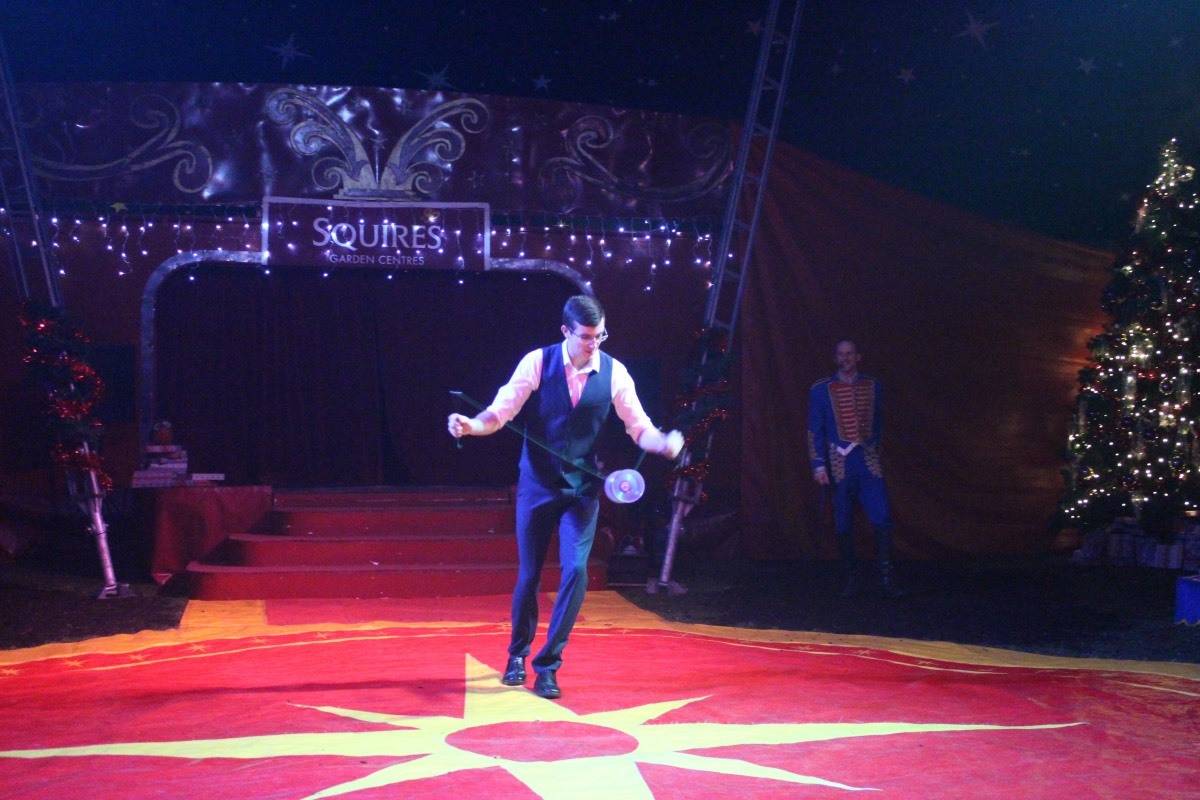 We then got to watch twins on the trapeze. I've never seen two people share a trapeze before. Watching them both pose together and use each other's legs and arms to stay suspended was amazing. They were a highlight of the show.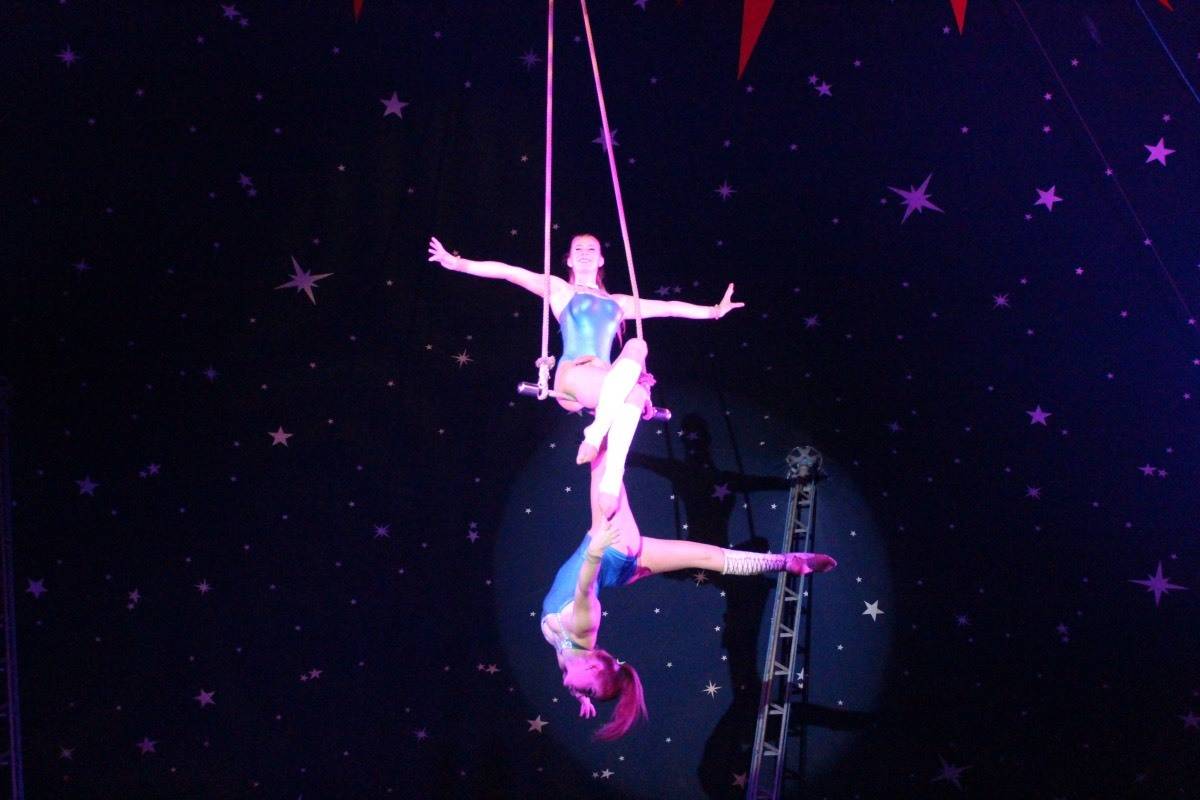 The circus even had a giant polar bear in it!
There were so many other parts of the show. There was a dancing giant polar bear and an acrobat who literally flew around the circus tent suspended by just two ropes. Then there was a section at the end which I do think needed a bit of a parental advisory warning.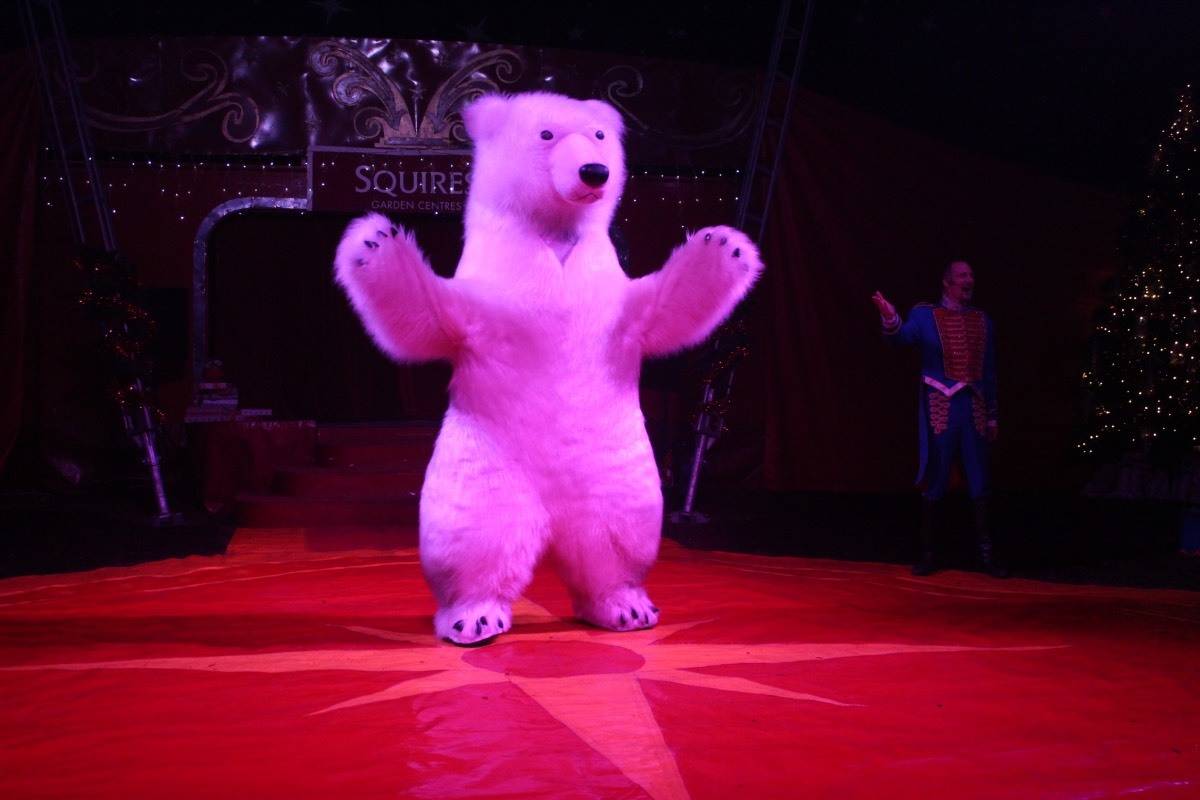 It was a section dedicated to knife throwing but not only did they do the traditional knife throwing but they also did blindfolded knife throwing. They also did that circus act where the woman is attached to a big spinner and the man throws knives at her whilst she's spinning.
The children weren't that keen on that section but it went straight into the finale. This was all of the acts coming out for a dance and the children loved it. They saw all their favourite acts plus Santa and elves dancing in front of them.
What was Father Christmas at Squire's circus like?
LP and Little Man were then able to meet Father Christmas as they left the tent. But this bit could be improved. The area where he was sitting, next to the tent entrance, wasn't lit at all. It was hard to take photos and the children couldn't see very well. There wasn't time for a chat with Santa, just a quick photo opportunity and a gift.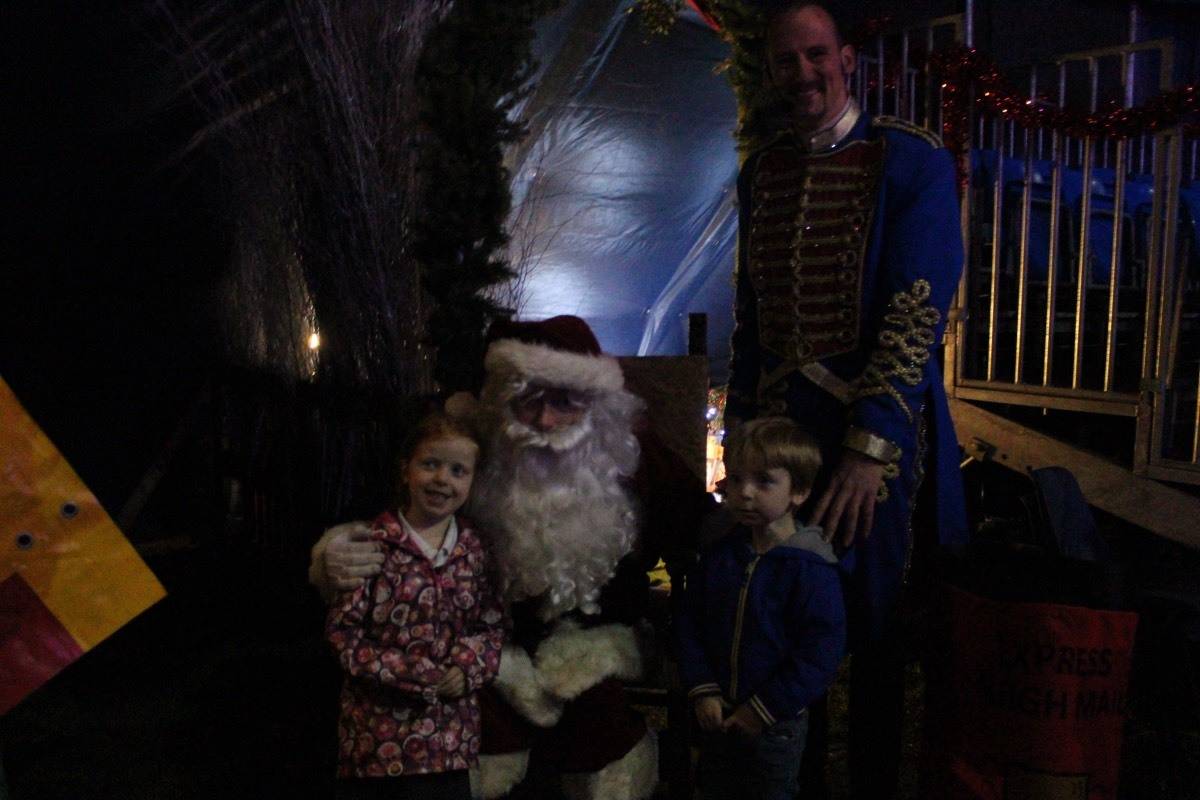 We loved the Christmas Circus at Squire's Garden Centre and it made such a nice change to other Christmas shows and events. We left feeling like we'd had a proper evening out rather than a quick Santa visit and we all really enjoyed the performance. It lasted an hour and we were all kept entertained throughout. If you're looking for something to do this Christmas then booking tickets to Squire's Christmas Circus would be a great option. Here's a little video of our visit: