Disclosure: We were sent the featured products for the purpose of this post however all opinions are my own.
This post contains affiliate links and I may receive commission if you visit a link and buy something. Purchasing via an affiliate link doesn't cost you any extra, and I only recommend products and services I trust.
Little Pickle and Little Man both love bath toys. Bath time is one of the times where they really play together and having new toys to play with in the bath is always a novelty for them. When we were sent the Munchkin Bath Fun Bubble Blower LP loved it – "Penguin, Penguin" was all I heard until I took it out the box!
What is the Munchkin Bath Fun Bubble Blower?
The Munchkin Bath Fun Bubble Blower can be used during bath time at home or in the garden too instead of a bubble gun. LP loved bubble machines last year in the garden and this one from Munchkin would be great in the garden too. As soon as I turned the Munchkin Bath Fun Bubble Blower on the children were fascinated by it – Staring at it and trying to catch the bubbles! A good quantity of bubbles are produced and they're all sent in a slightly downwards direction so that they go towards the children and into the bath rather than flying around the room.
Do you need bubble solution with the Munchkin Bath Fun Bubble Blower?
With the Munchkin bubble maker you do need to use bubble bath solution. It would have been slightly better if baby bath wasn't needed and instead bath bubbles or similar could be used, something you would normally have in the bathroom. We tend to have bubble solution around the house anyway as the kids love to blow bubbles.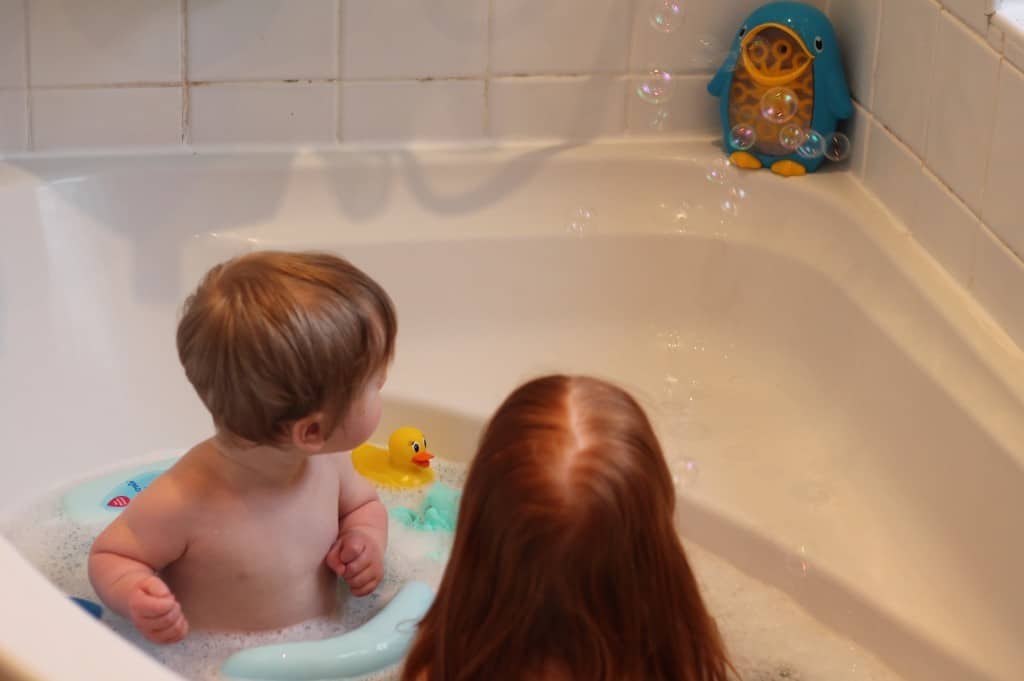 The only other problem we found with the bathtub bubble maker toy is that there's a suction cup on the back – A great idea that not many other bubble machines have. Unfortunately though, the penguin's tale pushes against the wall/window etc when the suction cup is in use and the bubble blower doesn't stay attached for long! We decided to keep the bubble machine bath toy on the side of the bath instead and it works fine so not really a huge issue, just slightly unfortunate.
LP and LM love their new bath bubble machine and I'm sure we'll be having bubbly bath times every night with their new penguin chum! This is a bubble bath machine for babies and all the way through childhood. The children saw it as their own bath spa machine and absolutely loved it.
The Munchkin Bubble Blower has an RRP of £10.99 and is available on Amazon.