This post contains affiliate links and I may receive commission if you visit a link and buy something. Purchasing via an affiliate link doesn't cost you any extra, and I only recommend products and services I trust.
We absolutely loved visiting Rome, Italy with the children and it's such a different experience to going as a couple – which we did quite a few years before. But, travelling anywhere with children as a family vacation requires a lot more planning than travelling without them so I thought it might help to put together my tips for a family friendly break in Rome with kids.
Accomodation in Rome varies massively and it can be hard to choose where to stay in Rome with kids. We looked for somewhere within a 15 minute walk of the main attractions, that had family rooms and breakfast included. Many hotels don't have breakfast included but we loved the convenience of knowing one meal each day was organised and it really set us up for the day. Also, having a seperate sleeping area for the children ensured they would sleep well – a must when walking ten miles a day! You can read more about our stay at Hotel California here. However, if you're happy to stay a little outside the city then Eurocamp have great options for a family self catering holiday in Rome too.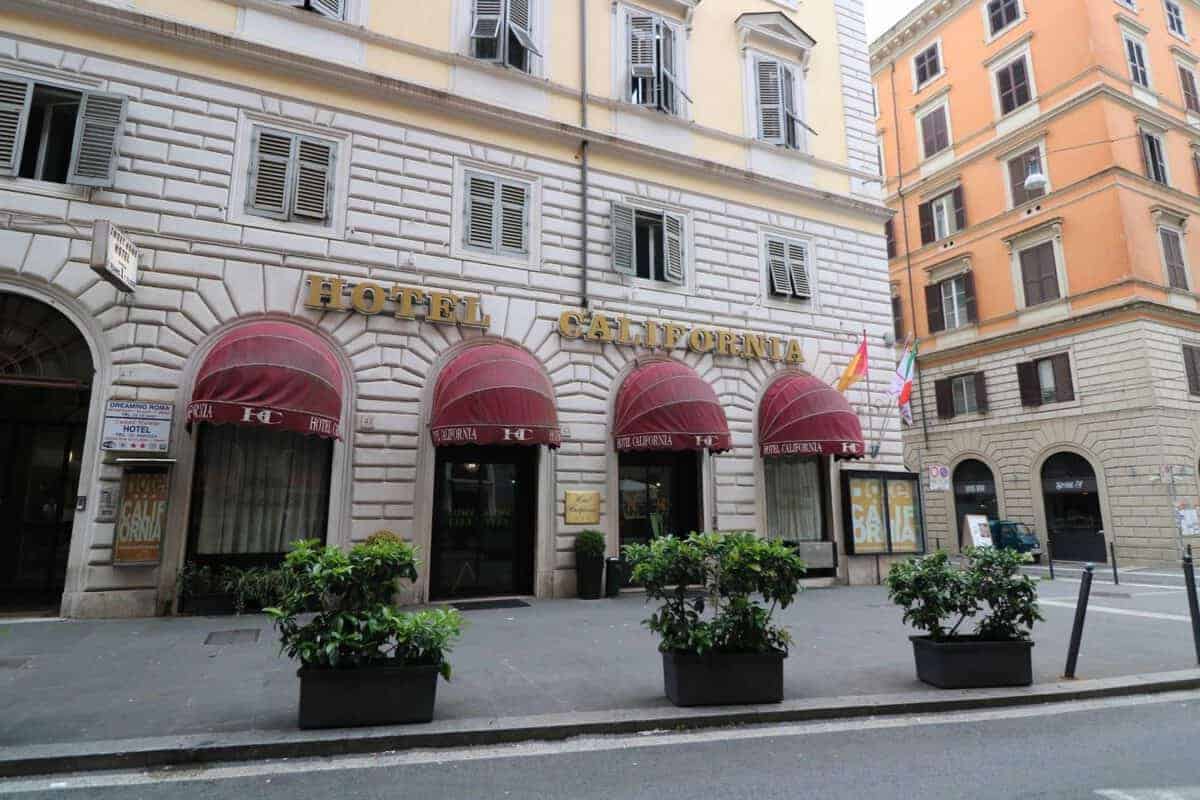 You can get the Leonardo Express train straight from Rome's Fiumicino Airport to the centre of Rome. It's cheap, quick and so easy – and it really adds to the adventure for children.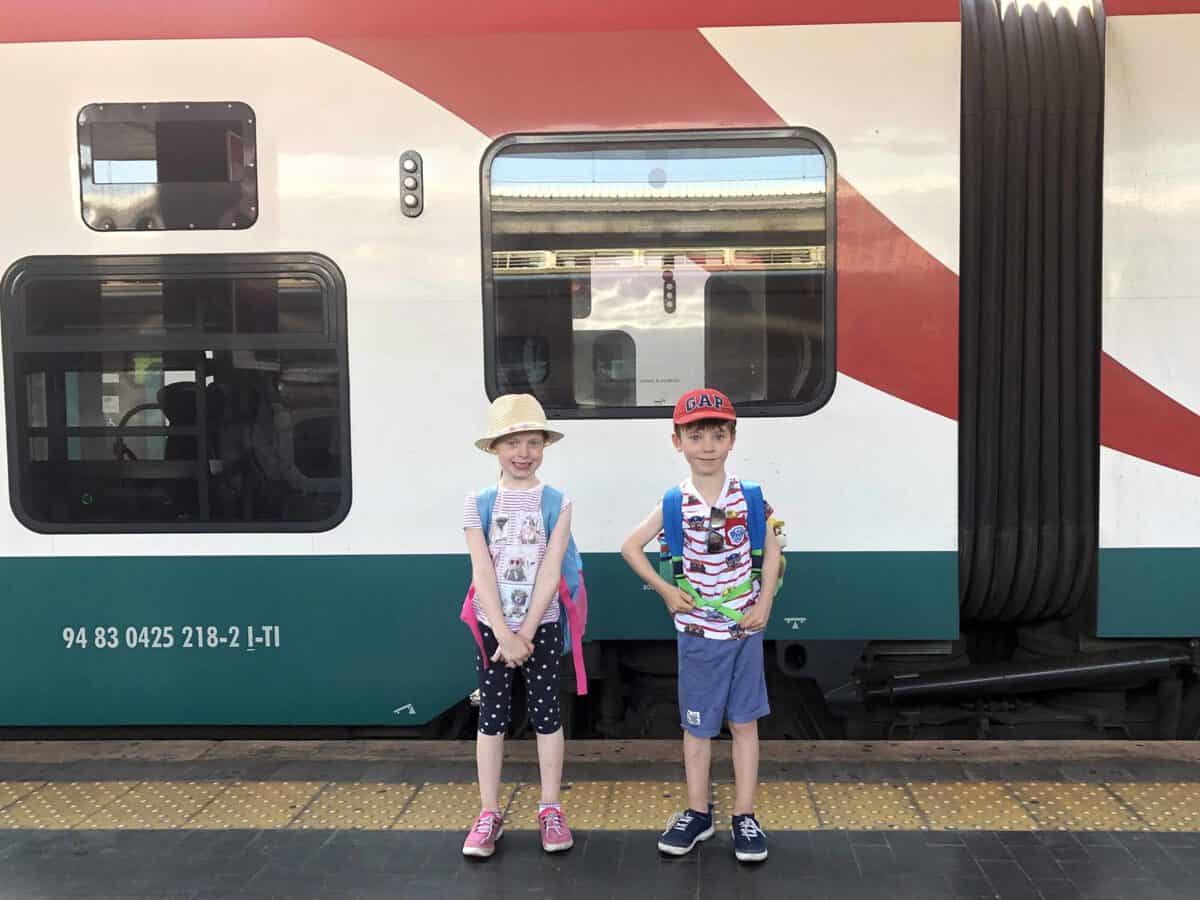 One of the first things you'll notice in Rome is touts everywhere. They sell everything from tours to sun hats and bottles of water. Teach the children to say no thank you firmly whenever anyone speaks to them.
Rome is very hilly and so walking is exhausting. Expect to have plenty of stops for drinks, snacks and just to rest tired legs. But, there is always something to look at to make even a brief stop something fun. Piazza Navona and the gardens around Villa Borghese are both places where you can stop and take in the atmosphere without too much effort.
Make sure the children wear decent trainers and socks. You will walk more than you realise and so footwear needs to be comfortable and practical. We also found shorts and t-shirts more practical than summer dresses and in the Vatican even children had to have knees and shoulders covered.
Don't be put off by the amount of walking in Rome – there are also plenty of taxi stands and a really easy to use, affordable and functional Metro system. We didn't use it on this break but previously used it and it would be a great investment if your children aren't that keen on walking long distances.
Although child friendly Rome is very much a reality, Rome isn't the most pushchair friendly. There are so many crowds in certain places, so many flights of stairs even in the street and so many cobbles. Rome with toddlers would definitely be a harder experience than with older children and baby carriers would definitely be an easier option if visiting Rome with very young children.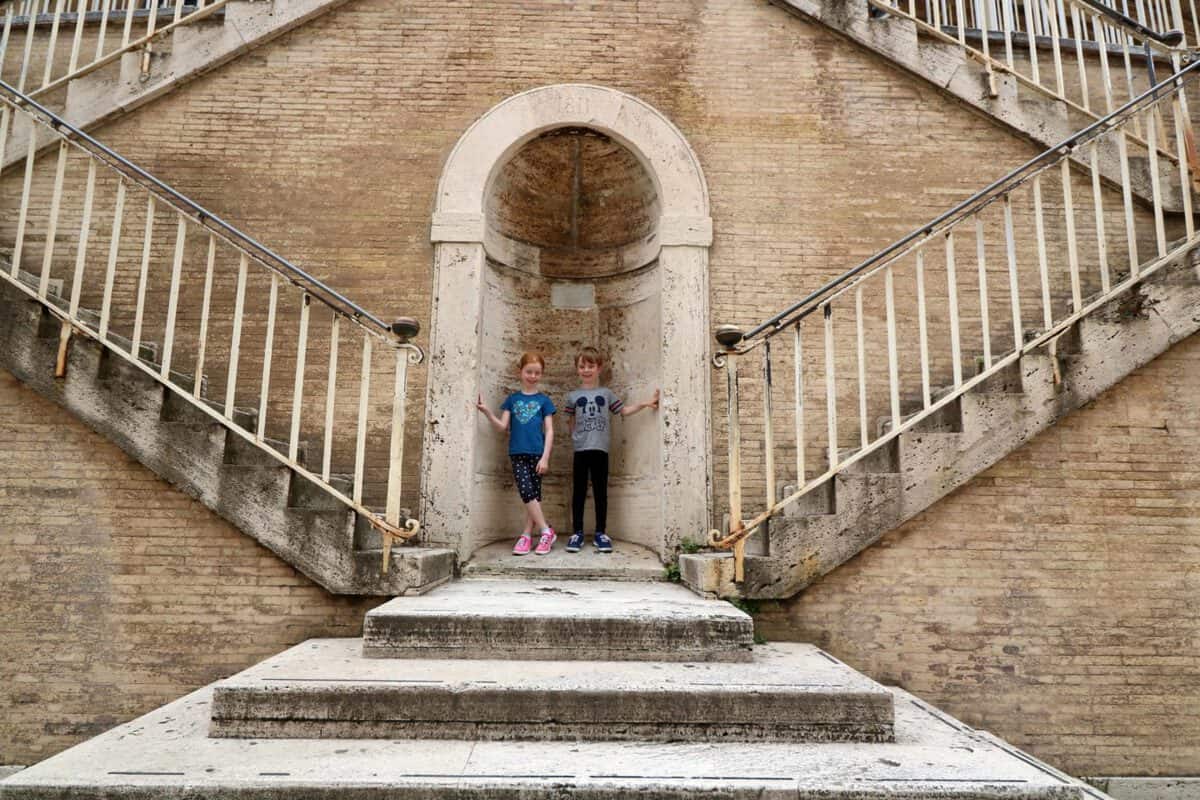 It goes without saying but sun hats, sunglasses and sun cream is a must in Rome. Although there are shady areas we spent big chunks of time in direct sunlight and the children hardly took their hats and sunglasses off during the break.
When looking for things to do in Rome with kids, appreciate that most of Rome is free. You could happily spend a week walking around Rome, taking in the sights and never paying an entrance fee – and the children won't mind either way. There are obelisks, fountains, statues and more on literally every corner. I doubt any child would get bored in a city full of things to look at. The Trevi Fountain, Spanish Steps and Bocca Della – the Mouth of Truth – are things the children loved looking at and didn't cost a penny aside from a voluntary donation or throwing a coin in the fountain.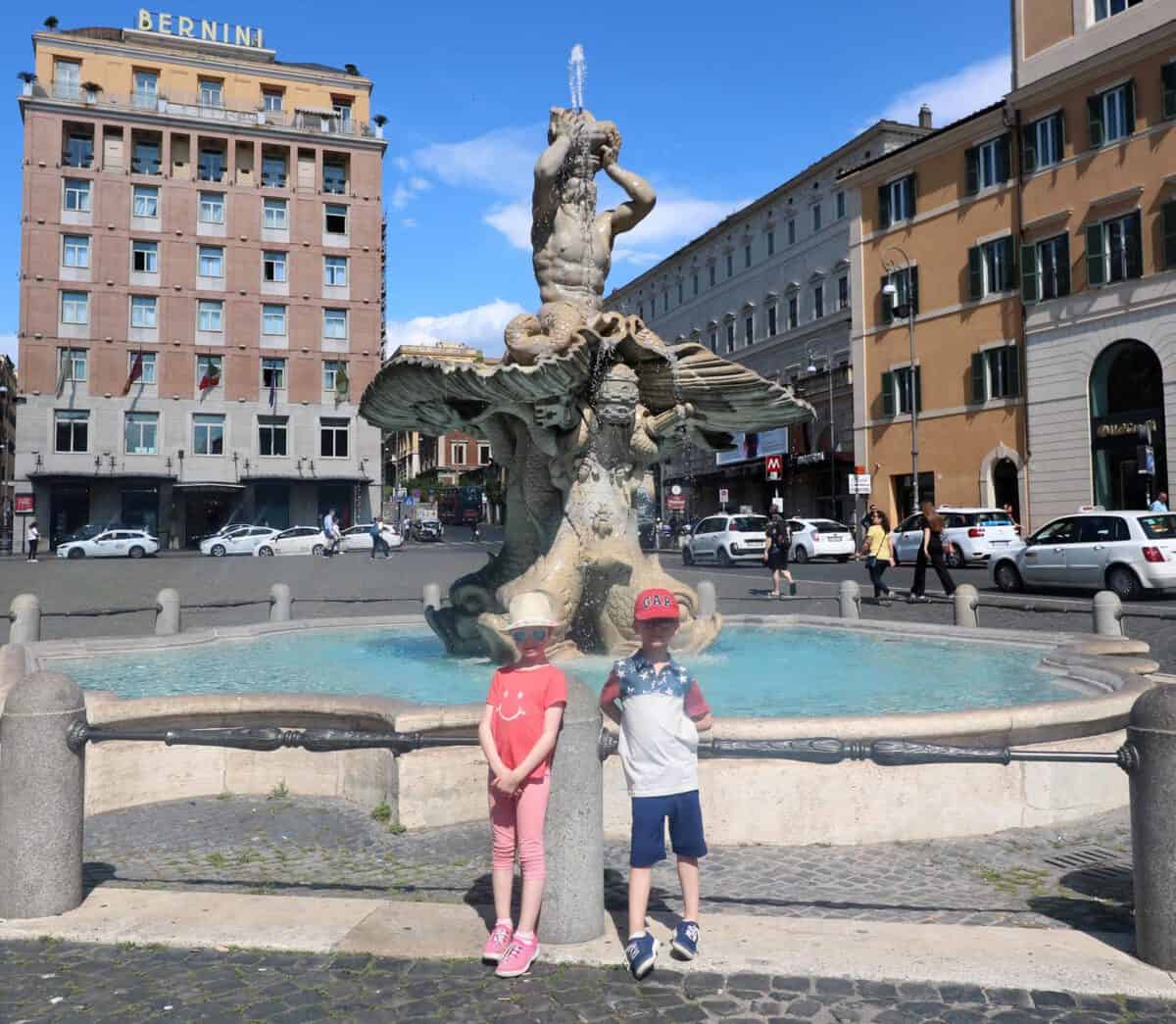 Mark attractions and sights that you'd like to visit on Google maps. Most phone services offer roam like you're at home now and so using Google maps when walking through the city is so much easier than using a paper map and means you can see where attractions are as you're walking around.
One thing to be aware of is that children go free in so many places in Rome. From the Leonardo Express train from the airport to the Colosseum, Vatican and so many other sites and attractions.
We found that organised Rome tours with kids should really be avoided. Kids generally get bored on guided tours and even a skip the line tour advertised online without a guide will have an inflated ticket prices. Be your own tour guide, use a guide book or audio tour and save yourself money and time whilst keeping the children interested in everything they are seeing.
Book attractions like the Vatican and Colosseum before you visit to skip the main ticket queue when you get there. The queue for the Colosseum can be hours long and if you find yourself without a ticket and need to buy one go across to Palatine Hill where the queue will be much shorter – especially if you arrive before 8:30am. You can then buy a combination ticket to the Colosseum, Roman Forum and Palatine Hill for €14 and kids go free.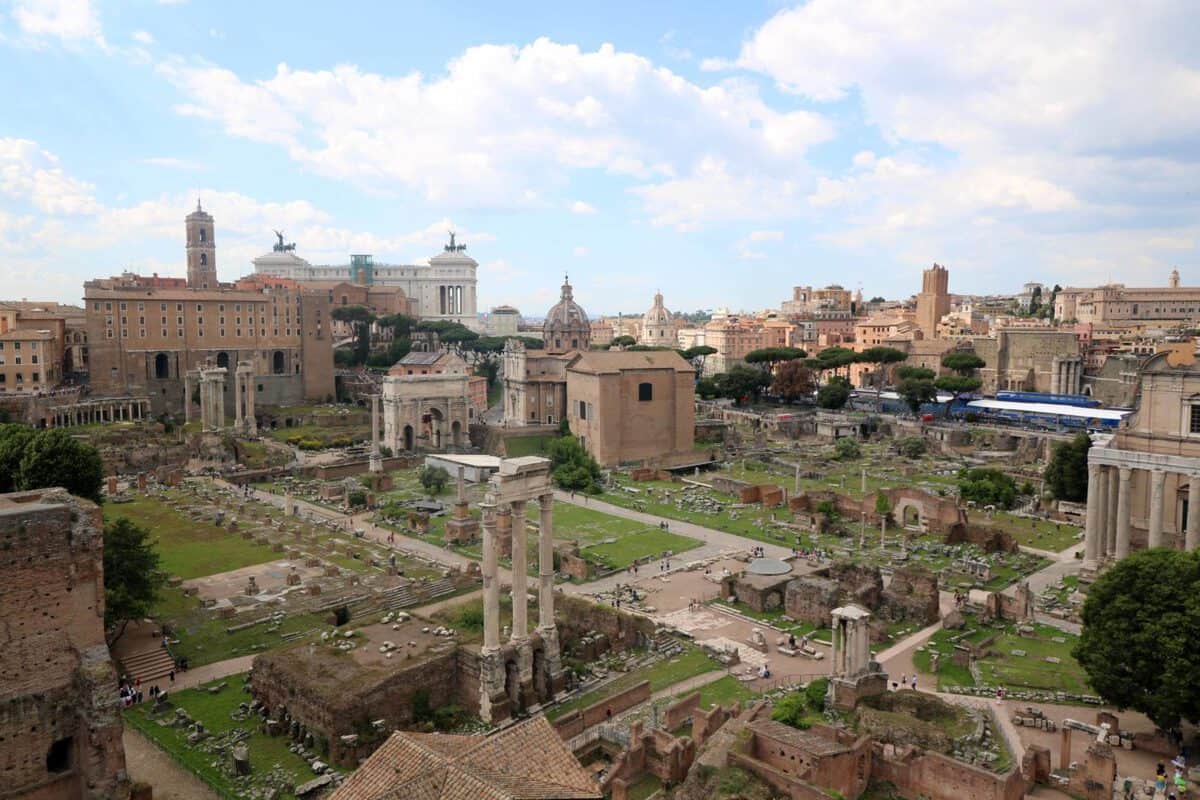 Throughout Rome there are thousands of water fountains so make sure you take a refillable water bottle with you. These fountains have fresh water in them and run freely, not needing to be turned on and off. You can just help yourself – fill a bottle or drink straight from the fountain, trying not to get soaked in the process!
It's common practice in Rome to only use a toilet in a cafe/restaurant/hotel if you're using its services and spending money there. So, we used the toilet in our hotel and in any cafes/restaurants that we made purchases at during the trip. Other than that, we used McDonalds toilets and there were also so many portable toilets in the streets outside parts of ancient Rome. All of the tourist attractions had decent toilets but I would keep a supply of tissues with you at all time. And baby wipes too!
There are plenty of supermarkets and fruit and vegetable markets to buy snacks – from Italian wafer biscuits, croissants and cake through to punnets of strawberries or an apple to eat on the go. There are also panini vans on most roads and by all the tourist attractions selling reasonable priced panini, hot dogs, crisps and drinks. The panini vans were great for lunch where the children can happily share a €4/€5 panini.
Ice cream is everywhere in Rome and you need to have at least one ice cream a day – it's pretty much the law. But, the prices for ice creams vary massively from store to store. If you venture slightly away from tourist attractions or down side roads you can find ice creams for €2/€3 each – so much lower than the €5/€6 in the tourist areas.
Eating out can be expensive. But, we learnt quickly that children can share a main course in restaurants – children's menus aren't really a thing in Rome. A pizza and a portion of chips would happily feed 2-3 children. Also, like with ice cream, if you venture down side roads and away from the main tourist areas you can get a margarita pizza or a pasta dish for as little as €6. If you want a takeaway option there are loads of places that sell pizza by weight, cutting slices off, weighing them and then cooking them for you before putting them in a box where you can take them to eat in the sunshine – always a novelty for children.
There are play parks in Rome if you know where to look for them and they gave the children a moment of fun amongst the history and culture. We found them behind Castel Sant'angelo, In the Borghese Gardens and in the Parco del Colle Oppio.
If the children are old enough to read, invest in family travel guide books to prepare them for the break that they can also use to learn more about the things they see. We used two main ones whilst we were away – Family Guide Rome and Rome City Trails. We didn't follow the walking tours in the book but the children loved using it to find more things to venture to and to learn more about everything we saw. The Family Guide Rome was a fantastic book for the whole family but it had a great kids corner section in most chapters.
Rome with children is such a fantastic experience and there are so many options of what to do in Rome with kids. There is always something else to see, another Rome activity or other places to visit in Rome as a family. I hope this helps if you are planning a trip to Rome – and if you want to know anything else just ask, I'll try and help all I can.