When we were planning our trip to Rome with the children we wanted to make everything run as smoothly as possible and to be as easy for the children as we could manage. We knew that we'd have to organise a way of getting from Rome airport to central Rome and looked at every option available – from pre-booking a transfer to a taxi and finally the Leonardo Express.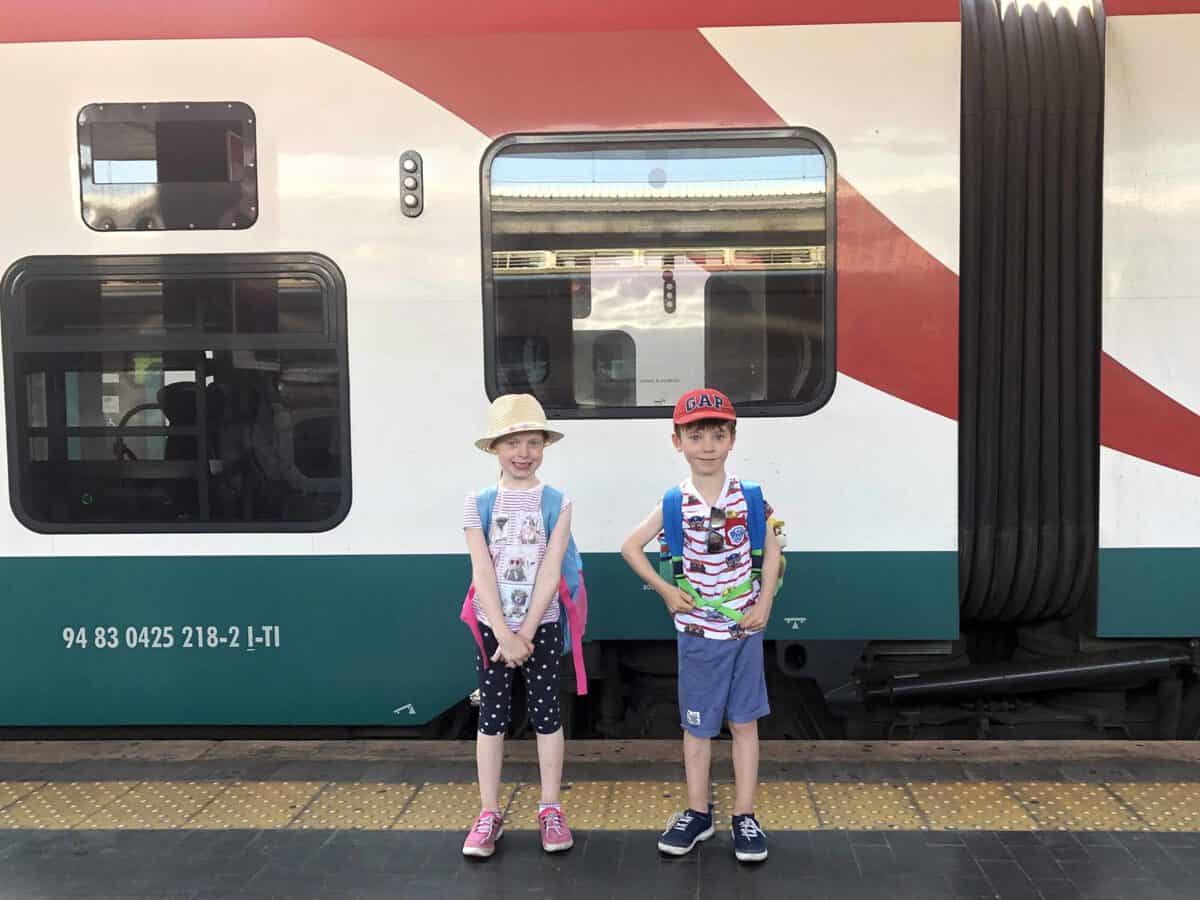 What are the Leonardo Express stops?
The Leonardo Express is a dedicated train service with trains that take passengers from Rome's Fiumicino Airport into Roma Termini, the station in the centre of Rome, and back again. The service is operated by Trenitalia and is so easy to use that I just had to share it with you so you don't waste money on an expensive taxi transfer.
How much does the Leonardo Express train cost?
The train service takes 32 minutes and the train leaves every half hour and every fifteen minutes during peak hours and it runs from 6:38am through to 11:38pm. The best thing about the journey is that tickets cost just €14 each way and children travel free.
Where can I buy Leonardo Express tickets?
Although you can buy Leonardo Express tickets online, we bought our tickets from a machine at the airport and walked roughly five minutes, following signs, to the Rome airport train station. Once there the platform details were well signposted and we just had to stamp our tickets before getting on the train and then jump on board and wait until we were whisked into Rome city centre.
At the end of line we reached Rome's Termini Station and found ourselves in the heart of Rome. The journey couldn't have been easier and it really added to the adventure for the children too.
On our way home we checked the Leonardo Express schedule online before we headed for Rome Termini station and bought our train tickets easily through the self service ticket machines again. We arrived at Rome Fiumicino airport with plenty of time to spare and it really was such a stress-free way of getting to and from the airport and a great addition to our holiday in Rome. You can find out more here.