This post contains affiliate links and I may receive commission if you visit a link and buy something. Purchasing via an affiliate link doesn't cost you any extra, and I only recommend products and services I trust.
We love making simple fairy cakes at home and I always use our never fail cupcake recipe each time we make them but sometimes it's nice to have a bit of variety and so we've started making chocolate chip fairy cakes based on the same recipe.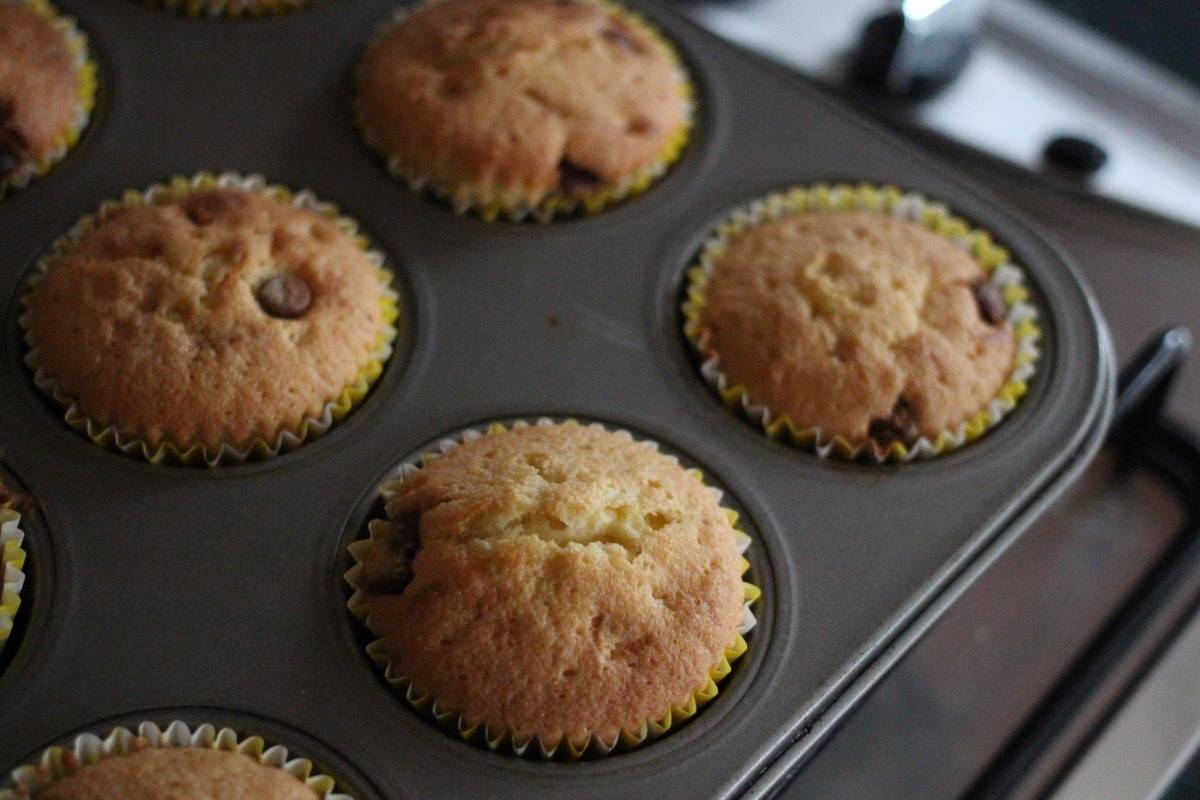 These quick and easy chocolate chip fairy cakes are lovely to make as they don't seem unfinished – they don't need icing or any decorating and can be enjoyed as a tea time treat, for breakfast or just a snack.
They're perfect for any time really and the great thing is that they don't need a specific amount of ingredients – you can make as many as you like so easily or just a small batch if you just want a few of them and they've turned into one of our favourite family cake recipes.
A lot of people make individual fairy cakes for Christmas and these would be perfect for that – or any other time of the year. If you wanted to you could top them with a dusting of icing sugar, some melted chocolate or chocolate buttercream but they are just as good without – and the kids love these little home made cakes.
Can you vary this recipe?
We use mini chocolate chips for this fairy cake recipe but you could easily make chocolate chunk fairy cakes with bags of chocolate chunks instead or cut up bars of chocolate. They'd be great for any fairy cakes feast!
You could easily make this fairy cake recipe into simple double chocolate chip fairy cakes by adding a little cocoa powder to the mix – or orange chocolate cakes by adding some orange zest to the batter.
You could even use white chocolate chips for white chocolate fairy cakes. The variations you can make are endless! These easy peasy chocolate fairy cakes are a hit with everyone.
What other chocolate chip recipes can you make?
If you're looking for other chocolate chip recipes to try why not try our Pumpkin Chocolate Chip Brownies, Peanut Butter and Chocolate Chip Cookies, Pumpkin Chocolate Chip Muffins, Chocolate Chip Banana Muffins or our Never Fail Chocolate Chip Cookies recipes?
What equipment do you need to make these little chocolate chip cakes?
You will no doubt have most of the equipment you need for this recipe at home already but, in case it helps, here are the things we use to bake these cakes at home:
These are pretty much staples for baking in any home kitchen and once you have them you won't need to replace them often.
Here's our Chocolate Chip Cupcakes Recipe:
Baking ingredients
Recipe
If you'd like to pin or print the Chocolate Chip Cupcakes Recipe for later you can do so at the bottom of the page. Enjoy!
---
If you have enjoyed this post and found it useful, here are some ways you can say thanks and support our website:
Share this post with your friends 
Pin this post for later
Read some of our other related posts – below
Follow What the Redhead said on the following platforms :
Thank you for so much for your support!
Chocolate Chip Cupcakes
We love making cupcakes at home and I always use our never fail cupcake recipe each time we make them but sometimes it's nice to have a bit of variety and so we've started making chocolate chip cupcakes based on the same recipe.
Ingredients
eggs

butter

caster sugar

self raising flour

vanilla extract

chocolate chips
Instructions
Preheat the oven to 180C/350F/Gas 4

Line a muffin tin with paper cases

Break the eggs into a bowl and weigh them

Add the same weight of butter, caster sugar and self raising flour and mix well

Add the same weight of chocolate chips

Add 1tsp of vanilla extract – I use 1tsp of vanilla for every 3 eggs

Mix well and spoon into the paper cases

Bake for 15-18 minutes or until lightly browned
*Note: Nutritional information is estimated, based on publicly available data. Nutrient values may vary from those published.