September is the start of Autumn and Autumn to me is all about apples, blackberries and plums. The flavours of autumn! I thought that apple pie and crumbles would be too obvious an autumn recipe so instead I have decided to make drop scones.
Drop Scones are also known as Scotch Pancakes. They're incredibly easy to make, can have near enough anything put in them and are very versatile when serving and eating them – best of all, they're great for Baby Led Weaning!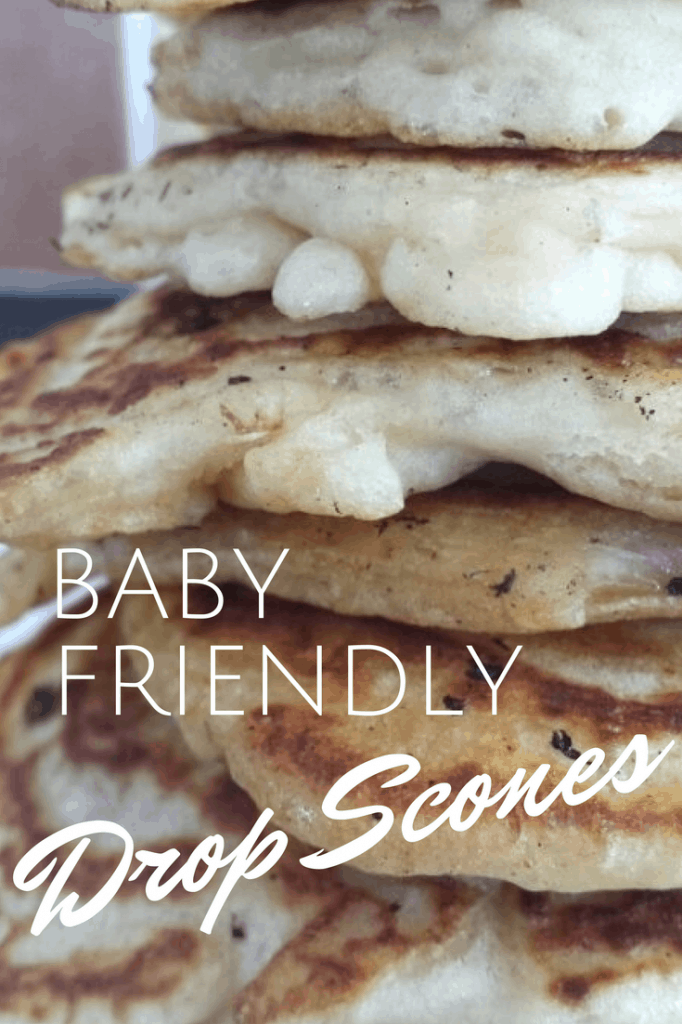 So here is our baby friendly Autumn Fruit Drop Scones Recipe:
Autumn Fruit Drop Scones Recipe
These are a fantastic breakfast, lunch or snack food for babies from weaning onwards and can be filled with a whole host of flavours. They are so easy to make and nutritious too.
Ingredients
1

eating apple

peeled and cored

150

g

of all purpose flour

1/2

tsp

of bicarbonate of soda

1

tsp

of baking powder

1

egg

180

ml

of milk

2

tbs

of oil

fresh blackberries and plums – but you can use any fruit!

unsalted butter
Instructions
Put the apple in a saucepan and cover with water, bring to the boil and leave until softened. Drain the water and mush with a fork to make an apple sauce/puree. Leave to cool.

Prepare the rest of your fruit. We chose to make apple & plum and apple & blackberry drop scones. we halved the blackberries and peeled and sliced the plum. Have you ever tried to peel a plum? It's incredibly difficult without stewing or steaming the plum first. I used a serrated peeler and the skin came off incredibly easily – It can also be used for tomatoes and other soft fruit.

Sieve the flour, baking powder and bicarbonate of soda into a large bowl or jug.

Add the eggs, apple sauce and oil, make a well in the centre and gradually add the milk while mixing. The mixture should be thick and lumpy!

Melt a little butter in a frying pan over a medium high heat and add a couple of spoons of mixture per drop scone.

Add some of the fruit to the top of the drop scone and then flip over. When cooked both sides should be lightly browned.

Repeat process with remaining mixture.

Serve with a dollop of fromage frais, greek yogurt, cream, maple syrup… However you like really! The drop scones can also be enjoyed cold as a quick snack.