We loved Baby Led Weaning – It worked for us and it was my inspiration to start blogging in the first place! I thought I'd put together a few baby led weaning tips for anyone considering going down this route with their child. I know baby led weaning isn't for everyone and as long as your baby is fed in some way then it really doesn't matter how they get that food.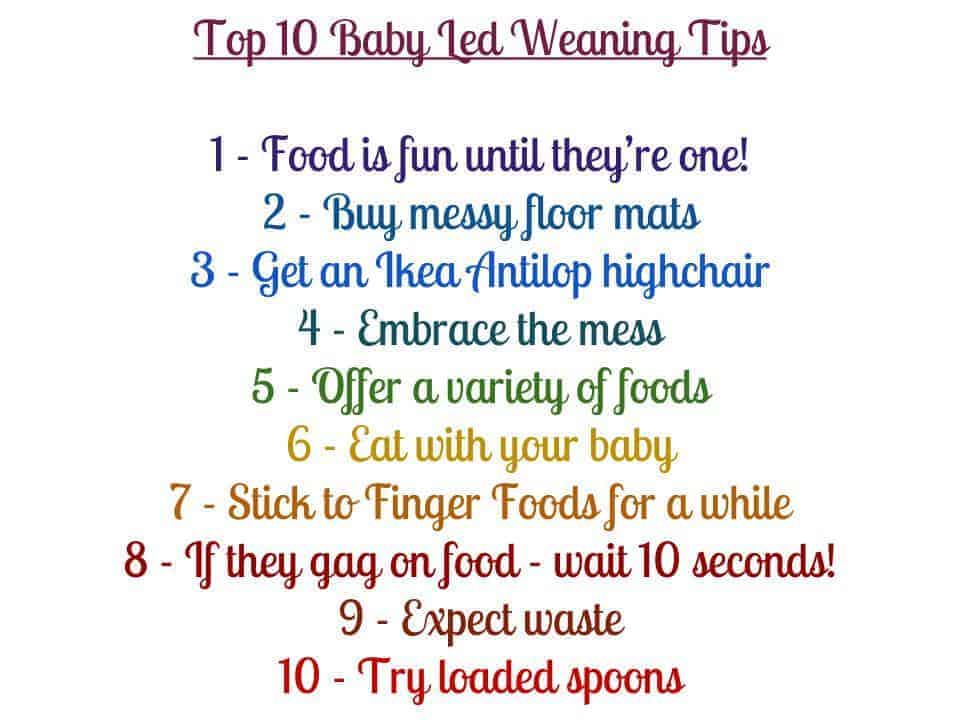 1 – Food is fun until they're one!
This is the most important thing to remember. Babies get all the nutrients they need from the milk in their diet until a year old. The milk will have much more nutritional content that any food you give them and it really doesn't matter if they don't eat much before their 1st Birthday – Up until then food can just be about learning, exploring new textures and getting to know different foods.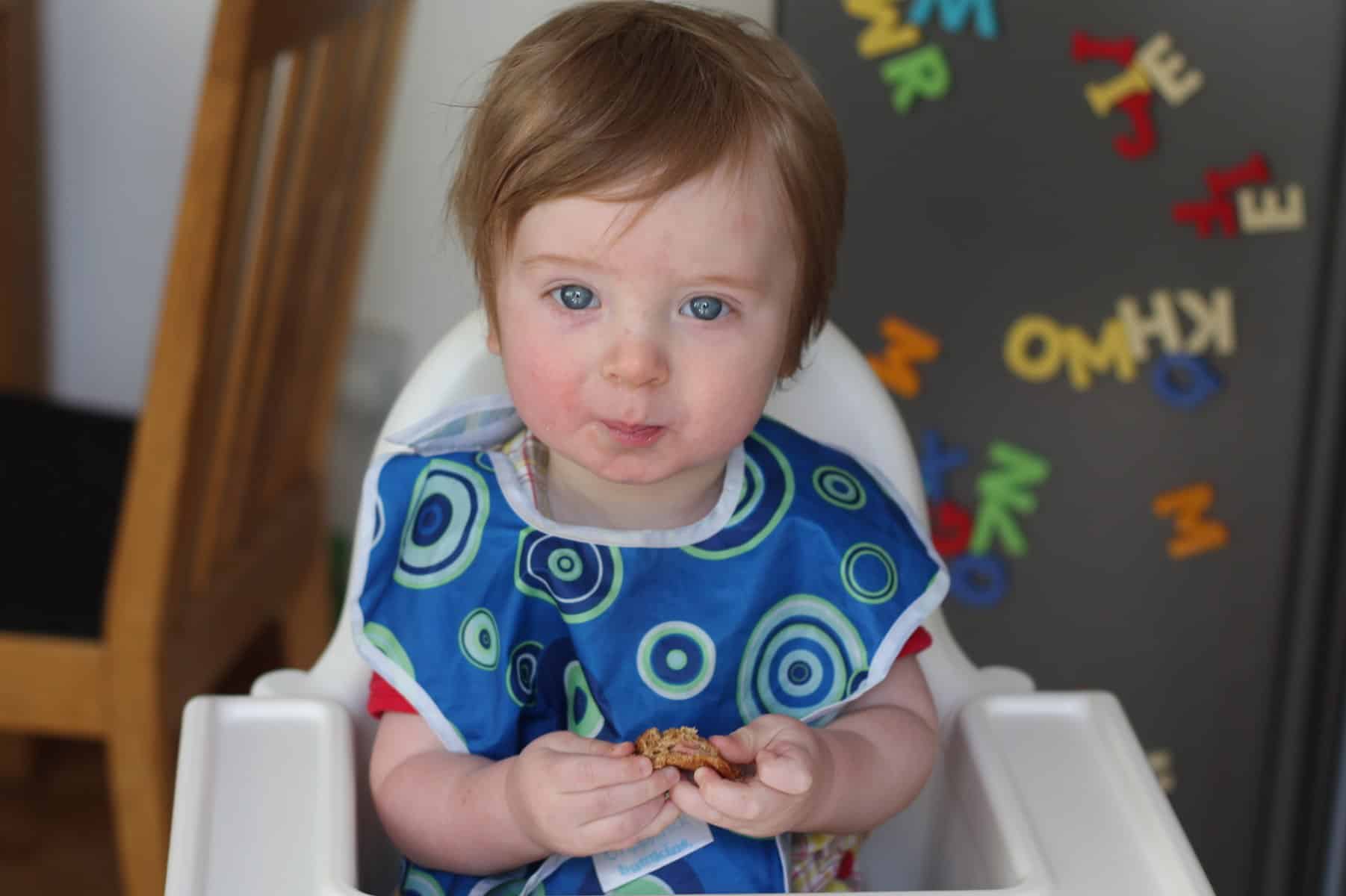 2 – Buy messy floor mats
One of the first things we bought to help with BLW were a few Messy Floor Mats. We keep one under the highchair and keep it super clean, if any food falls on this mat we know we can give it back to LM and it's much easier to clean up after each meal.
3 – Get an Ikea Antilop highchair
The Ikea Antilop highchair is one of the best things you will ever buy. Yes it takes up a little bit of room BUT the legs do come off easily for storage/transportation. It is also wipe clean and can even be put in the bottom of your dishwasher! It's in the region of £15 for the highchair and tray and is a baby led weaning dream. I cannot praise this highchair enough.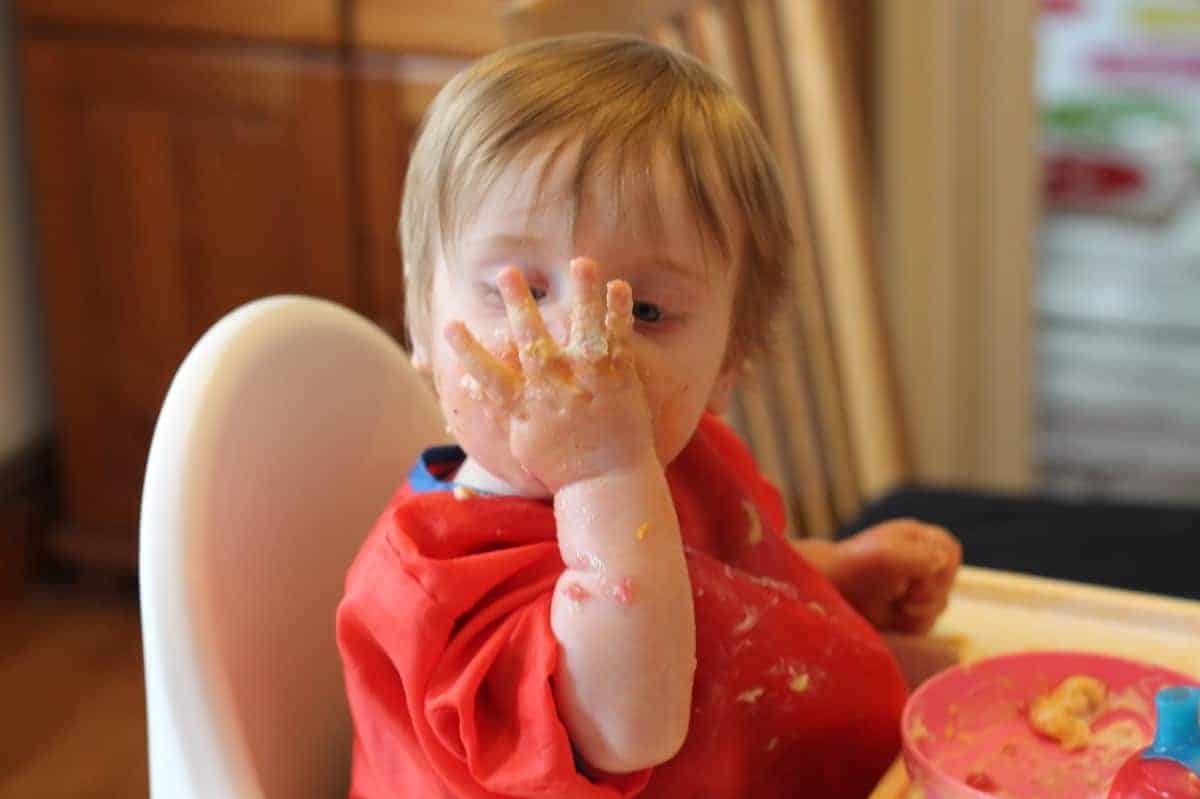 4 – Embrace the mess
Weaning is messy at some point. BLW is messy from the start – expect it to be messy, prepare for mess and embrace it.  You'll be able to appreciate the weaning experience a lot more.
5 – Offer a variety of foods
When doing BLW your baby doesn't need a lot of food but a couple of pieces of each item is great! Try to offer two or three different things at each meal to give your baby different textures and flavours to experience and learn from.
6 – Eat with your baby
We all know that babies learn how to do everything from copying the things we as parents do. Try to eat at the same time as your baby so they see you with food in front of you, using cutlery and even chewing.
7 – Stick to Finger Foods for a while
There's no need to cook special meals for your 6 month old baby. Food is all about exploration and at first your baby will only be able to hold larger pieces of food, not the small things that make up a typical meal. Offer parts of your meals where appropriate – pieces of toast, pasta shapes, steamed vegetables. If you're eating a meal that your baby can't eat then offer them other finger foods – fruit/veg sticks, bread sticks, rice cakes. Your baby isn't going to mind if it doesn't have a 'meal' and it isn't even going to mind if it has lunch foods at breakfast!
8 – If they gag on food – wait 10 seconds!
The best piece of advice I was ever given was that babies have a very pronounced gag reflex at first and they use it to reposition food in their mouths. If your baby gags, wait 10 seconds before helping as stepping in to help too early can stop the baby from dealing with the food by themselves. At times I've had to sit on my hands but with both children I have never had to wait more than 5 seconds for them to reposition the food and eat it or spit it out. At other times after a few seconds they've been sick which was also their way of dealing with the food. You'll find that very soon the gag reflex subsides and they don't gag often at all.
9 – Expect waste
BLW is messy, food does get chucked on the floor and there is waste. Don't buy a lot of food especially for your baby at first – give them things you already have or buy things that you know the baby will eat play with over the course of a few days.
10 – Try loaded spoons
If you want to give your baby a bit more variety try loaded spoons. Any wetter meals, yogurts, fruit purees can be put on a spoon and handed to your baby. At first the contents of the spoon goes everywhere but after a while the baby's co-ordination improves and they love the challenge of feeding themselves with the spoon.
So there you have it, ten tips to help you get started on your baby led weaning adventure. It will be messy, it will take time but it mat well be one of the best parenting decisions you make. We loved it – and so did the children.