Disclosure: We were sent the featured products for the purpose of this post however all opinions are my own.
This post contains affiliate links and I may receive commission if you visit a link and buy something. Purchasing via an affiliate link doesn't cost you any extra, and I only recommend products and services I trust.
I love getting new things for the kitchen and having any excuse to cook. We were recently given the opportunity to review a JML CeraCraft Frying Pan and in all honesty, I was dubious. JML? What do you think of when you hear JML…? Yep, Dryer Balls! *Snigger* Then you think of the displays in store with the shopping channel type TV demonstrating products to you. I thought of this, thought of a new frying pan and thought it would be worth seeing what JML had to offer. From experience most JML products are innovative. I like to try something new, and so I received our new chrome CeraCraft Frying Pan and Lid.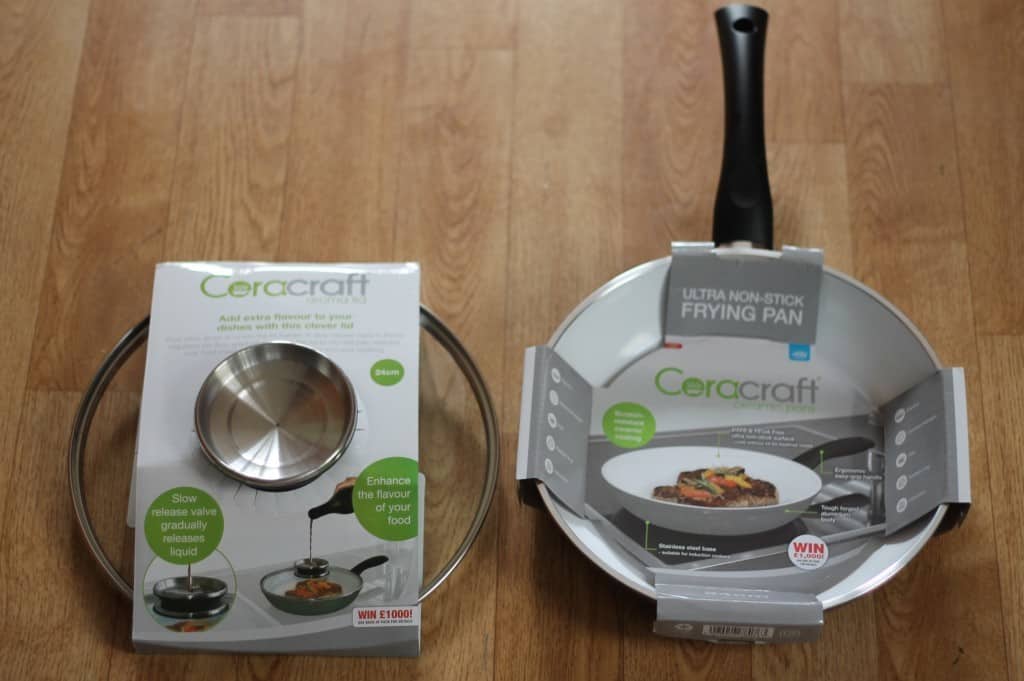 What is the JML CeraCraft Frying Pan range?
JML sell a whole range of CeraCraft ceramic frying pans – Saucepans and frying pans in varying sizes. The CeraCraft pans have a ceramic, non-stick and easy clean coating and a stainless steel plate base with an ergonomic easy grip handle. JML even boast that you can cook without oil. This was music to my Weight Watchers trained ears. No oil? Not even a little spray of oil? This would fit in amazingly well with my Weight Watchers lifestyle. Although one of the things we cooked may not be very Weight Watchers friendly…
I really thought we should put the non-stick ceramic coating to the test and that we should cook without oil to really, truly test the non-stick cooking ability of the CeraCraft frying pan. There are two things that both Dave and I always fail to cook very well – fried eggs and pancakes. The main issue being that they either stick, need more oil than we're prepared to use or just break into a mushed up pile in the bottom of the pan. I thought this would be a great opportunity to test our fried egg and pancake making skills!
How did the non-stick work on the JML CeraCraft Frying Pan?
I was more than slightly nervous about cracking eggs into a hot, unoiled frying pan. I'd killed frying pans like that as a teenager! I cracked two eggs into the CeraCraft Frying Pan and watched closely. The eggs seemed to almost hover on the ceramic surface of the pan. It really looked like they were floating and before my eyes they cooked, perfectly. I didn't need to flip the eggs over, or splash with oil and usually they're black on the bottom before the top is even cooked. The eggs moved about the pan freely as if gliding on ice. I have never, ever seen such perfect eggs in my life. I even commented to Dave that they looked almost cartoon like!
There were no bubbles from the fat. There was no fat and in a way they looked almost like rubber. But they were the first eggs in mine and Dave's 10 year relationship that we've cooked that have had a solid white, a runny yolk and aren't burnt at least partially! I don't normally get impressed easily. I didn't expect to be impressed by a frying pan but the CeraCraft Frying Pan exceeded my every expectation!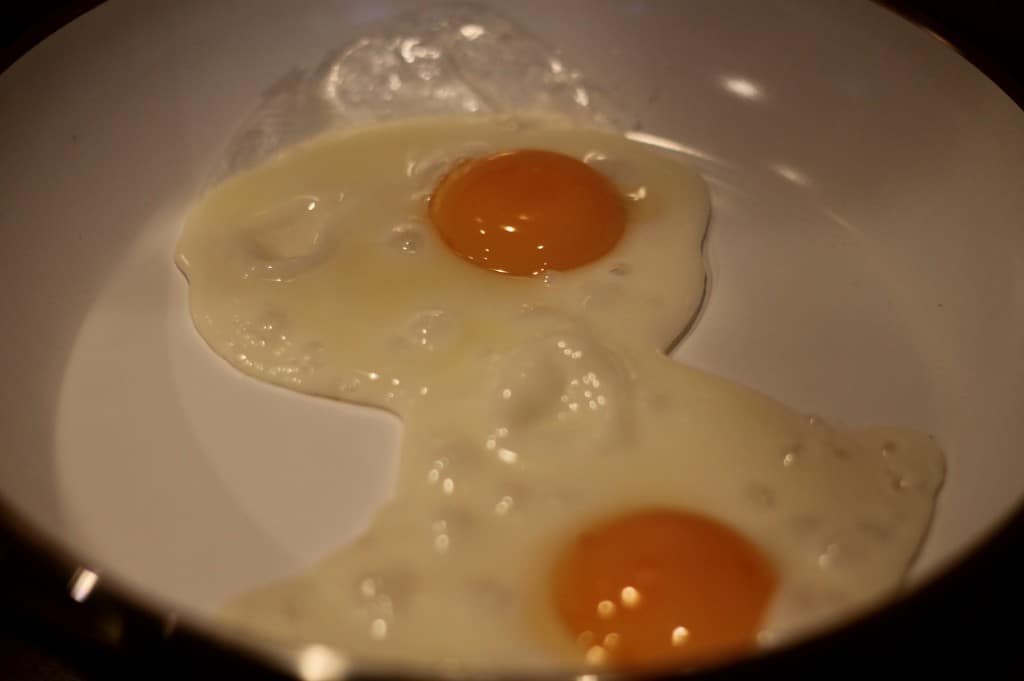 To put the icing on the cake, once the eggs were out of the CeraCraft Frying Pan the pan looked clean. There was no oil left in it – as there was no oil used. I have never had such an easy job of cleaning a frying pan before! Amazing!
How did pancakes turn out using the JML frying pan?
Later that same evening Dave insisted we make pancakes. I haven't blogged about our pancake day disaster. That was one thing that I didn't want to repeat and wanted to forget about as soon as the shrivelled, burnt or raw pancake remnants were scraped into the bin! So, lacking a little enthusiasm I agreed to make pancakes in the CeraCraft Frying Pan. I was doubtful that anything would give Dave and I any pancake cooking ability and that we would end up upset and pancake-less once again.
Dave made the batter, I cooked the pancakes. The pancakes hovered on the ceramic coating of the cooking surface like the eggs had done and moved freely around the pan. There was no prising stuck batter from the bottom of the pan! I even managed to turn the pancakes over easily! I'm not going to lie, there were some pancake casualties but that was down to Dave and I rather than any fault of the pan. We actually managed to make a whole stack of not only edible but incredibly yummy pancakes – Another first for us!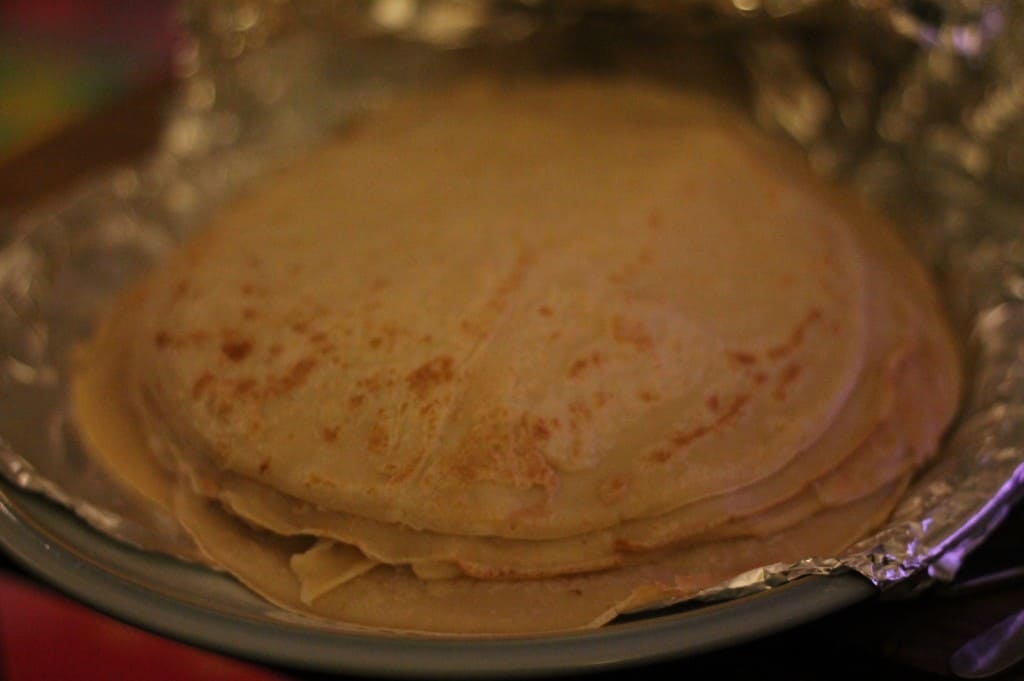 The CeraCraft lids have a large handle that you can add liquid to. This gradually gets released into your cooking to not only add moisture but also slowly add flavour to the dish. Having a lid on the frying pan increases the cooking options. This lets you cook a wider variety of dishes using the one easy to clean frying pan.
What were our overall thoughts of the JML CeraCraft Frying Pan and Lid?
We have loved using the JML CeraCraft Ceramic Pan and Lid and can't imagine cooking eggs in anything else – Not to mention pancakes! We will be utilising the JML Frying Pan at every opportunity, it was a pleasure to cook with it. Thanks JML, I will no longer snigger at Dryer Balls in shops… Well, I will, but I will also stop to look at the displays and believe the marketing. The JML CeraCraft Pans really don't need oil. They are a much healthier cooking choice to most other pans and really, really don't stick!
The pans combine Ceracraft Pans combine style, design and colour with durability and practical cooking convenience and are induction compatible, making them great for induction cookers too.
The JML CeraCraft Pans range in price from £19.99 and lids are sold separately.