I've added a random assortment of photos to this post, ones that don't have much relevance to the content of the post but ones from the last ten years of this blog. I've loved looking through ten years of albums and seeing how we've all grown and changed.
I can hardly believe that I started blogging ten years ago. A whole decade and a good chunk of my life. I can safely say that I am not the same person who started this blog ten years ago. Just like the blog, I have grown, learnt and matured over the years.
I remember sitting down to write a little intro, on a basic WordPress blog called Red and Baby Led. Within a week or two I realised I wanted to keep writing and make it something more permanent. So I set up a self hosted blog, Redhead Babyled, and kept writing every day.
I wrote updates of LP's weaning journey, the struggles of shiftwork on family life with a baby and how hard it was to find childcare around those shifts. I wrote about my return to work, my pregnancy with Little Man and his birth when he came along.
Each month I shared Sibling photos and a Me & Mine family photo. I used the blog as a way to document our lives together, something to look back on and to record all those Ordinary Moments along the way too. I shared photos of the children each week for Living Arrows that I always felt kept the blog in touch with its roots, an online diary to show the children, and our family, growing.
A couple of years later I switched to What the Redhead said and, as they say, the rest is history. Somewhere along the line I started getting sent things to review and I started getting paid work from the blog too. It became much more than just an outlet and hobby and became my job.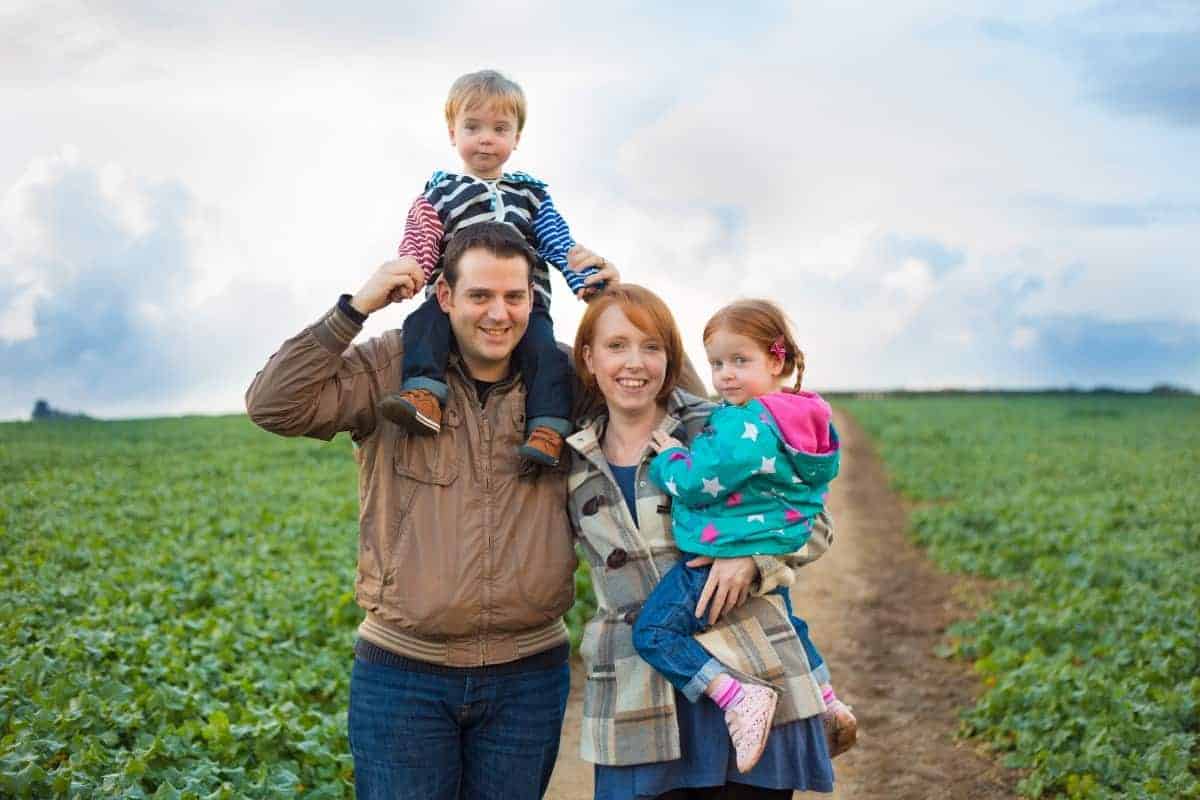 I gave up my day job a few years ago to focus on blogging and it felt like I'd finally found something I was good at. I could write, take photos and spend all day talking to people online. But, it's not always easy.
The pandemic was hard for the whole industry, work dried up and many people stopped blogging. I don't blame them at all. It's been really tough and there have been times where I've browsed online at proper jobs, wondering if I could go back to a life of working in retail or find a 9-5 based around the skills I've learnt through blogging.
But, I am still here and still persevering. I can't imagine a life without this blog and I am so thankful I started writing all those years ago. The blog has given us experiences we could only have dreamed of – holidays across the UK and a trip to Majorca with James Villas. It's given us incredible days out like our trip to West Midlands Safari Park, being driven around by the park director, and Lapland UK which was just magical.
It's given us so many products to review from the latest toys to so many pushchairs, lawnmowers and vacuum cleaners. There have been clothes, new food products and more bottles of gin than I can even remember.
I'll be the first to admit that back when I started this blog we had no money. I was on maternity leave, we were paying off debts and life was really hard financially. The blog gave us things we couldn't afford and things we could only ever have dreamed of having. It made life easier.
But more than that, the blog gave us memories. I look back at photos of us and so many were taken for the blog or through the blog in some way. Whether on a review day out or pictures of us as a family for the Me & Mine project. The blog has given us the best photo album that records not just the big things but all those little things in between.
It's also given me the ability to be at home with the children. It's enabled me to walk the children to school each day, to have afternoons at home with them after school and to have whole school holidays with them. That is something I had never thought possible when LP was born and something I am so thankful for.
Honestly, blogging has changed my life. Before I started blogging I worked in a bank. I had left full time education with just my GCSEs, having dropped out of college three years running after getting kicked out of home just after my 17th birthday and having to work full time.
All the skills I had were in banking and I saw a life going up the corporate ranks. I'd go from my job as a bank manager to a manager of a bigger branch, to an area manager. Or, if I couldn't deal with corporate life I would pootle happily along as a little branch manager, flitting from one branch to another every few years.
That corporate life involved full time work and often working Saturdays. But, because of the blog I was able to make a decision after Little Man was born to stop being a manager, to take a step back, to go part time and downgrade to a job in customer service – opening accounts and sorting out customer issues for them.
It was a job I was good at. I actually think I was pretty great at it. And, at times, I really enjoyed it. But, having to ask permission to leave at 5pm, when I was contracted to end work, and pressure from management to change branches or increase my hours was just too much in the end around Dave's shiftwork too.
The blog gave me a way out. An alternative. One that took away so much of my mental load and now, in hindsight, saved me from so much stress that I hadn't realised I was under. So I left the bank and have never looked back. As much as I loved my colleagues and loved the interaction with people, it was a relief to leave and do something new.
And now I've been blogging for ten years. Who'd have thought it? Ten years ago I was 27 with an 8 month old. We'd bought our house a few months before and hadn't done much to it – we didn't have the money to.
But since then Dave has changed job roles a couple of times, we've had another baby, lost one of our cats and pretty much finished the house. We had an extension, a loft conversion and have painted rooms more times than I care to remember.
That 8 month old LP is now in her last year of primary school and Little Man who was still a hope for the future is going to be 9 next month. I was a new mum and have now been a mum for over a decade yet, like most people, I'm still winging it most of the time.
Life now is so different to ten years ago, and blogging is so different too. I look back and hardly recognise myself or how far life has come. Instagram wasn't really a thing 10 years ago – and there was no Tik Tok or Snapchat.
Electric cars weren't commonplace and we still got DVDs through the post from LoveFilm – streaming hadn't taken off. I still bought CDs all the time and I paid postage on everything I bought online – like many people, I hadn't discovered the joy of Amazon Prime just yet.
It's weird the things you think about when you look at a chunk of ten years. I could dwell on the negatives of those years – the broken bones and hospital trips, the people no longer with us, the friends who have parted ways and the family issues that have caused blips in the road.
But, honestly, looking back at those ten years all I see is happy memories, hard work and positivity. I see a blog cementing its foundations, a family growing together and just so many sunny days spent in the garden, days out across the country and a handful of pretty amazing holidays too.
So this is it. Ten years of blogging. Ten years of documenting the children growing, recording our adventures and working hard. Ten years of writing and ten years of growth. We've had good innings, this blog and me. Now let's see where the next ten years take us.
As always, thank you for being a part of this journey, for following, reading and chatting to me along the way – especially if you're one of the few that has been there from the very start. It really means a lot to know that people read this blog, enjoy the little window into our lives and pop back time and again. Thank you so much.