Disclosure: We were invited on this break for the purpose of this review however all opinions are my own.
Last week we were invited to stay in Mallorca, part of the Spain Balearic Islands, with James Villas Majorca. We had never been to Mallorca before, had never stayed in a villa and had never been on a self catering holiday abroad, so it seemed like a great opportunity to try something different and go somewhere new.
What was the James Villas Majorca experience like?
James Villa holidays organised our flights and car hire for us – part of the James Villas service when you book a full holiday package with them and these are options that are available to everyone. We were given all our holiday documents before the holiday with all the information we needed to check in online for our flights, send driving licence details across to the car hire company and plan our holiday.
We flew out with EasyJet – our first experience of flying with a budget airline as a family – and it was fine. The flight only took two hours from London and the staff were lovely. We took activities to keep the children occupied, snacks to have on board and landed smoothly in Palma.
We followed the instructions for our car hire and met a representative at a designated meeting point in the airport car park. We'd preordered car seats for the children, had taken our own European sat nav with us and chose to pay slightly extra for more insurance for the car – and then we were off!
Our villa, Domingo Petit, was situated halfway between Puerto Pollensa and Alcudia, about 40 minutes from Palma airport. On the way we stopped at one of the many supermarkets to get supplies and then followed the directions James Villas had given us to find the villa.
Unfortunately, the directions weren't the clearest and the villa gates didn't have the name of the villa on it – as the directions said it would – and so we ended up taking over an hour to find it and by the time we got to the villa it was dark and we were all tired from travelling all day.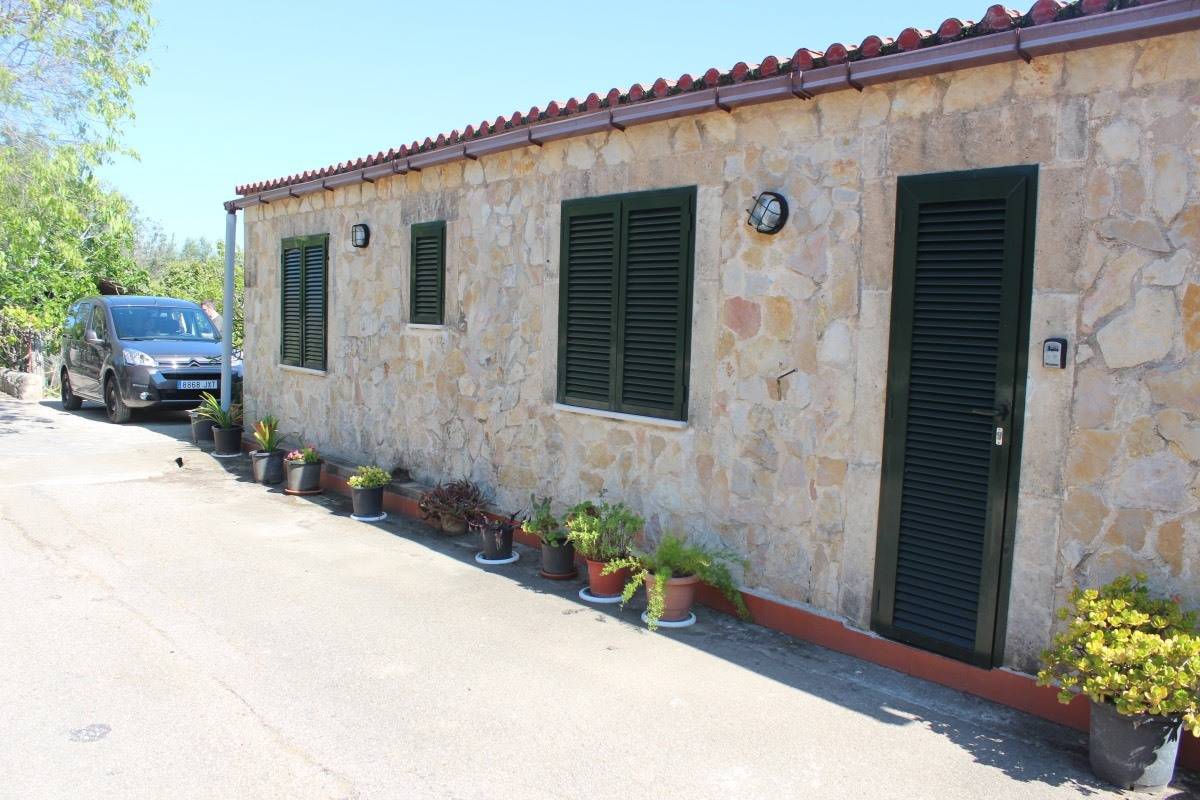 What was our James Villas Majorca accomodation like?
The villa didn't look the most welcoming from outside – with green shutters on all the doors and windows – as is customary in Mallorca for both aesthetic appeal and security, although it did look considerably more appealing in daylight!
We also found when we went inside that there was no welcome pack that had been included in our booking, the villa, despite being single storey, had steps throughout – contrary to the step-free description on the booking and the oven had the temperature dials missing, so we had to cook our pizza for dinner with guess work. By this point we just wanted to go to bed and hoped that everything looked better in the morning!
The next day we walked outside and felt so much happier with the villa. The outside space was lovely – with a swimming pool, sun loungers and a nice covered area to eat al fresco and even comfy seats to relax in. There was also a built in barbecue and pizza oven although the oven had a sign on saying it was for decoration only and we'd been supplied with a basic free standing barbecue to use so we presumed the barbecue was purely to look at as well. It did look lovely but was slightly disappointing.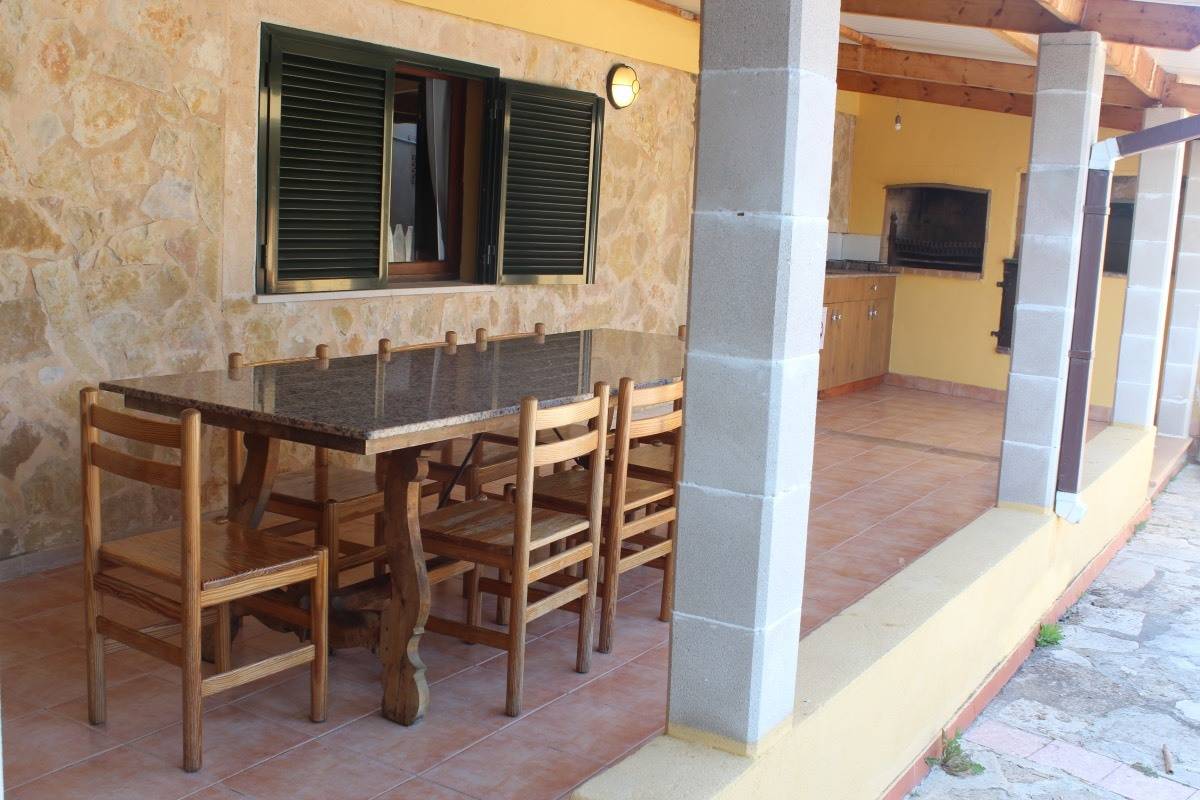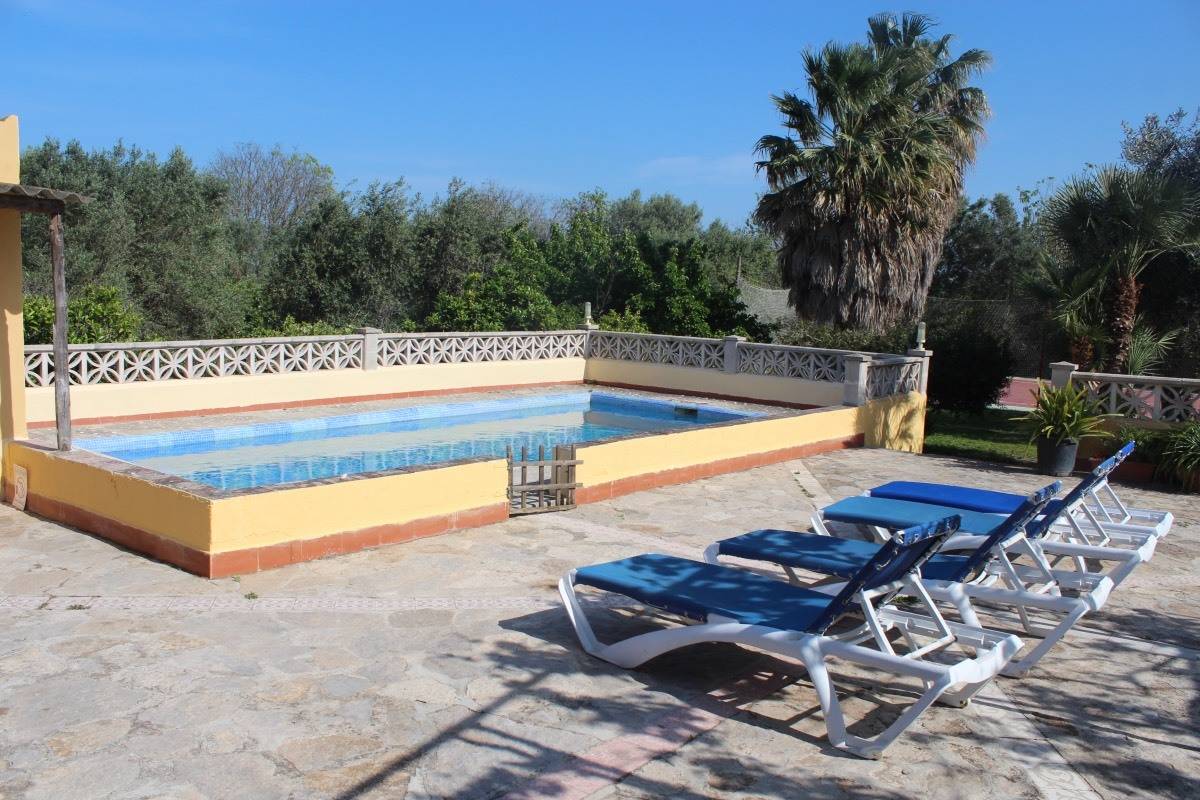 The outside area also had a sink and food preparation area and a separate utility room with toilet and shower cubicle – something that hadn't been mentioned much in the villa particulars but something so useful – it was great to have an outside toilet for the children to use when swimming so they didn't drip water through the villa.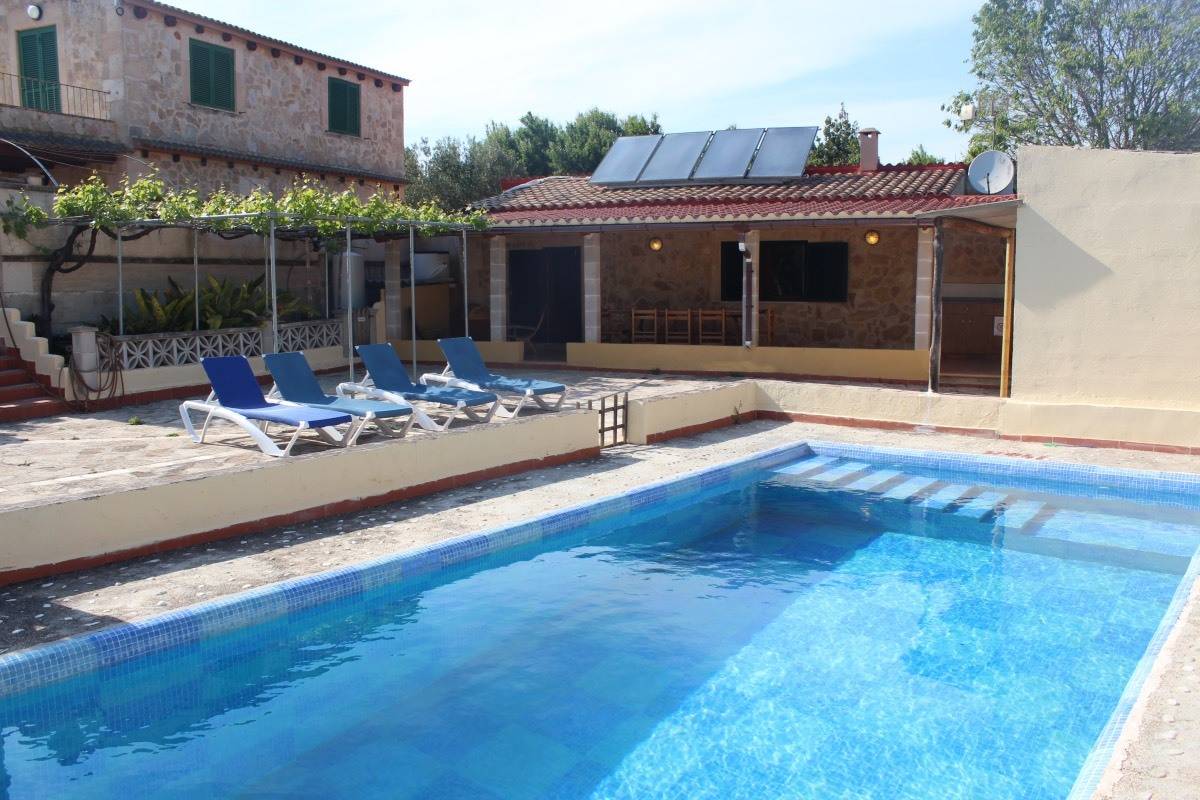 The villa had one double bedroom, a twin room for the children and a good size living/dining room that we relaxed in after the children had gone to bed. The villa had cable TV and free wifi although we did find out that we couldn't use the wifi and TV at the same time due to how everything had been wired up.
We did have visits from the villa owners and the James Villas manager to sort out the TV, add the temperature to the oven and listen to our other concerns about the villa. I am sure that the villa description and directions will be updated for future guests to not have the same problems that we encountered – although our welcome pack didn't ever materialise. Once we could use the TV we did find that it was all Spanish channels and BBC news so Netflix was amazing for our week away!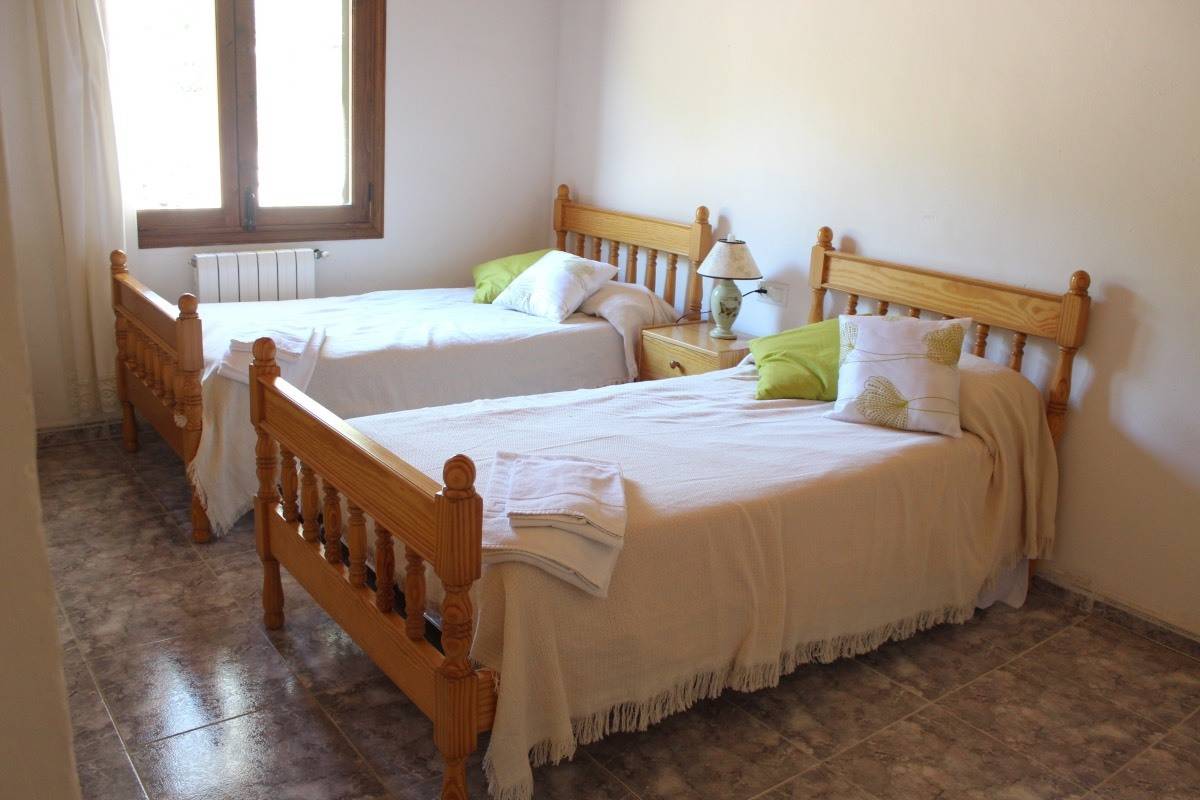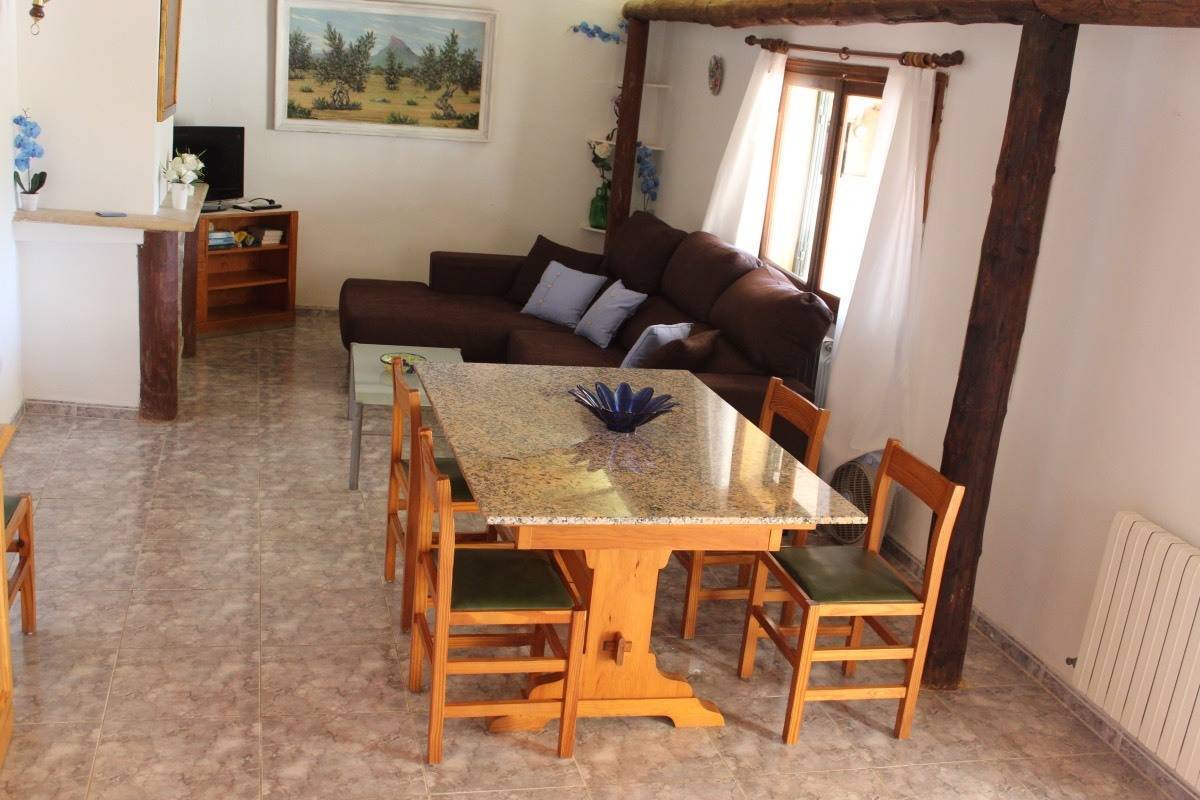 From our very first morning at Domingo Petit we ate outside – enjoying breakfasts on the terrace, eating so much fresh fruit and croissants to set us up for the day. We'd then be out all day before coming back in the late afternoon to cook dinner – barbecues mostly but also pastas and salads. There were supermarkets, shops and markets everywhere so finding food and planning meals wasn't a problem at all and we ate out a lot too, mainly for lunches.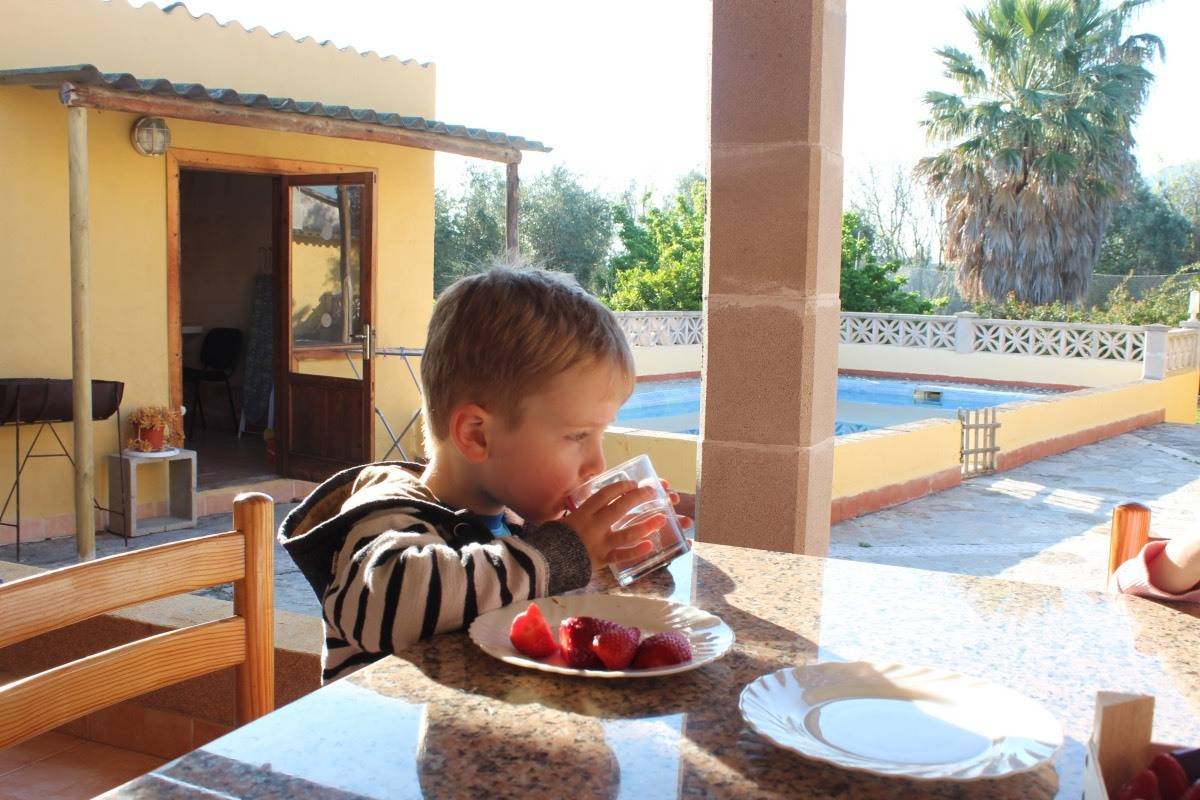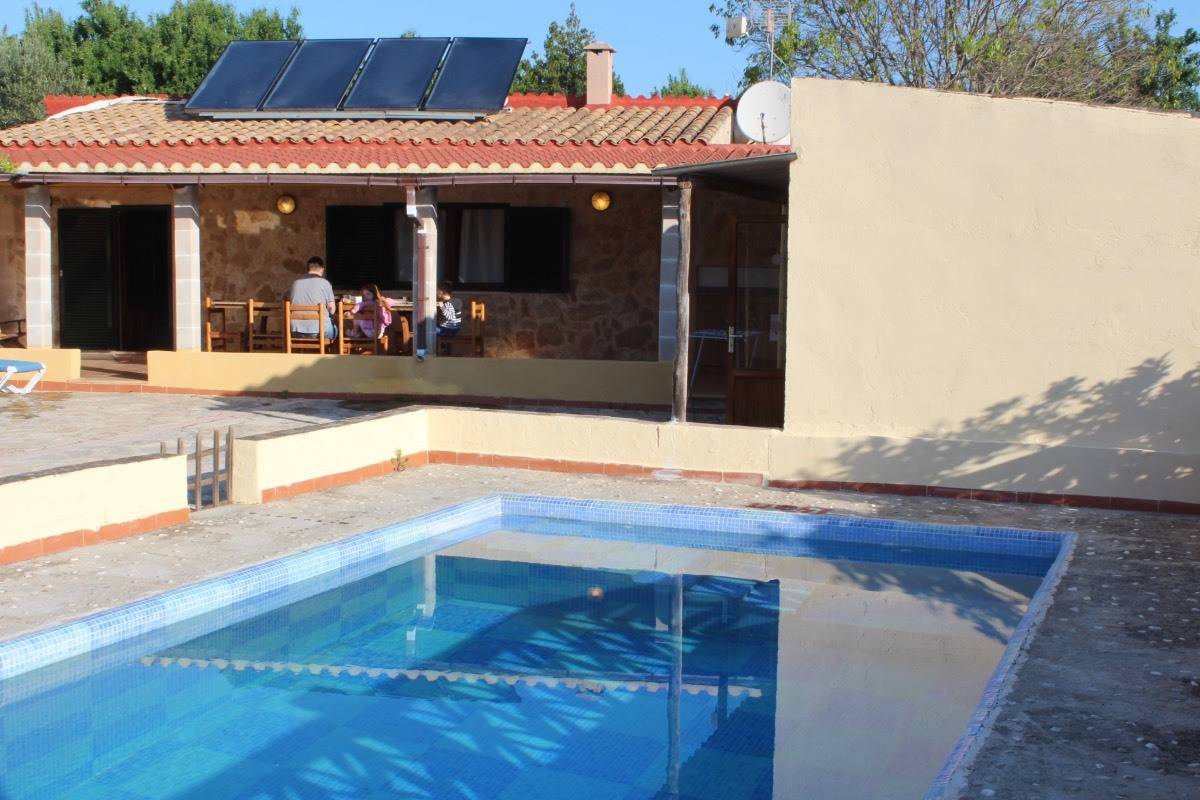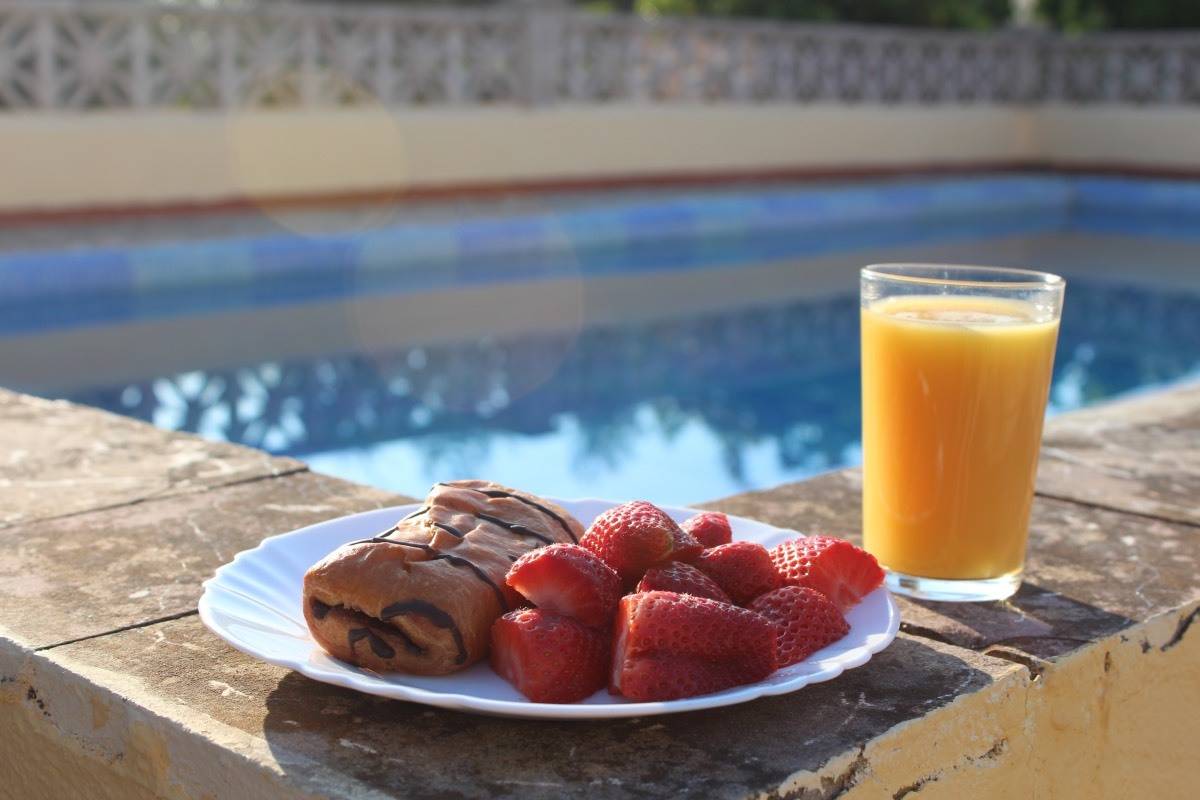 Was there much to do nearby when staying with James Villas Majorca?
We found Domingo Petit a great base for exploring Mallorca and spent our first day at Port de Pollenca. It was our favourite place and we ended up spending our last day there too. It wasn't too busy, had a beautiful sea front to walk along, a beach with a really lovely play area and of course, the port.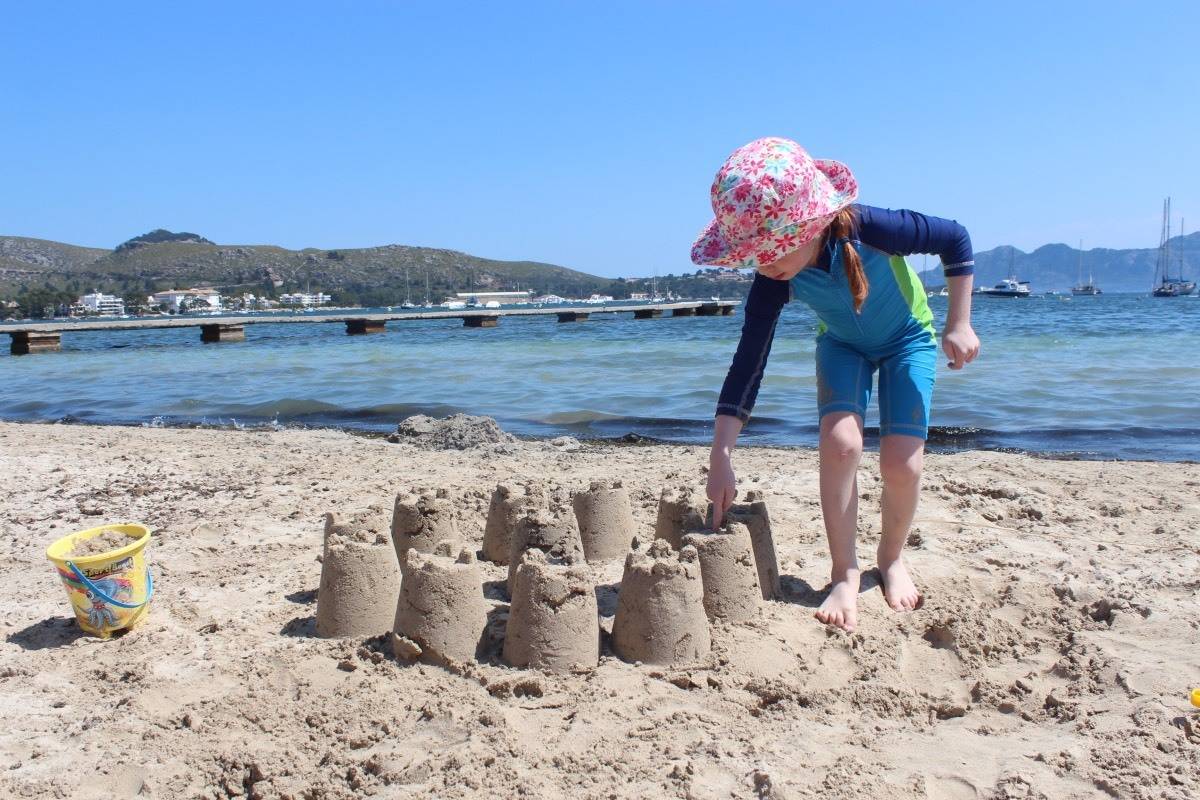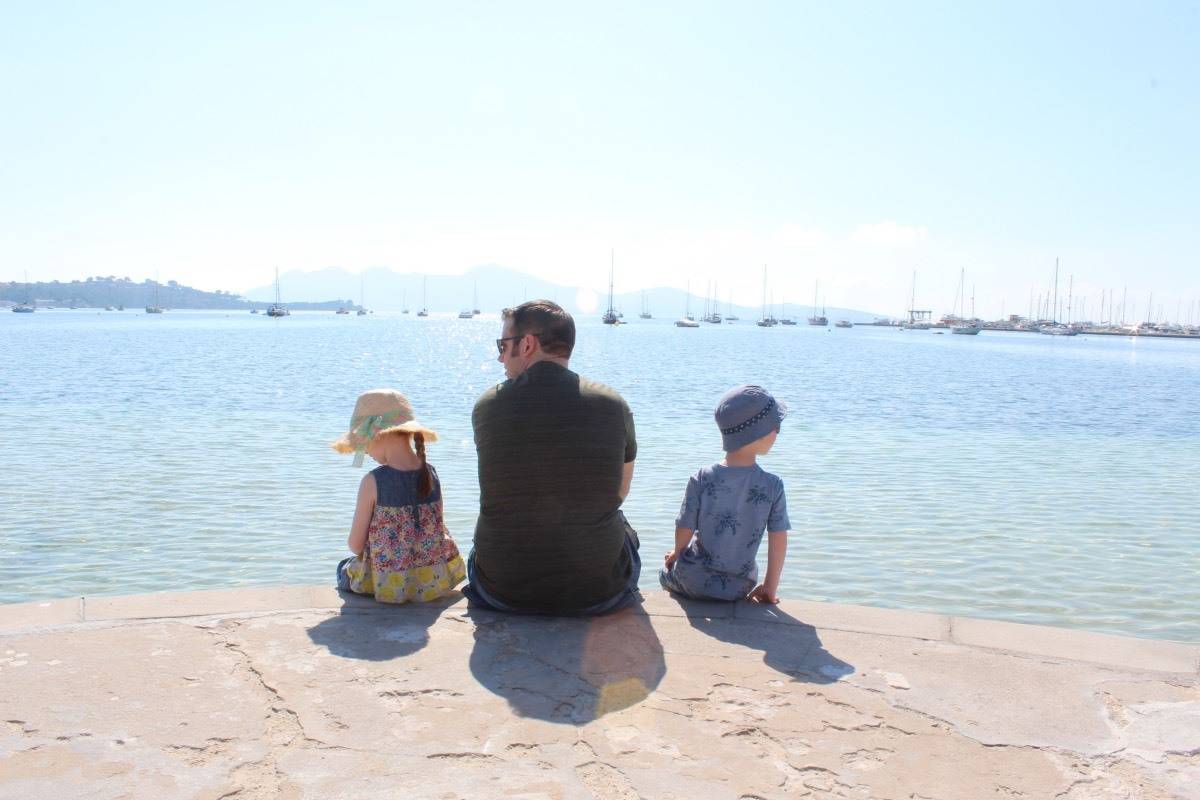 There was so much to do and look at in Pollenca and we found a lovely cafe – Gran Cafe 1919 – in a prime position where the port meets the sea front. They did the best toasted sandwiches – with three slices of toast – served with fries and so full of flavour. Plus, they were so cheap in comparison to other cafes along the promenade. If you visit, make sure you have an ice cream too – we may have had ice creams every day we were away.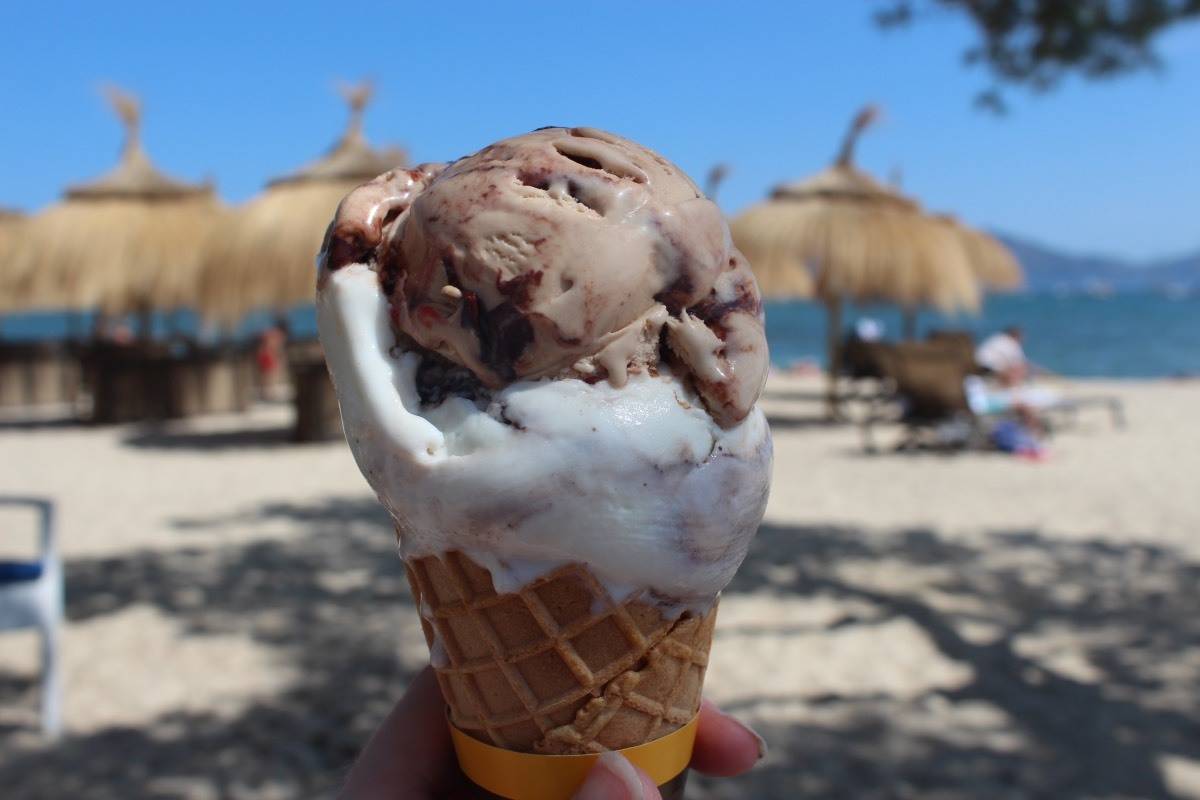 Another day took us to Alcudia which had another lovely beach, another port and play areas on the sand. It was more touristy than Pollenca but still beautiful, a lovely place to wander around and it's where we booked a boat tour for later in the week through Alcudia Boat Tours.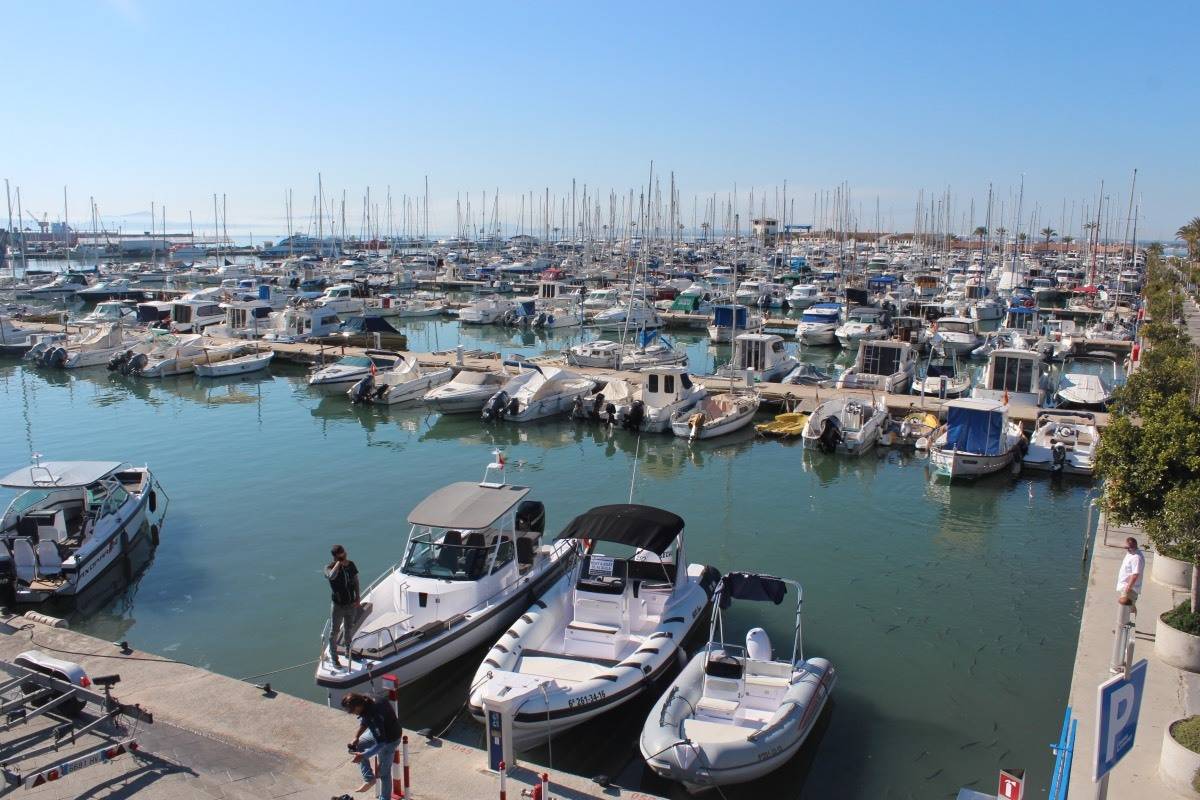 The boat tour took us around the northern coast of Mallorca, from Alcudia to the Cap de Formentor lighthouse with a stop at Formentor beach on the way. Formentor beach is really busy because it is so beautiful. It's also one of the only stops – between Pollenca and the Cap de Formentor lighthouse when driving the legendary mountain pass.
It's a really long road, with cliff edges on one side, blind corners and cyclists everywhere that I think when driving it, people are thankful for the Formentor beach to stop at and rest! One thing – if you go to Formentor beach, there are toilets and a cafe but the cafe is massively expensive. €30 for two basic baguettes, a portion of fries and two soft drinks. If you go – take a picnic. The car park is also pricey at €9 and is the only one available. Not too bad if you plan on spending the whole day though!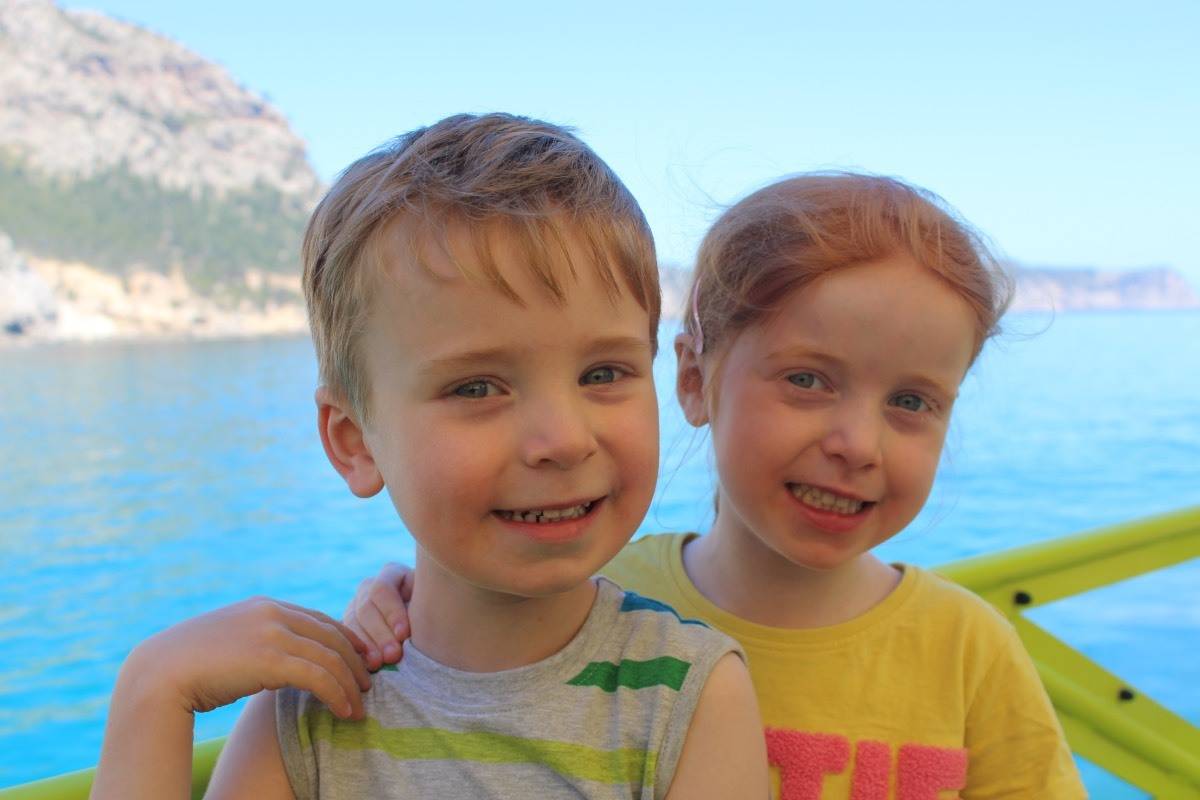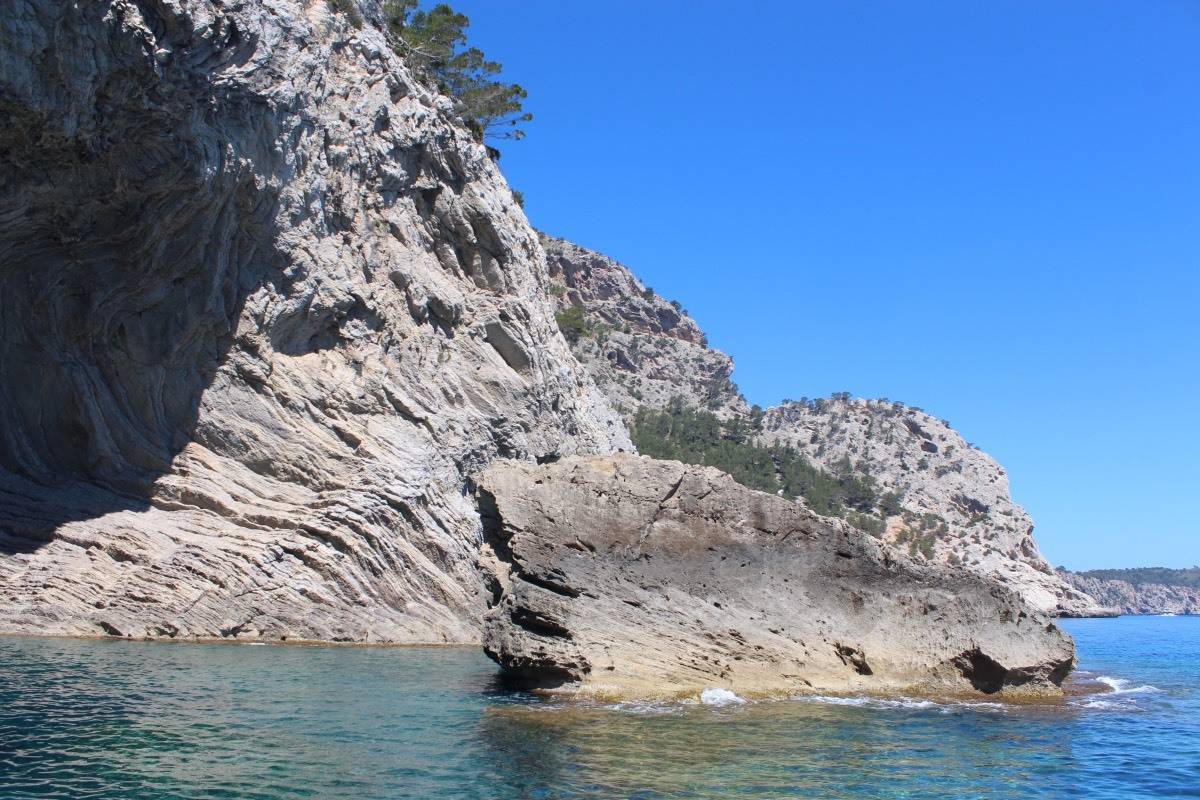 The boat tour was a great way to see more of Mallorca and it's something we all enjoyed as a family. It was about four hours long including the stop at the beach and I would definitely recommend doing a boat tour if you visit Alcudia.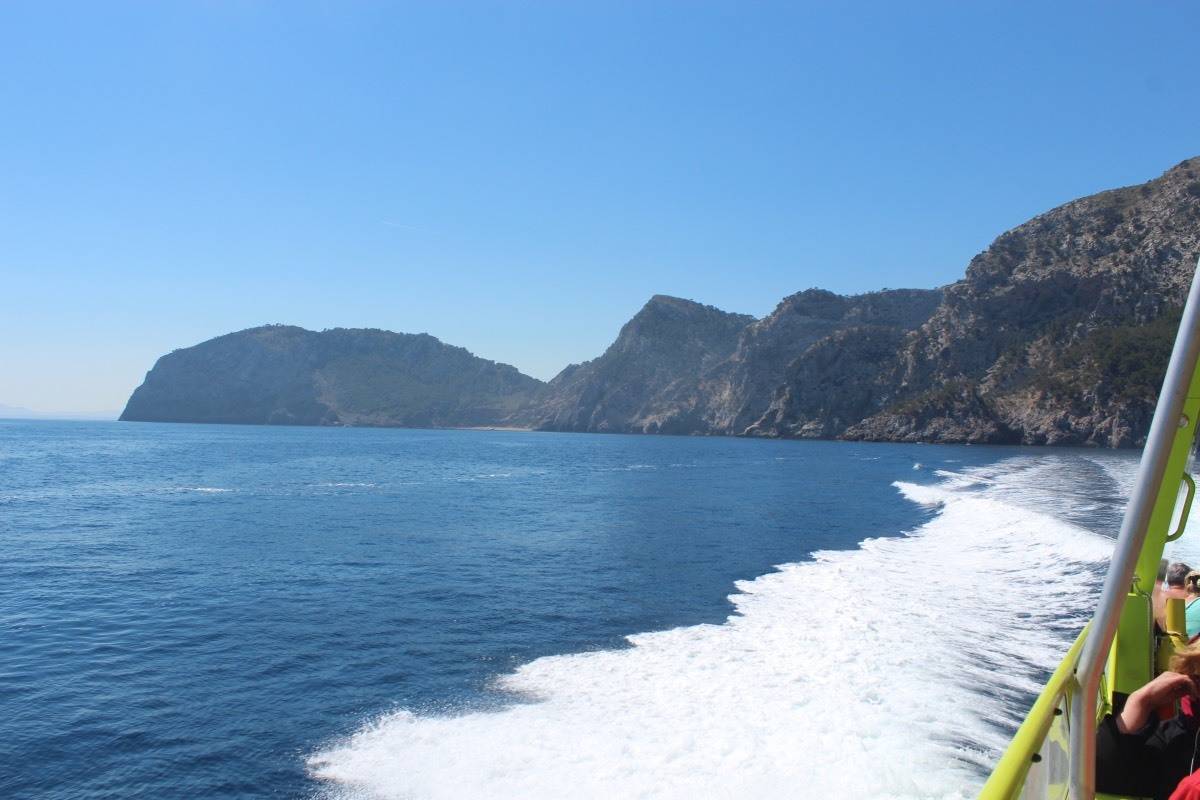 We actually drove the mountain pass to the Cap de Formentor lighthouse and literally stayed less than ten minutes. Unless you're planning to stop to get refreshments at the cafe there really isn't much else to do – apart from look at the view, which is mostly sea and take a photo of the lighthouse.
We much preferred the view from Mirador D'es Colomer which was a nice place to stretch our legs – and much quieter early in the day or later in the early evening as the rest of the time it is busy with coaches full of tourists.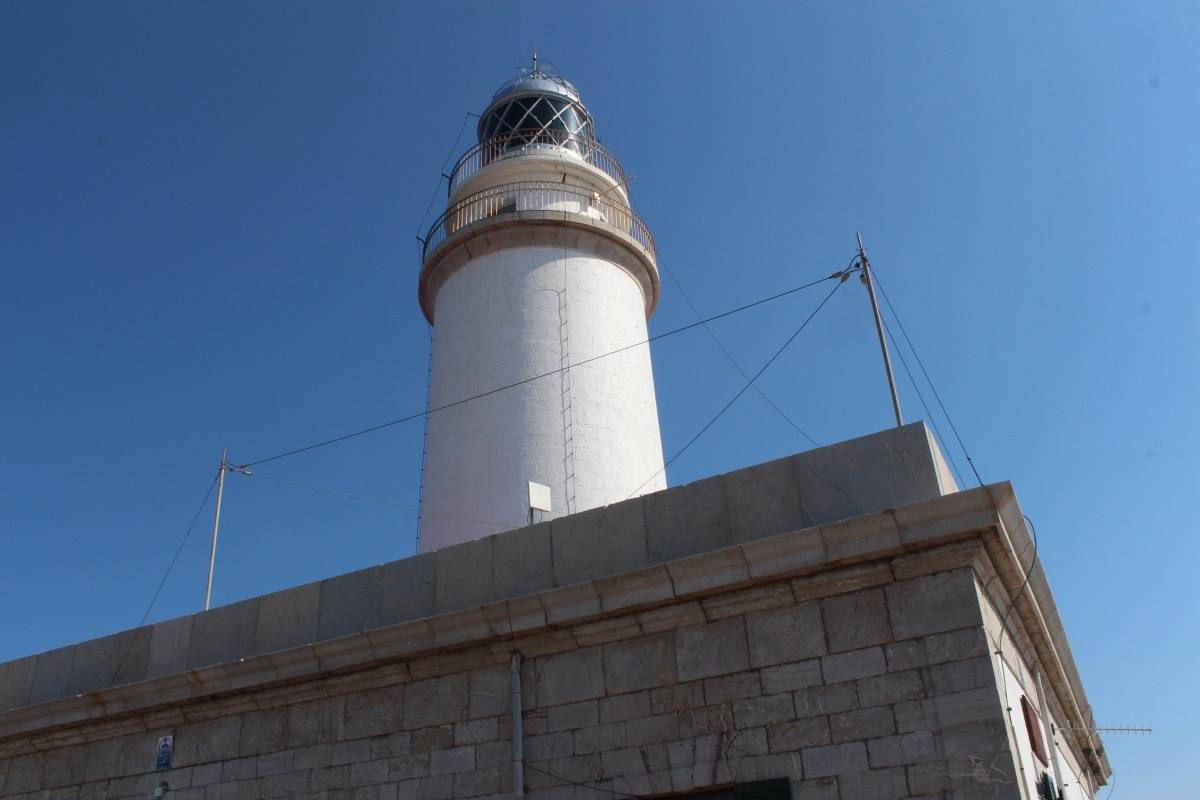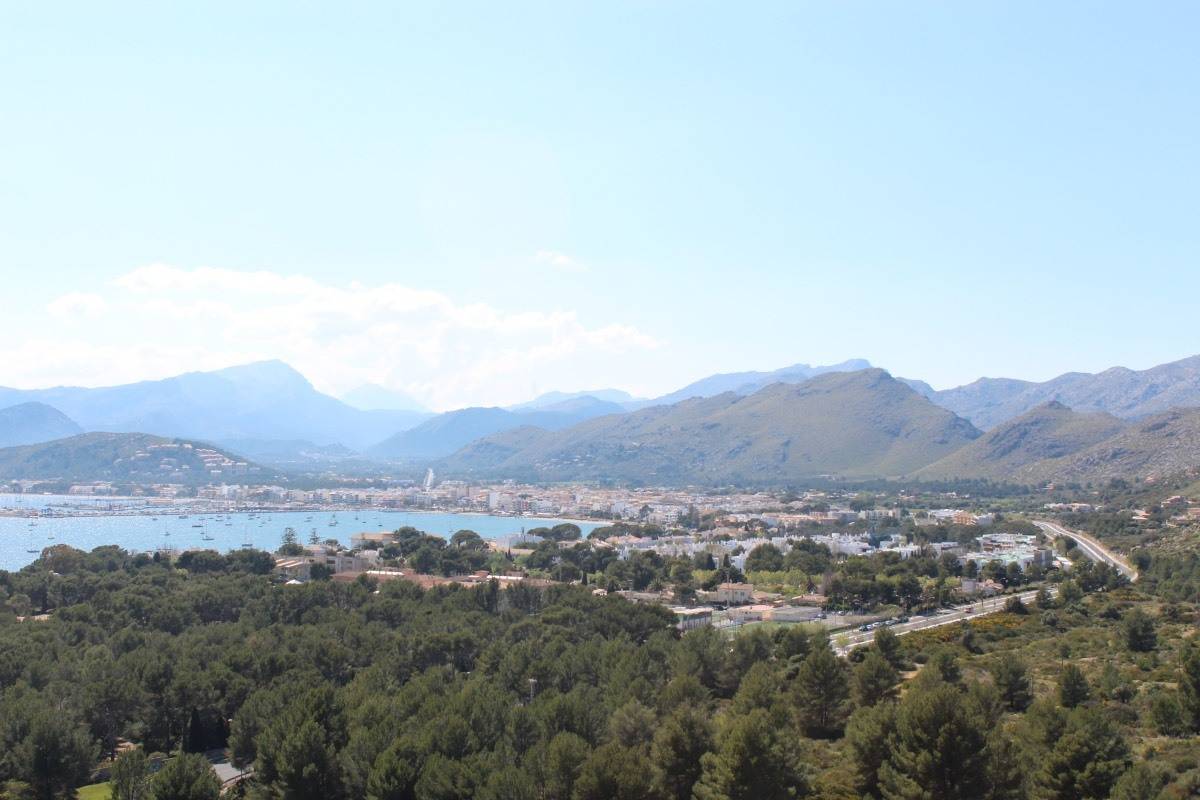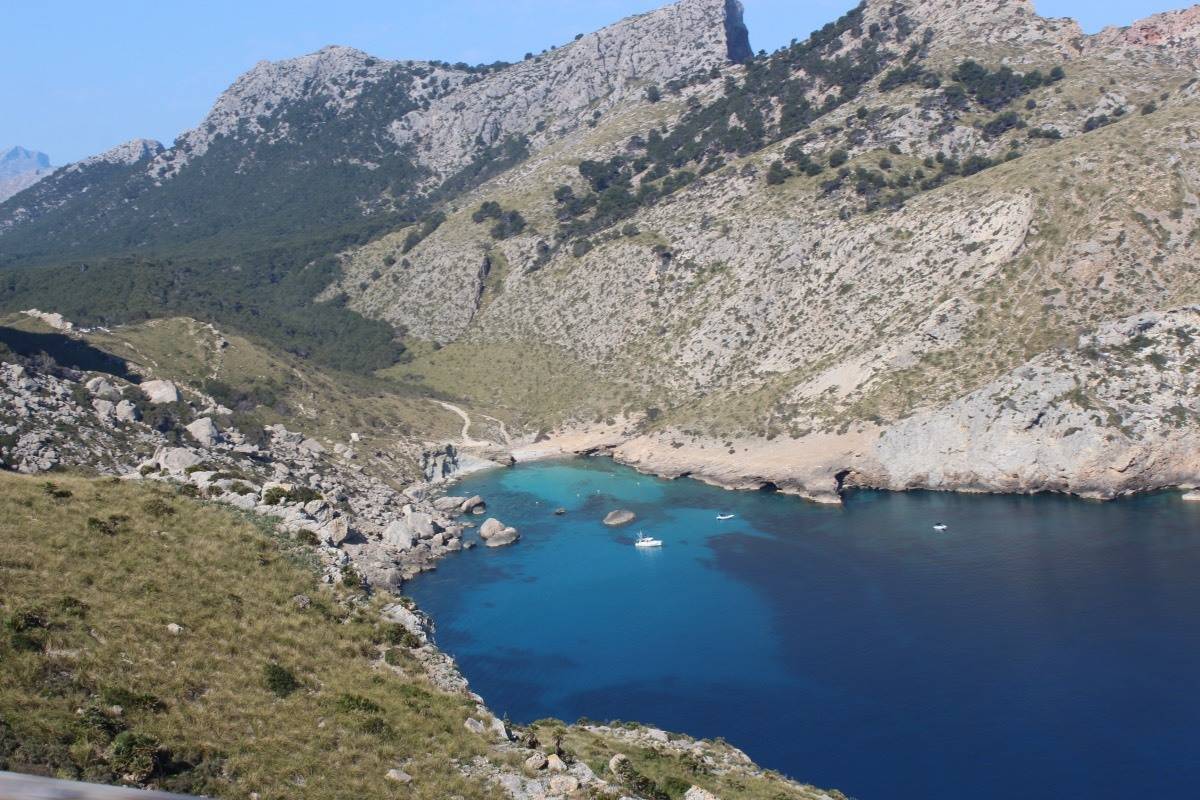 On another day, we drove to Palma which is such a beautiful city. We spent time walking around the city looking at the cathedral and playing in the play park in the cathedral's shadow. I loved how many play areas there are in Mallorca and that, as well as the amount of sandy beaches, made it such a great place to visit as a family. The children were easily pleased and Mallorca was fantastic for them.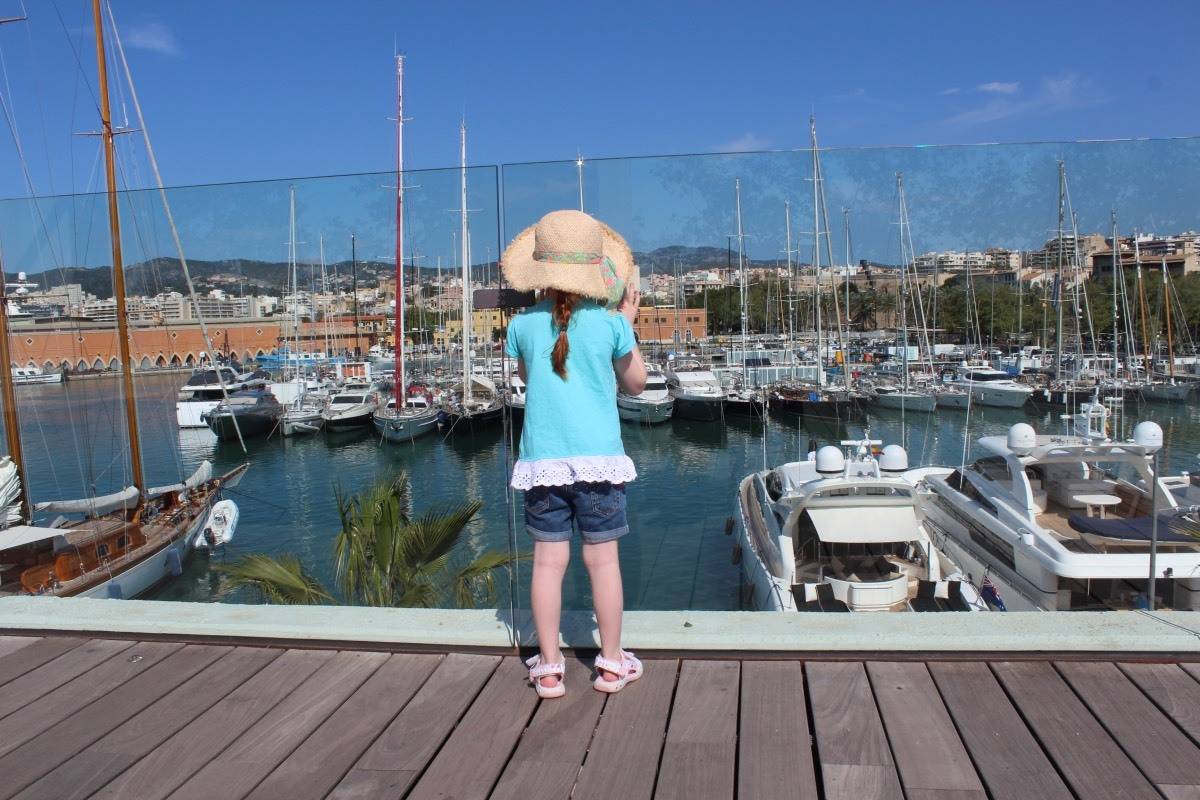 Palma has a huge car park all the way under the city which makes the whole city easily accessible. We bought ice creams, looked at the boats in the port and wandered around the markets. It was a great place to spend a day.
Each day we'd head back to the villa, tired but happy. We spent the afternoons in the pool or playing on the terrace and although the private pool was freezing due to the time of year, it wasn't so bad once you'd got used to the temperature.
LP was happy floating along in her donut but Little Man was more adventurous and swam a few times through the week. The pool would be amazing in the summer although even the most shallow end was far too deep for the children and I would probably book a more family friendly villa with a children's pool or a shallower end next time.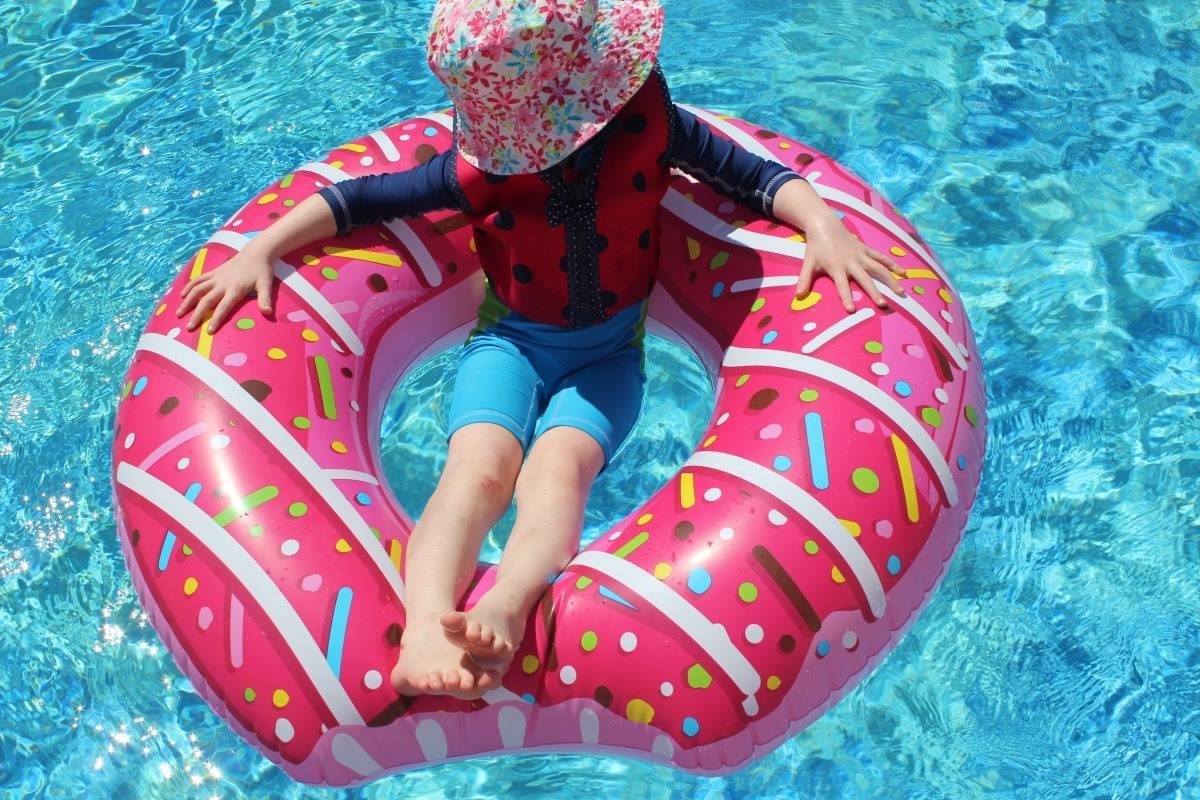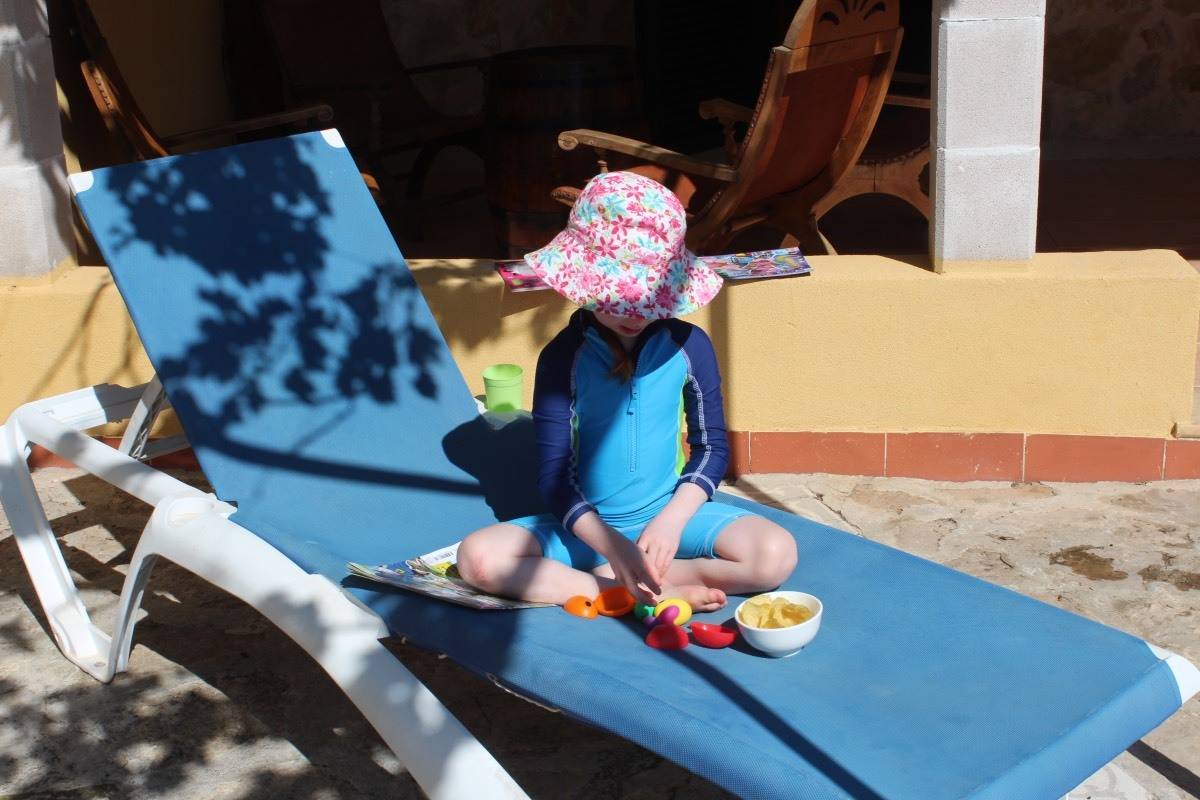 During our holiday Dave booked to go diving. He got his PADI qualification on our last holiday and wanted to get back out to sea, so he booked a morning of two dives through a company in Pollenca. He had a great time and we realised what a great place Mallorca was for diving and other watersports – there were people kite surfing and wind surfing everywhere. There were also so many cyclists that at first we thought it was a competition of some sort but soon found out that no, it's actually just Mallorca – a great destination for cycling holidays.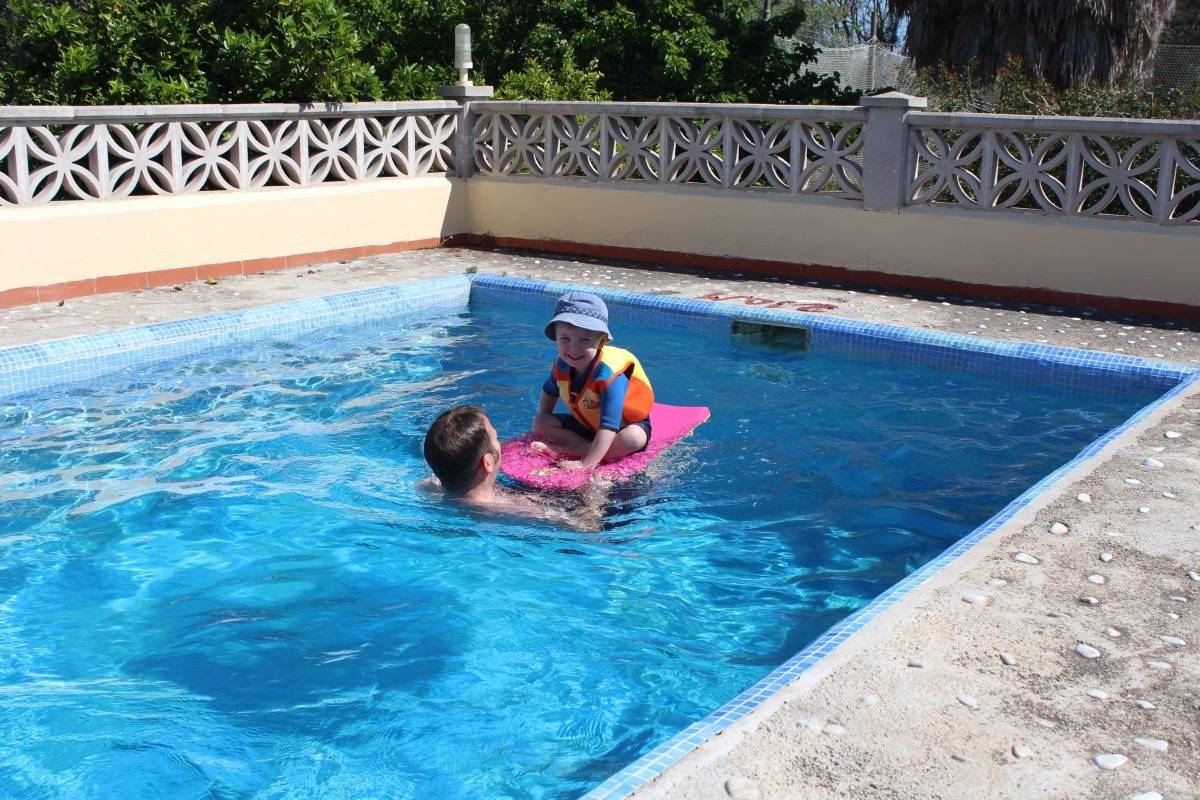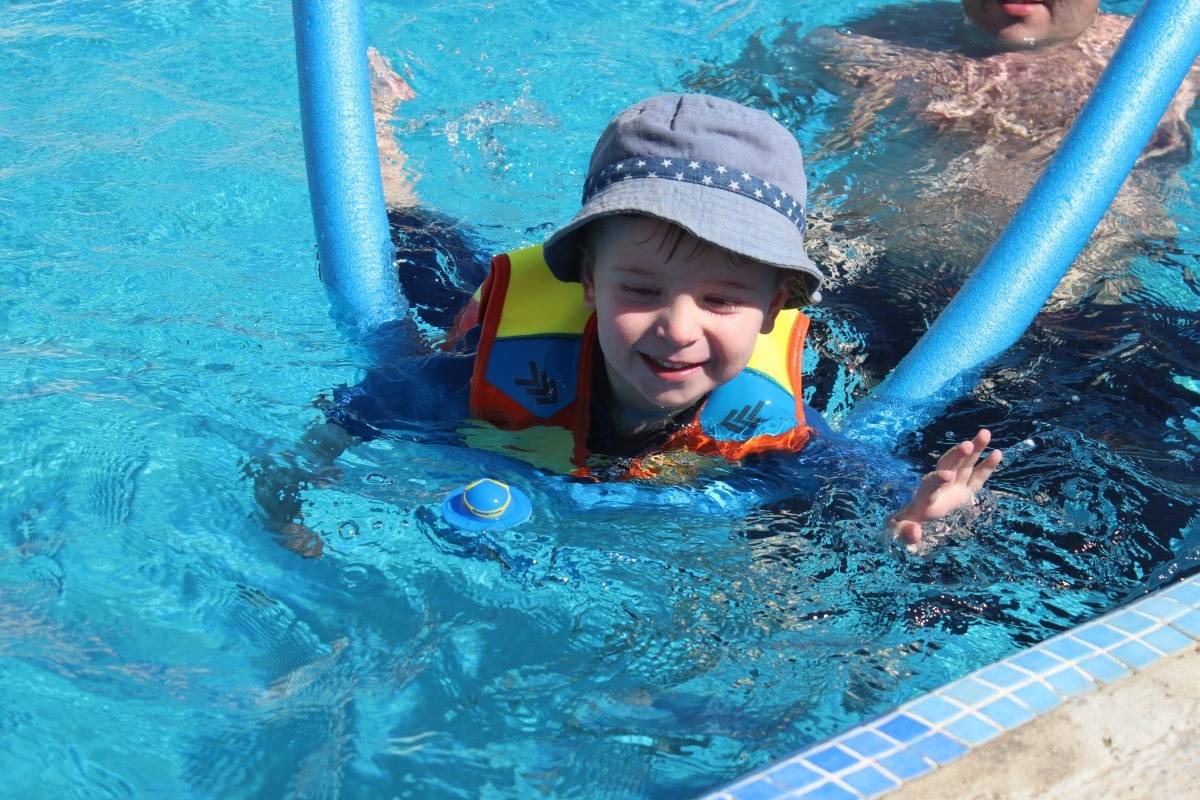 What were our overall thoughts of our James Villas Majorca break?
Our holiday was fantastic. The whole family loved our first self catering villa holiday abroad and the holiday has opened my eyes to this kind of holiday. We loved having the Majorca villa as our own space to relax and unwind and self catering meant we could eat whatever we wanted each day – and we had a good mix of eating out and eating in the villa. It gave us a really flexible option which is so important with a family holiday.
Domingo Petit had everything we needed from a holiday home and we mainly used the outside space, just going indoors when the weather became cooler in the evenings. It would have been nice if the villa had some basics to get us started like other self catering holidays – a couple of dishwasher tablets, washing up liquid and a spare bin bag would have been appreciated.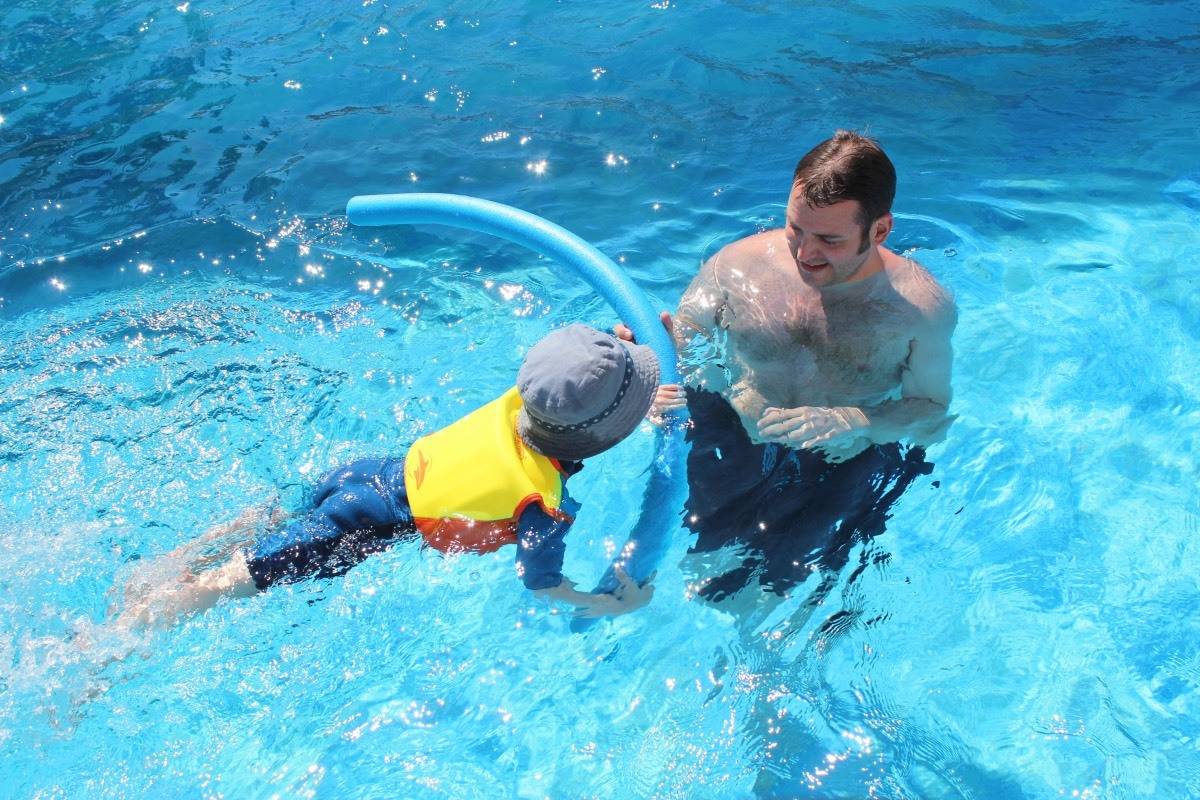 Before this holiday we had never considered a villa as a holiday option and had never thought to go self catering, thinking it would be cheaper in the long run to go all inclusive like we usually do. But, James Villas have such a great range of villas in so many countries – not just Mallorca holiday villas – and they can organise flights and car hire too – all with such a smooth process that now, having experienced a James Villas holiday, I wouldn't hesitate to book one in the future – we're looking at the Canary Islands or mainland Spain next!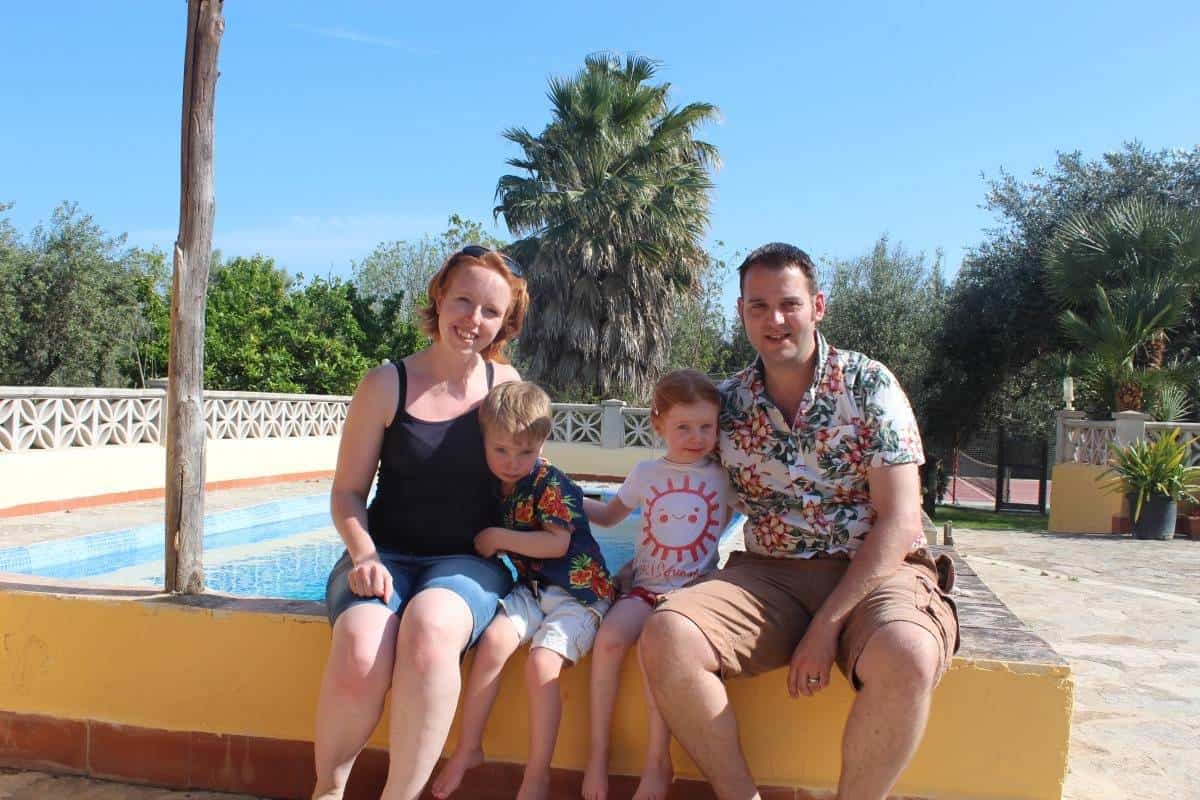 Here's a little video we made of our break: