Disclosure: We were invited on this day out for the purpose of this post however all opinions are my own.
Since LP and Little Man were born we have visited so many Christmas attractions, met so many Father Christmases and have had every conceivable Father Christmas experience you can imagine. But, until this year we hadn't experienced Lapland UK – without doubt the UK's most famous festive day out.
When we were invited to Lapland UK we registered on the website, filling out the children's names and personal information – letting the company know where the children live, their age, gender, how to pronounce their names and important information about them like their favourite character and a moment that has been important to them. This personalisation is a huge part of what makes Lapland UK such a realistic and believable experience. Dave and I couldn't wait to see the children's faces throughout the trip.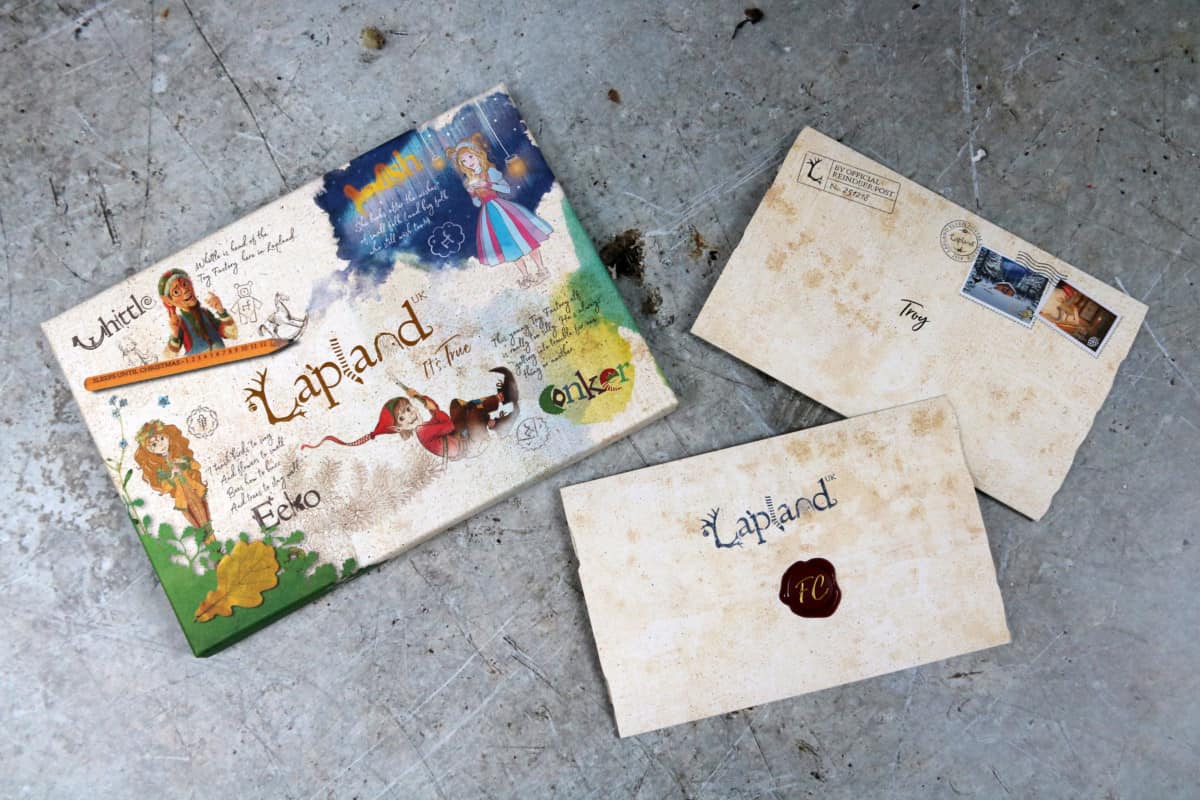 After we made our booking we received a Lapland UK delivery – complete with personalised letters for the children from Father Christmas inviting them to Lapland UK. As soon as they read them the magic started – complete with a wax seal and on aged paper they were as authentic as they could be.
We were booked onto a lunchtime Lapland UK slot just before Christmas but the experience runs at regular time slots throughout the day. I chose an earlier slot as I wanted to experience Lapland UK in daylight hours but it would be a completely different experience later in the day, in the dark with the lights adding so much atmosphere to the forest.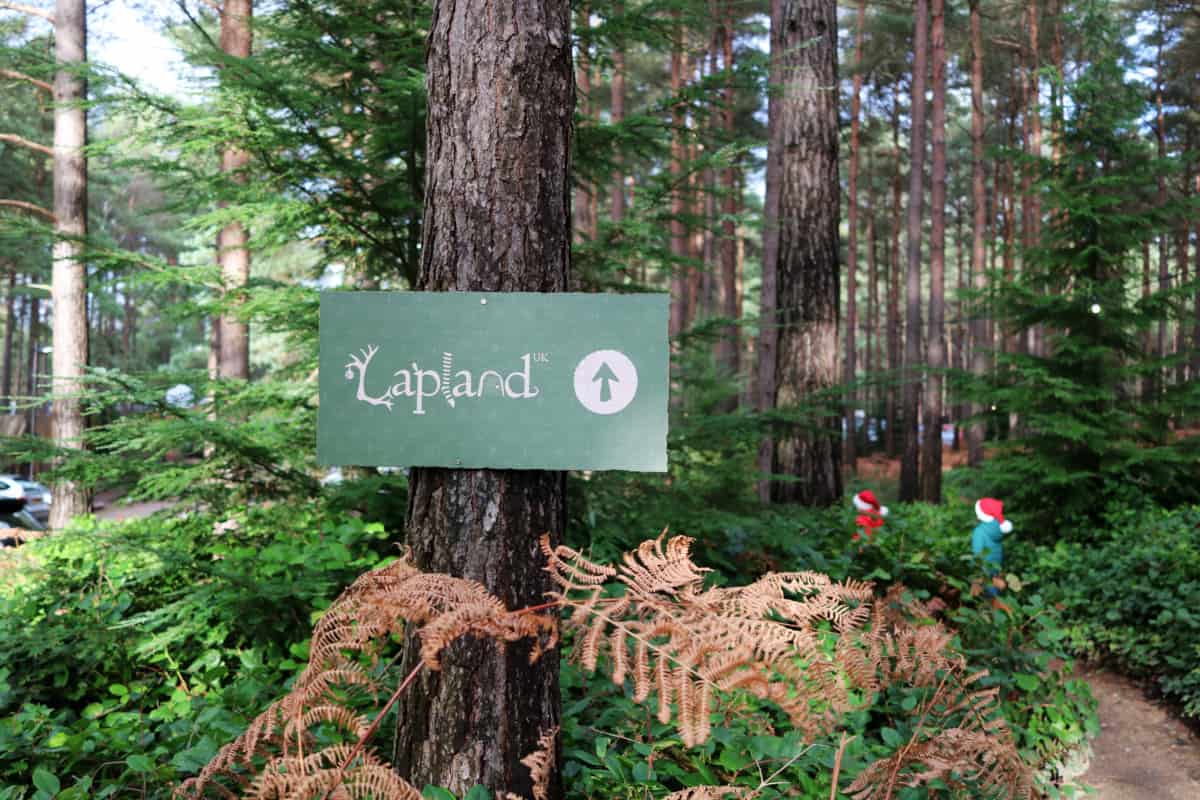 When we arrived at Lapland UK we immediately realised how well organised it was. From the parking spaces clearly marked out amongst the trees to the signposts and staff directing us around the car park. There was a bag search before we entered the starting point and then we were thrown into the magical world of Lapland UK.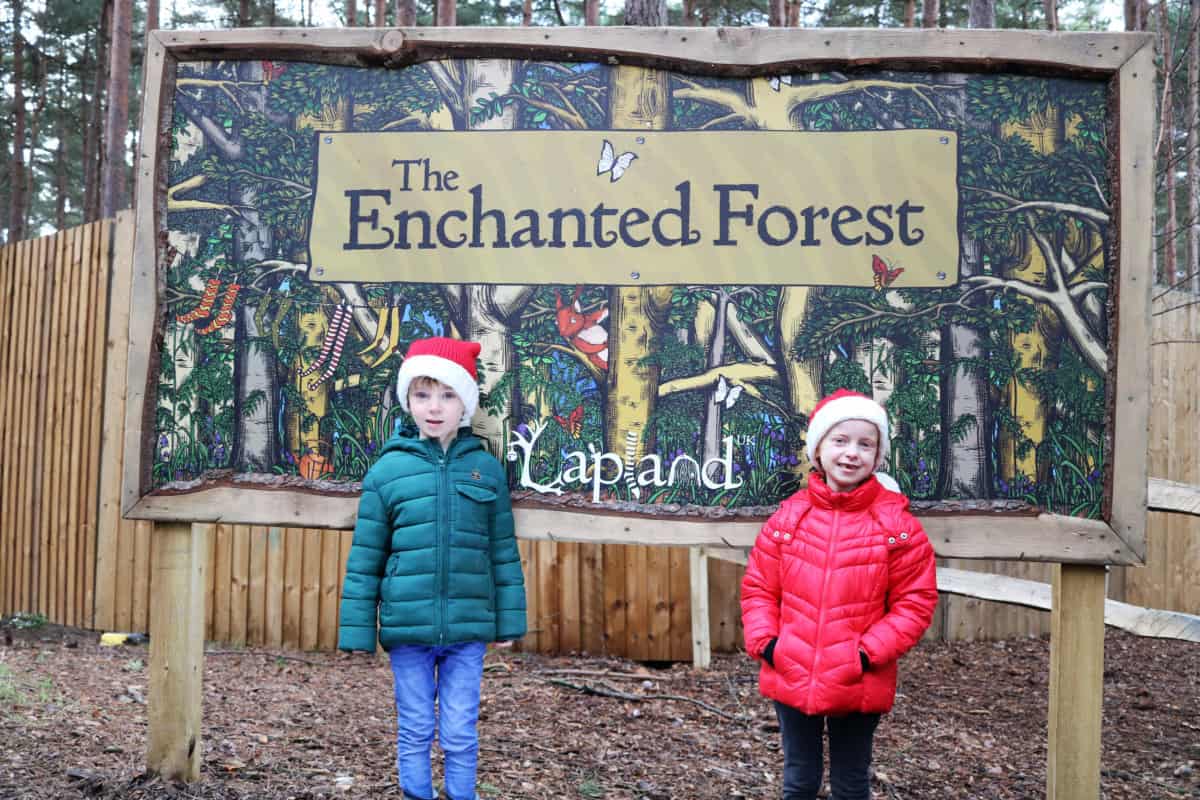 At the starting point we checked in and the children were given passports to guide us through the experience and to stamp along the way. We were also given a copy of the Lapland Times – a newspaper that gives lots of information about Lapland UK as a good starting point to the experience. We were also offered the opportunity to convert pounds to elf Jingles which adds to the experience for children but we decided to just pay by card when inside Lapland. For reference – one Jingle is one pound and unused Jingles can be exchanged back to pounds at the end of your visit. We were given a sticker with a husky on and then we waited for the experience to start.
The start of each session was organised really well. Visitors were either in team husky or team reindeer and they went on either side of the main starting point. The stickers were also colour coded to symbolise their experience start time – ours were red but the group before us were blue – making everything run so smoothly. Whilst we waited for our session to start an elf came and gave LP and Little Man a suitcase to look after until they met Conker the elf later in the trip.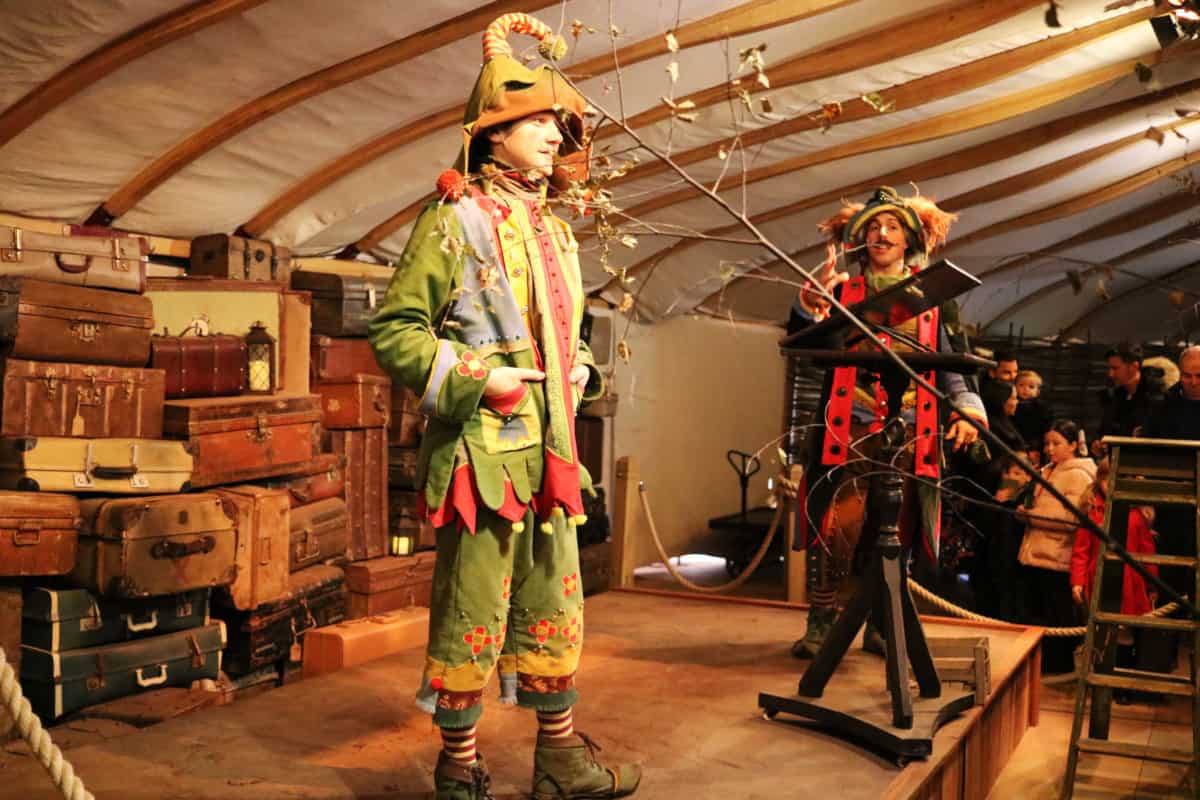 Before we knew it the show started and we were welcomed to Lapland by two elves who told us all about Lapland – how to say hello with an elf wave and that we would be know as big folk and small folk whilst in Lapland.
It was then time to start our journey. A secret doorway opened in the wall in front of us and we followed an elf down a covered path, full of fairy lights and into a beautiful clearing with a tree in the centre. We took our seats and felt as if we really were in the heart of the Enchanted Forest.
A whole theatre show was acted out in front of us – introducing us to different elves and teaching us more about the lives of elves, their history and life in Lapland before we carried on our journey to the Toy Factory. Doors opened in the forest to show the snowy world beyond and it was so magical, we really were in Lapland.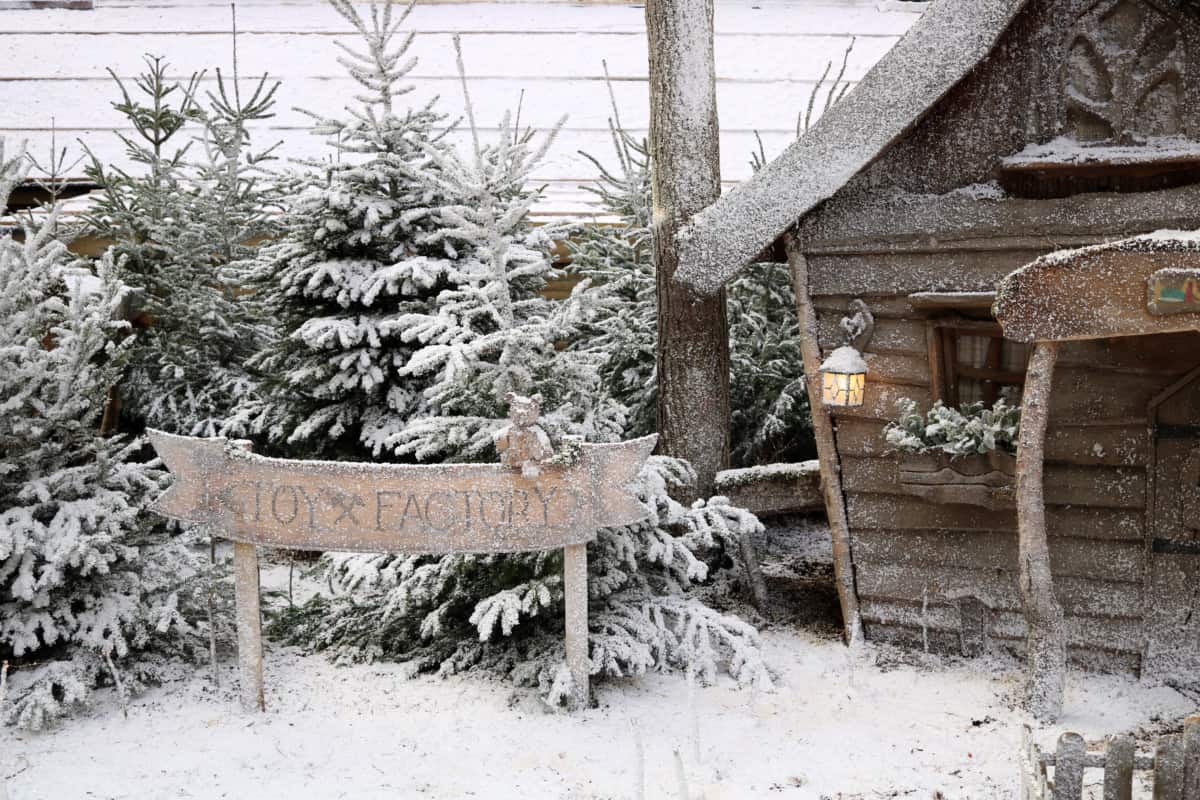 Everywhere we went there were doors for the small folk as well as big doors for us big folk. The whole world of Lapland has been created with the help of Hollywood set designers and it shows – it's realistic, beautiful and so, so magical.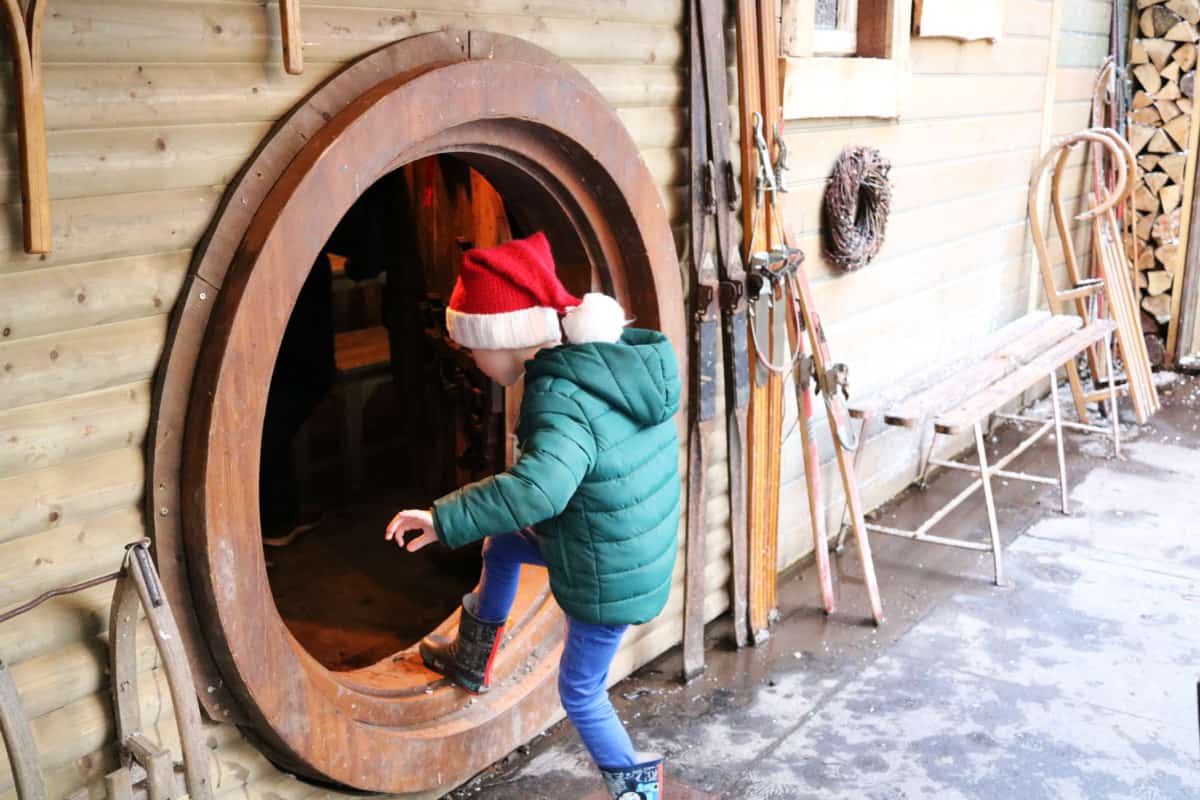 We found ourselves in the Toy Factory where we spent so much time, getting to know more elves, meeting Conker – and the children giving him his suitcase back – and finally helping the elves to make toy penguins.
I thought this part may upset Little Man – as he asked if he could keep the penguin afterwards – and he couldn't. But, at the end they give the penguin to the wrapping room where the toys are wrapped to be given out to other children by Father Christmas on Christmas Eve. I loved that this was teaching all the children to be selfless, to help others and to be kind rather than just wanting something for themselves.
After the Toy Workshop we travelled down more walkways to Mother Christmas' kitchen where we had songs and stories with Mother Christmas and the elves before decorating gingerbread men to take home with us in a paper bag. The children loved it.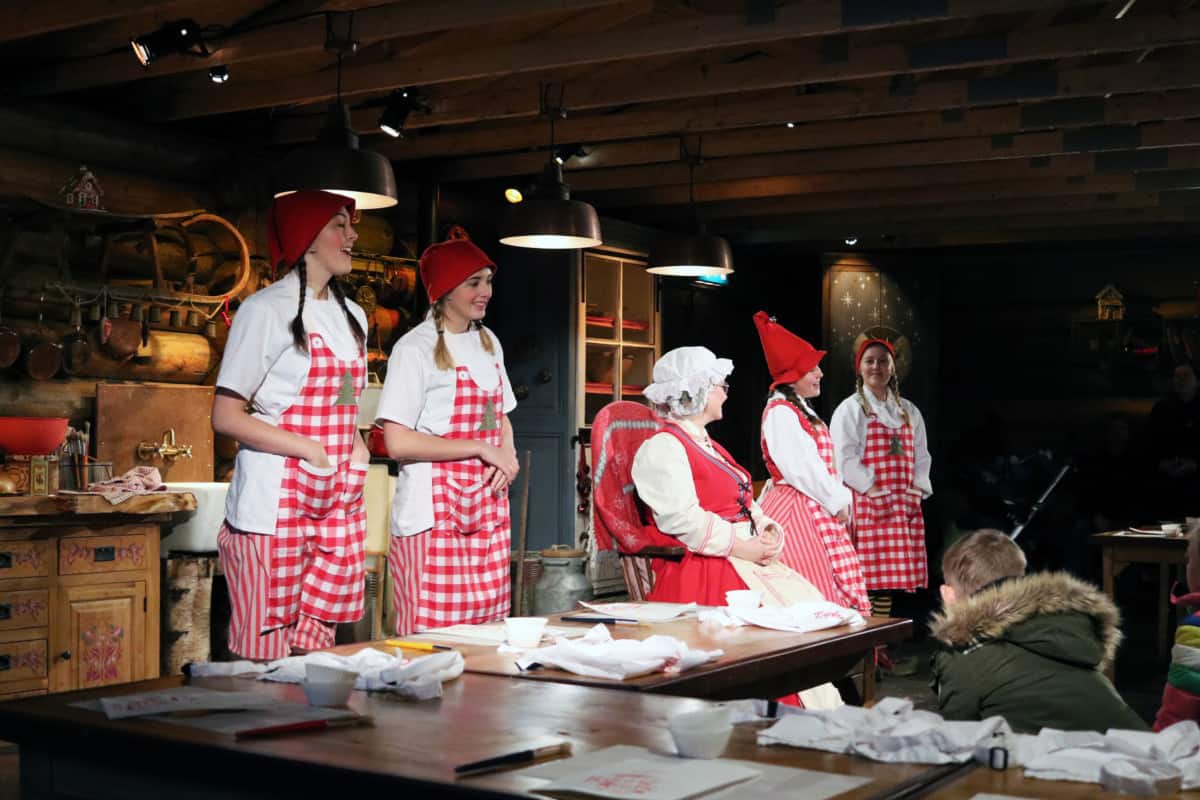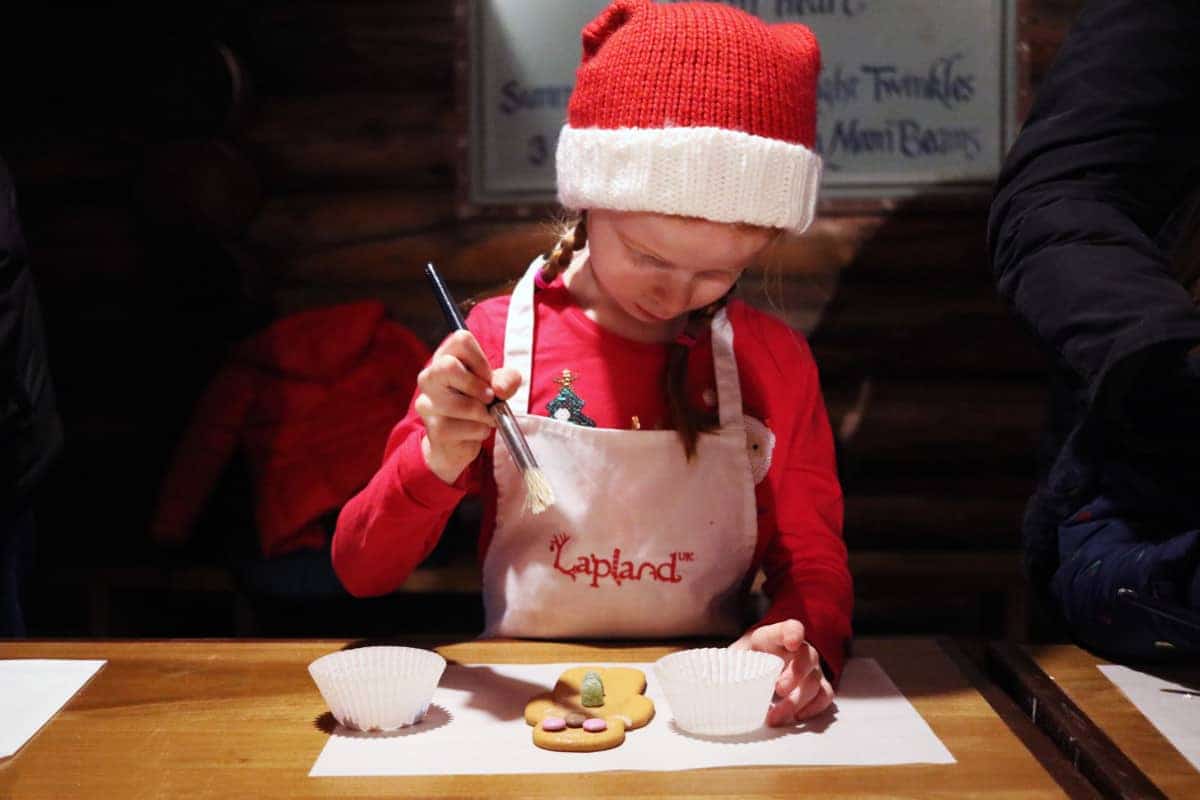 Mother Christmas' kitchen was the end of the immersive, theatrical part of the experience and by that point we had been in Lapland for about an hour and a half. The children really felt like they're been through the enchanted wood, helped in the toy factory and been a guest in Mother Christmas' kitchen. It was like being part of the best festive performance – but there was so much more fun to be had during the rest of our time at Lapland.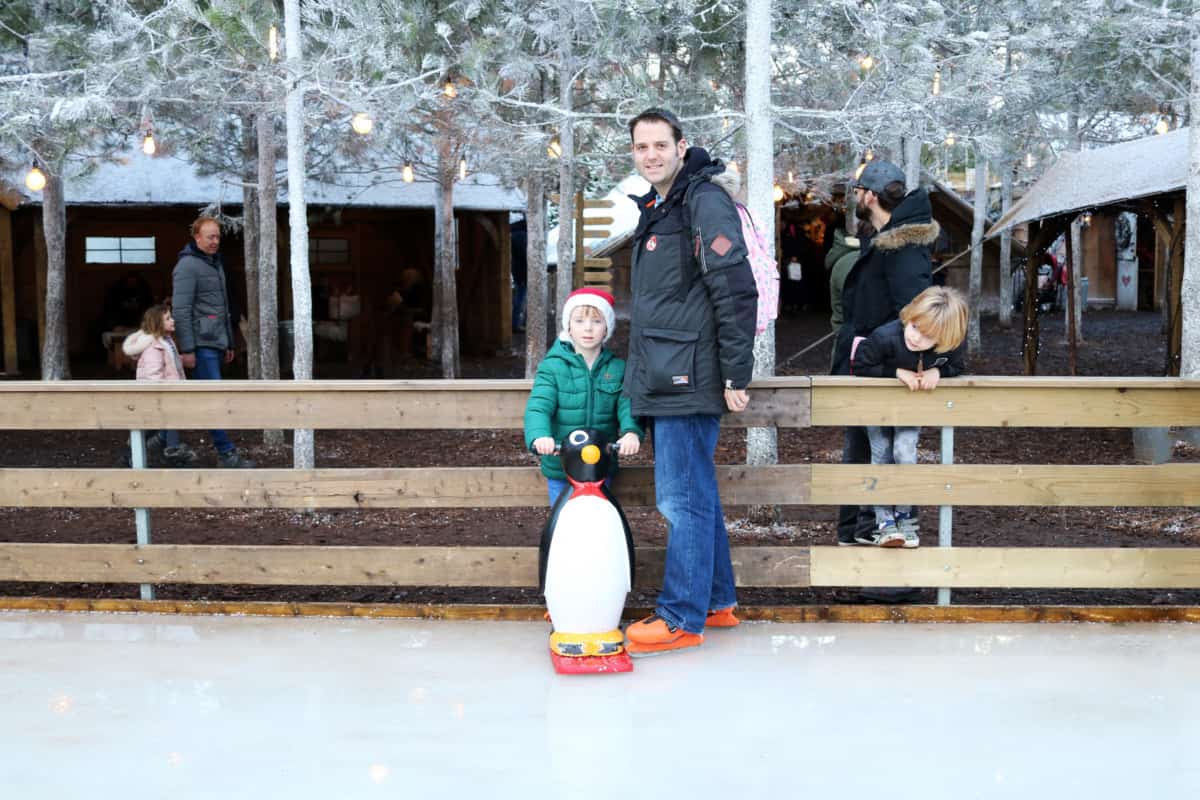 We kicked off our 90 minutes of free time with ice skating. Small feet had skates to go over their wellies and bigger feet had actual skates and we could spend as long as we wanted on the ice.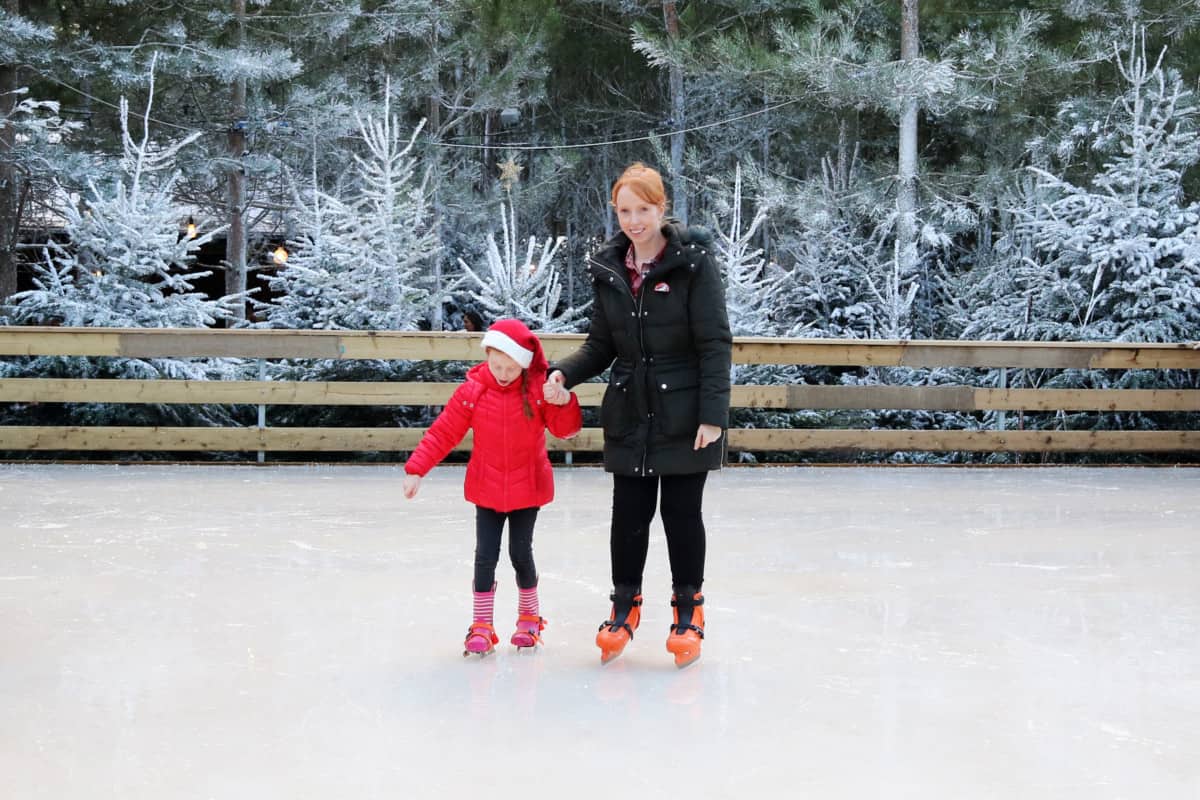 There were plenty of penguins for the children to use and it was quite nice that you could skate for just a few minutes or longer, whatever suited your family and there was a lot of room for spectators around the sides of the frozen skating pond. We all skated at first and then Dave and Little Man went to watch from the side. It was lovely but the ice was very wet – meaning LP and I got pretty soaked when we fell over together.
After skating we had lunch at the Elf Restaurant. This incorporated three different sections – a burger section with chicken burgers or fish finger sandwiches, a pasta station and a pie station. Each option had vegetarian options and it was £8-£9 for an adult meal and £6 for a children's meal. There were also other places outside the restaurant to buy meals and snacks with hot dogs and toasties also on offer as well as hot and cold drinks and cakes. This is pretty much the only part of Lapland UK that isn't included in the admission price and it was really nice that all the food and drink options were traditional, rustic and in keeping with Lapland rather than having chain restaurants there. It was also a lot quieter than we expected – with only two families ordering food ahead of us and no queue at the pasta or pie stations.
We spent the rest of our free time wandering around the shops – the Elf Emporium selling all things elf as well as souvenirs, and Baubles Shop selling beautiful glass baubles which could also be personalised. There was a sweet shop too and from the look of all the bags being carried around, visitors found it a great place to finish off their Christmas shopping.
The children loved going into the elf Post Office to write a letter to Santa and this was such a quirky part of Lapland – with bags of mail and a letter sorting rack behind the desk. If your child hasn't written to Father Christmas when you visit then this would be a great opportunity to do so.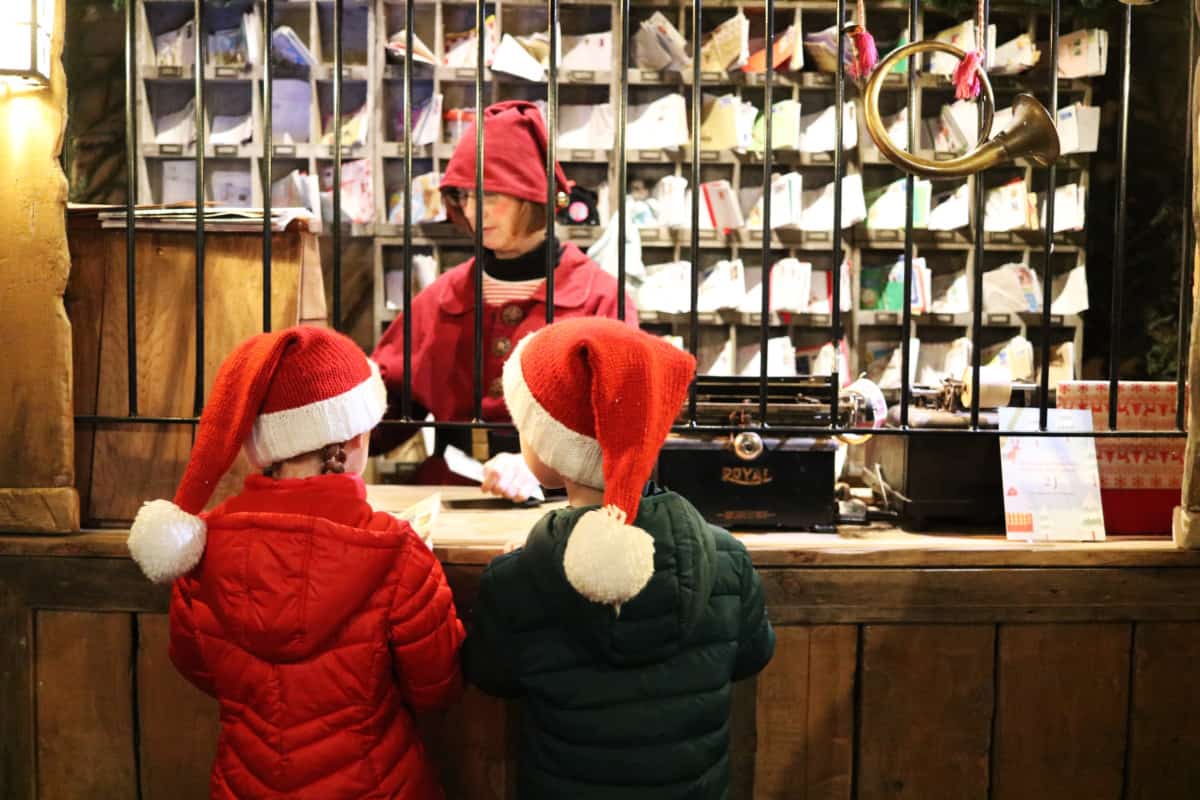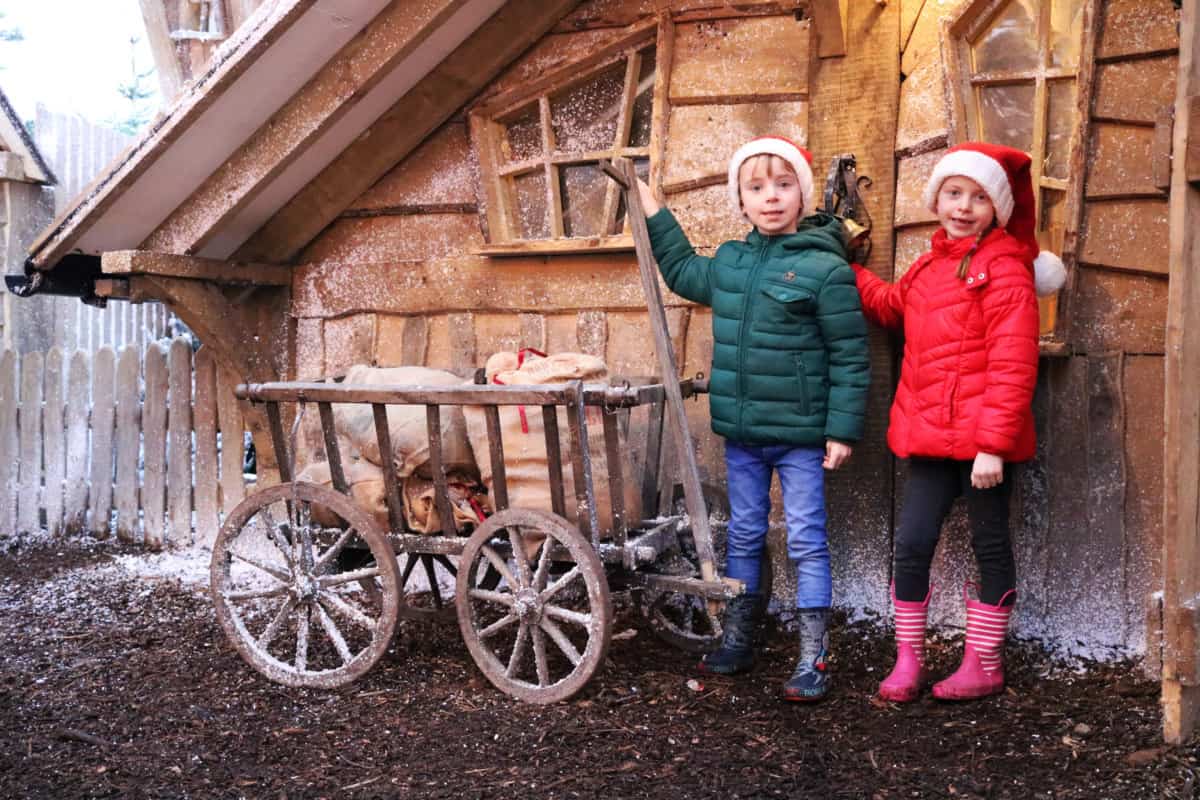 At the end of our free time we made our way to the meeting point, the start of a walkway that was hardly noticeable next to the Post Office. We met some lovely elves who checked our time slot and pointed us in the right direction, where we made our way through the snow lined forest to a hut where we checked in, and waited to meet Father Christmas.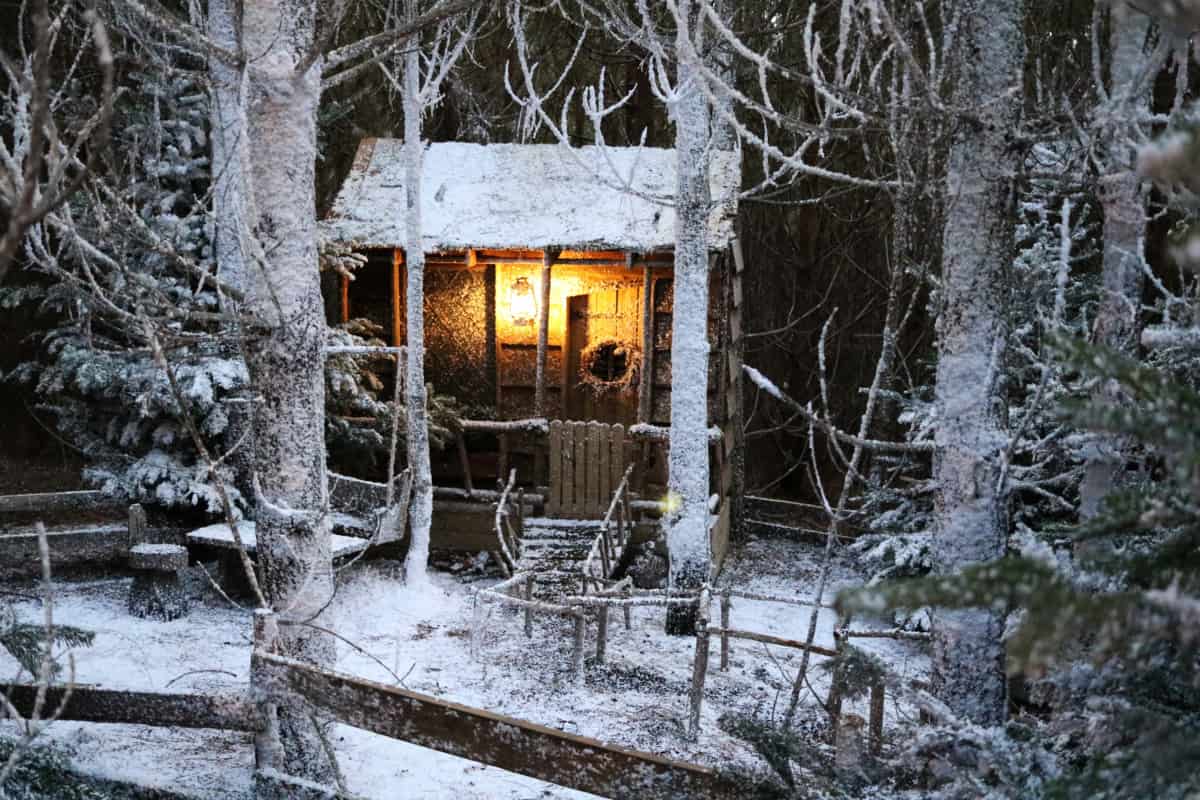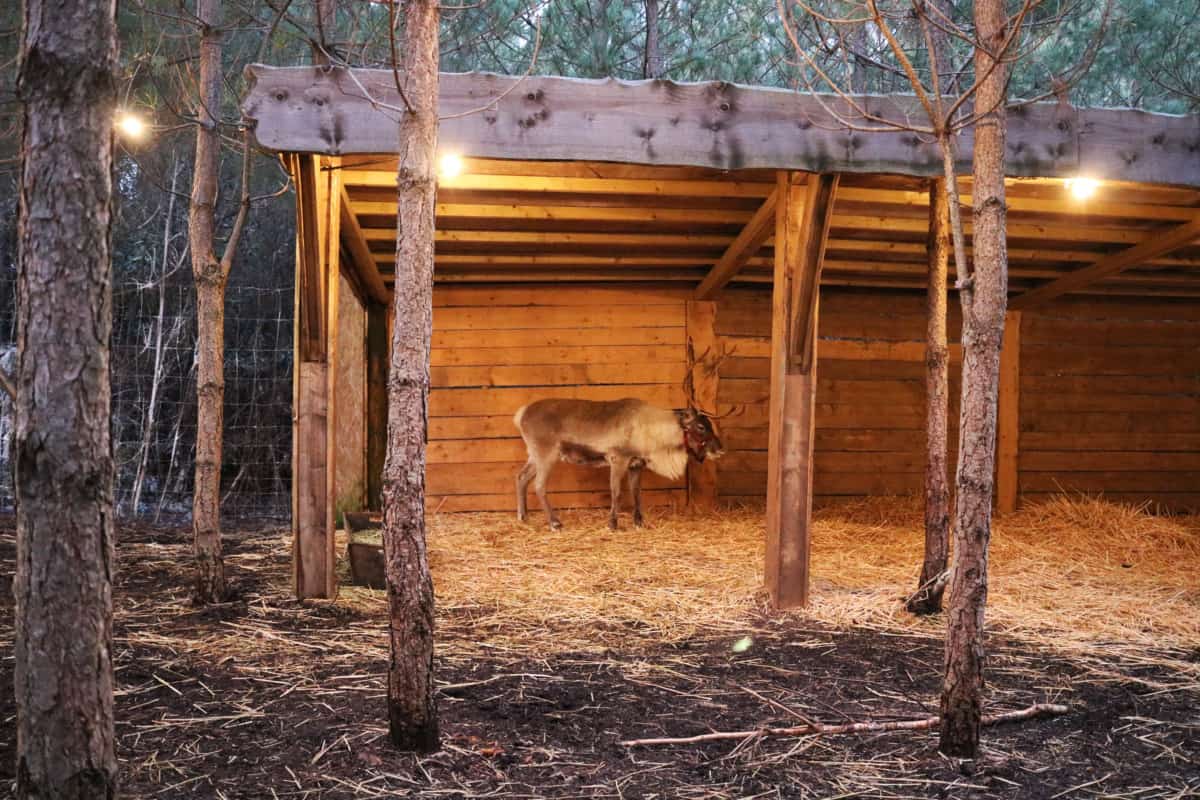 Outside the hut there were reindeer to look at – all of Father Christmas' reindeer apart from Rudolph who was our on errands when we visited. There was also a shop halfway where you could buy reindeer food to sprinkle at Christmas and we even got to see Father Christmas' sleigh.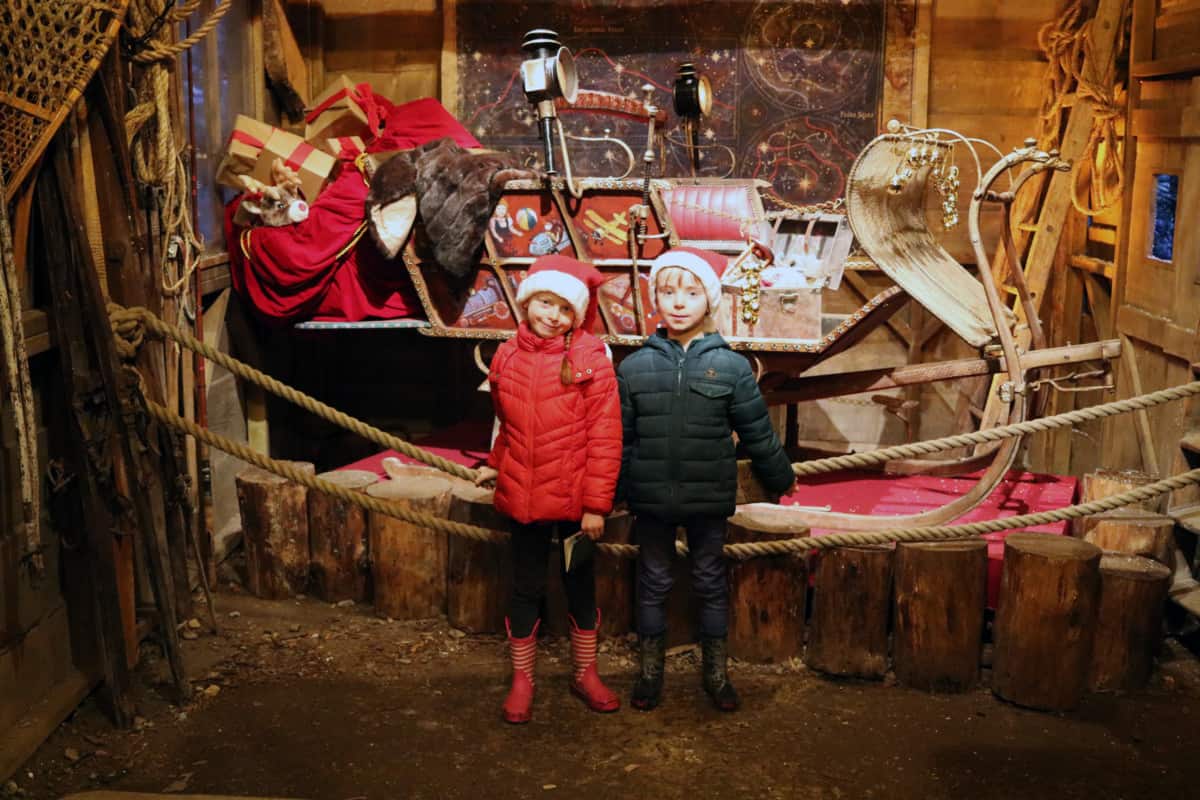 When it was our turn to visit Father Christmas an elf came in and called for LP and Little Man by name before we followed her down a woodland path. On our way down the path we passed at least three other families, all carrying their gifts from Father Christmas and heading towards the exit. It would have been nice if the exit route wasn't different to the way in so that we didn't see the gifts that the children would be getting – but LP and Little Man were oblivious.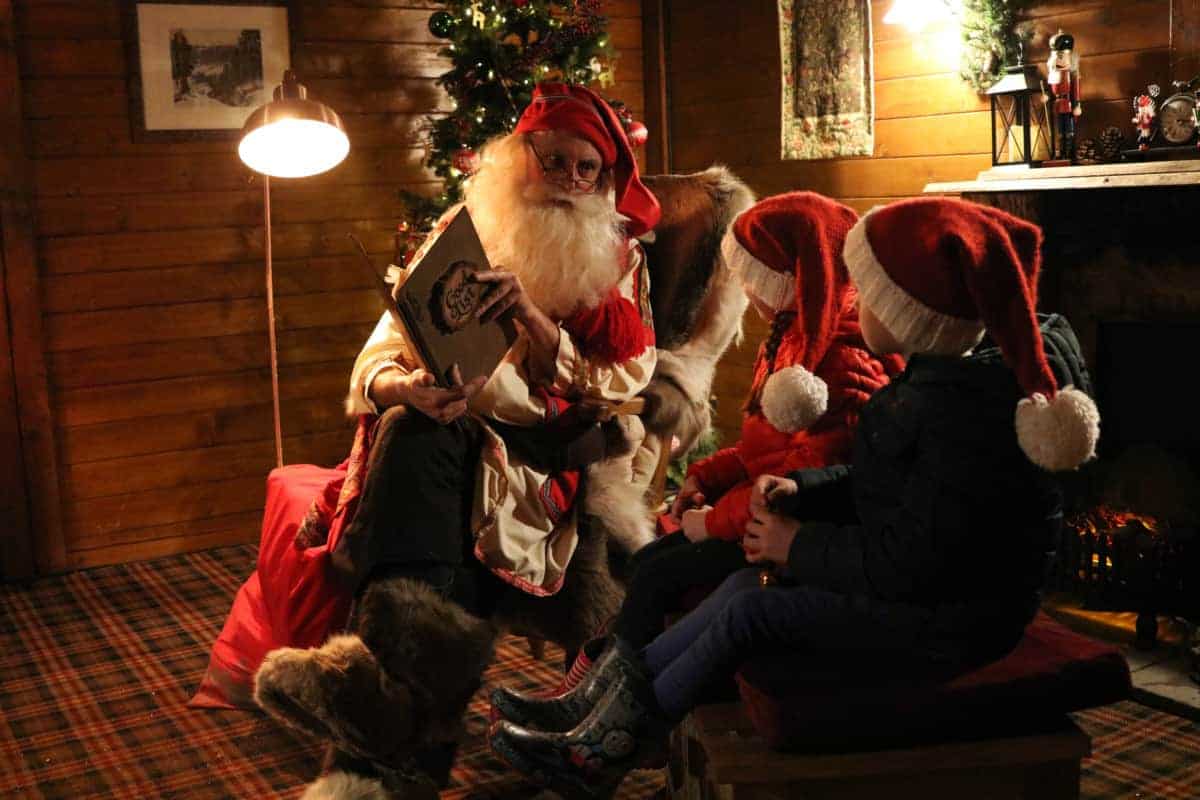 We got to Father Christmas' house and sat outside before we were invited in – coming face to face with Father Christmas. He spoke to the children about their hobbies and interests, the gifts they'd like for Christmas and he even told them he'd spoken to our cat, Leia. It was, by far, the best Father Christmas experience we have ever had and we all left knowing that we had met the real deal. There's wasn't a doubt in my mind that he wasn't actually Father Christmas.
During the visit the children were given a beautiful golden bell and a cuddly husky to keep and then we were on our way and our experience had come to an end. For the first time we didn't have an elf guide to lead the way and made our own way to the exit where we found a shop where we could buy clothes and accessories for the children's huskies as well as pick up the photo that was included in the Lapland admission price. The photos were lovely and a great souvenir of the trip with the option of buying additional photos if you wanted to.
Our whole Lapland UK experience lasted about four hours and it's definitely the best Christmas day out we have had. The children loved it and for those four hours it really felt like we were in Lapland – we were thrown into this snow covered world that was so believable, so magical and completely encompassing. It was amazing.
Early bird booking for next Christmas opens in January and you can sign up to the mailing list to be notified when it opens over on the Lapland UK website. I can guarantee that Lapland UK would be an experience your children will never forget and one that is sure to keep the Christmas magic alive.
Here's a video we made of our trip: