There is nothing worse as a parent than trying to keep children entertained at home when the weather's bad. I know that often, we'd stick our coats on, put wellies on and go puddle jumping. If you can't beat them, join them, after all. But, sometimes you just want somewhere to go and something to do that isn't dependent on the weather.
So here are some ideas of family fun things to do when it's raining in Surrey – if you don't want to wrap up and go outside to embrace it! There are so many indoor activities to enjoy in Surrey and a rainy day is the perfect excuse.
If you're just looking for days out in Surrey, this post may help. Many days out are also suitable for a rainy day with plenty of indoor parts like Hampton Court Palace, but this post focuses on indoor attractions that are completely safe from the rain.
Things to do in Surrey on a rainy day
Libraries in Surrey
Libraries are a fantastic place to hide from the weather. With so many books and audiobooks for all ages, children will love snuggling in a corner to look at books for a while and you might even find some to borrow and take home too.
You can find your local library here and there are often special events on at local libraries too from storytime to music sessions and so much more too. Libraries are a real hub of the community and somewhere we often find ourselves when it's raining.
---
Art Galleries and Museums in Surrey
Art galleries and museums are great for a mooch around when the weather isn't at its best. Educational and with so much to see, they're somewhere we love to spend time. Here are some options in Surrey – and many have special events on too.
Watts Gallery – Down Lane, Compton, Surrey GU3 1DQ
The Watts Gallery is dedicated to the work of the Victorian-era painter and sculptor George Frederic Watts
The Lightbox – Chobham Road, Woking, Surrey, GU21 4AA
Exhibitions, events, talks, child and adult workshops and permanent local history exhibitions.
Brooklands Museum – Brooklands Drive, Weybridge, Surrey KT13 0SL
Brooklands Museum is a motoring and aviation museum situated on part of the former Brooklands motor-racing track in Weybridge. Discover supersonic flight with Concorde and get up close to the aircraft designed, built and flown at Brooklands.
You can read about our trip to Brooklands Museum here

Surrey Heath Museum – 33 Obelisk Way, Camberley, Surrey GU15 3SG
A heritage museum hosting events and exhibits exploring local Surrey Heath history through the ages.
Guildford Museum – Castle Arch, Quarry Street, Guildford, Surrey GU1 3SX
Guildford Museum is the main museum of Guildford, situated by Guildford Castle grounds, and is home to a permanent collection of objects from Guildford and the surrounding Borough, dating from prehistoric times to the present day.
Mercedes Benz World – Brooklands Drive, Weybridge, Surrey KT13 0SL
There's something for everyone at Mercedes-Benz World. Attractions include exhibitions and displays that give you an amazing insight into the heritage, innovation and engineering behind Mercedes-Benz. There are also hands-on Driving Experiences for adults and kids as well as Hot Laps, Passenger Rides and precision driving displays by the Silver Arrows Display Team.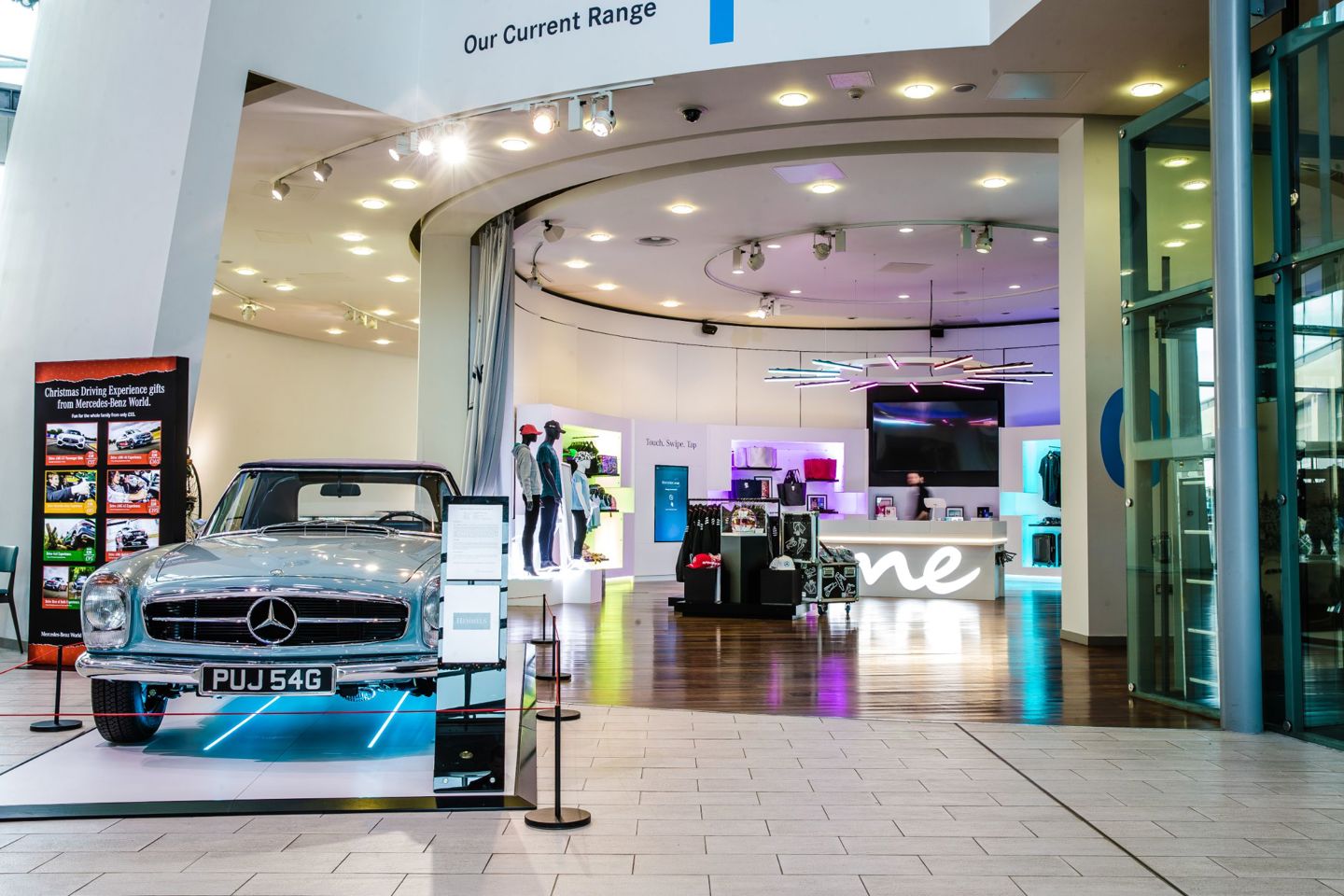 ---
Garden Centres in Surrey
Garden centres are lovely places to spend time and you can always stretch out a visit with a stop in a coffee shop or at soft play if the centre has one. Here are some options around Surrey.
Squires Garden Centres – Centres in Badshot Lea, Cobham, Frensham, Hersham, Long Ditton, Milford, Reigate, West Horsley and Woking
Fantastic garden centres with cafes and often other concessions stores too.
Longacres Garden Centres – London Road, Bagshot, Surrey, GU19 5JB
Garden centre with food hall, bakery, cafe and butchers.
Chessington Garden Centre – Leatherhead Road, Chessington KT9 2NG
Garden centre with farm shop, restaurant and butchers.
---
Theatres in Surrey
Going to the theatre is a great activity that the whole family will enjoy whatever the weather. Surrey has a lot of fantastic theatres to really make the most of so there is always bound to be something you'll want to see.
You can read about shows we've seen at Camberley Theatre here.
---
Cinemas in Surrey
Cinemas are another great way of passing time on a rainy day. With many offering reduced tickets on weekend and school holiday mornings and so many family friendly films to see, there will always be something to suit your family. Here are some cinema options in Surrey.
Vue – Camberley – Croydon – Staines
At Vue's Mini Mornings you can see the best kids and family films from only £2.49 each. Mini Mornings run every Saturday and Sunday morning from 10am plus every day in the school holidays.
Odeon – Kingston – Epsom – Guildford
With special Odeon Kids screenings of the most spellbinding fairy tales and animated films, grown-ups pay kids' ticket prices, making it a great value day out for the whole family.
Everyman – Esher – Oxted – Reigate – Walton – Horsham
Empire – Sutton
The Light Cinema – Addlestone
---
Leisure Centres in Surrey
Leisure centres are a great place to do something fun in the rain and we have so many around Surrey with fantastic facilities. No longer are leisure centres just a place to swim or workout, they now often have climbing, bowling and even roller skating sessions in them! Here are a few in Surrey to choose from:
Bowling – Swimming – Climbing – Ice Skating
Swimming – Inflata Zone – Soft Play
Elmbridge Xcel Leisure Complex, Walton
Swimming – Climbing – Soft Play
Donyngs Leisure Centre, Redhill
Swimming – Soft Play
Swimming – Soft Play
Swimming – Soft Play – Junior Gym (12-15)
Spelthorne Leisure Centre, Staines
Swimming – Junior Gym (11-15) – Junior Badminton – Trampolining
Trampolining – Soft Play
Swimming
Swimming – Climbing – Soft Play
You can read about out climbing experience at Places Leisure Camberley here.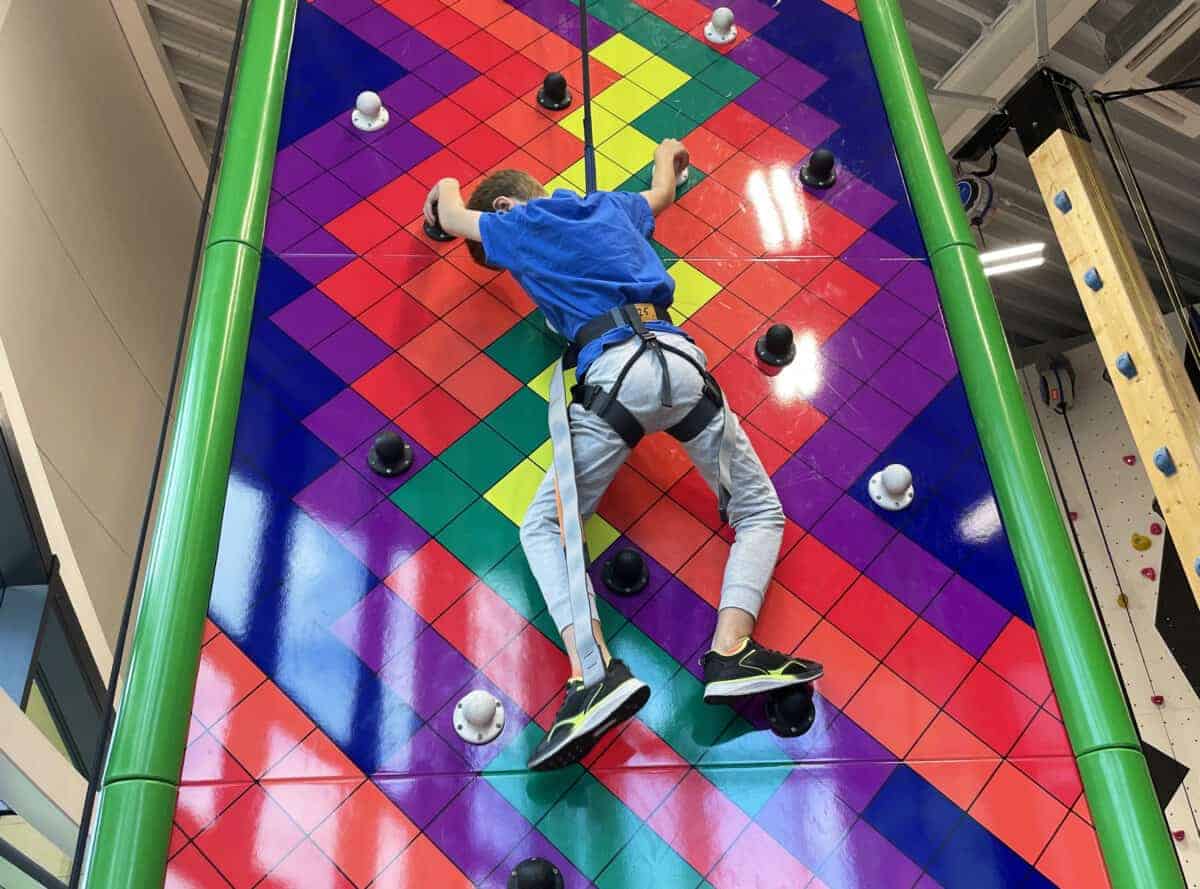 ---
Trampoline Parks in Surrey
Trampolining is great fun and perfect for a wet weather day. We have a few trampoline parks in Surrey as well as the leisure centres above that often have trampolining classes too.
You can read more about trampolining in Surrey here
---
Soft Play and Indoor Play Centres in Surrey
Soft play and other indoor play centres are fantastic for children and are great for bad weather days too. We have so many great indoor activity hubs in Surrey from typical soft play centres to role play dressing up experiences.
Pirates Landing – The Atrium, Park Street, Camberley, Surrey GU15 3GP
A popular destination for the family! With two soft play zones, an under 4s play zone and a 4+ play zone as well as a coffee shop and plenty of seating.
You can read our full review of Pirates Landing here.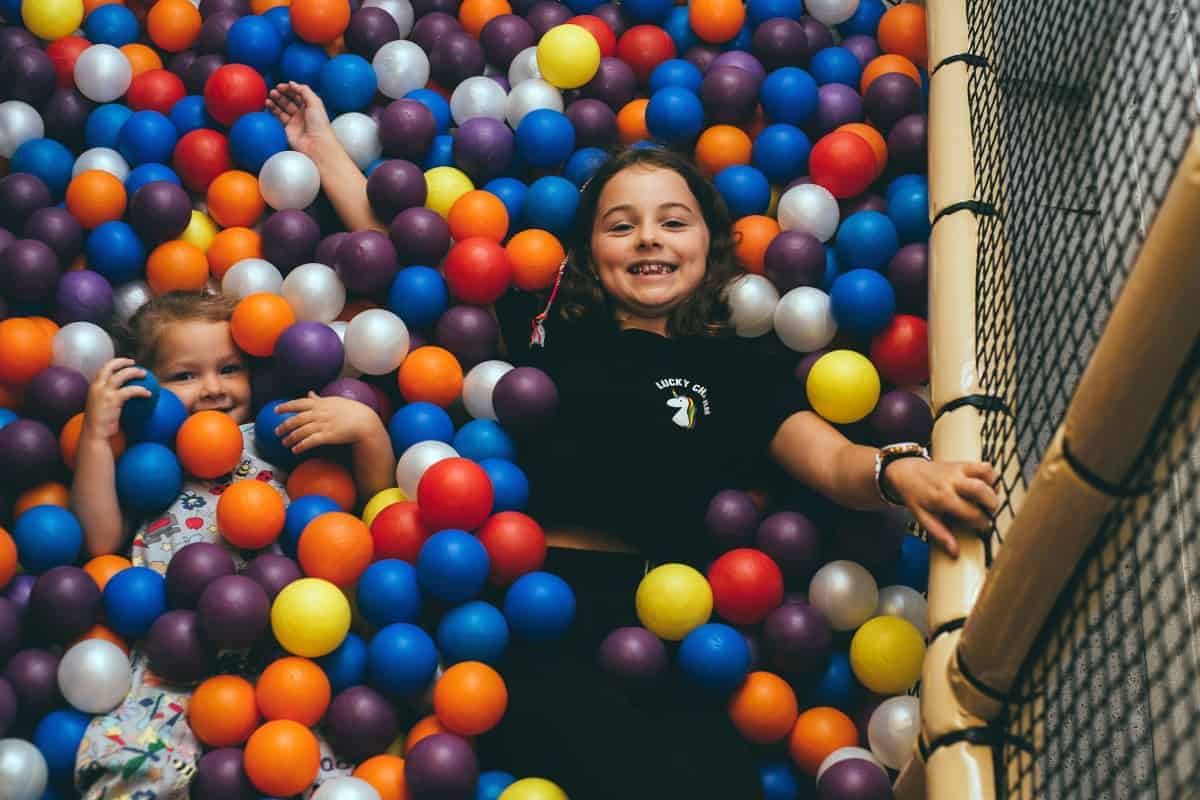 Imagination – 28abc Princess Way, Camberley, Surrey GU15 3SP
Imagination is an interactive role play centre suitable for 0-7 year olds and consists of eight different play areas and a lovely cafe too.
You can read our full review of Imagination here.
The Ruby Play Cafe – 8 Park Street, Camberley, Surrey GU15 3PL
A cafe designed with parents and children in mind. Children have the chance to feel independence whilst feeling reassured that a parent can be seen at all times whilst parents can relax while their child plays.
Little Street – Frimley: Station Approach, Frimley, Surrey, GU16 7QH or West Byfleet: Unit 1, 42 Station Approach, West Byfleet, Surrey KT14 6NE
Little Street role play centres feature scaled down versions of typical towns, inspiring children to explore life in the world around them.
You can read our full review of Little Street here.
Kidabulous – Tollbridge House, Brooklands Close, Sunbury, TW16 7EH
Kidabulous is a fun and exciting indoor play area suitable for all children aged 12 years and under. Whenever you just want to get out of the house and let the kids burn off some energy in a safe environment – Kidabulous is just fabulous!
Meadowbank Soft Play – Mill Lane, Dorking, Surrey RH4 1LB
Three fantastic storeys of soft play designed to ignite the imagination in every child with many interactive features and an indoor cafe too.
Let's Pretend – Bluebell Barn C, Priory Farm, Sandy Lane, Nutfield, Surrey, RH1 4EJ
Let's Pretend is a Role Play experience for young children where they can explore ten different play areas and let their imaginations run wild. There's a Supermarket, a Café, Farm, Vets, Doctors, Construction Site, Theatre and Salon plus a sensory area the younger ones and a cafe too.
Wacky Kingdom – The Belfry, Station Road, Redhill, Surrey RH1 1ST
Wacky Kingdom is a fun and exciting indoor play area suitable for all children aged 12 years and under. It's a great place to get out of the house and let the kids burn off some energy in a safe environment.
Piglets – Burhill Road, Hersham, Surrey, KT12 4BJ
Welcome to Piglets. Set in acres of beautiful greenbelt, there are purpose built indoor and outdoor facilities designed for children's play and for adults to relax. There are even child friendly farm animals and a fantastic cafe too.
Let's Explore – 59/61 Brighton Road, Horley, Surrey RH6 7HJ
Let's Explore is Surrey's latest soft play for kids aged up to ten who love to laugh and learn. There are three exciting worlds to discover – under the sea, jungle and space – and each themed zone is cleverly designed to keep your children entertained, engaged and zinging with energy!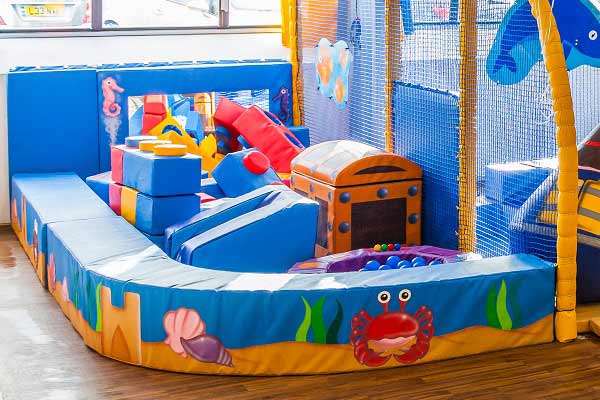 Rascals – Motspur Park: The Pavilion, Sir Joseph Hood Memorial Park, Marina Avenue, Motspur Park, Surrey KT3 6NE or Epsom: The Second Floor, Ebbisham Centre, 7 Derby Square, Epsom, Surrey KT19 8AG
Rascals Soft Play is a family run children's playcentre offering a safe, fun and friendly environment for children up to five years of age. Plus a lovely cafe to enjoy too.
The Play Cafe at Sandown Park – More Lane, Esher, Surrey KT10 8AN
The Play Cafe isn't just about your little ones – it's a fresh and modern space that appeals to parents and carers too! There's a soft play for under fives and a great cafe to enjoy.
Kidspace – The Colonnades, 619 Purley Way, Croydon, Surrey CR0 4RQ
Huge indoor play area with slides, a climbing wall and go karts over four levels, plus its own pizzeria. Kids up to 12 will have a great time.
You can read more about soft play and indoor play centres in Surrey here.
---
Pottery Painting in Surrey
Pottery painting is a fantastic activity for the whole family, especially on a rainy day. Children of all ages will love it and it's so nice to have something to take away with you afterwards – or pick up a few days later when it's been fired! Here are some of the Surrey pottery painting destinations.:
You can read our review of Mrs Potts Place here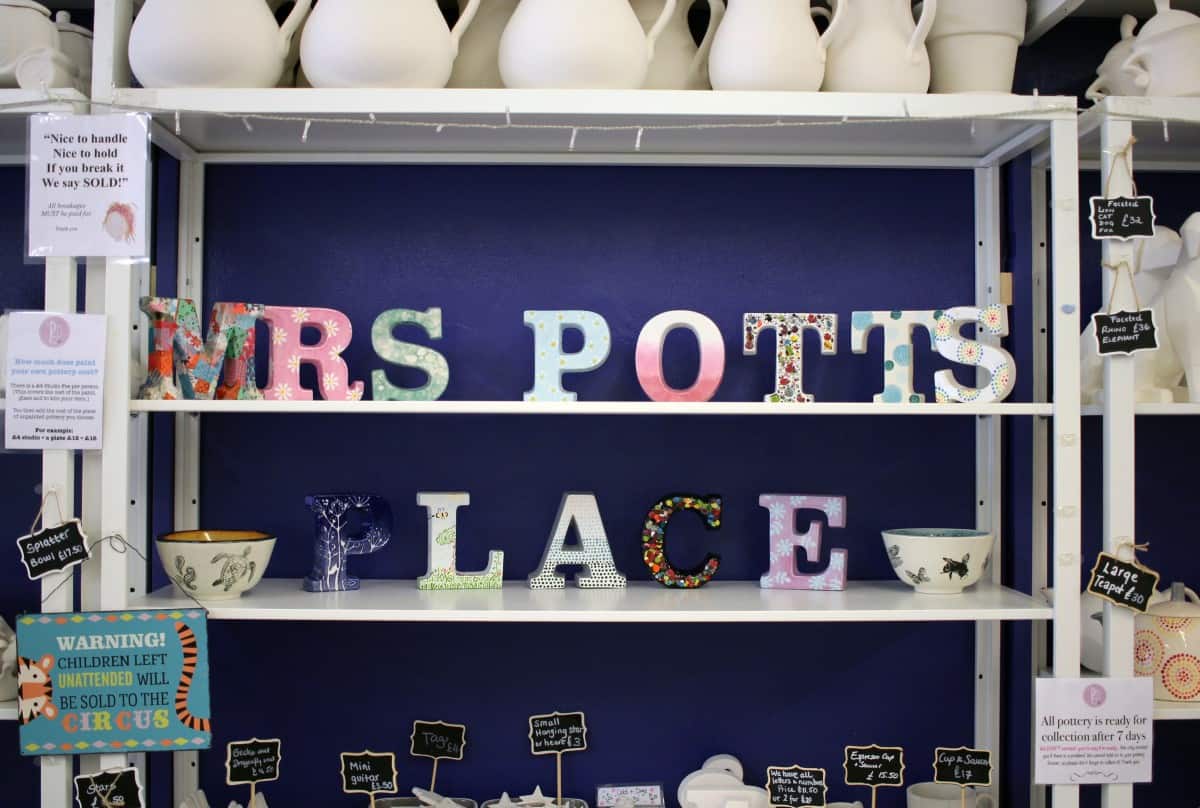 ---
Bowling in Surrey
Bowling is one of our go-to activities for a rainy day – although we don't have that many ten pin bowling alleys in Surrey. Here are the few to choose from.
---
Laser Tag in Surrey
Laser Tag is a great activity for older children – and their parents – even on a rainy day. Here are the indoor laser tag sites across Surrey:
You can read more about Laser Tag options in Surrey here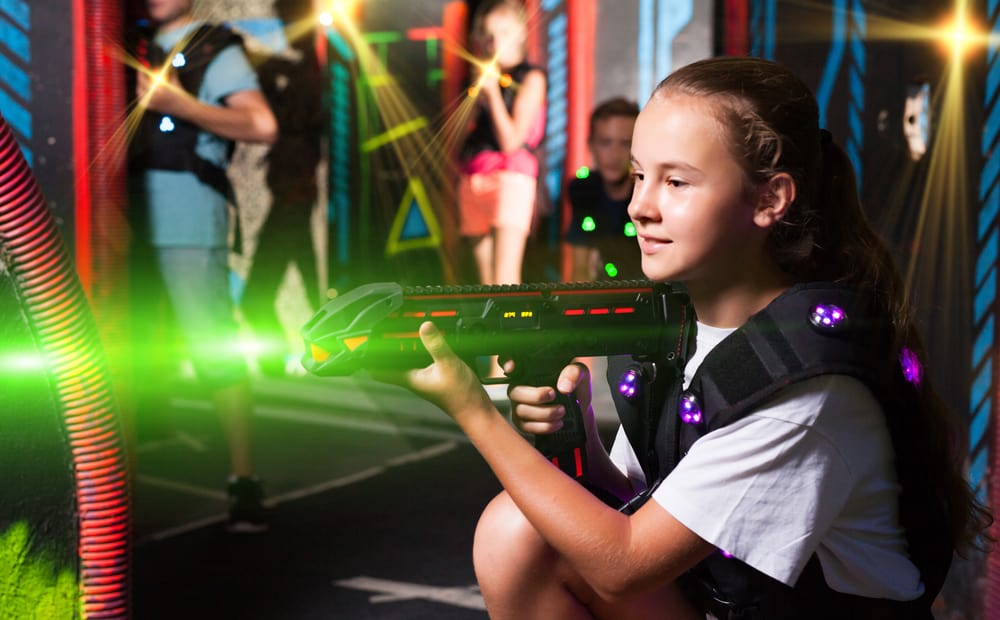 ---
Climbing Centres in Surrey
Climbing is another great family activity perfect for when the weather isn't great and we have so many centres across the county – plus those included in the leisure centres above. Here are some indoor centres for your next rainy day excursion.
You can read more about climbing options in Surrey here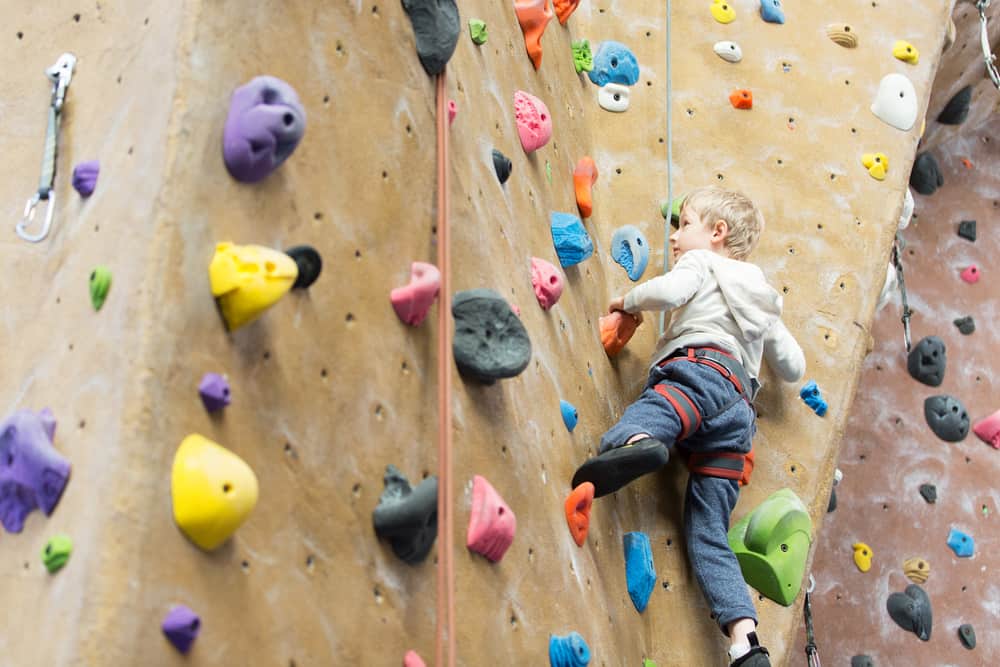 ---
Shopping Centres in Surrey
Shopping centres are a great place to spend time, especially in wet weather. You can wander round the shops, grab some lunch and there are often organised activities and events in to make the most of as well. Here are some around Surrey:
---
I hope that's given you some inspiration when it comes to the next rainy weekend to fill. There's so much to do in Surrey but I know it's easy to focus on the big days out and nice weather activities without giving much thought to the rainy days.
If all else fails, and you still can't think of things to do in Surrey this weekend in the rain, wrap up warm and go and splash in puddles before warming up with a hot chocolate afterwards. Failing that, snuggle up at home, play board games and watch movies together. Rainy days are some of our cosiest!