One of our children's favourite activities is climbing. They love going to an indoor climbing centre, climbing different structures and the rock climbing walls. They also love outdoor aerial adventures that, although not really climbing, give a fantastic high up, harness experience.
Whilst researching more places for us to go so the children can learn new skills in their climbing adventures, I thought it might be helpful to share all the climbing centres and climbing gyms across Surrey and Surrey aerial adventures too. So here goes:
Climbing Centres in Surrey
Clip n Climb – Grand Avenue, Camberley, Surrey GU15 3QH
25 interactive and fun climbing walls towering over 20 feet high as well as 11 additional auto belay points on the mosaic walls, each showcasing unique and striking designs with different challenges! The climate controlled wall is the perfect environment to climb whatever the weather outside.
Prepare yourself to experience action packed adrenaline fuelled fun whilst testing your agility, confidence, balance and problem solving skills.
When: 1.5hr sessions throughout the week
Cost: £15 per person. Sessions are suitable for all ages from 5+.
You can read our review of Clip n Climb Camberley here.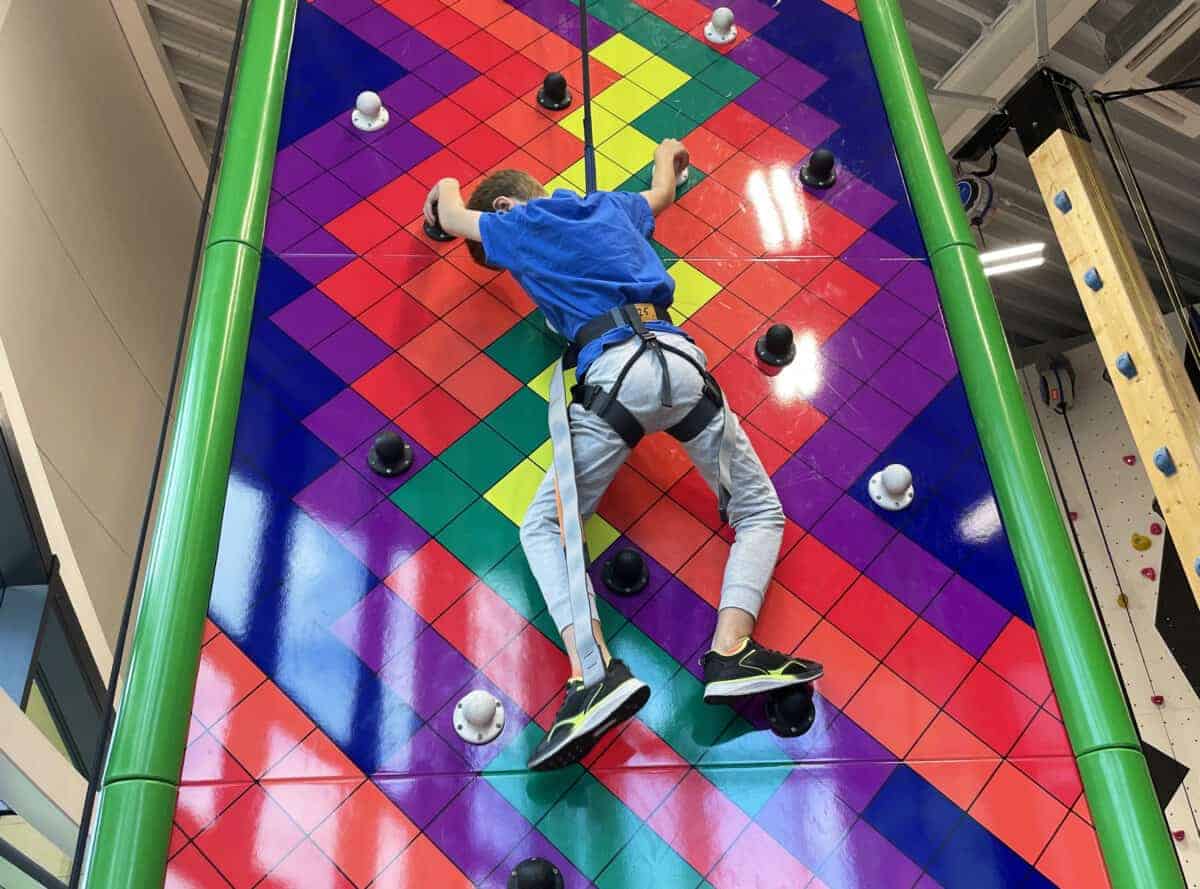 ---
Rock Box – Guildford Spectrum, Parkway, Guildford, Surrey GU1 1UP
Rock Box is made up of a number of unique climbing elements, your challenge is to top them all! Anyone can climb at Rock Box – adults included – so don't be scared if you've never climbed before. We'll get you to the top in no time! Sessions are fast-paced, loads of fun and everyone can have a go.
Plus, Guildford Spectrum has so much more to offer – swimming, ice skating, bowling, soft play – so you can make a whole day of it. 
When: Saturday and Sunday only
Cost: £16.50 for one hour. 30 minute taster sessions also available for £10. Age 5+.
---
Surrey Sports Park – Richard Meyjes Road, Guildford Surrey GU2 7AD
At Surrey Summit, there's something for everyone. With over 80 bouldering problems in the bouldering gym from V0 to V10; 65+ roped routes ranging from 3+-8a, challenging walls up to 12m high and 2 TrueBlue Auto Belays.
The team are always ready to teach new skills and can offer instruction suitable for complete beginners up to advanced climbers. The coaching team includes Catalyst Coach Jules Astier and World Champion Paraclimber Matthew Phillips. Surrey Summit is also one of 240 NICAS approved centres, teaching the nationally recognised scheme that standardises the teaching and coaching of the UK's next generation climbers.
When: Weekends during term time. School holiday session times vary.
Cost: From £15.50 per hour depending on age. Age 4+.
---
Craggy Island, Guildford (Now Spider Climbing) – Unit 9 Cobbett Park, Slyfield Industrial Estate, Moorfeld Road, Guildford, Surrey GU1 1RU
100 rope lines, 50/50 split; top rope & lead climbing, over 300 frequently set routes and a huge variety with overhangs, slabs, arches. An all new huge bouldering wall, beginner spaces and auto belays for solo climbing.
When: Session times vary through the week. Check website here.
Cost: Taster sessions from £35 with an instructor or private tuition costs £100 for an hour for 4 people.
---
Craggy Island, Sutton (Now Spider Climbing) – Oaks Sports Centre, Woodmansterne Road, Carshalton, Surrey SM5 4AN
An extensive caving system with chambers and passageways to explore and enjoy plus two rooms with over 70 boulder routes on slabs, vertical, overhangs and a horizontal roof.
When: Session times vary through the week. Check website here.
Cost: Taster sessions from £35 with an instructor or private tuition costs £100 for an hour for 4 people.
Craggy Island in Sutton also have fantastic 2 day school holiday clubs for children aged 8+. Find out more here.
---
White Spider Climbing – 225 Hook Rise South, Surbiton, Surrey KT6 7LD
At 2000 square metres of climbing space, White Spider is one of the UK's biggest climbing centres. It features over 360 climbing routes, over 200 bouldering problems and 104 ropes up to 20 metres with grades from 3 to 8b.
When: Sessions throughout the week. Check website for details.
Cost: Starting at £16.50 for an hour, depending on age or private family climbing sessions of 90 minutes starting from £29.50 per person
White Spider also have the Spider Castle available for age 3+ at £6 each and the Clip and Go facility at £7.50 per 15 minutes. White Spider have school holiday courses available too for children aged 7+. Find out more here.
---
Aerial Adventures in Surrey
Go Ape Farnham – Alice Holt Forest, Bucks Horn Oak, Near Farnham, Surrey GU10 4LS
With Treetop Challenge, Treetop Adventure Plus and Treetop Adventure Alice Holt is ideal for thrill-seeking adrenaline junkies and full on, family fun.
When: Sessions throughout the week, weekends only in the winter.
Cost: From £19 depending on activity.
---
Go Ape Chessington – Leatherhead Road, Chessington, Surrey KT9 2NE
Just a stone's throw away from Chessington World of Adventures Resort this really is a mecca for thrill seekers. The first ever theme park location, this is roller coaster fun in the trees. Be prepared for some challenging crossings on Treetop Challenge and gather the troops for the brilliant four-person zip wire – that's not something you'll find anywhere else.
Start them young – bring the whole family and build little ones' tree climbing skills and confidence on the Treetop Adventure course. There'll be no stopping them after the final exhilarating zip ride.
When: Sessions throughout the week. In winter, open on weekends and selected Fridays and Mondays.
Cost: From £20 depending on activity.
You can read our review of Go Ape here
---
Skywalk Adventure – Sandown Sports, More Lane, Esher, Surrey KT10 8AN
Two courses, two heights full of zip lines, tyre swings, barrel crawls, rickety bridges and loads more for an adventurous family day out. Climb and zip through the trees. Barrel crawls, rickety bridges and loads more for an exhilarating time at Skywalk Adventure. Experience both courses over the Sandown Ski slopes and into the woods with some incredible views over Sandown Park Racecourse and London.
When: Hours vary through the year. Check website for details.
Cost: £22 per child, £30 per adult and family passes available for £90. Child must be at least 8 years old and 1.3 metres tall.
---
WildWood – Peacock Wood, Lido Road, Stoke Park, Guildford, Surrey GU1 1HB
Set in beautiful woodland in Guildford town, Surrey – a thrilling adventure of rope bridges, wobbly crossings, tightropes, climbing challenges, fiendish obstacles and ziplines reaching up to 15 metres above the woodland floor
When: Dates vary through the year. Check website for details.
Cost: £15 per child, £22.50 per adult.
Wild Kids is fun for all the family and perfect for parties. Although aimed at children aged between 6 and 12 years, it's suitable for youngsters of all ages (minimum age is 6 years) and adults. Easy enough to be fun, tricky enough for a sense of achievement. Bridges, logs, zips from tree to tree, cargo nets, wobbly things, climbing wall traverse and more.
When: Dates vary through the year. Check website for details.
Cost: £17.50 per person.
---
Whether you're looking for somewhere to climb at regularly, climbing courses to complete, an idea for the kids birthday parties or an activity for the school holidays, climbing is great fun and something the whole family can get involved in.
If you know a centre I've missed off the list please do get in touch and let me know.