Kids just love trampolining don't they? From trampoline parks to gymnastics lessons, they just love to bounce around. If you're looking for somewhere new for your children to trampoline, here are some suggestions across Surrey.
Where to go Trampolining in Surrey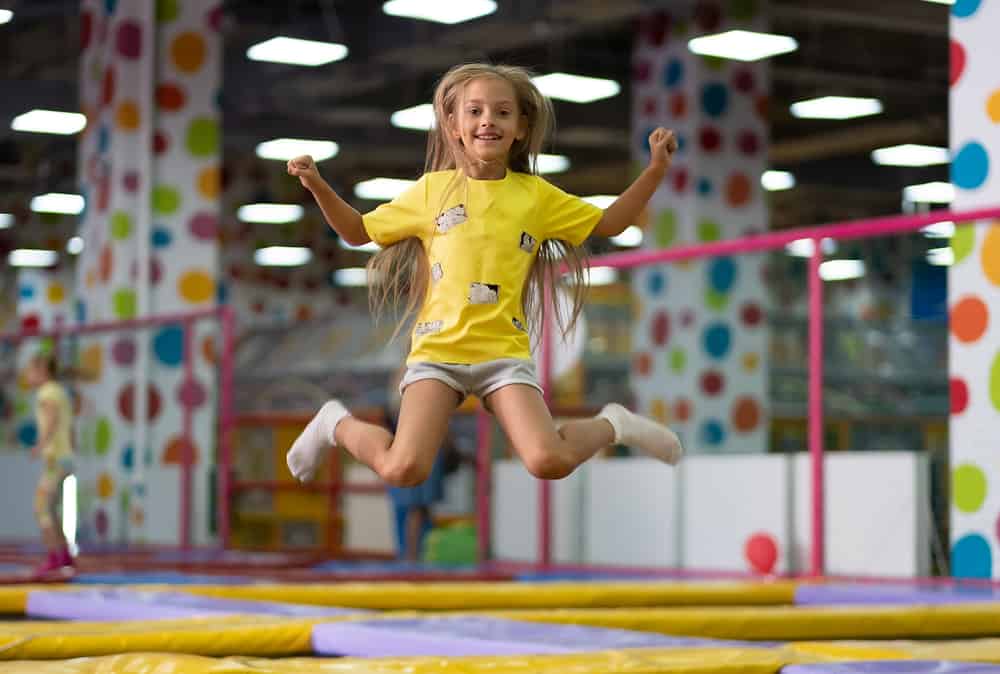 Indoor Trampoline Parks in Surrey
If you're looking for a dedicated trampoline park, here are the ones in Surrey. Plus, many have fantastic trampolining party packages too.
Gravity Force Camberley – 6-7 Admiralty Way, Camberley, Surrey GU15 3DT
The indoor trampoline park is currently undergoing refurbishment to make it part of the Jump In adventure park brand. Gravity Force has open jump sessions, toddler sessions, fitness sessions and great deals for after school sessions too.
You can read Gravity Force review here
---
AirHop Guildford – 10 Midleton Industrial Estate Road, Guildford, Surrey GU2 8XW
AirHop trampoline park Guildford has many different sessions of ultimate bouncing fun – standard jump, Mini Hoppers and After Hours fun, so there's a session to suit everyone. Plus, there's a special offer of 2 for 1 on Tuesdays! They also have loads of birthday party ideas making it a great place for a celebration.
---
Jump In Adventure Park – Unit A4, Royal Mills, Sandown Industrial Park, Mill Road, Esher, Surrey KT10 8BL
Formerly AirHop Esher, Jump In trampoline park Esher is an adventure park for the whole family. They have open jump sessions, toddler sessions, fitness sessions and great deals for after school sessions. Plus, they have Clip n Climb and soft play areas too!
---
Flip Out Croydon – Centrale Shopping Centre, Frith Road, Croydon, Surrey CR0 1TA
With so many sessions for all ages and special after dark sessions for the grown ups, it's somewhere the whole family will love.
You can read a Flip Out review here
---
Oxygen Freejumping – The Colonnades, Purley Way, Croydon, Surrey CR0 4RQ
A fantastic trampoline park with freejumping sessions, toddler sessions and great trampoline party packages too.
---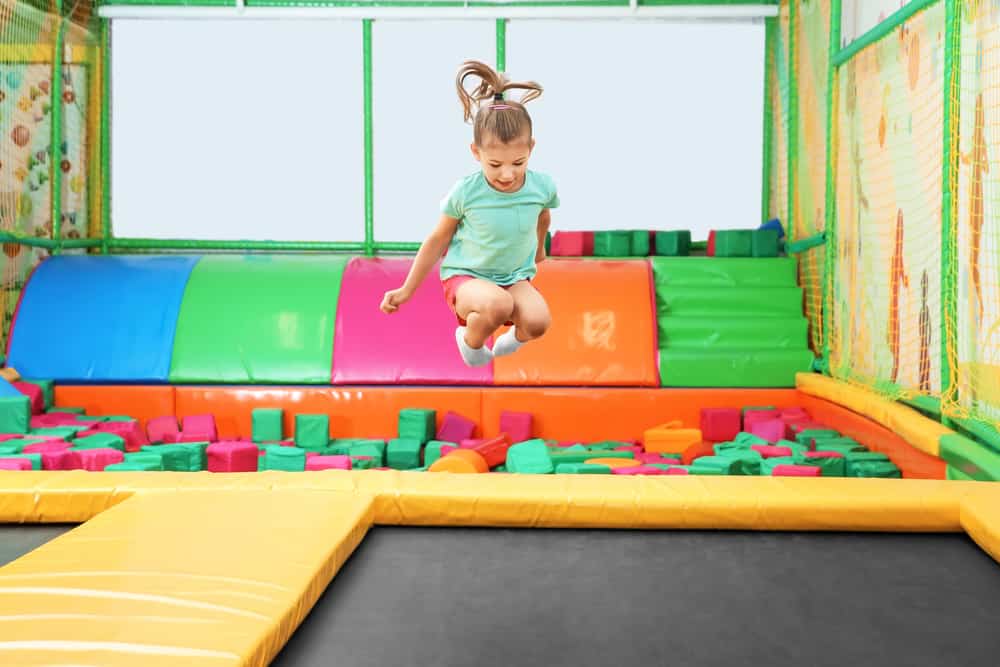 Leisure Centre Trampolining in Surrey
Leisure centres often offer trampoline sessions with lessons or free jump times. Plus, there's so much to do at leisure centres that you could go swimming afterwards, use the climbing or soft play facilities and grab a coffee too. Here are some of the leisure centre options across Surrey:
Tadworth Leisure Centre – Preston Manor Road, Tadworth, Surrey KT20 5FB
At Donyngs, Tadworth, Dorking and Horley Leisure Centres you can take part in Max Force Trampoline Club sessions – A fun and friendly British Gymnastics affiliated club that offers trampoline and double mini trampolines for beginners to international gymnasts.
---
Spelthorne Leisure Centre – Knowle Green, Staines-upon-Thames, Surrey TW18 1AJ
Trampolining courses for age 4-15 plus adult courses available. Different sessions for different ages and abilities.
---
Sutton Sports Park has a fantastic trampoline and play park. It caters to children from 18 months and even adults can bounce and dodge whilst having so much fun! It features so many different sessions – General Jump, Toddler Bounce, Super Saver, SEND Jump Sessions and more.
---
Trampolining Clubs in Surrey
The Kingston Trampoline Academy is a trampolining club that's focused on helping you enjoy making the most of trampoline gymnastics, for fun or more professionally. They help students to exceed their own expectations and most have fun in a safe and controlled environment.
There are sessions with many different focuses and for different experience levels too – Safety Skills, Foundations, Somersaults and Advanced Sessions.
---
East Surrey Acrobatics – YMCA Sports & Community Centre, Redhill, Surrey RH1 6JJ
East Surrey Acrobatics trampolining classes are mixed ability and aged classes as each member is individually taught on the trampoline. Classes are structured using the British Gymnastics trampoline development award scheme and younger children may need parental assistance to help spot around the trampoline.
---
Flair Gymnastics – Club Guildford at Surrey Sports Park, Richard Meyjes Road, Guildford, Surrey GU2 7AD
Flair Gymnastics trampolining classes provide exhilarating ways for children to gain confidence in leaps and bounds. Following the structured and progressive Flair syllabus, the coaches teach beginners and experienced trampolinists alike how to twist, turn and somersault when ready, in a safe and secure environment. Saturday trampolining sessions for 5-17 year olds.
---
Invest in your own trampoline
There's always the option of getting your own trampoline to save the ongoing cost of visiting trampoline parks and having the convenience of being able to trampoline whenever you like.
There are so many options when it comes to trampolines for your garden at home from small scale first trampolines to the more traditional above ground netted trampolines or the innovative in ground trampolines. There are trampolines suited to all ages, weights and garden sizes so you'll definitely be able to find one for you.
---
I'll add more Surrey trampoline options as I come across them – and if you know one that I've missed off the list please do get in touch and let me know!
If you're looking for other activities to do in Surrey, these posts may be useful: