A new children's attraction opened up near to us a few weeks ago and as soon as I heard of it I couldn't wait to take LP and Little Man as soon as I had a free day off work. Since then it's turned into one of our favourite places to spend time in Surrey.
What is Little Street?
Little Street is in Frimley, Surrey and is in the converted ticket office of Frimley railway station. It's a great building, with parking for only £1 for the day and Little Street is the last thing you would expect to be inside! Little Street is exactly what it says – A little street for children to play in!
There's a cafe, hairdressers, supermarket, doctors, building site, theatre and fire station all set up to make the most of children's imaginations and I was really looking forward to seeing what LP and Little Man thought of it.
How does Little Street work?
Unlike soft play where you can drop in whenever you like through the day, Little Street role play centre has four play sessions of 1.5hrs each. There are times to suit everyone although I have found that the earliest session at 9:30am gets booked up quickly – Obviously to tie in with dropping older children at school! You can book online which is straightforward and with no extra transaction fees.
Charges are reasonable – babies that aren't walking yet are free when accompanied by an older sibling or paying adult, children are £5 off peak and £6 peak which includes free entry for an adult too. LP, Little Man and I could enjoy a session for just £5!
We booked an 11:30am session and arrived on time. When you go into the Little Street play centre there's a seating area where you can leave bags and shoes – socks must be worn by adults and children in the play areas. There's also a little soft play type 'pen' to put babies in whilst you're getting ready.
You are then free to enter Little Street! Each area is decorated amazingly well with realistic decorations, outfits and toys to make everything seem like a smaller version of actual shops and services.
LP and Little Man both loved the cafe with microwave, coffee maker, panini press, cash register as well as a seating area and plenty of play food and drink. It really did have the feel of a mini bistro, with chalkboard menu on the wall and plastic pastries in a chiller style cabinet!
Next up there's the hairdresser with boy and girl dolls sitting in the chairs, ready to be preened! A huge variety of hair accessories, hair dryers, mirrors, hair brushes and more was around the room in baskets and LP loved putting all the headbands on herself and her brother!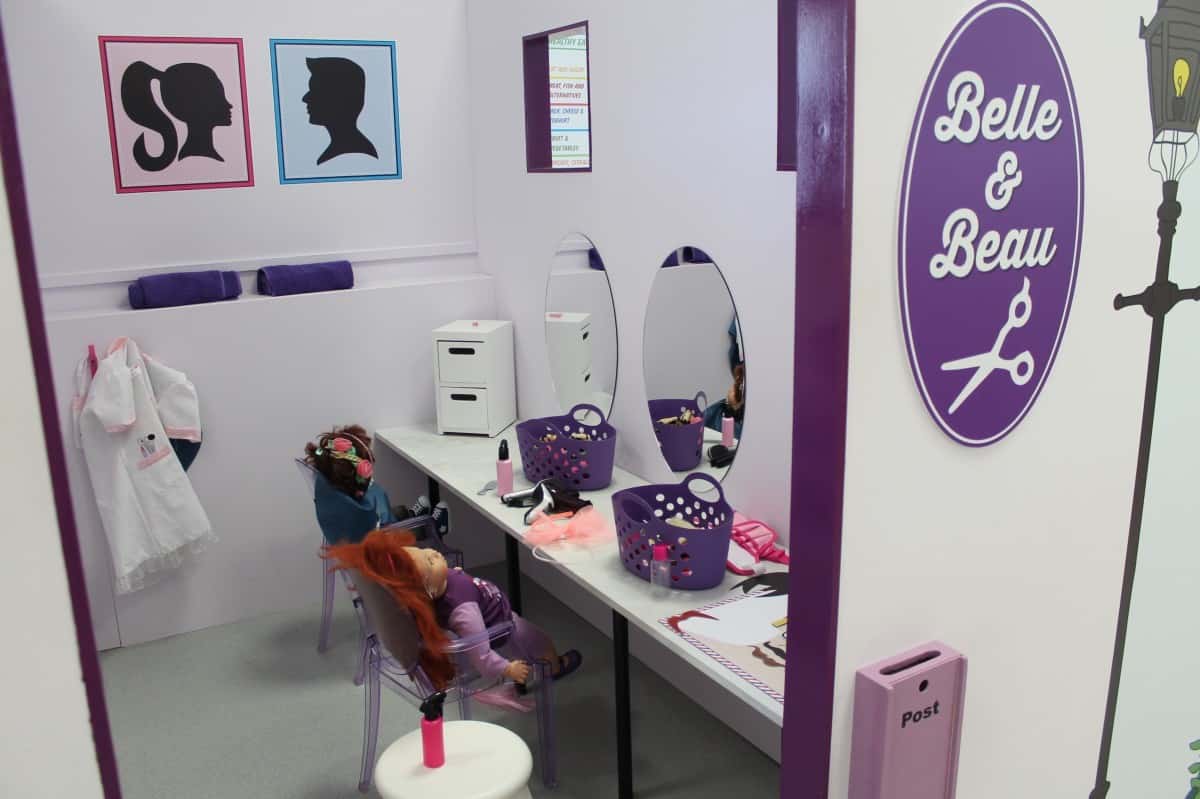 The building site was great fun with road cones, soft bricks for building or demolishing, ride on diggers and hard hats. Little Man loved the digger and LP helped me to build a wall before knocking it down with the digger basket shouting 'Bash, Bash, BASH!!'.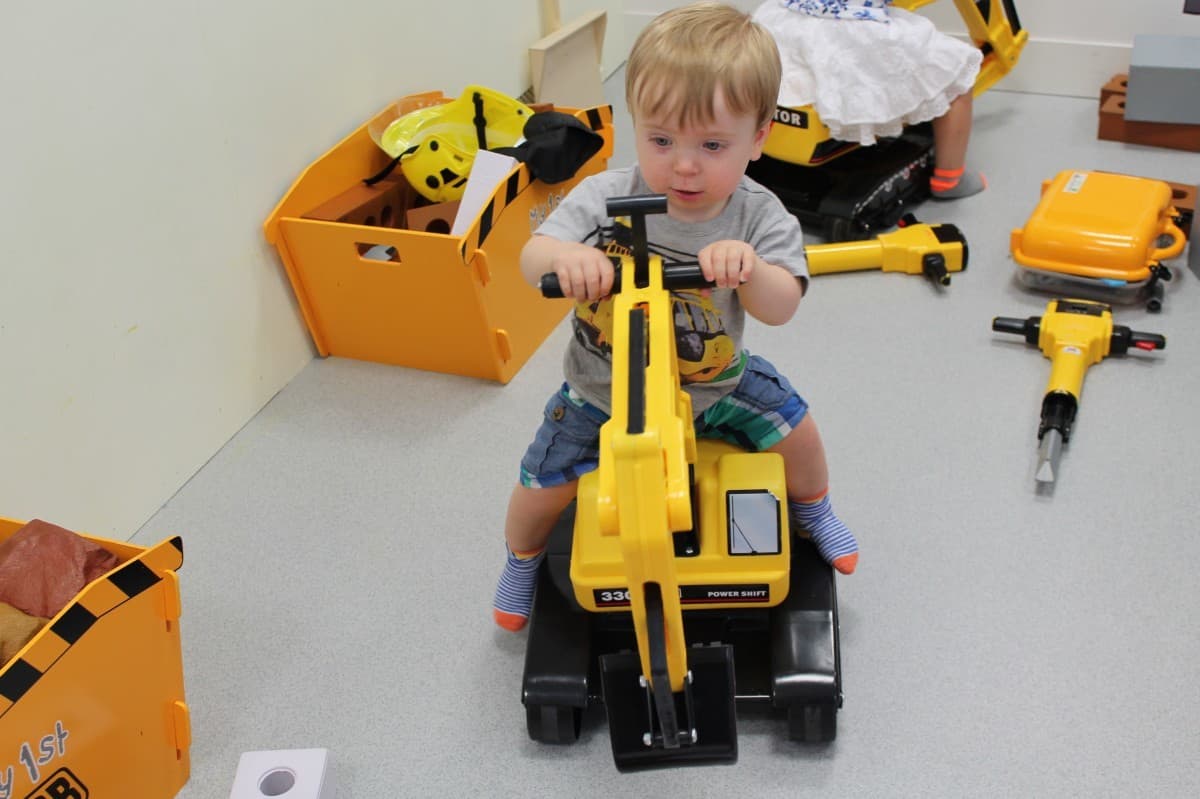 LP had a huge fascination with the doctor's surgery as she loves dolls. She spent ages using a stethoscope on them, checking things on the computer and pottering about. There was an examination table, waiting area and medical cases. LP was in her element!
The supermarket seemed to be the busiest part of Little Street – All children love to shop! With shopping trolleys, shopping baskets and a huge amount of play food even Little Man eagerly pushed his trolley up the aisles!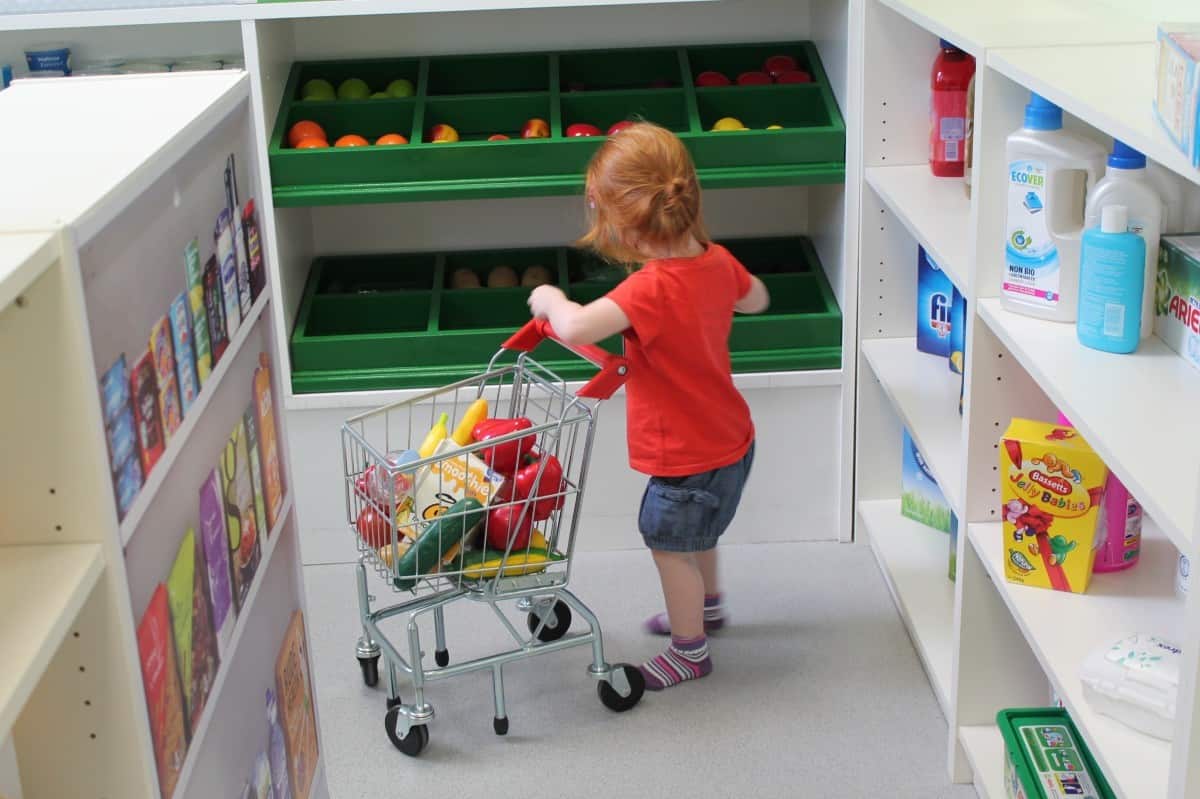 The supermarket even incorporated a till and LP loved thanking other children for their purchases although there was more waiting to be paid for than actually being put in bags – I don't think she'll be getting a job in a supermarket any time soon!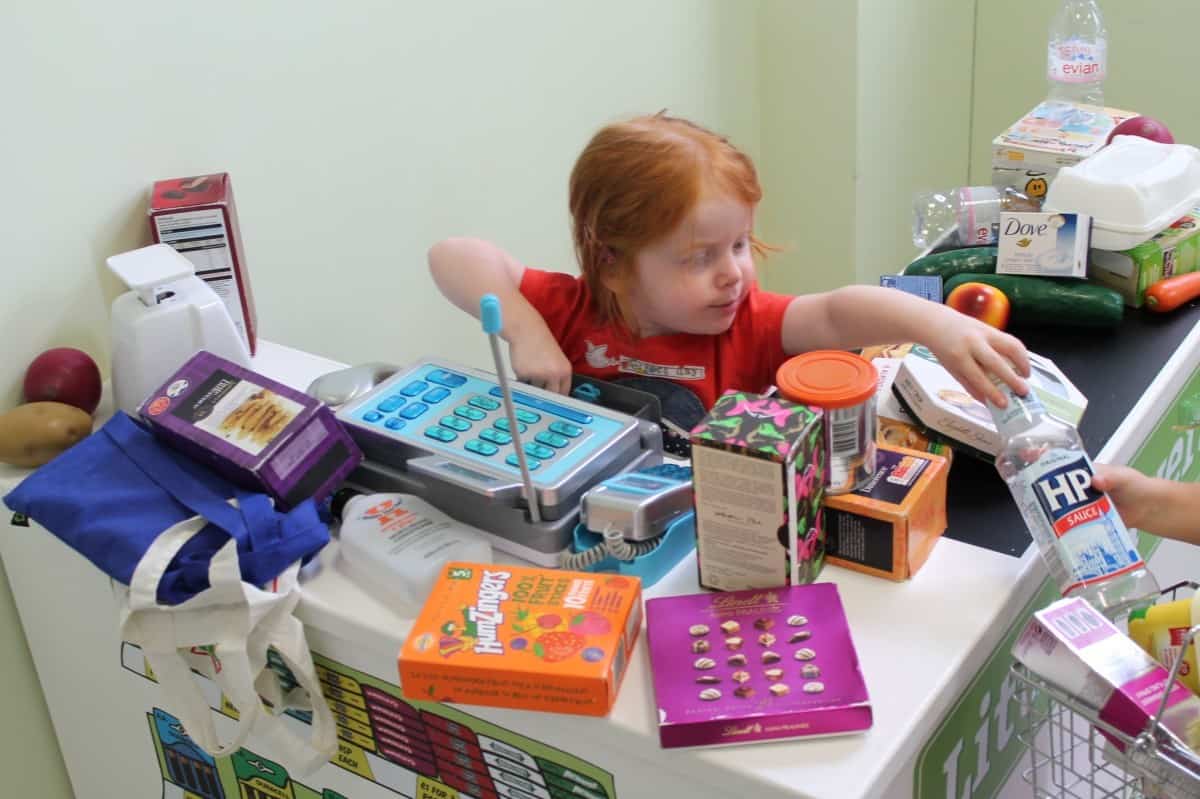 One highlight of Little Street is the climb on fire engine complete with lights and sounds. Both children loved this and the other areas around it – Police Station and petrol filling area. Around the fire engine there's an area to enjoy ride on cars and Little Man kept coming back to the police car – Like father like son!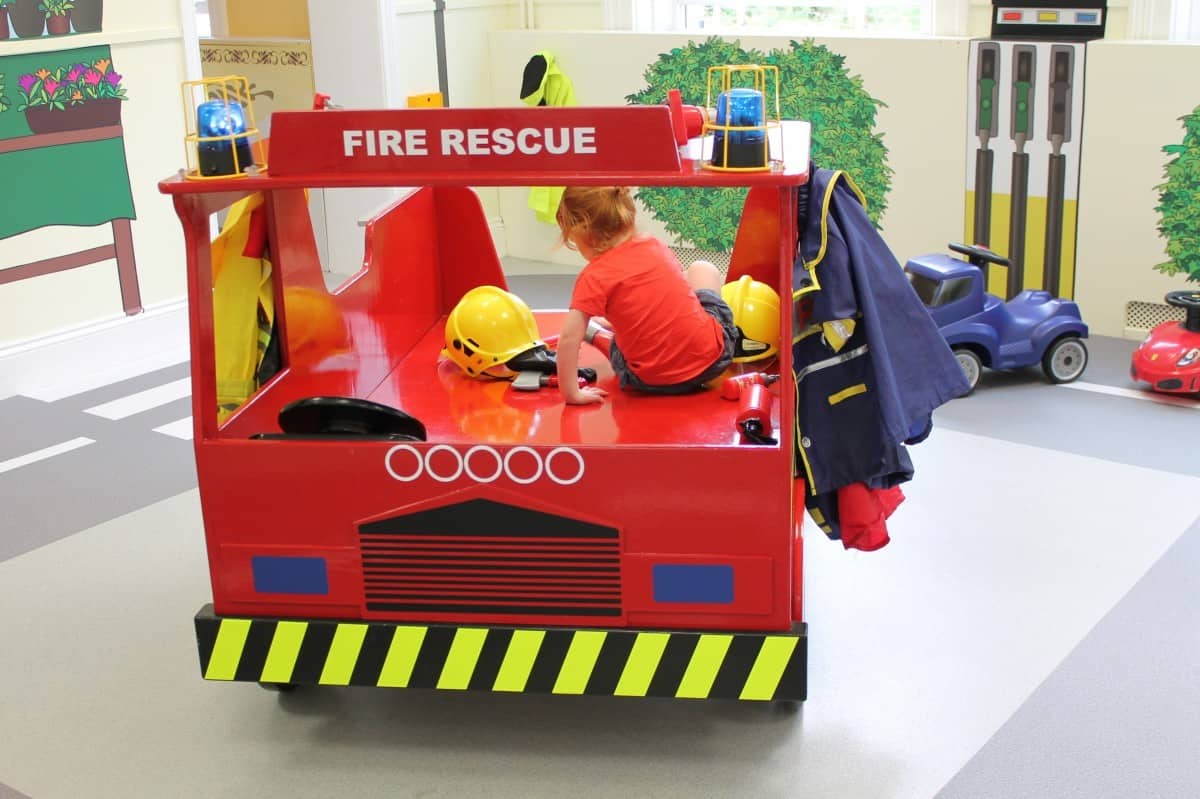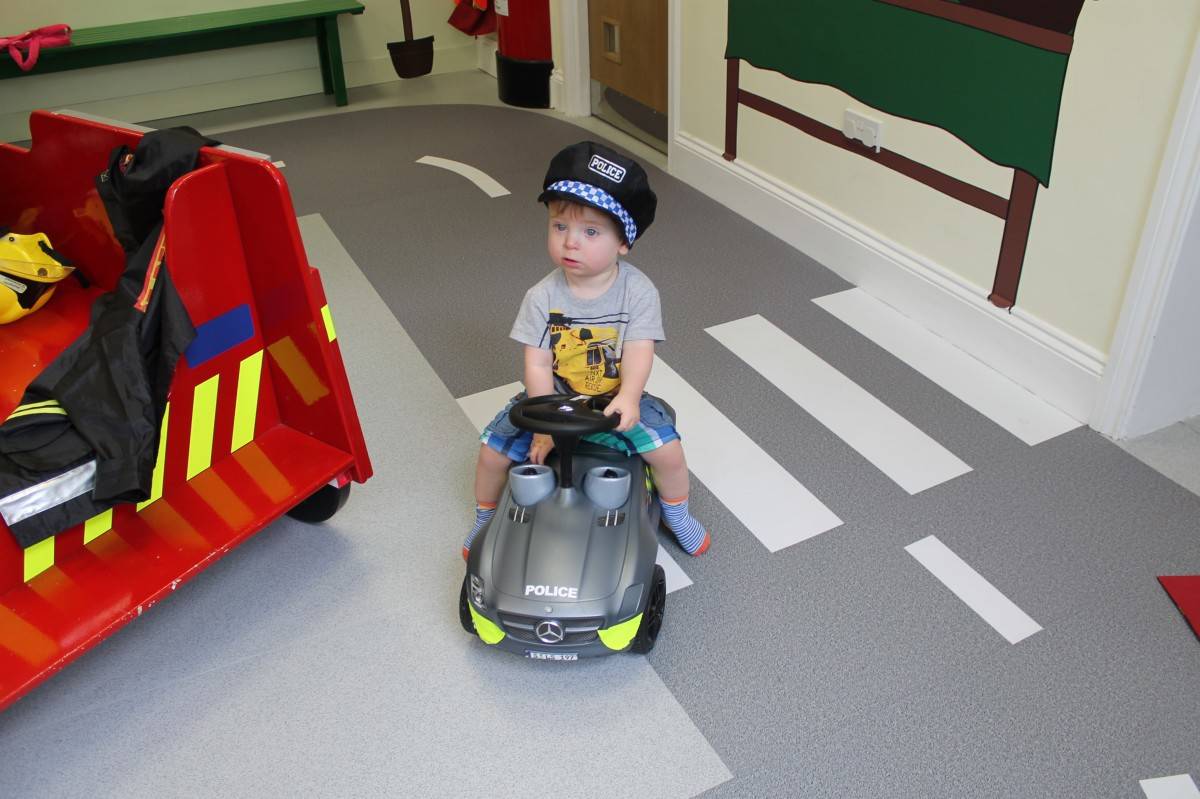 Lastly, there's a stage set up with a whole rail of dressing up outfits and musical instruments. LP hasn't really discovered dressing up yet but the dressing up aspect of Little Street would definitely appeal to older children too.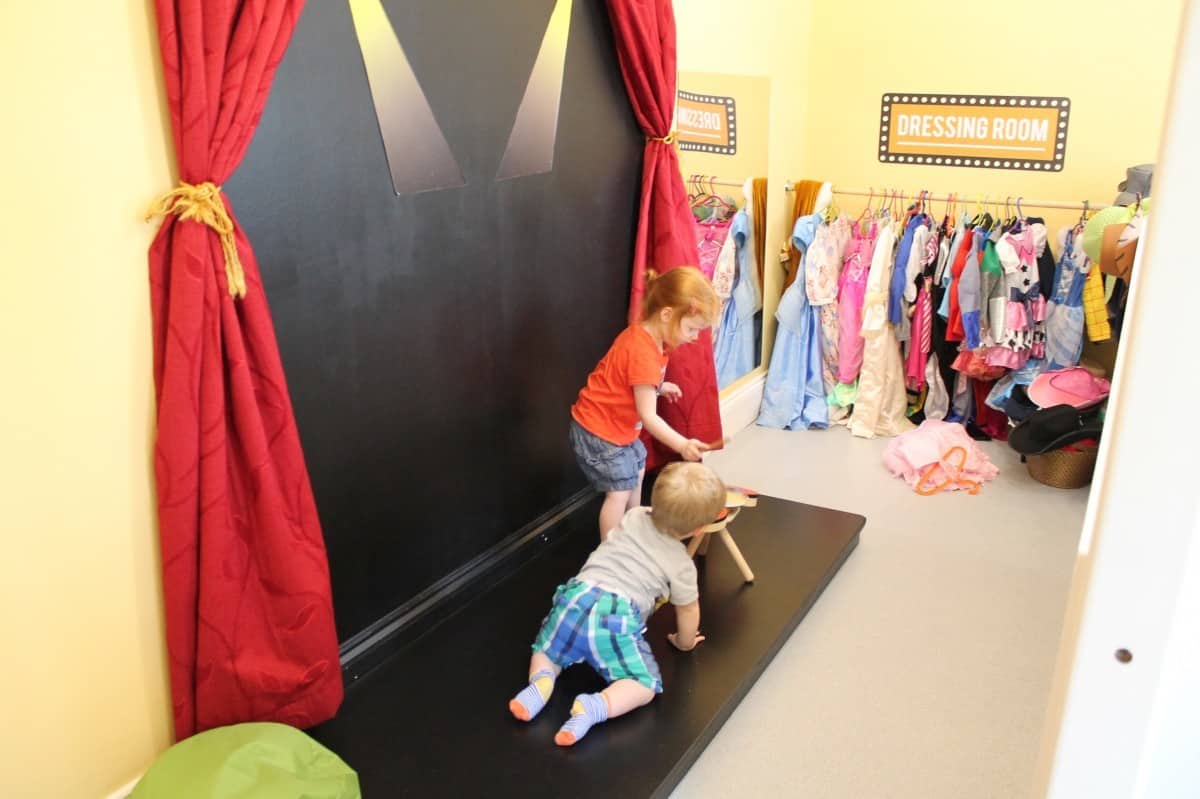 There were so many little things about Little Street that I loved. There were post boxes on all the shops, a main 'town' post box and postie bags and uniforms. Such a lovely touch for children to be able to deliver post to the shops!
Are refreshments available at Little Street?
Little Street also has a cafe bar that you can buy drinks and snacks from, a lovely clean toilet and baby changing area and the seating area at the start that you can use to take a break or sit and drink your tea. Overall Little Street is incredibly well thought out, a really great place to visit and somewhere we will be going back to regularly.
I originally thought that the 1.5hr sessions would be too short but having now visited Little Street I've found that the sessions are just right and give a fantastic educational play experience for little ones. The staff are friendly and welcoming and the whole place is incredibly light and airy. The kids and I cannot wait to go back!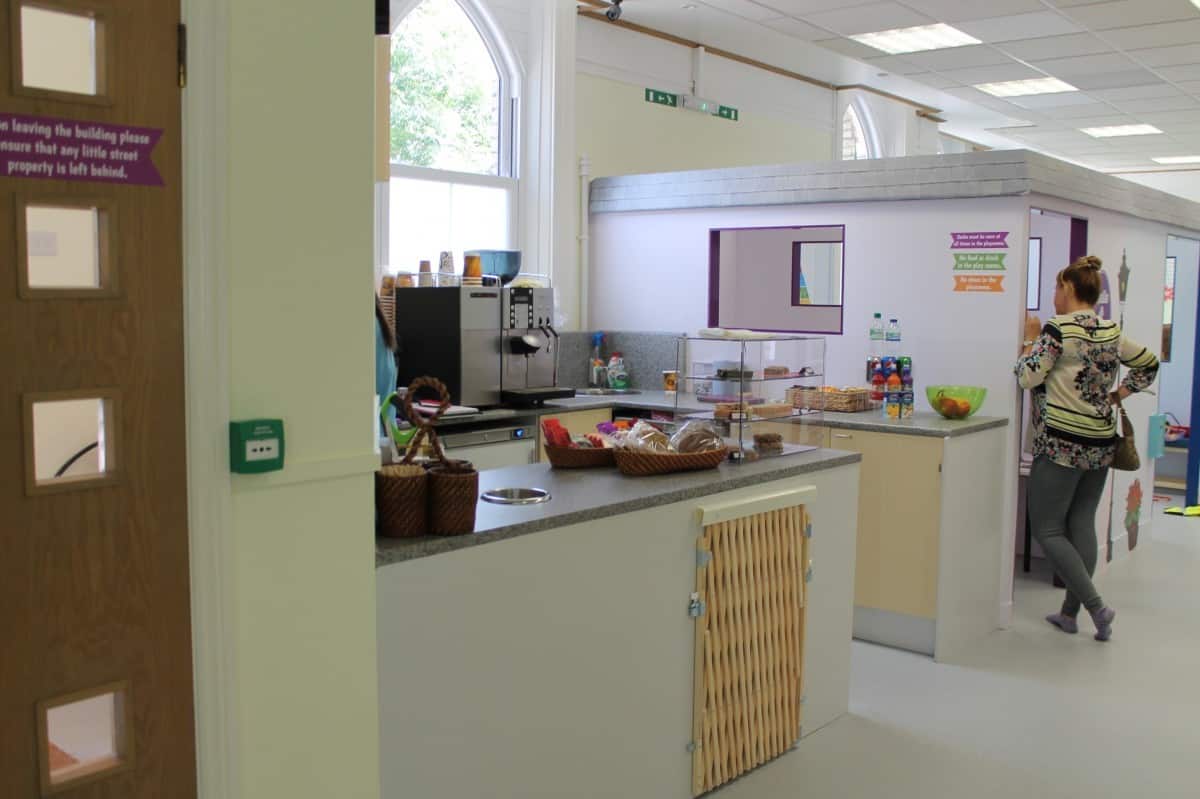 The Little Street franchise have now opened play centres in other parts of the country – West Byfleet, Maidstone, Chichester and Horsham with more centres in the pipeline. Sevenoaks is coming soon!
You can find out more about Little Street Frimley over on their website and for reference, the address is: Station House, Station Approach, Frimley, Camberley GU16 7QH